We may earn money from the products/companies mentioned in this post. As an Amazon Associate I earn from qualifying purchases.
Serve up a batch of these keto savory breakfast cookies made with sausage. A savory sausage breakfast cookie that is low in carbs and keto-friendly. A great way to start the day to fuel your body!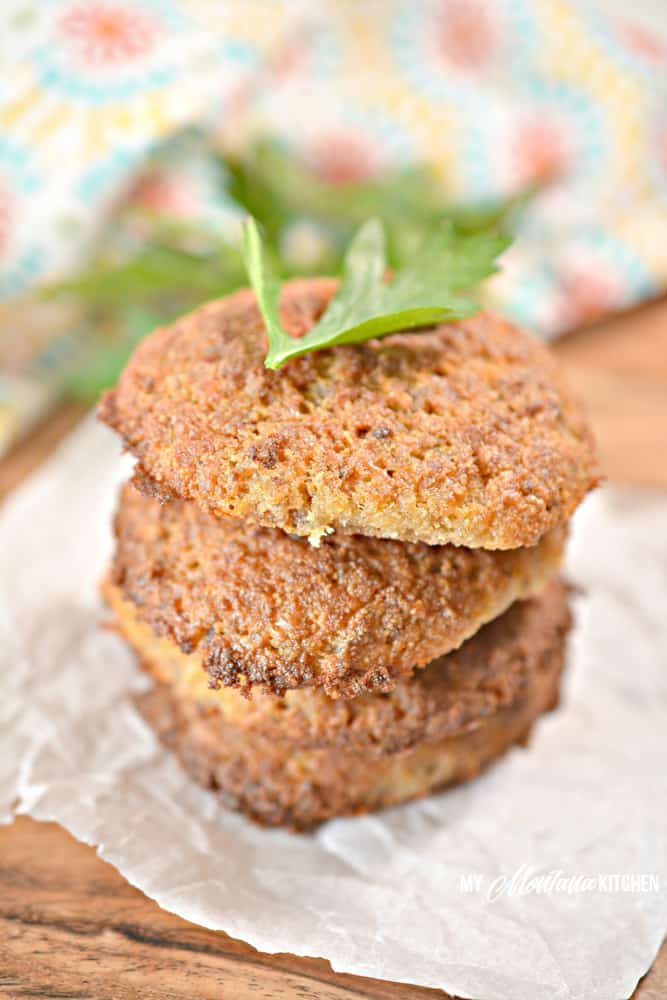 If you are a fan of sausage I think you will love these sausage cookies. Almond flour and eggs help mold these "cookies" to make them hold their shape.
Somewhat similar to a biscuit, these will be one of your favorite keto breakfast ideas!
Keto Savory Breakfast Cookies
What I love about this recipe the most is make these ahead of time, store in the fridge, and warm them up and head out the door.
If you are always rushing around, these will fit perfectly into your lifestyle. Make ahead, grab, reheat, and devour!
The best keto breakfast for busy mornings when you need to fuel your body before you head out the door.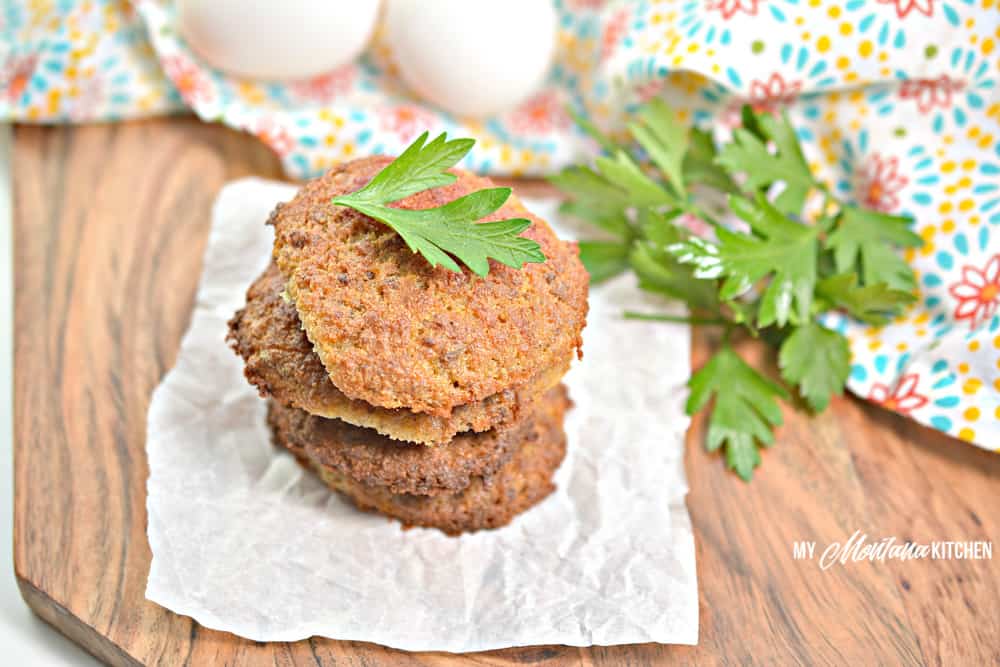 Here are more keto breakfast ideas
Lemon Poppyseed Muffins | These are a keto-friendly muffin that is loaded with fresh citrus flavor and poppyseeds in every bite. Whip these up for a delicious breakfast the whole family will enjoy. 
Low Carb Pumpkin Bagels | Skip store-bought bagels and make your own. This pumpkin flavored bagel is such a delightful way to start the day. 
Blueberry Muffin In A Mug | If you are looking for a simple breakfast to serve one, try this mug muffin recipe. A low carb breakfast option. 
What Is A Savory Breakfast Cookie
You have the shape of a cookie but it is filled with sausage, eggs, almond flour, cheese and more.
So you get a savory taste instead of sweet, like a classic cookie.
Whip these up for those mornings where you want something but don't want to spend the time hovering over the stove. 
Making these ahead of time helps keep me on track, and stops me from straying away from my healthy eating plan. When they are an arms reach away, it leaves me no excuse but to make the right decision. 
What Is The Best Almond Flour To Use for Breakfast Cookies
I enjoy the Kirkland Blanched Almond Flour, (available at Costco) but you are welcome to use any of your favorite brands.
The one thing I look for is blanched almond flour and I also enjoy a finer flour so it gives you a more smooth texture.
The Blue Diamond brand is nice, and Honeyville Almond flour is a great contender. 
How To Make Keto Savory Breakfast Cookies
Start by preheating the oven. Then in a skillet you will cook up the sausage, and drain any excess grease. Allow the sausage to cool down a bit before you move to the next step.
Then in a bowl add in your sausage, softened cream cheese, cheddar cheese, mozzarella, baking powder and soda, almond flour and garlic powder. Beat on high until it is combined.
Then add in your eggs, and mix until formed. Then make tablespoon size balls, and place on a parchment paper-lined baking sheet.  
Why Are My Breakfast Cookies Runny
This could be because of the size of the egg you used, or if your measuring is off. If you find the dough is a bit runny add more almond flour into the mix. This will help to thicken it up slightly. You will want the "dough" to be similar to cookie dough. 
Can I Add Veggies Into The Sausage Breakfast Cookies
Sure, you could dice up peppers or onions fine and add it in with the ground sausage as you cook that. This will add more flavor to your cookies. These sausage breakfast cookies are easy to change up to fit your personal preferences. 

How To Store Leftover Keto Breakfast Cookies
Store your leftover keto breakfast cookies in the fridge. The ingredients in these savory cookies need to be refrigerated or they will go bad. Store these cookies in an airtight container for up to six days in the fridge. 
Can You Freeze Sausage Cookies
Yes, these sausage cookies will freeze really nicely. Just place them in a freezer bag or airtight container that is freezer friendly.
If you are going to layer your cookies, I recommend placing wax paper in between each layer to prevent sticking. 
Store in the freezer for up to three months and then thaw in the fridge or pop right in the oven or microwave to reheat. A great way to meal prep for breakfast (or even a snack) down the line. 
Give these keto sausage cookies a try! A fun change to your weekly meal plan.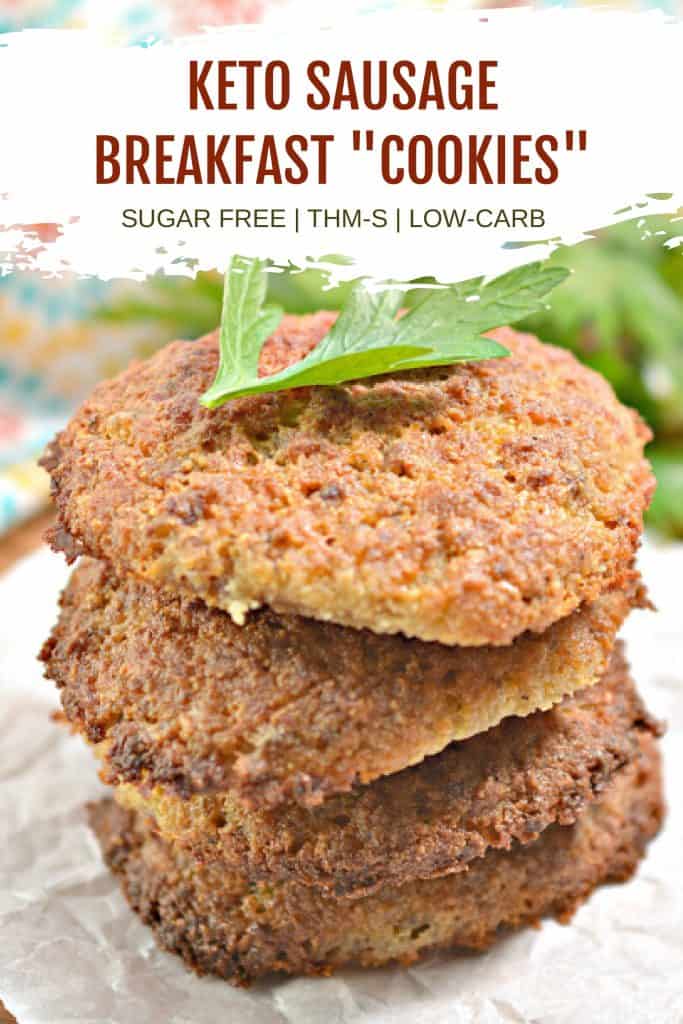 Yield: 20
Savory Breakfast Cookies with Sausage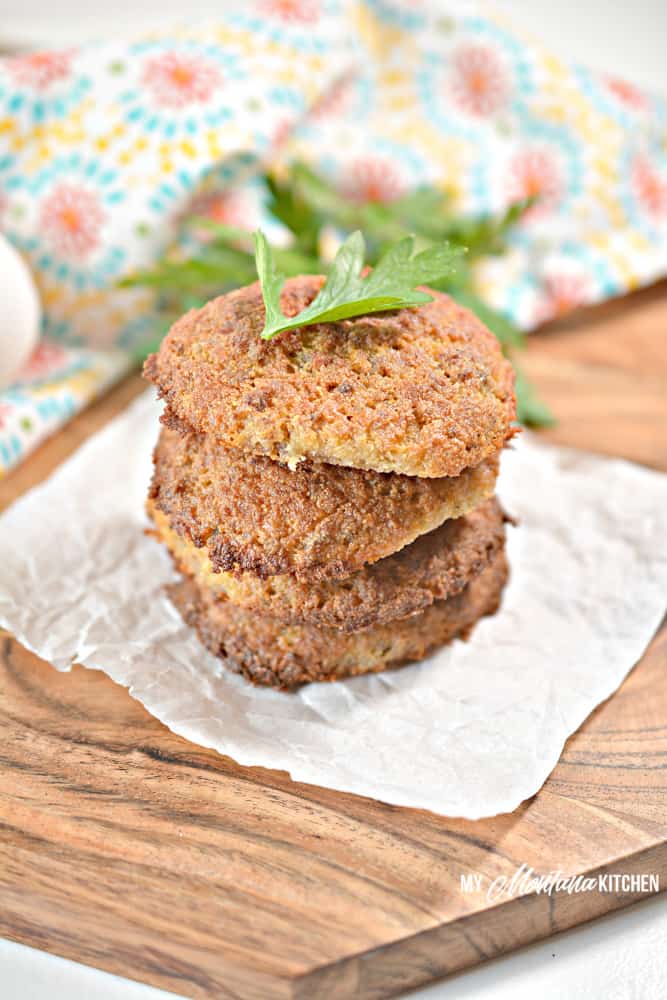 These savory low carb breakfast cookies with sausage are a great make-ahead protein filled keto breakfast. Gluten free, no sugar, and simple to make, these easy breakfast cookies are made with almond flour and eggs to keep them healthy and filling.
Ingredients
1 lb. Ground Pork Breakfast Sausage
2 Eggs
2 oz. Shredded Cheddar Cheese
2 oz. Shredded Mozzarella Cheese
½ Cup Almond Flour
4 oz Cream Cheese, Softened
½ tsp Garlic Powder
½ tsp Baking Powder
¼ tsp Baking Soda
Instructions
Preheat the oven to 350 degrees.
Cook the sausage in a skillet over medium-high heat until no longer pink. Drain if necessary, and allow to cool down for several minutes.
In a large mixing bowl, mix cooked sausage, cream cheese, cheddar cheese, mozzarella, almond flour, baking powder, baking soda and garlic powder.
Beat on high until well combined.
Mix in the eggs until thoroughly combined.
Form the mixture into 20 tablespoon sized ball shapes, and place on a parchment lined baking sheet. The savory cookies will flatten as they bake.
Bake for 10-15 minutes until browned on top and cooked through.
Allow to cool, and remove from the parchment to serve.
Nutrition Information
Yield
20
Serving Size
1 Cookie
Amount Per Serving
Calories

106
Total Fat

9g
Carbohydrates

2g
Net Carbohydrates

2g
Fiber

0g
Protein

6g