We may earn money from the products/companies mentioned in this post. As an Amazon Associate I earn from qualifying purchases.
These low carb caramel "apple fries" are going to blow you away. Complete with a maple salted caramel sauce for dipping! This recipe is low carb, sugar free, and a Trim Healthy Mama S Recipe.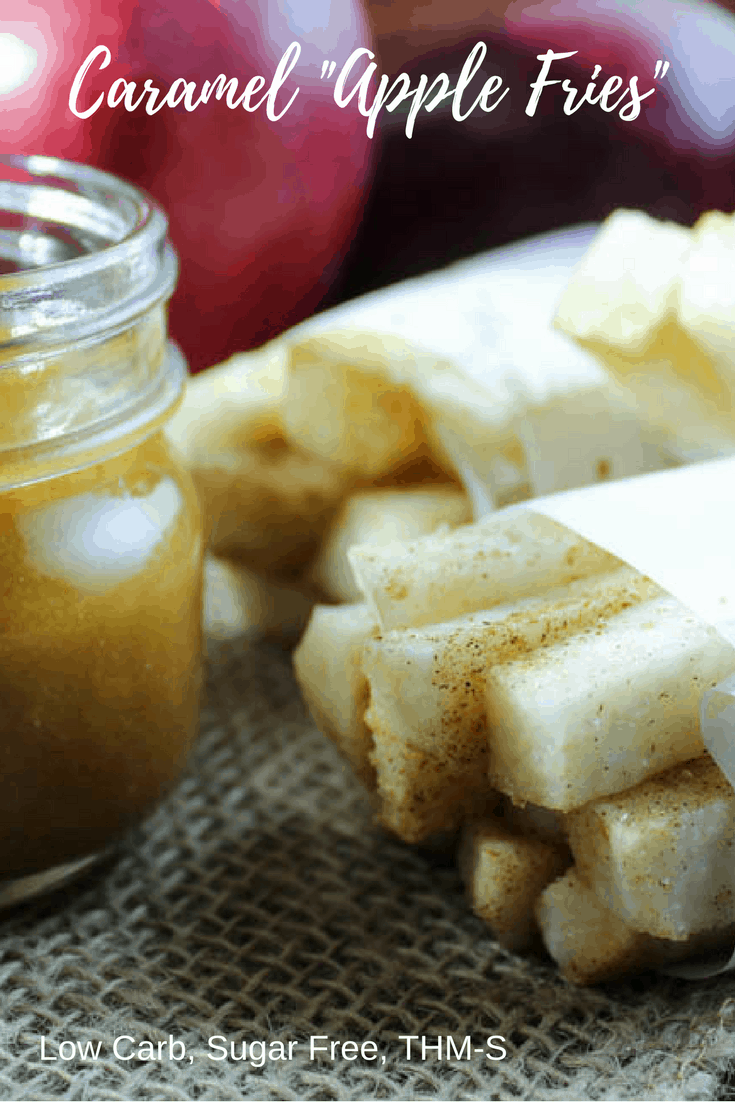 (This post contains affiliate links, which provide me with a small compensation when you purchase your products through my links. Thank you for your support!)
Seriously! You wouldn't know that you aren't eating an actual apple. These "apple fries" are amazing! Can you guess what the apple replacement is? Nope, not okra OR cauliflower! (Whew!) The star here is jicama!
Are you familiar with jicama?
Here are a few jicama facts, according to Dr. Axe. (Read the full article here.)
Great source of prebiotic fibers
Supports weight loss and blood sugar control
Helps increase immune function
Benefits heart health
Great for digestion
High in antioxidant vitamin C
Supports bone health
Not bad for a little-known vegetable! For Trim Healthy Mamas, jicama is considered non-starchy, which means it is a Fuel Pull! Great news!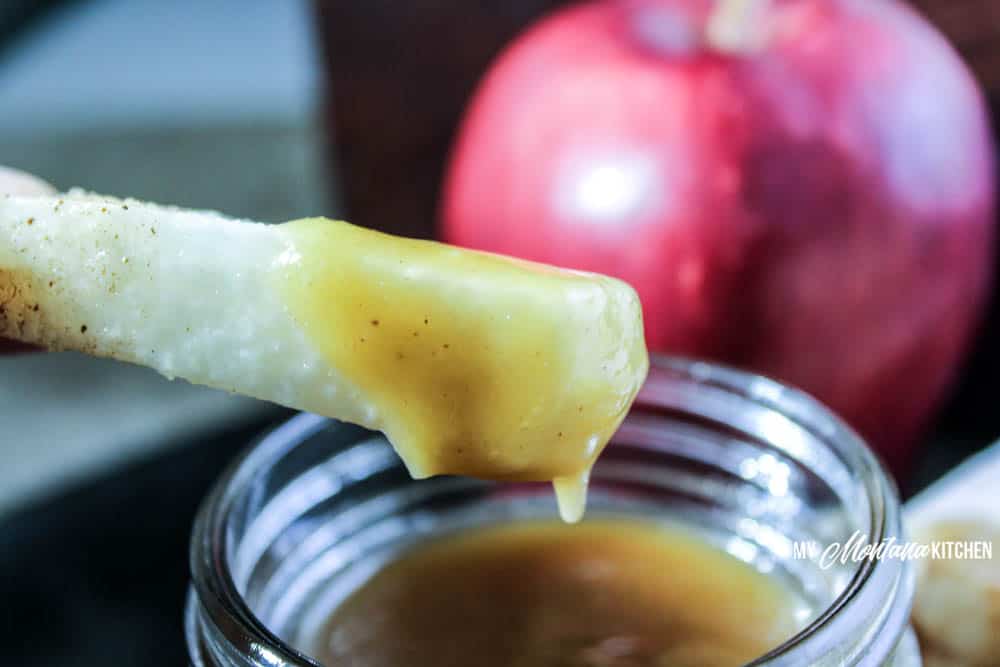 I have used jicama to make Low Carb Chili Cheese Fries, and I've had this idea for "apple fries" brewing in my head for quite some time. I thought that perhaps I would need to par-boil or bake them. But as it turns out, they work great raw! They are the perfect crunchy texture for an apple replacement! (And since jicama is low carb, we can have our jicama and our caramel sauce, too!)
You certainly do not have to use this particular caramel sauce, but I think the salty maple adds a great depth of flavor. However, this caramel does tend to crystalize a bit as it cools (because of the sugar alcohols found in xylitol). If you want an awesome caramel sauce that stays nice and creamy, check out Brooke's 5 Minute Caramel Sauce.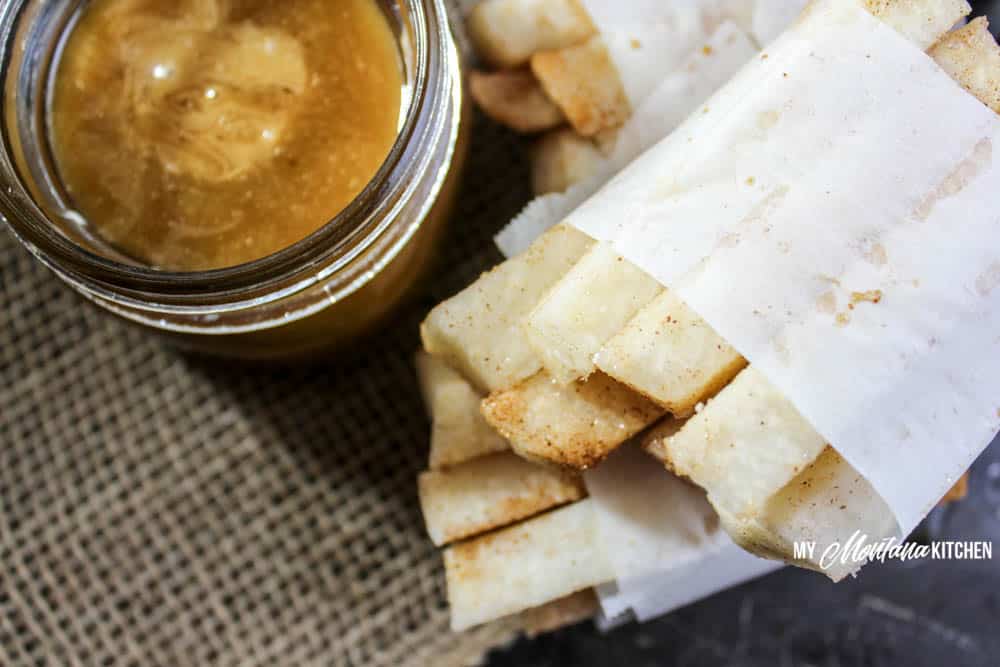 So, what do you need for these Low Carb Caramel Apple Fries?
For the Fries:
1 medium sized jicama, peeled and sliced into fries
3 Tablespoons Xylitol
¾ Teaspoon Cinnamon
For the Caramel:
4 Tablespoons Butter
6 Tablespoons Xylitol
1 Tablespoon Maple Extract
1 Tablespoon Heavy Cream
½ Teaspoon Mineral Salt
(You can certainly use a different sweetener here if you want. Xylitol is toxic to dogs, so please be careful if you have pets.)
Be sure to sign up with your email address so you can receive all my new recipes delivered right to your inbox! (Look for the sign-up box at the top of this post.) Also, be sure to follow me on Facebook, Pinterest, Instagram, and Twitter!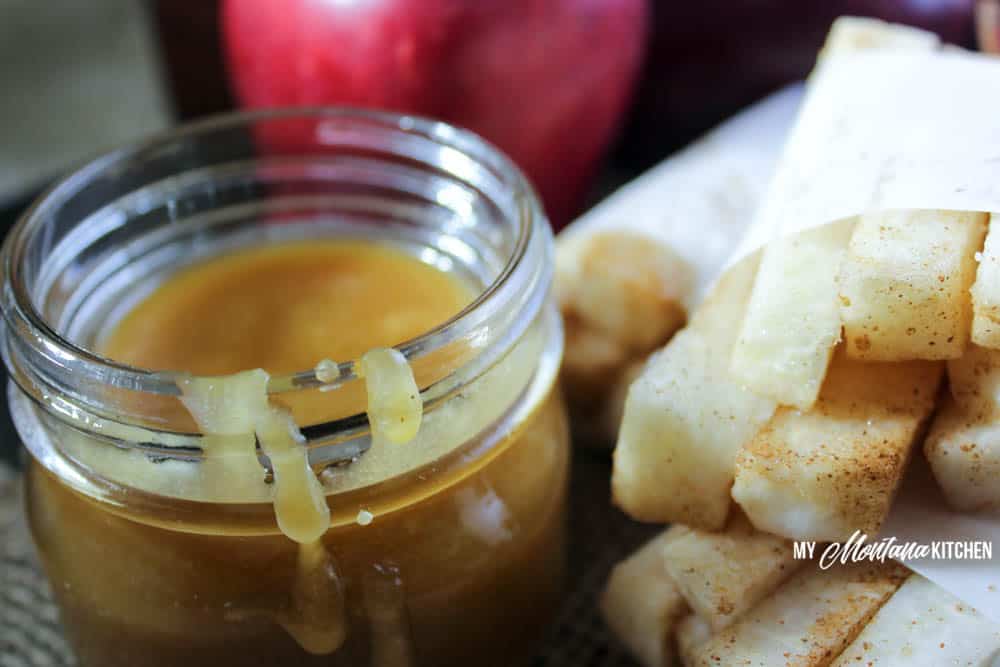 Ingredients
For the Fries:
1

medium sized jicama

peeled and sliced into fries

3

Tablespoons

Xylitol

¾

Teaspoon

Cinnamon
Instructions
For the Caramel
In a saucepan, melt butter and xylitol (or Gentle Sweet) over medium high heat.

When sweetener has completely melted, continue to simmer for 1-2 minutes, stirring continuously to prevent scorching.

Add maple flavoring, mineral salt and heavy whipping cream.

Continue to simmer for 1-2 more minutes, still stirring continuously.

The sauce should start to thicken a bit, but it will still be quite thin. It will thicken more as it cools.
For the Fries
Peel jicama, and slice into "fries."

In a pie pan, combine xylitol and cinnamon.

Dredge jicama in cinnamon mixture.

Dip and caramel sauce to serve.
Nutrition Facts
Amount Per Serving
Calories 168
% Daily Value
Vitamin C undefined%
Calcium 4%
Iron undefined%