We may earn money from the products/companies mentioned in this post. As an Amazon Associate I earn from qualifying purchases.
Crispy low-carb granola bursting with sweet peanut butter flavor and peanut crunch. Perfect for topping your yogurt or low carb ice cream, or for eating as cereal with almond milk. This recipe is low carb, sugar free, and a Trim Healthy Mama "S" fuel.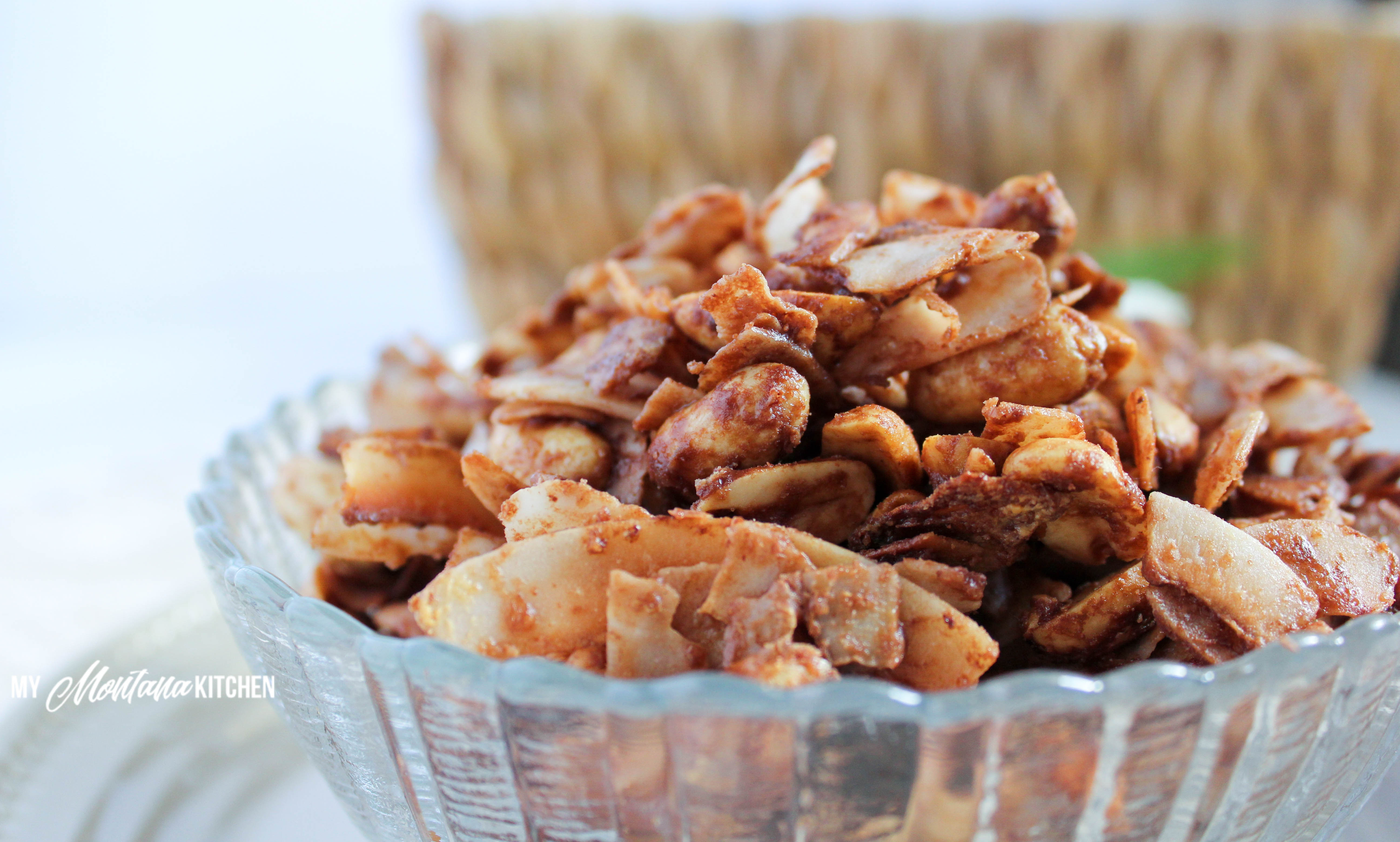 (This post contains affiliate links, which provide me with a small compensation when you purchase your products through my links. Thank you for your support!)
I love keeping granola on hand. Its great for those busy mornings when I'm rushing about trying to decide what to feed my kids before they head off to school. I can serve them my Copycat 000 Vanilla Yogurt topped with this sweet granola and they have a great start to their day!
I sometimes like to make parfaits with the yogurt. I'll layer yogurt, fruit, and granola in a pretty glass and serve it with a squirt of Reddi Whip on the very top for a nice presentation. Call me crazy, but my kids eat better when I make these parfaits instead of eating out of a plain bowl. Something about how pretty it looks in the glass! And who am I kidding? I even like to eat it that way!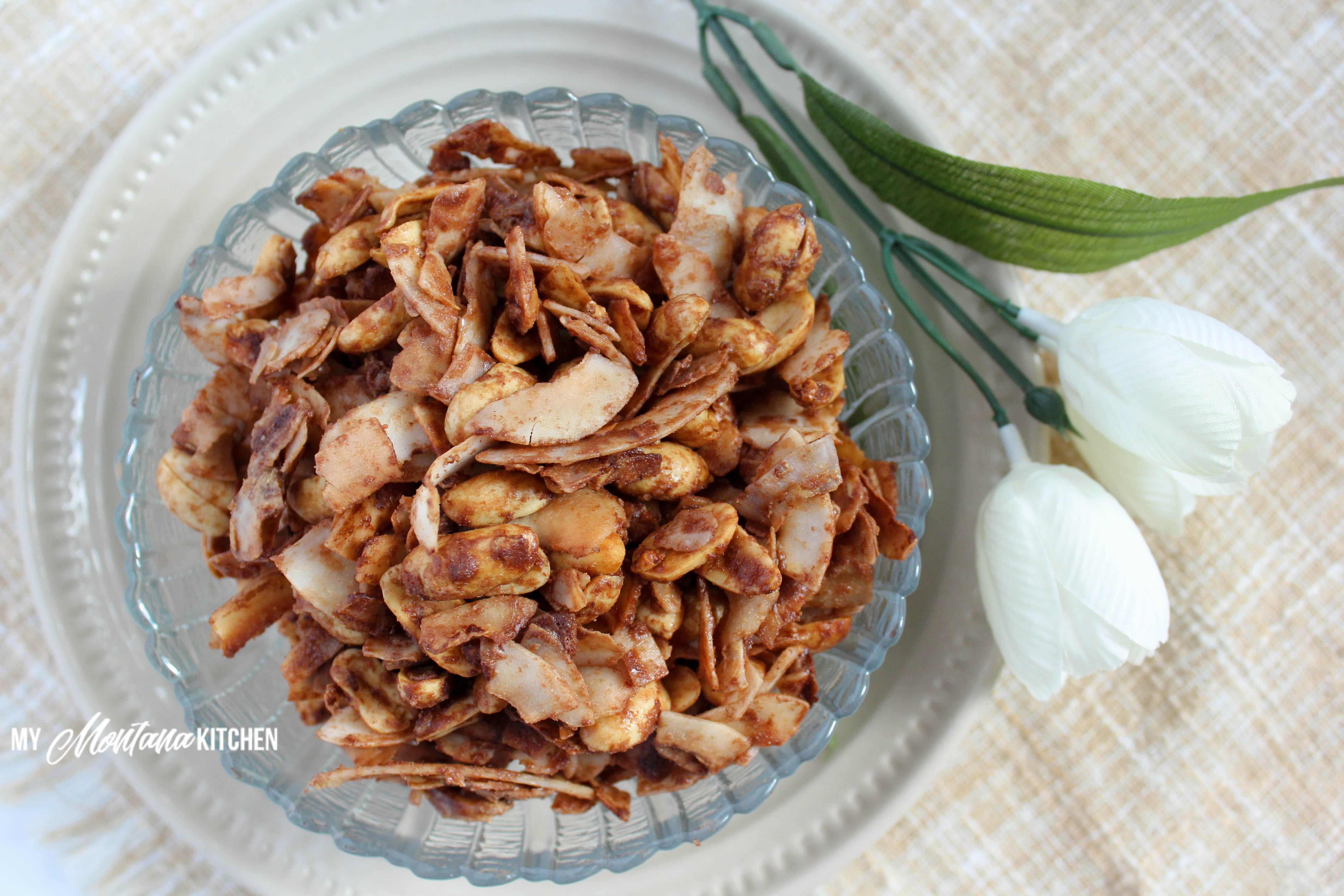 You can also use this granola as a cereal. Last night I ate a bowl of it with almond milk, and it was delicious!
I recently learned a trick about eating/drinking almond milk. I will not lie, I have struggled with the almond flavor when I wanted it to taste like dairy milk. But I've found that if you add a splash of heavy cream and a pinch of sweetener, it really does taste MUCH more like dairy milk! Hurray for that! (And thank you to Teresia, of Nanas Little Kitchen for the tip!) I actually drank a glass of it with my biscuit and gravy dinner last night (recipe coming soon)!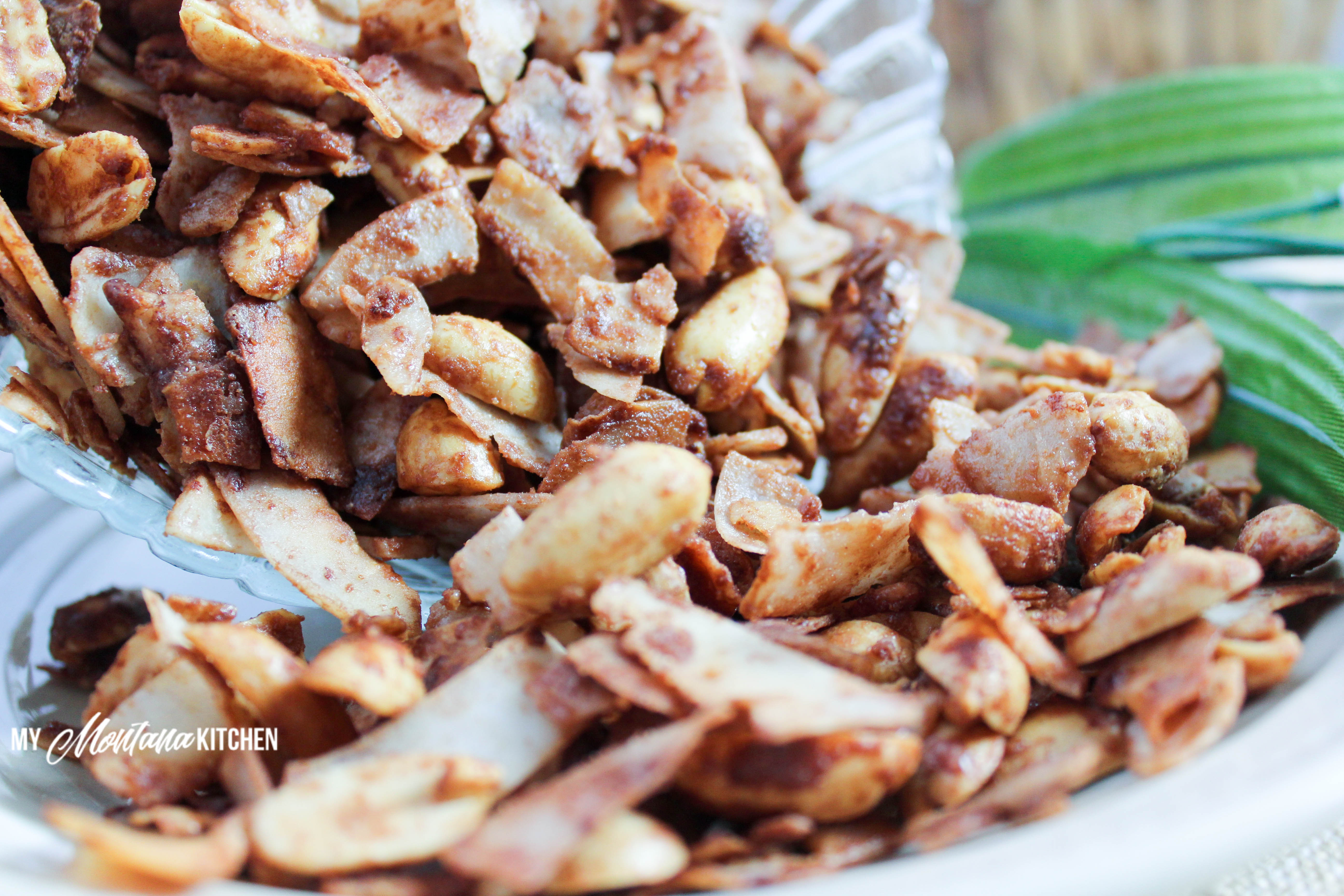 All that to say . . . this recipe makes a great cereal! Or, you can easily use it to top your favorite low-carb ice cream recipe. This creamy vanilla ice cream is a good place to start!
So, what do you need for this recipe?
2 Cups Large Flaked Coconut (Unsweetened)
1 Cup Chopped Peanuts
3 Tablespoons Melted Coconut Oil
3 Tablespoons Peanut Flour
1 Tablespoon Cocoa Powder
2 Tablespoons Gentle Sweet
(or your favorite powdered sweetener)
Mix all the ingredients together, bake it in the oven, and let it cool! This recipe is super simple!
Be sure to sign up with your email address so you can receive all my new recipes delivered right to your inbox! (Look for the sign-up box at the very top of this page.) Also, be sure to follow me on Facebook, Pinterest, Instagram, and Twitter!

Instructions
Preheat oven to 350.

In a large bowl, combine all ingredients.

Pour onto a parchment-lined baking sheet.

Bake for 8 minutes, stirring once or twice.

Remove from oven and let cool completely.

Store in an airtight container for up to two weeks.