We may earn money from the products/companies mentioned in this post. As an Amazon Associate I earn from qualifying purchases.
 Low Carb Sandwich Rolls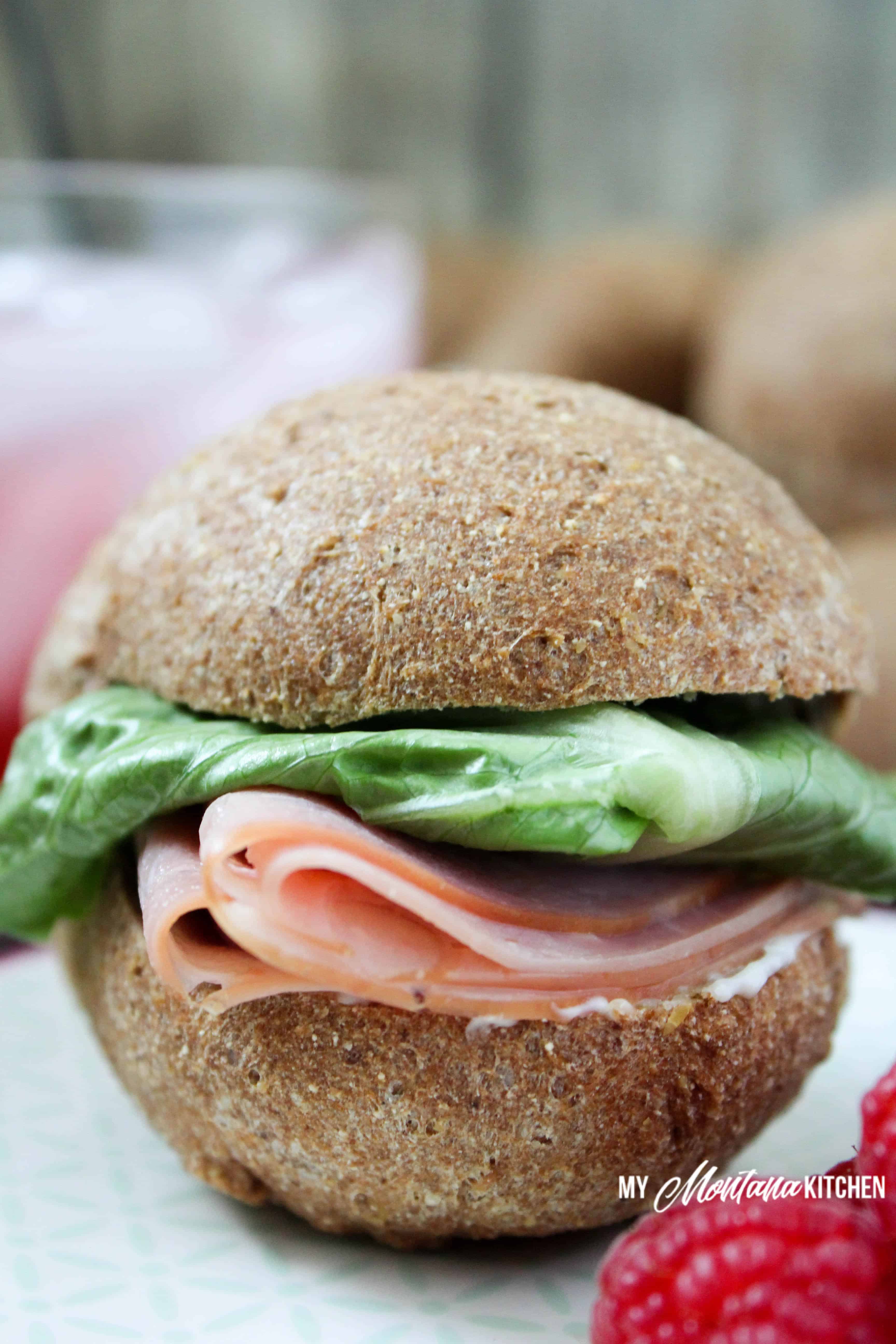 These low carb sandwich rolls are easy to make, and give that great chewy bread feel for a sandwich! This recipe is low carb, low fat, gluten free, and a Trim Healthy Mama Fuel Pull!
(We are a participant in the Amazon Services LLC Associates Program, an affiliate advertising program designed to provide a means for us to earn fees by linking to Amazon.com and affiliated sites. There are affiliate links used in this post.)
Many months ago I ran across this keto bread recipe, and tried it out. It was fabulous, and made a great sandwich bread. However, it used a lot of almond flour, which made it an S fuel. I was looking at it again this week and wondered if I could make it into a Fuel Pull by using the Trim Healthy Mama Baking Blend in place of the almond flour. I also made a few other adjustments, but please do check out the original recipe for keto bread.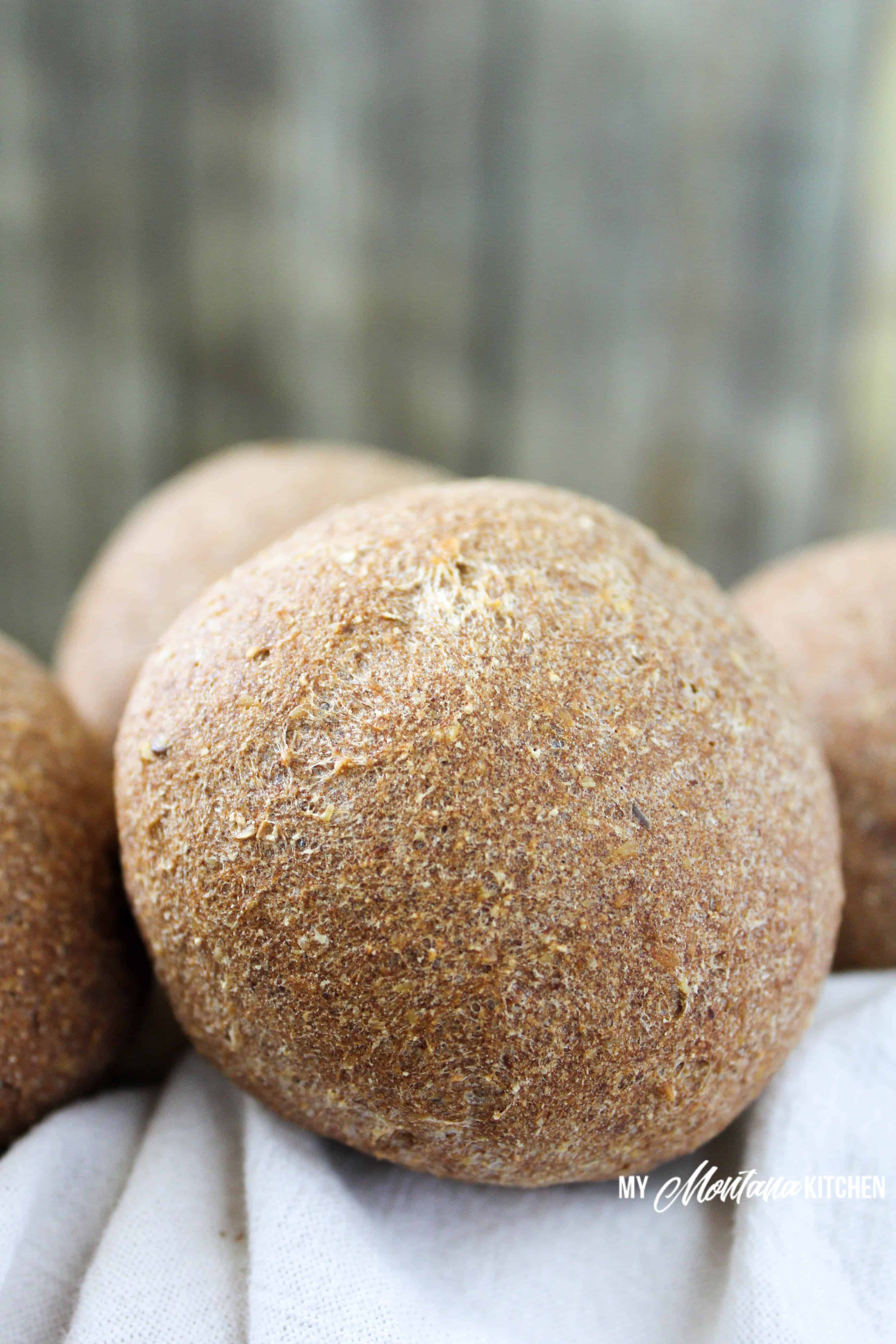 Using the Baking Blend in place of the almond flour also cut way down on the calories - these rolls only have 68 calories each! And only 1 net carb.
I like to use them for sandwiches, but they also make great garlic bread. Simply slice the rolls in half, slather with butter and garlic, then toast in the oven. (Adding butter, of course, would make it an S fuel.) You can even add spices or herbs to the dough itself if you want a more savory roll. 
If you don't mind changing the fuel type from a Fuel Pull to an S, you can brush melted butter on the tops of the rolls as soon as you remove them from the oven, then sprinkle with garlic salt and Parmesan. So good!
I know people will ask, "Do these taste just like bread?" And the answer to that is no, they do not taste "just like bread." But, they are close enough for me, and I especially love the fact that they are a FP! I sometimes eat my sandwiches on sprouted bread, but I miss being able to have cheese and mayonnaise. Now I can have it all!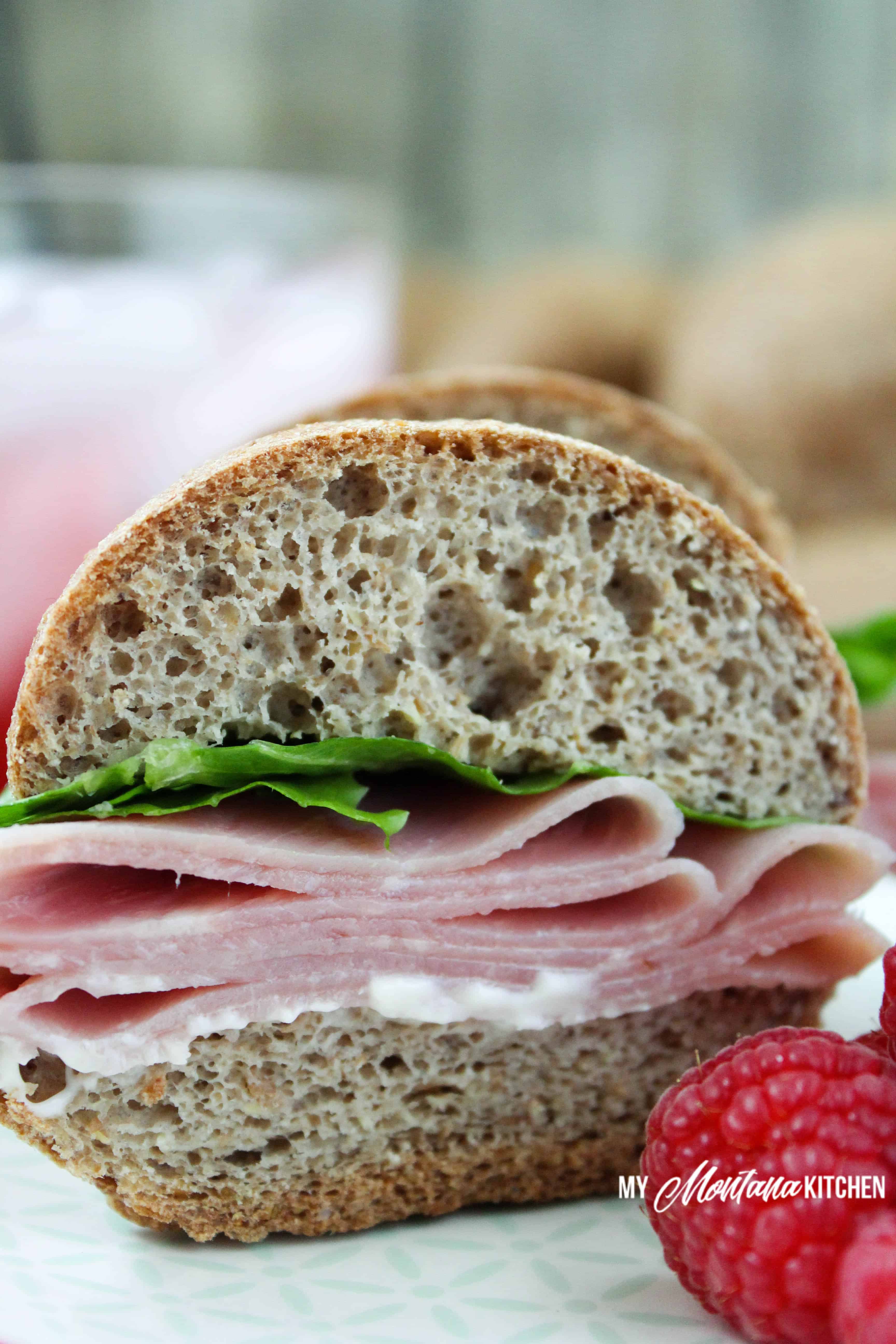 These low carb sandwich rolls have a crisp crust, with a soft interior. They are chewy, like real bread. My very picky 8 year old daughter gobbled one up and declared it was very good! (I was shocked - she usually doesn't like such things.) I should also add that bread is one of her favorite foods! Even my husband thought these tasted great!
I cannot wait for you guys to try them and let me know what you think! The ideas for these are endless - open face meatball sandwiches, pizza sandwiches, breakfast sandwiches (maybe served along with some Egg White Oatmeal), chicken salad sandwiches, well, . . . you get the idea!
If you are looking for an S fuel bread that you can bake as a loaf, be sure to check out this Simple Soda Bread from my friend Judy, over at Wonderfully Made And Dearly Loved!
So what do you need for these Low Carb Sandwich Rolls?
1 Cup Trim Healthy Mama Baking Blend
4 Tablespoons Psyllium Husk Powder
1 Tablespoon Baking Powder
1 Teaspoon Salt
2 Teaspoons Apple Cider Vinegar
1 Cup Boiling Water
1 Cup + 1 Tablespoon Liquid Egg Whites
Be sure to sign up with your email address so you can receive all my new recipes delivered right to your inbox! (Look for the sign-up box at the top of this post.) Also, be sure to follow me on Facebook, Pinterest, Instagram, and Twitter!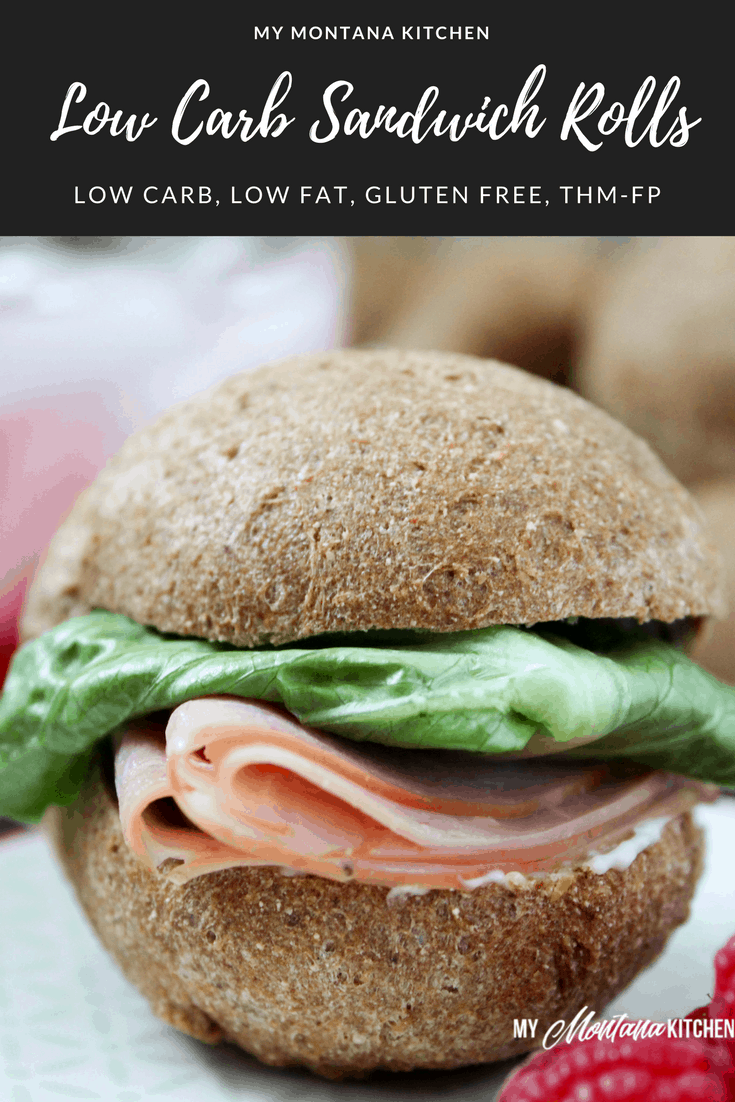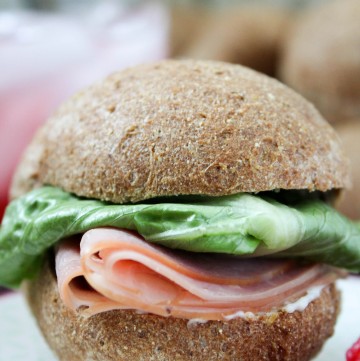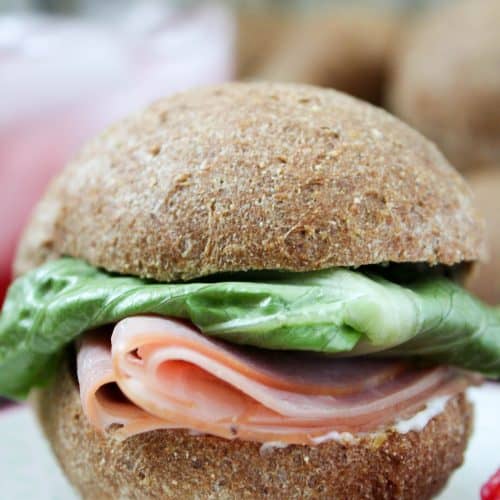 Instructions
In a large mixing bowl, mix all dry ingredients.

While mixing with a hand mixer, add apple cider vinegar, boiling water, and egg whites.

Mix for about 15-20 seconds, or just until ingredients are combined and begin to clump together.

Dough will be a bit goopy, almost like oatmeal. (Don't worry, that is normal!)

With wet hands, shape dough into eight rolls and place on a greased baking sheet.

Bake for 60-65 minutes, or until bread sounds hollow when tapping the bottom.

For best results, allow bread to cool completely before slicing.
Notes
I know it is tempting to cut into your bread as soon as it comes out of the oven, but I've found that the texture is much better after they cool completely.
Also, another note - I do not like to eat these by themselves as dinner rolls, but they make a great sandwich bread or garlic bread!
If you do not have the Trim Healthy Mama Baking Blend, you can use this DIY Baking Blend Recipe. 
Nutrition
Calories:
68
kcal
|
Carbohydrates:
13
g
|
Protein:
7
g
|
Fat:
2
g
|
Fiber:
12
g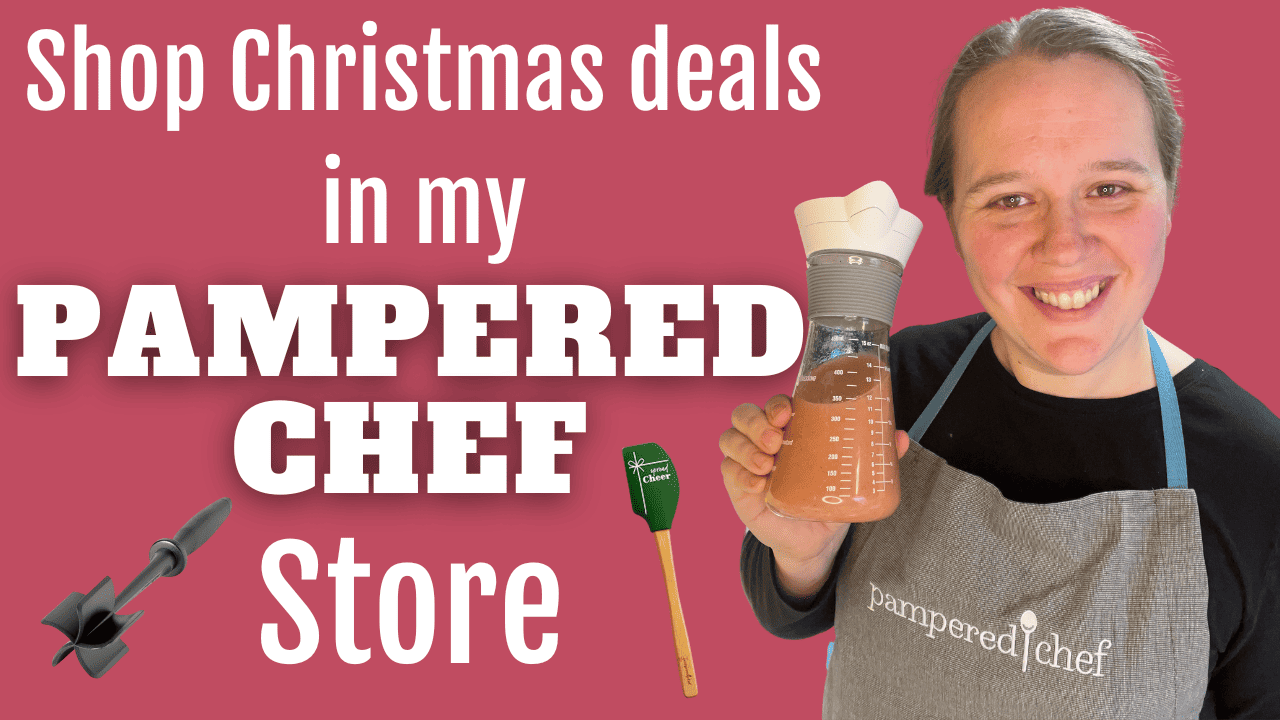 Reader Interactions