Orange Smoothie (Creamsicle Shake)
This Orange Smoothie is filled with fiber, protein, and over 200% of your daily value of Vitamins C and A! (Plus it tastes like a creamsicle!)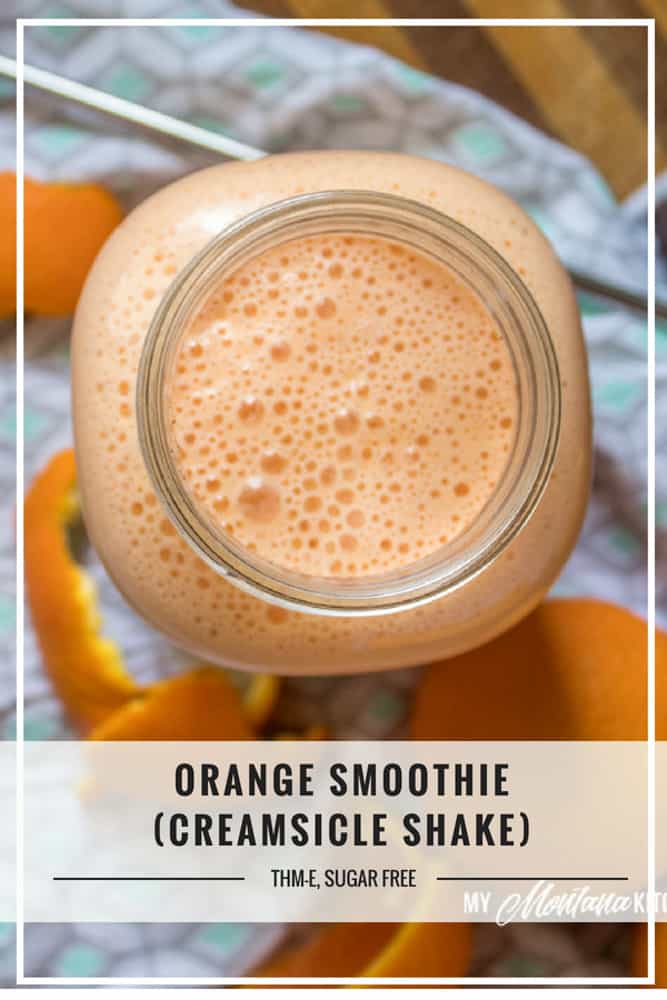 (We are a participant in the Amazon Services LLC Associates Program, an affiliate advertising program designed to provide a means for us to earn fees by linking to Amazon.com and affiliated sites. I am also an affiliate with Trim Healthy Mama. There are affiliate links used in this post.)
This recipe is sugar free, low fat, gluten free, and a Trim Healthy Mama E Fuel.
I have been making this smoothie for weeks, and I finally got around to taking the photos and writing down the recipe.
This has become one of my go-to recipes for breakfast or snacks.
It very light and so refreshing for summer (not that I would know very much about summer – it is only in the 50's today in Montana)!
All of my kids like it as well, because it truly does taste like a Creamsicle!
There are a variety of different sources of nutrition in this Smoothie, so let's take a look at some of them!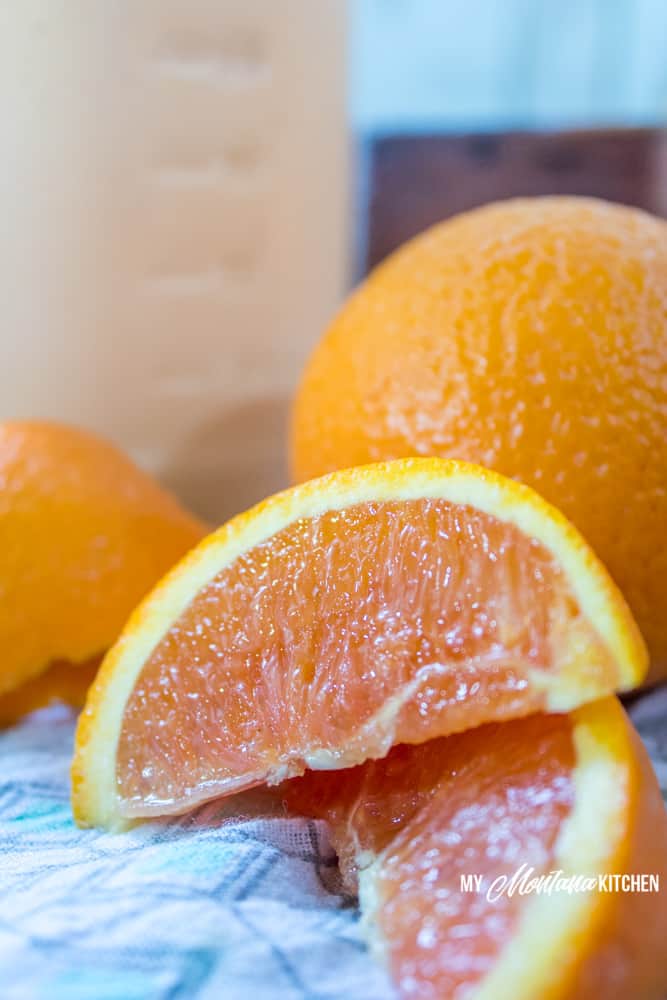 Orange Nutrition
High in antioxidants
Good source of Vitamin C
High in fiber
Boosts brain function
See more about orange nutrition here!
I used Cara Cara oranges for this recipe, because their flavor is so sweet, but you can use any variety of orange you wish!
Kefir Nutrition
I like to use my double fermented kefir in this Orange Smoothie, but that is not entirely necessary. If you do not have kefir, you can just use more almond milk.
But I think the kefir helps to make this extra creamy.
Kefir is a powerhouse of nutrition, and I have learned to love it. I do make my own, but I don't go through it very quickly, so I end up putting my grains in the refrigerator to slow them down.
You can see more about kefir, its nutrition and THM fuel types in my Cherry Kefir Smoothie Recipe.
According to Dr. Axe, here are several key benefits to kefir:
Boosts immunity
Helps increase bone strength
Supports digestion and fights IBS
Improves allergies
Heals skin issues
Can help improves lactose intolerance symptoms
If you are unsure how to make kefir, here is a great tutorial made by Pearl and Serene (authors of the Trim Healthy Mama books).  Here is another  easy video tutorial.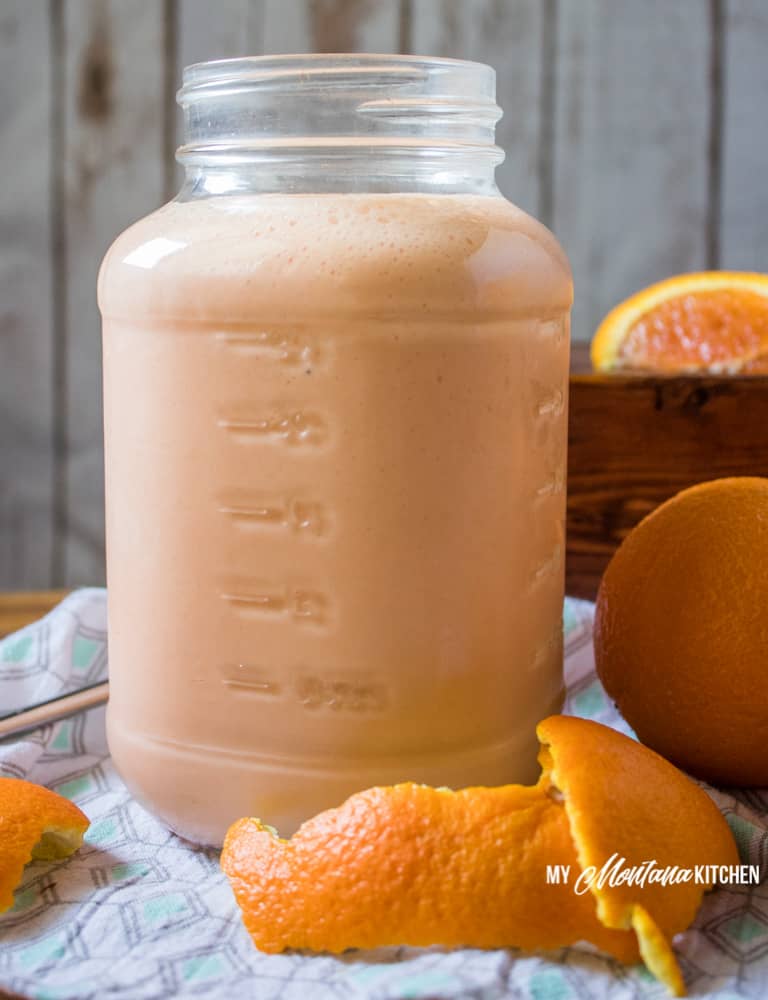 Baobab Nutrition
I also use Baobab Boost powder – but again, this is not completely necessary. But if you have it, I would certainly use it!
Baobab is the newest thing on my list of "Superfoods." I had never really heard of it until about a year ago.
Here are a few facts about Baobab.
Contains more antioxidants than any food
High in Vitamin C (ten times the amount of Vitamin C in oranges)
Has twice the iron of spinach (and the high Vitamin C content helps you to absorb it)
More than twice the calcium of milk
Has five times the fiber of oats
A great source of potassium (six times more than bananas)
You can see more from my source about Baobab, here!
The first time I made this Orange Smoothie, the taste was great, but the color was a pale yellowish color. (It definitely was not orange.)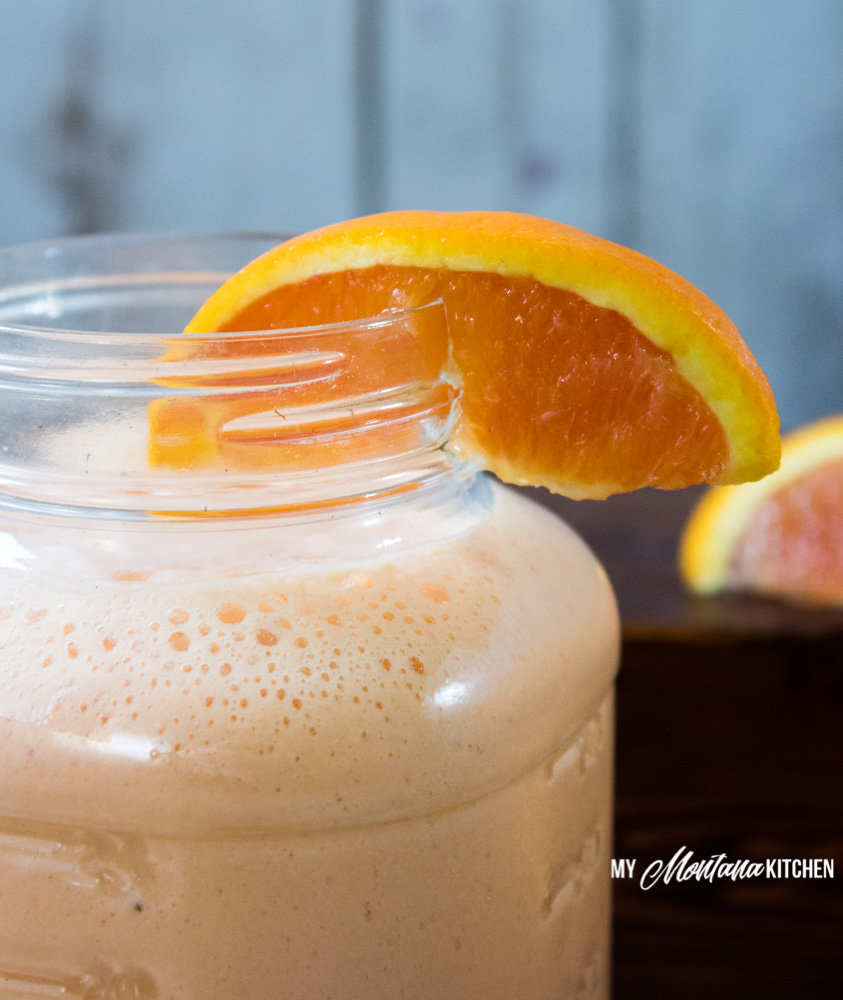 That is when I decided to try adding raw carrot to it for color (also a good source of beta-carotene and fiber).
That did the trick, and now my smoothie is a beautiful orange color. The carrot doesn't really add much flavor, (perhaps a bit) but I do not find it unpleasant at all. I think it adds to the depth of flavors.
A good dash of mineral salt also adds a nice touch to round out the complex flavors in this light and refreshing drink.
Because of the oranges, Baobab and carrot, this refreshing drink has over 200% of your daily Vitamin C and Vitamin A!
Because of the protein found in the cottage cheese and kefir, this can be a complete (light) meal or snack. If you wanted to bump the protein up a bit you could always add a scoop of collagen.
If you are dairy free, you may want to try this Dairy Free Orange Julius Recipe from Mamashire!
So, what do you need for this Orange Smoothie (Creamsicle Shake)?
1 Orange, peeled
½ Cup Low Fat Cottage Cheese
½ Cup Double Fermented Kefir
½ Cup Unsweetened Almond Milk
2 Teaspoons Vanilla Extract
2 ½ Tablespoons Gentle Sweet
1 Tablespoon Baobab
2 Ounces Raw Carrot (About a three inch section)
Dash of Mineral Salt
1 Cup Ice (About 8 ice cubes)
*Note: I was talking about this recipe with a friend, and she mentioned there was a similar recipe in one of the THM cookbooks. I have not seen that recipe, so any similarities are coincidental.
Be sure to sign up with your email address so you can receive all my new recipes delivered right to your inbox! (Look for the sign-up box at the top of this post.)
Also, be sure to follow me on Facebook, Pinterest, Instagram, and Twitter!
If you make a recipe and love it, please leave a comment on my Facebook Page or tag me on Instagram (my_montana_kitchen_thm)!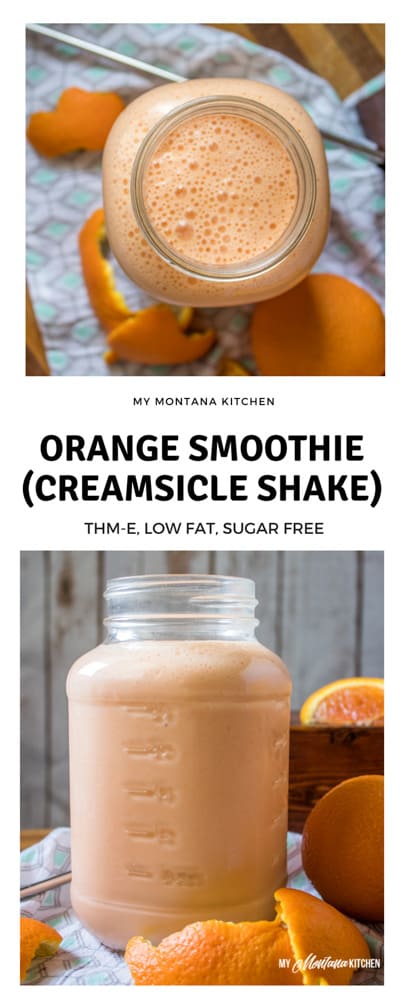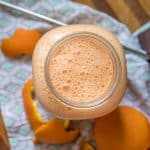 Orange Smoothie (Creamsicle Shake)
This Orange Smoothie is filled with fiber, protein, and over 200% of your daily value of Vitamins C and A!. (Plus it tastes like a creamsicle!)
Course:
Breakfast, Drinks, Snack
Ingredients
1

Orange

peeled

½

Cup

Low Fat Cottage Cheese

½

Cup

Double Fermented Kefir

½

Cup

Unsweetened Almond Milk

2

Teaspoons

Vanilla Extract

2 ½

Tablespoons

Gentle Sweet

1

Tablespoon

Baobab

2

Ounces

Raw Carrot

About a three inch section

Dash of Mineral Salt

1

Cup

Ice

About 8 ice cubes
Instructions
Place all ingredients except ice in a blender and blend well, until orange is well-blended.
Nutrition Facts
Orange Smoothie (Creamsicle Shake)
Amount Per Serving (1 Recipe)
Calories 330
Calories from Fat 45
% Daily Value*
Total Fat 5g 8%
Total Carbohydrates 54g 18%
Protein 23g 46%
* Percent Daily Values are based on a 2000 calorie diet.