We may earn money from the products/companies mentioned in this post. As an Amazon Associate I earn from qualifying purchases.
Rich chocolate studded with pecans and topped with a savory salty finish.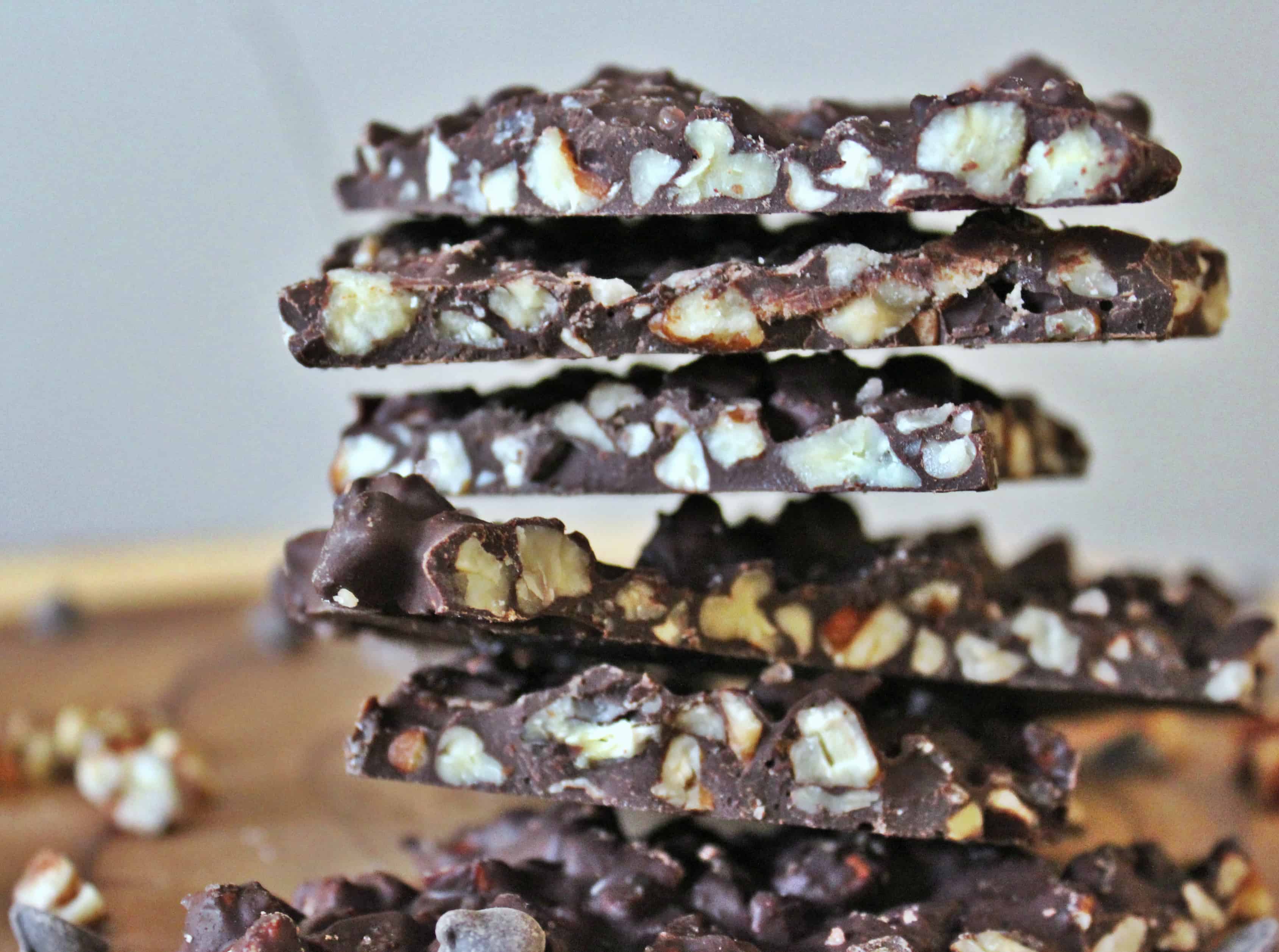 This pecan bark is amazing! I know, that sounds very self-promoting to say about your own creation, but truly! I thought I was eating a candy bar! I had a serious problem exercising self-control when I was photographing these beauties. Little broken (or unbroken) pieces kept making their way into my mouth!
A couple nights ago I was wanting a bite of something sweet, so after a bit of rummaging around I came up with this bark. Seriously, it takes less than 5 minutes to throw together. The hardest part is waiting for them to cool in the freezer. (10 minutes or so)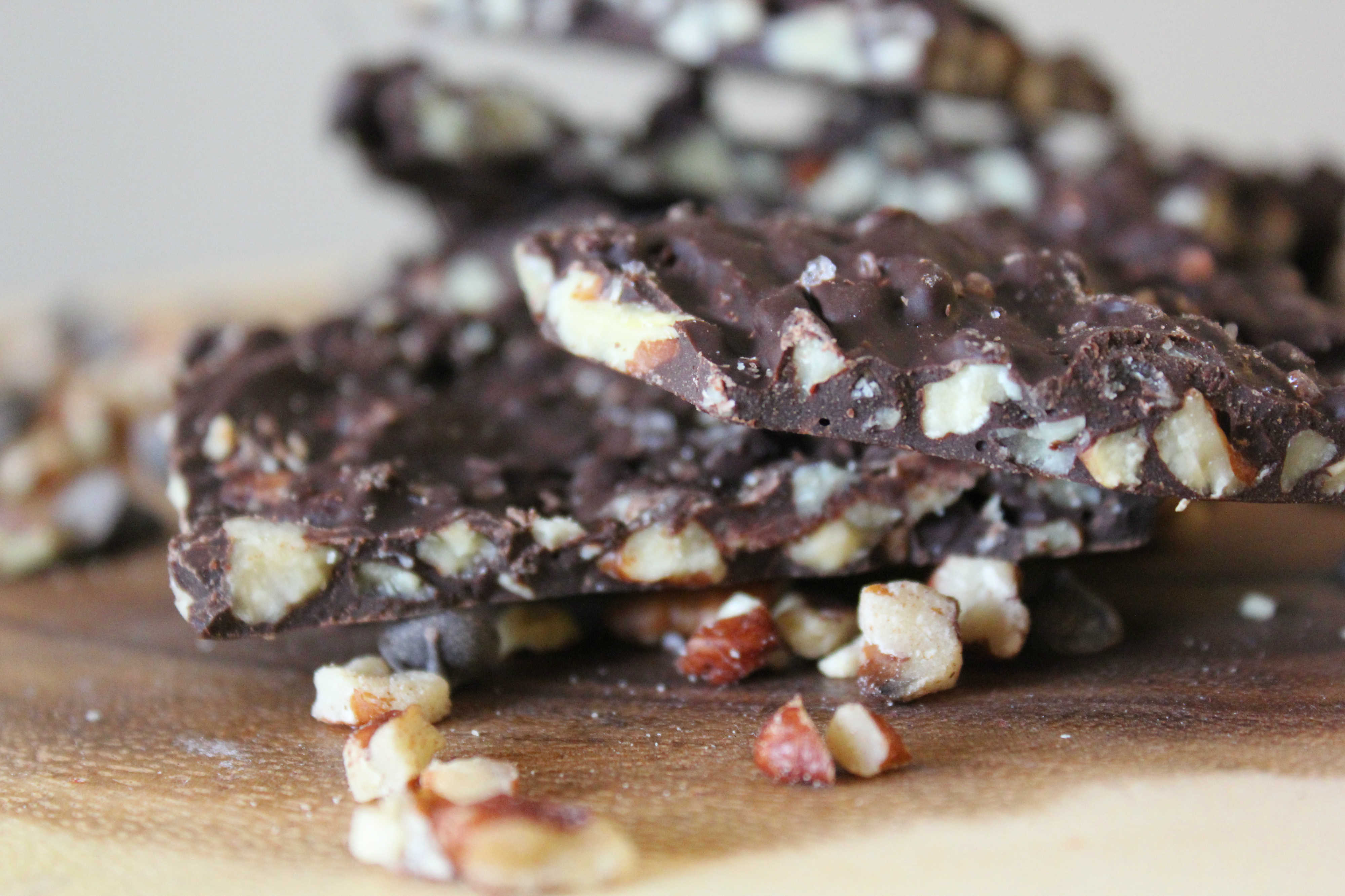 My seven year old daughter couldn't get enough of them either, and that is saying something, because she is a very picky eater! Score one for Mama!
Now it is time to be honest with you. I probably will not keep these on hand very often. For the very reason that it is so easy to eat too many of them! If you have more self-control than I do, I congratulate you! I will keep this as a special treat for special occasions!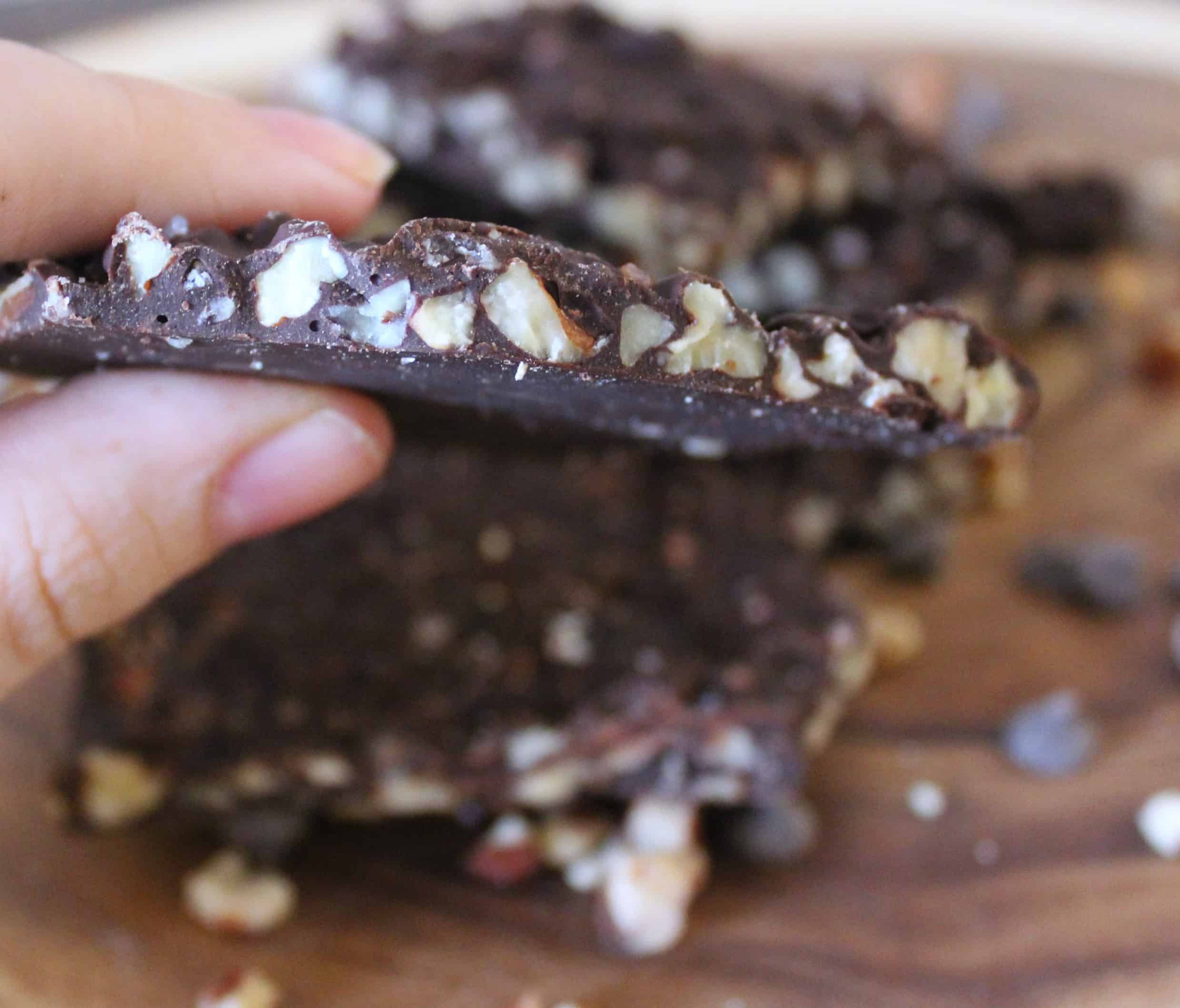 As part of my Goals for 2017, I have been trying to scale back a bit and incorporate more FP snacks into my diet. This recipe is obviously not a Fuel Pull, but that is part of the beauty of Trim Healthy Mama - all things in moderation. I have been trying to have more moderation in my daily eating habits! It is so easy to think, "This is an "S" fuel and there is no limit!" 7 pieces of pecan bark later, . . . Ahem. Yes, we can have these decadent treats, but we still can't go overboard! While we don't count calories, (Hurrah for that) we still need to be "calorie conscious." Ok, enough scolding (but I'm talking to myself here, too).
After all that, maybe you don't even want to make these! But oh, please DO! They are indeed lovely! I have not tested this with the Skinny Chocolate recipe (from the THM Cookbook), but I think that would work, though it would be thinner, and would melt much faster. But you would get all the wonderful benefits of coconut oil in your treat! That is always a win-win!

Instructions
In a microwaveable container, melt chocolate chips with coconut oil. Heat for 30 second intervals to avoid scorching. (Mine was done in 2 thirty-second intervals). (This could also be done using a double boiler.)

Stir chocolate until it is smooth, then add pecans and stir well.

Pour onto a parchment lined baking pan and smooth out.

Sprinkle with coarse salt.

Place in freezer to harden. (Can be refrigerated or left at room temperature after it has hardened.)

Break into pieces and enjoy!
Notes
You could possibly use Skinny Chocolate for this in place of the chocolate chips, but the flavor and texture will not be the same. If you decide to try it, I would recommend using an 8x8 pan lined with parchment paper instead of the baking sheet.
Be sure to sign up with your email address so you can receive all my new recipes delivered right to your inbox! (Look for the sign-up box on the right sidebar if you are on a desktop, or at the very bottom of this post if you are using a mobile device.) Also, be sure to follow me on Facebook, Pinterest, Instagram, and Twitter!
This post contains affiliate links, which provide me with a small compensation when you purchase your products through my links. Thank you for your support!