We may earn money from the products/companies mentioned in this post. As an Amazon Associate I earn from qualifying purchases.
Trim Healthy Mama Friendly Meal Plan (Menu)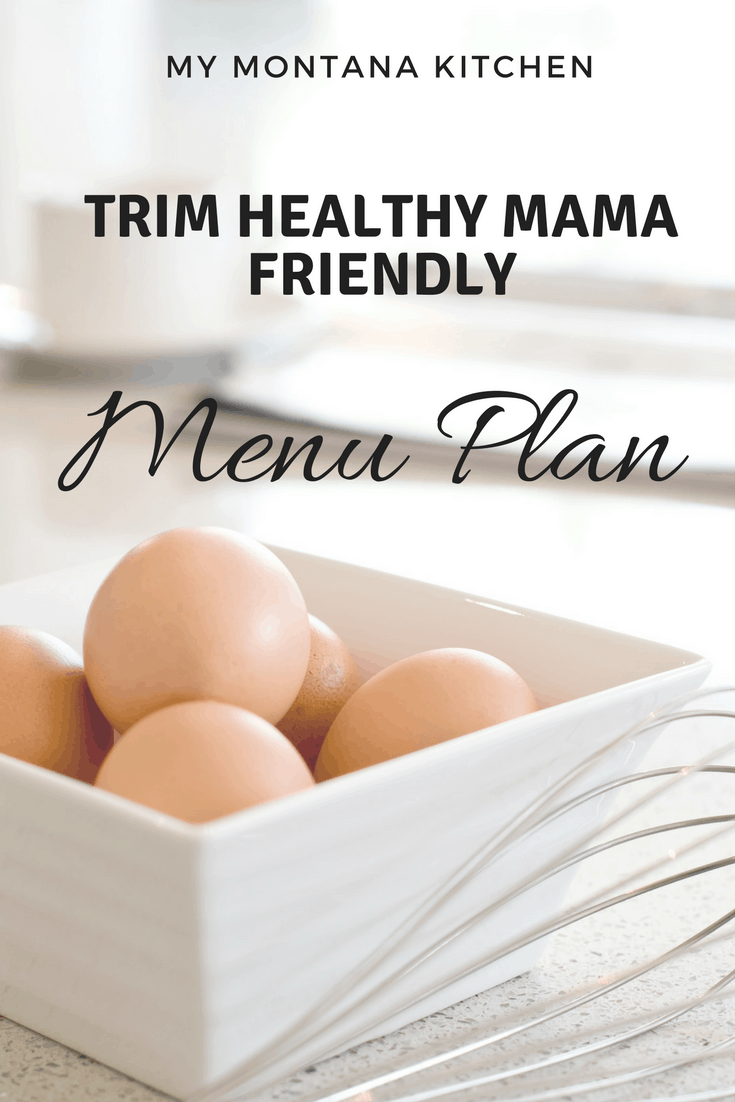 (We are a participant in the Amazon Services LLC Associates Program, an affiliate advertising program designed to provide a means for us to earn fees by linking to Amazon.com and affiliated sites. There are affiliate links used in this post.)
Here is what I am eating this week . . . I decided to try out some new recipes from the newest Trim Healthy Mama Cookbook, Trim Healthy Table. If you have been on the fence about trying out the Trim Healthy Mama style of eating, or wondering what book you should purchase, I would highly recommend the Trim Healthy Table.
There are several chapters at the beginning of the book that explain the plan in a nutshell, how it works and why it works, as well as some tips and tricks to make it work for you! Plus, you get a ton of new recipes to try!
The term "THT" in the following menu refers to the Trim Healthy Table Cookbook.
Monday
Breakfast: Leftovers (I had upside down peach oatmeal) (E)
Lunch: Chef Salad (S)
Supper: Low Carb Waffles, Scrambled Eggs, Bacon (S)
Snack: Deviled Eggs (S)
Tuesday
Breakfast: Scrambled Eggs, Roasted Okra (S)
Lunch: Ham, Pickle & Cheese Roll-ups, Boiled Eggs, Cucumbers (S)
Supper: Instant Pot Spaghetti Squash Aglio E Olio, Green Beans, FP Rolls (S)
Snack: Cookie Dough Protein Bar (FP) ~ page 428 in THT
Wednesday
Breakfast: Trim Healthy Pancakes (E)
Lunch: BLT Wraps (with Romaine), Deviled Eggs (S) ~ Wraps page 297 THT
Supper: Chili Pie, Broccoli (S) ~ page 142 THT
Snack: Strawberry Happy Bites (S) ~ page 427 THT
Thursday
Breakfast: Smoothie - I just blend some low fat cottage cheese or Greek yogurt with frozen berries, sweetener, and a little almond milk. (FP)
Lunch: Leftovers
Supper: Chicken Sausage Gumbo, FP Rolls (E) ~ Gumbo page 89 THT
Snack: Secret Ingredient Chocolate Peanut Butter Smoothie (FP)
Friday
Breakfast:  Baked Pineapple Upside Down Oatmeal (E)
Lunch: Chef Salad, Boiled Eggs (S)
Supper: Hot Wings (S)
Snack: Cottage Berry Whip (FP)
Saturday
Breakfast: Yogurt Power Bowl (S)
Lunch: Leftovers
Supper: Bacon Jalapeno Popper Pizza, Tossed Salad (S)
Snack: Strawberry Happy Bites (S) ~ page 427 THT
Sunday
Breakfast: Peanut Chocolate Whip (FP) ~ page 442 THT
Lunch: Roasted Chicken, Sweet Potatoes (E)
Supper: Lazy Lasagna, Tossed Salad, Green Fries (S)
Snack: Kitchen Sink Cookie, Collagen Coffee (S)
Desserts:
Caramel Apple Bam Cake (E) ~ page 384 THT
If you would like a printable PDF version of this menu, you can find it here.
Be sure to sign up with your email address so you can receive all my new recipes delivered right to your inbox! (Look for the sign-up box at the top of this post.) Also, be sure to follow me on Facebook, Pinterest, Instagram, and Twitter!