We may earn money from the products/companies mentioned in this post. As an Amazon Associate I earn from qualifying purchases.
A sample meal plan that fits the Trim Healthy Mama Plan.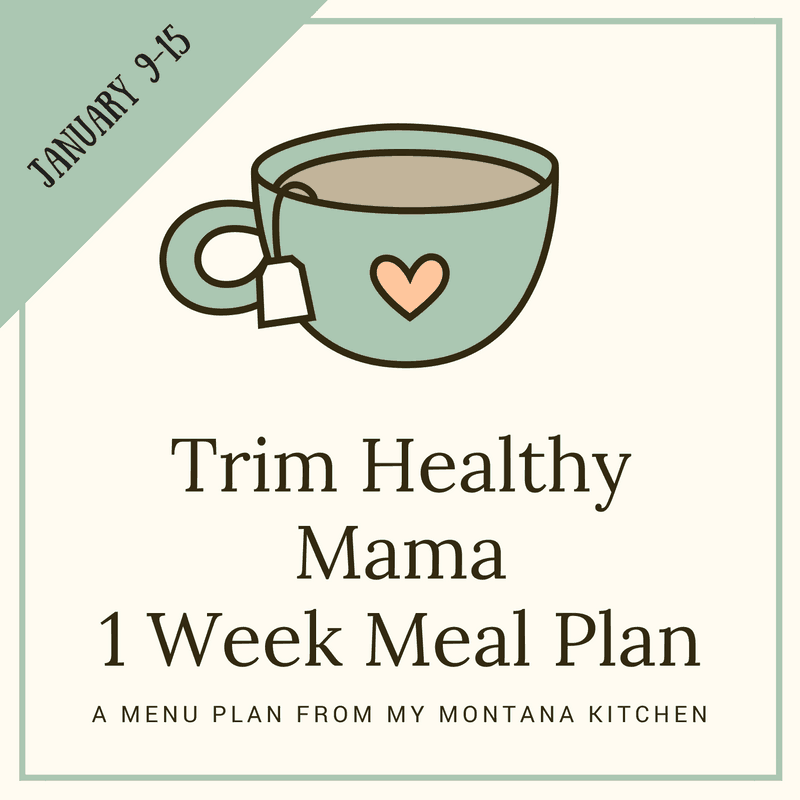 Monday:
Breakfast: Gwen's Orange Muffin (FP)
Lunch: Chicken Salad over lettuce, extra vegetables (S)
Supper: Out to eat (will be an S fuel)
Snacks: Bust-A-Myth Banana Cake (E)
Tuesday:
Breakfast: Crispy Blueberry Pancakes w/Homemade Whipped Cream (S)
Lunch: Chicken Chile Casserole, Fried Okra (S)
Supper: Coney Island Casserole, Green Fries, Side Salad (S)
Snacks: Cottage Berry Whip (THM Cookbook, page 374) (FP)
Wednesday:
Breakfast: Sprouted toast with LLCC (Light Laughing Cow Cheese) and Polaner Jam, collagen coffee (E)
Lunch: Lean deli ham wrapped around pickles, crudités, deviled eggs (S)
Supper: Ham & Broccoli Braid, sautéed zucchini, Light & Lovely Coleslaw (S)
Snacks: Deviled eggs (S)
Thursday:
Breakfast: Power Yogurt Bowl (S)
Lunch: Chicken breast, sweet potato fries (E)
Supper: Mrs. Criddle's Sour Cream Enchiladas, Salad (S)
Snacks: Fat Strippin' Frappa (FP)
Friday:
Breakfast: Scrambled eggs with lots of vegetables, sprinkle of Parmesan (S)
Lunch: Sandwich (Lean Deli Meat, LLCC, vegetables on Sprouted bread); cucumbers, berries and low-fat cottage cheese. (E)
Supper: Chicken Bacon Caesar Casserole, salad, green beans (S)
Snacks: Peanut Butter Chocolate Chip Cookie Dough (S)
Saturday:
Breakfast: Pumpkin Chocolate Chip Muffin in a Mug (S)
Lunch: Buffalo Chicken Dip with crudités (S)
Supper: Dreamfields Spaghetti with meat sauce, Caesar salad, Broccoli (S)
Snacks: Cinnamon Roll Smoothie (E)
Sunday:
Breakfast: Cinnamon Roll In a Mug (S)
Lunch: Pork chops, Broccoli Salad, Mashed Cauliflower (S)
Supper: Leftovers
Snacks: Power O's with ½ banana (E)
Desserts:
Bust-A-Myth Banana Cake (E)
If you would like to print this menu, click here.
Be sure to sign up with your email address so you can receive all my new recipes delivered right to your inbox! (Look for the sign-up box on the right sidebar if you are on a desktop, or at the very bottom of this post if you are using a mobile device.) Also, be sure to follow me on Facebook, Pinterest, Instagram, and Twitter!
This post contains affiliate links, which provide me with a small compensation when you purchase your products through my links. Thank you for your support!