We may earn money from the products/companies mentioned in this post. As an Amazon Associate I earn from qualifying purchases.
A triple chocolate cake that is strictly for chocoholics! Tender chocolate cake covered in a rich chocolate ganache, with a creamy chocolate buttercream frosting. This recipe is sugar free, low carb, and a Trim Healthy Mama S fuel.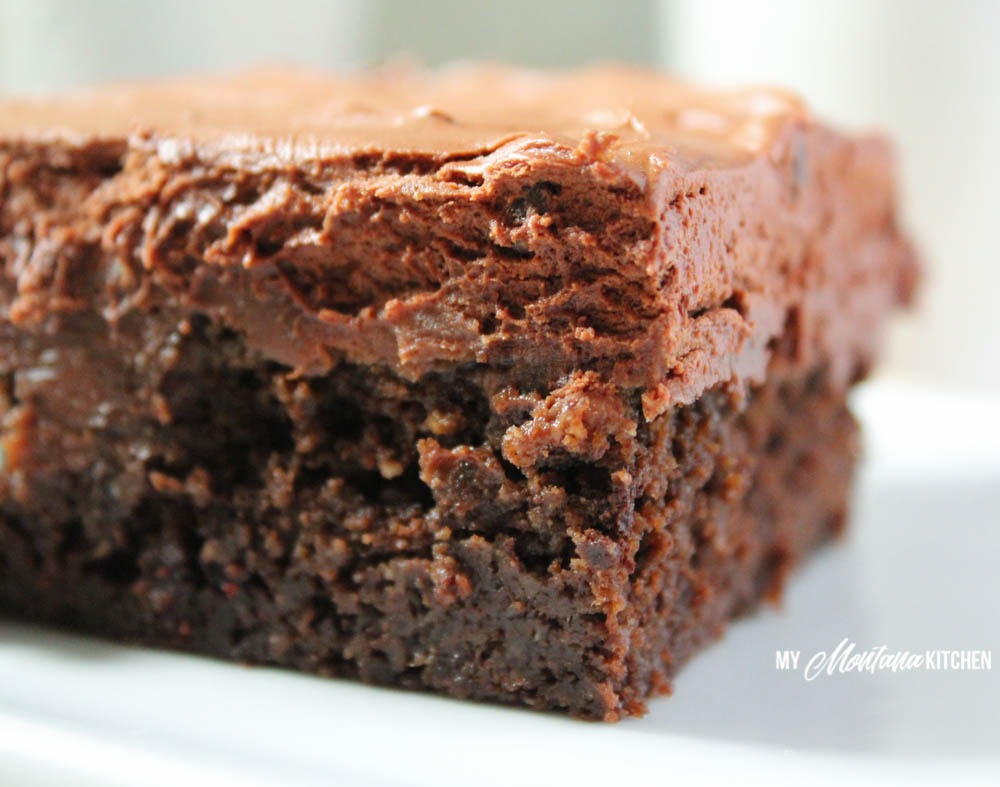 (This post contains affiliate links, which provide me with a small compensation when you purchase your products through my links. Thank you for your support!)
I will just say it right up front - this cake is only for the most serious chocolate lovers. It is intense chocolate! Which I happen to love! Moist and tender chocolate cake with a heavy ganache-type filling, topped with a delicious 2 ingredient buttercream chocolate frosting. It is so rich, you really don't need very much to satisfy.
Do not be intimidated by the number of steps required to make this cake. It is a bit labor intensive, but worth it! (Similar to my Best Brownie Delight recipe!) I served this cake to my best friend, and every two bites she was making exclamations. "Mmmm," "Oh, this is very nice," "Very nice, Sarah!" I think she liked it!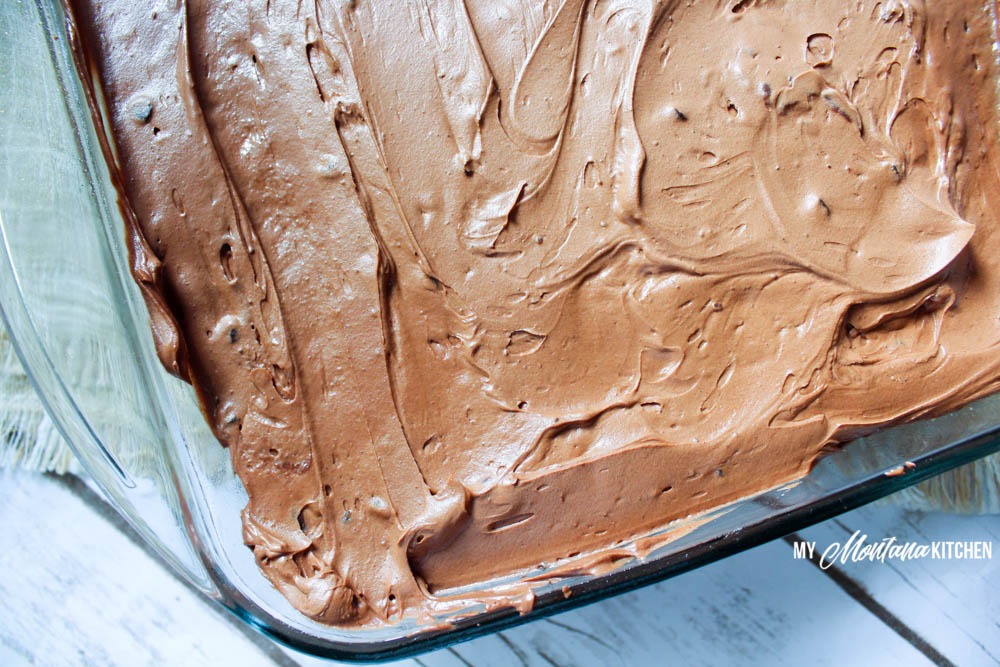 The cake is quite simple to make, and most of my readers have probably made the sugar free sweetened condensed milk at some time, so you are already familiar with that process.
The 2 ingredient buttercream frosting is simply butter and Lily's Chocolate Chips. I saw a video on Facebook a long time ago showing this method. (Check out the original video here.) There are many similar recipes on Pinterest. Of course, I used Lily's Chocolate Chips (which are sweetened with stevia) to keep this frosting sugar free.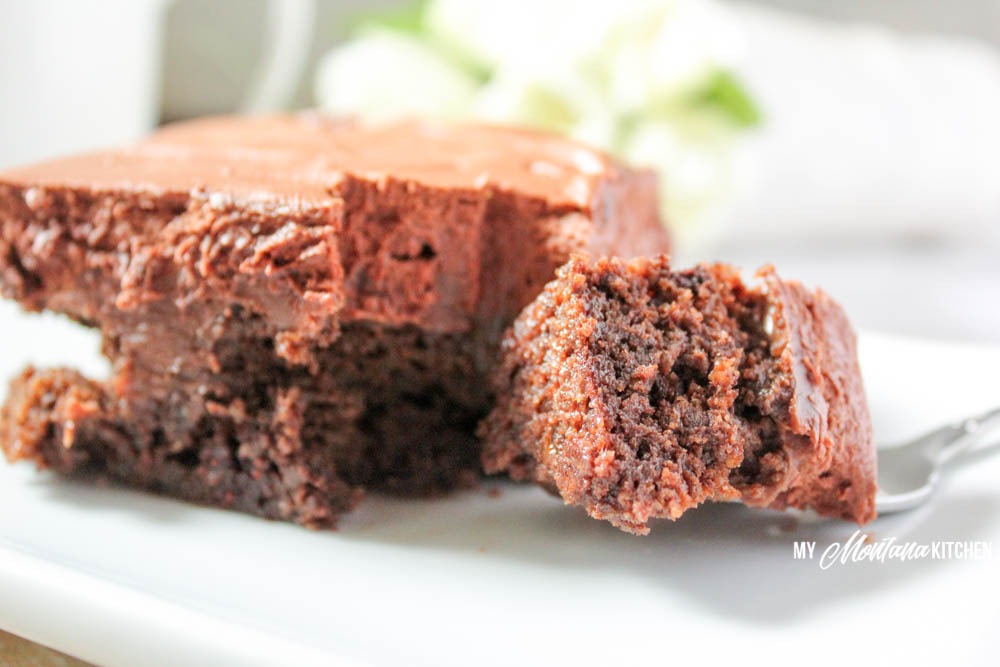 So, what do you need for this cake?
For the Cake:
3/4 Cups Baking Blend
2/3 Cups Gentle Sweet (or the equivalent of your favorite sweetener)
1/3 Cup Cocoa Powder
1/2 Teaspoon Baking Soda
3/4 Teaspoon Baking Powder
1/4 Teaspoon Mineral Salt
1/3 Cup Melted Coconut Oil (I use refined coconut oil so there is no coconut flavor.)
1 Teaspoon Vanilla
2 Eggs
2/3 Cup Water
For the Ganache:
1/4 Cup Lily's Chocolate Chips
For the Frosting:
3/4 Cup Butter
3/4 Cup Lily's Chocolate Chips
And if you don't want to make an entire cake, check out this delicious chocolate Keto Mug Cake! Single serve, and quick and easy to make!
Be sure to sign up with your email address so you can receive all my new recipes delivered right to your inbox! (Look for the sign-up box at the very top of this page.) Also, be sure to follow me on Facebook, Pinterest, Instagram, and Twitter!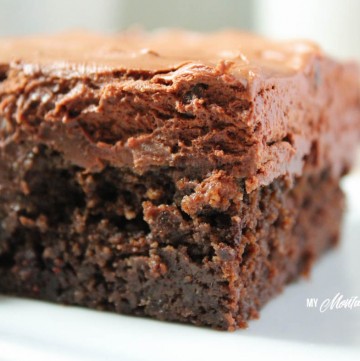 Ingredients
For the Ganache:
1

Recipe Low Carb 3 Ingredient Sweetened Condensed Milk

You should have 1 1/4 Cups
For the Frosting:
3/4

Cup

Butter
Instructions
Make the Cake
Preheat oven to 350.

In a large mixing bowl, mix all the dry cake ingredients together.

Add melted coconut oil, vanilla, eggs, and water and mix well.

Pour batter into a greased 8x8 cake pan.

Bake in preheated oven for 30-35 minutes, or until center top of cake is dry.

Allow cake to completely cool.
Make the Ganache
Prepare Low Carb Sweetened Condensed Milk.

Mix the Condensed milk with 1/4 cup Lily's Chocolate Chips.

Using a wooden spoon handle, poke holes all over the cake.

Immediately pour the chocolate condensed milk mixture over the holes.
Make the Frosting
In a microwaveable container, melt 3/4 cup butter.

Immediately add 3/4 cup Lily's chocolate chips and stir until completely melted.

Place in refrigerator for 30 minutes or until the butter hardens.

Remove from refrigerator and beat frosting using an electric hand mixer. (The frosting should be thick and fluffy.)

Frost cake and refrigerate if desired (but not necessary).
Notes
If you do not have the THM Baking Blend, you can use 1/4 cup each of Almond Flour, Coconut Flour, and Flax Meal. Nutrition information per piece: Calories - 519; Fat - 47; Protein - 7; Carbs - 11; Fiber - 9; Net Carbs - 3
Nutrition