We may earn money from the products/companies mentioned in this post. As an Amazon Associate I earn from qualifying purchases.
10 Deviled Egg Recipes for Easter
10 deviled egg recipes that are perfect for Easter, or any time of year! All of these recipes are low carb, keto, gluten free, and a Trim Healthy Mama S Fuel.
I'm not sure when the tradition began of deviled eggs for Easter, but we enjoy them all year long. In fact, Deviled Eggs are one of my husband's favorite snacks to have on hand in the refrigerator.
They make a perfect snack - you can eat them straight out of the fridge (no fork or plate required) and they boast a healthy dose of protein!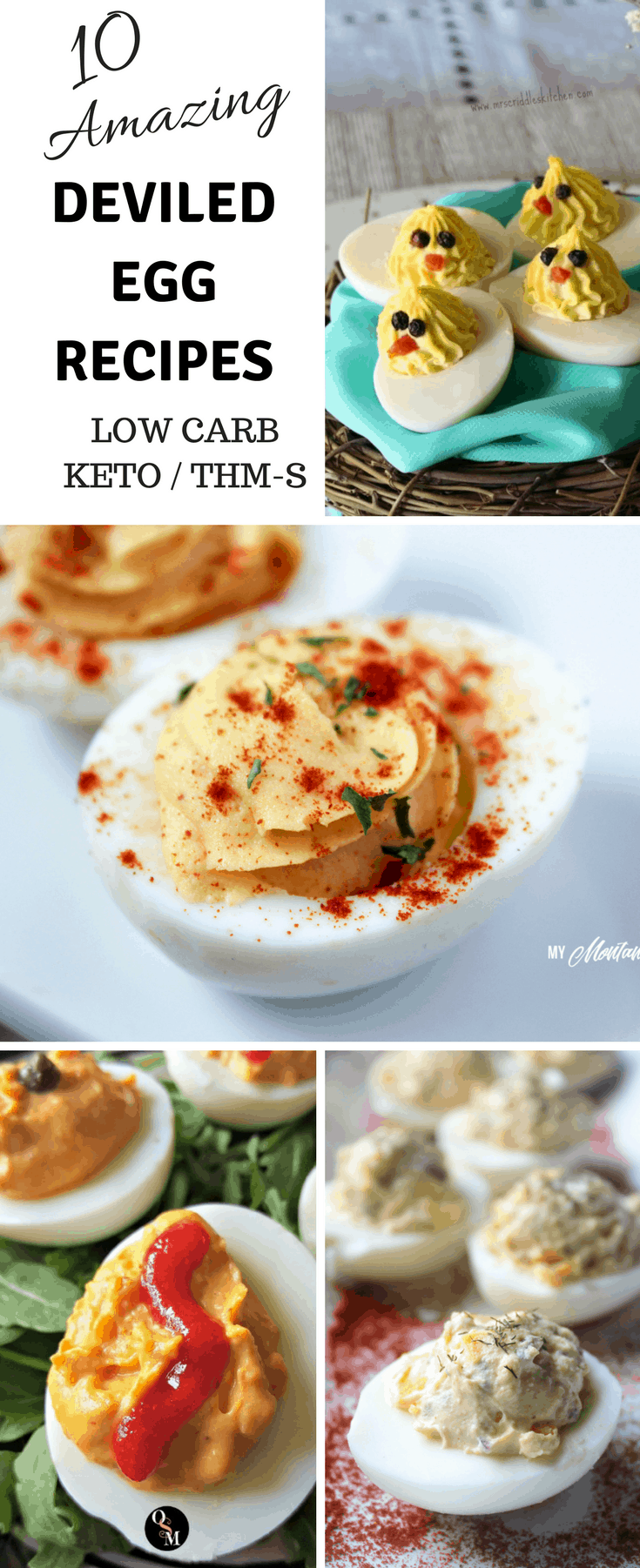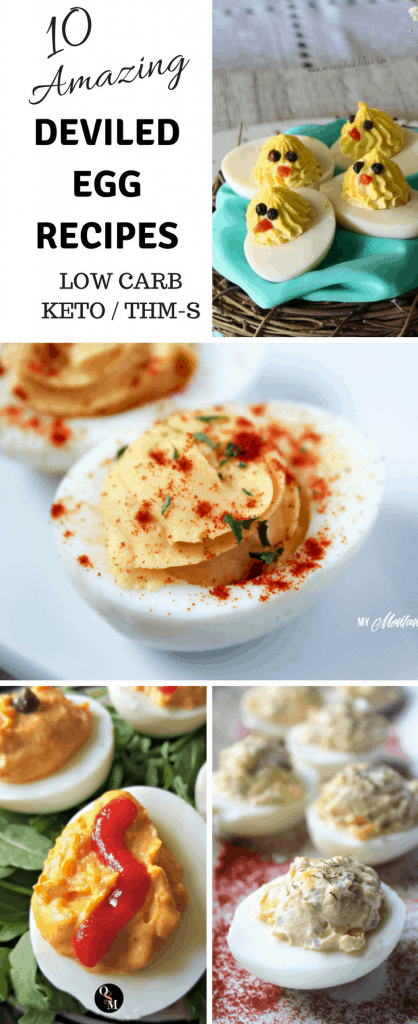 We just recently started gathering eggs from our backyard chickens, and "home raised" eggs are the BEST! The color is unparalleled in any egg you buy from the store. The yolks are such a rich yellow color. Beautiful!
I thought I would compile a roundup of 10 deviled egg recipes for my readers. There are different variations, and of course, a very basic deviled egg recipe! There is even a recipe without mayo - it uses avocado instead. How genius is that?
To see the recipes, either click on the photo or the recipe name. Enjoy!
Rich deviled eggs with a cool and creamy center and a delicious smoky flavor.
Deviled Eggs make a fantastic, high-protein, grab-and-go lunch or snack!
Low Carb Jalapeño Popper Deviled Eggs
Pickled jalapeños add a bit of kick to these deviled eggs!
Deviled Chick Eggs or PEEP Eggs like I like to call them… are so cute! Really easy to make and fun for kids to do as a spring activity!
Want to try something a little different? How about low carb huevos rancheros deviled eggs?
Spicy Smoky Salmon Deviled Eggs
Smoky salmon and spicy red hot pepper sauce unite to create these unique, protein rich deviled eggs.
These Sriracha Deviled Eggs live up to their namesake! You control the heat, though, so add a little or a lot – either way these delicious low carb eggs make a great appetizer.
Cream Cheese and Bacon Deviled Eggs
                These cream cheese and bacon deviled eggs are the ideal low carb appetizer or party food!
Spicy Keto Deviled Eggs without Mayo
For a change of pace, try these spicy keto deviled eggs without mayo. They can be made mild to hot depending on the preference. And they are quick and easy to prepare.
Bacon Cheddar and Onion Deviled Eggs
The addition of bacon and cheese make these deviled eggs extra special!