We may earn money from the products/companies mentioned in this post. As an Amazon Associate I earn from qualifying purchases.
Delicious, savory beef stew with hearty chunks of vegetables...yum. Could anything be better on a chilly afternoon or evening? With this low-carb recipe, you can enjoy a nice warm bowl of beef stew anytime! This is also a Trim Healthy Mama S Recipe.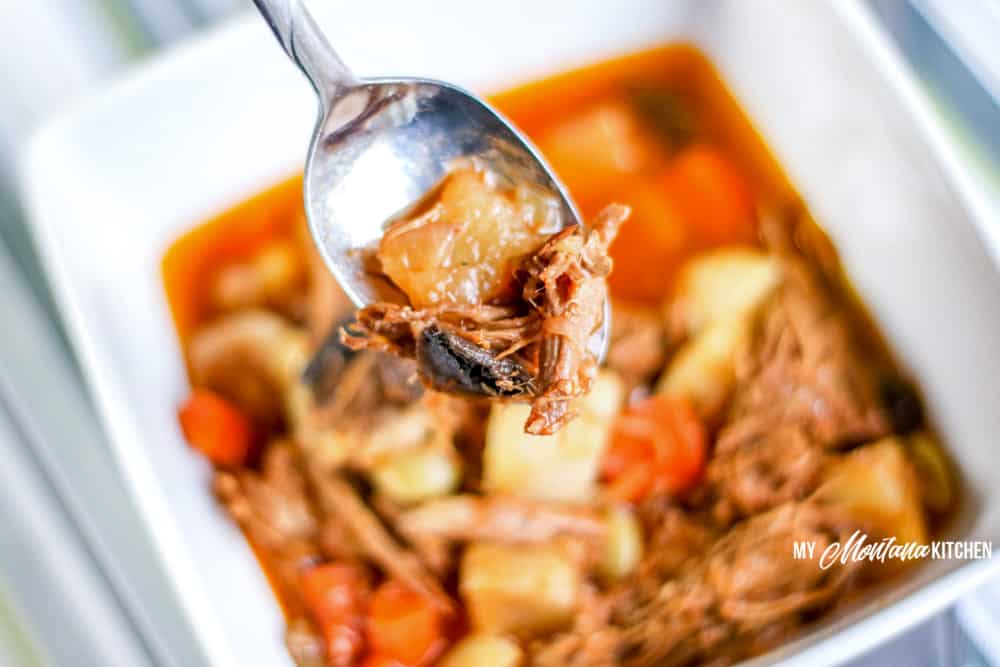 Beef Stew Without Potatoes
Beef stew is a classic comfort food for a reason. It's just that good! A lot of the traditional veggies are high in carbs though, making it off-limits for folks on keto, low carb diets, or THM-ers looking for a good S Fuel Beef Stew. 
Not any more! This beef stew recipe is full of all the comforting goodness without those pesky carbs. 
What Can I Substitute for Potatoes in Beef Stew?
I'm glad you asked!
My recipe calls for turnip roots in place of high-carb potatoes.
If you haven't tried turnips before, you'll love them in this stew! They have a great texture and a bit of a nutty-sweet flavor that pairs well with the savory beef and herbs.
If you're hesitant to try turnips because you've heard that they're bitter, be sure to load up on the smaller ones - about the size of a tennis ball.
In addition to being sweeter than the larger, older turnips, they're also easier to cut and prep!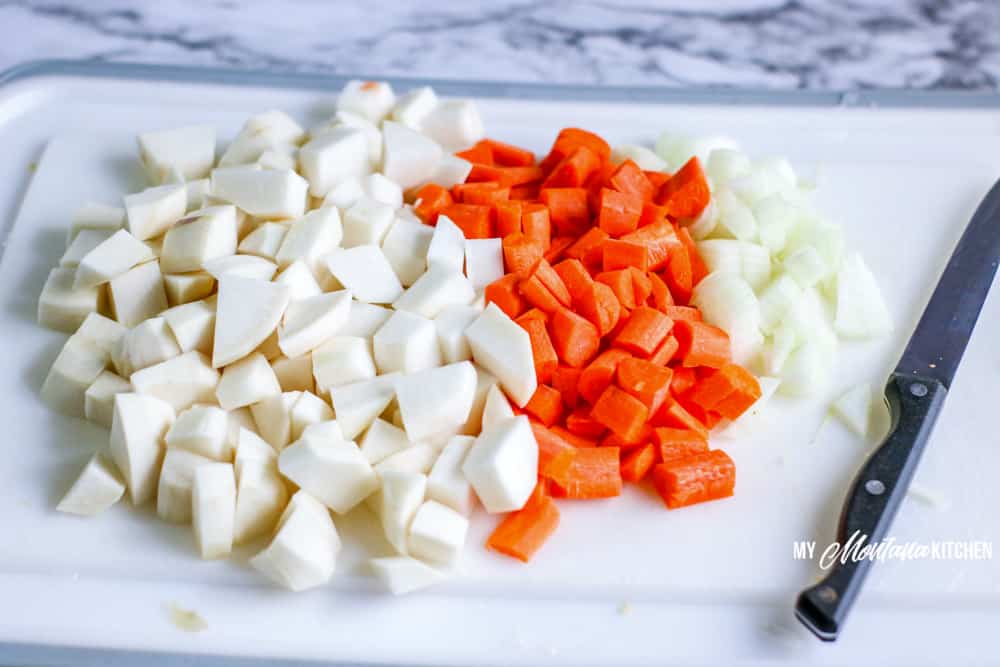 Are Turnips Healthier than Potatoes?
Turnips make a great low carb and Keto-friendly substitution! 
With only 5.8 net carbs and a ton of vitamin C, turnips are a bit of a low carb nutritional powerhouse.
They're great in stews (like this one), but they can also be roasted for a yummy, easy side dish.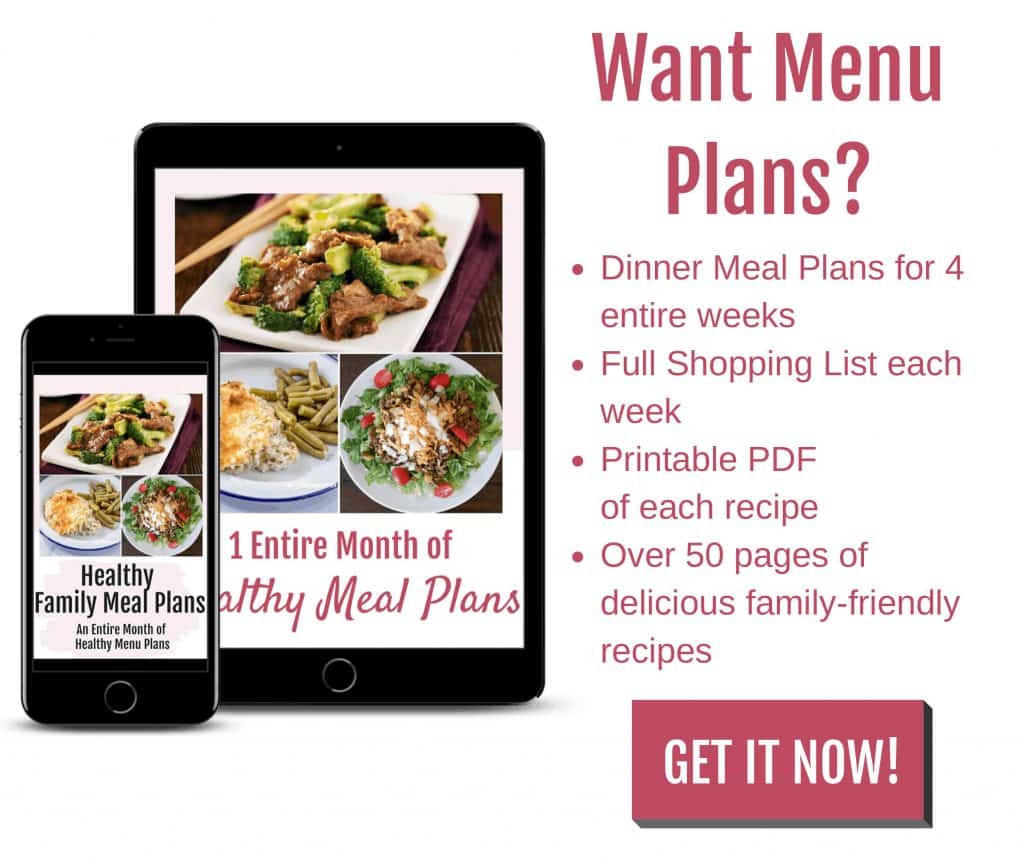 Because these low-carb beauties make up the majority of the vegetables in this stew, you can enjoy it whenever you like!
While carrots and onions are a little higher up on the carb list, they can still be eaten in moderation.
These veggies supply amazing flavor and nutritional benefits, like beta carotene and antioxidants.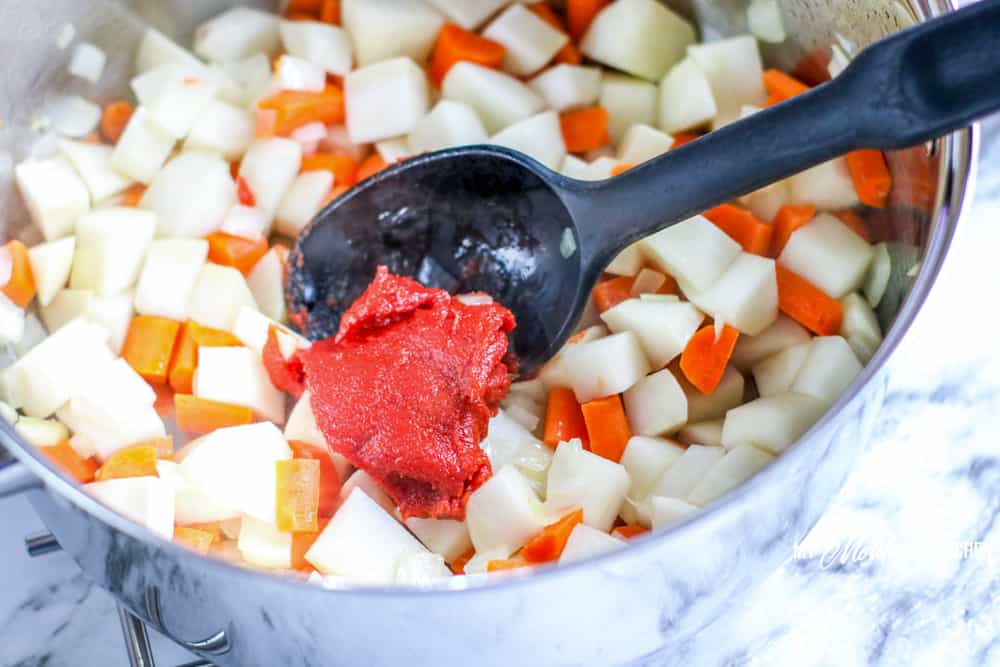 How Do You Thicken Keto Beef Stew?
Traditionally, stews are thickened with a flour roux or a cornstarch slurry.
Both of these options pack in the carbs, so we've gone a different direction.
There are a few different ways to thicken a Keto stew, but I've found xanthan gum to be one of the easiest.
Xanthan gum is an ingredient often used in gluten free baking, since it mimics the binding and thickening power of gluten (flour).
This same ability makes it a fantastic choice for thickening stews!
When you buy xanthan gum, that little bag might seem kind of pricey, but it lasts a long time.
If you're also adhering to a gluten free diet, chances are you already have some in your pantry!
What If I Don't Have Leftover Roast?
One of the beautiful things about Beef Stew Without Potatoes is that it's ready in just minutes.
No more waiting 1-3 hours for the stew to simmer! The trick to this is using leftover beef roast, because we often have some available. 
What about the times that you don't have leftovers? I've got an easy fix for that, too!
Just grab some beef stew meat (which is great to keep in the freezer), mix it with some onion soup mix and water, and cook it up in your electric pressure cooker. It's done in minutes and ready to go in the stew!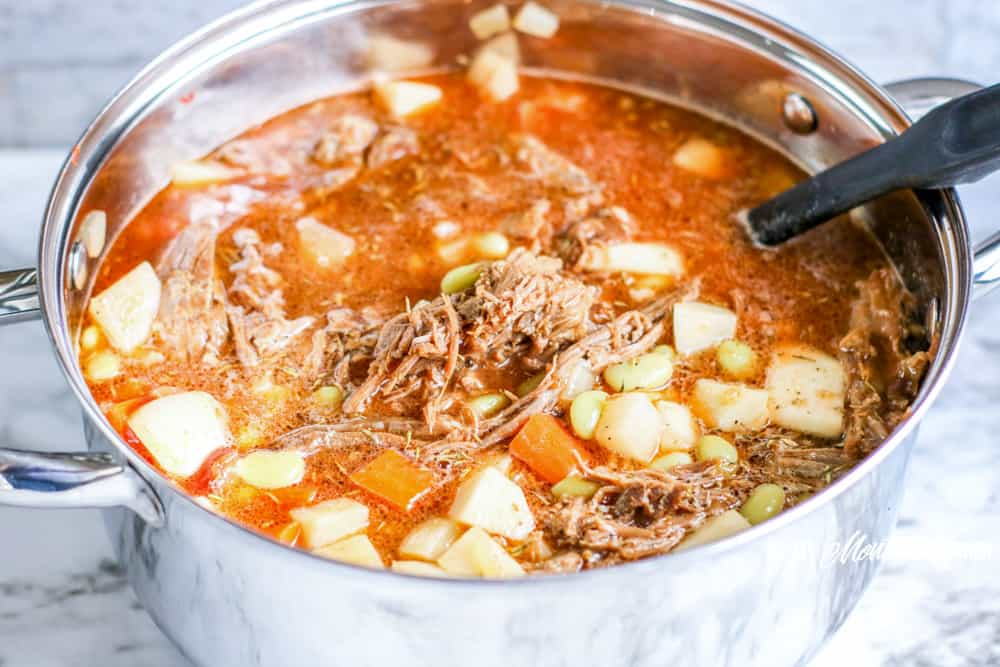 Can I Freeze Beef Stew Without Potatoes?
Yes! This recipe does great in the freezer, unlike traditional beef stew.
You see, when you freeze potatoes, they get kind of...well, disgusting. They turn an odd color and and gain a funky taste and texture.
Because we're using turnips, which freeze well, you can freeze any leftovers to have them on hand!
(If your family is like mine, you probably won't have any leftovers to freeze, but the option's there!)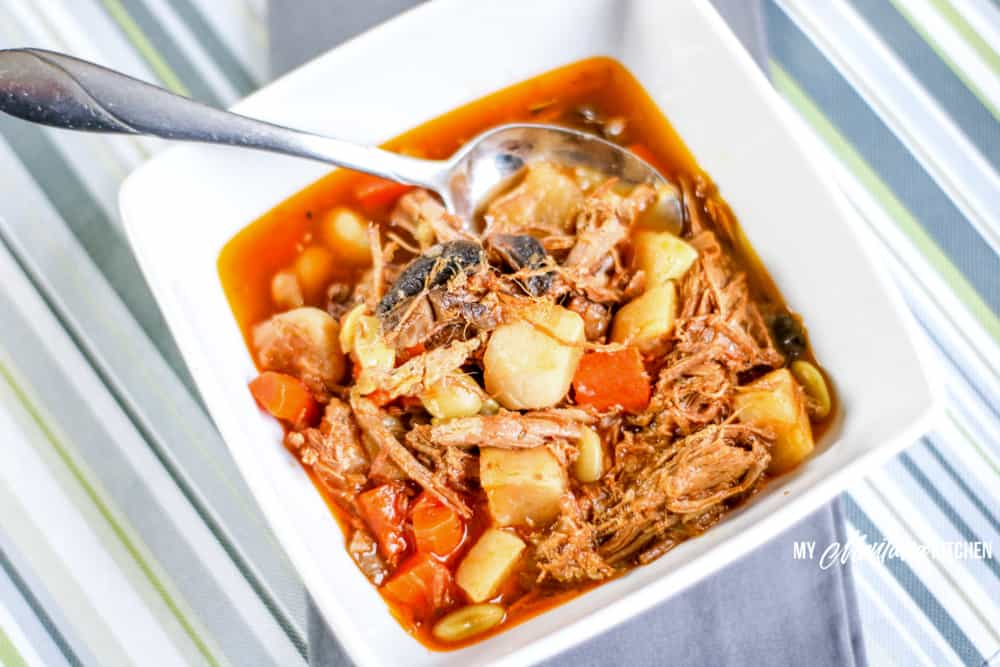 What Should I Serve With Beef Stew?
Because there's already quite a bit going on in this stew, I'd recommend keeping it simple. My Keto Garlic Cheese Biscuits would be an amazing choice!
You can easily make them while the stew is cooking, so they'll be nice and warm when it's ready to serve. 
I mean, is there anything better than a nice, hot bowl of hearty stew with some freshly baked biscuits on the side?
Excuse me, I need to go grab a bowl now. It's just that good. 
Enjoy, and remember to pin this recipe so it's easy to come back to!
More Low Carb Soups to try
Broccoli Alfredo Soup with Sausage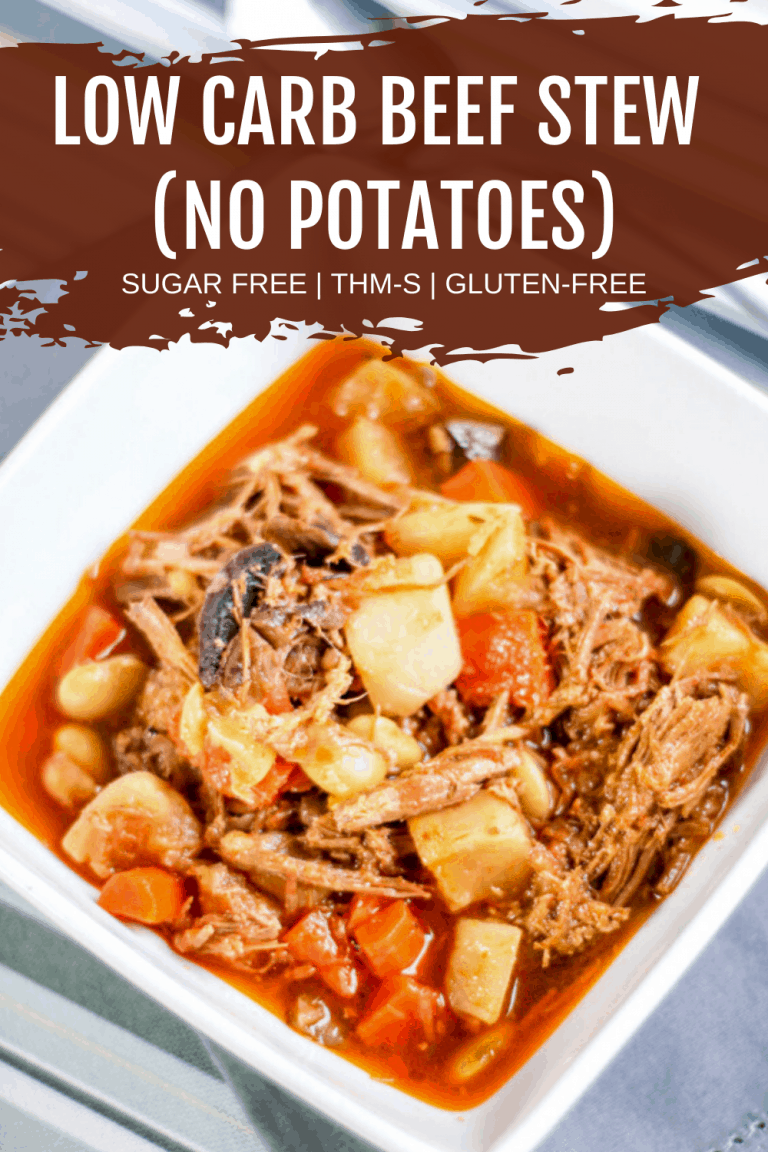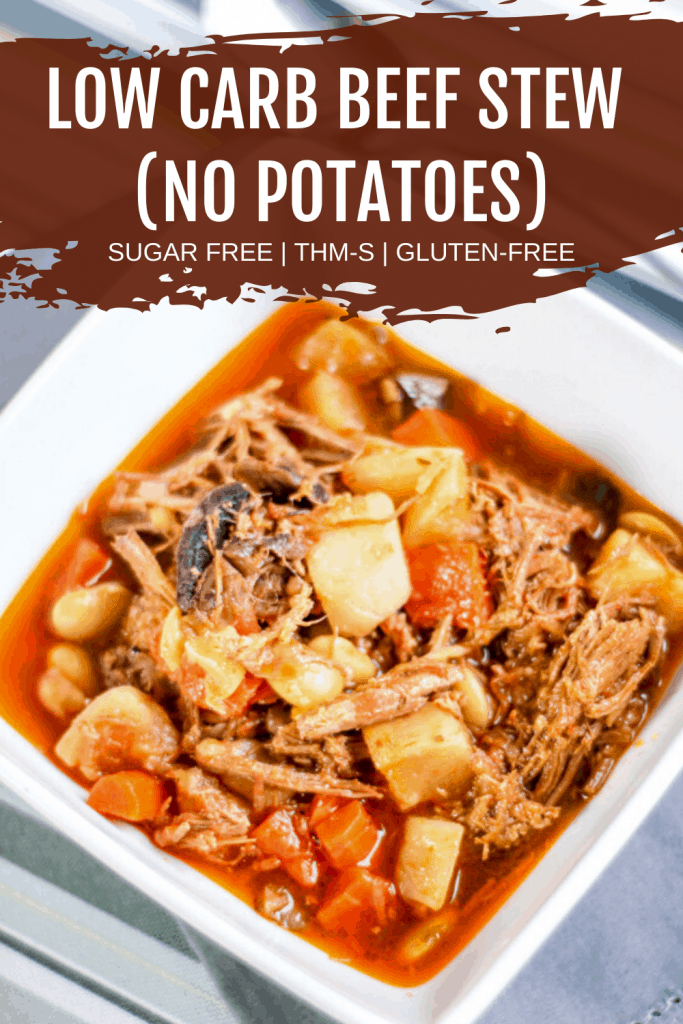 Yield: 8 Servings
Beef Stew Without Potatoes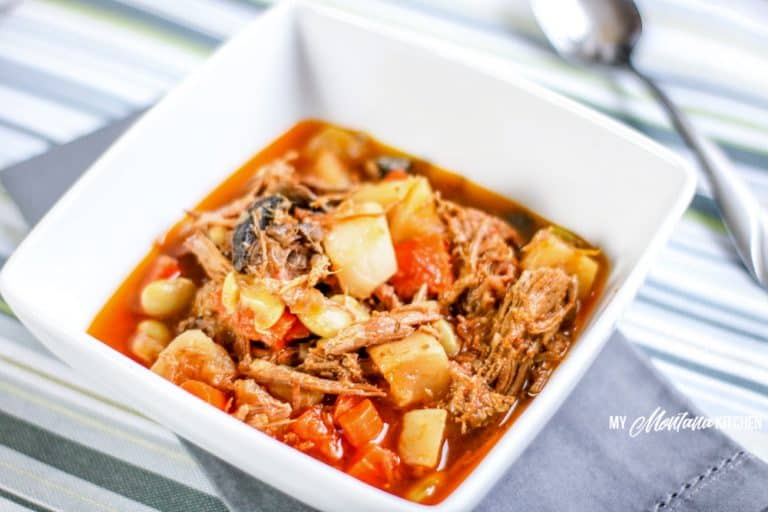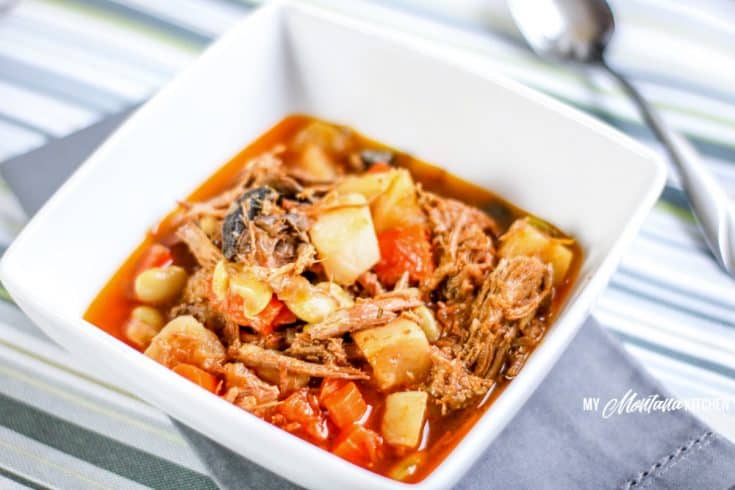 Delicious, savory beef stew with hearty chunks of veggies...yum. Could anything be better on a chilly afternoon or evening? With this low-carb recipe, you can enjoy a nice warm bowl of beef stew anytime!
Ingredients
4 Cups Leftover Cooked Beef Roast, coarsely chopped
2 Tablespoons Olive Oil
1 Pound Turnip Roots, peeled and cubed
1 Onion, diced
2 Carrots, peeled and diced
1 Cup Frozen Green Beans, optional
¼ Cup Tomato Paste
1 Teaspoon Dried Thyme Leaves
1 Teaspoon Xantham Gum
Instructions
In a large stock pot over medium-high heat, add the olive oil and vegetables.
Cook approximately 5 minutes, stirring often, until the vegetables begin to soften. Season with salt and pepper if desired.
To the stock pot, add the beef roast, frozen green beans (if using), beef broth, tomato paste, and thyme.
Bring to a boil over medium-high heat and cook for 10 to 15 minutes or until the turnips are fork-tender.
Taste for salt and pepper and adjust seasonings if needed.
Add the xantham gum to the beef stew and stir until it thickens.
Nutrition Information
Yield
8
Serving Size
1/8 of Recipe
Amount Per Serving
Calories

202
Total Fat

8g
Saturated Fat

0g
Trans Fat

0g
Sodium

469mg
Carbohydrates

9g
Fiber

3g
Protein

23g