We may earn money from the products/companies mentioned in this post. As an Amazon Associate I earn from qualifying purchases.
Broccoli Alfredo Soup is a low carb creamy Italian sausage soup that is the ultimate in savory flavor. If you're looking for a flavor-packed, rich and creamy bowl of decadent comfort food, this is what you need to make!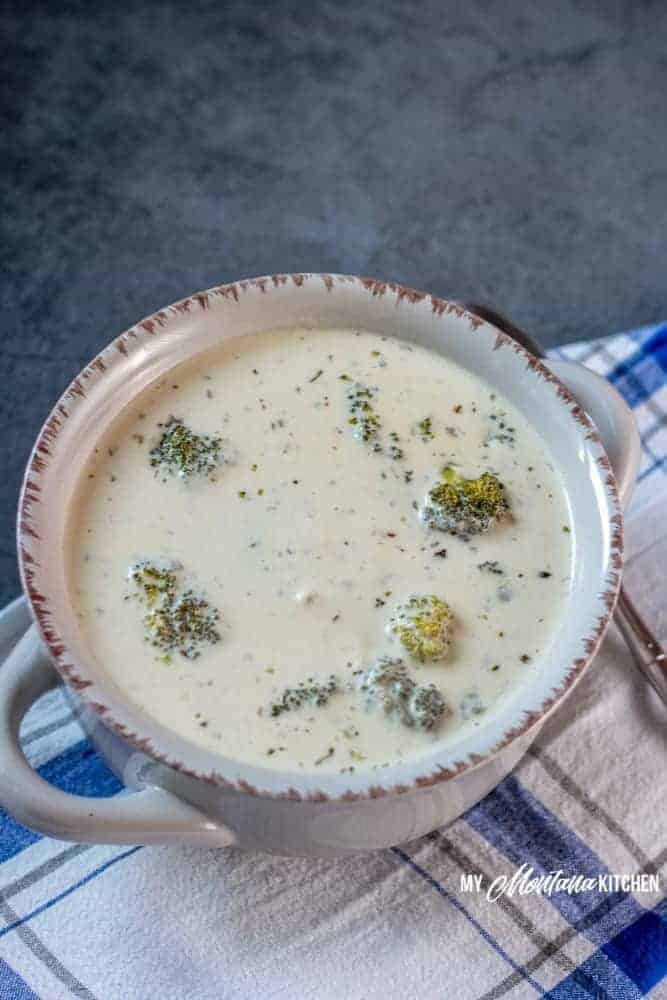 Soup is the perfect comfort food for a cold, winter day. It's also easy to make, usually pretty frugal for the budget, and healthy. And this low carb (THM-S) Broccoli Alfredo Soup is bound to become one of your favorites!
And I can't even take credit for it. Nope, it's all my husband's doing.
He loves my quick and easy low carb Alfredo sauce so much that one night while we were eating our favorite Easy Alfredo Sauce, he told me we needed an Alfredo soup.
Actually, he tells me we need more soups in general, too. But he was definitely eager to get this particular one created. And so my husband gets to take all the credit for this amazing creamy Italian soup.
Broccoli & Cheese Are A Low Carb Dream Come True
Cheese and broccoli have been a perfect culinary couple for a long time. They go together like a horse and carriage, my friend. The really, really do.
I mean, just look at all this cheesy broccoli yumminess:
See what I mean? Something about the full flavor of broccoli and the creamy, satisfying flavors of cheese just work well together.
And in this low carb Italian soup, you also have the bite of sausage and the rich flavors of onion, jalapeño, and spices to make this match made in heaven even tastier.
What's In This Creamy Sausage Soup?
The star of the show here is the Alfredo, but what else goes into this low carb creamy Italian sausage soup?
The soup base has two key ingredients: creamy garlic parmesan sauce and bone broth. So not only are you having something that tastes amazing, you'll be benefitting from collagen and all sorts of other bone broth goodness as well.
In addition to this, you'll have the gentle bite of onion, the savory heat of jalapeño, and the mouth watering zest of Italian sausage. I mean, really, what's not to love about this soup? My husband sure did a good job.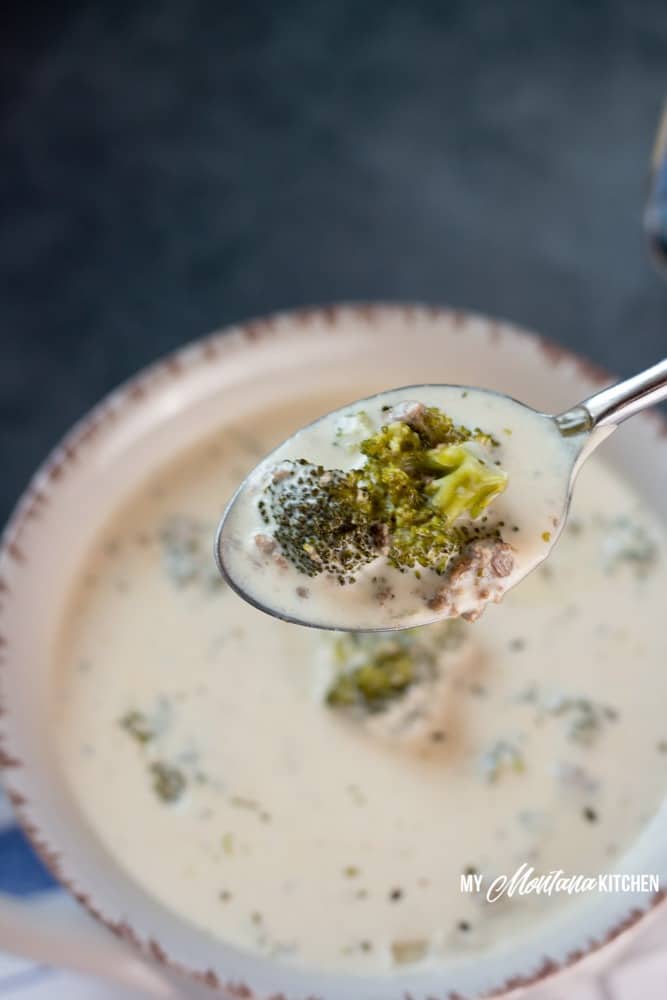 How To Make Delicious Low Carb Italian Sausage Soup
Now most Italian sausage soups are anything but low carb. Loaded with pasta noodles and carb-laden vegetables, they don't quite fit into the Trim Healthy Mama, keto, or other low carb meal plans.
This sausage soup, however, is a low carb soup that will make you want seconds!
You start by browning your sausage on the stovetop in the bottom of your stock pot. Add the onion and the optional jalapeño if you like some heat, and cook it well.
Drain out the fat once it's all cooked, but don't rinse the meat. You don't want to sacrifice any of the lovely flavors that are melding.
Now add in your bone broth (homemade if you have it or Kettle & Hearth if you don't), your homemade creamy garlic parmesan Alfredo sauce, broccoli, and seasonings. See, told you it was easy!
Now simply bring your soup to a gentle simmer, but do not let it boil. I repeat: do not bring your soup to a boil. Cooking slowly will ensure that the cream doesn't separate, and the soup cooks up nice and creamy.
Once the broccoli is tender and the soup is heated through, you're almost done. Sprinkle in the glucomannon and stir well, letting it thicken. This will only take a couple of moments (a few minutes at best!).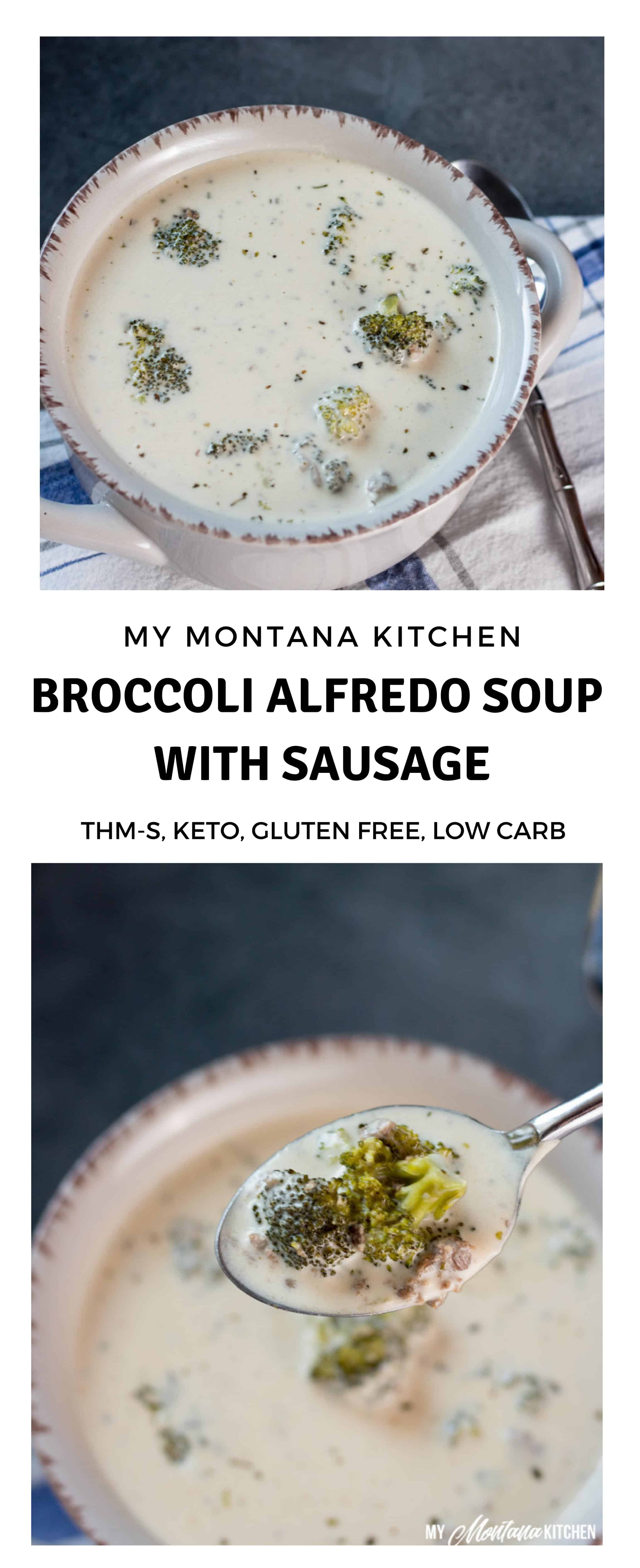 How To Serve Low Carb Broccoli Alfredo Soup
This is a great stand alone meal, but also pairs well with a garden salad topped with your favorite dressing (low carb creamy Ranch, anyone?).
It's excellent on the side with grilled chicken, too. And mmm, you can also make up some low carb Indian Fry Bread to dip in it or just enjoy on the side.
You could even top it off with some low carb croutons; they make a delicious garnish to this creamy sausage soup. And they're fun and easy to make, too.
Really, this Broccoli Alfredo Soup pairs well with anything. I honestly don't think there's ever an occasion that isn't made more delicious by Alfredo, though, so I might be biased. You'll have to make it and decide for yourself!
How To Store Cream Based Soup
This is such a delicious creamy sausage soup that you'll never have to worry about leftover, most likely. But, just in case, let's talk about how to store your creamy soup.
You can store it in an airtight jar in the fridge for several days, or freeze it for a few months. It's best served fresh when possible, but sometimes you just need some soup you can heat up and go. A quick word of caution if that's this soup: take your time.
Remember how you had to cook the soup at a gentle simmer instead of a full on boil so the cream wouldn't get all funky and separate? Well, the same goes for re-heating it.
Low Carb Creamy Sausage Italian Soup
This broccoli Alfredo and sausage Italian soup is going to be at the top your comfort food, soup recipe list. You're really going to enjoy it!
And be sure to try some of these other low carb Alfredo recipes my family adores. I bet your entire home will enjoy them, as well!
If you want weekly menus, printable shopping lists, and MORE, check out the My Montana Kitchen Table!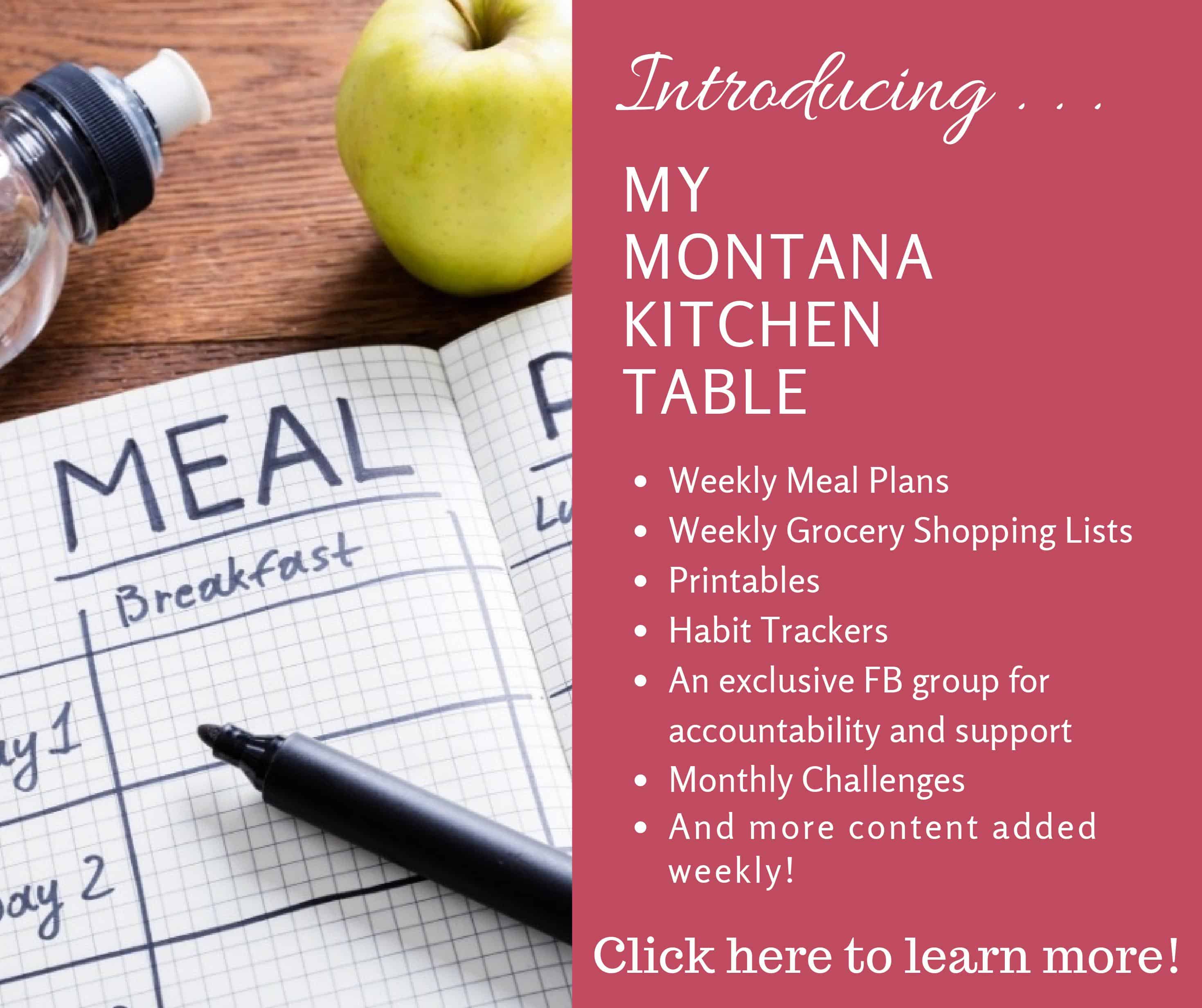 Broccoli Alfredo Soup with Sausage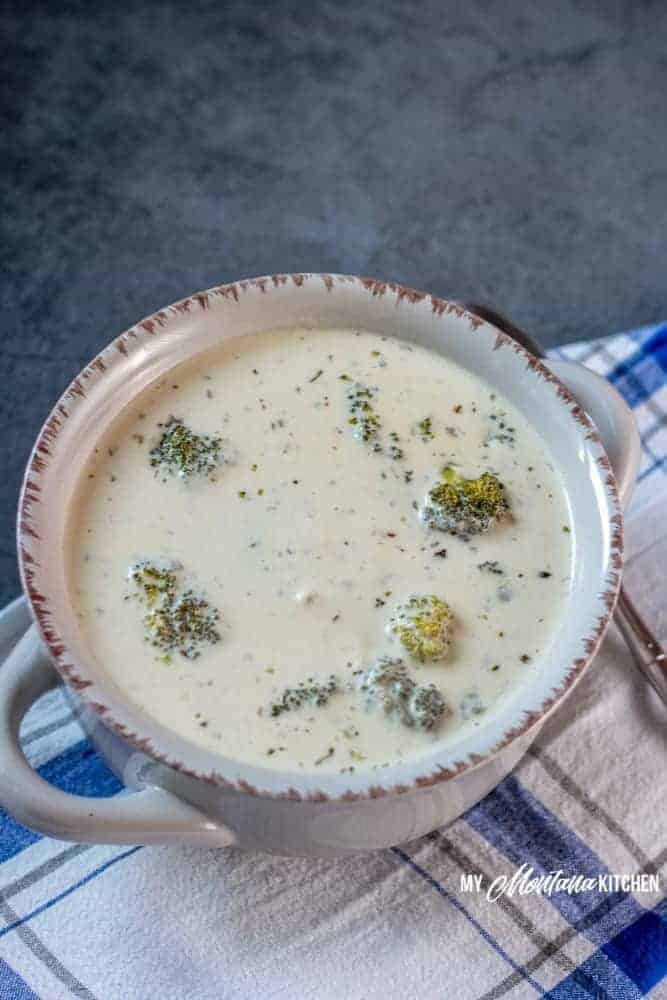 This broccoli alfredo soup is so delicious!
Ingredients
1 Pound Italian Sausage
½ Cup chopped onion
1 Tablespoon chopped jalapeno
2 Cups Chicken bone broth
2 Cups chopped fresh broccoli
2 Teaspoons Italian seasoning
⅛ Teaspoon Glucomannan
Instructions
In a large stockpot, brown sausage with onion and optional jalapeño.
Drain well, but do not rinse.
Add bone broth, Alfredo sauce, broccoli, and Italian seasoning, and bring to a slow simmer.
Heat just until broccoli is tender and the soup is heated through. (Be careful that you heat slowly, so the cream does not separate.)
Whisk in Glucomannan and simmer for a few more moments, or until the soup begins to thicken.