We may earn money from the products/companies mentioned in this post. As an Amazon Associate I earn from qualifying purchases.
This Low Carb Broccoli And Cheddar Soup is the perfect comfort food to warm you up on a chilly day. This recipe is also a Trim Healthy Mama S Fuel.
Low carb broccoli cheese soup has all the flavors you are accustomed to, like lots of broccoli and creamy, cheesy goodness. 
With just 8 ingredients, you can quickly make this easy broccoli cheese soup and still have leftovers.
Broccoli and cheese soup is a favorite recipe for us, and the whole family raves about how good it is.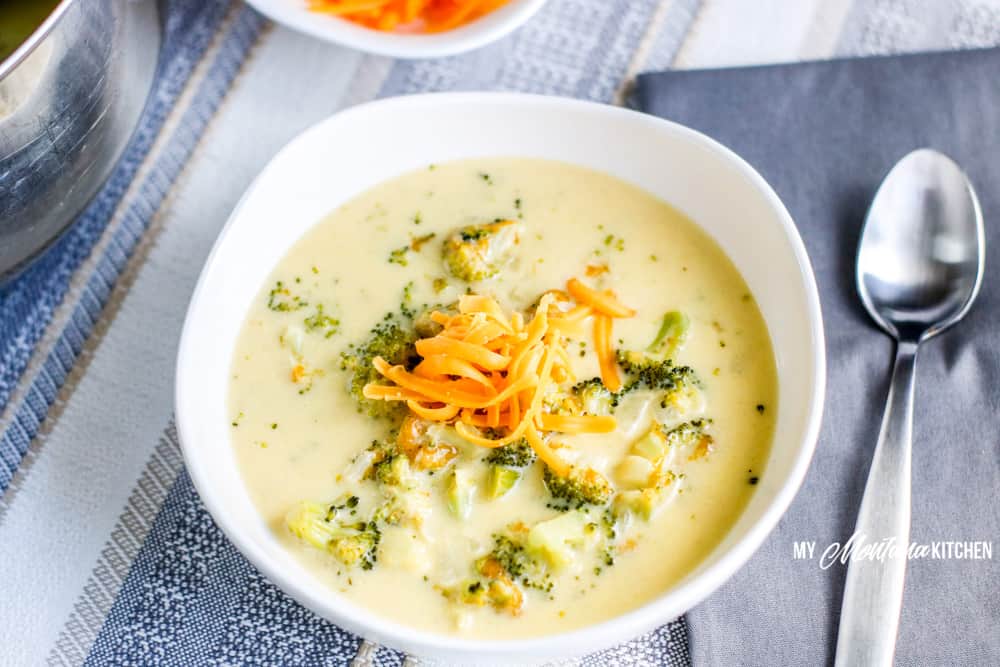 Low Carb Broccoli And Cheddar Soup
When the weather cools off, it's common for us to reach for some keto soup, and this broccoli soup is always a hit.
Even the kids will gobble up every drop of it like there is no tomorrow, and we all know that's a great sign!
Soup is a great way to sneak veggies in, and everyone is thrilled to eat them.
The creamy base of this low carb broccoli soup will make you eat almost any kind of vegetable without question!
How To Make Low Carb Broccoli And Cheddar Soup
When you taste this broccoli cheese soup recipe, you won't believe it came together in less than 30 minutes!
It seriously tastes like it was made in a diner and slow-cooked all day, can you believe that? My stomach is growling, just thinking about it. 
Low Carb Broccoli Cheddar Soup Ingredients
You will need the following to whip up a batch of this broccoli soup:
Butter
White onion
Garlic, minced
Chicken broth 
Broccoli, coarsely chopped
Salt and pepper, to taste
Heavy cream
Cheddar cheese
Xanthan gum
You can easily use frozen or fresh broccoli, depending on what you have on hand. Follow the same directions, but know that frozen broccoli may take a little bit longer to soften.
Plus, I love cheddar cheese, but you could try different varieties like mozzarella, Colby Jack, or even Pepperjack to kick it up a notch.
Don't you love how versatile it is? 
Another option is that you can use vegetable broth instead of chicken if you'd rather.
(Just keep in mind when making swaps, sometimes the texture will vary, and of course, the flavor will be a little different.)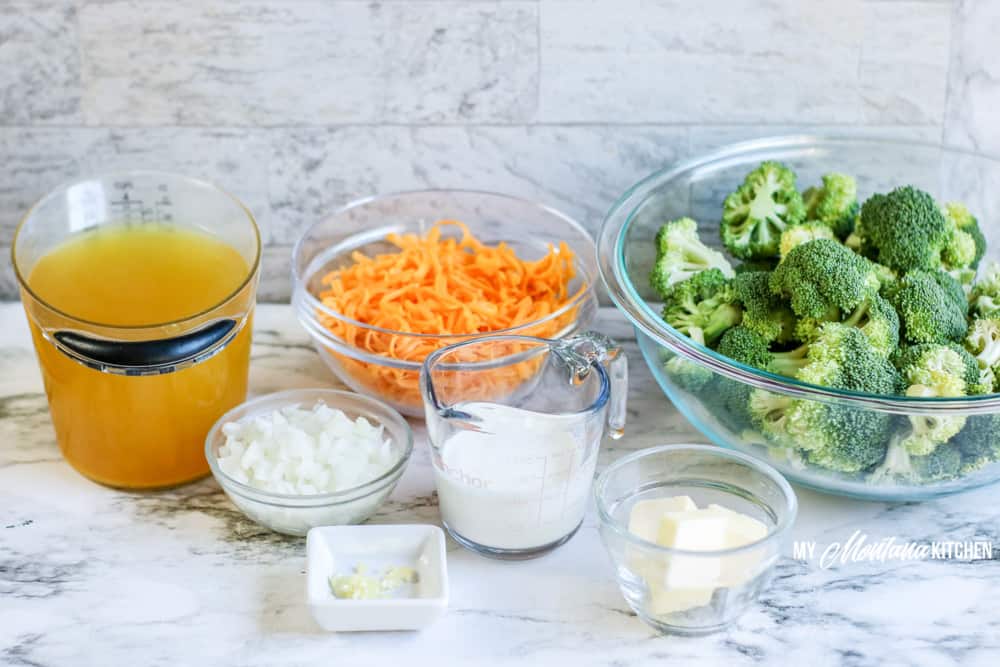 How To Make Easy Broccoli Cheese Soup
(For a full printable recipe, scroll down to the bottom of the post)
Start off by using a medium stockpot and melt the butter over medium-high heat. Toss in the diced onions and minced garlic and cook until they have softened around 3 minutes. 
Next, mix in the chicken broth and broccoli and allow it to boil then reduce heat to medium. Let the broccoli simmer until it has softened and can be pierced with a fork easily.
Sprinkle some salt and pepper on to taste.
Pour in the heavy cream and turn the heat back up to medium-high and let the soup boil.
After it begins boiling, remove the pot from the stove and stir in the cheddar cheese. Make sure to scrape the bottom of the pan, so it doesn't stick.
NOTE: The cheese may stick to the broccoli, and that's normal.
Add the xanthan gum to the top of the soup then give it a stir. Let the soup rest, and it will thicken as it cools down.
Add your favorite toppings like crumbled bacon, cheese, black pepper, or sliced green onions and serve hot. Enjoy!
How Do You Store Broccoli And Cheddar Soup?
Whether you ended up with leftovers intentionally or not, this cheddar cheese soup is a wonderful leftover!
Let the soup cool all the way (make sure not to let it sit out for longer than 2 hours) after it's cooled, put it in an airtight container and keep it in the fridge for 3-4 days or in the freezer for 6 months. 
I love this broccoli soup recipe because it can be made ahead of time for meal prepping and planning! It will save you tons of time to have an easy meal just ready to warm up.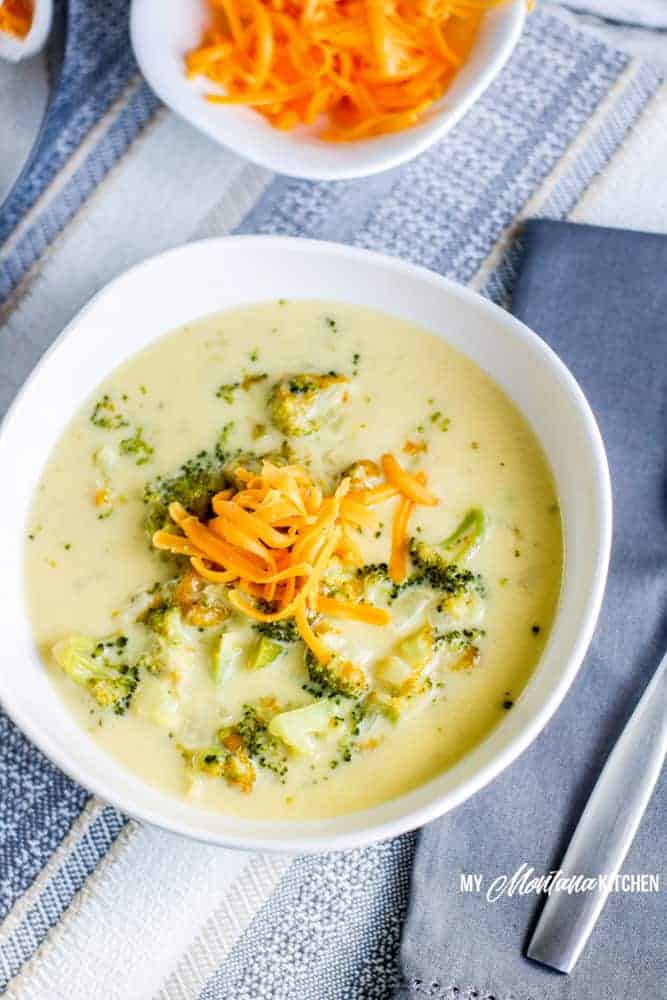 How Do You Reheat Low Carb Broccoli Soup?
It's so easy to reheat this low carb soup. If you have frozen it, you need to let it thaw out in the fridge overnight or until it's defrosted all the way.
After the soup is thawed, simply place it in a stockpot and begin reheating it on medium heat.
Don't warm it too fast, or the cheese may separate a little, and it will have a strange texture.
Another option is to place the soup in a microwave-safe bowl and cover it with a paper towel. Heat the soup for 1-2 minutes and give it a stir. It warms up pretty quickly, so keep an eye on it.
Don't forget to try some of our other delectable lunch or dinner recipes too:
Broccoli Alfredo Soup With Sausage
Creamy Tomato Soup With Basil And Cream Cheese
Pork Chop With Mushroom Cream Sauce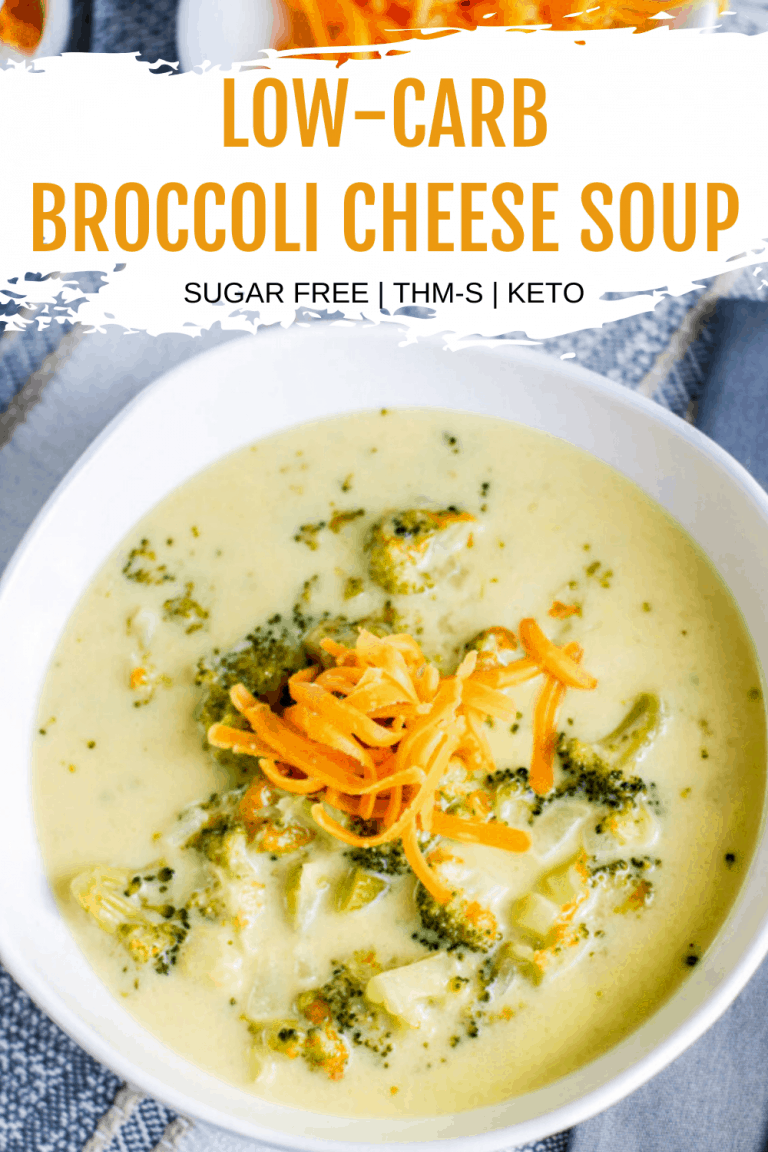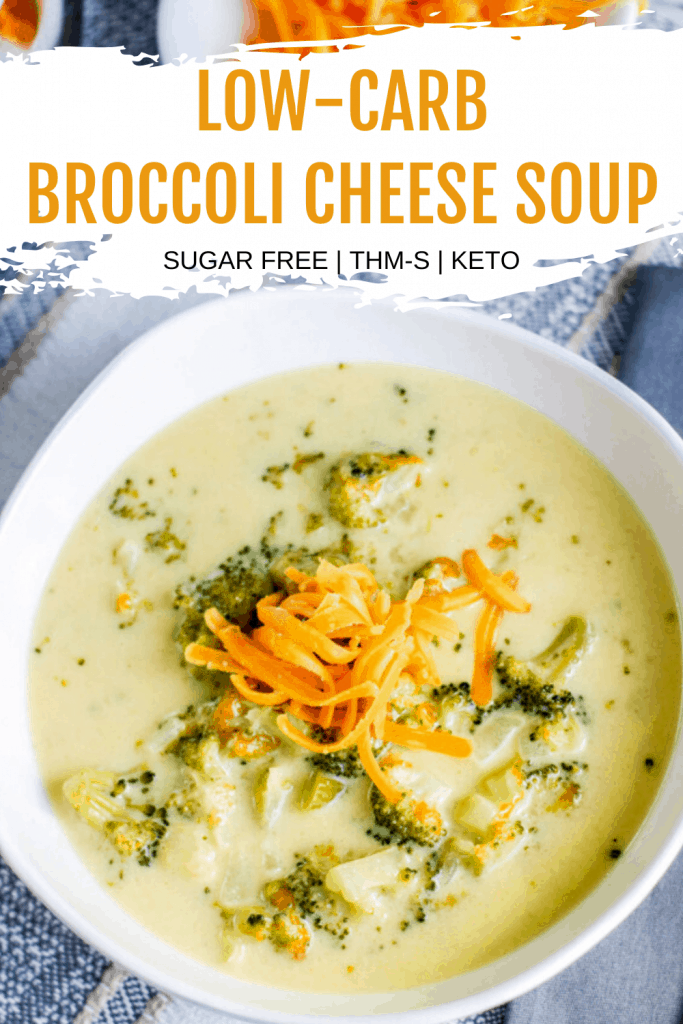 Yield: 6 Servings
Low Carb Broccoli Cheddar Soup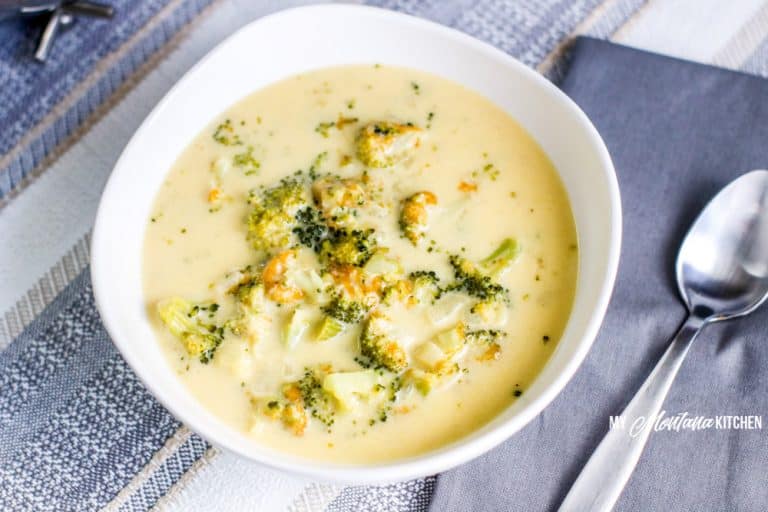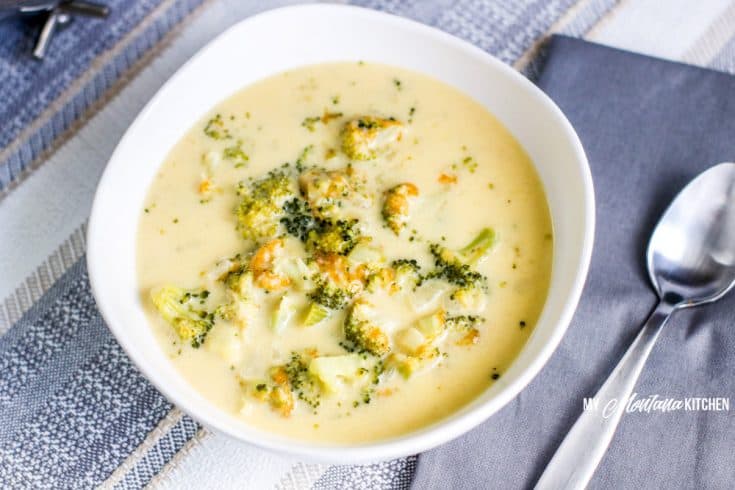 This keto broccoli cheese soup recipe is the perfect comfort food and it won't ruin your waistline. This THM S recipe is also gluten-free.
Ingredients
4 Tablespoons Butter
½ Cup Diced White Onion
1 Clove Garlic, Minced
4 Cups Broccoli, Coarsely Chopped
Salt and Pepper, to Taste
½ Cup Heavy Cream
2 Cups Shredded Cheddar Cheese
Instructions
In a medium stockpot, melt butter over medium-high heat. Add the onion and garlic and cook until softened, about 3 minutes.
Add the chicken broth and broccoli. Bring to a boil and reduce heat to medium. Allow broccoli to simmer until softened.
Add salt and pepper as desired.
Add the heavy cream and return the soup to a boil. Then, remove the pot from heat and stir in the cheddar cheese, scraping the bottom of the pot. (The cheese may cling to the broccoli.)
Sprinkle xanthan gum over the soup and stir to combine. Allow the soup to rest knowing that it will continue to thicken as it cools.
Serve alone or topped with crumbled bacon, additional cheddar, freshly ground black pepper, and/or sliced green onions.
Nutrition Information
Yield
6
Serving Size
⅙ of Recipe
Amount Per Serving
Calories

364
Total Fat

29g
Carbohydrates

8g
Net Carbohydrates

6g
Fiber

2g
Protein

15g