We may earn money from the products/companies mentioned in this post. As an Amazon Associate I earn from qualifying purchases.
Black Bean and Corn Salsa
Filled with black beans, cucumbers, tomatoes, a bit of corn, and dressed with cilantro, garlic and lime, this easy Black Bean and Corn Salsa is a perfect summer treat.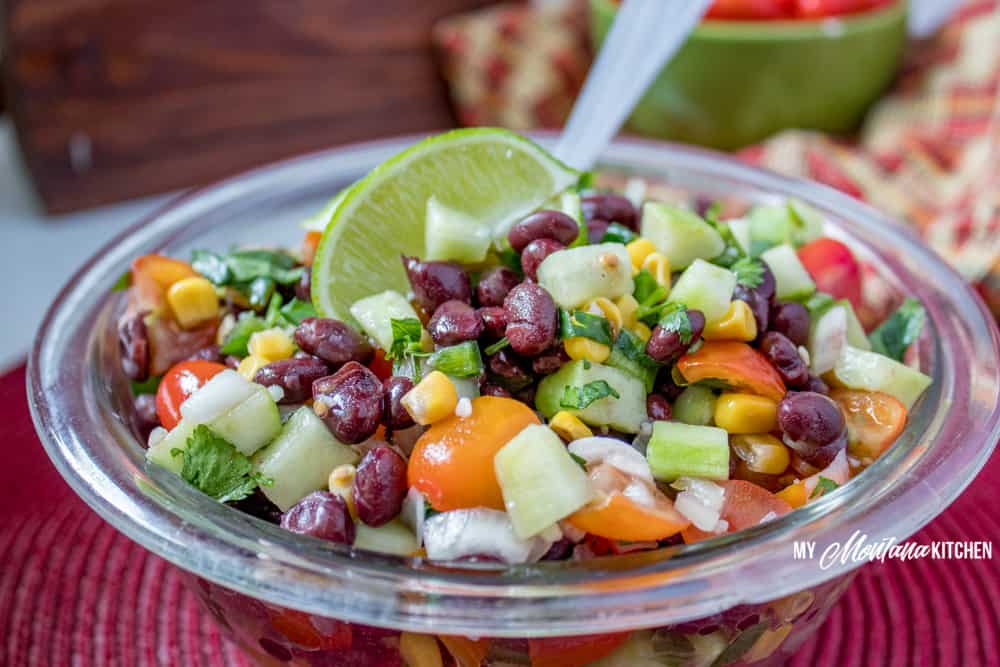 This recipe is low fat, sugar free, gluten free, dairy free and a Trim Healthy Mama E fuel.
(We are a participant in the Amazon Services LLC Associates Program, an affiliate advertising program designed to provide a means for us to earn fees by linking to Amazon.com and affiliated sites. I am also an affiliate with Trim Healthy Mama. There are affiliate links used in this post.)
Ok, I admit it, I have been pretty boring in my life when it comes to varieties of salsa. My family loves salsa, so I usually buy it by the half gallon at Walmart.
It is tasty, yes, but I've come to realize that store-bought salsa is NOTHING compared to fresh made. Duh, right?
When we first got married (12 years ago) we had a large garden, and we canned our own salsa. We canned enough to last us through the year (and then some),
However, where we live now, and the season of life we are in, does not lend itself to having a large garden or doing much canning or preserving.
I must confess that I miss having a garden. There is just something about going out and collecting food from your backyard – it doesn't get fresher than that!
I am putting together a recipe for Southwest Chicken Salad (complete with its own dressing) and I needed a black bean and corn salsa for my salad.
So I decided to turn it into its own post, and the Southwest Chicken Salad will be coming in a couple weeks! (I'm so excited about it – the dressing is amazing, and it is a Fuel Pull!)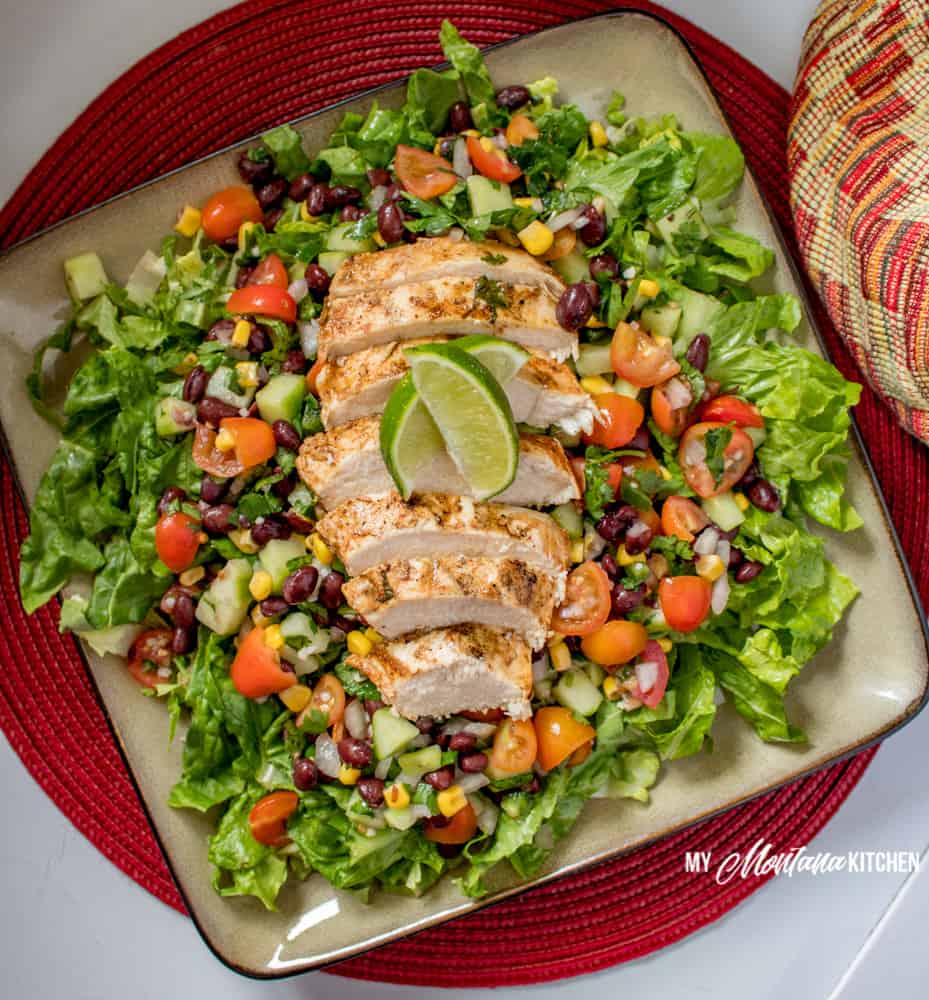 One of the misnomers about Trim Healthy Mama is that all corn is off plan. While it is true that corn is very starchy and higher in natural sugars than most non-starchy vegetables, a little bit of corn is ok in moderation (see your Trim Healthy Mama Plan Book for more details).
Trim Healthy Mama was founded upon solid, Biblical principles relating to food. No food group is out, and you can eat nearly any whole food when following the Trim Healthy Mama plan.
With corn, you don't want to go overboard, but there is only ¼ cup of corn kernels in this entire recipe (with 4 servings). So you only have 1 Tablespoon of corn in each serving. Very doable, and it adds a little pop of sweet to the salsa.
Of course, this Black Bean and Corn Salsa is an E fuel for Trim Healthy Mamas (meaning it is a healthy carb source). I sometimes get into an E rut. (Can anyone else relate?)
Sometimes, I tend to eat the same E fuels over and over again. But it is good to be reminded that there is a large variety of E fuels, so we can keep those E meals interesting!
This recipe does contain fresh cilantro. I know there are a lot of people who think cilantro tastes like soap, and that is ok. It is actually a genetic thing that makes it taste that way to some people.
If you do not like the flavor of fresh cilantro, feel free to omit it. However, I think it adds a lot of flavor to this salsa!
And my favorite part . . . is the fresh lime. I'm not sure why, but to me there is not much that smells better than a fresh lime. So clean, invigorating and refreshing! The fresh lime juice in this recipe just tops it off!
You may be wondering how you can use this salsa? Well, if you can hang on for another week or so, I have a recipe coming for a Southwest Chicken Salad that uses this recipe.
It would also be great to top grilled chicken. Or, since the carbs are not too high, you could even scoop it with some Baked Tostitos or Baked Blue Corn Chips. Cucumbers slices also make good dippers, as well as celery sticks.
So what do you need for this Black Bean and Corn Salsa?
1 Can Black Beans, Drained and Rinsed
¼ Cup Canned Corn (can use frozen, but let it thaw)
1 Jalapeno, Diced (about ¼ cup)
1 Cup Chopped Tomatoes
1 Cup Diced Cucumber
1 Teaspoon Minced Garlic
⅓ Cup Finely Minced Cilantro
1 Tablespoon Fresh Lime Juice
1 Teaspoon Salt
Be sure to sign up with your email address so you can receive all my new recipes delivered right to your inbox! (Look for the sign-up box at the top of this post.) Also, be sure to follow me on Facebook, Pinterest, Instagram, and Twitter! If you make a recipe and love it, please leave a comment on my Facebook Page or tag me on Instagram (my_montana_kitchen_thm)!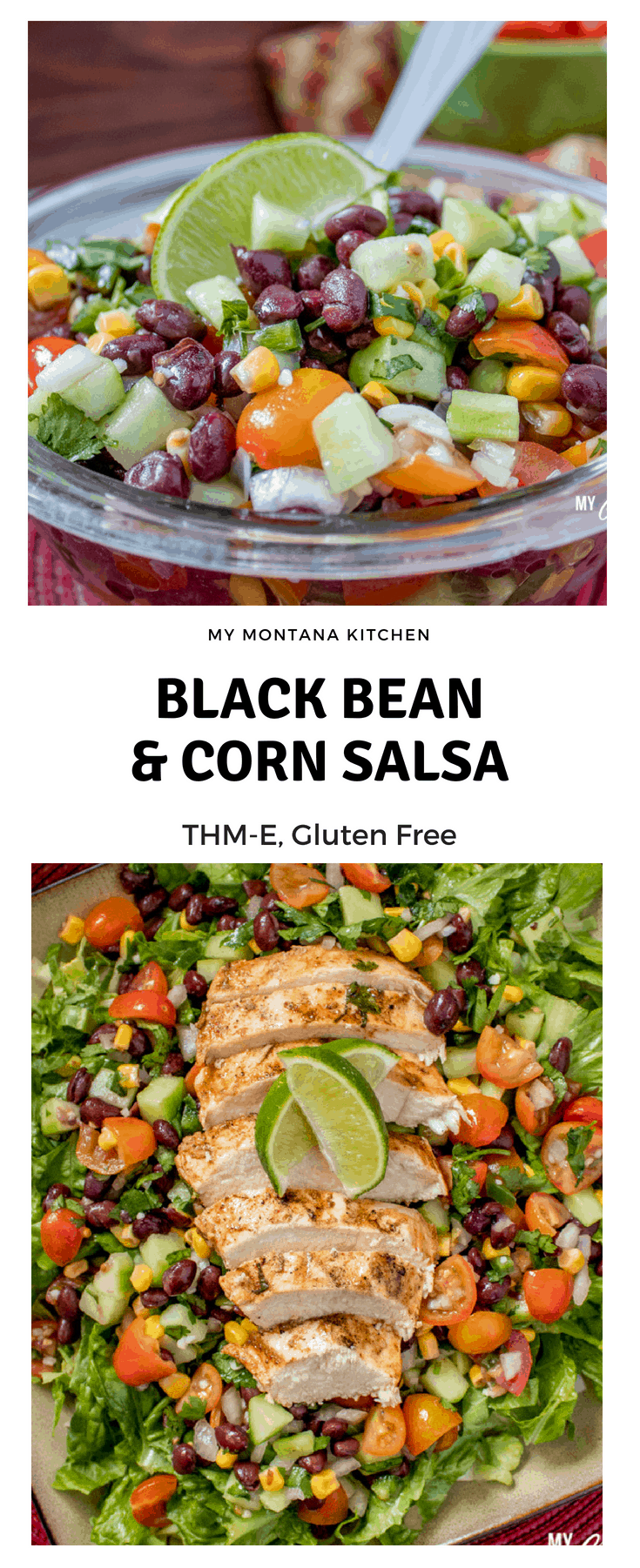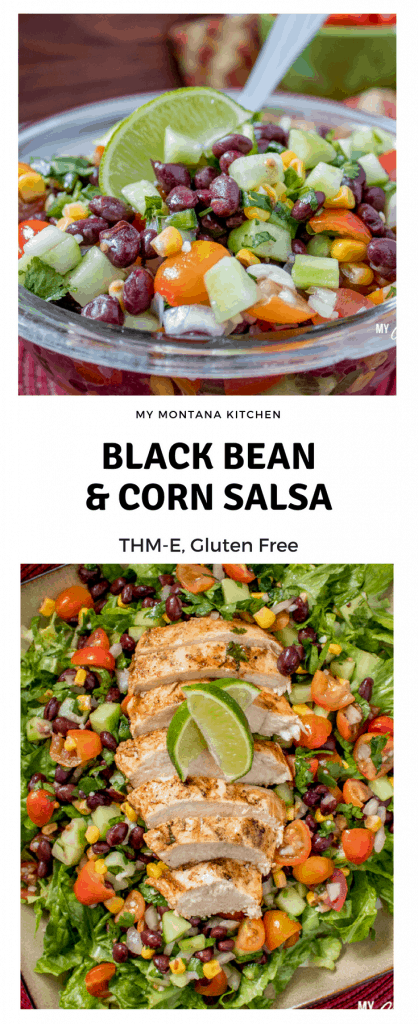 Ingredients
1

Can Black Beans

Drained and Rinsed

¼

Cup

Canned Corn

can use frozen, but let it thaw

1

Jalapeno

Diced (about ¼ cup)

1

Cup

Chopped Tomatoes

1

Cup

Diced Cucumber

1

Teaspoon

Minced Garlic

⅓

Cup

Finely Minced Cilantro

1

Tablespoon

Fresh Lime Juice

1

Teaspoon

Salt
Instructions
Mix all ingredients together and chill for at least 2 hours for best results.
Notes
You will notice that this has 22 grams of carbs and 7 grams of fiber. Subtract the fiber to get 15 net carbs. Technically you need more carbs than this to be a solid THM-E fuel. I would suggest eating a serving of fruit on the side or as a dessert to your meal. (Or add a piece of sprouted toast.)
Nutrition
Serving:
1
Cup
|
Calories:
126
kcal
|
Carbohydrates:
22
g
|
Protein:
7
g
|
Fat:
1
g
|
Fiber:
7
g