We may earn money from the products/companies mentioned in this post. As an Amazon Associate I earn from qualifying purchases.
These easy low carb chocolate truffles with cream cheese are sugar free, and flavored with a swirl of rich coffee, making them a decadent low carb dark chocolate dessert recipe!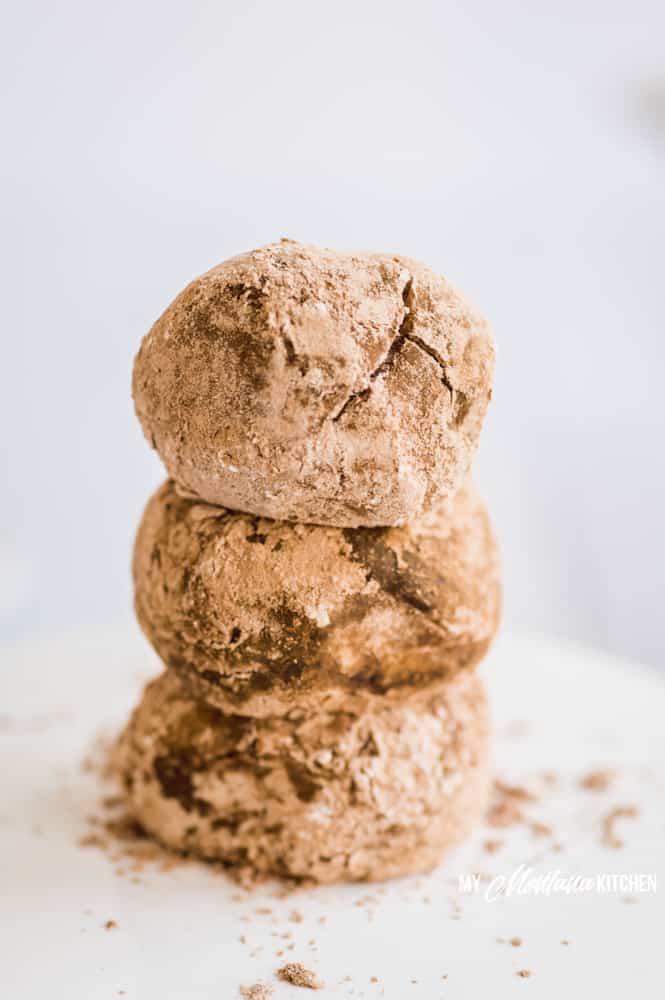 What Chocolate Truffles are Made of
Traditional truffles are generally made with a ganache-type mixture of heavy cream and chocolate. This mixture forms the center of the truffle, then they are rolled in cocoa powder, nuts, or other toppings.
These low carb, healthy truffles are made in a similar manner, but with softened cream cheese to replace the heavy cream.
Using your favorite low carb sweetener makes these chocolate truffles completely guilt free, as well! (Meaning you can enjoy them rather often - yes, please!)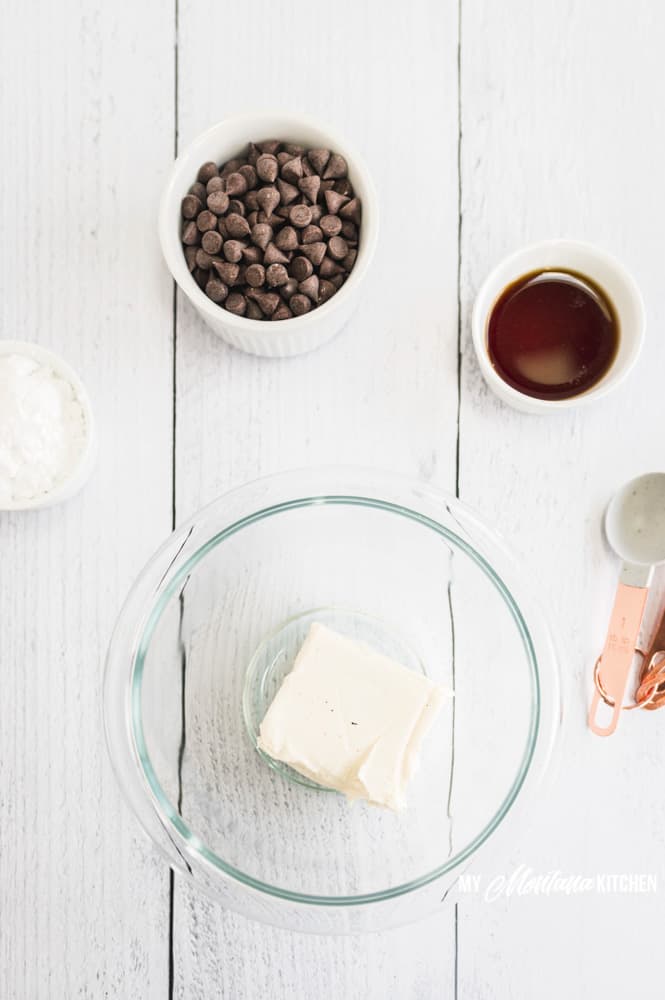 How to Make Dark Chocolate Truffles
These chocolate truffles with coffee are made using Lily's Dark Chocolate Chips (my personal favorite). These chocolate chips are sweetened with stevia and erythritol, but they still give a lovely dark chocolate flavor to your truffles!

How to Make this Easy Chocolate Truffle Recipe
These truffles are especially easy to make, because they do not even require a stove!
The first thing you want to do is beat your softened cream cheese with your sweetener. It is very important to allow your cream cheese to come to room temperature before you try to make the recipe.
I would suggest removing your cream cheese at least one hour before you plan to make the truffles. This will ensure that your cream cheese is completely softened and there are no lumps.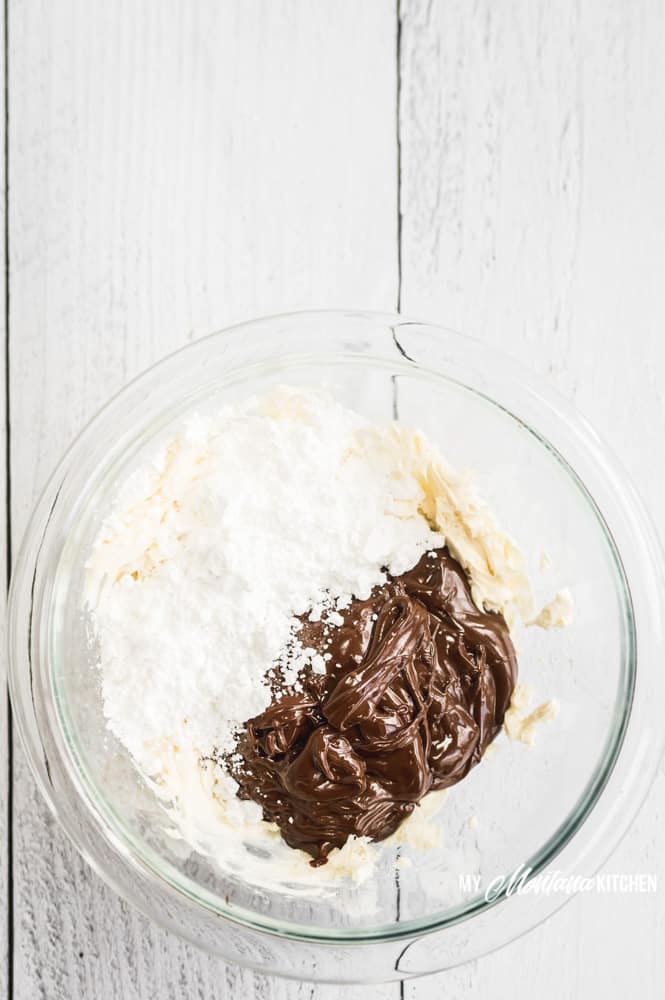 Gentle Sweet is my favorite Low Carb Powdered sweetener, and my sweetener of choice for these truffles. It is powdered, so it combines smoothly with the cream cheese and chocolate, with no grainy texture. (No-one wants grainy truffles! We are striving for smooth and silky, here!)
If you do not have Gentle Sweet, you can use my Low Carb Powdered sugar in equal amounts.
Second, you will need to melt the chocolate. I usually melt mine in the microwave in 30 second intervals, stirring to ensure the chocolate does not scorch.
You could also easily do this on the stove, if you prefer, using a double boiler, or simply place a glass bowl over a pot of steaming water for the same effect. (Or you can use this super helpful double boiler universal insert to use any pot!)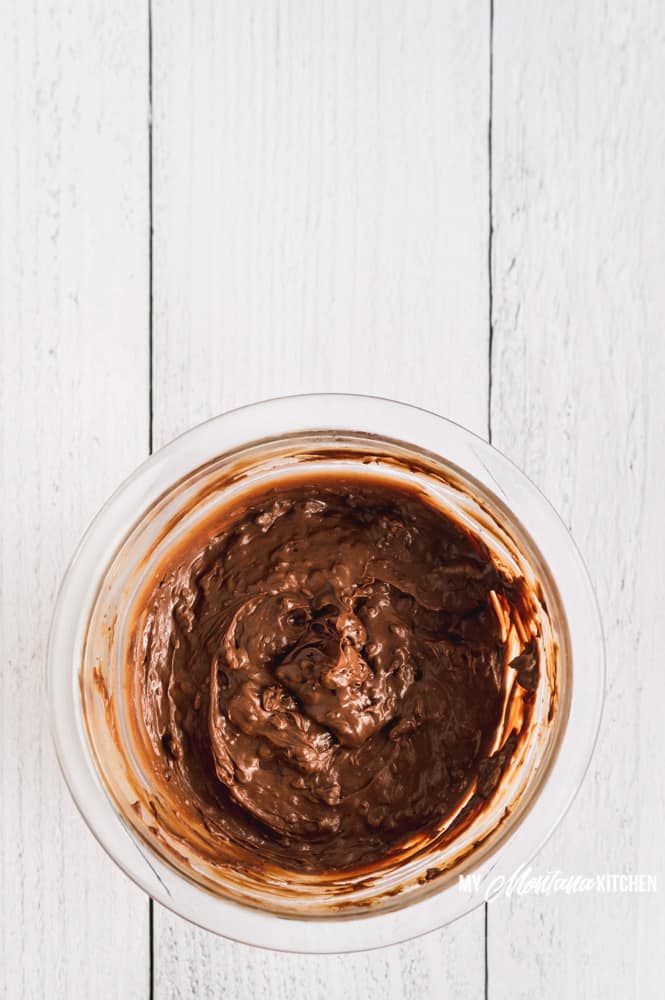 Once the chocolate is melted, you will pour it into the cream cheese mixture and stir well. (I like to use my hand mixer for this step.)
Third, carefully mix in the ¼ cup of strong brewed coffee. The stronger the brew, the stronger the coffee flavor will be. Espresso would work excellent here!
Help, What if I do not like coffee in chocolate?
The coffee enhances the chocolate flavor and gives it more depth. There is a very slight coffee flavor, but it is not overpowering.
If you would like a stronger coffee flavor, you could add a teaspoon of espresso powder to the truffle mixture.
If you are completely opposed to using coffee, you can just replace the coffee with water or half & half. (But I highly recommend using the coffee!)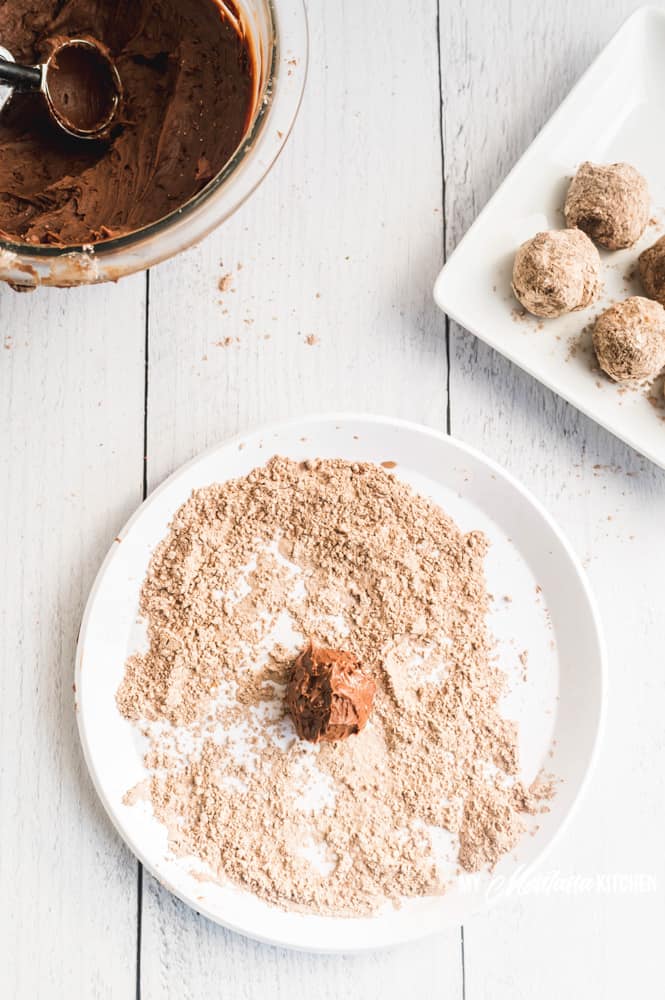 How to Make Chocolate Truffles look pretty
After you have mixed all the ingredients together, you will need to place the truffle mixture back into the refrigerator for 30 minutes to 1 hour. The longer they chill, they easier they will be to shape.
After they have chilled, remove the mixture from the refrigerator and using a cookie scoop, scoop them into small balls. If needed, you can place them in your hand and roll them until they are smooth.
Note that they may be sticky, so it would be a good idea to dust your hands with cocoa powder first.
After the truffles are formed, roll them gently in a mixture of cocoa powder and Gentle Sweet. This will give them a beautiful powdery exterior.
You could also opt to roll them in crushed nuts (pecans or hazelnuts would be amazing), unsweetened coconut, or even just plain cocoa powder (for a slightly bitter coating).

Do Truffles Need to be Refrigerated?
Yes, these truffles do need to be kept in the refrigerator, since they contain cream cheese.
Simply place them in an airtight storage container, and they should keep fresh in the refrigerator for 7-10 days. (If they last that long!)
Can Chocolate Truffles be Frozen?
If you like to batch cook and make treats ahead of time, you can easily double these and freeze one batch.
After forming the truffles, simply place them on a parchment lined cookie sheet and flash freeze for 1-2 hours. (Flash freeze simply means quick-freeze.)
After they are frozen, wrap them carefully in plastic wrap and store in your favorite airtight freezer container.
When you are ready to eat them, just place them in your fridge overnight, and they will be perfect the next day!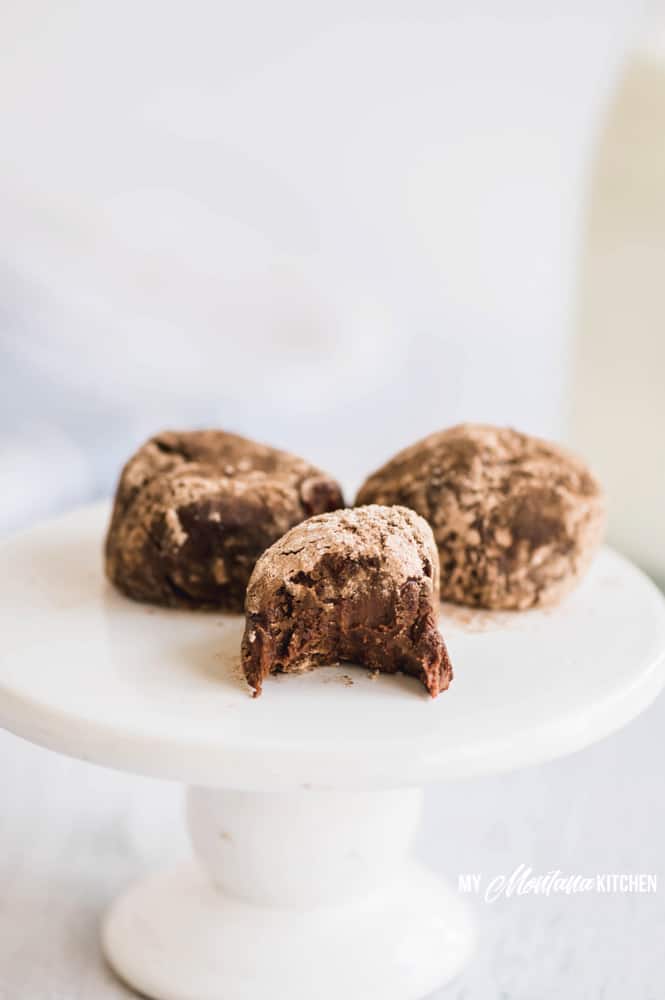 More Low Carb Truffle Recipes
I have a few "truffle" recipes on my blog, but they are a bit different than this recipe. However, these 2 Minute Chocolate Truffles are just that - 2 minutes!
They make a super decadent QUICK low carb dessert or snack!
You may also like these Chocolate Chip Cookie Dough Truffles!
And be sure to check out these decadent Sugar Free Chocolate Truffles and this Low Carb Chocolate Truffle Cheesecake!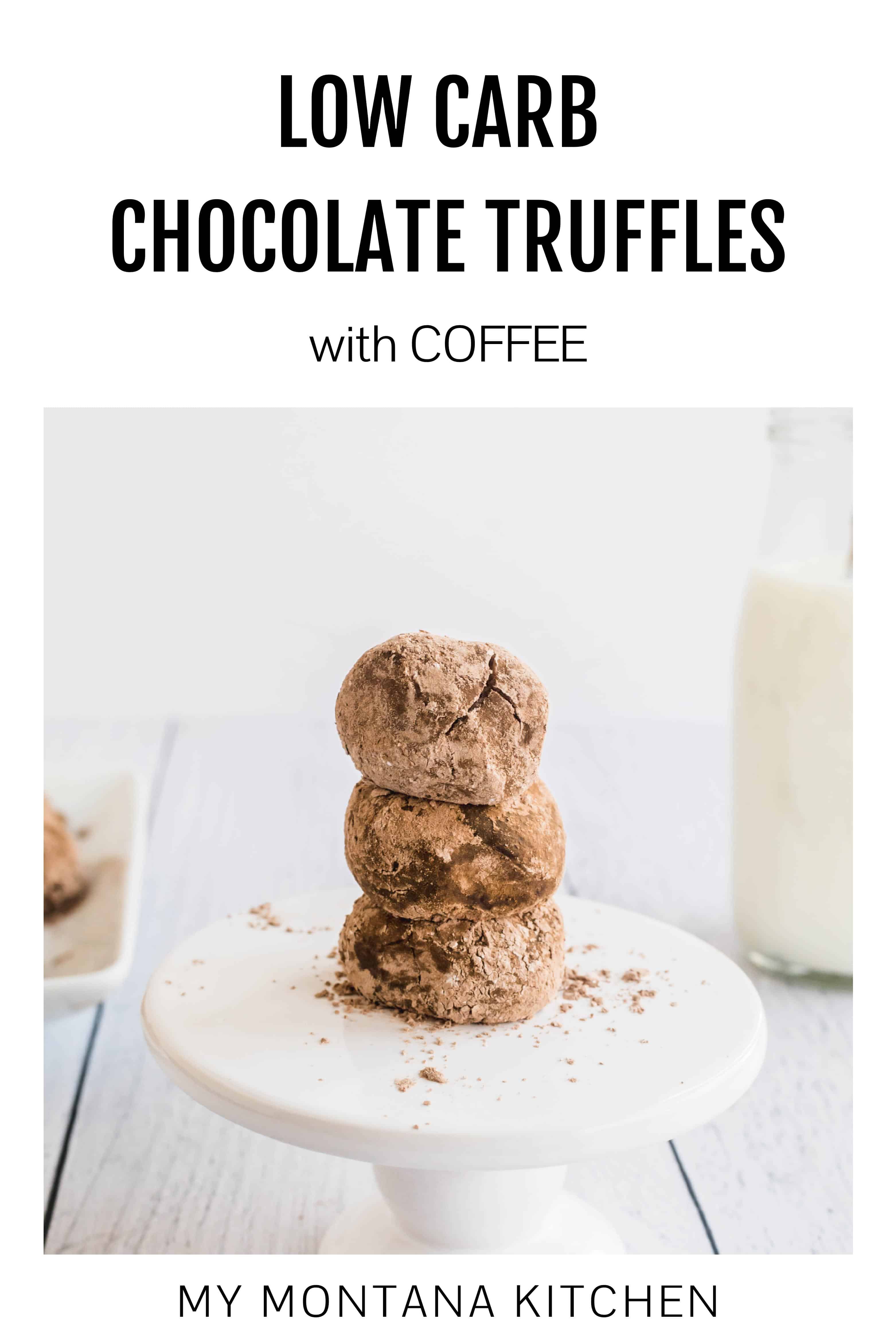 Easy Low Carb Chocolate Truffles with Coffee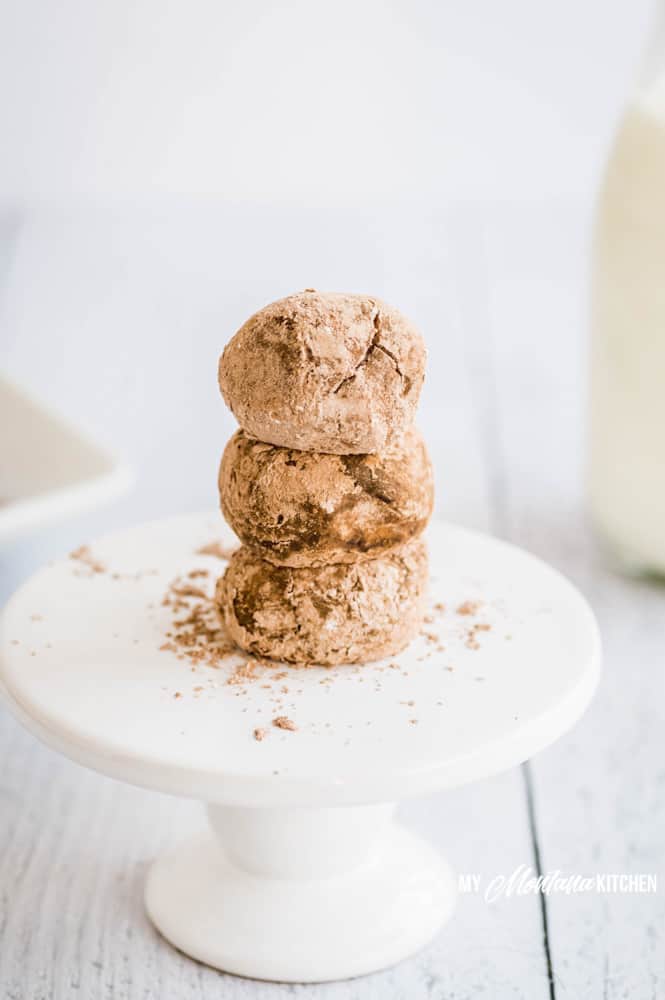 These low carb chocolate truffles with coffee are so simple and delicious.
Ingredients
4 ounces cream cheese, softened
4 Tablespoons Gentle Sweet
4 Tablespoons Brewed Coffee
For the Coating:
Instructions
In a medium bowl, beat softened cream cheese.
Add Gentle Sweet and melted chocolate chips and beat well.
Add coffee and mix again.
Place in refrigerator for 30 minutes to 1 hour to chill.
Remove from refrigerator and scoop into small balls using a Small Cookie Scoop.

For the Topping

Mix Gentle Sweet and cocoa powder together with a fork to remove any lumps.
Roll truffles in mixture and keep in refrigerator.
Recommended Products
As an Amazon Associate and member of other affiliate programs, I earn from qualifying purchases.