We may earn money from the products/companies mentioned in this post. As an Amazon Associate I earn from qualifying purchases.
A cool and creamy side dish – perfect for a quick summer supper or cookout! Tender sweet peas wrapped in a luscious mayonnaise dressing, topped with cheese and bacon. This recipe is low carb, gluten free and a Trim Healthy Mama S Fuel.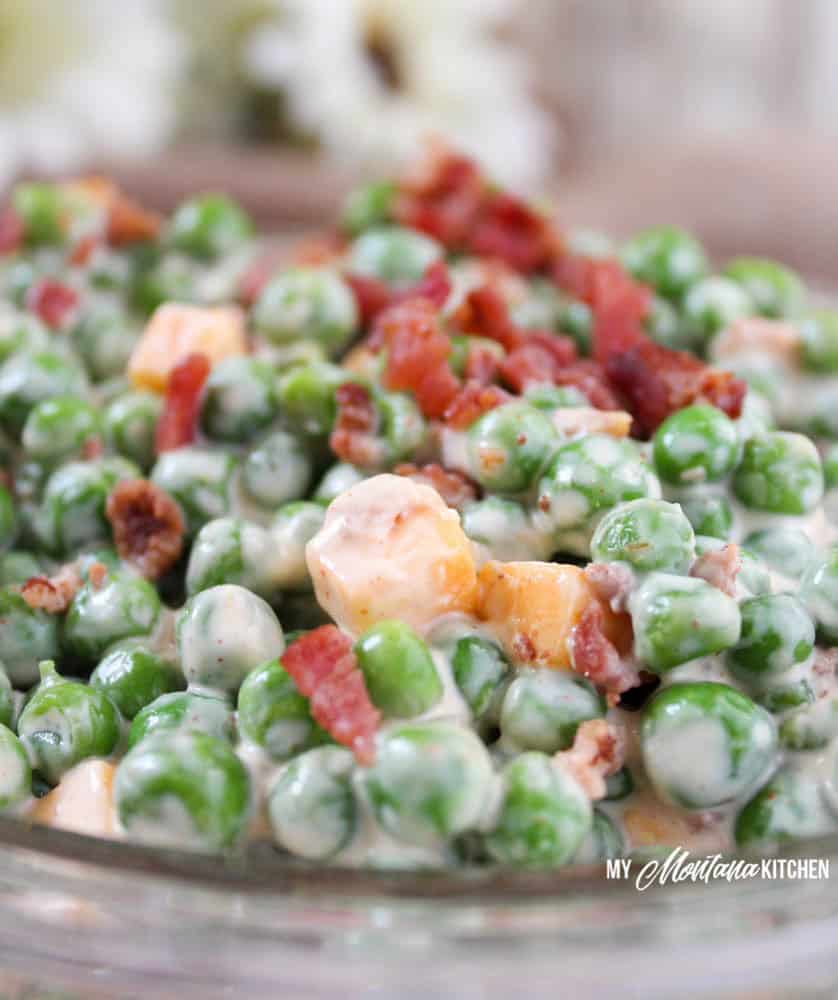 (This post may contain affiliate links, which provide me with a small compensation when you purchase your products through my links. Thank you for your support!)
This recipe is super simple, and requires no special ingredients! My husband absolutely loves this salad – he would be perfectly content to have it at least once a week! Perhaps I should strike a bargain with him – if he grills for supper, I will make him this creamy pea salad. (And BAM, I don't have to heat up my kitchen by turning on the stove!) That would be a win-win situation!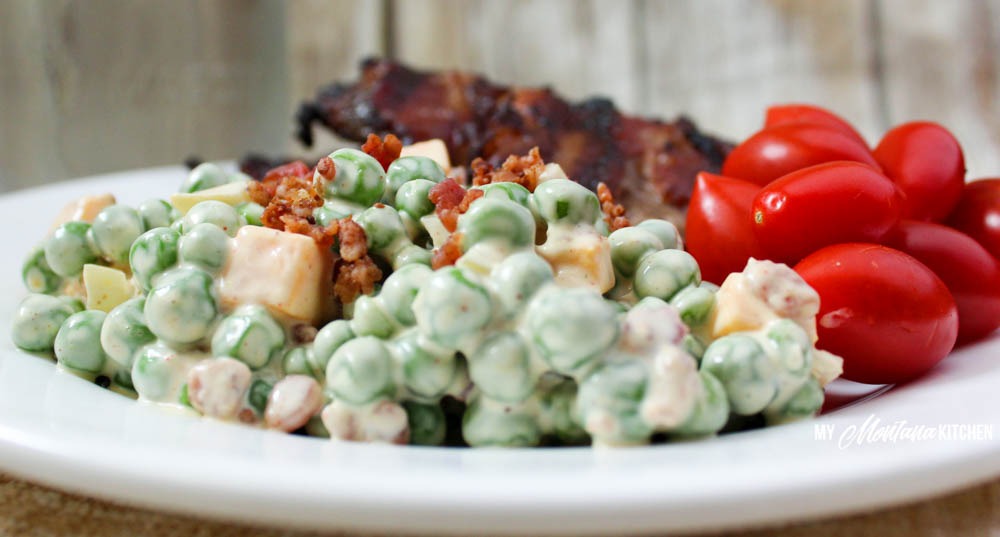 This recipe is perfect with my Bacon Wrapped Pork Chop recipe or my Bacon Bombs!
You could shred the cheese if you wanted, but I really like the texture of the small cubes of cheese. I used part mayo and part Greek yogurt to balance out the calorie count a bit, while still keeping the creamy texture that I love! I did not add chopped boiled egg to mine, (I'm not a huge boiled egg fan!) but feel free to add a couple of diced hard boiled eggs if that is what you like. That will also help bump up the protein count in your salad!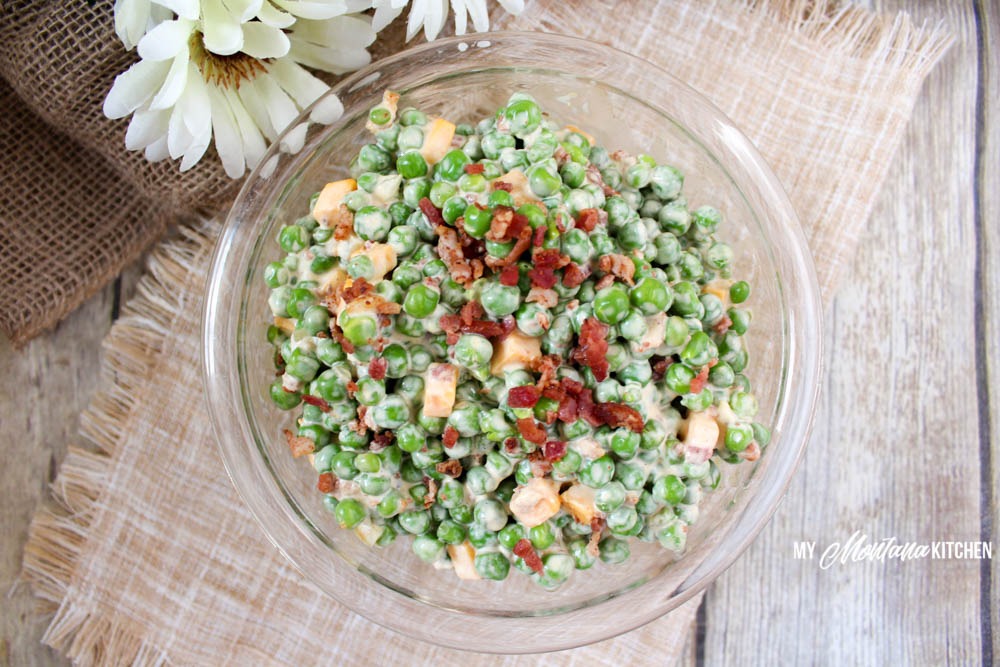 So, what do you need for this easy side dish?
5 Cups Frozen Peas
1/2 Cup Mayonnaise
1/4 Cup 0% Plain Greek Yogurt (I used 0%, but you could use full fat)
1/2 Teaspoon Garlic Salt
1 "doonk" stevia (a "doonk" is 1/32 of a teaspoon)
1/4 Teaspoon Smoked Paprika
1 Tablespoon Yellow Mustard
4 Ounces Mild or Sharp Cheddar Cheese, Cubed
1/4 Cup Real Bacon Pieces
1/4 Cup Chopped Onion
2 Boiled Eggs, Chopped (Optional, I did not use them)
The instructions are so simple – Mix everything together and place in the fridge! If you are making this a day ahead of time, you do not even have to thaw the peas. They will thaw in the fridge overnight. However, if you are making it for supper in a couple hours, you may want to thaw them first. I ended up having to spread my pea salad on a baking sheet so the peas would thaw in time for supper. Ha! Fail!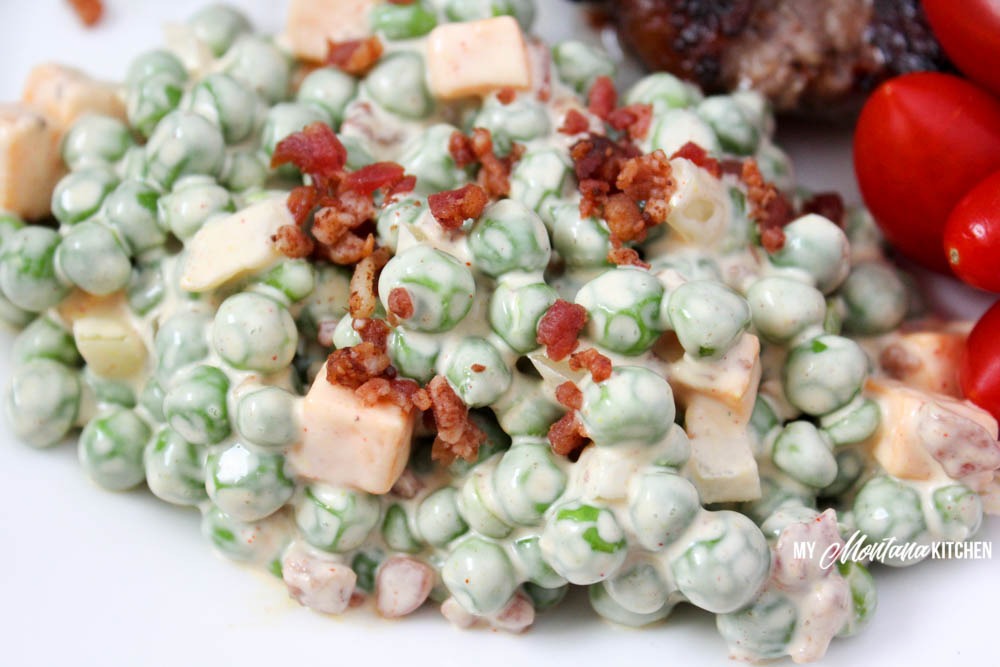 When following the Trim Healthy Mama Plan, peas are considered a non-starchy vegetable. However, they are higher in carbs than many other vegetables, so it is wise to watch your portions. One serving of this salad has 8 net carbs, so it would be best to stick with one serving.
If you have trouble sticking to single servings (as I sometimes do!), you would appreciate this Single Serve Easy Peasy Pea Salad recipe from my friend Dawn over at Oh Sweet Mercy!
Be sure to sign up with your email address so you can receive all my new recipes delivered right to your inbox! (Look for the sign-up box at the very top of this page.) Also, be sure to follow me on Facebook, Pinterest, Instagram, and Twitter!
Have you seen my ebook? "My Top 10 Low Carb Dessert Recipes." Click the link to check it out!

Ingredients
5

Cups

Frozen Peas

Thawed (See note)

1/2

Cup

Mayonnaise

1/4

Cup

0% Plain Greek Yogurt

I used 0%, but you could use full fat

1/2

Teaspoon

Garlic Salt

1

"doonk" stevia

a "doonk" is 1/32 of a teaspoon

1/4

Teaspoon

Smoked Paprika

1

Tablespoon

Yellow Mustard

4

Ounces

Mild or Sharp Cheddar Cheese

Cubed

1/4

Cup

Real Bacon Pieces

1/4

Cup

Chopped Onion

2

Boiled Eggs

Chopped (Optional, I did not use them)
Instructions
Combine all ingredients together and refrigerate for at least two hours.
Notes
If you are making the salad a day ahead, there is no need to thaw the peas. They should thaw in the refrigerator overnight.
Nutrition Information per Serving:
Calories 220
Total Fat 14 g
Saturated Fat 4 g
Monounsaturated Fat 1 g
Polyunsaturated Fat 0 g
Trans Fat 0 g
Cholesterol 22 mg
Sodium 280 mg
Potassium 122 mg
Total Carbohydrate 13 g
Dietary Fiber 5 g
Net Carbs 8 g
Sugars 4 g
Protein 9 g
Nutrition
Tried this recipe?
Mention @my_montana_kitchen_thm