We may earn money from the products/companies mentioned in this post. As an Amazon Associate I earn from qualifying purchases.
A deep dish pie with all the flavors of a favorite Girl Scout Cookie! A coconut cookie crust with layers of chocolate and coconut, topped with homemade caramel and more chocolate! This pie is low carb, sugar free, and a THM-S fuel.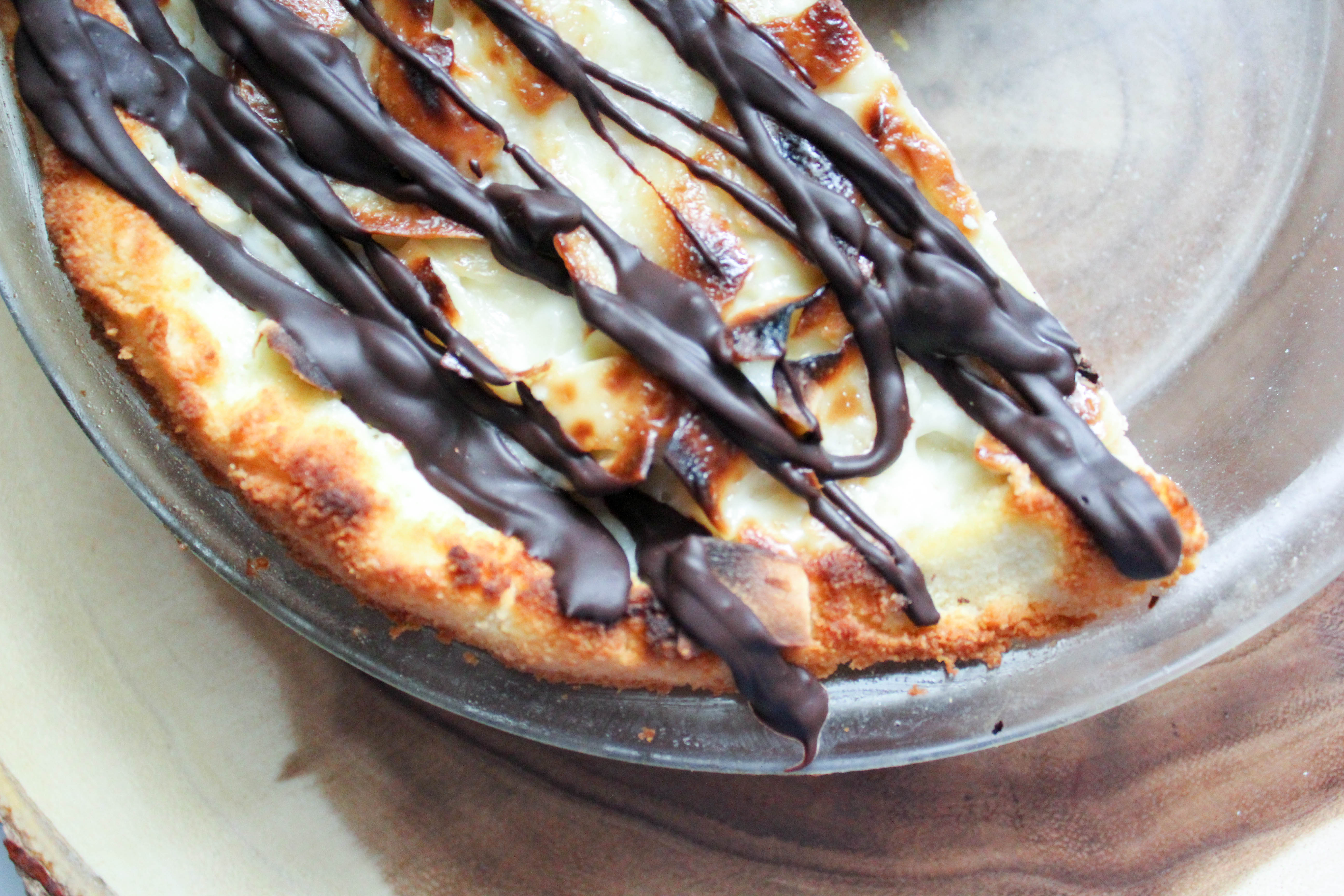 About a week ago, I was scrolling through Facebook, when a recipe video from Averie Cooks caught my attention (original recipe here). I knew immediately that I wanted to recreate a THM-friendly, low carb version for my blog. Turns out, my friend Taryn, from Joy Filled Eats had the same idea! She also just published a healthy dairy free version of this pie - so check out her recipe, too!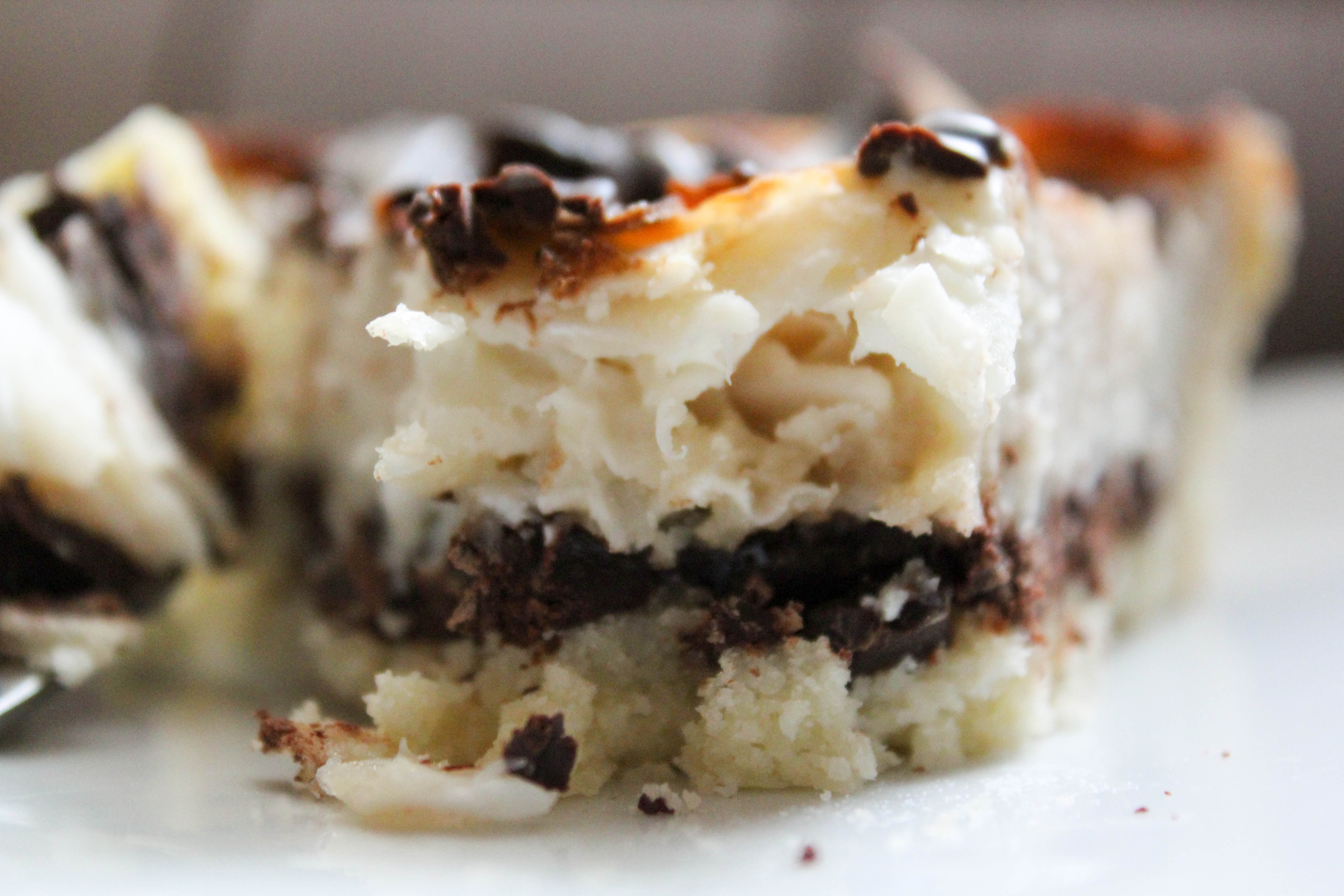 I mean, really, who doesn't like caramel, chocolate, and coconut? There are a few people, I suppose, but Samoas are one of my favorite cookies - outweighed only by Thin Mints! I already had a coconut cookie to use as the crust, and my 2 Ingredient Sweetened Condensed Milk was perfect for the filling. I made a few other tweaks, and wow! Deliciousness in a pie pan!
While we are on the topic of Girl Scout Flavors, be sure to check out these healthy sugar-free recipes as well! Joy Filled Eats has Tagalong Cupcakes, Tagalong Cookies, and Samoas Cookie Bars! Gwen's Nest has a Thin Mint Shake, and All Day I Dream About Food has Thin Mint Cookies, Samoa Donuts, and a gorgeous Samoa Layer Cake!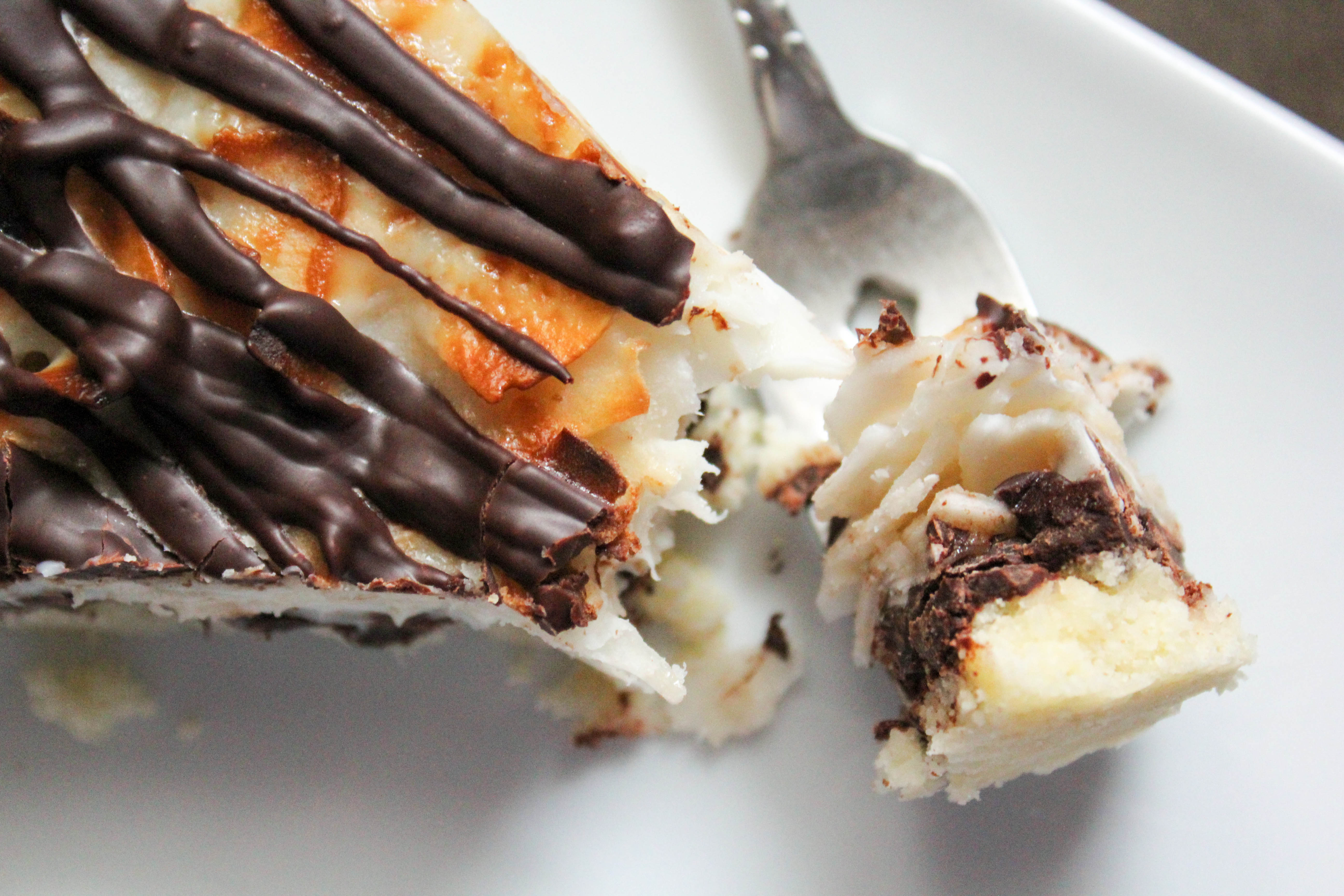 A word about this recipe. I was so anxious to try it last night, that I cut it while it was still warm. Bad idea. The condensed milk and caramel were still so gooey, it just fell apart. My son and I ate one piece (gooey perfection), then the remainder went into the fridge to chill overnight. This morning when I sliced it for photos, it sliced so much nicer, and was much easier to eat. You could even pick it up and eat it out of your hand, (if that is your thing). Seriously, it was so good!
There are a few steps to this recipe, but don't let that intimidate you. It is worth it - I promise! While you are at it, you could go ahead and make up a double version of the coconut sweetened condensed milk. I have a recipe for Salted Samoas Coffee Creamer coming soon (which will use the condensed milk)!
(This post contains affiliate links, which provide me with a small compensation when you purchase your products through my links. Thank you for your support!)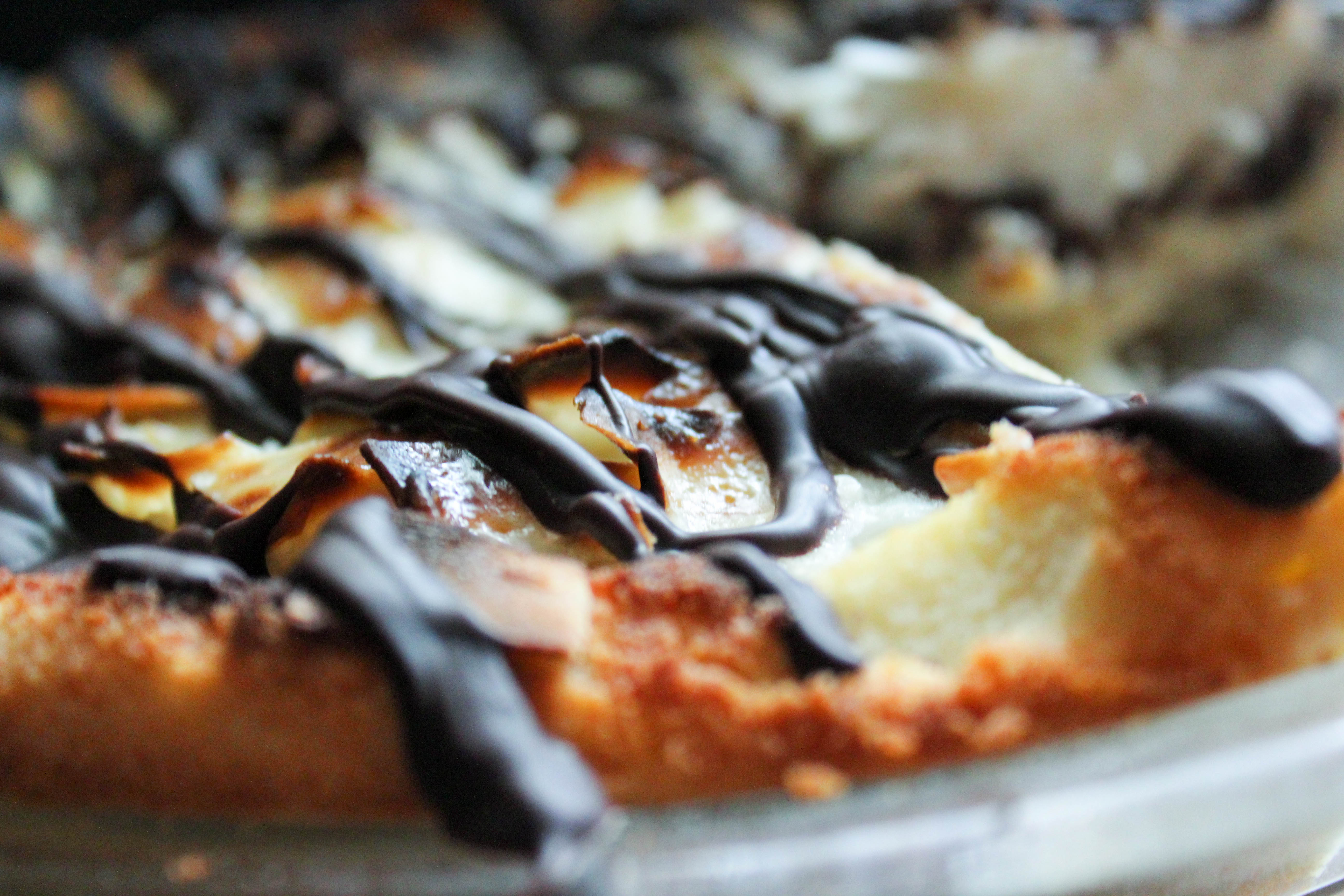 So, what do you need for this recipe?
For the Crust:
½ Cup Butter, Softened
½ Cup Xylitol
(or the equivalent of your favorite on-plan sweetner)
3 Eggs
1 Teaspoon Vanilla Extract
¾ Cup Coconut Flour
Caramel:
4 Tablespoons Unsalted Butter
6 Tablespoons Xylitol
(or 5 Tablespoons Gentle Sweet
)
½ Teaspoon Caramel Extract
¼ Teaspoon Mineral Salt
1 Tablespoon Heavy Whipping Cream
Pie Filling:
1 Can Coconut Milk
¼ Cup Heavy Cream
1 Tablespoon Butter
⅓ Cup Gentle Sweet
2 Cups Unsweetened Coconut
1 ½ Cups Lily's Stevia-Sweetened Chocolate Chips
1 Teaspoon Coconut Oil
Be sure to sign up with your email address so you can receive all my new recipes delivered right to your inbox! (Look for the sign-up box on the right sidebar if you are on a desktop, or at the very bottom of this post if you are using a mobile device.) Also, be sure to follow me on Facebook, Pinterest, Instagram, and Twitter!

Ingredients
For the Caramel:
4

Tablespoons

Unsalted Butter

6

Tablespoons

Xylitol

or 5 Tablespoons Gentle Sweet

½

Teaspoon

Caramel Extract

¼

Teaspoon

Mineral Salt

1

Tablespoon

Heavy Whipping Cream
Instructions
For the Crust:
Preheat oven to 350.

Beat softened butter, xylitol, and eggs until well mixed.

Add vanilla and coconut flour and stir well.

Press into bottom and up sides of a greased deep dish pie pan.

Bake for 10 minutes. (It will not be finished, but will bake for 20 more minutes later on.)
For the Pie Filling
In a large, wide skillet, combine 1 can coconut milk and ¼ cup heavy cream.

Add 1 Tablespoon butter and ⅓ cup Gentle Sweet.

Stir well and bring to a boil.

Allow to simmer until mixture become gooey and sticky. (It should reduce by almost half.)

Remove from heat and let cool.
For the Caramel
In a saucepan, melt butter and xylitol (or Gentle Sweet) over medium high heat.

When sweetener has completely melted, continue to simmer for 1-2 minutes, stirring continuously to prevent scorching.

Add caramel flavoring, mineral salt and heavy whipping cream.

Continue to simmer for 1-2 more minutes, still stirring continuously.

Remove from heat.

The sauce should start to thicken a bit, and it will thicken more as it cools.
Assembling the Pie
As soon as the crust is removed from the oven, sprinkle 1 cup of the Lily's Chocolate Chips evenly across the bottom of the pie.

Spread 2 Cups of Unsweetened Coconut on top of the chocolate chips.

Pour Condensed Milk Mixture (coconut milk mixture) over the top.

Drizzle caramel sauce over the top.

Bake for 20-25 minutes, or until coconut begins to turn golden brown. (You may need to broil it for 1-2 minutes to brown the coconut.)

Remove from oven and let cool.

Melt remaining ½ cup Chocolate chips with 1 teaspoon coconut oil.

Mix well, and drizzle over the top of the cooled pie.

Place in refrigerator and chill for at least 4-6 hours before serving. (Overnight is best)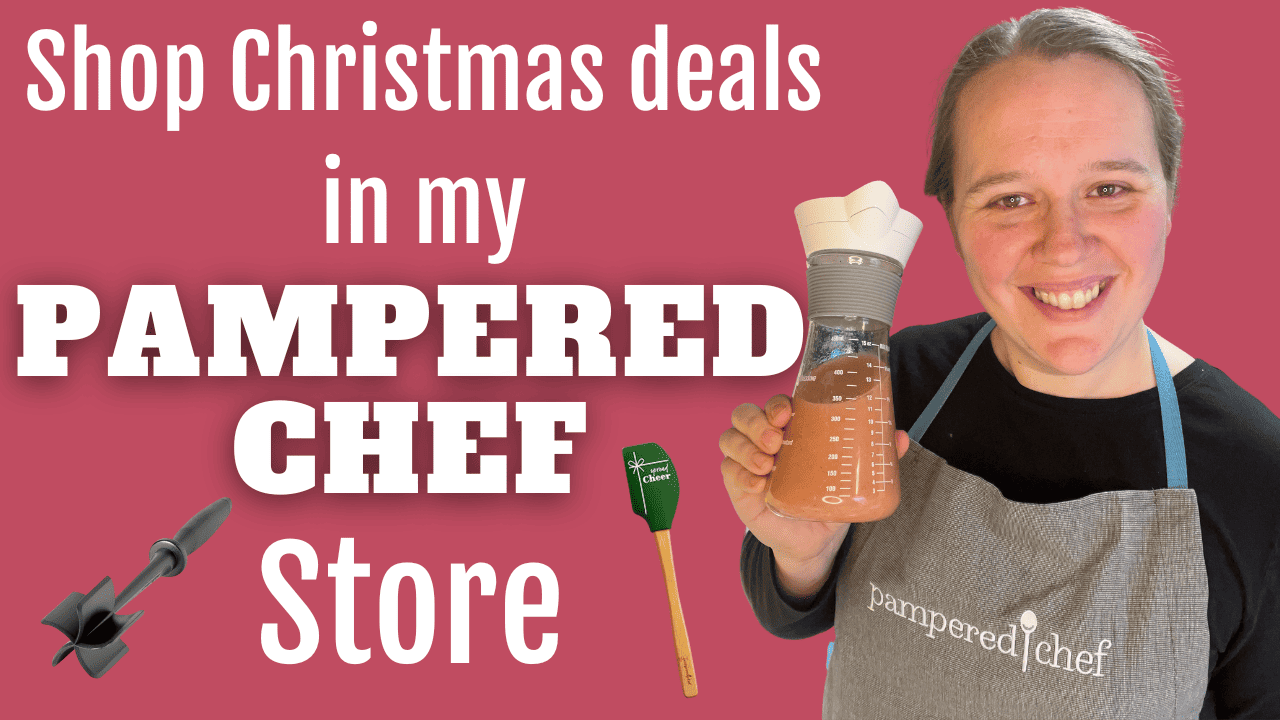 Did you know the Trim Healthy Mama Sisters have a new cookbook that will be released this Fall? You can pre-order your copy by clicking on the link below!
Trim Healthy Mama: The Trim Healthy Table: More Than 250 Healthy, Delicious Recipes from Our Kitchen to Yours
Reader Interactions