We may earn money from the products/companies mentioned in this post. As an Amazon Associate I earn from qualifying purchases.
Rich, creamy, and tasting just like cookie dough, these easy Peanut Butter Cookie Dough Bites will satisfy your sweet tooth cravings in less than 5 minutes (but with NO sugar)!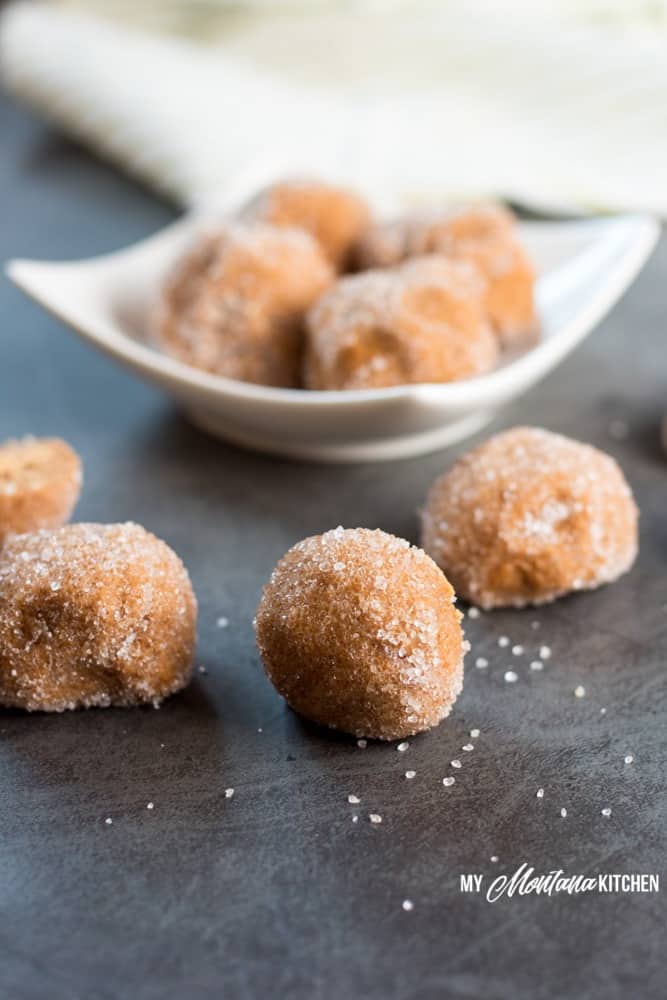 Peanut Butter Cookie Dough Bites
Why does raw cookie dough taste so good? No one really knows the answer to that, but what we do know is that it isn't good FOR you. The raw eggs pose a risk of salmonella, and the raw flour isn't good for you, either.
(But honestly, that never stopped me from eating it. Shhhhh . . . )
Eggless Peanut Butter Cookie Dough
But now you can enjoy Peanut Butter Cookie Dough without fear of salmonella, or any other associated risks.
In fact, you can even feel GOOD about it, because it is also sugar free, gluten free, low carb, and a Trim Healthy Mama S Fuel!
There are no raw eggs in this cookie dough recipe, no raw flour, and it is also dairy free, because I chose to use coconut oil in place of butter! (I like to use the refined coconut oil, so there is no coconut flavor.)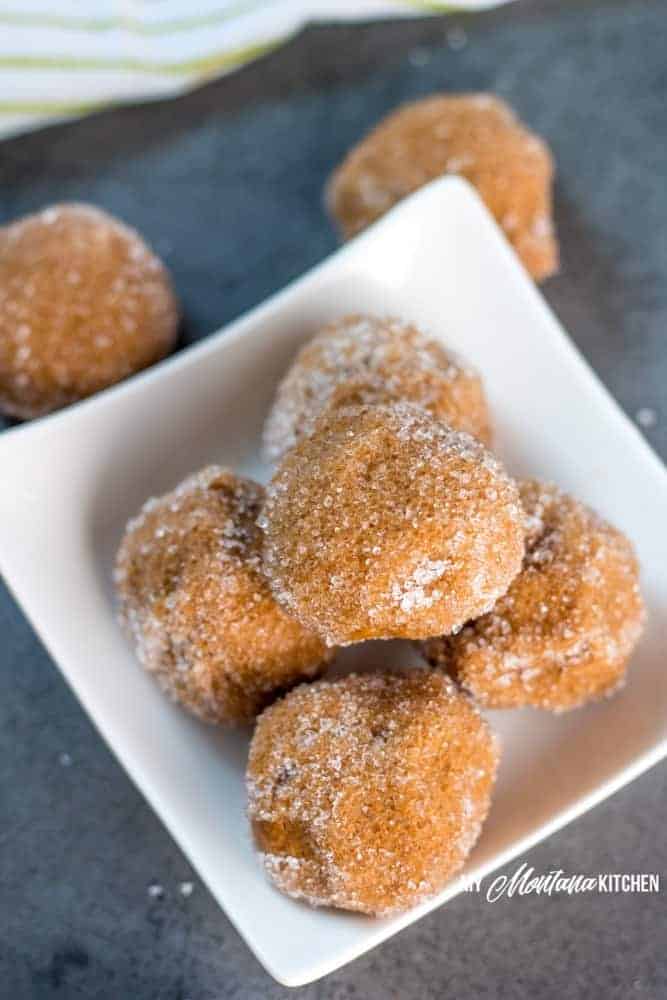 I love fast and easy desserts. This saves me when I'm craving something sweet, but I don't have any treats stocked in my freezer.
All I have to do is pull out a few ingredients, mix a few things in a small bowl, and my craving is crushed!
Two of my favorite quick dessert recipes are 2 Minute Truffles and Peanut Butter Chocolate Chip Cookie Dough. (Both only take about 3 minutes!)
This eggless cookie dough recipe is similar to the 2 Minute Truffles, but there is a slight re-arranging of ingredients and amounts.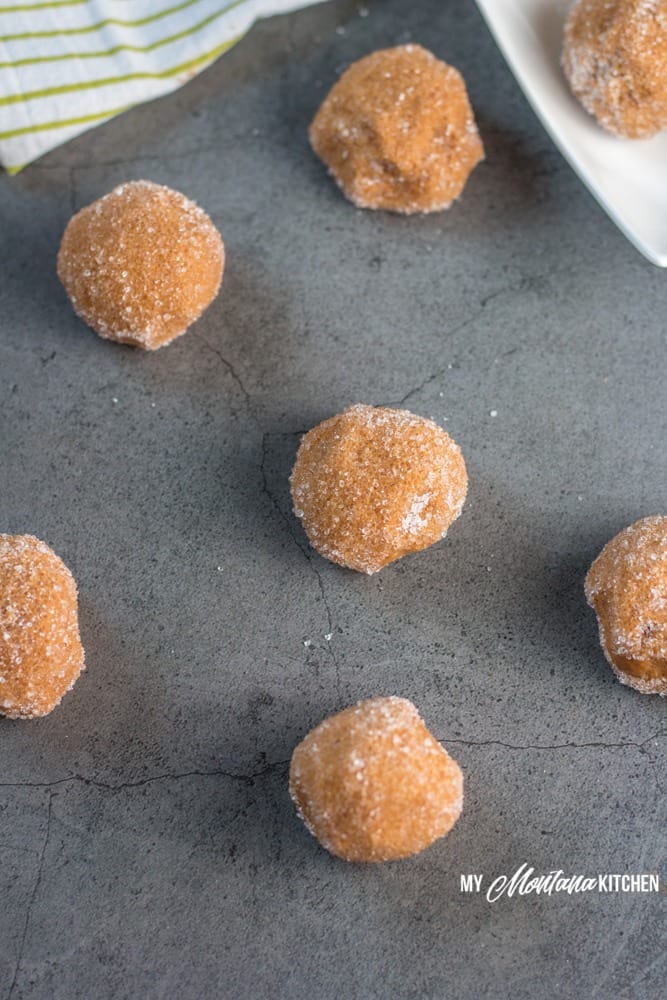 How to Store Peanut Butter Cookie Dough
You can make this recipe as a single serve, or double or triple it to make more, if desired.
These Peanut Butter Cookie Dough Balls store great in the fridge or the freezer, so make up a big batch and keep some on hand when the cravings strike!
How to Eat Gluten Free Peanut Butter Cookie Dough
Let's be real, here for a moment. Maybe you don't have 30 seconds to roll this delicious cookie dough into dough balls.
Maybe you need something, STAT! Then by all means, don't take the time to roll them into balls! Eat it straight out of the dish with a spoon! (I'm not going to say nay!)
It works either way! If you DO choose to roll them into balls, I like to roll the shaped balls in granulated erythritol or xylitol. This step is not necessary, but it makes them pretty and gives a nice little crunch.
But you don't have to stop there with ways to eat this delicious treat. You could add a bit of water or almond milk to make the mixture thin, and pour it over Low Carb Vanilla Ice Cream (YUM)!
Or, you could make the cookie dough balls, then dip them in melted Lily's Chocolate to make Low Carb Peanut Butter Balls! (Or check out this yummy recipe for Healthy Peanut Butter Balls!)
The size is up to you as well. I use my small cookie scoop to scoop out the dough. This makes decent sized balls, but you could make them smaller so they are bite size.
One recipe should yield about three normal sized cookie dough bites (if using small cookie dough scoop).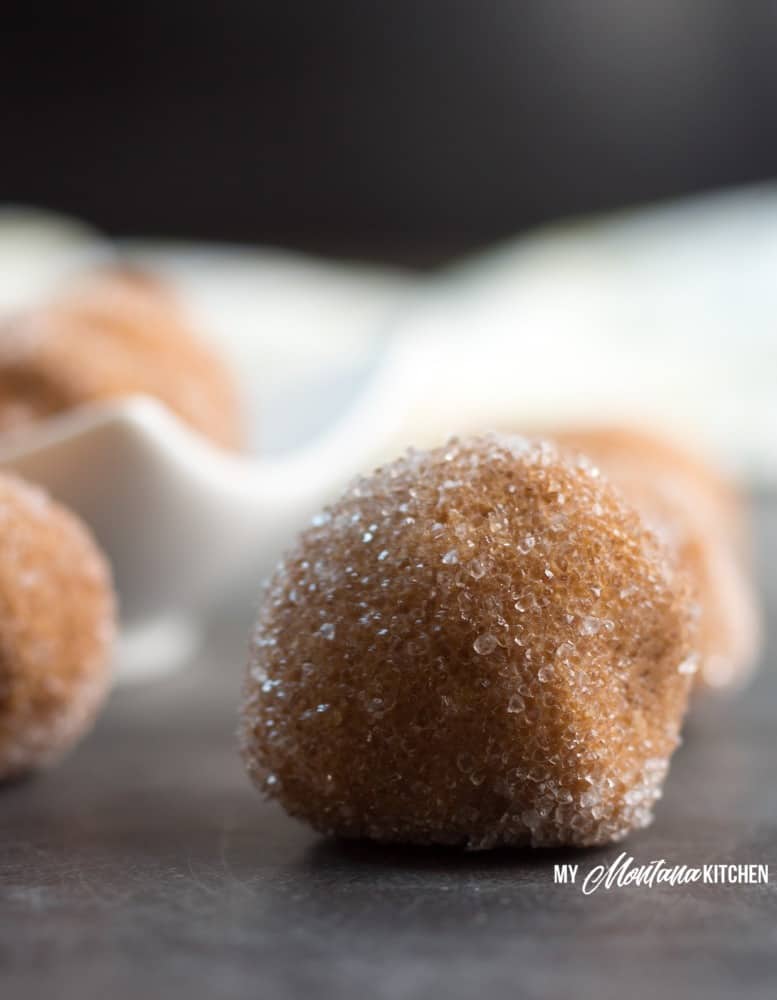 Ingredients needed to make Peanut Butter Cookie Dough Bites
To make this simple treat, you only need a handful of ingredients! (See the recipe card at the end of this post for ingredient amounts and full instructions.)
Natural Peanut Butter (the Adams no-stir brand is my favorite)
Defatted Peanut Flour (I like this brand of peanut flour)
Gentle Sweet Sweetener (or you can use an equal amount of my Low Carb Powdered Sugar)
Coconut Oil (I use refined so there is no coconut flavor)
Vanilla Extract (I just ordered this brand, and I love it!)
Dash of Mineral Salt
You probably already have a lot of those ingredients on hand already.
So all you need to do is grab a small bowl, measure the ingredients, form the cookie dough bites, roll them in granulated sweetener, and enjoy!
The bites will be fairly soft, so sometimes I place them in the freezer for a few moments to firm up. The coconut oil will solidify and make them more firm. (This step is not necessary, but may be helpful if you feel they are too soft.)
As written, this recipe is a single serve recipe, but feel free to double, triple, or quadruple the recipe and save some for later! Your future self will thank you!
And if peanut butter is your favorite, you don't want to miss this Keto Peanut Butter Cracker Sandwich!
Be sure to sign up for email from My Montana Kitchen - you will receive a FREE Dessert Ebook and new recipes delivered right to your inbox!
Pssstttt . . . Have you heard about the My Montana Kitchen Table? You can see more here, and learn how to sign up to be the first to hear about it when it is ready!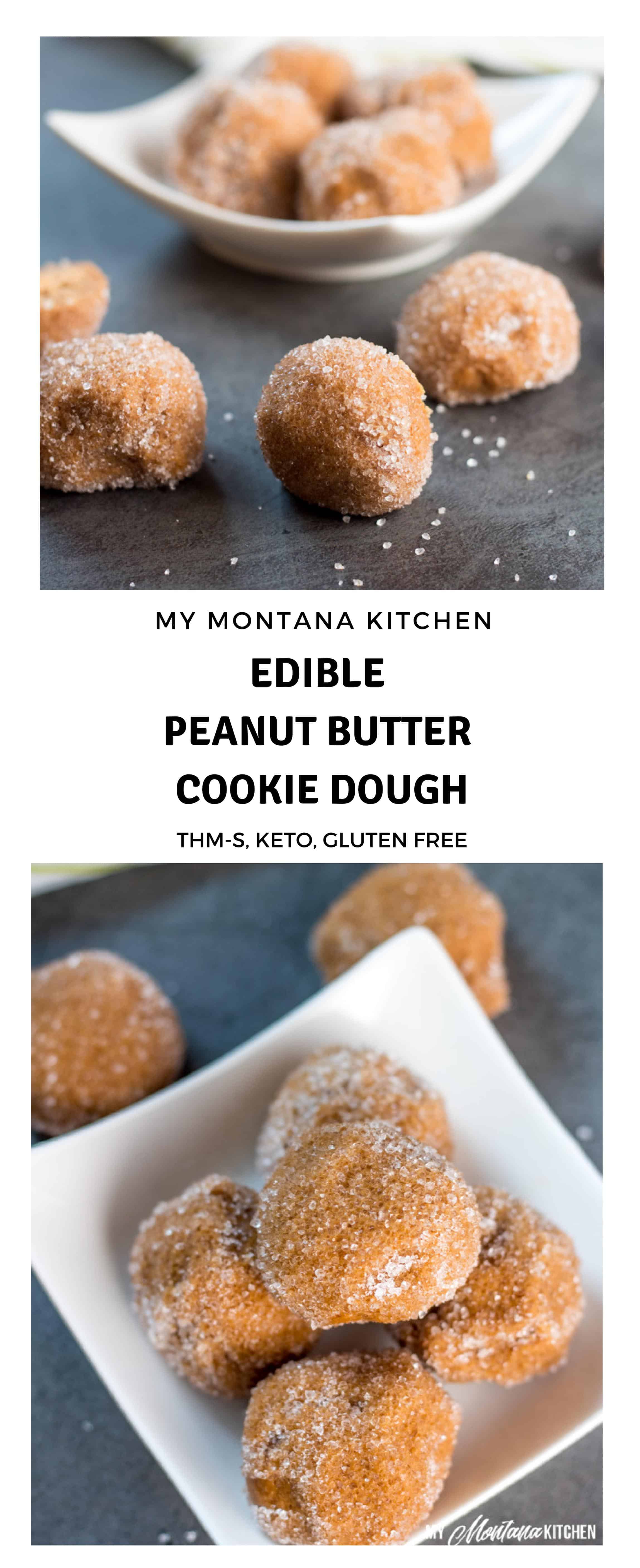 Edible Peanut Butter Cookie Dough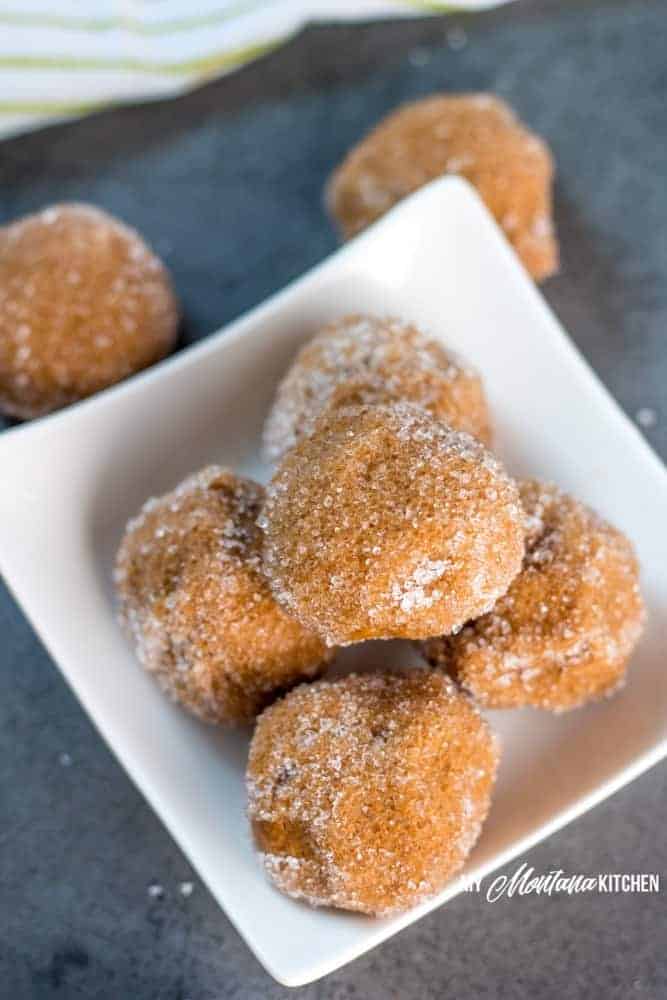 This Edible Peanut Butter Cookie Dough is so tasty and simple!
Ingredients
2 Tablespoons Defatted Peanut Flour
1 Tablespoon Natural Peanut Butter
1 Tablespoon Gentle Sweet
1 Teaspoon Vanilla Extract
1 Tablespoon Coconut Oil
Dash of Mineral Salt
Instructions
In a small bowl, mix all ingredients together until a soft "dough" forms. (It may take 10-15 seconds.)
Shape into small balls and roll in granulated erythritol or xylitol, if desired.


If you do not have the Gentle Sweet Sweetener, you can use my Low Carb Powdered Sugar in equal amounts.