We may earn money from the products/companies mentioned in this post. As an Amazon Associate I earn from qualifying purchases.
Looking for a delicious, quick dish your family and guests will love? Try these amazing Keto Grilled Chicken Skewers! They're easy, healthy, and so good. You'll want to put these in your meal planning rotation!
Plus, these work great as a Trim Healthy Mama Light S fuel!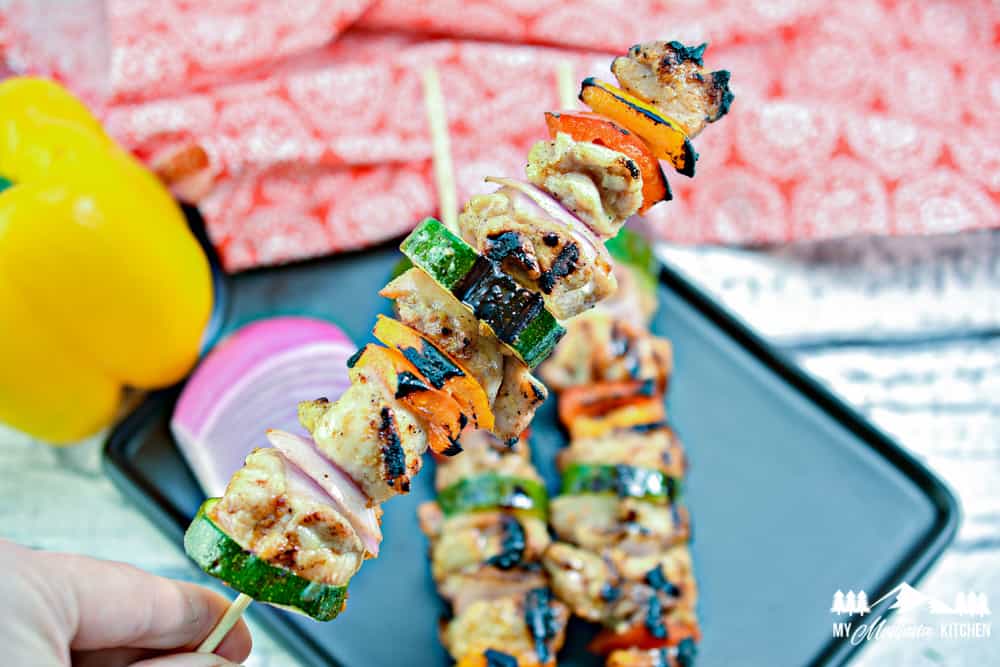 Nothing says summer quite like chicken and veggies on the grill - and using the grill means less cleanup!
These yummy grilled chicken bites look sophisticated and taste like they took you all day to make, but in reality, they come together in less than 30 minutes. You can't beat that!
How Long Does it Take to Cook Grilled Chicken Skewers?
These skewers really do come together quickly. You just cut the chicken into bite-sized chunks, mix them with the spice marinade, and alternate them with veggies on skewers.
They're ready to go in just minutes!
*Note: If you're using wooden skewers, you will want to soak them for at least an hour beforehand. This will prevent them from burning or catching on fire while you're grilling.
Please don't skip this step! If you're using metal skewers, there's no need to soak them - they're ready to go.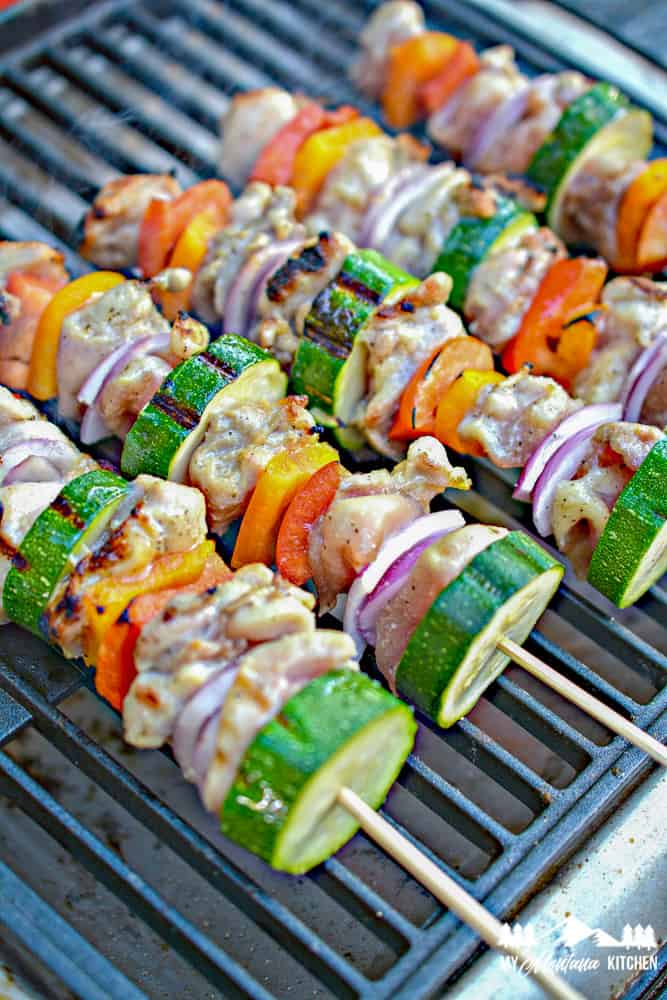 How Do You Cut Chicken Breast for Skewers?
Cutting the chicken breast should go pretty quickly, but you do want to make sure to cut them into equal sized cubes.
This way, they all cook at the same time and remain juicy; you won't end up with some that are practically charcoal while others are still pink in the middle.
In addition, I recommend cutting the chicken kababs into bite-sized pieces, a little smaller than the veggie chunks.
This will ensure that everything cooks for the right amount of time. It also makes them much easier to eat!
Chicken Kababs in the Oven
What if you don't have a grill (or it's raining and you still want to grill kebabs)? No problem!
You can get that same great grilled taste in your oven. Simply set it to 450 degrees and cook the kababs on a cookie sheet or grill rack for 15 minutes.
Easy, delicious, and ready in no time!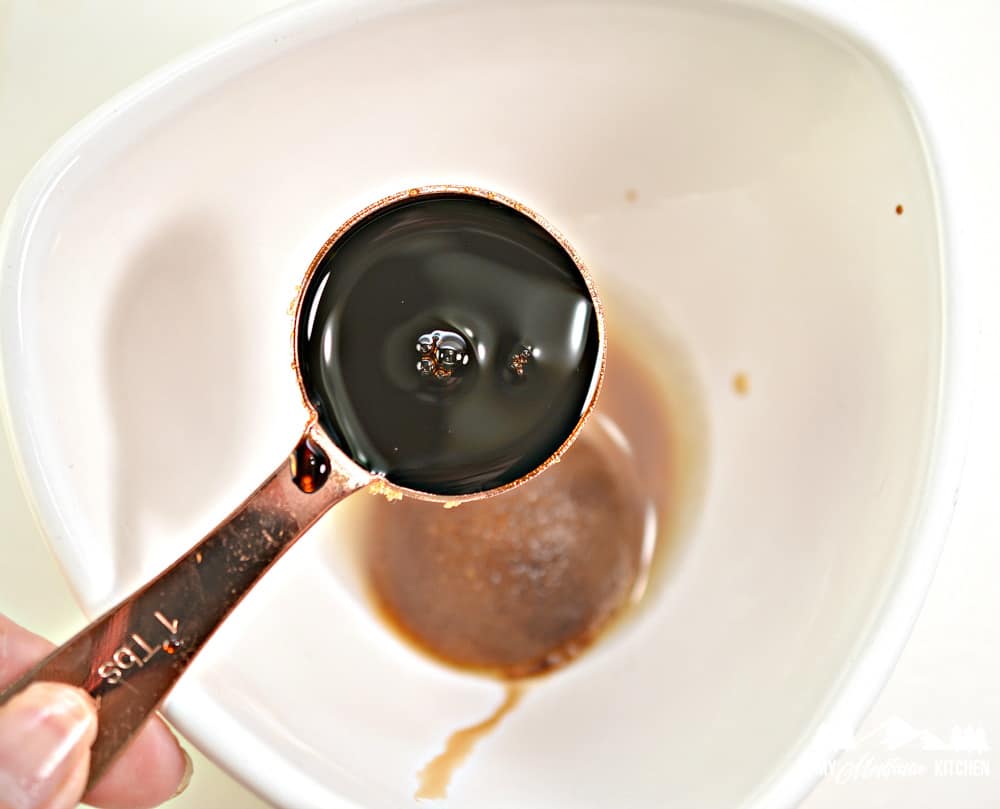 Grilled Chicken Skewer Marinade
You can get by without a lengthy marinating time, but if you have a few extra minutes, I really recommend a little extra prep.
This extra step kicks the flavor up a notch while helping the chicken stay juicy on the grill.
This simple marinade comes together super quickly.
Just combine the brown sugar substitute (perfect for keto and low-carb diets), soy sauce, lemon juice, Worcestershire sauce, and minced garlic in a bowl.
Give it a good whisk and add your chunks of chicken. That's all there is to it! 
Like I said above, you can grill these right away, but if you have the time, I recommend marinating the chicken for at least 30 minutes, and up to 4 hours if you're prepping ahead.
(Of course, the longer you marinate it, the more flavorful your end result will be, but it's delicious either way!)
What Can I Do With the Leftovers?
If you actually have leftovers (we rarely do), they're so incredibly versatile. You can top a yummy salad or wrap them up in a low-carb tortilla for a quick wrap.
Honestly, you can even just eat them straight out of the bowl for a high-protein snack! (I won't tell, promise!)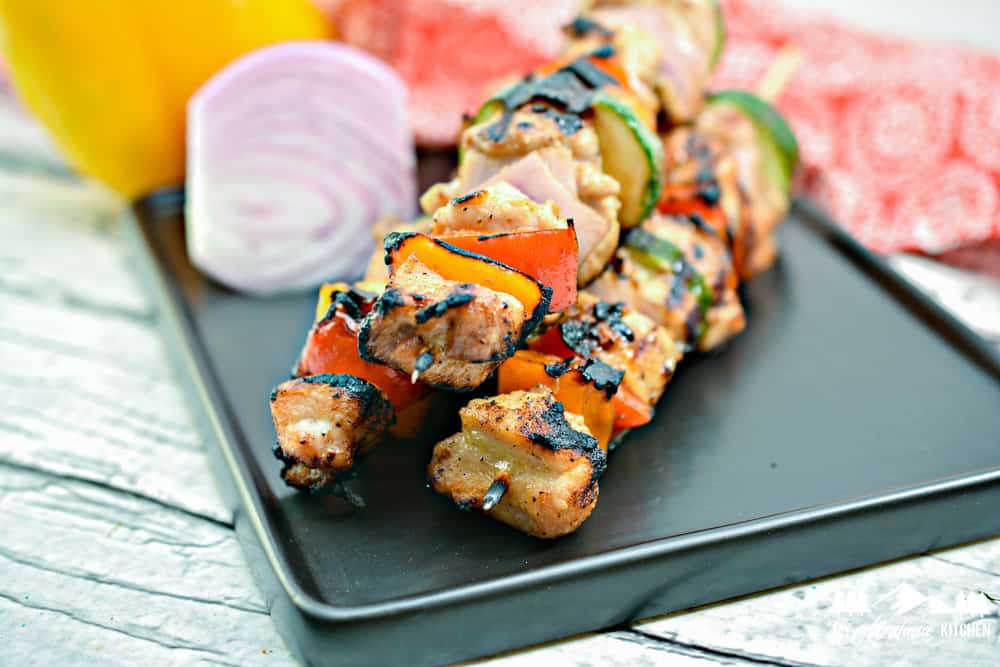 I hope you love this recipe as much as we do! If you're looking for other great chicken recipes to try, I suggest my Super Simple Grilled Sesame Chicken Thighs or my Southwest Chicken Salad.
They're both favorites at our house - you can't go wrong with either!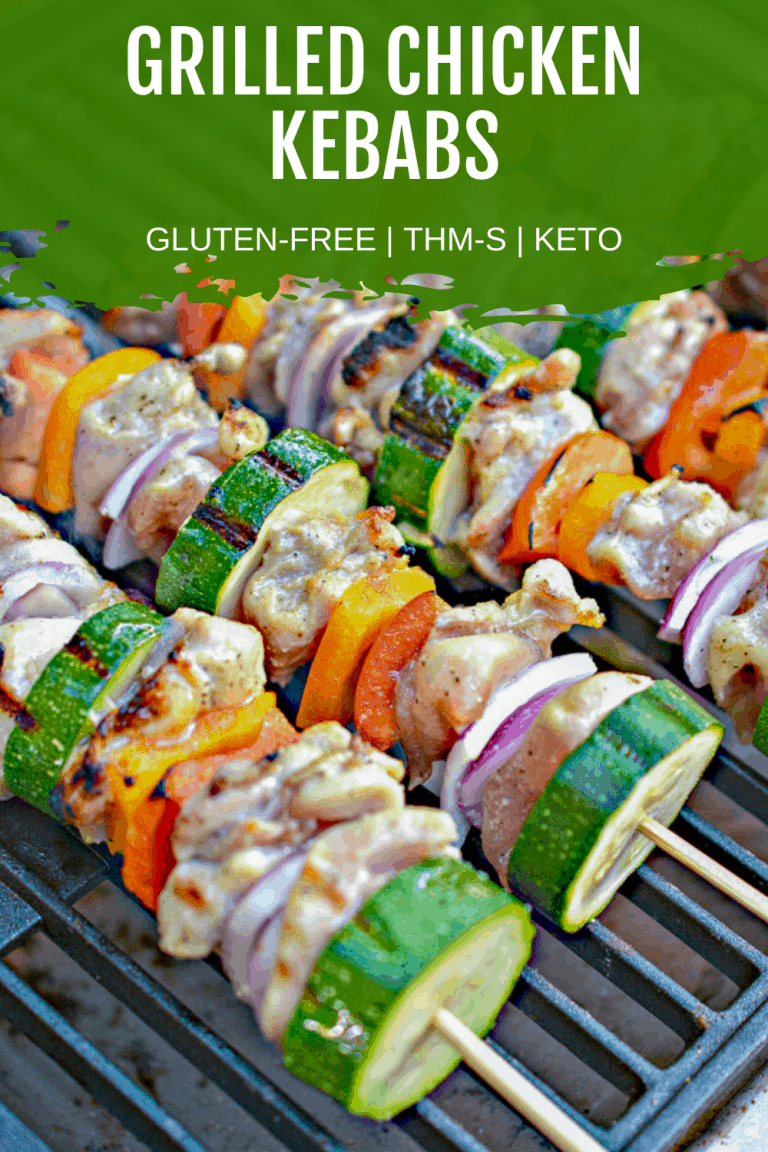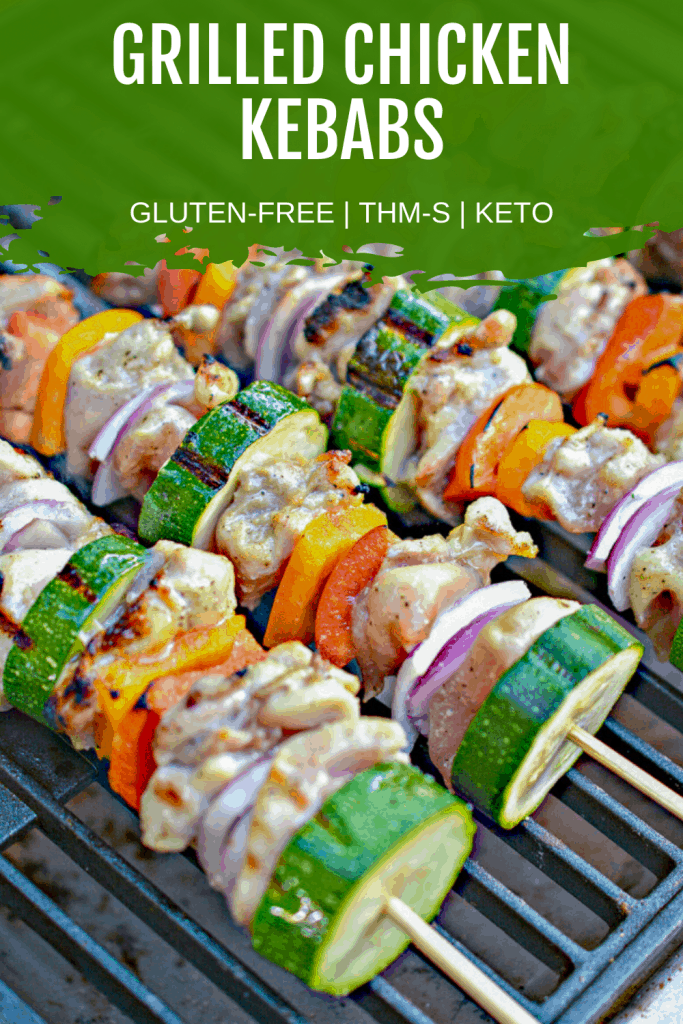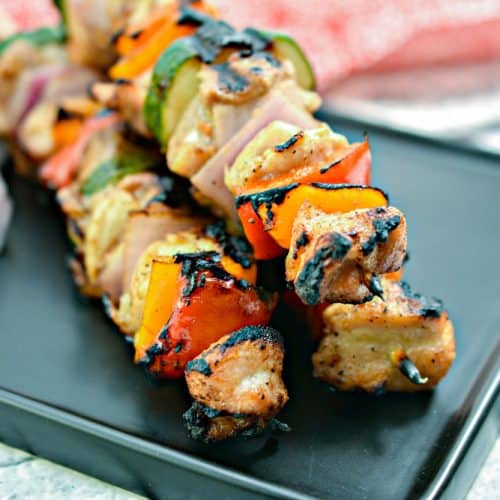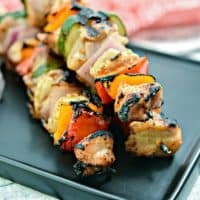 Ingredients
2

lbs

Boneless Skinless Chicken Breasts or Thighs

cut into bite-sized pieces

2

Medium Zucchini

sliced

1/2

Red Onion

chopped into large pieces

3/4

Red Bell Pepper

sliced into large pieces

3/4

Orange Bell Pepper

sliced into large pieces

10

Bamboo Skewers soaked in water

Salt & Pepper to Taste
Instructions
Soak the wooden skewers for an hour or so before you plan to use them.

In a mixing bowl, combine the Swerve brown sugar substitute, soy sauce, lemon juice, worcestershire sauce and minced garlic. Whisk to combine.

Place the chicken pieces in the mixing bowl, and add in olive oil, garlic powder, onion powder and salt and pepper to taste. Stir to combine well.
Make the Marinade
Layer the veggies and chicken on the skewers in any order that you choose. (The ingredients should be enough to create 10 equal skewers.)

Place the skewers on the grill with the ends of the sticks hanging off for safety and easy turning. Add salt and pepper to taste if desired.

Cook the skewers, turning once in a while to get an even cook. Continue to grill until the chicken is cooked through and the veggies are charred.

Remove the skewers from the grill and serve.
Nutrition
Serving:
5
g
|
Calories:
285
kcal
|
Carbohydrates:
7
g
|
Protein:
42
g
|
Fat:
9
g
|
Fiber:
2
g