We may earn money from the products/companies mentioned in this post. As an Amazon Associate I earn from qualifying purchases.
If you're looking for one of the best chicken thigh recipes, ever then you're going to fall in love with these Sesame Chicken Thighs. Perfect for grilling and eating, every single bite is cooked to flavorful perfection.
Chicken is just one of those meats that can taste really versatile with ease. It can be spicy, sweet or downright tender and juicy all in one simple recipe if need be!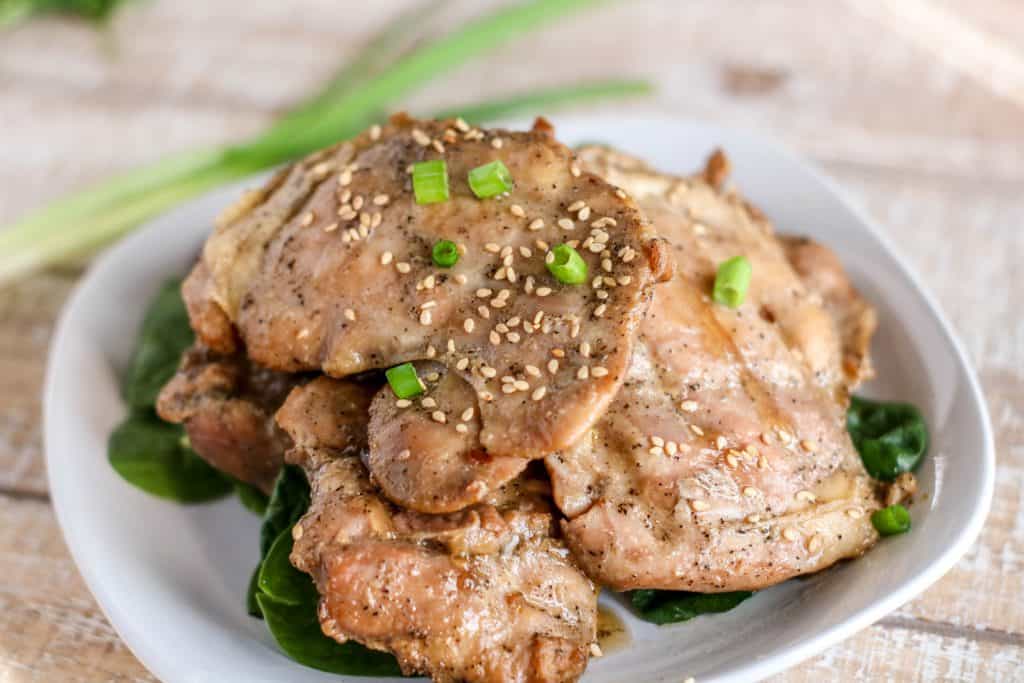 What does sesame chicken taste like?
This is why it's so good. It's hard to really put one simple flavor on it but if I had to say...it's the perfect combination of sweet and heat.
And if you happen to like one more than the other, doctor it up and kick up that heat or sweet! Remember, you control the outcome of the taste so treat your taste buds to what they like.
Is sesame chicken healthy?
Eating chicken is always a healthy choice as it does give your body much-needed protein to fuel up and get through the day. This one is especially healthy because it does not have much added fat!
How to make these Grilled Sesame Chicken Thighs
People often ask where I come up with my ideas of recipes to create and cook. And honestly, I just listen to my body in telling me what it's craving. Did you know that your body will start craving foods that you aren't getting enough of? It's true for me, especially in the reference of protein.
Plus, I really love to grill. (Ok, confession . . . I really love for my HUSBAND to grill!)
It's just a super simple way to cook up flavorful food and doesn't take long to do so. Any recipe that I can create that's quick and easy, I'm 100% down to do.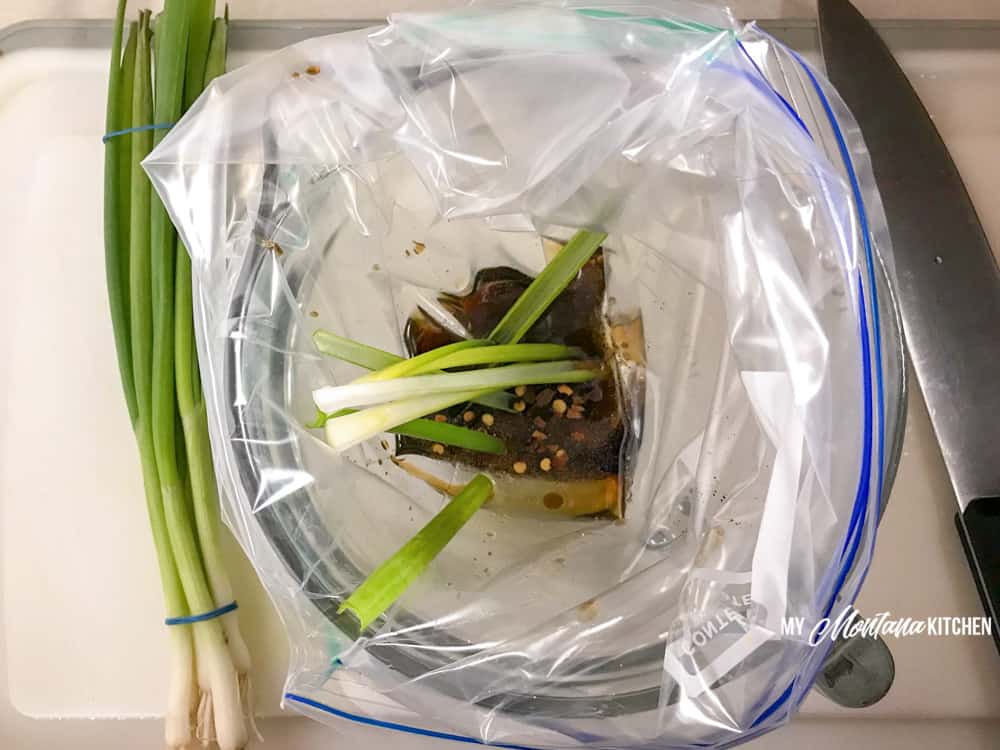 The ingredients needed for this chicken dinner recipe are simple, with the majority actually being spices to add in.
I like to add in my Low Carb brown sugar as the sugar alternative because it gives that sweetness that I'm craving without taking me off track of my low carb eating. (plus, sweet chicken is really, really tasty!)
The biggest thing to remember when making this recipe is to make certain that you get the thighs covered completely with all the marinade.
Really shake them all around when in the Ziploc bag to lock in that flavor and taste!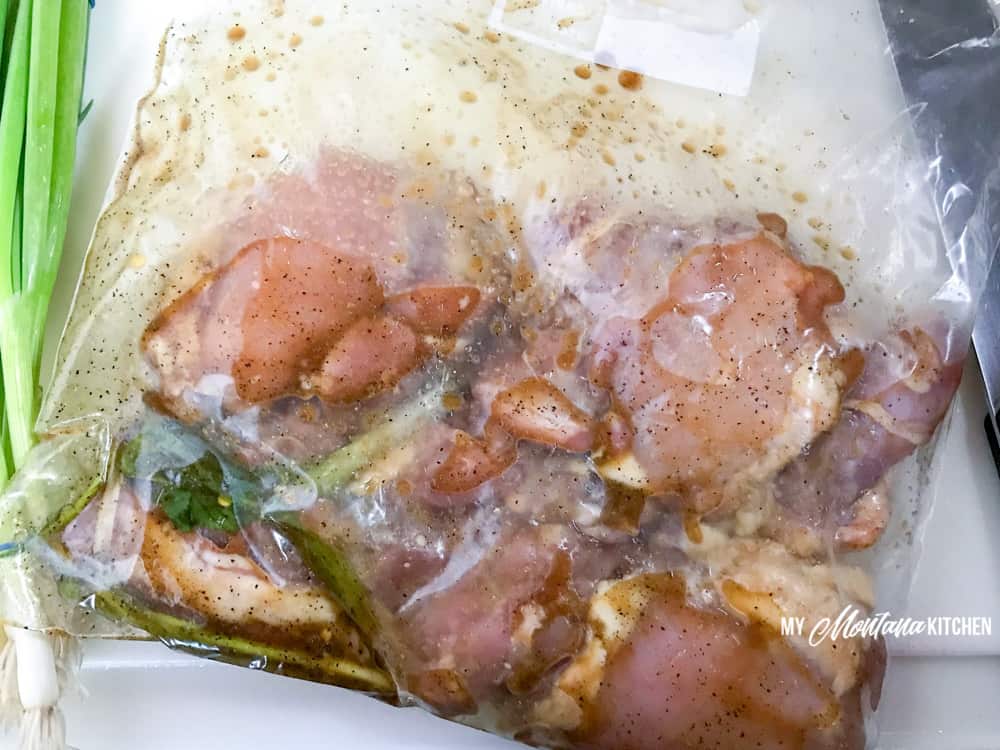 How long do these Sesame Chicken thighs have to cook?
While the cooking times can vary, it's a good idea to have a meat thermometer on hand as well.
You never want to take the chance of eating undercooked chicken, ever. While you're going to be grilling the chicken for anywhere from 20-25 minutes, you still want to make certain that the inside of the chicken is reading at no less than 165 degrees.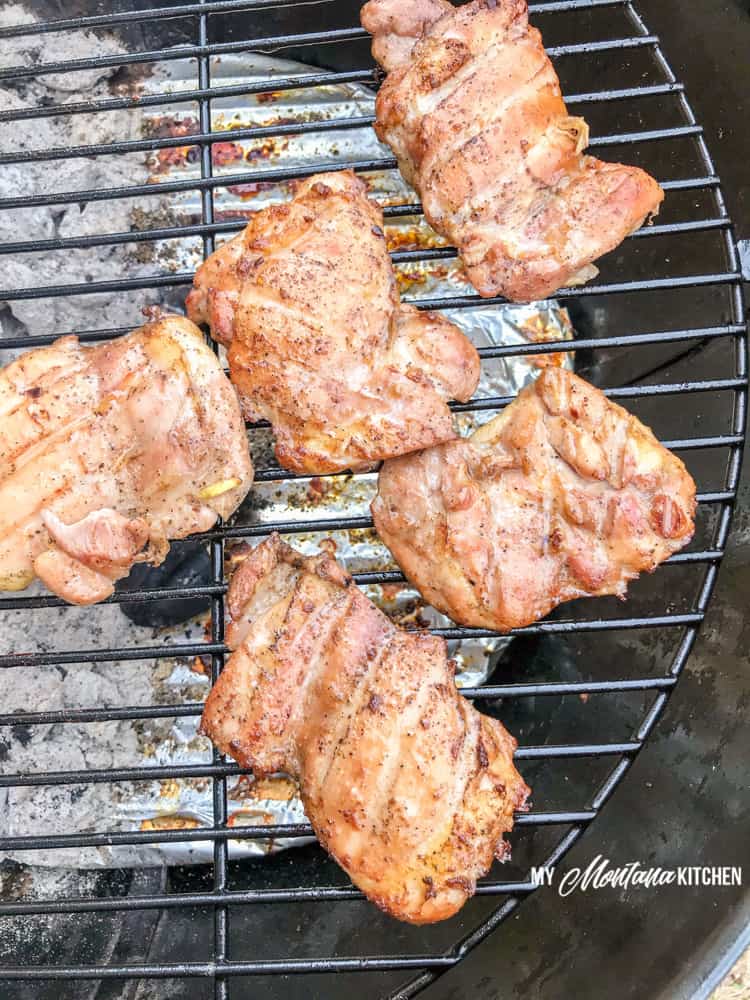 Using your meat thermometer can give you peace of mind just make certain that you're inserting it into the fattest part of the thigh, away from and not touching any bone. It's important to not touch the bone with the thermometer because the bone is going to be hotter than the actual chicken meat and it will give a false reading!
(This recipe uses boneless thighs, so you don't even have to worry about that part, but it is a good reminder for the future!)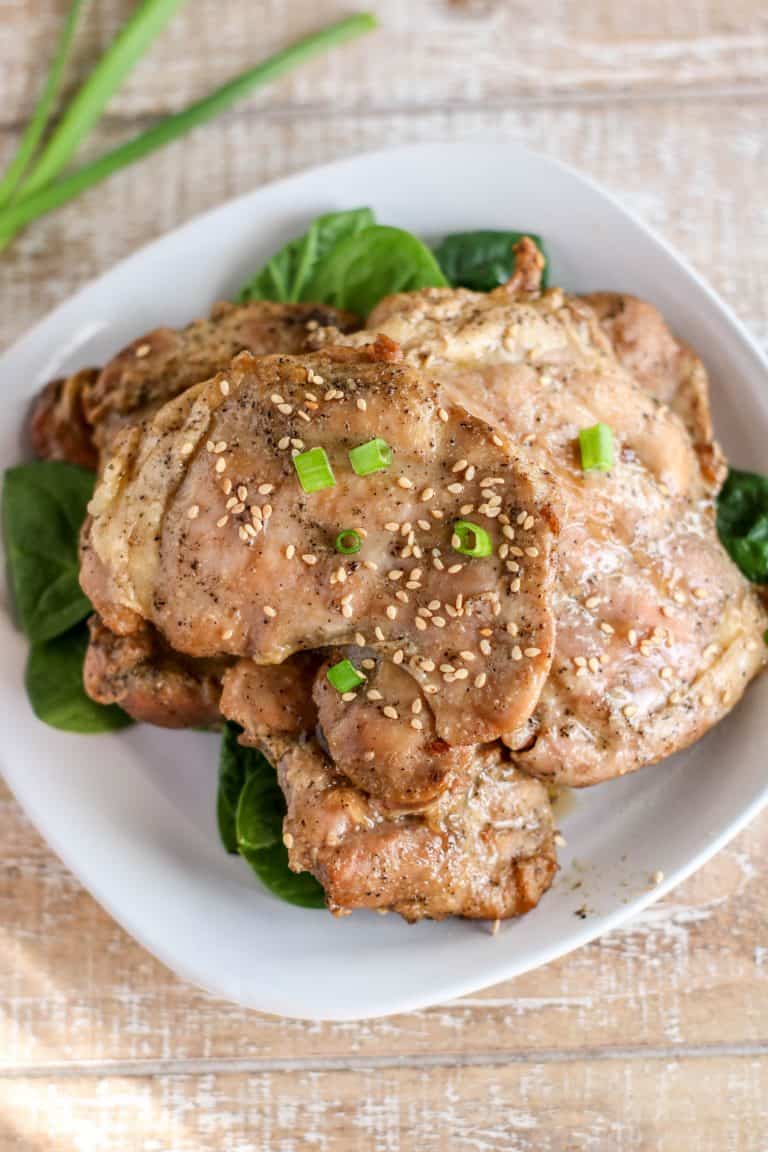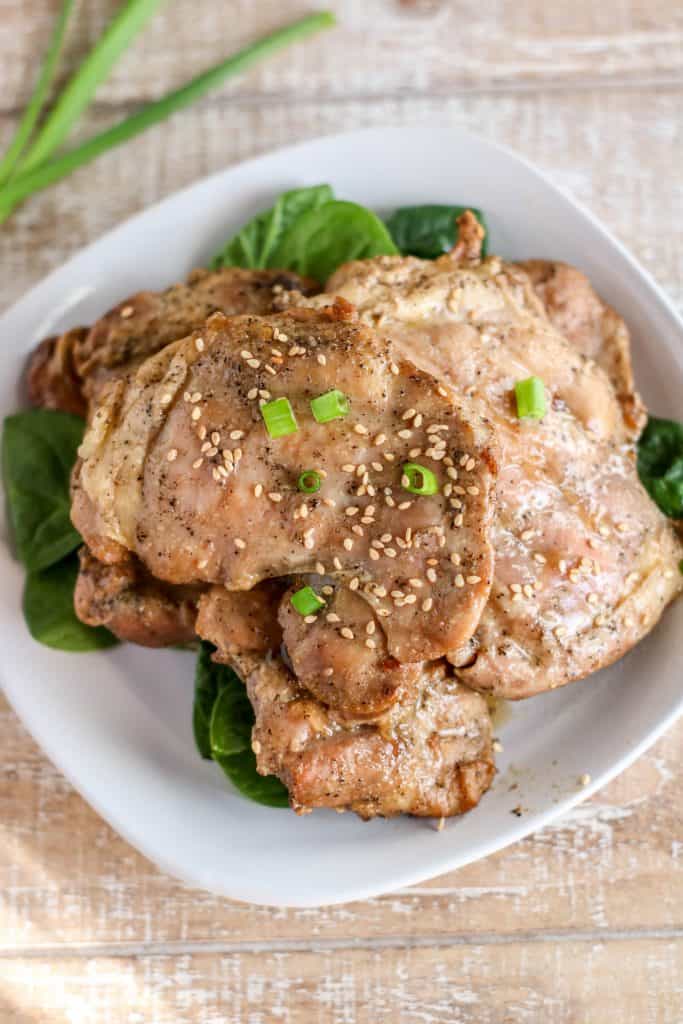 What's the best way to store uneaten chicken thighs?
If you happen to have any leftover, you just need to store them in a container in the fridge. And if you don't feel that you can eat them up with the next couple of days, move them to a freezer safe container and add them to your freezer to save for another day.
If you like this grilled chicken recipe, check out these other options as well:
Jalapeño Popper Chicken Casserole with Bacon
Low Carb Cheesy Chicken Vegetable Casserole
Keto Chinese Chicken & Broccoli
What side dishes would be great with this recipe?
Chicken literally goes with anything! Think Roasted Broccoli, Trim Healthy Mama Macaroni Salad or even this Keto Green Bean Casserole (you can make it in your Instant Pot)!
You can rest easy knowing that whatever side dish you want to cook, it will make a nice pairing with this dish. (And if you're in the mood for more grilling, think about grilling up some asparagus or eggplant as a side dish option - delicious!)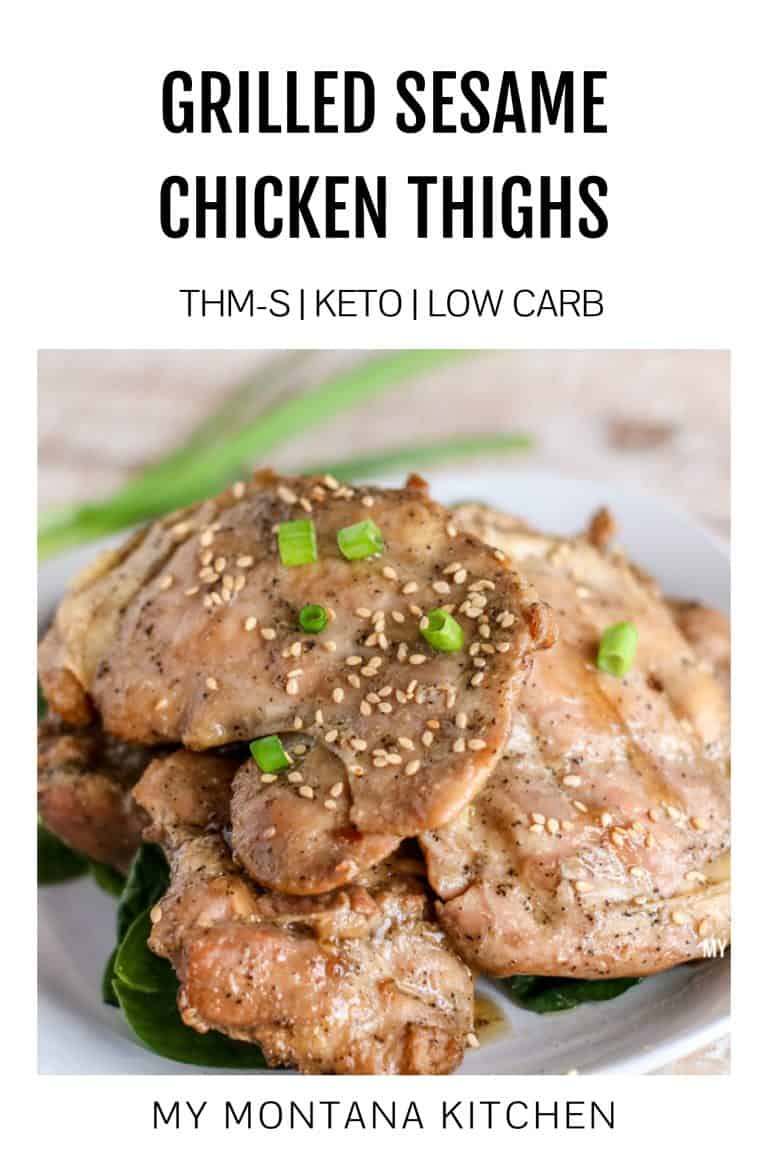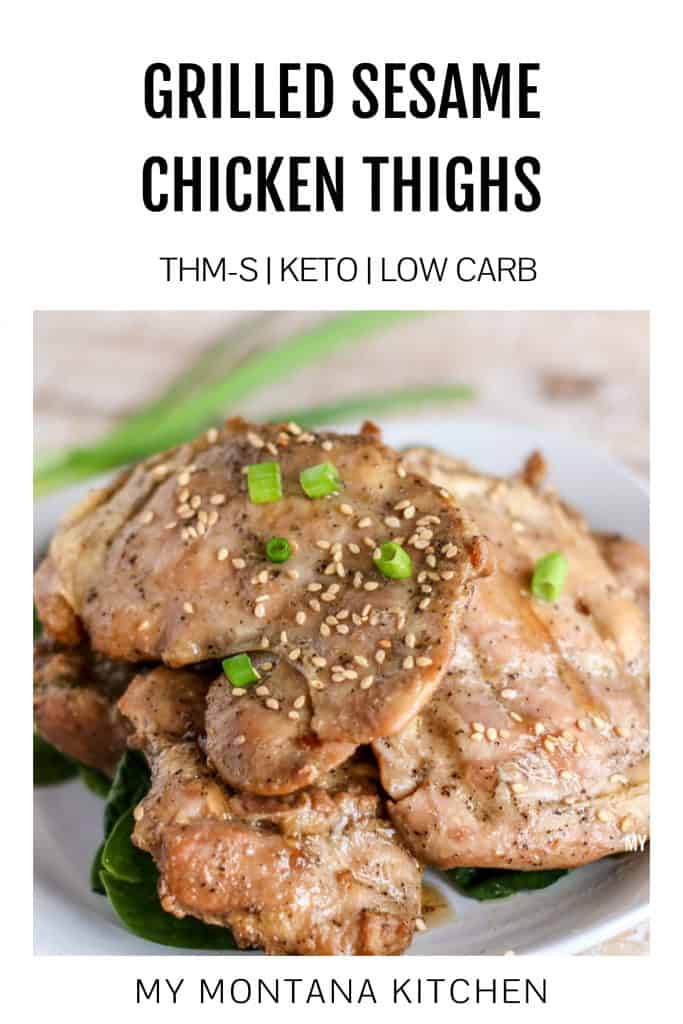 Yield: 8 Thighs
Super Simple Grilled Sesame Chicken Thighs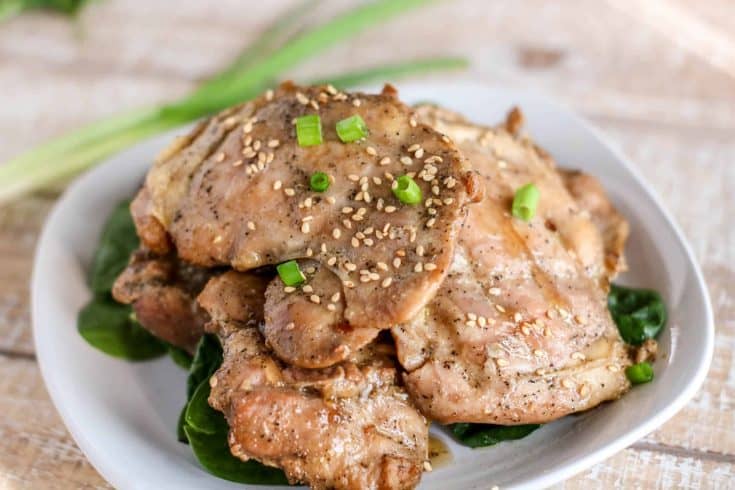 You'll love this delicious sesame chicken thigh dinner recipe!
Total Time
2 hours
25 minutes
Ingredients
1.5 Pounds Boneless, Skinless Chicken Thighs
½ Teaspoon Black Pepper
3 Green Onions, Sliced
Instructions
In a plastic zip top bag, shake together liquid aminos, sesame oil, rice wine vinegar, brown sugar alternative, ginger, garlic, red pepper flakes, black pepper, and green onion.

Place chicken thighs in the bag and seal. Allow to rest on the counter while you prep the grill OR place in the refrigerator for at least 2 hours (or overnight).

Set up the grill with two zones: direct and indirect cooking.

Heat grill to approximately 500 degrees. Oil grates prior to putting the chicken on the grill.

Remove chicken from marinade and cook directly over heat for two minutes on each side.

Move chicken to indirect heat and continue to cook for 15 to 20 minutes or until the chicken reaches an internal temperature of 165 degrees.

Remove the chicken from grill and wrap in aluminum foil. Allow to rest for 10 minutes.

Serve garnished with toasted sesame seeds and additional green onion, if desired.
Notes
Nutrition Information
Yield
4
Serving Size
2 Thighs
Amount Per Serving
Calories

320
Total Fat

18g
Carbohydrates

0g
Fiber

0g
Protein

34g
What's your favorite way to cook and eat chicken thighs?