We may earn money from the products/companies mentioned in this post. As an Amazon Associate I earn from qualifying purchases.
Whip up a batch of this marinated Greek chicken that you serve with a homemade creamy Tzatziki sauce. This lemon chicken is bursting with fresh flavors, and delicious stuffed in a pita or served over a bed of rice.
If you enjoy grilled chicken, you will really like this Greek chicken version. It is fresh, light, and great for serving your family or a crowd.
With warmer weather approaching it has me craving more grilled diners. This chicken is so delicious and stores well. Use leftover chicken for salads, pita sandwiches, etc.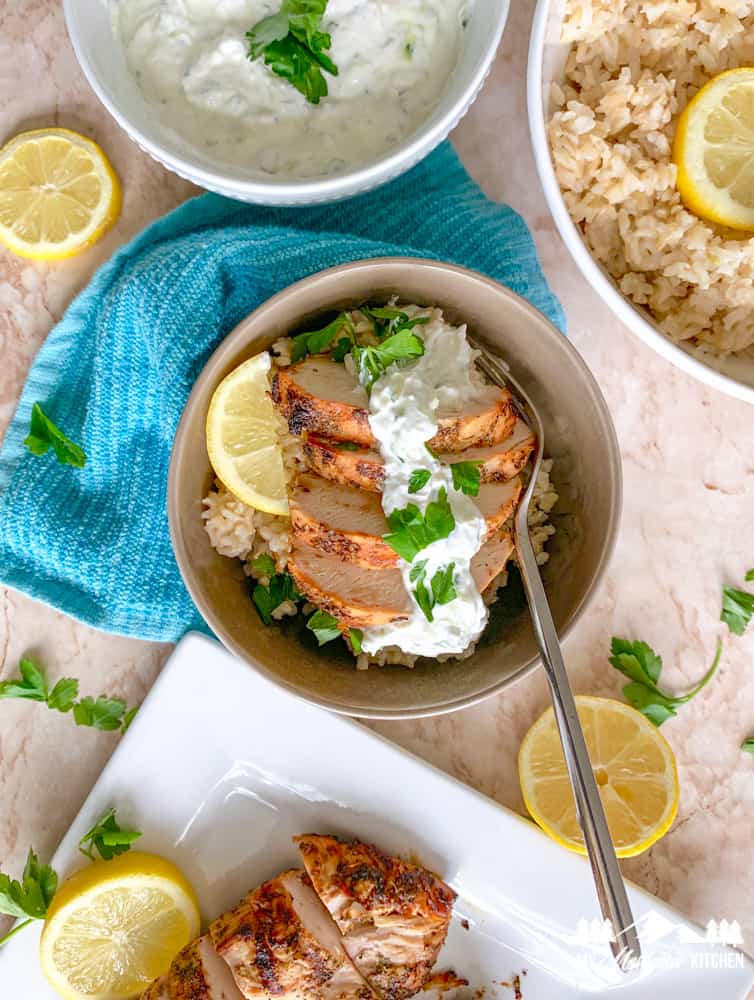 Why Make This Grilled Greek Chicken
Greek flavor
Moist and Juicy Chicken
Fresh ingredients
Homemade Tzatziki sauce
Stores Well Leftover
Family-Friendly Recipe
Great for Serving a Crowd
How to Make Greek Grilled Chicken
The first thing you want to do is work on your chicken marinade. In a bowl or sealable bag add your lemon juice, oil, seasonings and mix well. Place chicken in the marinade and let it marinade for 2 hours.
Next you want to work on your homemade tzatziki sauce. Grate your cucumbers and then mix in the rest of the tzatziki ingredients into the bowl. Cover and place in the fridge until you are ready to serve.
To grill the chicken heat your grill and take your chicken breast and place on the grill. Cook for around 5-7 minutes per side, depending on the thickness of the chicken.
Allow your chicken to rest, and then serve in a pita or over a bed of rice. Drizzle on the sauce and drizzle lemon juice on.
How to Thicken Tzatziki Sauce
To thicken the sauce you need to squeeze any of the excess cucumber juice once grated. Place in a cheesecloth or even paper towel and gently squeeze.
Then put the cucumber in a bowl and mix with the remaining sauce ingredients.
Can I Marinate Chicken Overnight?
You are more than welcome to marinate your chicken overnight. The longer the chickens the more it soaks in the flavor. I wouldn't go over 24 hours as it can be too much for the chicken in terms of soaking in the marinate.
You will cook your chicken for the same amount of time.
How to Know When The Chicken Is Fully Cooked?
Stick a meat thermometer into the largest portion of the chicken and make sure it reads 165 degrees internally.
The juices of the chicken run clear.
If you slice into the chicken, there is no pink meat.
Does Chicken Need To Rest Before Serving?
You will find some meat requires resting periods. A lot of time a recipe doesn't call for chicken to rest, but as a rule of thumb I always allow the chicken to rest.
Once your chicken is fully cooked remove from pan or tray and place on a plate. Use aluminum foil to tent over the chicken to help keep it warm. Then allow the chicken to rest 10-15 minutes.
This is going to help lock in the moisture and prevent your chicken from drying out.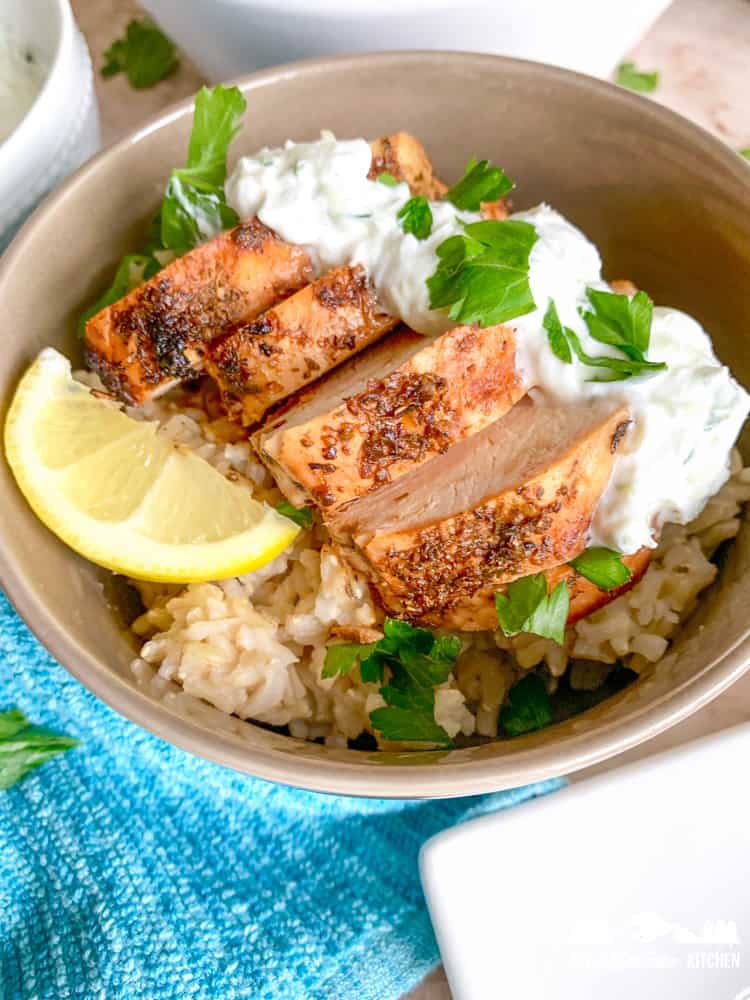 Does chicken need to sit out before cooking?
I have found it is a good idea to set your chicken on the counter to allow it to warm up before you toss it on the grill.
20-30 minutes is a good time frame. So as your grill is heating up, you can place your chicken on the counter to come to room temperature.
This is going to allow your chicken to evenly cook through. If it is cold you will find it can overcook one area and another thicker area of your chicken might need longer.
Here are more chicken dinner ideas
Fajita Stuffed Chicken - This chicken is loaded with fajita flavor but without the heavy carbs. You have a stuffed chicken loaded with peppers, onions, cheese, and more.
Provolone Baked Chicken - If you love cheese and chicken in the same dish, this baked chicken is a great fit for you.
Instant Pot Chicken and Rice - Who doesn't love a good chicken and rice. Here is one recipe I make here and here, and it is always a dish we enjoy. Perfectly cooked rice, seasoned well, and pressure cooked for a hands-off dinner.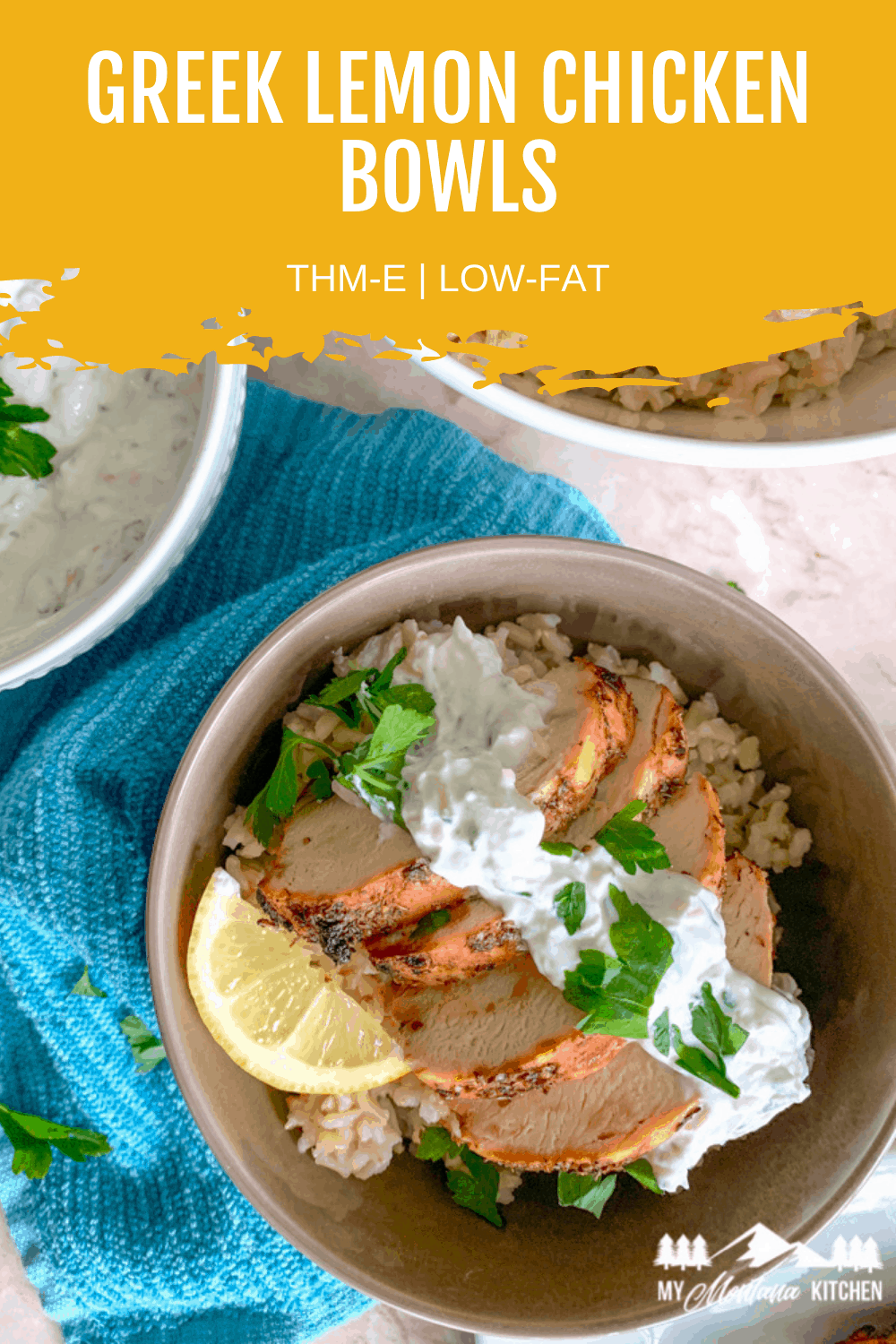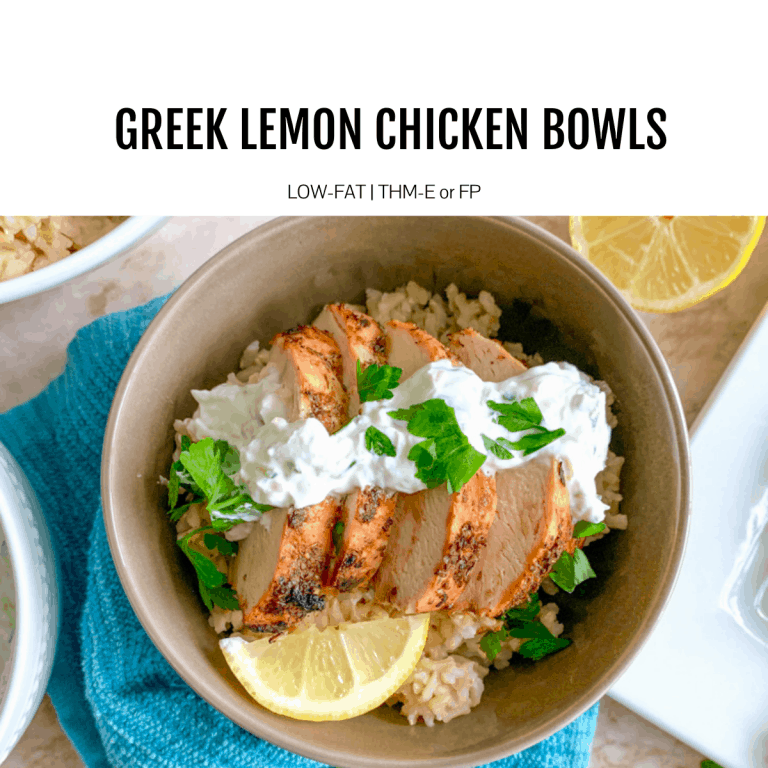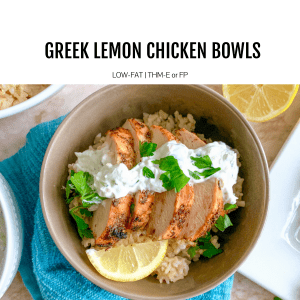 Greek Lemon Chicken Bowls
These Greek Lemon Chicken Bowls use Grilled Chicken and a variety of other ingredients to make a delicious, satisfying meal. Pair the grilled chicken with brown rice for a Trim Healthy Mama E Fuel, or Eat over a salad for a Trim Healthy Mama FP dinner (just remember to keep the protein to 4 ounces).
Print
Pin
Rate
Ingredients
For the grilled chicken breasts:
4

Chicken Breasts

¼

Cup

Extra-Virgin Olive Oil

2

Teaspoons

Dried Oregano

1

Teaspoon

Garlic Powder

Juice of one medium Lemon

Sea Salt and freshly cracked pepper to taste
For the tzatziki sauce:
½

cup

Cucumber

finely grated

1

cup

Greek Yogurt

or sour cream

2

teaspoon

Apple cider Vinegar

Juice of one medium lemon

1

tablespoon

Garlic Powder

or 1-2 minced garlic cloves
Instructions
For the chicken marinade, whisk together the lemon juice, olive oil, oregano, salt, pepper, and garlic powder in a medium bowl. Pour into a plastic bag or container with the chicken to marinate in the refrigerator for at least 2 hours.

Meanwhile, make the tzatziki sauce by first grating the cucumbers. Note: A tip for a thick sauce is to squeeze all of the excess cucumber juice out of the shreds before mixing with the remaining ingredients.

Add in the Greek yogurt, vinegar, garlic, lemon juice and sea salt to taste in a bowl. Chill in refrigerator until ready to serve.

Heat up your grill and add the marinated chicken. Cook the chicken breasts for about 5-7 minutes per side, depending on thickness.

Remove from heat and allow the cooked chicken to rest.

To serve, plate sliced chicken over a bed of rice or stuffed into a Joseph's pita and top with the creamy tzatziki sauce and a lemon wedge. Enjoy!
Notes
Nutritional notes:
The total amount of fat in ¼ cup of olive oil is around 55 grams. This amount is used in the marinade. It is generally accepted that about ⅓ of the fat/calories absorb into the meat during marinade. 
So for this recipe, I have used ⅓ of the fat to reach the 4.5 grams you see listed.
I suggest serving this with brown rice for an E fuel, but the brown rice is not included in the nutritional information (this is why it says 2 carbs per serving).
To enjoy this as a Fuel Pull, you would want to pull back the amount of chicken, keeping your serving size to 3-4 ounces.
Nutrition
Calories:
290
kcal
|
Carbohydrates:
2
g
|
Protein:
35
g
|
Fat:
4.5
g