We may earn money from the products/companies mentioned in this post. As an Amazon Associate I earn from qualifying purchases.
Instant Pot Chicken and Rice
Have you been looking for the best instant pot chicken and rice recipe? You've come to the right place!
Savory and comforting, this Instant Pot creamy chicken and rice casserole is cheesy, easy, and the leftovers reheat well.
And bonus? Even though it's cheesy, this is a perfect THM E dinner.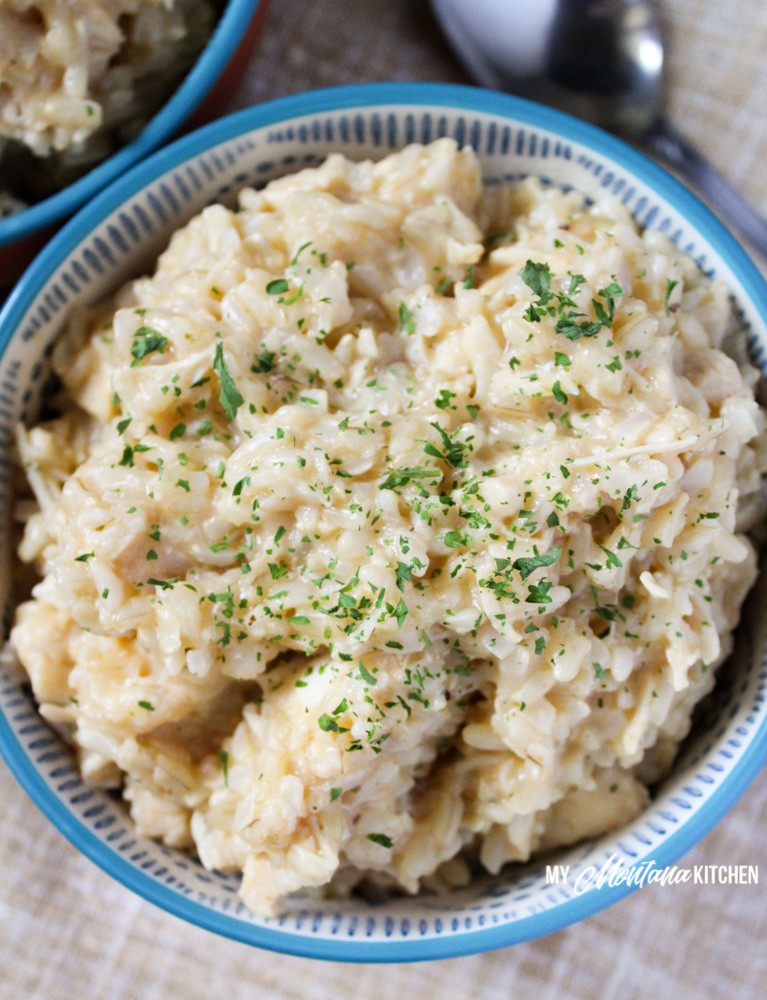 (We are a participant in the Amazon Services LLC Associates Program, an affiliate advertising program designed to provide a means for us to earn fees by linking to Amazon.com and affiliated sites. I am also an affiliate with Trim Healthy Mama. There are affiliate links used in this post.)
This THM E healthy carb chicken and rice recipe is low fat, gluten free, healthy carb, and a Trim Healthy Mama E Fuel.
Trim Healthy Mama Chicken And Rice
I have found myself gravitating more to the FP (low carb/low fat) and E (healthy carb) fuels recently. Now, don't get me wrong...I still love my S (low carb) fuels as well, but diversity is not only delicious but very healthy.
(Do these abbreviations sound foreign to you? You can check out this post to see more about Trim Healthy Mama and what it is.)
But I think I have begun to realize that you cannot eat cream cheese, heavy cream, and all these Heavy S fuels all day long. It is good to juggle your fuels (which is something that THM has always taught, but sometimes takes a while to transition to).
Perhaps it has something to do with being a "Mature THM." Pearl and Serene talk about how your eating changes the longer you are on the THM plan, and personal experience proves that to be true.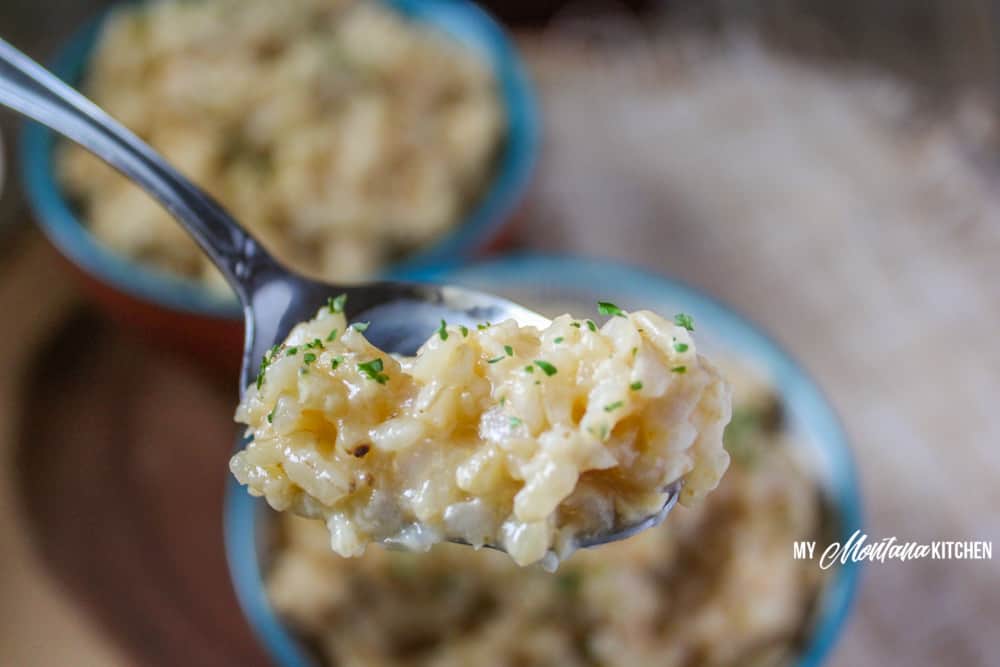 Those delicious S fuels and recipes are what makes this plan easily doable in the beginning. It is amazing all the delicious things you can eat, and still lose weight!
But as time progresses, some people (ahem...me, at least) begin to see a stall in their weight loss. Sometimes we focus too much on the S fuels and forget about those amazing E's and FP's!
Trim Healthy Mama is a beautiful plan of BALANCE. No major food groups are left out of your diet, but it is important to keep a balance to your eating as well! Many people, including myself, find that you lose better when you eat more E meals/snacks.
And while I'm not perfect at this way of eating, I can definitely tell you I am dedicated to it.
I still go off plan (more often than I would like to admit) sometimes. If you have followed my blog for any length of time, you are probably familiar with my struggles. And you may struggle, too. That's okay...just pick back up with your next meal.
And maybe make that meal this Healthy Instant Pot Chicken and Rice recipe!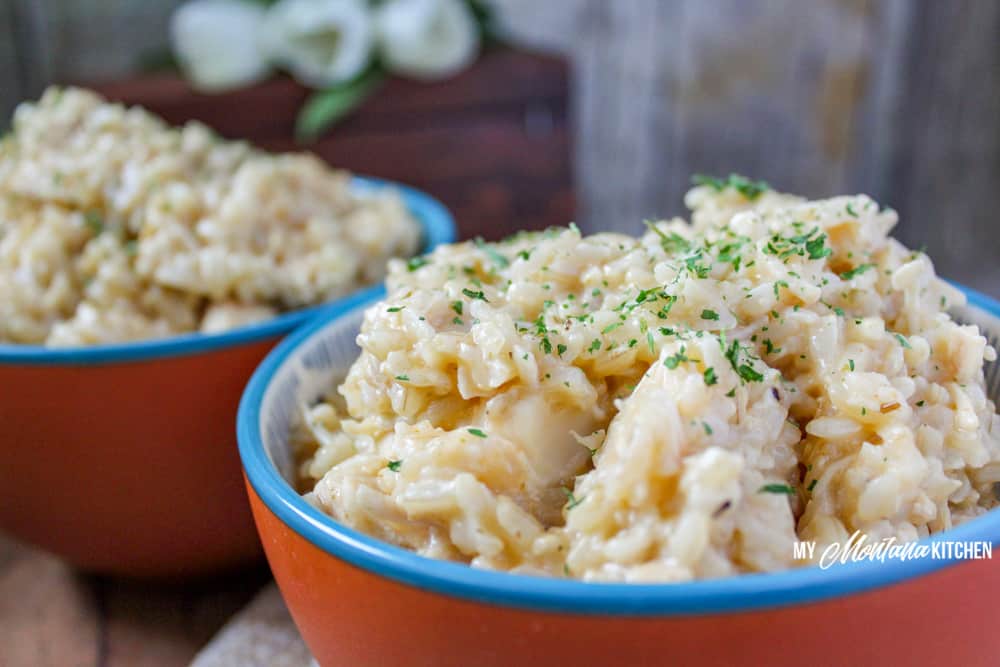 Easy Cheesy Chicken And Rice Casserole
No doubt the Instant Pot is has become a favorite kitchen appliance in homes everywhere.
My husband bought one for me years ago at Christmas and it sat lonely and unused because I was scared of it. I had no clue what I was missing out on! But now? Watch out! It gets used several times a week.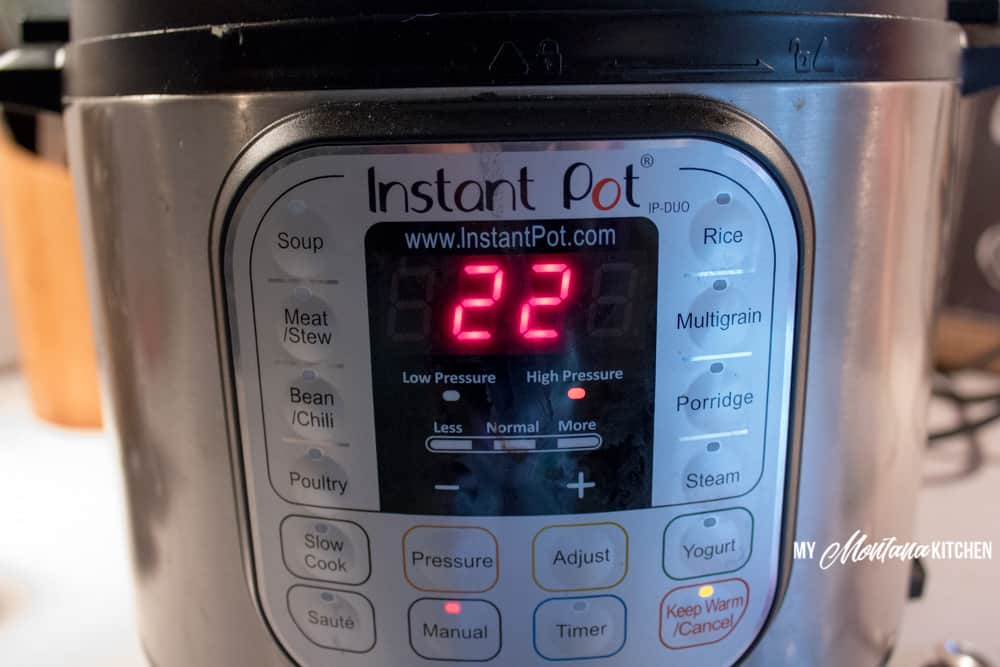 Not only does an Instant Pot speed up cooking time, but it uses up to 70% less energy. It's a serious kitchen win.
I use it to cook chicken breasts, steam eggs, cook (Dreamfields) pasta, make soup, chicken wings, and now this easy Chicken and Rice recipe! (This is the Instant Pot I have.)
You can also use it to make an easy Bone Broth...so much faster and more simple than in the crock pot or on the stovetop.
This Instant Pot cheesy chicken and rice dish has a secret ingredient. I wanted to make this a "Cheesy" chicken and rice dish. However, if you are familiar with Trim Healthy Mama, you know that cheese (S) and brown rice (E) don't mix well together for weight loss – you end up with a crossover!
So instead of the traditional cheddar or other cheese, you're going to use Light Laughing Cow Cheese. It's low enough in fat that you are still well within the E guidelines and so creamy and delicious that you still get to the full comfort food feeling when you eat this easy chicken and rice casserole.
This also calls for the Trim Healthy Mama Bullion Mix. This adds flavor to the recipe, and the nutritional yeast deepens the "cheesy" level!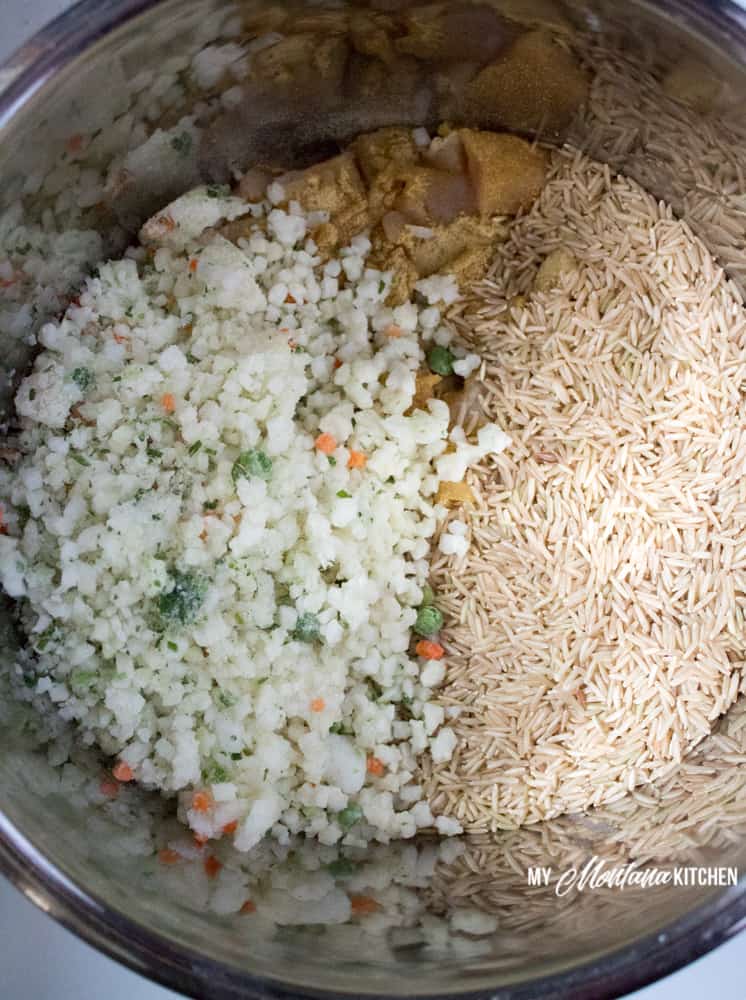 I also learned another trick from the Trim Healthy Table Cookbook – using riced cauliflower in brown rice dishes. This enables you to make them stretch further, and lowers the carbs a bit so you can actually eat MORE (and more on a dish this delicious is definitely a good thing).
Now I know what you're thinking. Cauliflower is not rice. You're right, but I promise: no one will ever know that there is cauliflower in this dish unless you tell them. It blends in perfectly with the rice.
You can buy some already riced or make it yourself, just be sure to make certain it's plain and not pre-seasoned. I was excited to see this particular blend (pictured below), and I can't wait to use it in more recipes.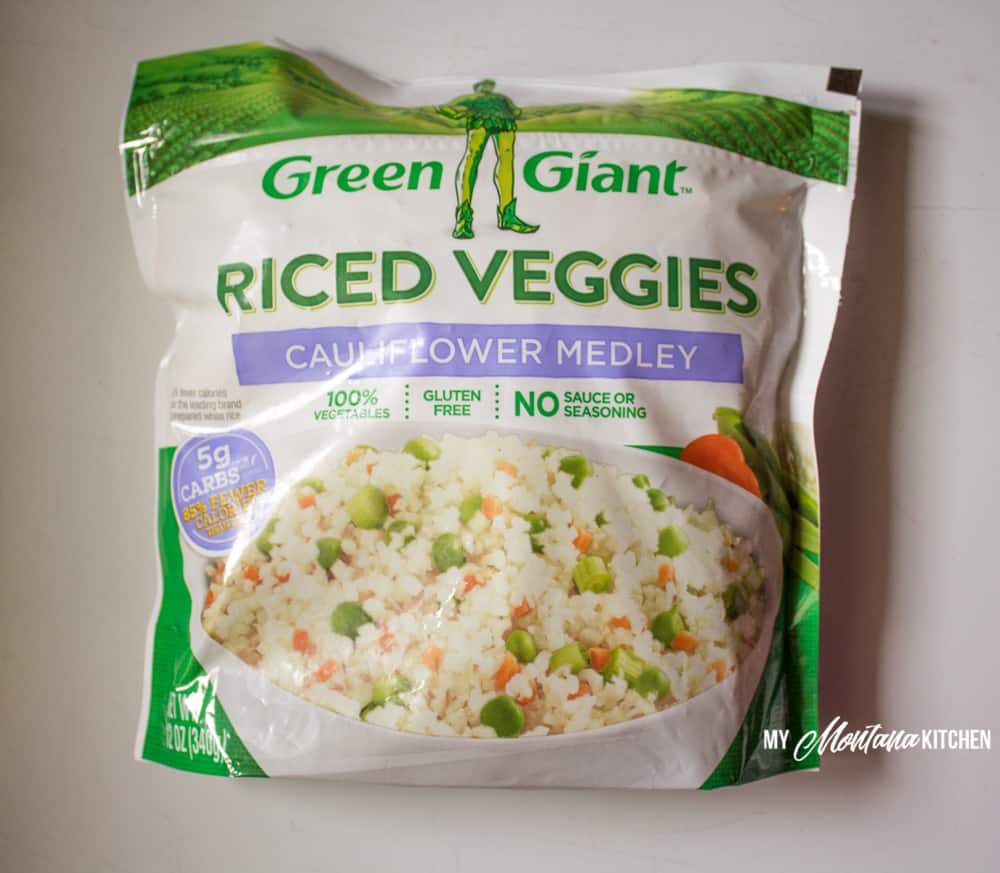 Also, if you prefer, you don't have to use the Light Laughing Cow Cheese, but it does add a creamy element to this dish.
If you need another idea for an Instant Pot Chicken and Rice dish, check out this Instant Pot Lemon Basil Chicken and Rice Recipe from Tastes Better from Scratch. (Be sure to use the brown rice option.)
Ingredients For Instant Pot Chicken And Rice
So, what do you need for this Instant Pot Chicken and Rice?
Boneless Skinless Chicken Breast
Salt
Marjoram
Bag Riced Cauliflower
Uncooked Brown Rice
Water
Light Laughing Cow Cheese Wedges
Don't forget to sign up with your email address so you can receive all my new recipes delivered right to your inbox! (Look for the sign-up box at the top of this post.)
If you want low glycemic friendly weekly menus, printable shopping lists, and MORE, check out the My Montana Kitchen Table!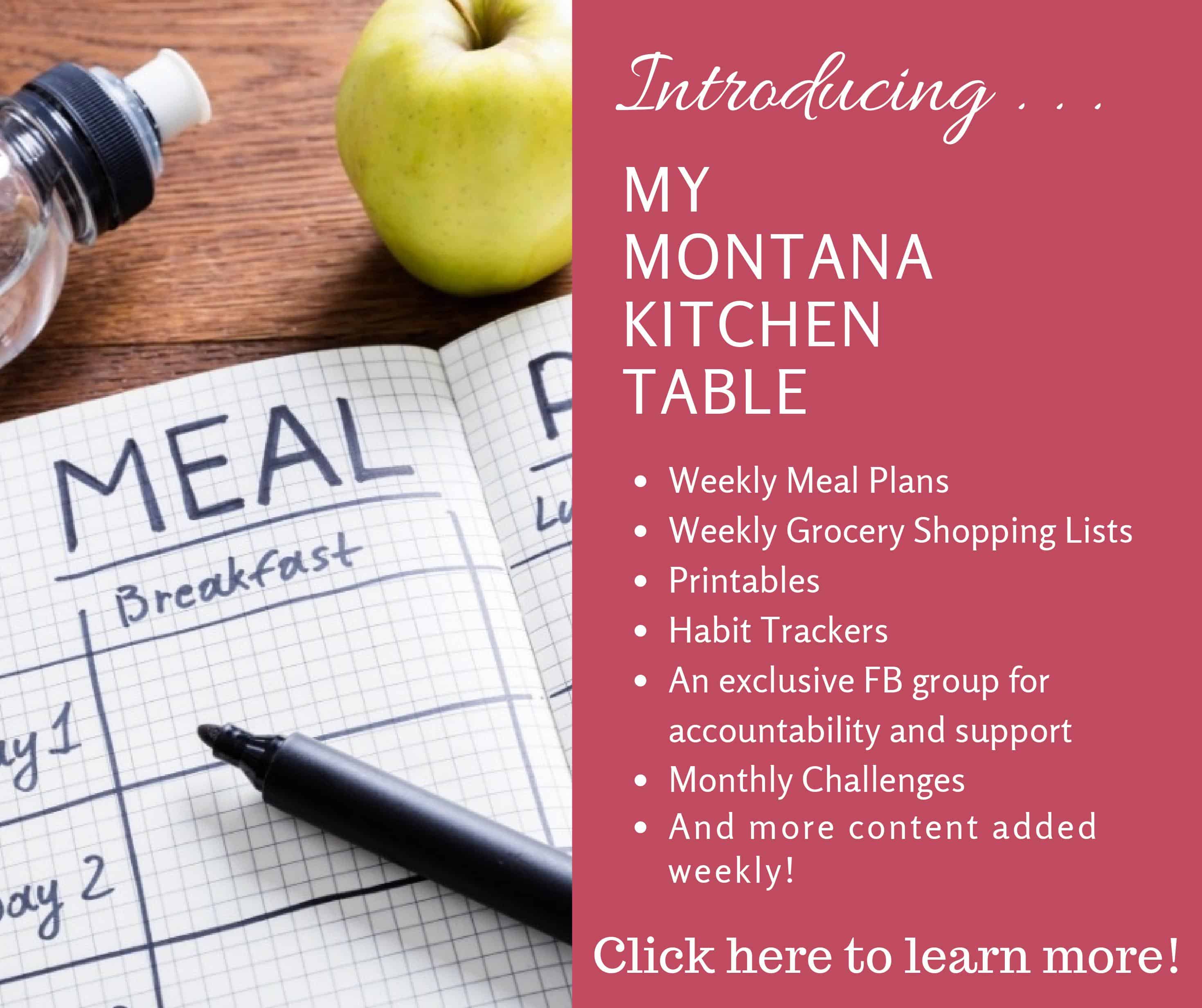 Also, let's connect on social media...I LOVE hearing form you! You can find on Facebook, Pinterest, Instagram, and Twitter!
If you make a recipe and love it, please leave a comment on my Facebook Page or tag me on Instagram (my_montana_kitchen_thm) -- it's so much fun to see what you're enjoying!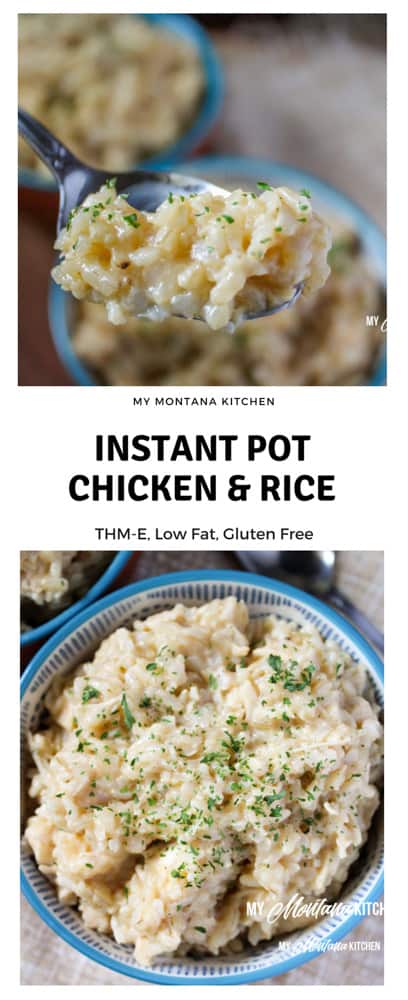 Instant Pot Chicken and Rice
Savory and comforting, this Instant Pot Chicken and Rice is cheesy, simple to make, and the leftovers reheat well.
Print
Rate
Ingredients
1.5

Pounds

Boneless Skinless Chicken Breast

cut into bite-sized pieces.

3

Tablespoons

Trim Healthy Mama Bullion Mix

easy to make, or you can use your own favorite bullion

1 ½

Teaspoons

Salt

½

Teaspoon

Marjoram

1 12

ounce

Bag Riced Cauliflower

2

Cups

Uncooked Brown Rice

2 ½

Cups

Water

6

Light Laughing Cow Cheese Wedges
Instructions
Place all of the ingredients except Light Laughing Cow Cheese into the Instant Pot Liner and stir well.

Place lid on Instant Pot and close and seal the valve.

Process at manual pressure for 22 minutes.

Allow to Natural Pressure Release for 10 minutes, then Quick Release.

Unwrap Light Laughing Cow Cheese Wedges, cut into small pieces and stir into the rice mixture.
Notes
If you do not have an Instant Pot, I believe you could make this in your oven, but I have not tested this method yet. 
I would suggest putting the ingredients into a 9x13 glass dish and covering with foil. Bake at 350 for 45 -60 minutes or until done.
Nutrition
Serving:
1
Cup
|
Calories:
264
kcal
|
Carbohydrates:
35
g
|
Protein:
22
g
|
Fat:
4
g
|
Fiber:
2
g