We may earn money from the products/companies mentioned in this post. As an Amazon Associate I earn from qualifying purchases.
This healthy Instant Pot spaghetti sauce recipe makes enjoying your favorite Italian dishes a breeze; no more jarred sauce or having to plan a day or two out to slow cook your red sauce any longer!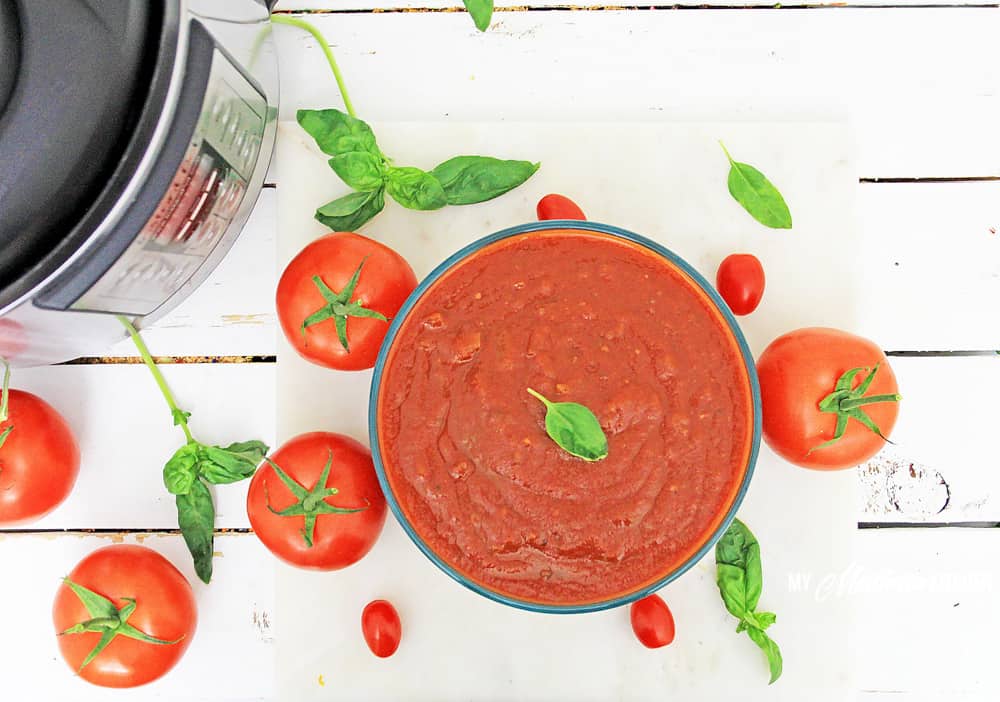 A really good spaghetti sauce should take hours of simmering, if not days. Anyone who has an Italian grandmother would wave their wooden spoon at you if you thought you could start with an empty pot and dish up a savory Italian classic in less than an hour...so this will be our little secret.
When you make this Instant Pot meat sauce, no one will know you didn't slave over it. And it's so versatile!
What's In Low Carb Spaghetti Sauce From Scratch?
Of course you'll need onions and garlic to start with, this is after all an Italian recipe. You'll sauté them in a mix of olive oil and butter for the most amazing flavor.
Your tomatoes will come from a blend of tomato paste, tomato sauce, and stewed tomatoes. These are all going to be canned and easily gotten from your favorite grocery store.
Anyone can make an easy Instant Pot spaghetti sauce, but for a truly stand-out-from-the-crowd sauce recipe you need to use good spices. This homemade spaghetti sauce calls for Italian seasoning, sweet basil, oregano, coarse ground garlic salt with parsley, seasoned salt, seasoned pepper, and sugar free brown sugar.

How To Cook Spaghetti Sauce
So how do you cook this delicious spaghetti sauce? In one pot, that's how!
Set your Instant Pot to sauce mode and add your olive oil and butter. Cook your chopped onion until it's golden brown. You want it to start to caramelize and release it's fragrance, but not get too dark. Then add your garlic.
After about 2 minutes, turn off the Instant Pot and add your canned tomato ingredients (the paste, the sauce, and the stewed tomatoes). Follow that with water.
Next add in your spices and give it a stir, being sure to scrape the bottom. You want to loosen up any onion and garlic bits that might be sticking to the liner.
Cook 30 minutes on manual and you're all set!
Instant Pot Tips
If you're new to cooking with an Instant Pot, here are a few tips to remember:
Place the lid on your Instant Pot and secure it, noting the beep that signals a solid latch
Ensure the pressure valve is set to sealing, not venting
Unless a recipe specifically directs you to release the pressure, let it happen naturally as this is part of the cooking process
When you remove the lid, it will be hot and dripping so have a surface ready to put it on
How To Serve Homemade Spaghetti Sauce From The Instant Pot
This spaghetti sauce tastes great no matter how you dish it up, I promise. You do want to make sure to stir it well before serving, as it may be thicker on the bottom or some things may have settled. Just give it a gently mix to blend it all together again.
You can serve your spaghetti sauce over zoodles, Dreamfields pasta, konjac noodles, or spaghetti squash. I even have a friend who likes it on her green beans!
If you don't add meat to it, it's also great over a chicken breast, meatballs, or keto Italian meatloaf. Alternatively, you can add cooked ground beef to your homemade spaghetti sauce and have a robust Bolognese sauce that's nice and thick and loaded with protein.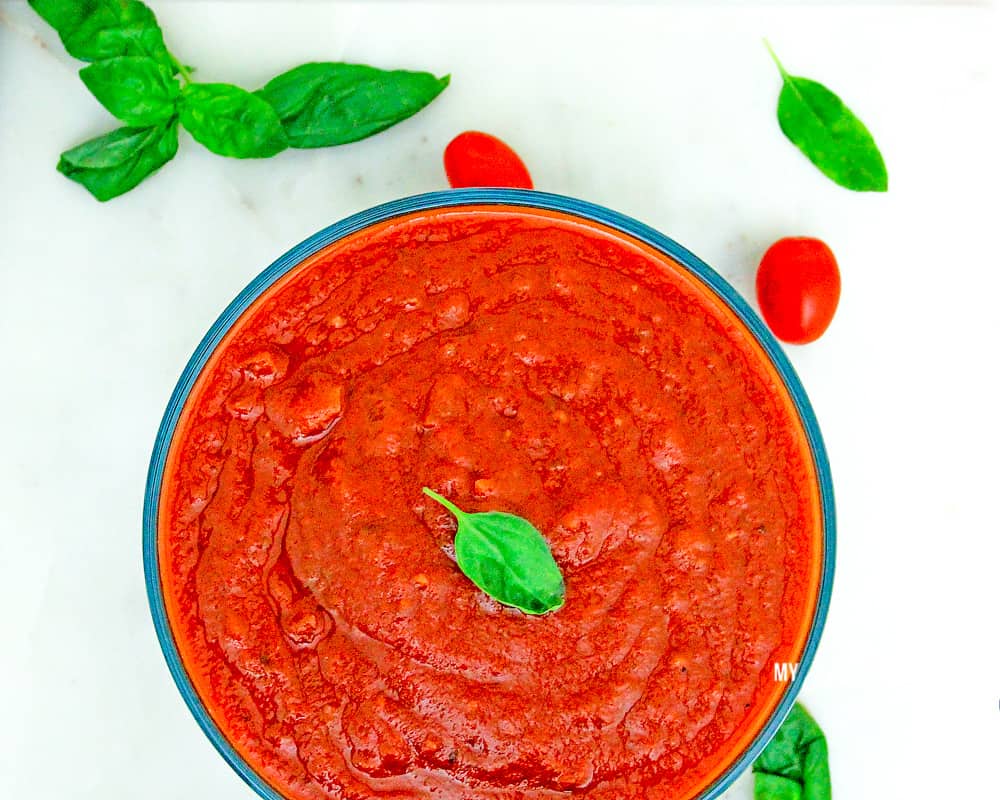 How To Store Your Homemade Spaghetti Sauce
This sauce will keep in the fridge for several days up to a week. To store it, you'll want to use glass containers if at all possible as the tomato will stain your plastic storage containers. Mason jars work very well.
It will store in the jars in your freezer, as well, for up to four months. Pro tip: add a layer of plastic wrap that touches the surface of the sauce before screwing on the lid if you're going to freeze. That will allow it to stay longer without any freezer burn affecting the flavor. You can thaw it on your counter or in your fridge a day before use. (Also, please read this awesome article on how to freeze jars without breaking them - very valuable information!)
Before you add it to jars, let it cool so it doesn't crack them. You want it at room temperature before adding it to your fridge or freezer.
If you are not comfortable freezing glass, you can let your sauce cool completely, then ladle it into quart or gallon size freezer bags, then lay them flat in the freezer to freeze.
This makes a great hostess gift or batch cooking recipe so that you have it ready whenever you'd like...but honestly, it's so easy you may as well enjoy it fresh and let the smell of it tempt your family to the table. Enjoy!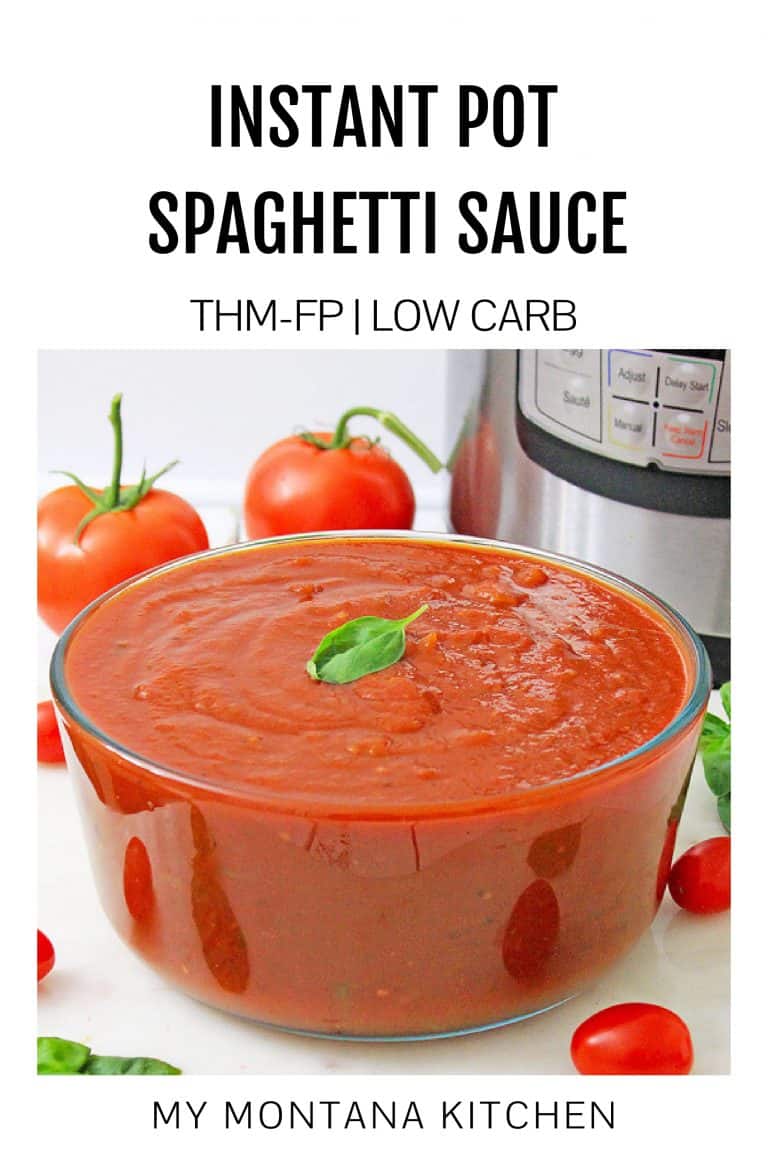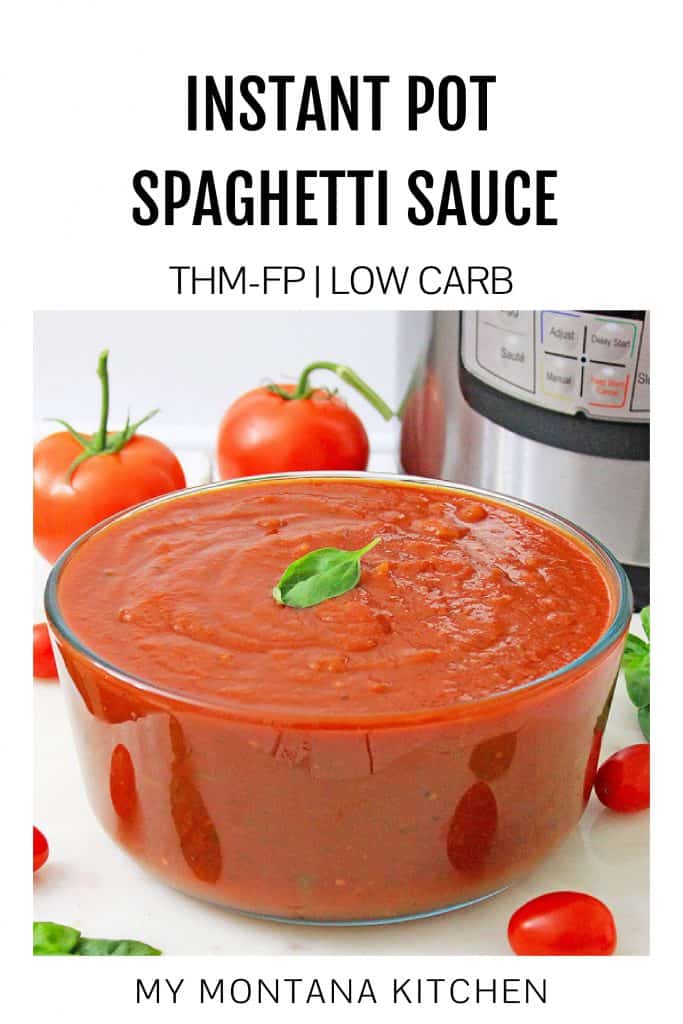 Yield: Aprox. 10 Cups
Instant Pot Spaghetti Sauce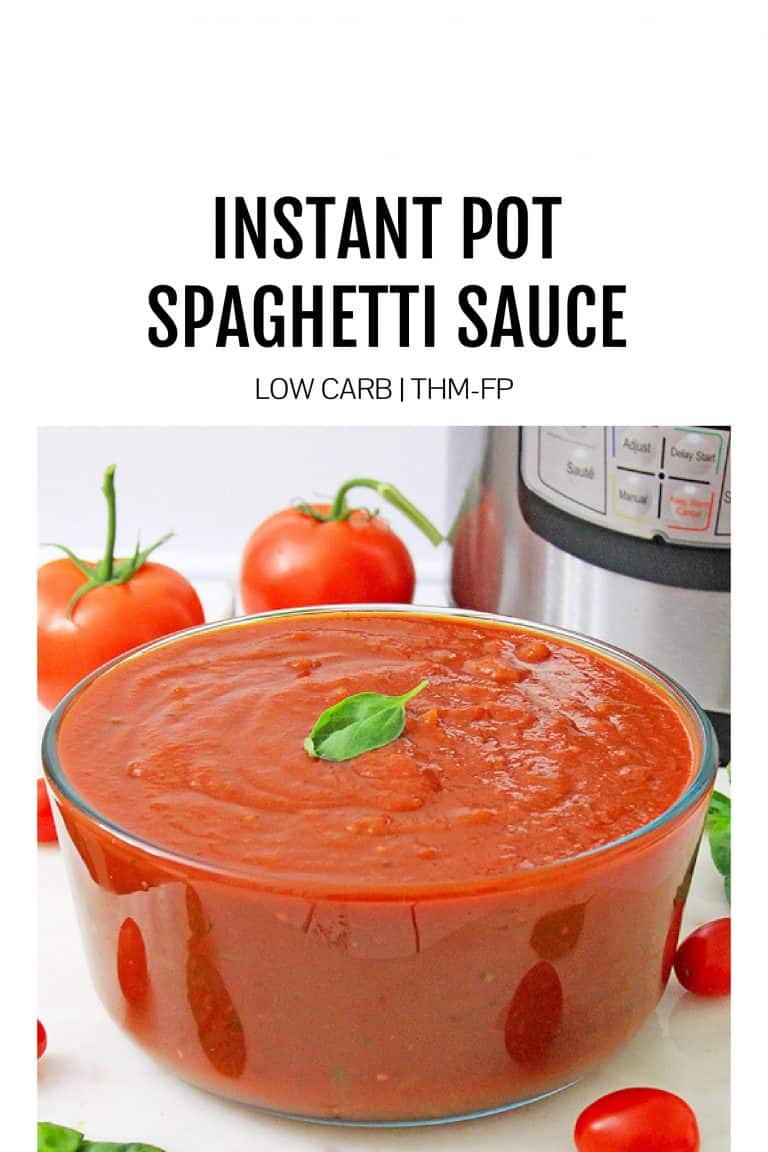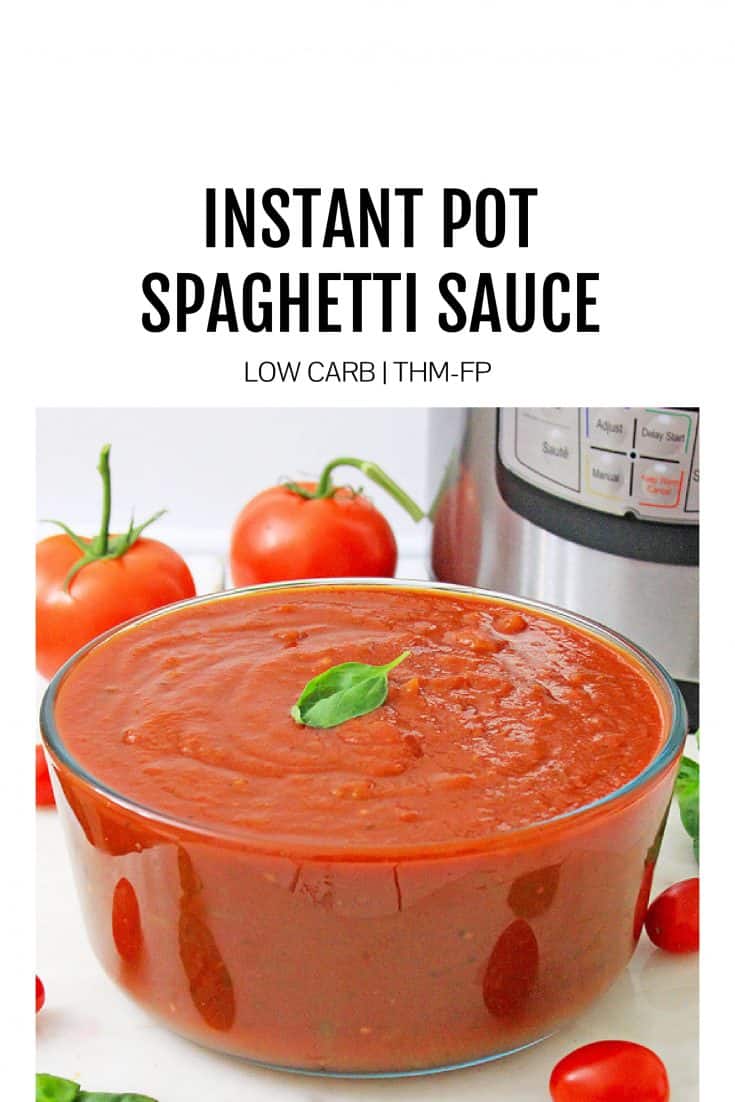 This healthy Instant Pot spaghetti sauce recipe makes enjoying your favorite Italian dishes a breeze; no more jarred sauce or having to plan a day or two out to slow cook your red sauce any longer!
Ingredients
1 large sweet onion - chopped
3 cloves garlic, pressed and minced
1 Tablespoon butter
(2) 28 ounce cans tomato sauce
(2) 15 ounce cans stewed tomatoes
(1) 6 ounce can tomato paste
2 Tablespoons Italian seasoning
1 Tablespoon coarse ground garlic salt
1 Tablespoon seasoned salt
1/2 Tablespoon black pepper
Instructions
Turn the Instant Pot to the Saute setting, and add the olive oil and butter.
When the butter melts, add the chopped onion, and cook until it caramelizes, or is golden brown (about 5 minutes).
Add the minced garlic, and cook 1 - 2 minutes.
Turn off the Instant Pot. Add the tomato sauce, stewed tomatoes, tomato paste, and 1 1/2 cups of filtered water.
Add all spices and brown sugar substitute and stir well, making sure to scrape the bottom of the stainless steel liner to the Instant Pot. (This loosens any onion or garlic stuck to the bottom of the liner.) Stir until all ingredients are well blended.
Place the lid on the Instant Pot, until it beeps and locks, and MAKE SURE the pressure valve is set to 'SEALING', AND NOT VENTING.
Press the manual button and set the timer to '30' minutes. Allow the Instant Pot to build and release pressure automatically, do not manually release pressure. This is what will infuse the flavors into the sauce.
Once the Instant pot has released the pressure, and beeps, check to make sure the pressure button is down, and carefully with a wooden spoon handle, turn the pressure valve gently to VENTING, making sure all the pressure has been released.
Remove the lid from the Instant Pot, and stir the sauce. It will have thickened during cooking, and may be a little thicker in the bottom of the pot. Stir to blend.
Allow sauce to cool, and pour into a covered container, or into glass jars.
Recommended Products
As an Amazon Associate and member of other affiliate programs, I earn from qualifying purchases.
Nutrition Information
Yield
20
Serving Size
1/2 Cup
Amount Per Serving
Calories

49
Total Fat

2g
Trans Fat

0g
Carbohydrates

9g
Net Carbohydrates

8g
Fiber

1g
Protein

1g
Nutritional Information may vary depending on which products you use.