We may earn money from the products/companies mentioned in this post. As an Amazon Associate I earn from qualifying purchases.
Lemon cheesecake keto fat bombs are a delicious and incredibly decadent way to get healthy fats into your body and stay eating well. These lemon cheesecake bites are keto fat bombs you'll want to make over and over and keep in your fridge for afternoon treats. This keto fat bombs recipe is about to become one of your all time favorite low carb lemon desserts!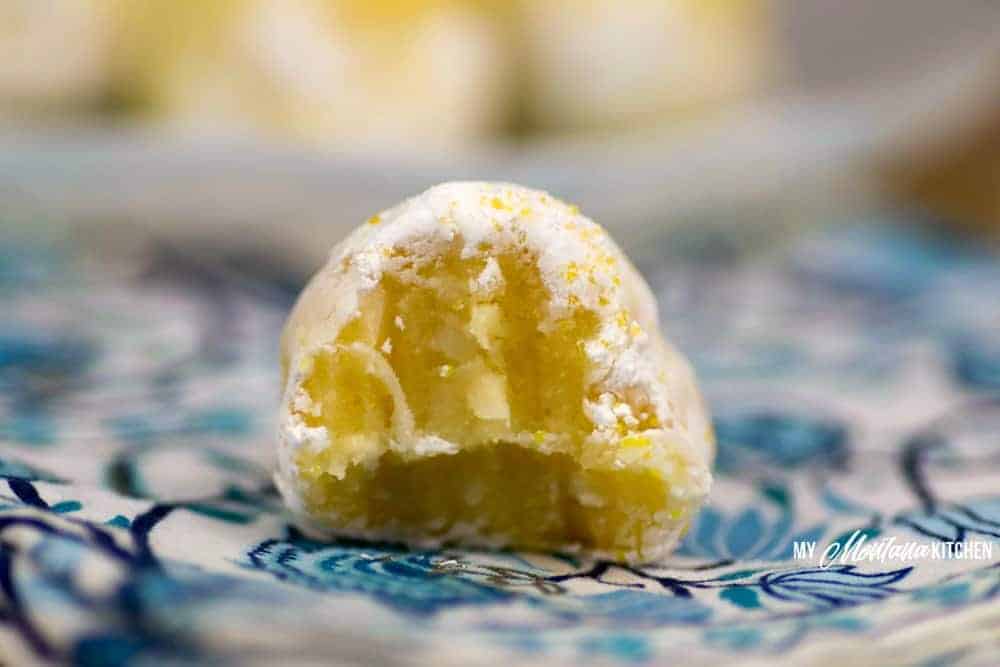 This mini lemon cheesecakes are healthy for you, but you won't believe it when you take your first bite. It's almost impossible to believe that anything tasting as good as these tart, yet creamy and sweet keto lemon bites could be good for you.
But they are.
Loaded with healthy fats, fresh lemon juice, and coconut these little lemon cheesecake keto fat bombs can be enjoyed without guilt. Plus, they are already portioned out for you!
These mini lemon cheese cake bites are light tasting, decadent treat. Creamy, with just the right balance of tart and sweet, these are great for spring luncheons, parties, and even picnics! (Just be sure to take them frozen, so they will stay cold for the duration of the picnic.)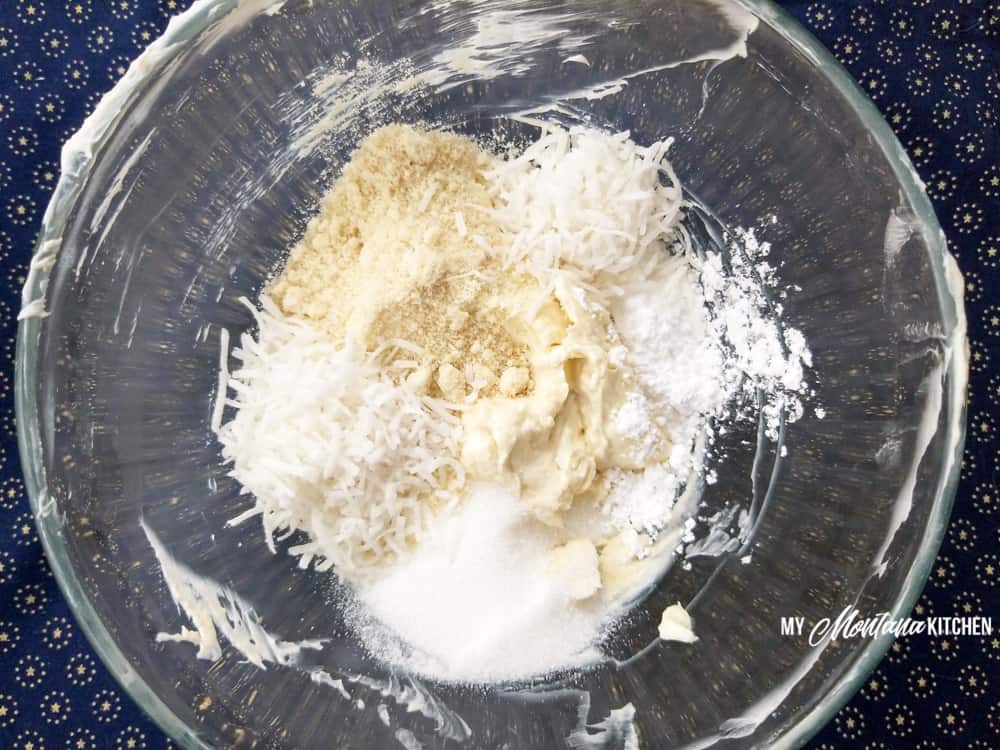 What Are Keto Fat Bombs?
It you're wondering what keto fatbombs are, the quick answer is: DELICIOUS.
The slightly longer answer is that they are high fat, low protein, no carb, bite-sized treat that helps those who want to stay in fat burning mode keep their body nourished with enough good-for-you fats.
They can be either sweet or more savory, but the one thing all keto fat bomb recipes have in common is that they are heavy on the healthy fats and little else. Each ingredient has been carefully chosen.
Their high fat content also helps you feel more full longer, so they are a wonderful solution to hunger and cravings. Just grab 2 and be on your way!
While not essential the keto or low carb way of life, they are a great way to indulge without over doing it and get that fat in.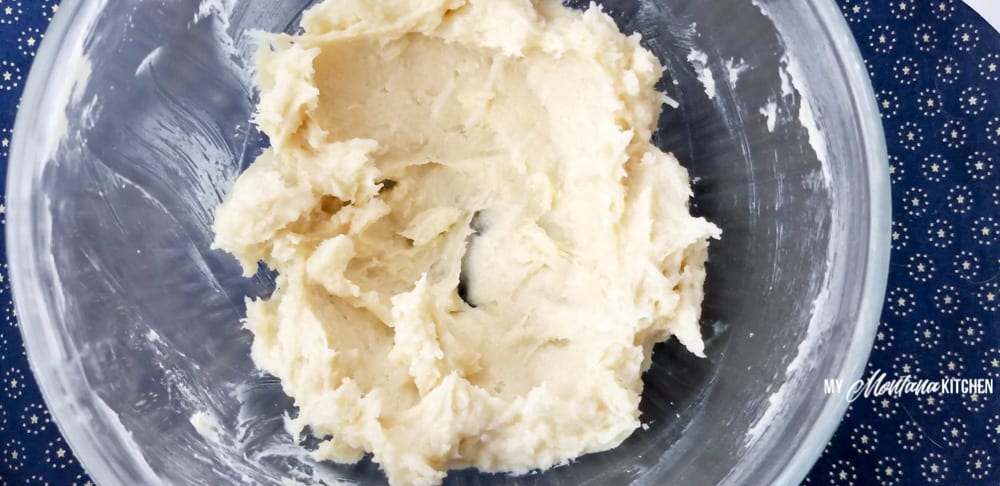 No Bake Lemon Cheesecake Bites
If you're a cheesecake lover (like me!), you're going to love how simple this recipe is. You can be enjoying your no-bake mini lemon cheesecakes in a little over an hour.
And the only reason it takes that long is because your keto lemon bites need to chill in the freezer after you make them.
You're basically making a no bake low carb lemon cheesecake and rolling it into balls instead of serving it by the slice. So simple!
If you love the ease of this recipe, be sure to try the no bake frozen strawberry cheesecake bites with chocolate, too.

How To Make Lemon Cheesecake Keto Fat Bombs
Making these no bake cheesecake lemon keto fatbombs isn't hard.
No Bake Low Carb Lemon Cheesecake Bites
All you do is mix together your cream cheese and butter in a mixing bowl. Add in the vanilla and lemon juice, mixing it all together well.
Fresh lemon is going to add such a light, refreshing, tart taste to offset the sweet and fat in the recipe. You could also try lime here; both are perfect! Use a light hand when measuring your vanilla and lemon juice so you don't end up with mushy cheesecake batter and too soft fat bombs.
Be sure to use full fat cream cheese, no spreads or low fat options. The same with your butter: full fat, no spreads or low fat options accepted!
Fold your almond flour, sweetener, and coconut flakes until your mix is a dough like consistency.
This recipe uses erythritol as its primary sweetener, but you could also use Gentle Sweet, (just not quite as much).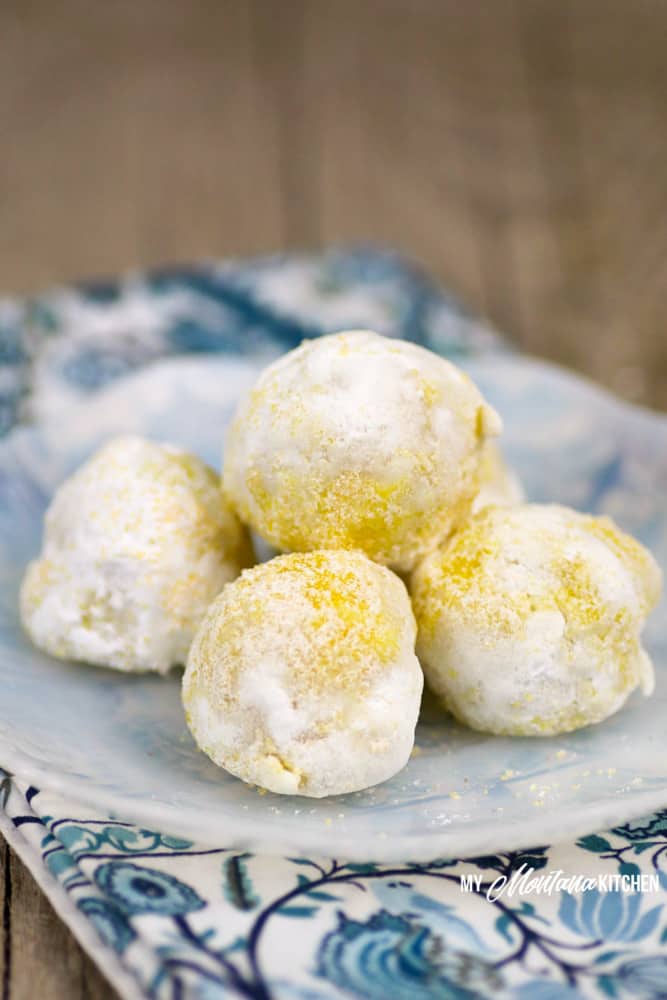 Making Easy Keto Fat Bombs
Next up, freeze the dough for ten minutes. You want it nice and cold so it's easy to work with when you roll the cheesecake balls.
Use a dough scoop or your hands to roll the dough into 1" balls. Once they're all made, roll them in a mix of low carb confectioner's "sugar" and coconut flakes and that's it.
A dash of lemon zest in the coating would add some lovely color and a tart flavor; only add this if you crave the sour tartness of lemon and don't use too much or it will be bitter. (Here is an awesome zester!)
If you'd like, you can add a drop of yellow coloring to the powdered sweetener to make them more festive if you're serving them for a special occasion.
Place your mini lemon cheesecake bites onto the cookie sheet and freeze them for an hour. This step is important so they don't stick to each other when you store them.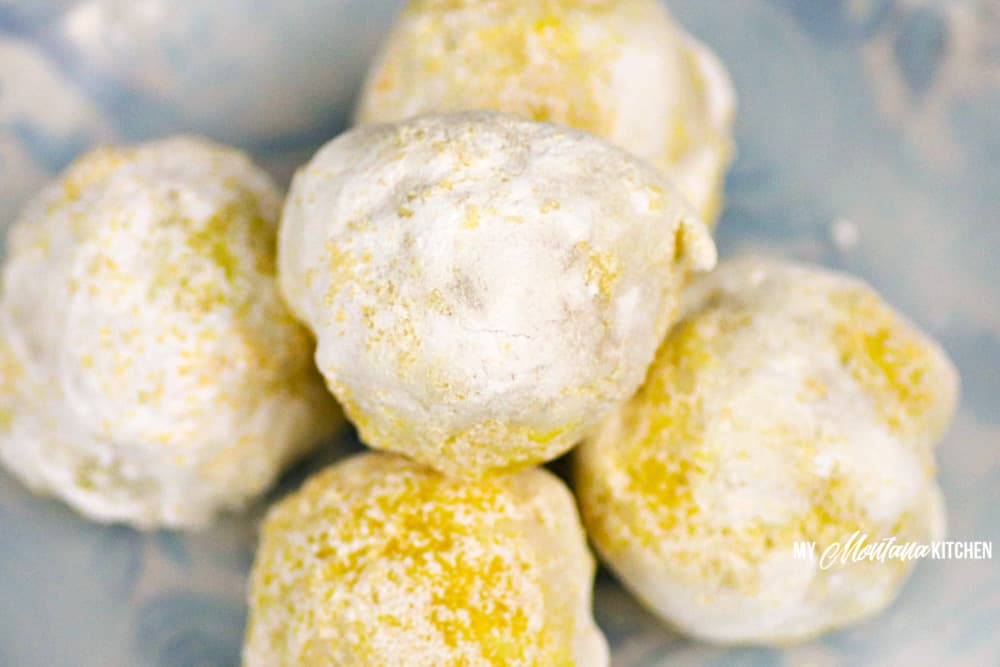 How To Keep Keto Fatbombs
Once you've waited an hour for your keto lemon bites to harden, it's time to put them into airtight storage.
If you like your fat bombs nice and firm, go ahead and store them in a freezer bag or other container in your freezer. This way they'll almost be low carb lemon cheesecake ice cream bites.
However, if you enjoy your lemon cheesecake bites a little creamier, you can keep them in an airtight box in the fridge.
Be sure to check out these Chocolate Coffee Fat Bombs (ok, technically a truffle recipe, but pretty much a fat bomb)!
And these Everything Cheese Fat Bombs!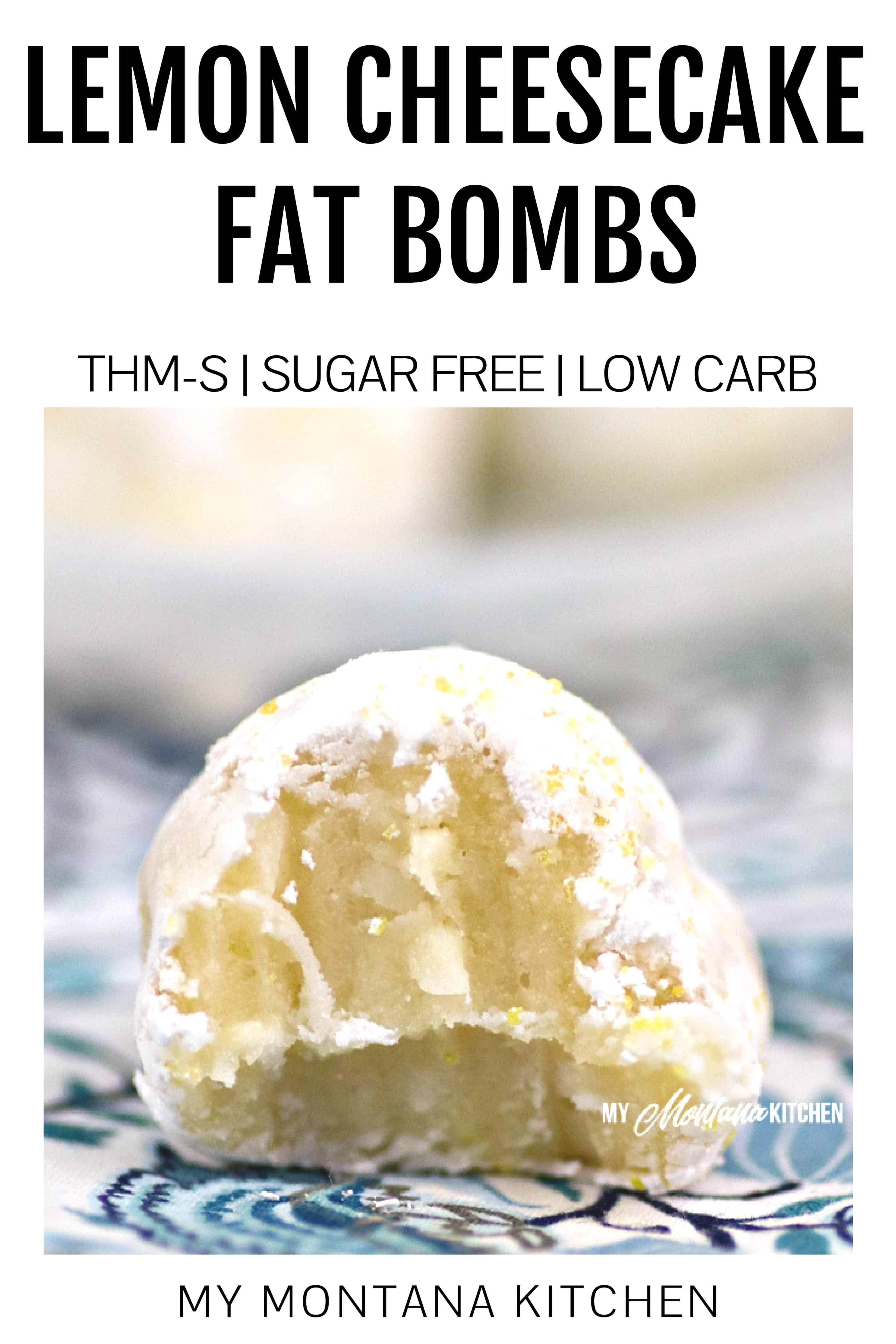 Yield: 10
Lemon Cheesecake Fat Bombs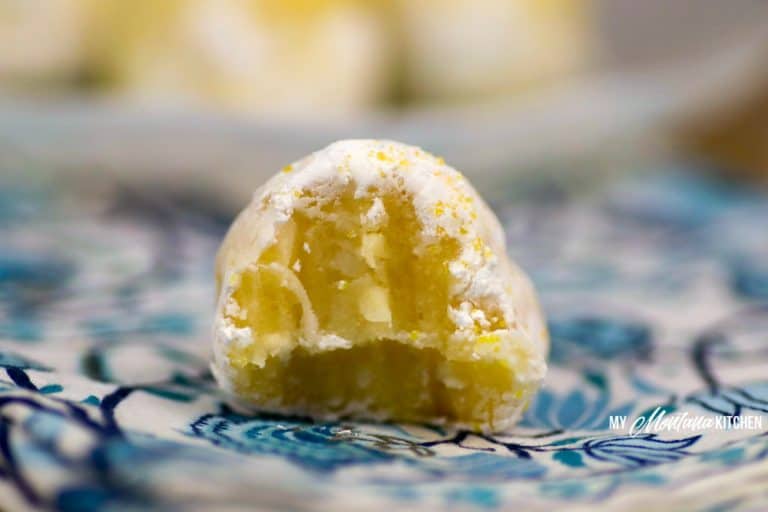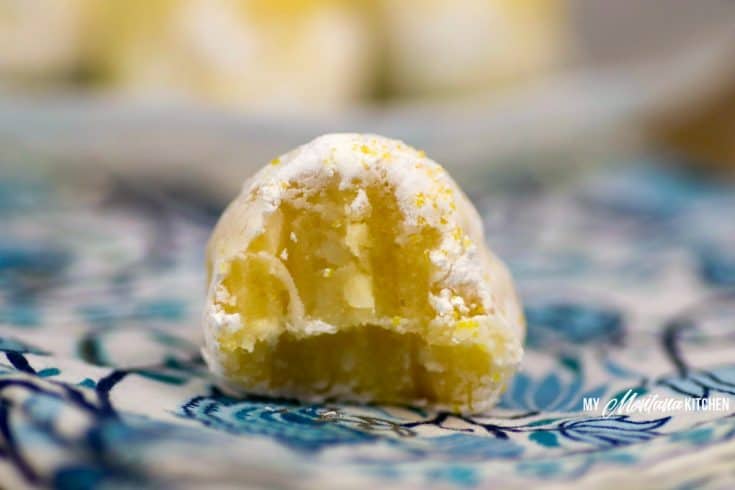 Lemon cheesecake keto fat bombs are a delicious and incredibly decadent way to get healthy fats into your body and eat well. This keto fat bombs recipe is about to become one of your all time favorite low carb lemon desserts!
Additional Time
1 hour
10 minutes
Total Time
1 hour
20 minutes
Ingredients
1/4 cup Cream Cheese, softened
1/4 cup Softened Butter
3 Tablespoons Fresh Lemon Juice
Instructions
In a medium bowl, cream the softened cream cheese and butter.

Add vanilla and lemon juice and stir well.

Fold in almond flour, erythritol, 1.5 tablespoons confectioners' sugar and 1/2 cup coconut until mixture forms a nice dough.

Place mixture in the freezer for 10 minutes

Remove from the freezer and using a cookie scoop, roll into small balls (about 1")

In a smaller bowl, add remaining coconut and confectioners' sugar. Mix well. Roll each ball in the coconut mixture.

Place back in the freezer for one hour.

Store in an airtight container in the refrigerator for up to one week.
Notes
You can use all Gentle Sweet in place of the erythritol, but only use 1 Tablespoon (or a bit more) in place of the 2 Tablespoons.
If you do not have Gentle Sweet, you can use my Low Carb Powdered Sugar in equal amounts.

Nutrition Information
Yield
10
Serving Size
1
Amount Per Serving
Calories

136
Total Fat

13g
Saturated Fat

4g
Trans Fat

0g
Unsaturated Fat

5g
Carbohydrates

3g
Fiber

2g
Protein

1g