We may earn money from the products/companies mentioned in this post. As an Amazon Associate I earn from qualifying purchases.
One of the easiest ways to make low carb dinners is casseroles; they are easy to make, taste delicious, and the entire family will enjoy them. This loaded cauliflower casserole with bacon and broccoli is no exception!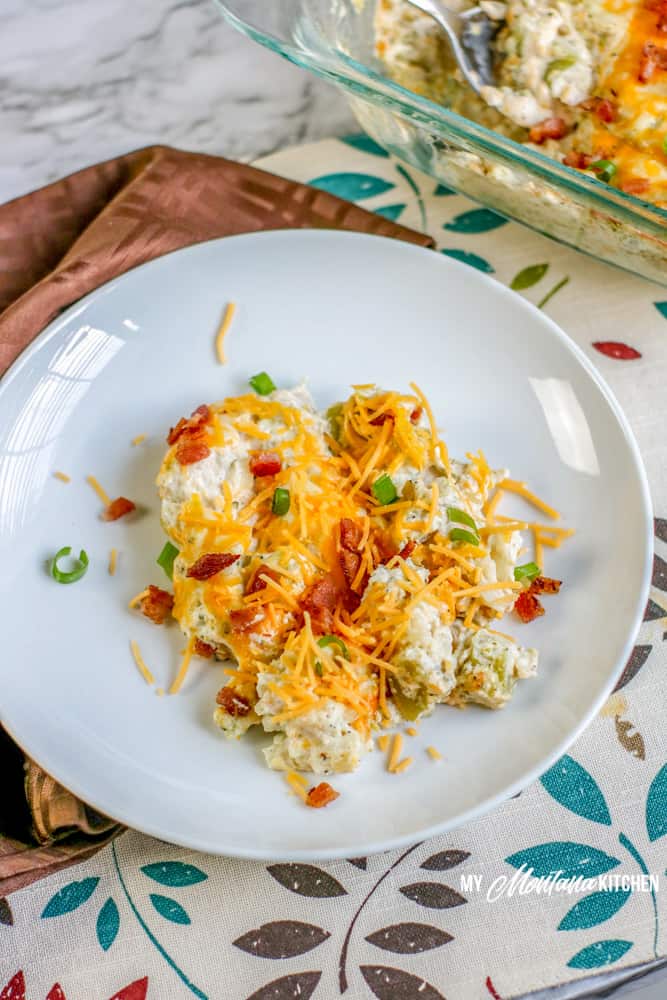 Casseroles are a busy mom's solution to easy, delicious dinners. They are perfect for Trim Healthy Mamas, keto moms, low carb ladies, and all sorts of healthy eaters because the whole family can enjoy the same yummy dinner together and the side dishes can add carbs for growing kids.
And this loaded cauliflower casserole has broccoli and bacon in it, took making it super easy and over-the-top delish.
It can be hard to get kids to buy into broccoli recipes (and some adults!), but when you add cheese and bacon it's a whole lot easier! Cauliflower and broccoli make a great pair, as do cheese and bacon.
When all four come together? You get an explosion of healthy ingredients and amazing flavor.
This broccoli cauliflower bake is predominantly veggies (as opposed to this chicken broccoli bake), but the cream cheese, sour cream, cheddar cheese, and bacon add filling fats and proteins to it.
That makes the perfect THM S, keto, or low carb dinner - filling, satisfying, and tempting. Pair it with a tossed salad and you've got the perfect meal that everyone will love.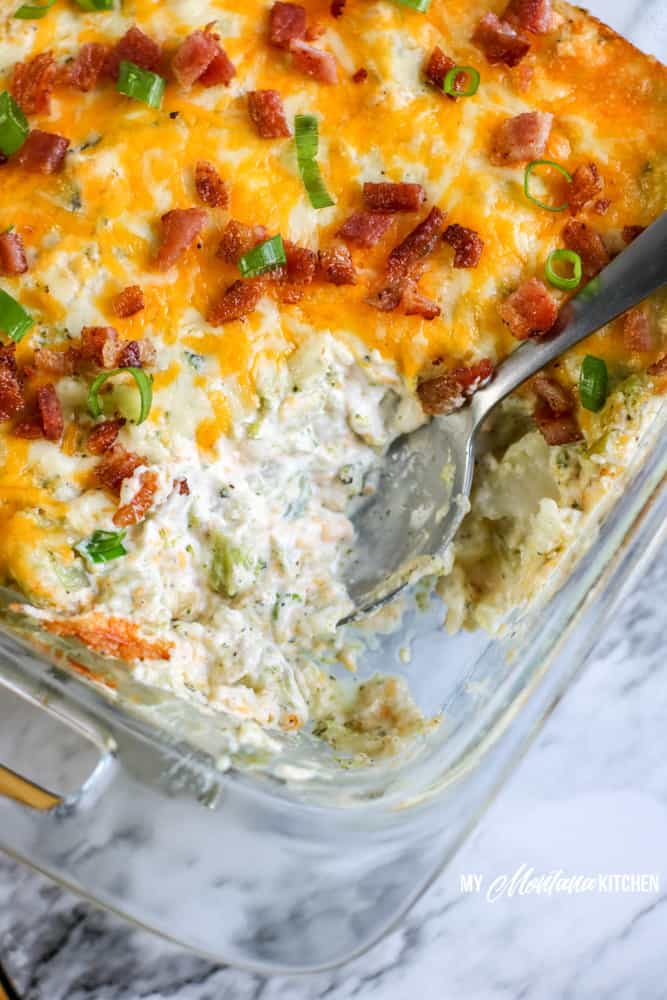 What's In This Cheesy Broccoli Casserole?
So what do you need to make this gooey, savory dish? Only 6 ingredients and spices you've already got in your pantry!
Frozen Mixed Broccoli & Cauliflower (you can usually buy them mixed, but combining them yourself is possible, too)
Bacon, cooked and crumbled

Onion

Sour Cream

Cream Cheese

Garlic Powder

Pepper

Cheddar Cheese

Scallions for garnish
While the vegetables in it are super healthy, the additional ingredients make it quite indulgent. Just think about how good it's going to taste…ready to get cooking?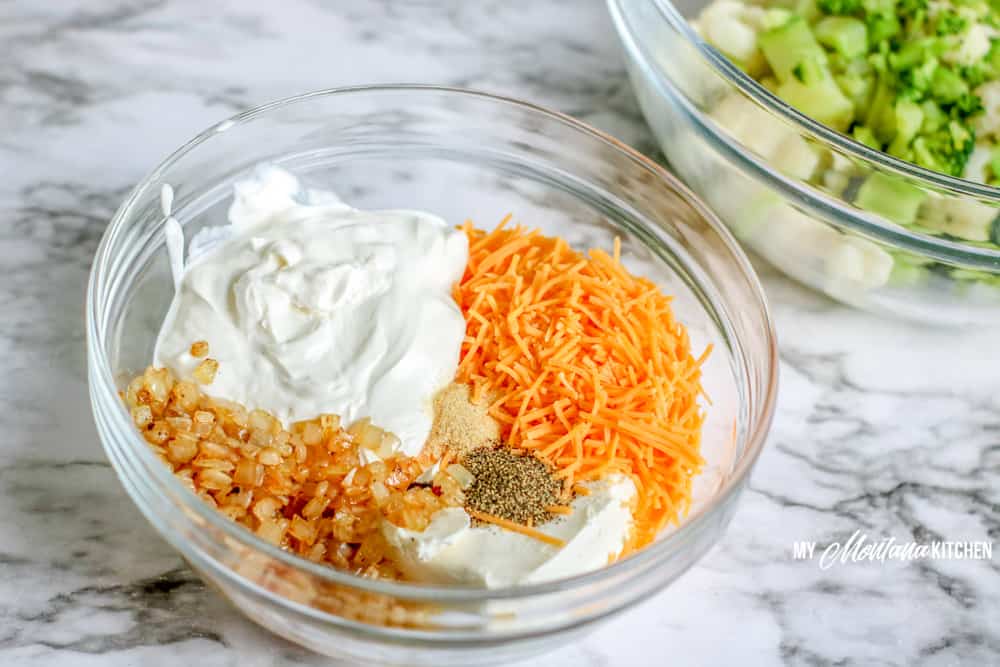 How Do You Make This Easy Low Carb Casserole With Bacon & Cheese?
Because you're starting out with frozen broccoli and cauliflower, the preparation for this simple dinner is super easy. There's no washing, cutting, and prepping your vegetables necessary. Nice, right?
To start, simply cook your frozen vegetables according to the directions on the package and drain them well. This is to avoid any water in the bottom of your finished casserole dish. Set them to drain in a colander while you do the rest of your prep.
While they are draining, fry up your bacon in a skillet. Once it's nice and crispy, pull it aside and cook your onions in the remaining grease. Don't caramelize them, just cook them until translucent and fragrant. Remove them from the skillet, and drain them on paper towels or in a colander.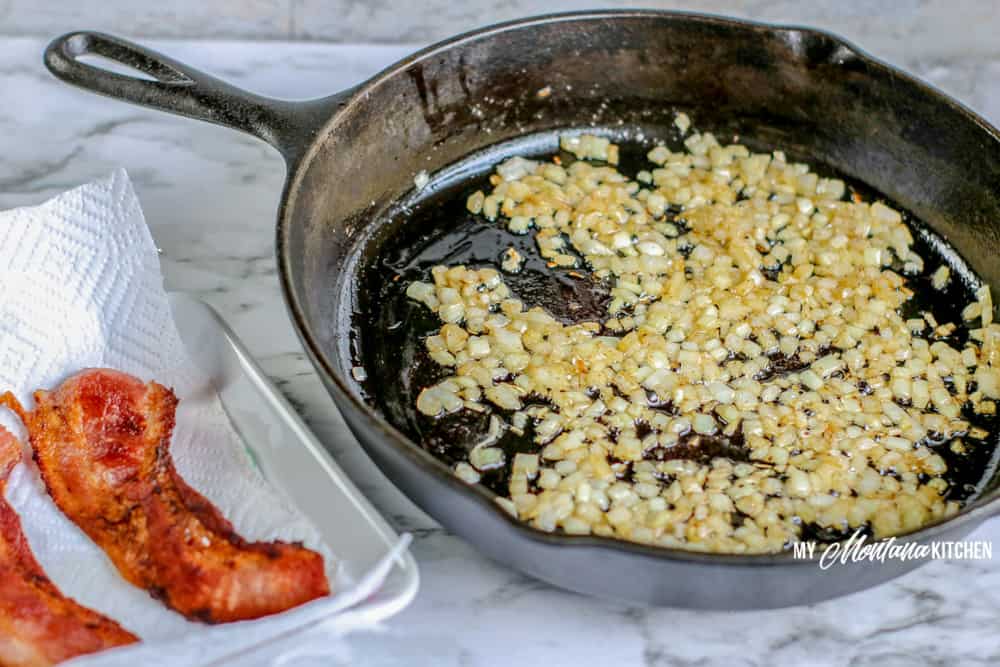 In a mixing bowl, combine your softened cream cheese, sour cream, cheddar cheese, and spices well. You can do this with a spoon or a mixer; whichever you prefer.
Once the cheeses and spices are well combined, add in your onions, broccoli, and cauliflower.
Spread the mixture into your favorite greased baking dish (or cast iron pan) and top with the rest of the shredded cheddar and bake it until it's all nice and bubbly.
Right before serving, top it with the crispy bacon and scallions.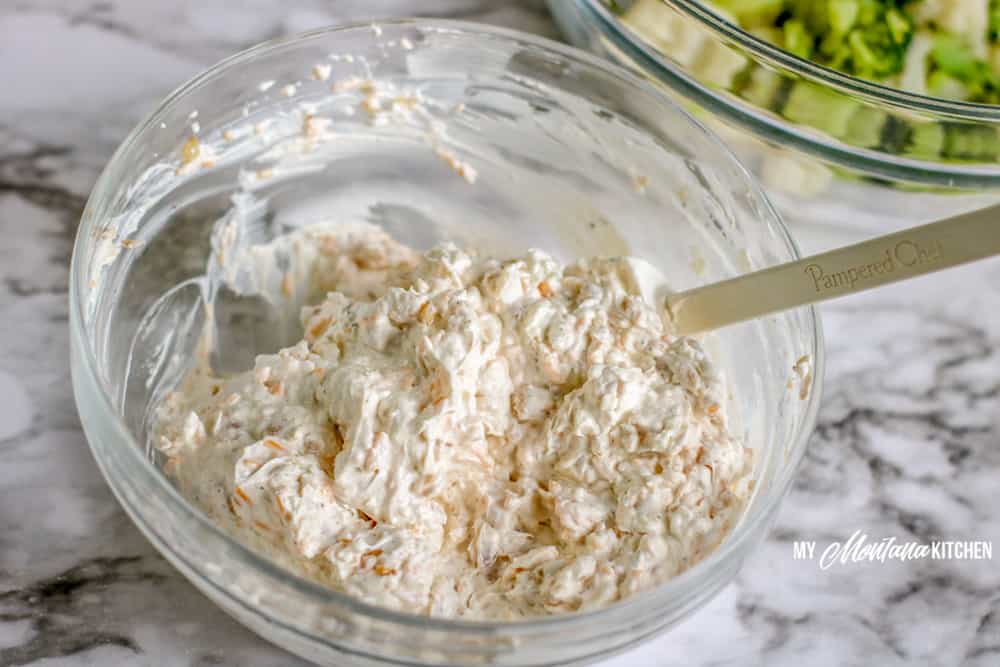 Can I Make This Meat Free?
If you'd like to make this recipe without the bacon, you can fry the onions in some oil. Consider adding a clove of freshly minced garlic, too.
What If I Don't Have A Frozen Vegetable Mix?
This recipe will work with all broccoli or all cauliflower, too, you'll just taste the individual vegetable more than when you use a mix.
Can I Make This With The Vegetables Frozen?
Do you have to pre-cook the cauliflower and broccoli mix, or can you make this amazing recipe even simpler by using them frozen?
You can, but the casserole will be more watery because you won't have drained the vegetables. If you don't mind that, go right ahead.
Alternatively, you could halve the sour cream and add some extra cream cheese to help offset it. While it won't completely solve the watery issue, it will help.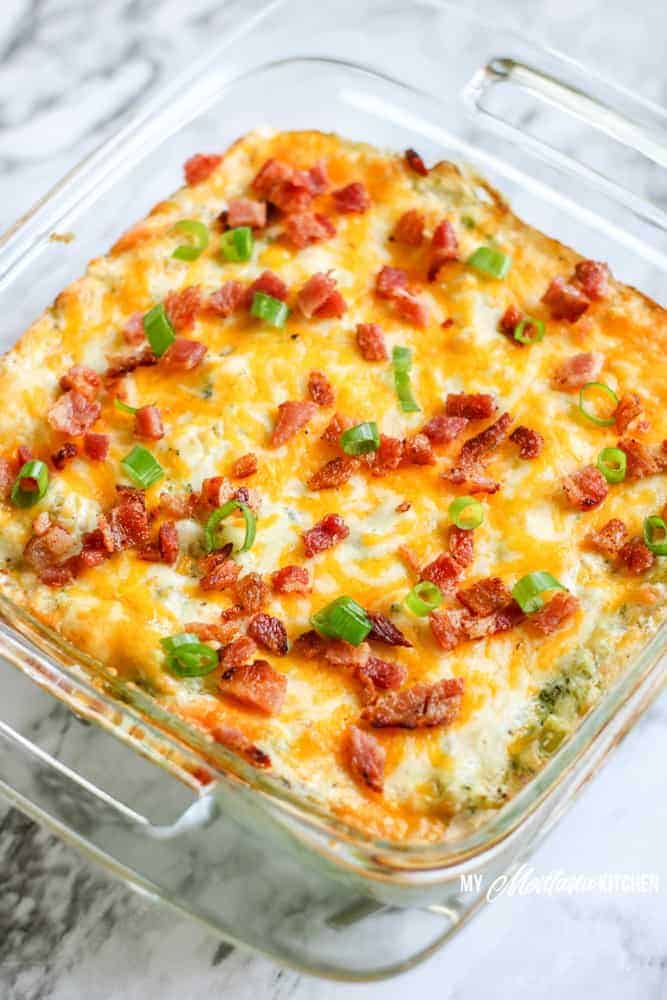 Additional Variations For Cheesy Broccoli Cauli Bake
There are tons of ways to use this recipe over and over and make it taste fresh if you'd like it to be a regular part of your menu rotation.
Consider using pepper jack cheese and maybe adding some diced jalapeños or a can of rotel.
Use Swiss cheese and some blue cheese crumbles for a Bacon and Bleu loaded broccoli cauliflower casserole.
If you'd like to go Caprese style, use mozzarella and add some fresh basil, oregano, and sprinkle with freshly diced tomatoes for some color.
To make it taco style, sub taco seasoning for the spices and double the amount. Use a Mexican cheese blend and add cilantro. Garnish with diced avocados and taco meat instead of bacon.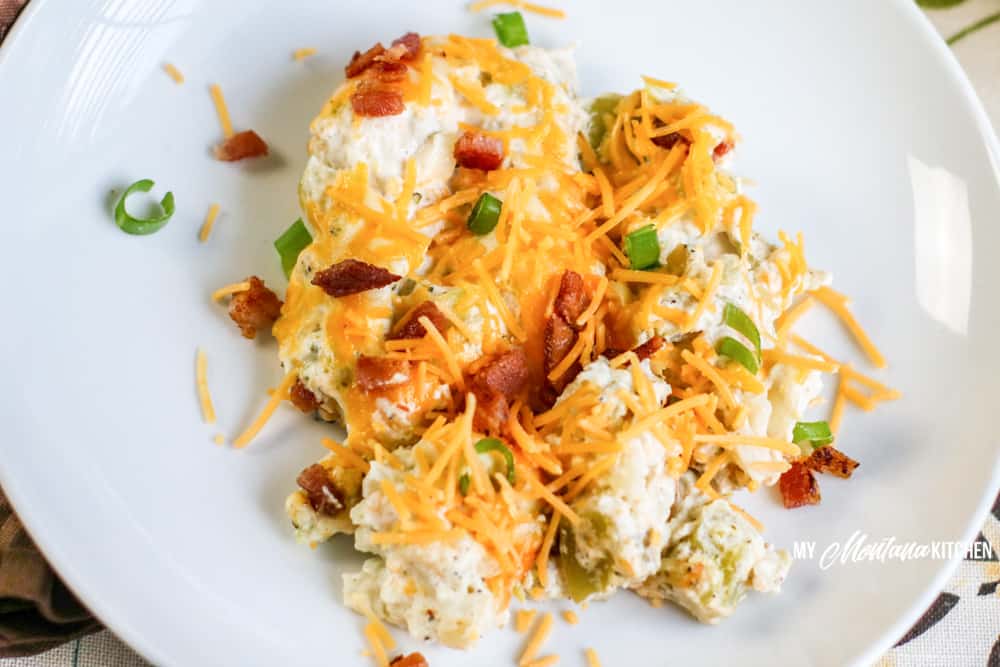 Making And Storing Your Broccoli Cauliflower Casserole
There's just something about broccoli that melds beautifully with melty, gooey, savory cheese and spices.
In fact, you can enjoy it with this chicken broccoli casserole, too. Or this ham and broccoli one.
And casseroles like this are super easy. They can be served fresh or made ahead and reheated easily.
This and other casseroles like it are perfect freezer dinners.
You can do everything except for bake them and put them in the freezer for up to 3 months (or the fridge for up to 3 days) and just pull them out when it's time to bake them.
This makes them the ideal meal to bring to a new mom, busy family, friend who is moving, or have stashed for your own busy night to help you avoid takeout.
If you have leftovers, just store them in an airtight container. They'll keep for several days in the fridge.
Reheat in the oven or the microwave, uncovered so the vegetables don't get mushy.
For more low carb casserole inspiration, snag my Low Carb Dinner Cookbook and enjoy the most popular recipes from My Montana Kitchen!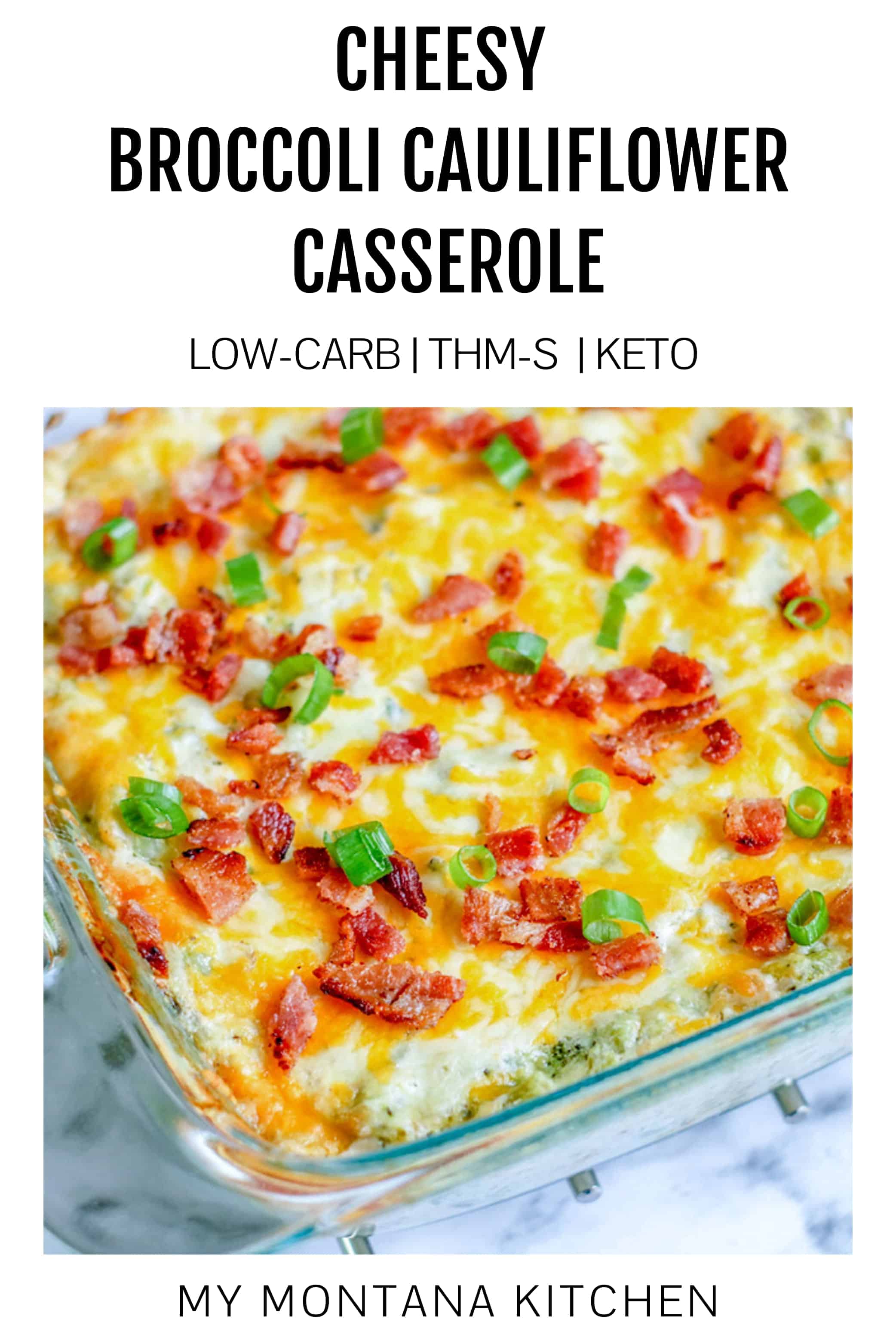 Yield: 6 Servings
Loaded Cauliflower Casserole with Bacon and Broccoli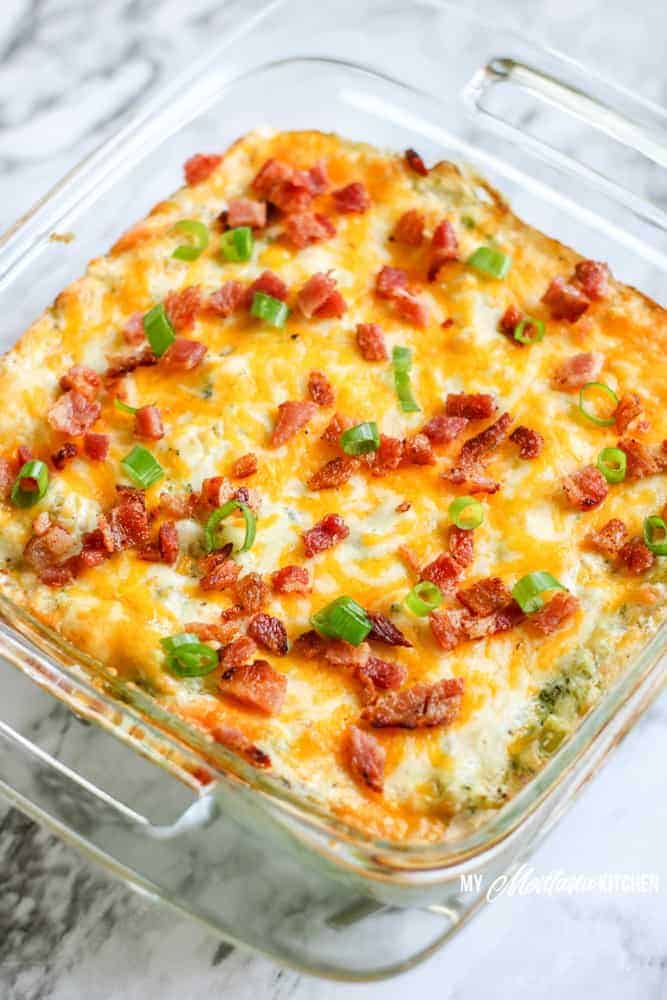 One of the easiest ways to make low carb dinners is casseroles; they are easy to make, taste delicious, and the entire family will enjoy them. This loaded cauliflower casserole with bacon and broccoli is no exception!
Ingredients
2 (12 ounce) Bags Frozen Cauliflower and Broccoli Mix
2 to 4 Slices Bacon
1 Onion, Diced
⅔ Cups Sour Cream
8 Ounces Cream Cheese, Softened
½ Teaspoon Black Pepper
2 Cups Shredded Sharp Cheddar Cheese, divided
Green Onion, Sliced as Garnish
Instructions
Preheat oven to 350.
Spray a 2 quart baking dish with coconut oil cooking spray.
In a large skillet, cook bacon until cooked through, then remove bacon to paper towels to drain.
Add onion to bacon grease and cook over medium heat until onions are translucent and fragrant. Drain onions on paper towels.
Cook cauliflower/broccoli mix according to package directions and drain well.
In a large mixing bowl, mix together softened cream cheese, sour cream, 1 cup cheddar cheese, garlic powder, and black pepper.
Mix cream cheese mixture with cooked vegetables. Spread in baking dish. Top with remaining cheddar cheese.
Bake for 25 to 30 minutes.
Chop cooked bacon and sprinkle over top with sliced green onion.
Recommended Products
As an Amazon Associate and member of other affiliate programs, I earn from qualifying purchases.
Nutrition Information
Yield
6
Serving Size
1
Amount Per Serving
Calories

390
Total Fat

32g
Saturated Fat

26g
Carbohydrates

13g
Net Carbohydrates

10g
Fiber

3g
Protein

17g
Nutritional information may vary depending on which products are used.