We may earn money from the products/companies mentioned in this post. As an Amazon Associate I earn from qualifying purchases.
There's a reason everyone loves Taco Tuesday! It's because tacos are absolutely delicious and bring so much joy to our taste buds!
Now you can enjoy Taco Tuesday night at home with this street taco recipe that's easy to make!
These easy street tacos can be made low-carb or healthy-carb (THM:E).
One of the reasons tacos are so popular is their versatility.
You can fill them with a variety of ingredients, from ground beef to chicken, fish, or even beans for a vegetarian option. There's a taco recipe that will fit everyone's preferences!
The possibilities are endless, allowing everyone to customize their tacos to their liking. Tacos truly cater to all taste preferences!
In recent years, street tacos have gained immense popularity. And who wouldn't love them - savory, cute, easy to make, and so delicious! They really are the perfect weeknight meal!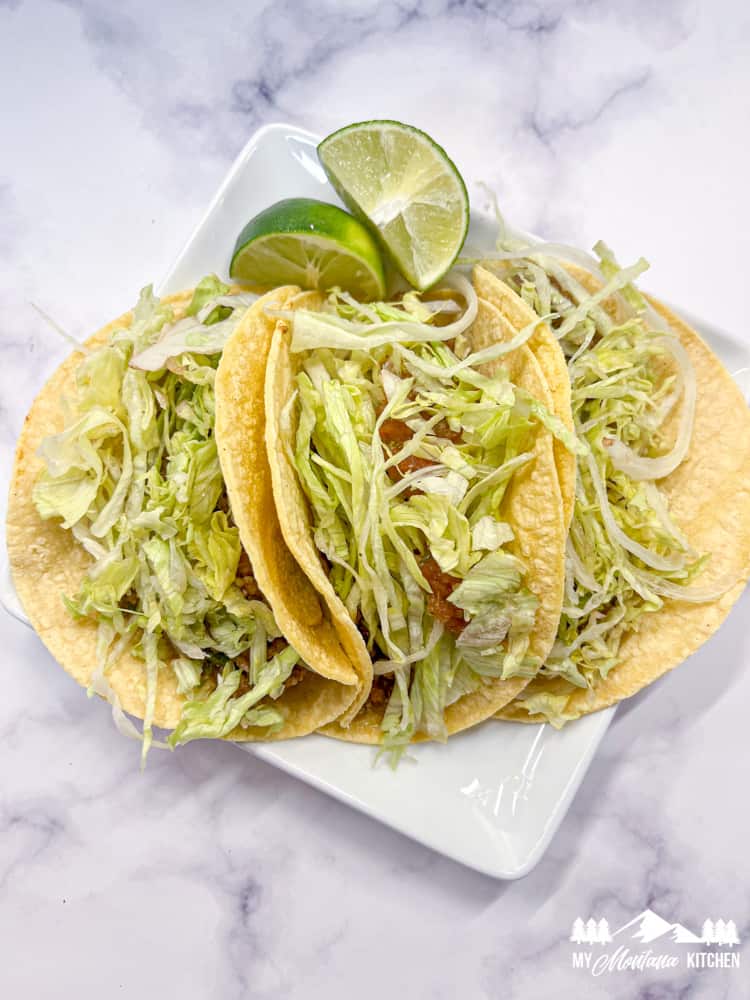 Cooking the ground beef taco meat for street tacos
Before we can enjoy our street tacos for taco night, we need to cook the ground beef just right. It all starts with selecting and preparing the meat.
Look for lean ground beef to keep it healthy and tasty.
I often use venison, bear, or elk burger as that is what I usually have in my freezer. If you want super lean meat, you can even use ground turkey.
Heat a large skillet over medium-high heat and add the beef.
Stir it occasionally until it's no longer pink, but fully cooked and brown.
Now, let's add some flavor! Spicing and seasoning the beef is the key to making it extra delicious. (If you don't want to season it yourself, you can use taco seasoning packets for your ground beef tacos.)
You can use simple ingredients like salt, pepper, garlic powder, red pepper flakes, chili powder, oregano, and cumin, or use your own homemade taco seasoning.
Sprinkle these spices on the beef and mix them well. Don't be afraid to experiment and add your favorite spices too!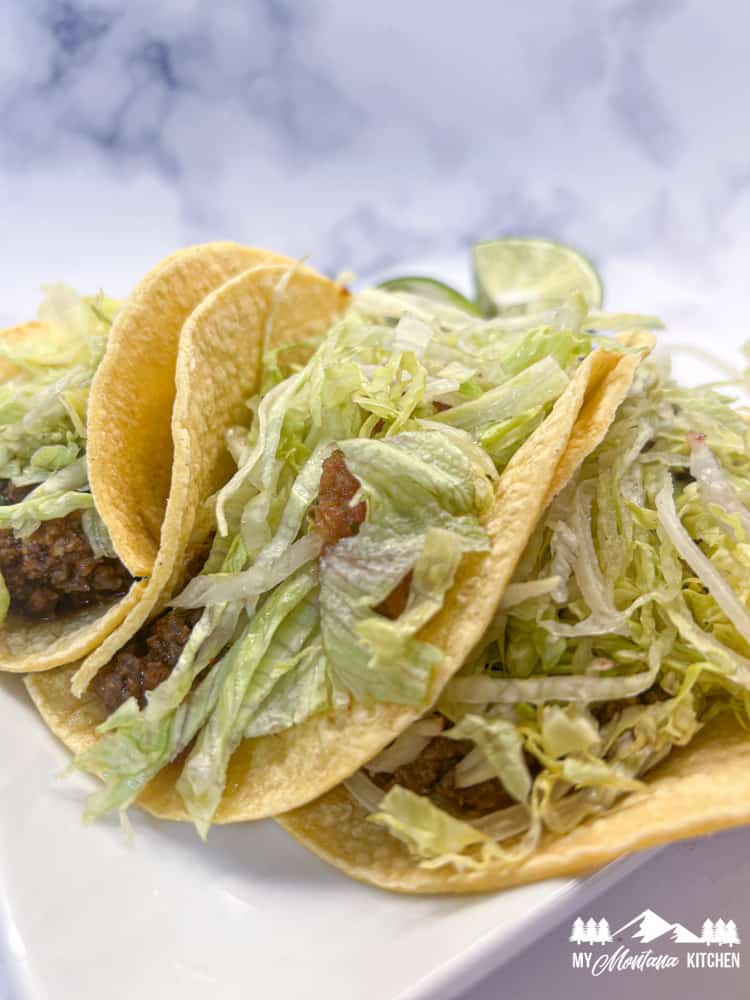 Optional additions to ground beef taco meat
Here are a few extra ingredients I like to add to my ground beef for tacos:
Canned diced tomatoes with green chiles: Adding canned diced tomatoes with green chiles brings a delightful kick of flavor to your taco meat. The combination of tangy tomatoes and the mild heat of the chiles adds depth and a hint of spice. You can choose between mild or hot varieties based on your preference for heat.
Canned or frozen corn: Corn adds a touch of sweetness and a pleasant crunch to your taco meat. You can use canned corn (make sure to drain it) or frozen corn for convenience. Simply stir it into the cooked ground beef to incorporate its natural sweetness and texture.
Salsa: Salsa is a versatile and flavorful addition that adds a zesty kick to your taco meat. You can use store-bought salsa or make your own using fresh ingredients like tomatoes, white onion, jalapeños, cilantro, and lime juice. Choose a mild, medium, or spicy salsa depending on your heat tolerance.
Cilantro: Adding fresh cilantro adds so much flavor to the meat. Cilantro's bright and citrusy flavor pairs wonderfully with the other ingredients, adding a refreshing element to your tacos. Chop the cilantro leaves and sprinkle them over the meat just before serving or add them directly to the meat and stir them in to wilt and add flavor.
Choosing the right tortilla for ground beef street tacos
Now that we have our tasty ground beef ready, it's time to choose the perfect tortillas.
There are two main types to consider: corn and flour tortillas.
Corn tortillas are made from corn and have a slightly earthy flavor. Flour tortillas, on the other hand, are softer and have a mild taste.
For authentic street tacos, corn tortillas are often the top choice.
They are smaller in size and have a delightful texture that complements the beef.
If you prefer a milder taste or have dietary restrictions, you can opt for low-carb flour tortillas.
You can find both types in the grocery store or even learn to make them at home!
Create amazing street tacos with delicious toppings
Fresh toppings are what take street tacos to the next level. Here's a recap of the delicious toppings you can add to your street tacos:
Salsa: Chop fresh tomatoes, onions, jalapeños and cilantro. Squeeze lime juice and add salt to taste. This homemade salsa adds a tangy and refreshing flavor to your tacos. Add a tablespoon or two per taco.
Guacamole: Mash ripe avocados with lime juice, salt, and a touch of garlic powder. The creamy and rich guacamole pairs perfectly with the seasoned beef.
Onions and Cilantro: Finely chop onions and cilantro to sprinkle on top of the beef. These fresh ingredients provide a burst of flavor and a pleasant herbaceous taste.
Shredded Lettuce with Lemon Juice and Salt: Finely shred lettuce and toss it with fresh lemon juice and salt. This simple topping adds a crisp and tangy element to your tacos.
Additional Toppings: Get creative with other toppings like shredded cheese, sour cream, queso fresco, or pickled jalapeños.
These ingredients offer different textures and flavors to cater to everyone's taste preferences.
When it comes to serving your tacos, presentation is key.
Arrange them on a colorful platter to make them visually appealing.
You can also provide extra sauces or condiments, such as hot sauce or salsa verde, for people to customize their tacos according to their preferred level of spiciness.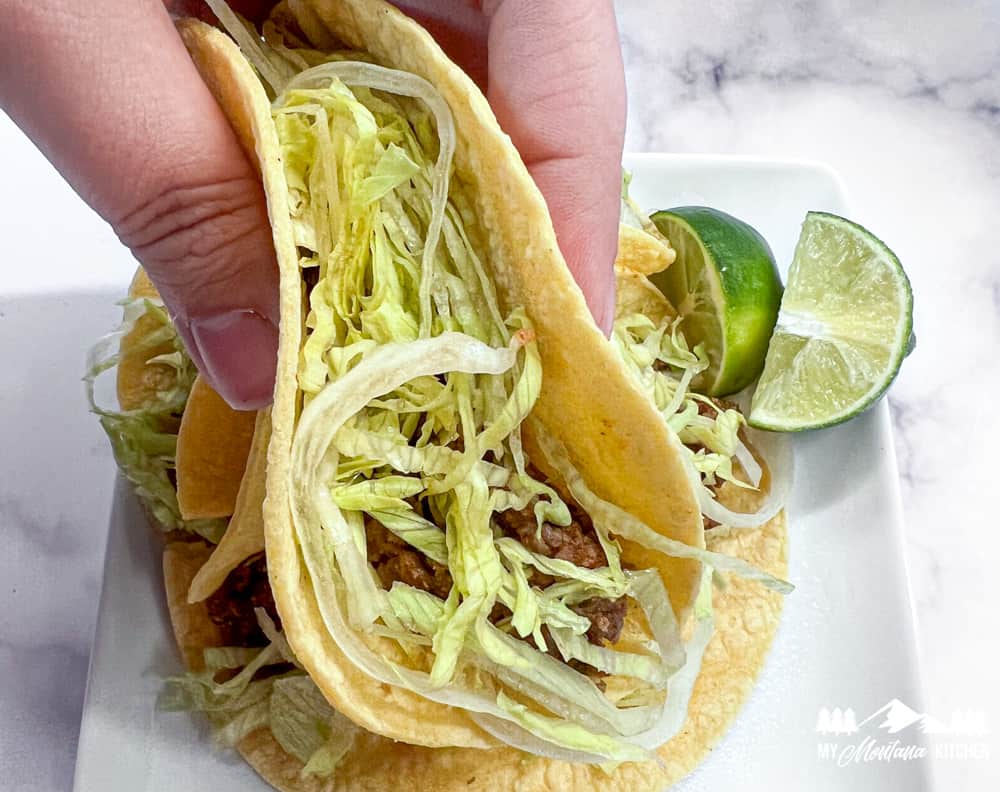 What is the Difference Between Street Tacos and Regular Tacos?
The difference between street tacos and regular tacos lies in their origin, size, preparation, and toppings. Here are some key distinctions:
Origin: Street tacos originated in Mexico and are commonly sold by street vendors or small food stalls. They are considered a popular street food in Mexican culture. Regular tacos, on the other hand, can refer to a broader range of tacos that are commonly found in various restaurants and fast-food chains.
Size: Street tacos are typically smaller in size compared to regular tacos. They are typically served on small, soft corn tortillas, which are about 4-6 inches in diameter. Regular tacos can come in different sizes, including larger flour tortillas or hard tacos shells.
Toppings: Street tacos typically focus on minimal toppings to highlight the flavors of the meat. Common toppings include diced onions, chopped cilantro, and a squeeze of lime juice. Salsas, guacamole, or sliced radishes may also be added. Regular tacos often have a wider range of toppings, such as shredded lettuce, diced tomatoes, cheese, sour cream, and various sauces or dressings.
How to make the tacos low carb?
If you're looking to make your tacos low-carb, there are several simple substitutions and adjustments you can make to enjoy a delicious and satisfying low-carb taco. Here are some tips:
Choose Low-Carb Tortilla Alternatives: Instead of traditional corn or flour tortillas, opt for low-carb alternatives. There are many options available, such as lettuce wraps, cabbage leaves, or low-carb tortillas made from ingredients like almond flour or coconut flour.
Load Up on Non-Starchy Vegetables: Fill your tacos with an abundance of non-starchy vegetables. Lettuce, spinach, diced tomatoes, bell peppers, cucumbers, and onions are all great choices. These veggies are lower in carbs and high in fiber, adding crunch, flavor, and nutrients to your tacos.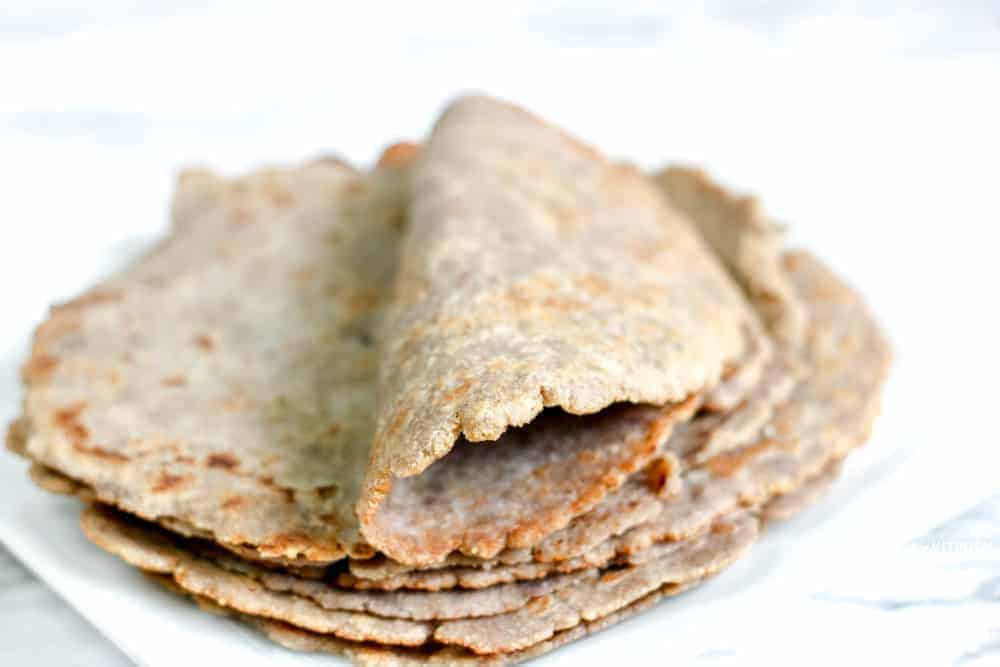 Can I make steak tacos?
For those who prefer steak tacos, consider using a tender cut of beef like skirt steak.
Simply marinate the skirt steak in a mixture of olive oil, lime juice, salt, and pepper, and then cook it in a hot large skillet over medium-high heat. (Cast iron skillets are best)
Once cooked to your desired level of doneness, let the steak rest before slicing it thinly. The result will be delicious and flavorful steak tacos that will impress your family and friends.
What to do with leftover ground beef taco meat
Here are some ideas for using up your leftover taco meat:
Taco Salad: Use the leftover taco meat as a topping for a vibrant taco salad. Layer the meat over a bed of lettuce, and add additional toppings like diced tomatoes, shredded cheese, sliced avocado, and crushed tortilla chips. Drizzle with your favorite dressing or salsa for a flavorful and filling salad.
Nachos: Transform your leftover taco meat into a tasty nacho topping. Spread a layer of tortilla chips on a baking sheet, sprinkle the meat over the chips, and add shredded cheese. Broil in the oven until the cheese melts and begins to bubble. Top with diced tomatoes, jalapeños, sour cream, and guacamole for a crowd-pleasing snack or appetizer.
Quesadillas: Repurpose the meat by using it as a filling for quesadillas. Spread a layer of meat on a tortilla, sprinkle with shredded cheese, and fold it in half. Cook the quesadilla in a skillet over medium heat until the tortilla is crispy and the cheese is melted. Serve with salsa, sour cream, or guacamole for dipping.
Stuffed Peppers: Mix the leftover taco meat with cooked rice and stuff bell peppers with the mixture. Place the stuffed peppers in a baking dish, top with cheese, and bake in the oven until the peppers are tender and the cheese is melted and bubbly.
Taco Pizza: Turn your leftover taco meat into a flavorful topping for a homemade pizza. Spread pizza dough with salsa or tomato sauce, sprinkle the meat over the sauce, and add your favorite toppings such as cheese, sliced bell peppers, and onions. Bake in the oven until the crust is golden and the cheese is melted.
So, don't wait any longer—make this recipe for the best street tacos you've ever had. Whether you're craving authentic Mexican tacos or looking for an easy weeknight dinner option, this simple recipe will not disappoint.
Your taste buds will thank you as you savor each bite of these easy and tasty street tacos. Get ready to enjoy the flavors of Mexico in the comfort of your own home.
If you ever want to explore more taco variations, you can try chicken, fish, or even vegetarian fillings. Tacos offer endless possibilities, and the joy of discovering new flavors is part of the fun. Happy cooking and happy eating!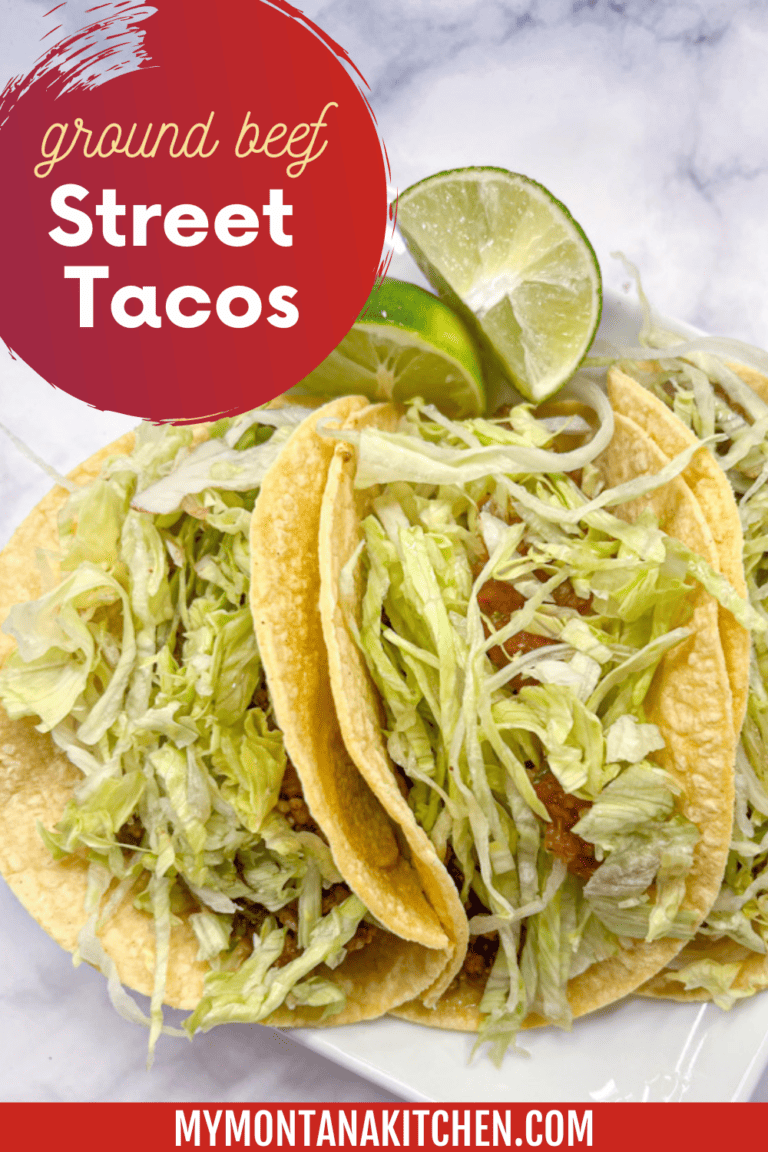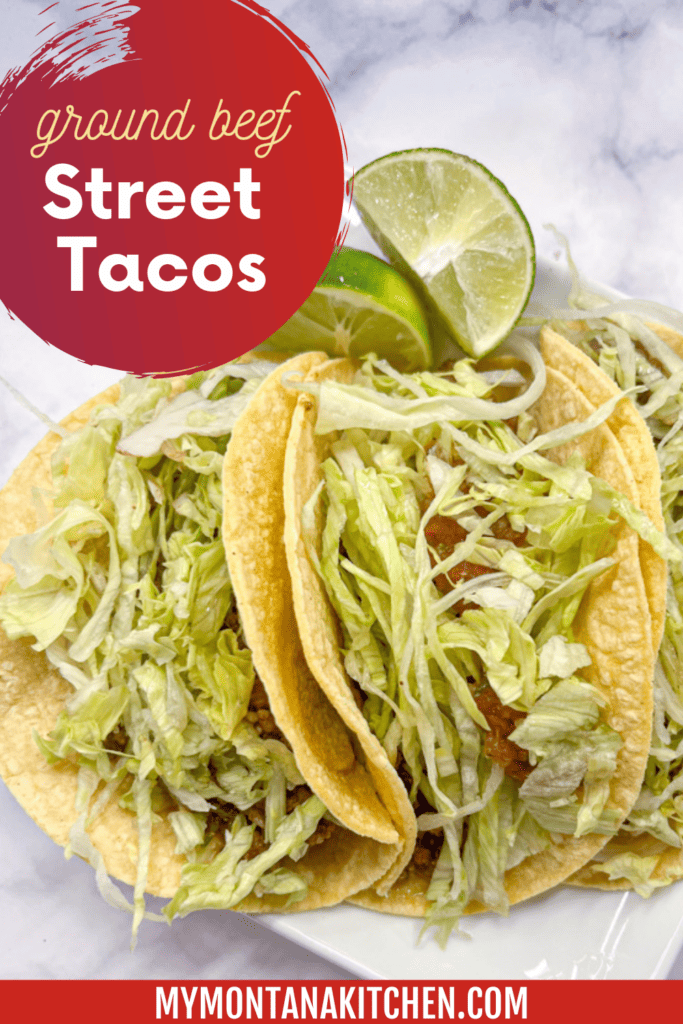 More Mexican-inspired recipes you may enjoy:
Green Chile Chicken Enchiladas
Low-Carb Air Fryer Chicken Chimichangas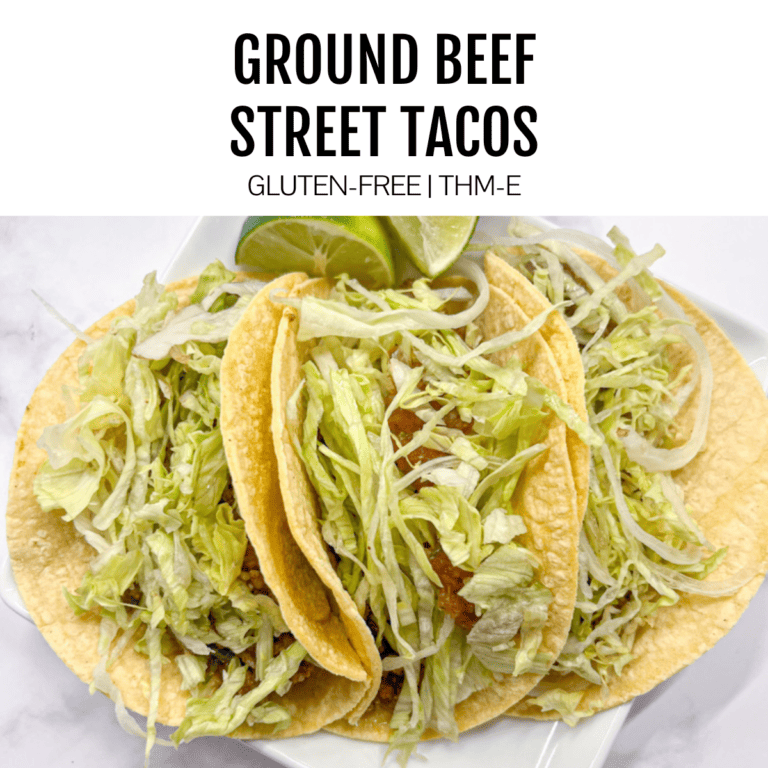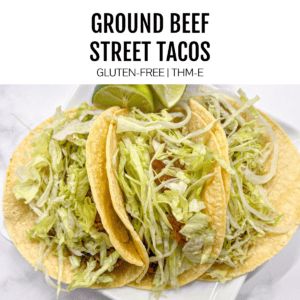 Ground Beef Street Tacos
From the sizzle of the beef to the zesty flavor of fresh toppings, these tacos are a mouthwatering dinner you won't want to miss.
Print
Pin
Rate
Ingredients
1

Pound

Lean Ground Beef

1

14.5oz Can

Diced Tomatoes with Green Chiles

⅓

Cup

Chopped Fresh Cilantro

3

Tablespoons

Taco Seasoning

12

Small Corn Tortillas

Shredded Lettuce

Fresh Lemon Juice

Optional toppings

shredded cheese, salsa, guacamole, sour cream
Instructions
Heat a large skillet over medium heat.

Add the lean ground beef to the skillet, breaking it apart with a spatula.

Cook the beef, stirring occasionally, until it's browned and cooked through.

Strain the meat to remove excess grease.

Add the diced tomatoes and taco seasoning. (You may need to add a bit of water as well, if it seems dry)

Simmer for a few moments until heated through.

Turn off the heat and stir in the chopped cilantro.
Prepare Shredded Lettuce:
In a separate bowl, toss shredded lettuce with a generous squeeze of fresh lemon juice and salt.
Warm the Tortillas:
While the beef is cooking, warm the tortillas. You can do this by wrapping them in a damp paper towel and microwaving them for about 20-30 seconds. Alternatively, you can heat them on a dry skillet for about 10-15 seconds per side.
Assemble the Tacos:
Spoon a generous portion of the seasoned and cooked beef onto each tortilla.
Add Lettuce and Toppings:
Top the beef with a handful of the prepared shredded lettuce.

Add any other desired toppings such as shredded cheese, salsa, guacamole, or sour cream.
Notes
For Trim Healthy Mamas, you can enjoy two of these street tacos on corn tortillas for a Trim Healthy Mama E Fuel. (You'll want to rinse your lean beef to remove as much excess fat as possible.) To avoid a XO, keep toppings low-fat.
Or, use Wonder Wraps or lettuce wraps for a lower-carb option.
Nutrition
Serving:
3
Tacos
|
Calories:
469
kcal
|
Carbohydrates:
46
g
|
Protein:
36
g
|
Fat:
16
g
|
Fiber:
37
g