We may earn money from the products/companies mentioned in this post. As an Amazon Associate I earn from qualifying purchases.
Filled with sharp, savory flavors and a homemade Italian dressing, this Low-Carb Chopped Salad is perfect for either lunch or dinner!
There's nothing better on a hot summer day than crunching into a fresh, crisp chopped salad.
When you add the flavor explosion of an Italian salad, you guarantee that you will be refreshed and satisfied.
This THM-S chopped salad recipe makes this perfect treat even more perfect and healthy.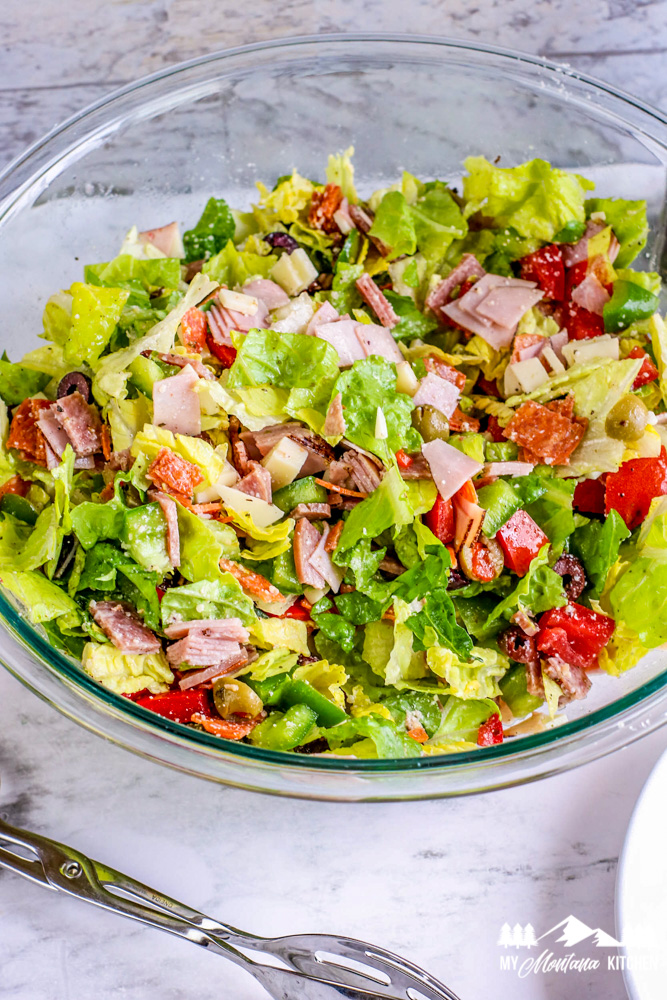 What is an Italian chopped salad?
Italian Chopped Salad is said to have originated at California Pizza Kitchen; however, many Italian restaurants have a version of this Italian salad that goes beyond the fancy-sounding name.
It's an Italian salad, which means that it has tons of sharp, savory flavors from meats, olives, and dressing. It's a chopped salad, which means the salad is chopped up in a way that makes smaller chunks of lettuce.
Chopped salads gained popularity when the Subway sandwich chain introduced them to their menu in 2012.
Since then, chopped salad popularity has grown. 
What is on a chopped salad?
Chopped salads can feature virtually anything you want on them.
Because of the finer cut of the lettuce, flavors are absorbed more. Savory, acidic flavors coat chopped lettuce, so virtually every bite is full of flavor.
Because of the smaller chunks of lettuce, whatever you add to your chopped salad recipe, you will get in almost every single bite.
Most Italian chopped salads feature a combination of olives, tomatoes, peppers, ham, salami, and provolone cheese.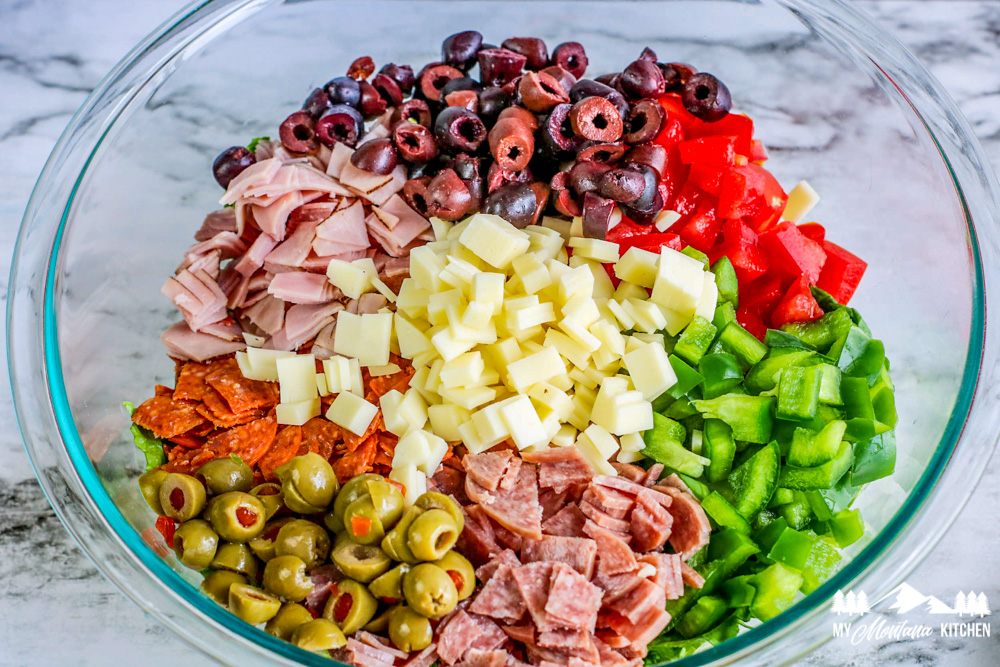 How do you cut lettuce for chopped salad?
Cutting lettuce for a chopped salad is simple. Follow these steps to chop your lettuce:
Clean and dry your romaine lettuce thoroughly
Cut your romaine lettuce in half--long way
Cut the stem out in a triangle format with two diagonal cuts
Hold the lettuce together and cut 2-3 more times--long way
Turn the long, cut stalks and chop into small pieces
OR
Use your knife to penetrate the romaine lettuce near the base but not cutting the stalk
Cut from that spot near the base through the top
Repeat that same process several times
Holding the stalk of your lettuce, chop along the short length of your leaves
Carefully, cut close to the base without cutting into the stalk
Place the lettuce in a colander in a bath of water
Swish the lettuce around to clean
Drain the lettuce several times (use a salad spinner if you have one)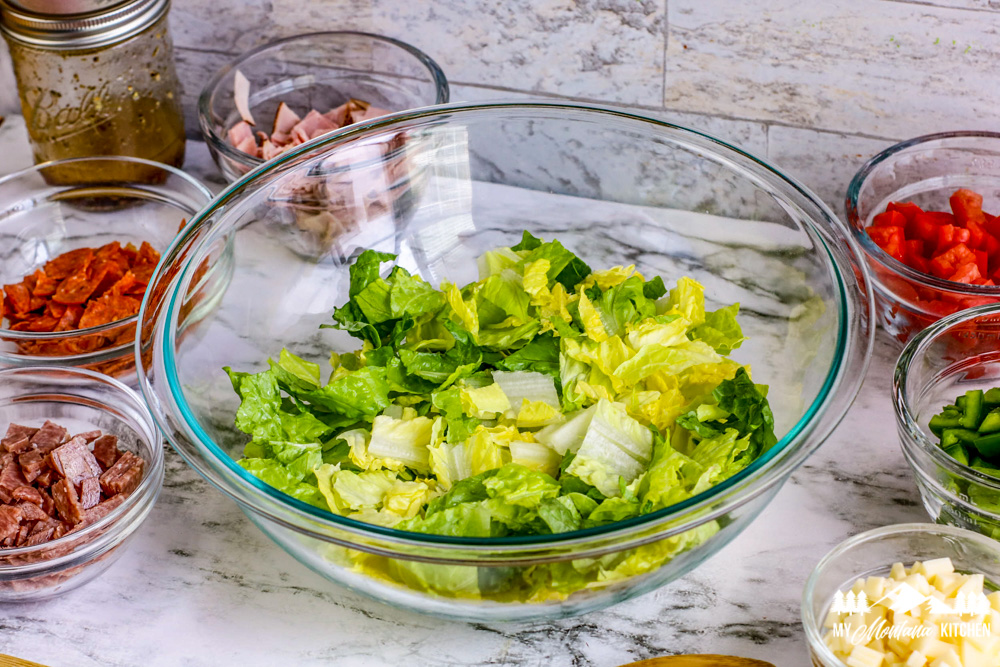 It's extremely important to make sure you drain the lettuce thoroughly since oil and water do not mix.
The more water you leave on your lettuce, the less the oils will be absorbed. 
If your lettuce is thoroughly dried and stored, it can last 5-7 days!
How do I make an Italian chopped salad?
The steps to making this delicious salad are pretty simple.
First, clean your lettuce (see above). This recipe calls for about 3 cups of coarsely chopped romaine lettuce.
Second, seed and dice 1 green bell pepper. Other peppers are fine to add, but the flavor in a green bell pepper compliments the other ingredients well.
Next, seed and dice 2 roma tomatoes. I like to quarter the tomatoes and then quarter those pieces to get good-sized chunks.
Now, dice 1 cup of each deli ham slices, hard salami slices, and pepperoni slices.
Finally, dice ½ cup of provolone cheese slices before making your dressing.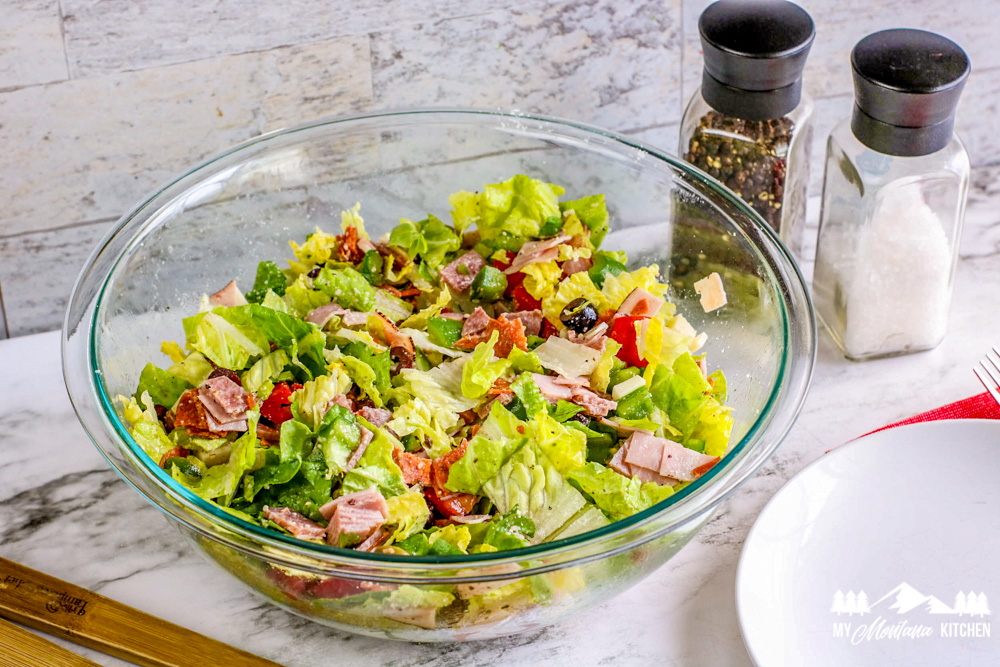 How do I make the dressing?
Italian dressing is a mix of generous flavors, including red wine vinegar, Italian seasoning, black pepper, and Parmesan cheese.
In a small bowl, whisk together
¼ cup olive oil
2 tablespoons red wine vinegar
1 teaspoon Italian seasoning
¼ teaspoon salt
¼ teaspoon black pepper
2 tablespoons grated Parmesan cheese
Once all ingredients are mixed, place in a jar and shake the jar prior to adding to the salad.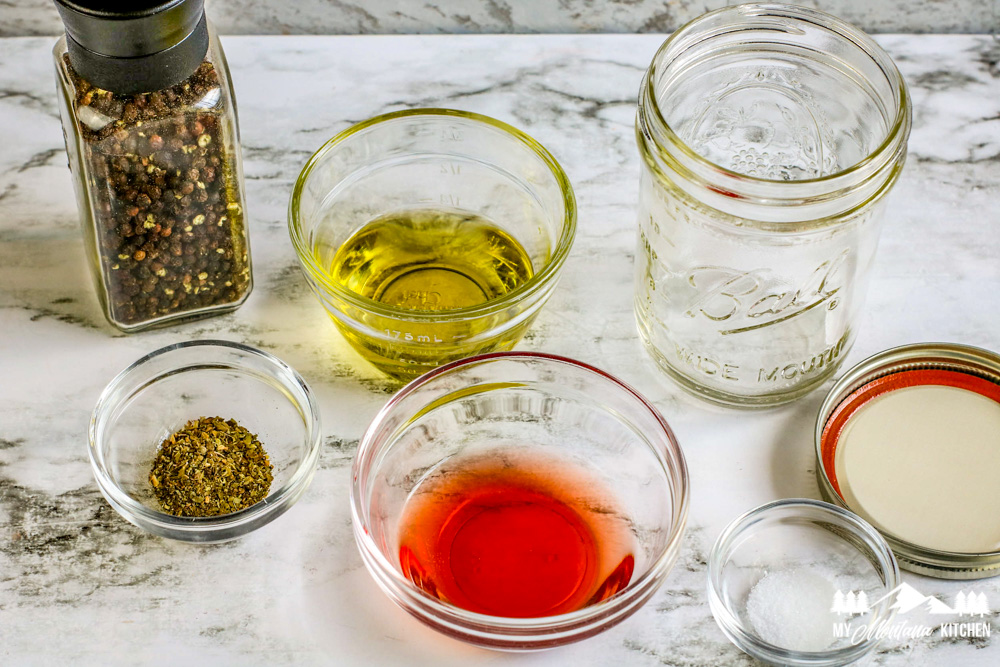 Putting your salad together
Once you have the chopping, dicing, and mixing completed, you are ready to assemble your chopped Italian salad.
If you want to make sure your salad is fully mixed, I recommend adding ⅓-¼ ingredients and dressing at a time.
In a large bowl, toss together the ingredients above, adding ½ cup pitted kalamata olives and ½ cup pitted green olives.
Shake the dressing again before pouring over salad.
Toss to coat.
Enjoy!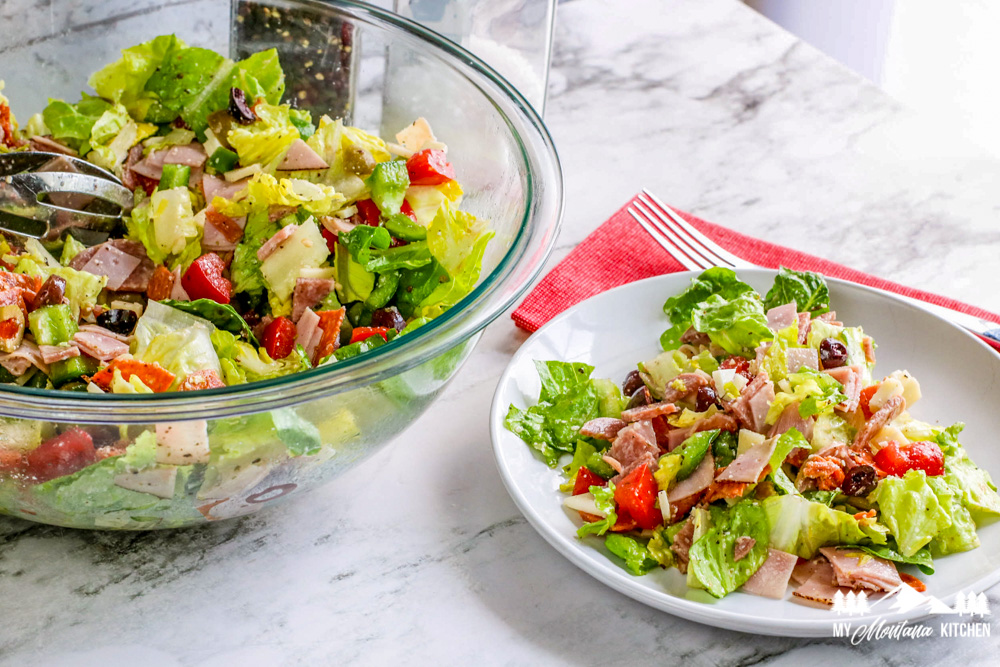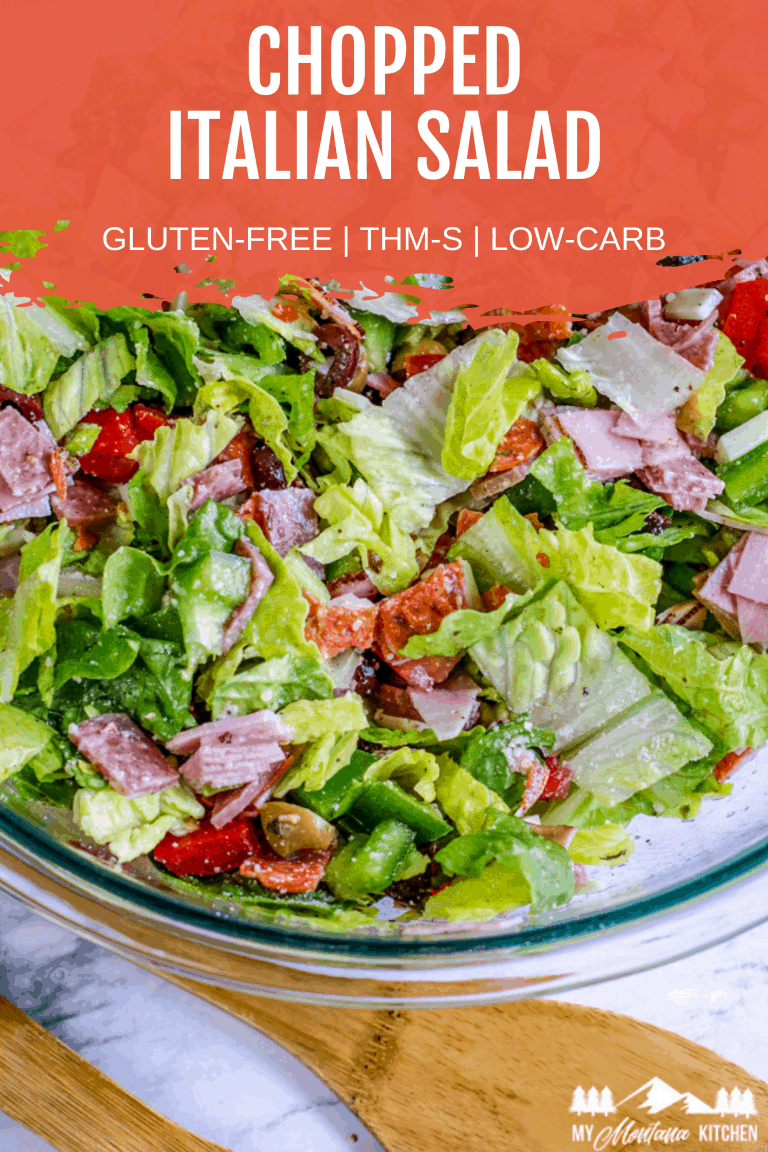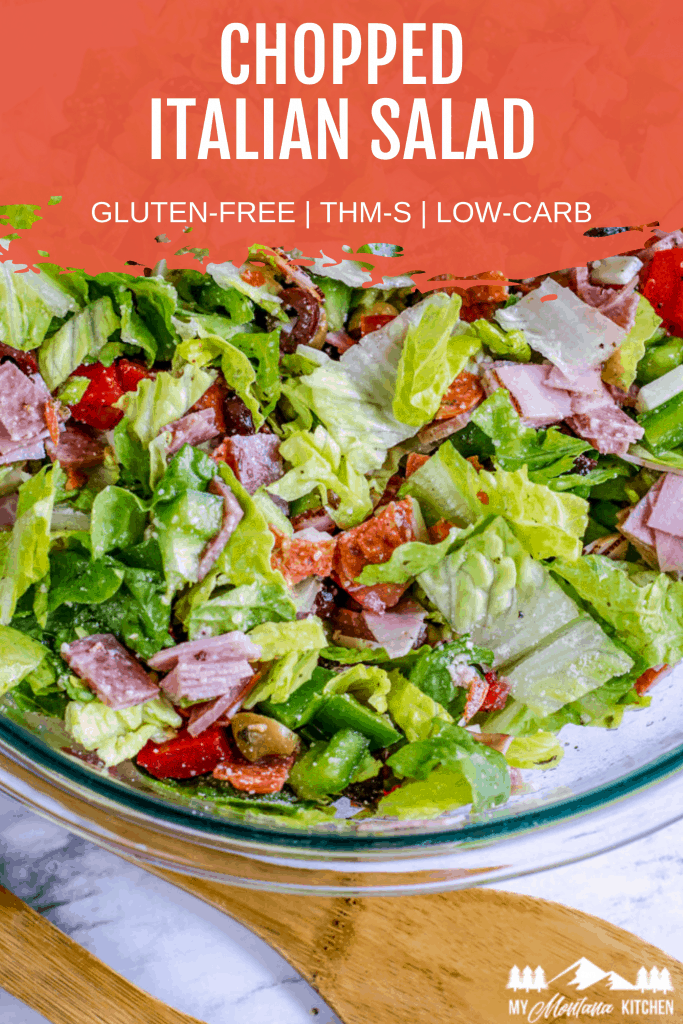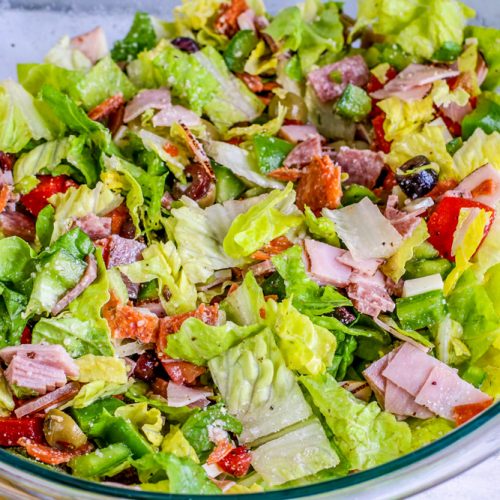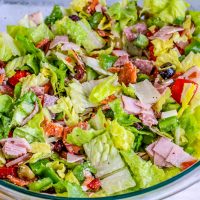 Ingredients
Italian Dressing Ingredients
Salad Ingredients
3

cups

Romaine Lettuce, coarsely chopped

1

Green Bell Pepper, seeded and diced

2

Roma Tomatoes, seeded and diced

1/2

cup

Pitted Kalamata Olives

1/2

cup

Pitted Green Olives

1

cup

Deli Ham Slices, diced

1

cup

Hard Salami Slices, diced

1

cup

 Pepperoni Slices, diced

1/2

cup

Provolone Cheese Slices, diced
Instructions
Whisk together dressing ingredients.

Place in a jar. Seal with lid.

Seed and dice bell pepper, tomatoes, delt ham, salami, pepperoni, and cheese

Toss together the salad ingredients in a large bowl.

Shake the jar with dressing.

Pour dressing over salad.
Nutrition
Serving:
6
g
|
Calories:
559
kcal
|
Carbohydrates:
12
g
|
Protein:
26
g
|
Fat:
43
g
|
Fiber:
6
g