We may earn money from the products/companies mentioned in this post. As an Amazon Associate I earn from qualifying purchases.
Filled with melty cheese and crispy pepperoni, this easy low carb appetizer is perfect for game night! Whether you're looking for a diet-friendly way to get your pizza fix or just need a delicious appetizer for a party, you're going to love this low carb cheesy pepperoni dip.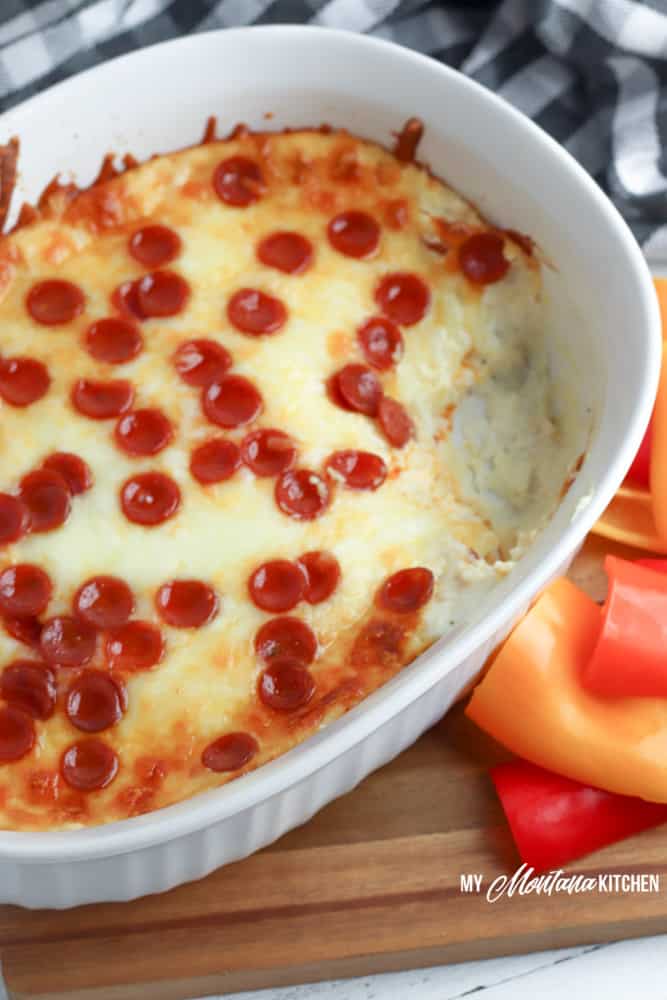 Isn't pizza amazing? The combination of melted cheese and crisp pepperoni is so great!
But traditional pizza is off the table when you're on a low carb diet. Luckily, the two best parts of pizza – the cheese and pepperoni – are both low carb. (And you can still get all the taste of pizza a super simple Pizza in a Bowl recipe!)
And this recipe is also a Trim Healthy Mama S Fuel!
Packed with pepperoni and cheese, this delicious creamy dip has all the flavors of a pepperoni pizza without all the carbs.
That makes this simple dip great for any party. Whether you're hosting a New Year's Eve party or a chuch potluck, this cheesy dish is sure to be a hit.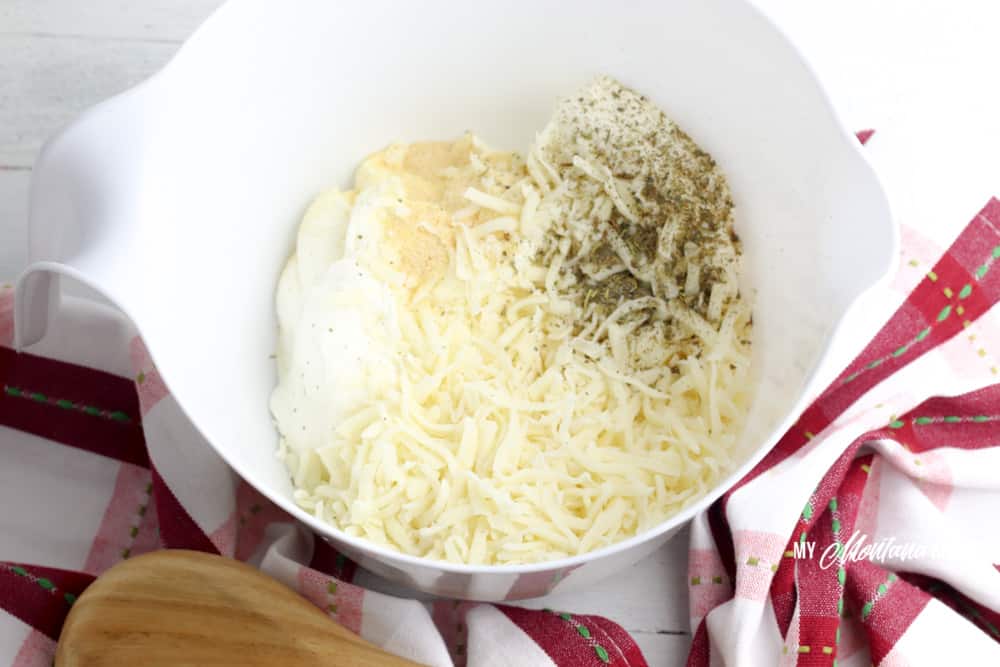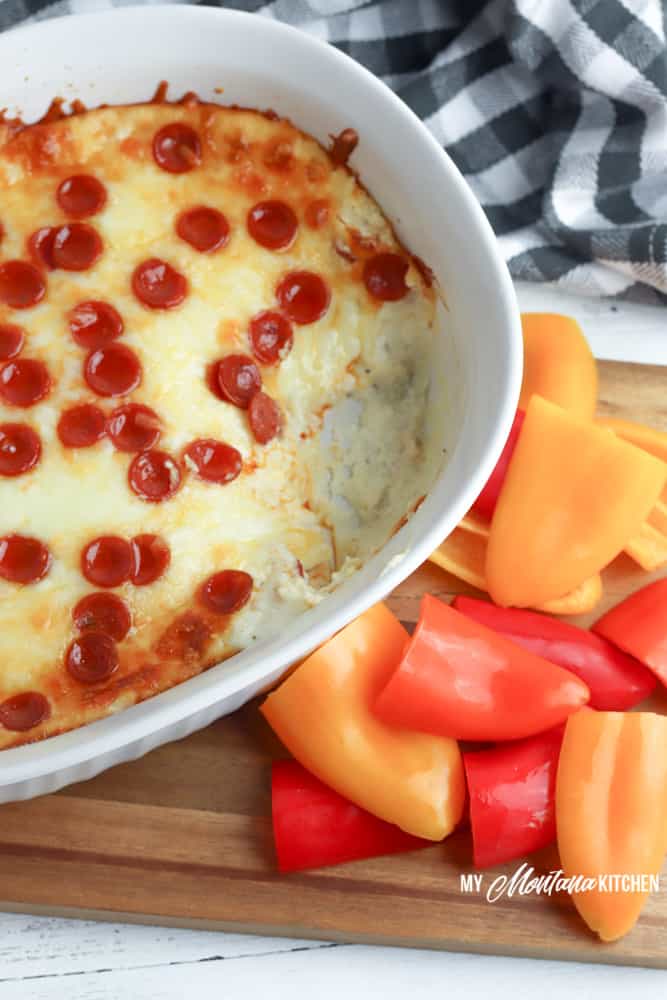 How to Make Cheesy Pepperoni Dip
Making this low carb dip is so simple. To start, you'll need to soften your cream cheese. Mixing all the ingredients of the dip together is impossible when the cream cheese is cold.
I have found the best way to soften cream cheese is to let it sit on the counter for an hour before you prepare the dip. So, take the cream cheese out of the fridge, then take care of a few other things before you start mixing up all the ingredients.
Or just put the cream cheese in a microwave safe container warm it up in the microwave for a few seconds.
When the cream cheese is softened, add it, along with the Italian seasoning, garlic powder, and half the mozzarella cheese to a bowl and stir to combine. Then fold in the pepperoni.
This pepperoni dip uses mini pepperoni. They're the perfect size for scooping. And since there is so many pepperonis in the dip, they spread more evenly throughout the cheese than traditional pepperoni.
If you plan on using regular pepperoni in your pizza dip, I suggest cutting the pepperoni into smaller pieces to make them easier to mix.
After stirring all the ingredients together, spread the cheese mixture into a greased baking dish. Top the cream cheese mixture with the remaining mozzarella cheese, then sprinkle the remaining pepperoni over the top of the cheese.
Bake the pepperoni dip for around 20 minutes. You'll know it's done cooking when the mozzarella cheese on top is melted and the cream cheese mixture is bubbling.
Remove the dip from the oven and allow it to rest for a few minutes before serving.
What Should I Serve with the Pepperoni Dip?
While it may seem natural to serve this dip with bread or crackers, we're keeping this dip low carb! Instead of choosing those carb-loaded options, there are a variety of delicious low carb ways to enjoy your cheesy pepperoni dip.
I like to serve my dip with sliced mini bell peppers. To prep your bell peppers for dipping, cut off the stem and remove the seeds. Then, slice the mini bell pepper in half.
The little peppers are perfect for scooping out the dip. And they taste great with the melted cheese and pepperoni, too!
In addition to mini bell peppers, you could also serve your pepperoni dip with:
Celery stalks
Cherry tomatoes
Sliced cucumbers
Cauliflower
Broccoli
Pepperoni Dip Variations
This cheesy dip is amazing just the way it is, but there are some simple ways to change up the recipe to make it your own. Here are a few simple variations you can make to this pepperoni dip:
Add more meat. Don't stop with just pepperoni! Any meat topping that tastes good on pizza would taste amazing in this dip! Italian sausage, Canadian bacon, pork sausage, ham, and bacon would all be wonderful additions to this low carb dip.
Toss in some veggies. Why stop at meat? Turn this pepperoni dip into a supreme pizza dip by adding a bunch of delicious veggies to the mix. Black olives, bell peppers, onions, and mushrooms are all great veggies to throw into the cheese mixture.
Use more cheese. There can never be enough cheese in a recipe! Add some parmesan or asiago cheese to the mix to make this pepperoni dip extra cheesy.
Add marinara sauce. To really make this pepperoni dip taste like pizza, add some marinara sauce between the cream cheese and mozzarella cheese layers. Just make sure to choose a sauce with no added sugar to ensure your dip remains low carb!
How to Store Pepperoni Dip
I doubt you'll have any leftovers of this delicious pizza dip, but if you do, you're going to want to know how to store them!
Since this dip is packed with cheese, leftovers need to be stored in the refrigerator.
You can simply cover your baking dish with plastic wrap and place it in the fridge or transfer the dip to a covered container. When you're ready to reheat the dip, place the baking dish back in the oven or heat it up in the microwave before serving.
Other Low Carb Appetizers
Buffalo Bacon Jalapeno Poppers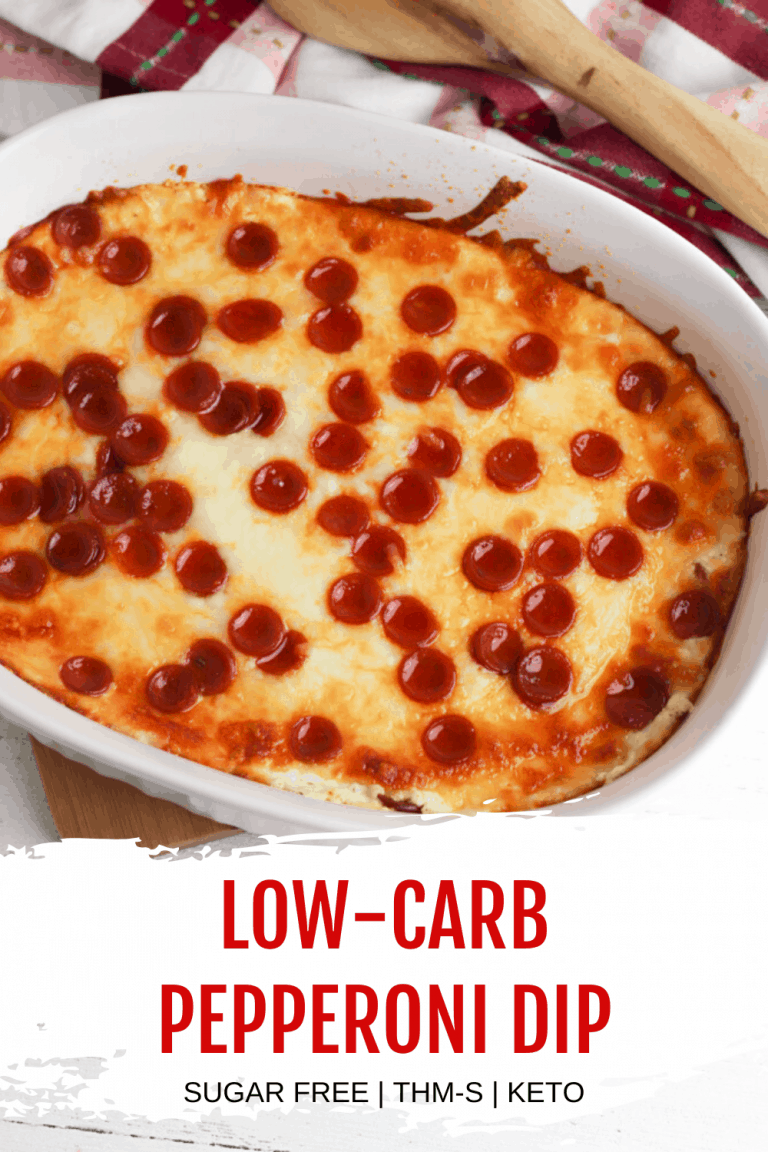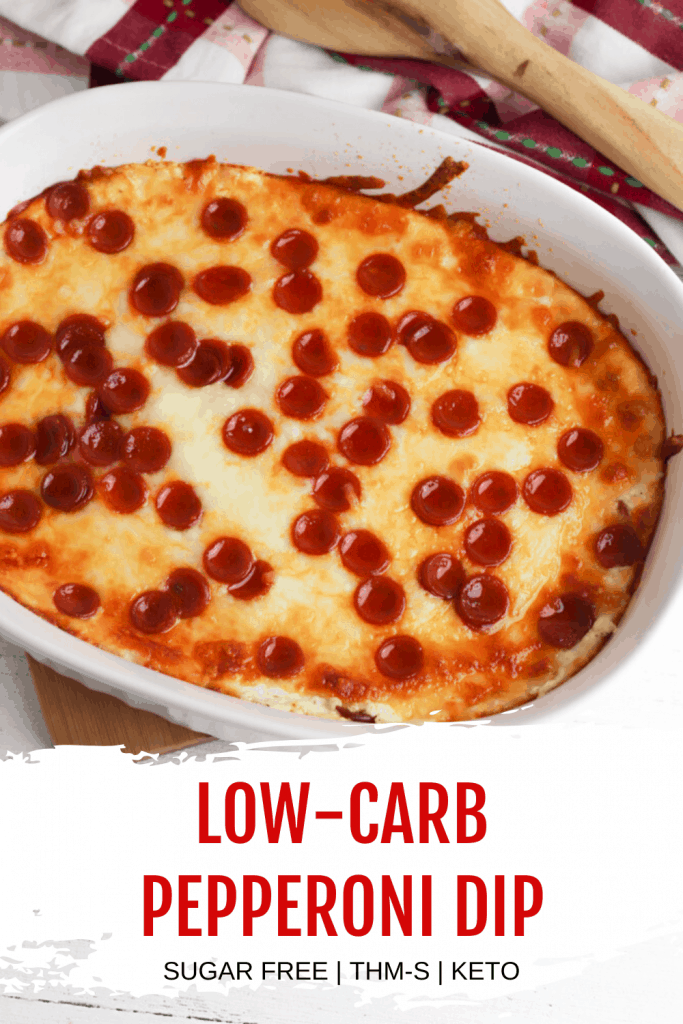 Yield: 8
Cheesy Pepperoni Dip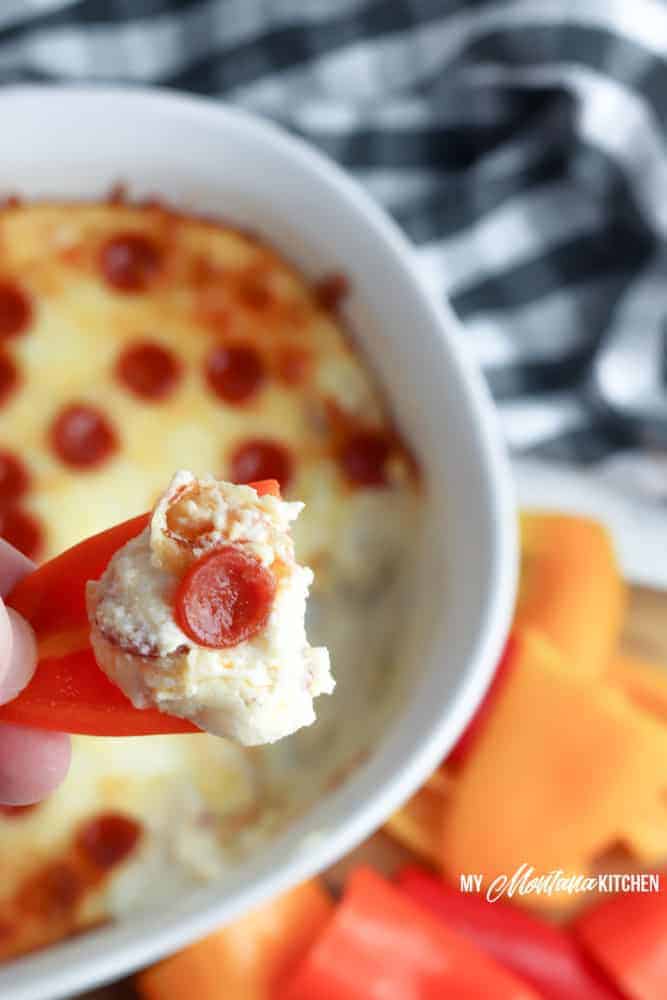 Whether you're looking for a diet-friendly way to get your pizza fix of just need a delicious appetizer for the big game, you're going to love this low carb cheesy pepperoni dip.
Ingredients
1 8-ounce Package Cream Cheese, Softened
1 Teaspoon Italian Seasoning
1 Teaspoon Garlic Powder
2 Cups Mozzarella Cheese, Separated
1 Package Mini Pepperoni
Instructions
Preheat the oven to 350 degrees and prepare a baking dish by spraying with nonstick cooking
spray.
Mix together the cream cheese, Italian seasoning, garlic powder, and one cup of the mozzarella
cheese.
Fold in half the mini pepperoni.
Spread the cream cheese mixture into the baking dish. Top with remaining mozzarella cheese and mini pepperoni.
Bake in the preheated oven for 20 minutes, until cheese begins to bubble and brown.
Nutrition Information
Yield
8
Serving Size
⅛ of recipe
Amount Per Serving
Calories

186
Total Fat

16g
Trans Fat

0g
Carbohydrates

3g
Net Carbohydrates

3g
Fiber

0g
Protein

8g