We may earn money from the products/companies mentioned in this post. As an Amazon Associate I earn from qualifying purchases.
These simple BLT bites are certain to be a treat for your tastebuds. Not only are they crazy easy, but the use of cucumber instead of bread makes them keto-friendly as well!
While these are great for a simple appetizer, you can also make them quite the meal if you're trying to cut down on those carbs.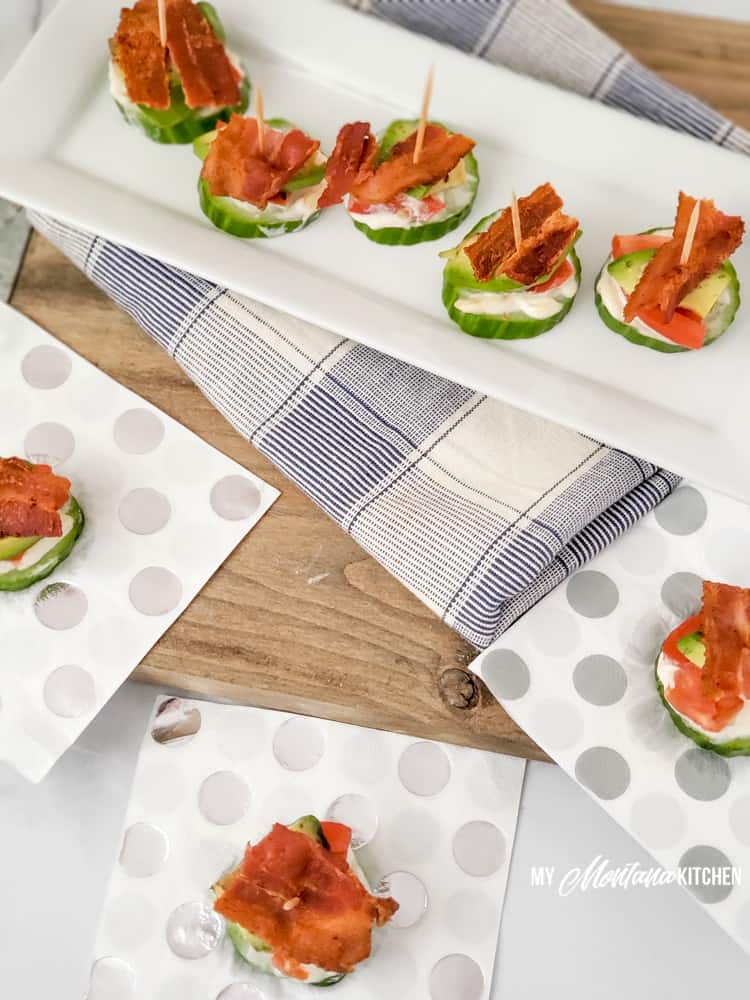 Super Simple Keto BLT Bites
I'm always on the lookout for something that is simple and tasty.
And while I love spending my time in the kitchen creating new recipes and cooking, sometimes I just want to be able to whip up something easily without having to put in a ton of effort.
While I loved how these turned out, I may have to sneak in a couple of different ingredients next time as well.
I think that this BLT appetizer recipe would taste great with a sprinkle of cilantro on top as well.
Call me crazy, but I like a ton of flavor in my food items that I'm going to be eating!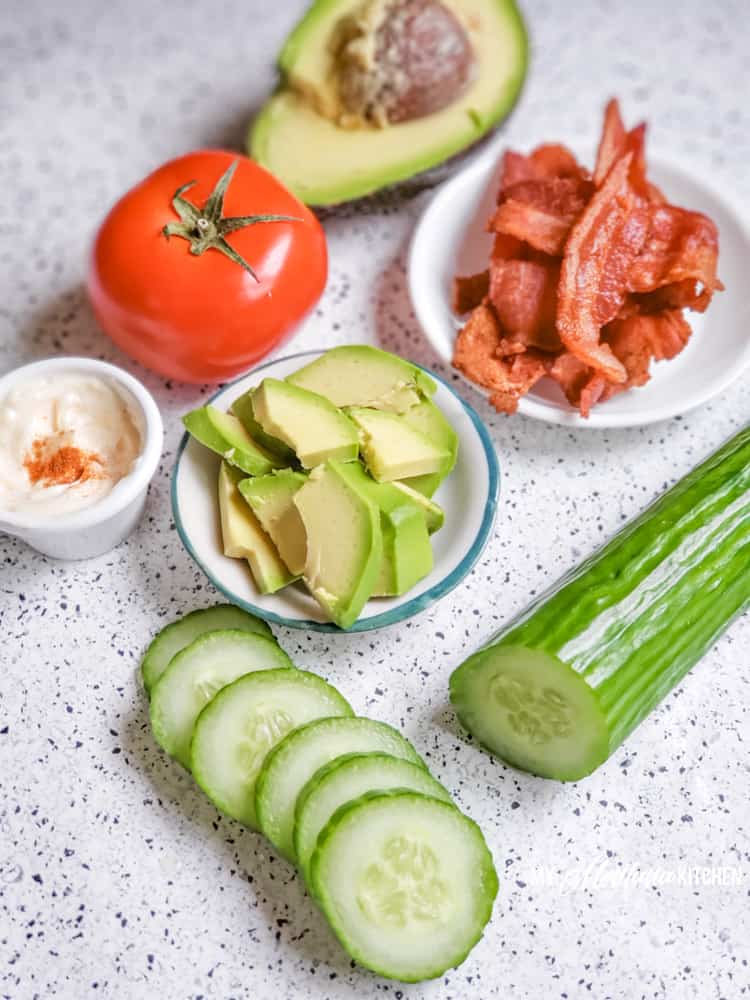 How would you turn these BLT bites into a BLT sandwich?
That's super simple! You can easily add another slice of cucumber to create that "bun" feel for your BLT keto bites.
Now, instead of having an open-faced appetizer, you have a little mini BLT sandwich instead!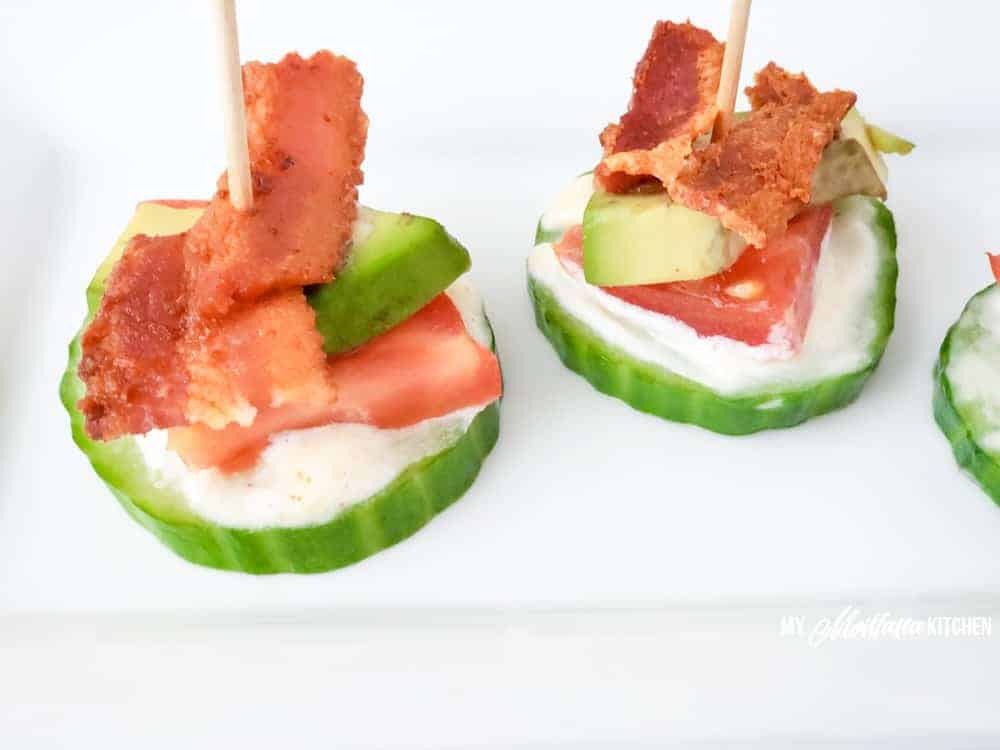 How long can this BLT appetizer be stored in the fridge?
I would only say for about a day. The reason for this is that the sliced avocado is going to brown rather quickly.
If you can have everything ready to go and just not cut the avocado until you're ready to eat it, that may make them last a few more days.
(And honestly, there is nothing wrong with eating the "brown" avocado…some people just don't like the way it looks.)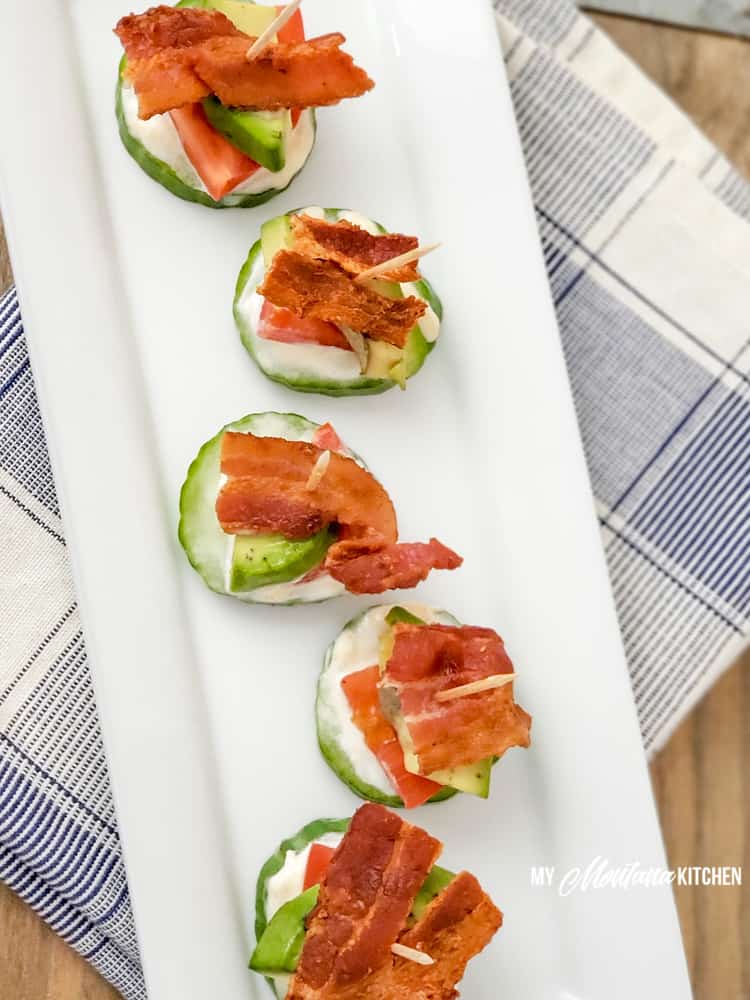 Can I use hot sauce in this recipe instead of cayenne pepper?
It's your taste buds, use whatever you want! The dip for these cucumber bites is already a bit spicy but if you want to take it to a whole other level, do so!
I always recommend having your own bowl to yourself if you're going to go "off recipe" so that way you aren't giving everyone else's taste buds a shock as well.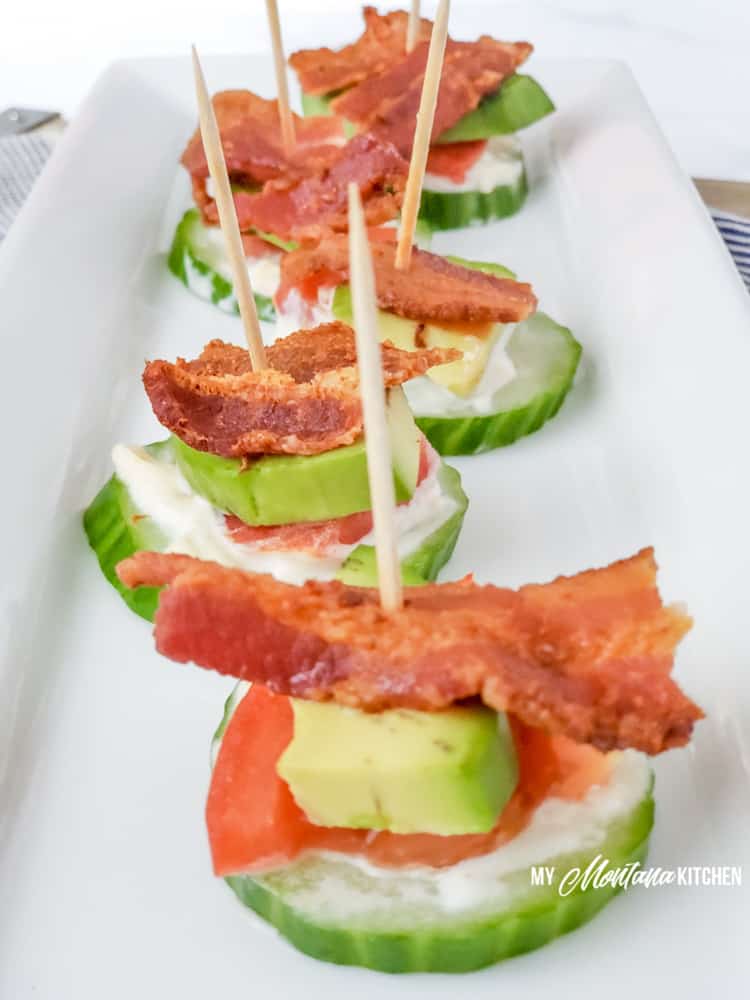 Do I need to peel the cucumbers before slicing them up?
Again, this is entirely up to you. If you aren't going to peel them, make certain that you wash them thoroughly before slicing.
Another option is to slice just a few thin pieces of the skin off so it leaves some spaces without skin and some with. This still gives that crunch factor to them without being overpowering.
And you could even use this cute tool to make "wavy cucumber slices." I have one of these and love it!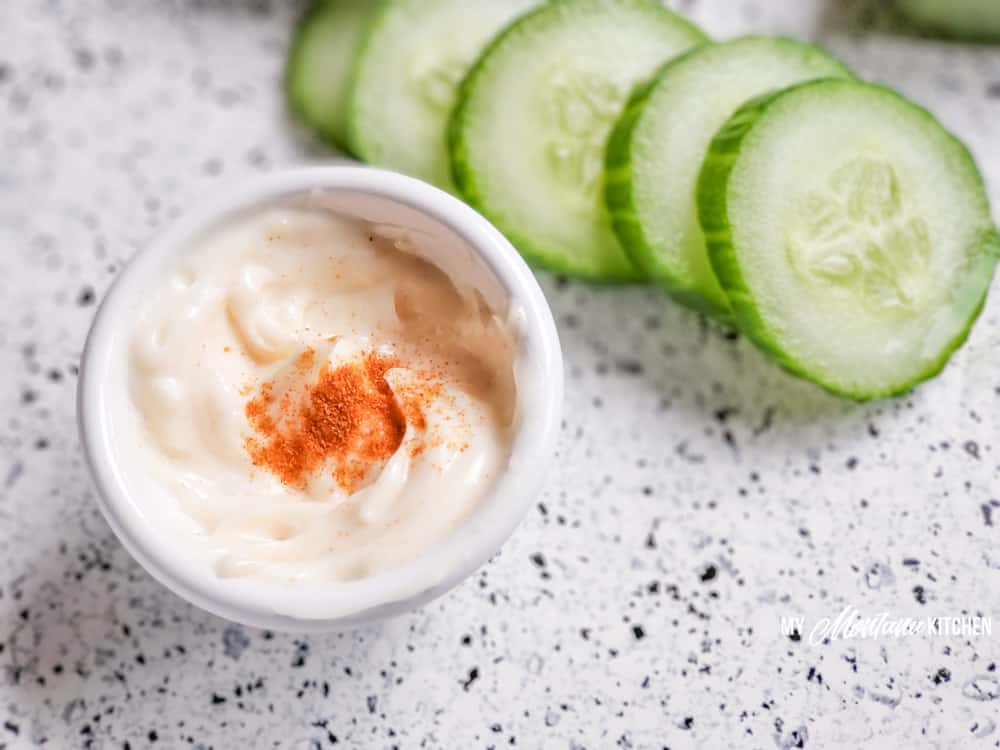 More Keto recipes to try
Food Alternatives to consider for this keto recipe
Even though I'm a huge fan of this recipe, it's understandable that people want other options. I get it, I really do. When it comes to swapping out ingredients for what I like and enjoy, I actually do this all the time, too.
Just because I can relate, I thought it would be nice to have some food alternatives for some of the ingredients listed in this recipe.
While the original BLT recipe calls for bacon, you can always opt out for the greasy stuff and instead use turkey bacon. Not only is it a slice of leaner meat, but it's less fat and calories as well.
Just keep in mind that turkey bacon typically doesn't get as crisp as regular baking so you're probably going to lose a little bit of that crunch that the original recipe has.
Also, while this is a BLT, you can switch out for, or add in, other fun vegetables, too. Who says you can't make it a BLOT by adding in an onion slice or two?
Or what about making it a BCLT which is a bacon, cilantro, lettuce, and tomato keto appetizer? See how you can mix up or add in ingredients as long as it fits into your healthy eating lifestyle?
(And no, it has not escaped my attention that there is no lettuce in this BLT recipe. But let's still call it that because it has all the flavors, pretty please?)
Ready for this BLT bites appetizer recipe?
Who wouldn't be after reading all the awesome above information?! Trust me when I say that this is probably one of the most simple recipes that you'll ever make.
And if you can get the majority of these vegetables from your garden, the flavor is going to be truly through the roof!
Nothing beats the combination of garden fresh vegetables with a simple and delicious low carb recipe.
And if you're looking for another great low carb appetizer, try these Keto Pigs in A Blanket!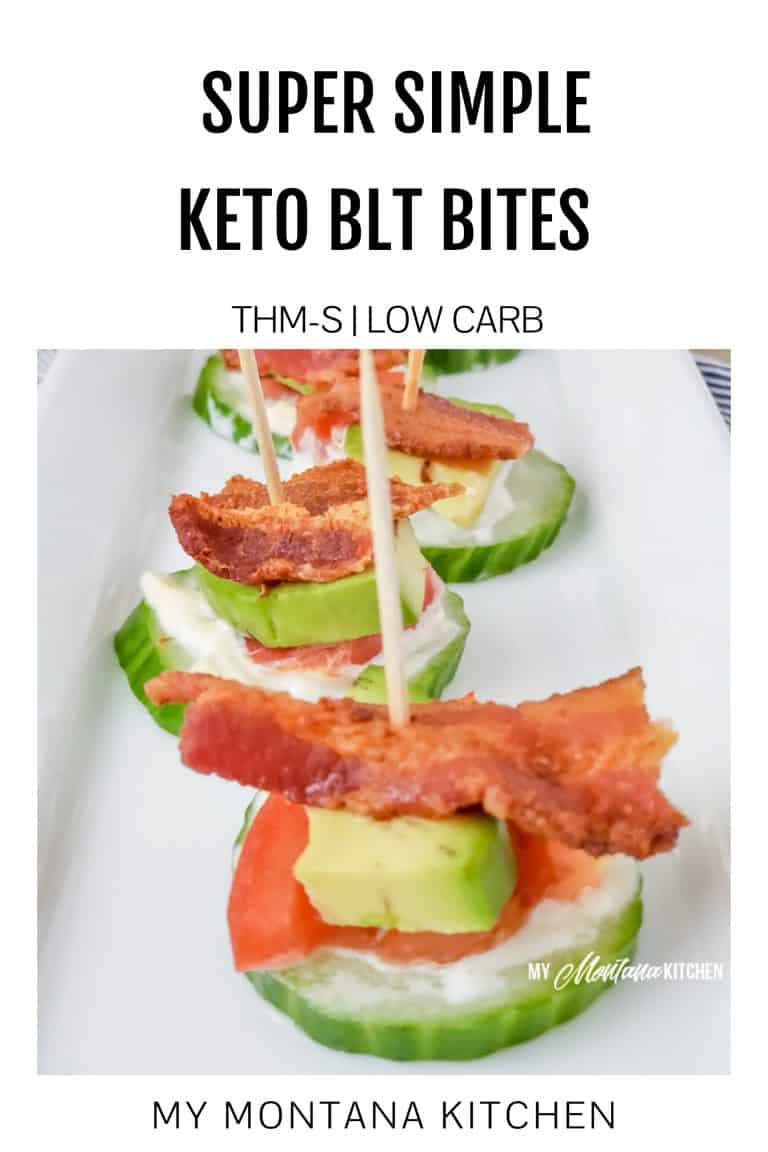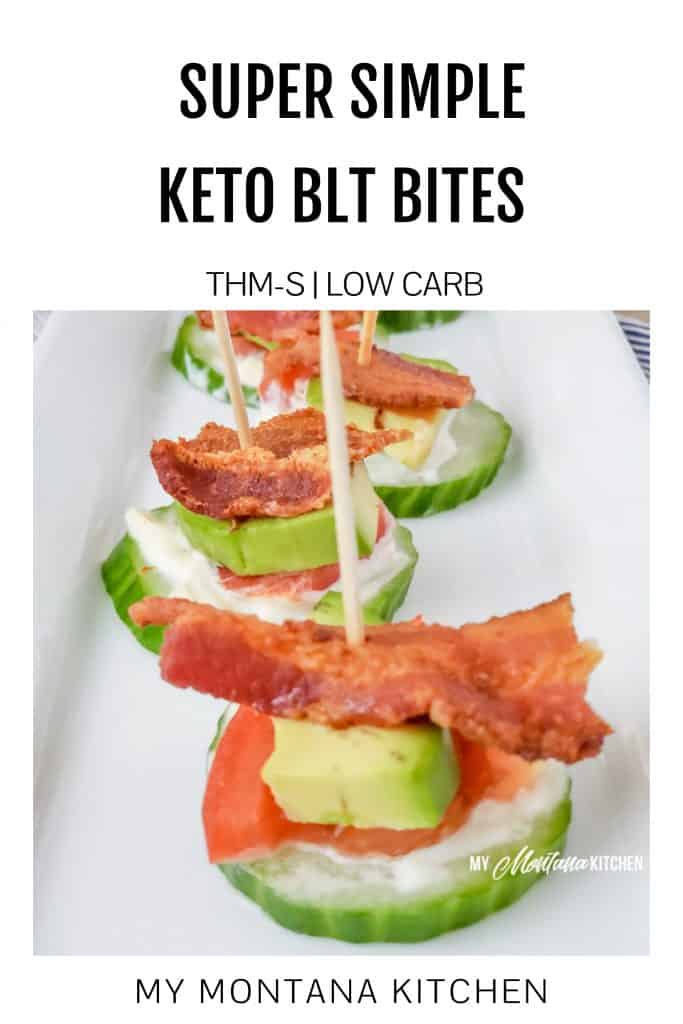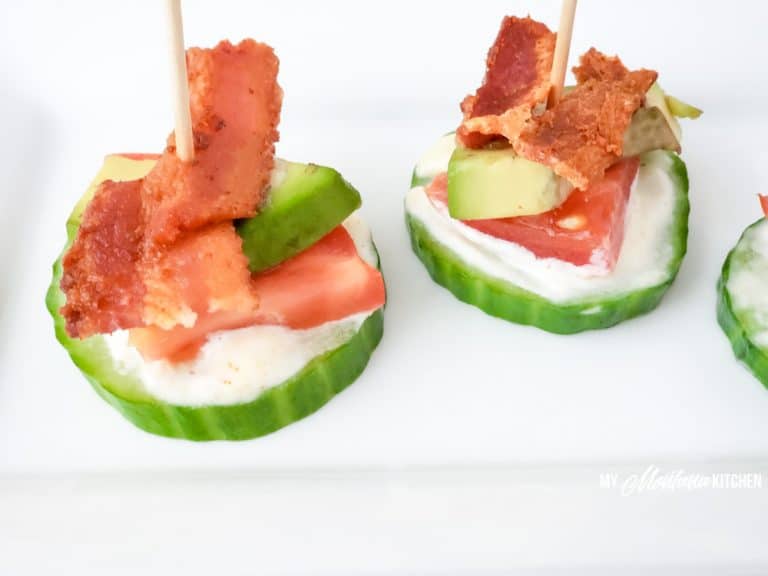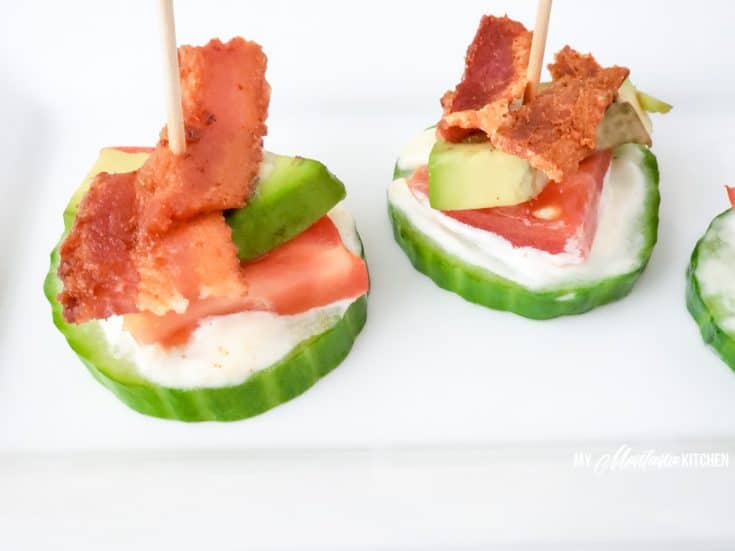 You're going to love these Keto BLT bites.
Ingredients
1 English Cucumber
6 Strips Cooked Bacon, cut into 2" pieces
1 Avocado, Sliced Thinly
1 Tomato, Sliced Thinly (optional)
Instructions
Combine mayonnaise and cayenne and spread on cucumber slices.
Top with thin slices of tomato, avocado and bacon.
Insert toothpick.
Serve immediately, or store in sealed container in refrigerator until serving.
Recommended Products
As an Amazon Associate and member of other affiliate programs, I earn from qualifying purchases.
Nutrition Information
Yield
20
Serving Size
1 "Bite"
Amount Per Serving
Calories

44
Total Fat

4g
Trans Fat

0g
Cholesterol

4mg
Carbohydrates

1g
Fiber

1g
Sugar

0g
Protein

1g