We may earn money from the products/companies mentioned in this post. As an Amazon Associate I earn from qualifying purchases.
Low carb jalapeño popper dip is a delicious low carb dip recipe to make for parties, holiday gatherings and more. A creamy hot dip with jalapeños, cheese, and more. Grab some crisp veggies and dive into this hot dip recipe. Cook in the oven or slow cooker, the choice is yours.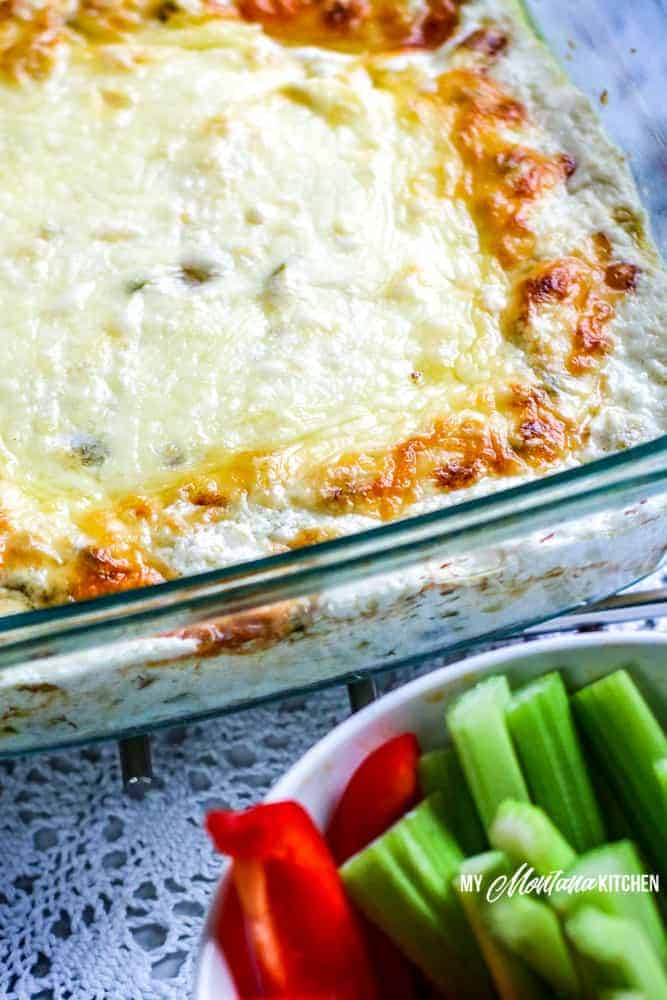 I love a good slow cooker dip, and this jalapeño popper dip fits the bill. Slow cooker recipes give you a more hands-off approach. I share directions below for how to make this recipe in the oven or slow cooker (both ways are super easy).
Low Carb Jalapeño Popper Dip
Jalapeño dip is cheesy, creamy, and a low carb option that you don't have to stress over. Make this dip for a potluck event, party, or any occasion and watch it disappear fast.
Is Jalapeño Popper Dip Spicy
You can actually adjust the heat factor of this dip. I use canned jalapeños, and you have the option to buy mild or hot.
So generally this recipe is on the mild side of the spicy factor. But if you like heat, add in a fresh chopped jalapeño with the seeds to amp up the spice, or reach for hot canned jalapeños.
The same thing goes for the green chilis. You can use mild or hot, this will also affect the heat factor of the jalapeño popper cheese dip.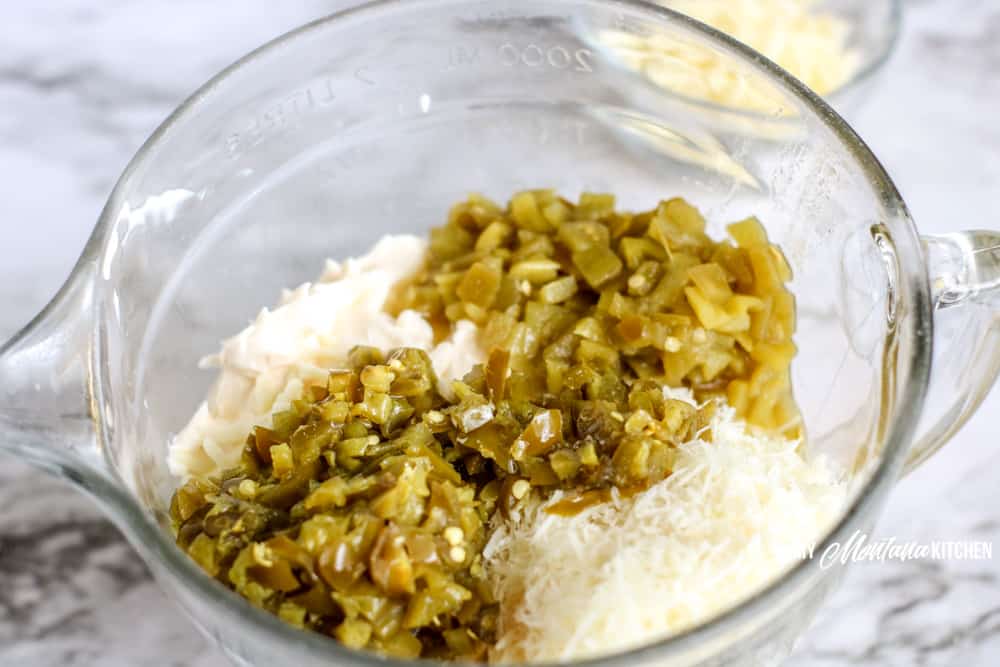 What to Dip In Slow Cooker Jalapeño Popper Dip
Fresh Vegetables | Reach for carrots, celery, and other veggies that will hold up as you dip them.
Double Cheese Crackers | These low carb crackers are made with cheese. You could spread the dip on these crackers and enjoy the crunch next to the creamy dip.
Low Carb Chips | If you have a low carb chip you enjoy, serve this up as well. Or if you have a guest who is not low carb, have regular chips for dipping.
Bread | Another option, if you are having non-low carb guests, is bread. French bread, bagels, baguettes, etc. You can serve that along with your low-carb options, to have something for everyone!
You can use pretty much anything to dip. Just make sure to have a variety so guests can grab what they enjoy.


How To Make Jalapeño Popper Dip
To make this dip in the oven, you first want to preheat your oven. Then grab a large bowl and mix in all your ingredients except for ½ cup of the Monterey Jack cheese.
Then pour into a small casserole dish, top with cheese and bake until bubbly. Garnish with jalapeños and green onions if you desire.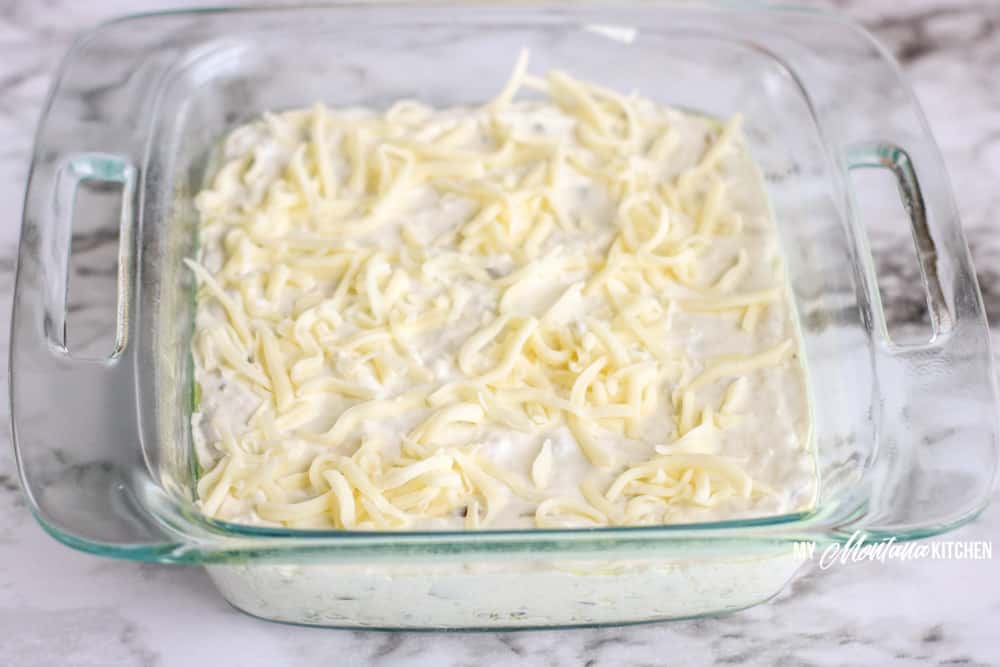 I share the directions in the recipe card on how to make this in the slow cooker. It is super simple to do, and it only takes a few hours to cook. You can prep it earlier in the day, and then it's hands off!
Here are other appetizer and dip recipes to try
Chocolate Chip Cookie Dough Dip | If you are on the hunt for a low carb, THM-S dessert dip, here ya go. This one is a family favorite that we enjoy having for dessert.
Keto BLT Bites | A bite-size appetizer to serve up that is low in carbs but highly satisfying. Crunchy, creamy, and salty from the bacon.
Low Carb Meatballs | Stick a toothpick in each meatball and serve up this bite-size juicy and tender meatball. A great protein option for your family and friends.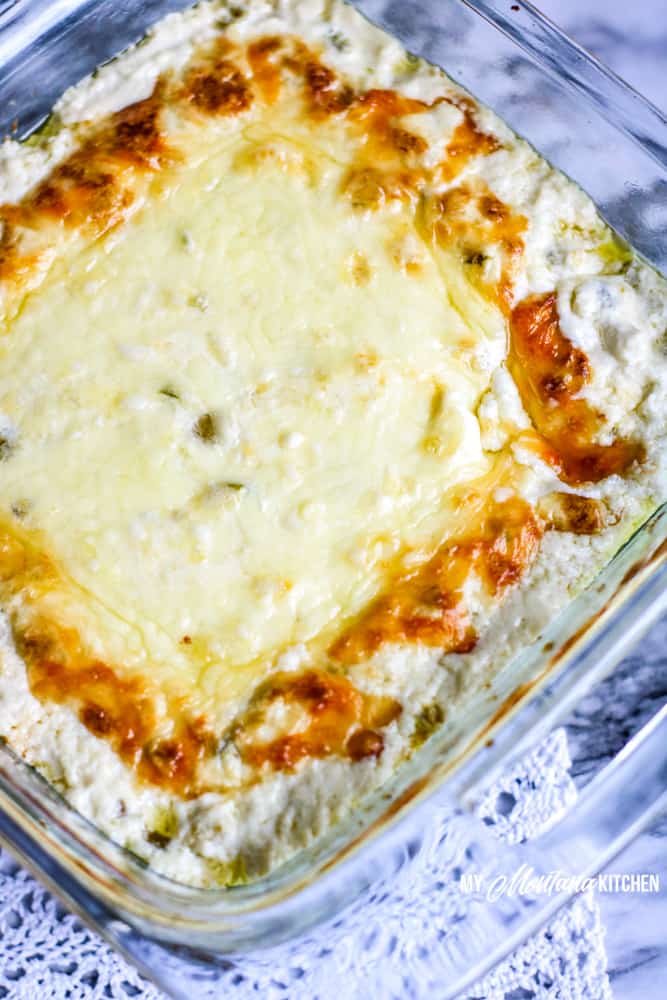 How To Store Leftover Low Carb Jalapeño Popper Dip
You will want to allow your dip to cool down a bit and then cover in the baking dish you used, or transfer to an airtight container.
This dip will store for 3-4 days in the refrigerator when stored properly. I always recommend you use your best judgment in terms of if your dip is still good or has gone bad.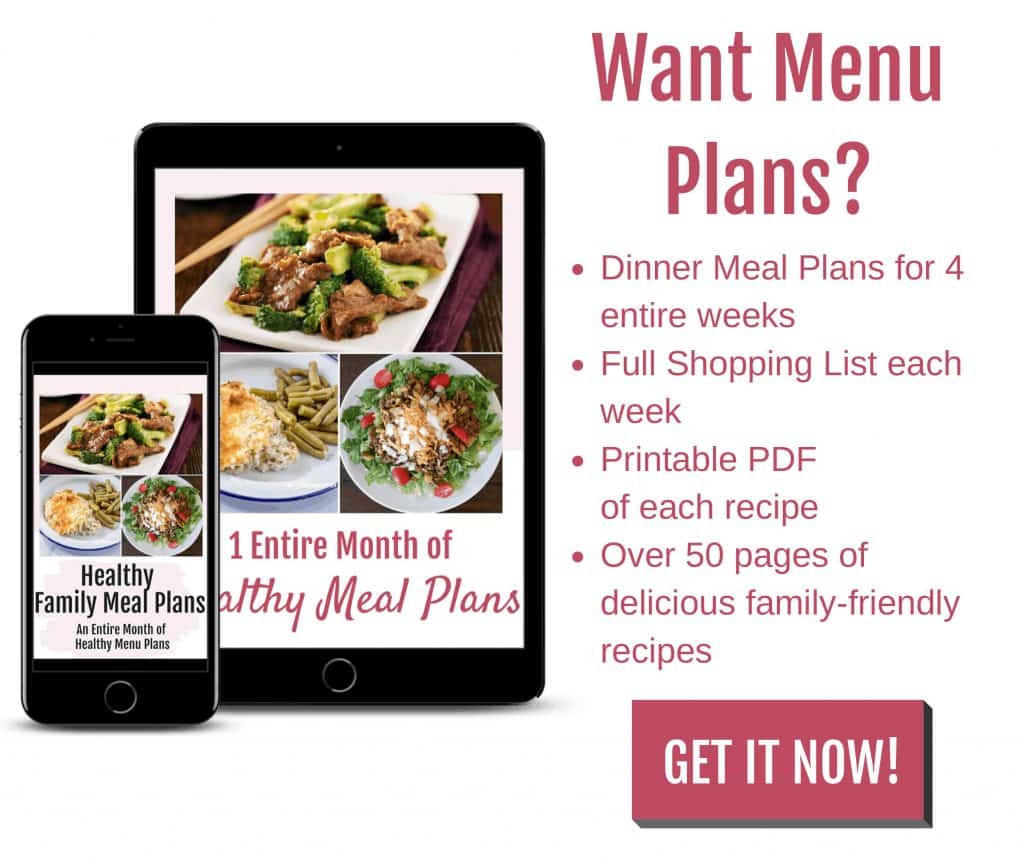 Best Way To Reheat This Cheesy Jalapeño Dip
You can warm it up fast in the microwave or opt to place in a baking dish and warm up in a 350-degree oven. Just make sure to cover with aluminum foil to prevent the dip from burning.
Then warm up until the dip is fully heated through. Pair with your favorite dippers and enjoy, like it was made fresh on night one.
No matter what the occasion is, I always love having a simple dip recipe on hand.
This is so easy to make, basic ingredients and minimal prep work. Whip this up and let me know what you think!
More Low Carb Jalapeño Popper Recipes
Jalapeño Popper Chicken Casserole with Bacon - This low carb keto chicken casserole is spicy, savory, and downright mouthwatering.
Bacon Jalapeño Popper Pizza - A perfectly crispy low-carb crust with jalapeño infused cream cheese, smoky bacon, mozzarella and cheddar cheeses, and fresh jalapeño slices.
Buffalo Bacon Jalapeño Poppers - Spicy jalapeños stuffed with buffalo cream cheese and wrapped in crispy bacon.
Easy Bacon Jalapeño Cheese Ball - This creamy Bacon Jalapeño Cheese Ball is filled with smoky flavor, crispy bacon, and spicy jalapeños. The perfect appetizer for your next party!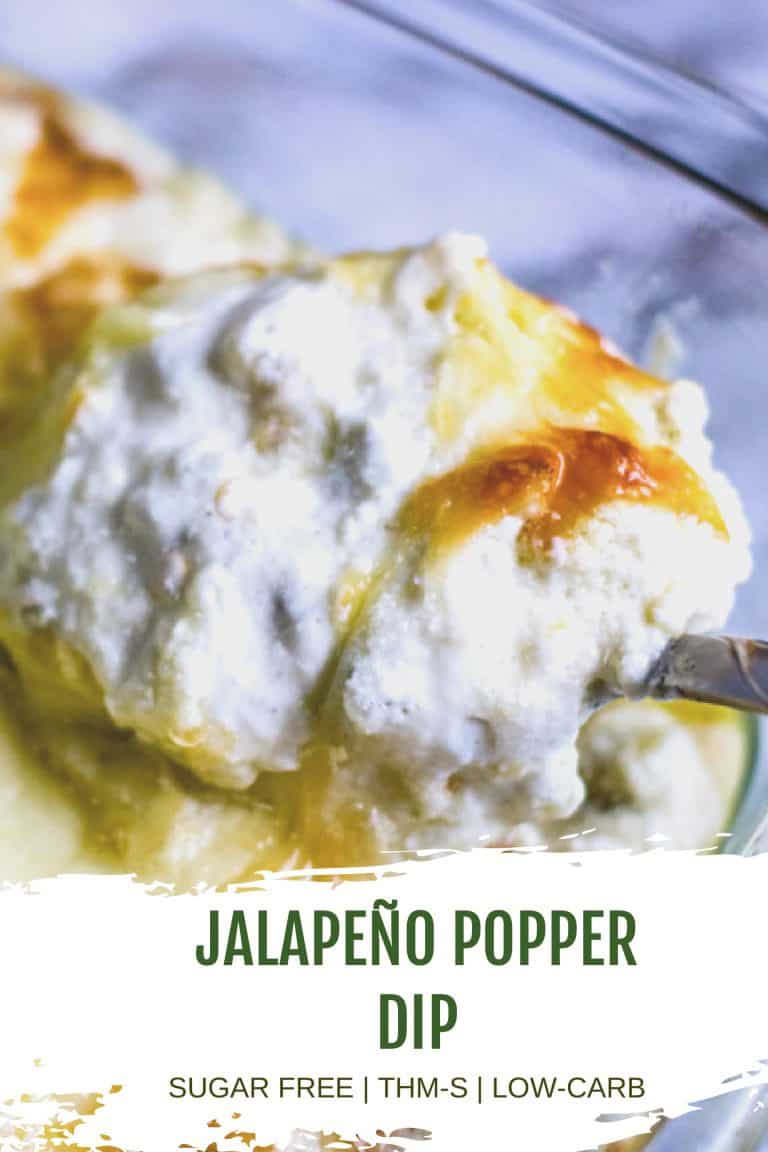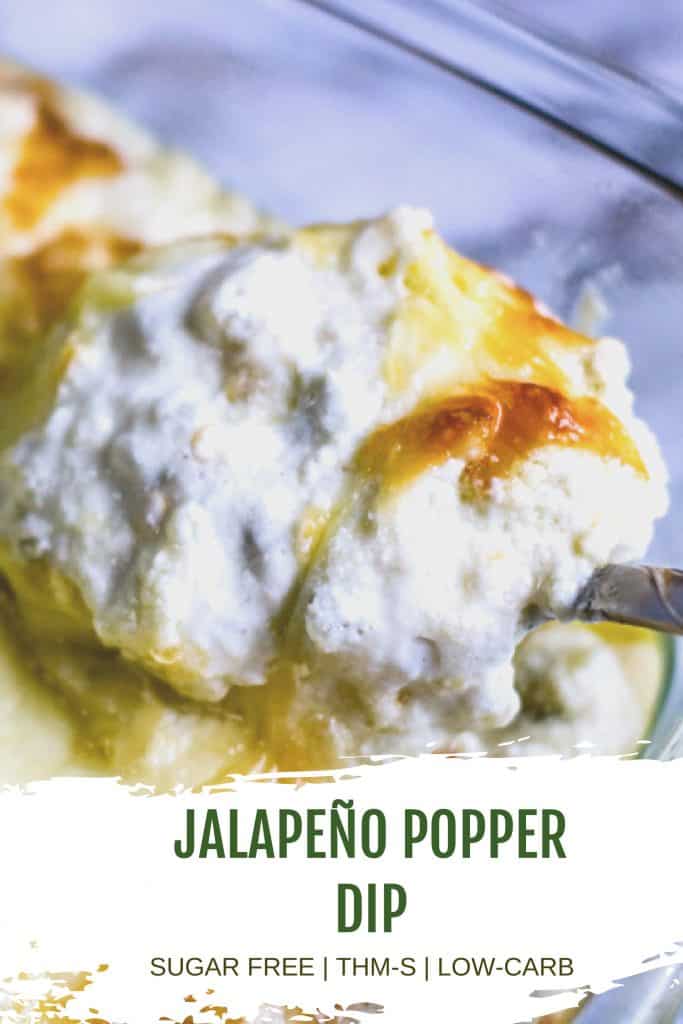 Yield: 12 Servings
Jalapeño Popper Dip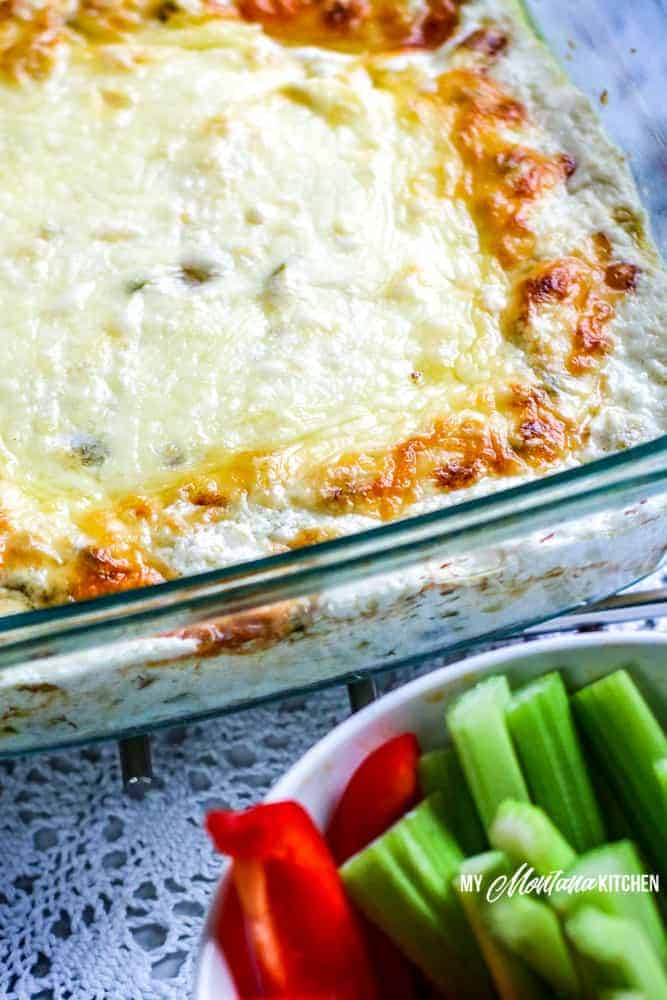 This low carb, keto Jalapeno Popper Dip is easy, creamy, cheesy, and can be baked in the oven, or made in your Crockpot or slow cooker. This is one of the tastiest healthy appetizers, made with green chiles and jalapenos for a double flavor explosion. This Jalapeno Popper Dip recipe is also gluten free, and can be enjoyed either hot or cold!
Ingredients
1 (8 ounce) Block Cream Cheese, softened
1 Cup Shredded Monterey Jack cheese, divided
1 Cup Shredded Parmesan Cheese
Vegetable Dippers, to serve
Instructions
Preheat oven to 350 degrees.
In a large bowl, mix together all of the ingredients except ½ cup Monterey Jack cheese.
Spread mixture into an 8x8 casserole dish.
Bake for 20 to 25 minutes, or until bubbly, and beginning to brown on top.
Garnish with sliced green onion or jalapeño if desired.
Serve with your favorite low carb crackers or sliced vegetables for dipping,
Notes
Recommended Products
As an Amazon Associate and member of other affiliate programs, I earn from qualifying purchases.
Nutrition Information
Yield
12
Serving Size
1/12 of Recipe
Amount Per Serving
Calories

260
Total Fat

24g
Carbohydrates

4g
Net Carbohydrates

4g
Fiber

0g
Protein

6g