We may earn money from the products/companies mentioned in this post. As an Amazon Associate I earn from qualifying purchases.
These low-carb slow cooker carnitas are a delicious and easy way to enjoy the traditional Mexican pulled pork dish while also keeping your carb intake low.
This pork carnitas recipe is also gluten-free and dairy-free and a Trim Healthy Mama S Recipe.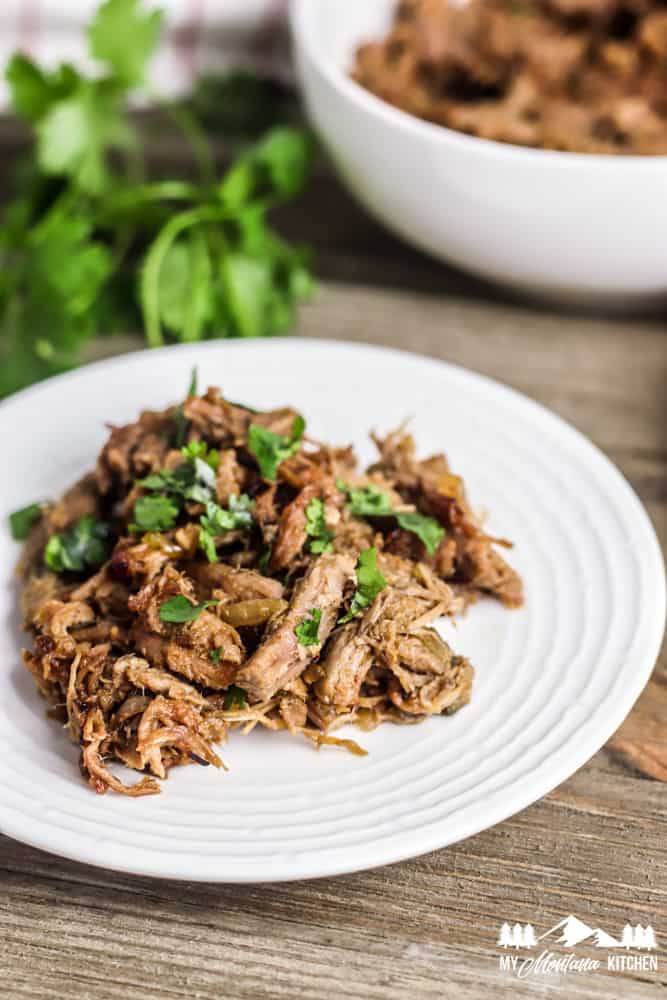 Using pork shoulder, a cut of meat known for its rich flavor and tenderness, along with a few simple seasonings and a touch of lime juice, you can have a flavorful and satisfying keto pork carnitas dish that can be enjoyed in a variety of ways.
Whether you're looking for keto recipes, a low-carb option for your next taco night, or you're simply looking for a new and delicious way to enjoy carnitas at home, this recipe is sure to be a hit.
With the ability to customize it according to your taste, you can make it your own.
What meat is typically used in carnitas?
Traditionally, carnitas are made with pork shoulder, also known as pork butt or Boston butt.
This cut of meat is well-marbled and has a good balance of fat and meat, which makes it perfect for slow cooking and shredding.
This cut of meat is also relatively inexpensive, which makes it a popular choice for this dish.
When properly prepared, traditional carnitas will be cooked long and slow until tender and shredded, it's usually cooked with lard, which adds flavor and richness, but it can also be cooked with olive oil.
This slow-cooking process allows the pork to become extremely tender and infused with the flavors of the spices and seasonings used.
The result is delicious and richly flavored shredded meat that is perfect for tacos, burritos, and other dishes.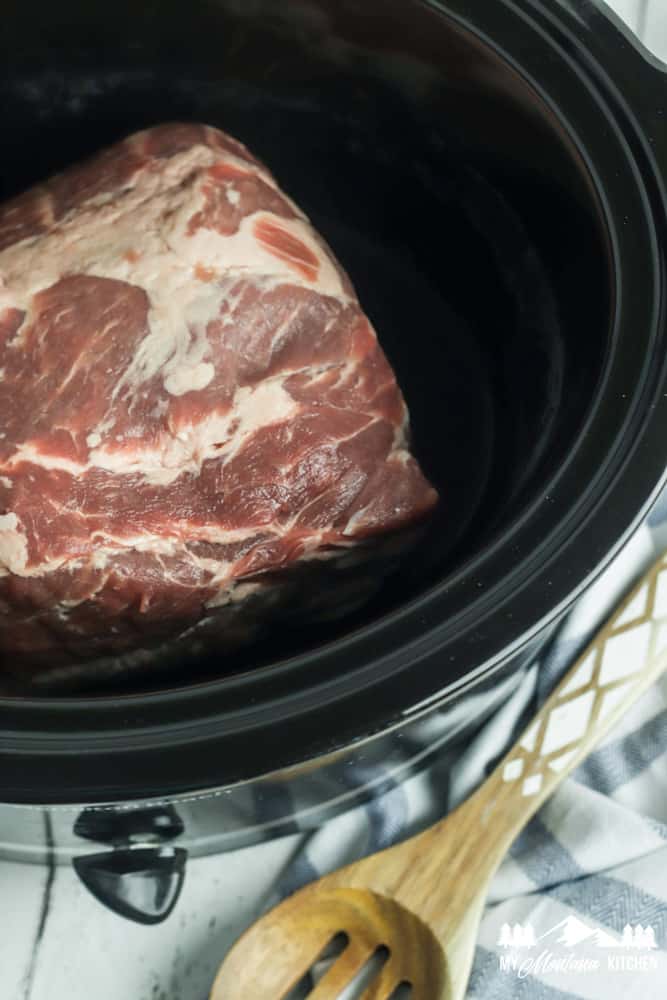 Can I use something besides pork shoulder to make low-carb slow cooker carnitas?
If you're looking to replace the pork shoulder in this recipe, you have a few options:
Beef: Beef chuck or beef brisket can be used as a replacement for pork shoulder. The cooking time may vary, so check for tenderness after 6-8 hours.
Chicken: boneless, skinless chicken thighs or breasts can also be used in this recipe. Cooking time will be shorter, so check for doneness after 4-6 hours.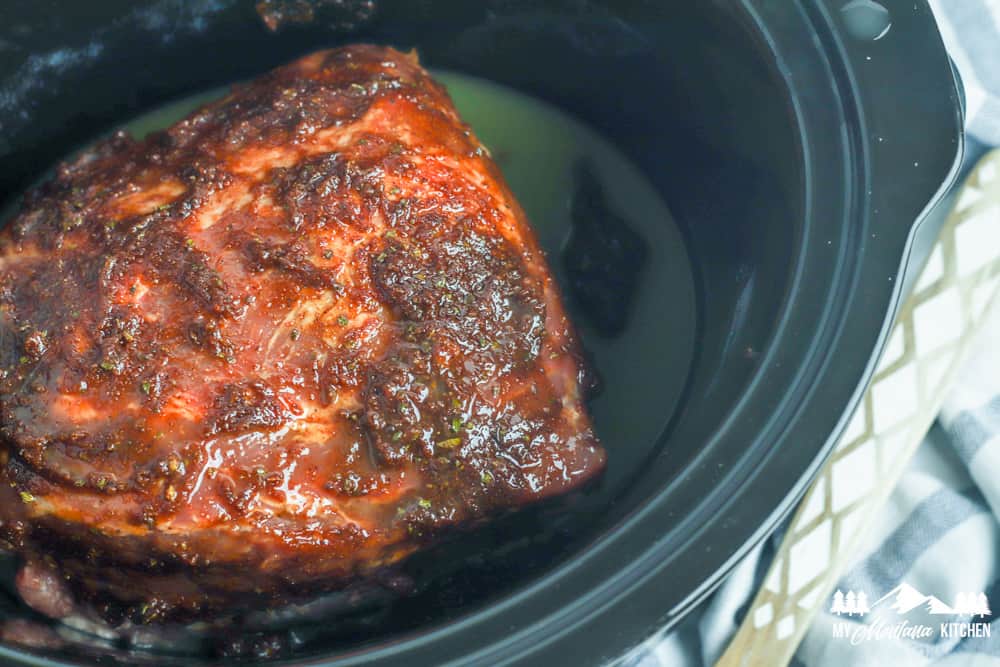 How can I make low-carb slow cooker carnitas crispy?
There are a few ways to make carnitas crispy:
Broil: After the low-carb slow cooker carnitas have been cooked and shredded, transfer them to a baking sheet and place them under the broiler for a few minutes to crisp up the edges.
Fry: Heat a large skillet over medium-high heat and add a little oil. Once hot, add the shredded carnitas and fry, stirring occasionally, until crispy and golden brown.
Air fry: Add the shredded carnitas to an air fryer basket, set the temperature to 375°F, and the timer for 10-15 minutes. Toss the carnitas once or twice during the cooking process to ensure even browning.
This method could dry out faster than the other methods, so be sure to keep an eye on it. You may want to add a little of the juices to the meat after air-frying.
Oven: Preheat your oven to 350°F, spread the shredded carnitas on a baking sheet, and bake for 15-20 minutes, stirring once halfway through, until they are crispy and golden brown.
Whichever method you choose to use, be sure to keep an eye on the carnitas so they don't burn, and stir or flip them occasionally to ensure even browning and optimal crisping.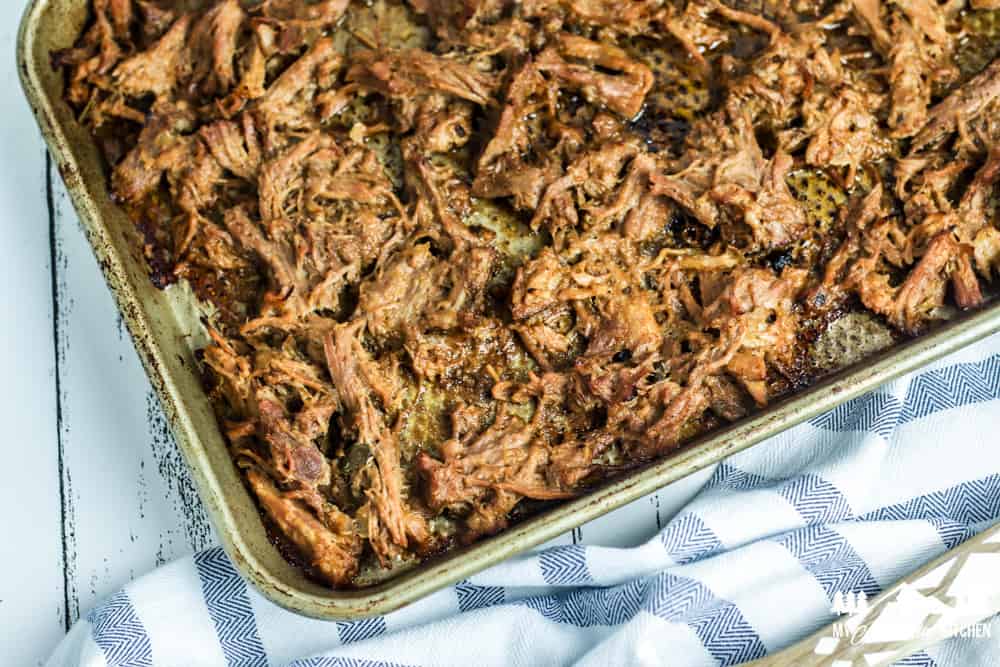 Whole 30 Carnitas in the slow cooker
These delicious keto carnitas are also Whole 30 compliant!
If you're following the Whole30 plan, here are some serving suggestions for your slow-cooker carnitas:
Tacos: Serve the carnitas in lettuce leaves and top with diced onion, cilantro, salsa, and avocado.
Salad: Top a bed of greens with carnitas, diced tomatoes, cucumber, red onion, and a drizzle of lemon or lime juice.
Whole30 Carnitas Bowls: Build a delicious dinner with carnitas, roasted vegetables, a compliant sauce (This Avocado Crema would be delicious!) or salsa, and a bed of cauliflower rice.
Stuffed Bell Peppers: Fill roasted red or yellow bell peppers with the carnitas, diced onion, and diced tomato.
Carnitas Recipe Flavor Additions
Here are a few alternate flavor additions you could try for your slow cooker carnitas:
Chipotle peppers in adobo sauce: Add some of these canned peppers in adobo sauce to the crockpot for a smoky and spicy flavor.
Tomatillo salsa: Add 1 cup of tomatillo salsa for a tangy and slightly spicy flavor.
Dried chilies: Add some dried chilies like ancho or guajillo for a complex and smoky flavor.
Cinnamon: This addition can help to balance out the rich and savory flavors of the pork, and it can also provide depth and complexity to the dish. (But start small, you don't want to add too much.)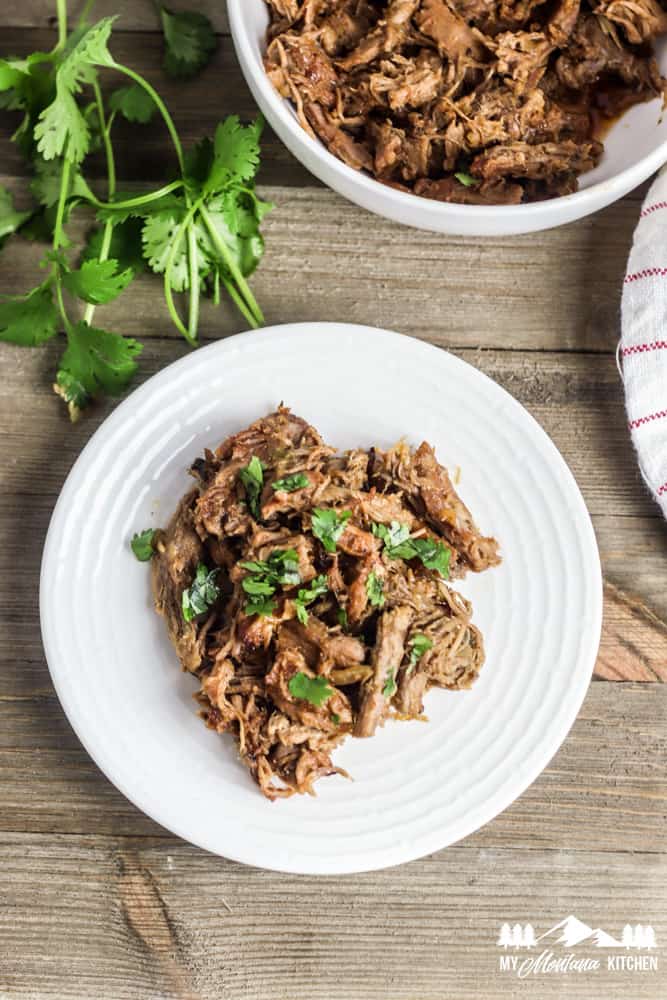 What is the best way to serve low-carb slow cooker carnitas?
Tacos: Serve the slow cooker carnitas in a low-carb tortilla with some shredded lettuce, diced tomatoes, and a drizzle of sour cream for a delicious carnitas taco.
Burrito Bowl: Make a low-carb burrito bowl by serving the carnitas over a bed of cauliflower rice, topped with shredded cheese, avocado, and salsa.
Salad: Use the carnitas as a topping for a salad, with mixed greens, sliced bell peppers, and a lime vinaigrette dressing (or just a squeeze of fresh lime).
Quesadilla: Make a keto-friendly quesadilla by filling a low-carb tortilla with carnitas and shredded cheese and grilling it until the cheese is melted.
Pizza: Serve the carnitas as a topping for a low-carb pizza crust with some diced tomatoes, purple onions, and jalapeños.
Breakfast: Mix the carnitas with eggs to make a low-carb breakfast burrito, topped with some diced avocado and salsa. Or skip the burrito and just enjoy an egg scramble!
Plus, this recipe is great for meal prep. Cook your meat, and then use one of the options above to serve it later in the week!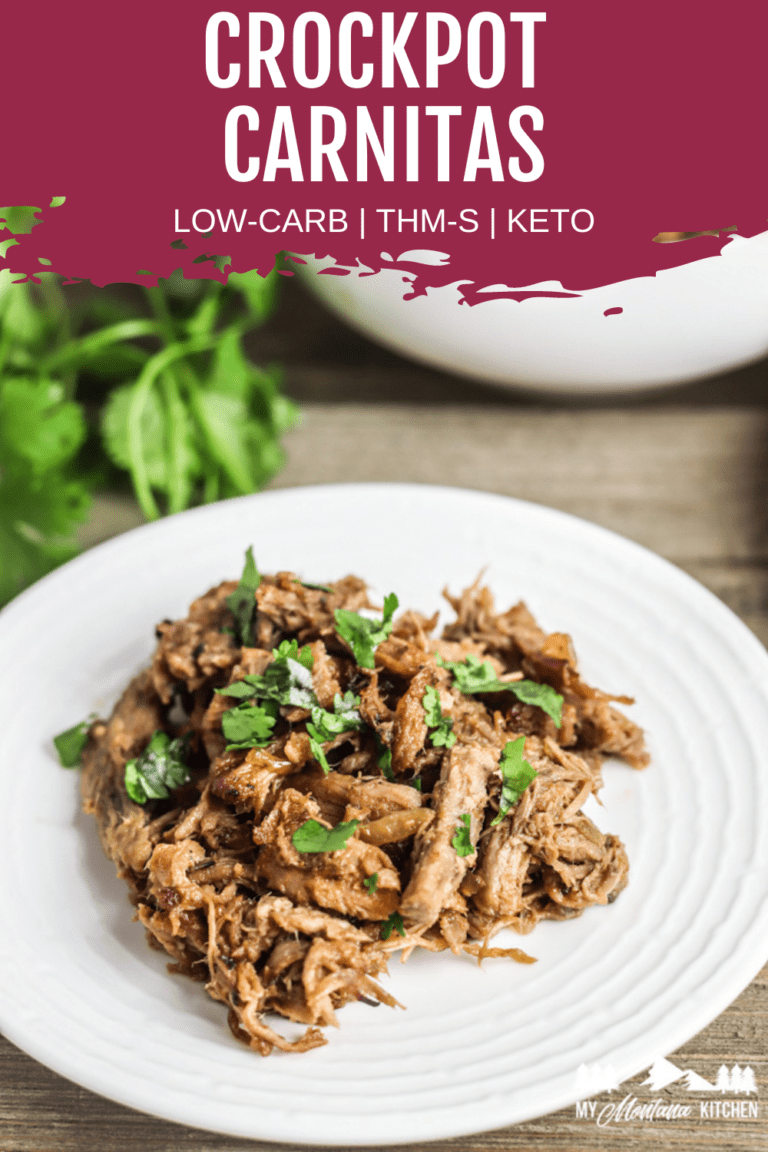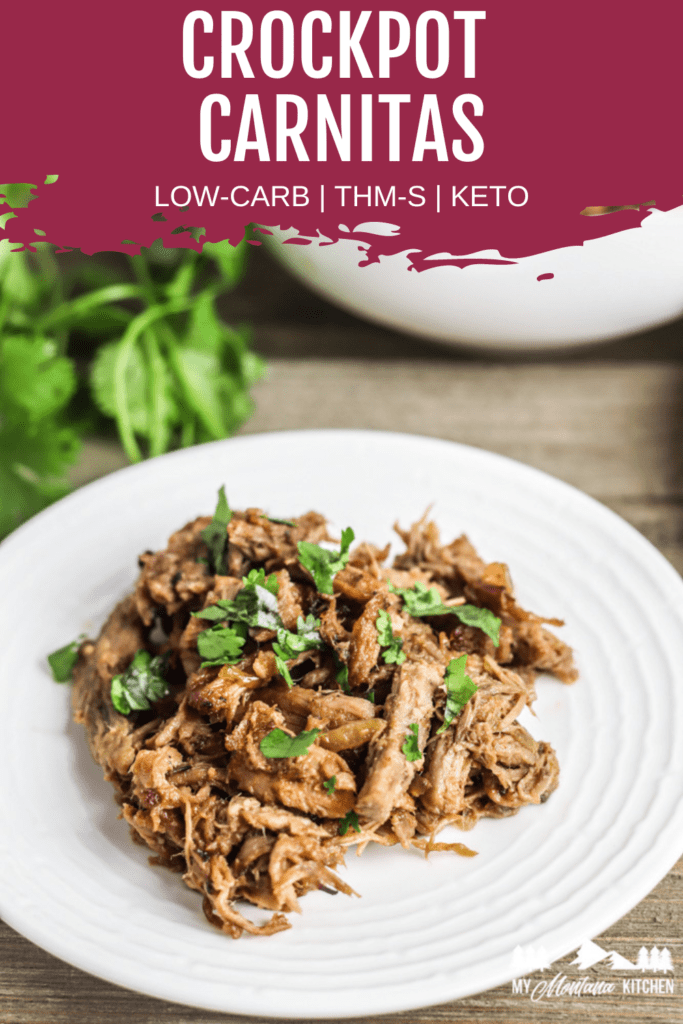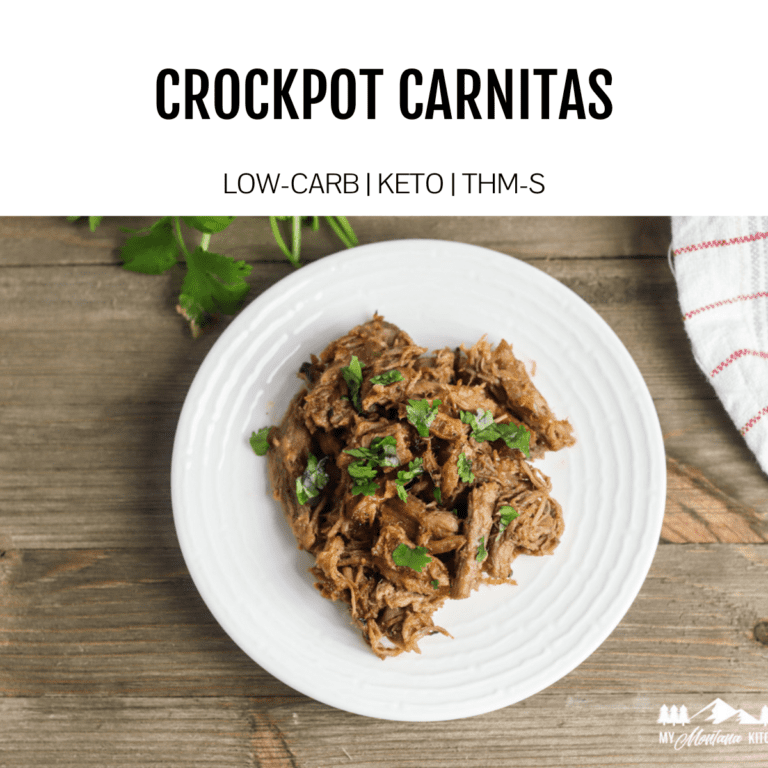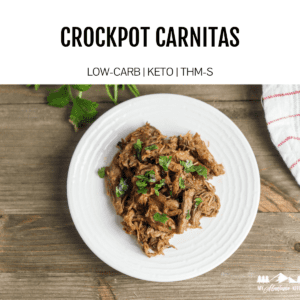 Low-Carb Slow Cooker Carnitas
Whether you're looking for keto recipes, a low-carb option for your next taco night, or you're simply looking for a new and delicious way to enjoy carnitas at home, this recipe is sure to be a hit.
Print
Pin
Rate
Instructions
In a small bowl, combine olive oil, tomato paste, brown sugar substitute, cumin, oregano, salt, chili powder, garlic powder, onion powder, paprika, pepper, and chipotle powder. Stir to mix.

Place the pork shoulder in the bowl of the slow cooker. Rub the spice mixture all over the outside of the pork shoulder.

Add the lime juice to the slow cooker.

Top the pork shoulder with chopped onion and jalapenos.

Cook on low for 8 to 10 hours or high for 5 to 6 hours.

When pork is cooked through, remove from slow cooker and shred with a fork.

Preheat the oven to 350 degrees. Place the shredded pork on a baking sheet and top with ½ cup of juices remaining in slow cooker.

Bake for 15 minutes to crisp the edges of the meat.

Serve in low-carb tortillas, over cauliflower rice, or enjoy one of the many serving ideas listed in the blog post above.
Nutrition
Serving:
1
/12 of recipe
|
Calories:
404
kcal
|
Carbohydrates:
4
g
|
Protein:
27
g
|
Fat:
31
g
|
Fiber:
1
g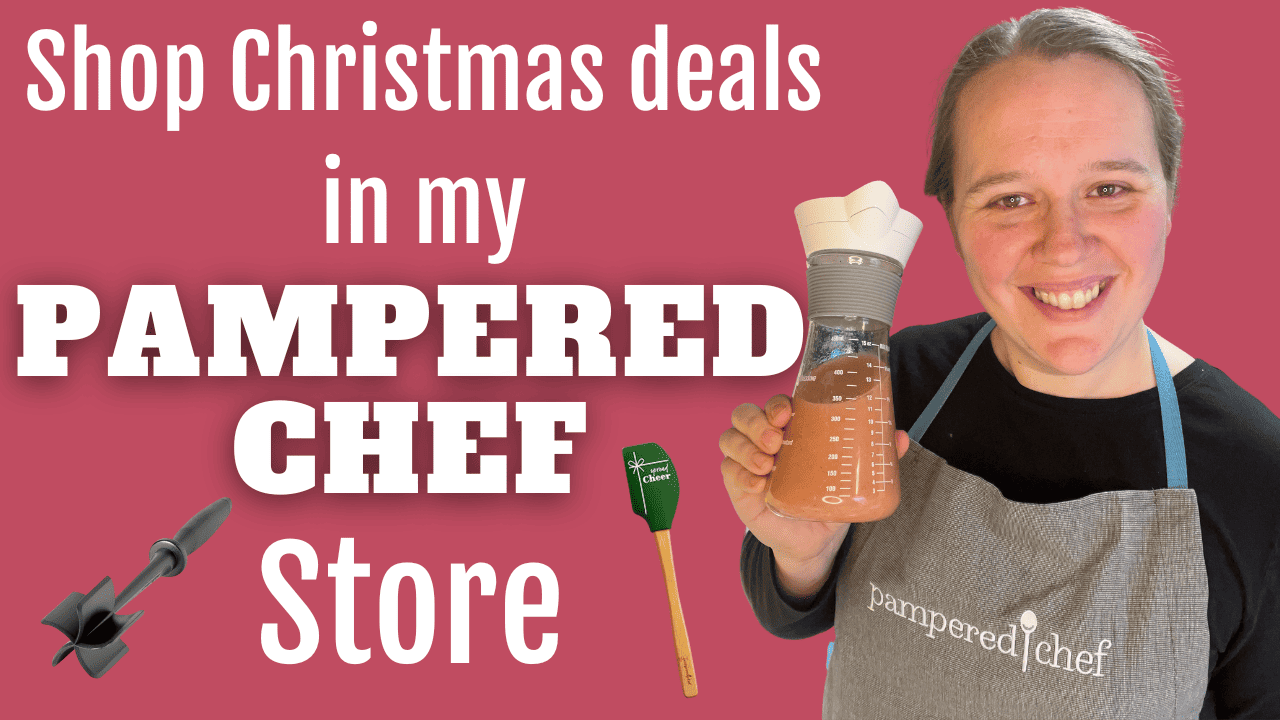 Reader Interactions