We may earn money from the products/companies mentioned in this post. As an Amazon Associate I earn from qualifying purchases.
Low Carb Tortillas
If you've been missing tortillas since you started eating a grain free, low carb lifestyle you're about to get very excited! These low carb tortillas are a gluten free, delicious alternatives to your traditional wraps.
These wraps are also a Trim Healthy Mama S Fuel.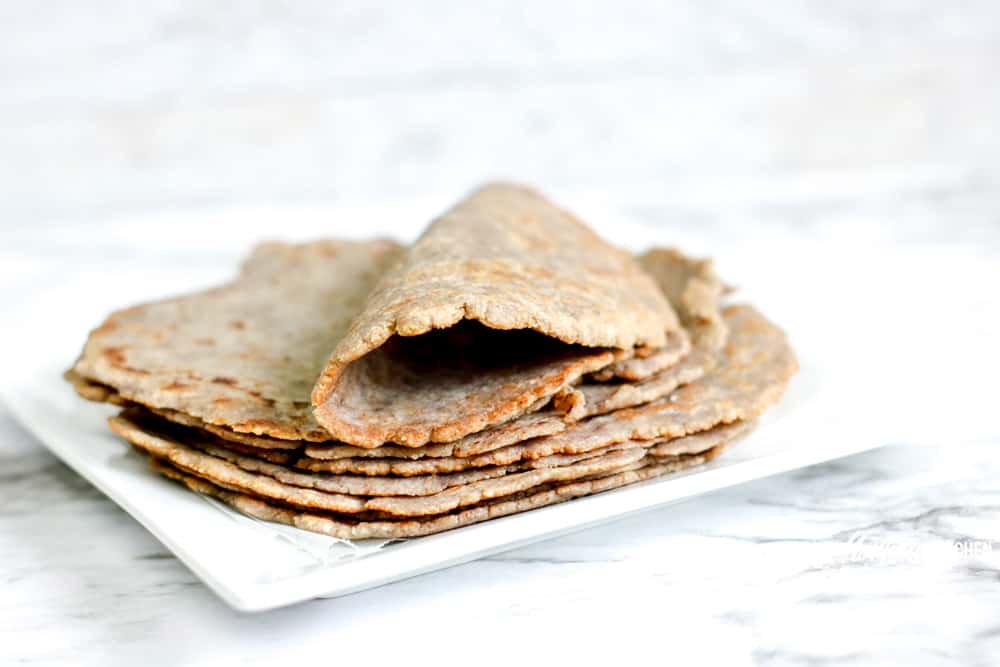 Wish there were such a thing as grain free, low carb tortillas? Merry Christmas!
These gluten-free wraps are made with almond flour and psyllium husk powder instead of flour.
With only half a dozen ingredients, they're easy to make and healthy to enjoy.
Now you can enjoy your favorite lunch wraps, burritos, tacos, quesadillas, and more...all without the guilt or bloat from eating grains and gluten. You can also bake them until crisp for chips to pair with your favorite salsa.
What Ingredients Do You Need To Make Low Carb Tortillas?
This recipe makes you 8 regular sized tortillas or 4 large burrito sized wraps. You can double or even triple it to make enough for the week ahead, if you'd like, as they'll keep well for several days.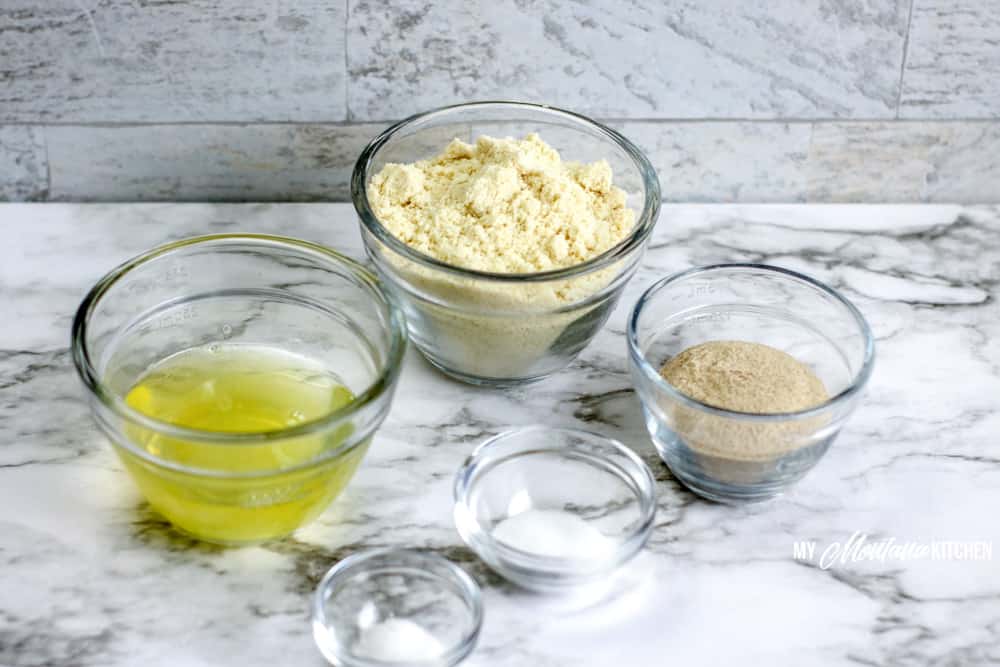 The ingredients you need for these low carb wraps are:
Almond flour
Psyllium husk powder
Baking powder
Salt
Egg whites
Boiling water
Coconut oil, for frying
What Is Psyllium Husk Powder?
Psyllium husk powder is a low carb, complex carbohydrate high in soluble fiber and a wonderful low carb alternative to flour (source).
It can be used as a binding agent (in lieu of breadcrumbs) or even a thickening agent (instead of cornstarch) in gravies or soups.
It's important to use boiling water with it (not cool or cold) to activate its glue like properties (source), so don't skip that step of the recipe!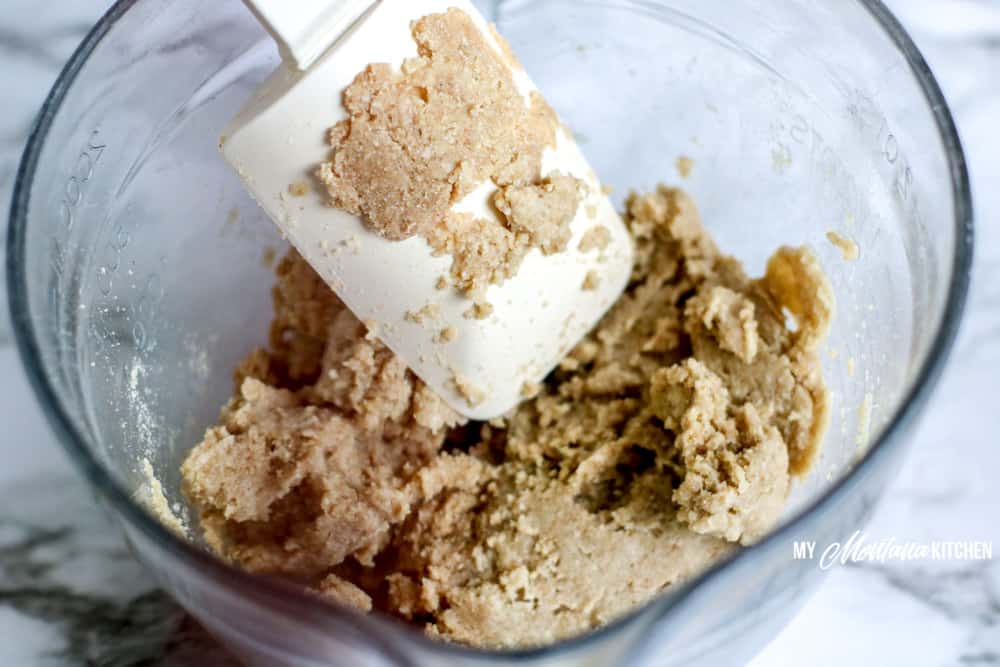 How To Make Low Carb Tortillas
Ready to make the magic happen? It's so simple!
First, combine your dry ingredients together in a mixing bowl. Whisk them to make sure they're all mixed together well.
Next, stir in the egg whites. It will look a bit crumbly. Combine it all as best as you can.
Then, slowly pour in your boiling water, mixing well as you go. Once you've added all the water, let your dough rest for 5 minutes. This is so the psyllium husk can absorb it adequately before you shape the dough.
After it's rested, pull the dough out of the bowl and divide it into eight equal portions, rolled into balls.
One at a time, place your tortilla dough ball between two layers of parchment paper and roll it flat. Your finished disc will be 6-7" in diameter.
Once they're all flat and ready to cook, heat coconut oil in a heavy bottomed skillet over medium heat and fry your tortillas, about 40-60 seconds on each side. 
Move them to a paper towel lined plate and cook the next one.
If you have a tortilla press, you can also use that to cook them instead.
Serving & Storing Your Low Carb Tortillas
The real question isn't the best way to enjoy your low carb tortillas; it's which way will you enjoy first. After all, the possibilities are practically endless and a good tortilla is versatile in both sweet and spicy recipes!
You can enjoy these for traditional tacos, wraps, or make an Easy Crispy Quesadilla. You can bake them into chips for your favorite dip.
They are also perfect for green chile enchiladas! They'll also work for these crispy air fryer low carb chimichangas.
Or you can go sweet instead of savory and fill them with cream cheese, berries, and your favorite sugar free powdered sugar.
You can also stuff them with mascarpone, some diced strawberries, Lily's chocolate chips, and drizzle on low carb sweetened condensed milk. Is your mouth watering yet?
Keep them in an airtight container for a couple of days on your counter or up to week in the refrigerator. They are less likely to tear if kept on the counter, but they won't last as long.
If you freeze them, bring them to room temperature before use, although they may tear more easily this way.
Low-Carb Tortillas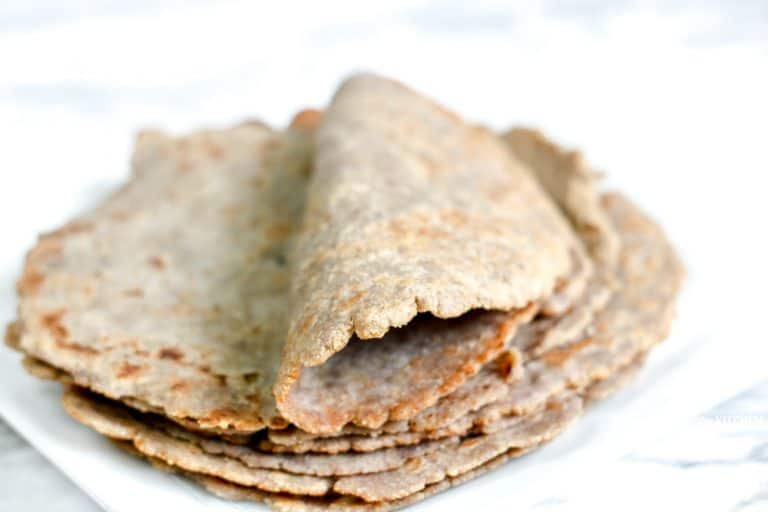 If you've been missing tortillas since you started eating a grain free, low carb lifestyle you're about to get very excited! These low carb tortillas are gluten free, delicious alternatives to your traditional wrap
Ingredients
4 Egg Whites
½ cup Boiling Water
Instructions
In a large bowl, whisk together the almond flour, psyllium husk powder, baking powder, and salt. Stir in the egg whites.
Slowly add the boiling water as you stir, mixing well. Allow the dough to rest for 5 minutes so the water can be absorbed by the psyllium husk powder.
Divide the dough into eight equal portions. Shape into circles.
Press each mound of dough, one at a time, between layers of parchment paper until flat. Each will be approximately 6 to 7 inches in diameter. Alternatively, use a tortilla press.
In a medium skillet over medium-high heat, add a small amount of oil. Add tortillas one at a time and fry for approximately 40 to 60 seconds on each side.
Transfer tortillas to paper toweling and repeat until all tortillas are cooked.
Nutrition Information
Yield
8
Amount Per Serving
Calories

200
Total Fat

17g
Saturated Fat

2g
Trans Fat

0g
Cholesterol

0mg
Sodium

376mg
Carbohydrates

8g
Fiber

5g
Sugar

1g
Protein

6g