We may earn money from the products/companies mentioned in this post. As an Amazon Associate I earn from qualifying purchases.
Pizza stuffed chicken isn't just a great dinner for Trim Healthy Mamas or keto ladies; this cheesy chicken pizza bake is going to be popular with men and kids, too.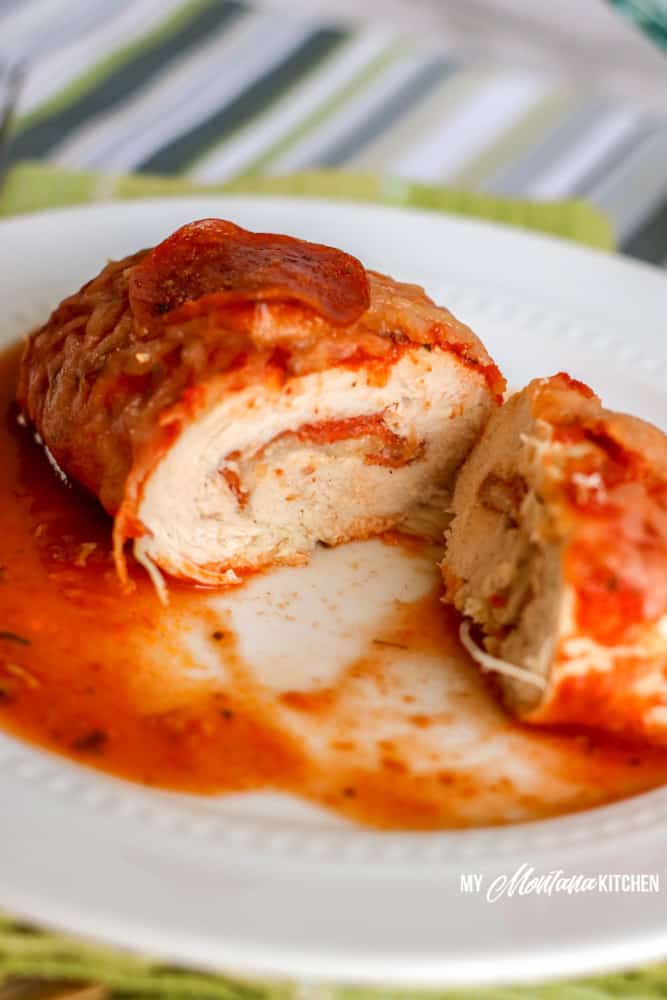 Pizza is always amazing. Stuffed chicken? Also always a delicious dinner. And pizza stuffed chicken? Roll your eyes, hum with delight, and beg for more amazing.

Stuffed chicken is one of those meals that looks super fancy and sounds kind of hard to make, but it's not…promise. And this particular dinner is even easier because you can prep it ahead of time and cook it later.

The best part is that you get to feel indulgent eating pizza for dinner and responsible because you're tucking into a healthy, protein packed chicken breast. You don't always get the best of both worlds like that, but with this meal you do!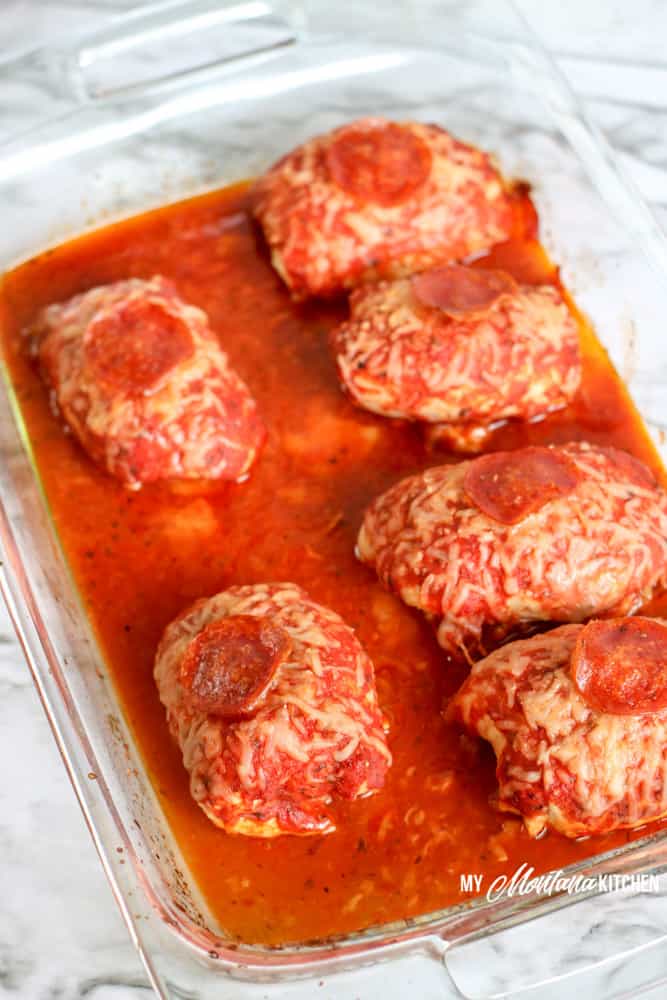 What Ingredients Are In Pizza Stuffed Chicken?
I love recipes with only a few ingredients…especially easy, delicious ones.

These low carb pizza rolls only have four ingredients. That's right…four. We don't count the salt and pepper, but you can add it to taste.

All you need is:

Chicken
Pepperoni
Chicken
Salt and pepper to taste
How Do You Make Chicken Rolls Or Stuffed Chicken?
Making stuffed chicken requires just a little bit of prep work. You'll butterfly your chicken breasts, which means slicing them in half and opening them up (so it looks like a butterfly). You do need a sharp knife for this step to be simple (I recommend this one).

Once your chicken breasts are sliced, use a meat mallet to pound them out. Pro tip: Place them between two layers of parchment paper or plastic wrap to avoid mess while you're banging them. 

This will not only flatten your meat, it will also make it more tender. In a pinch if you don't have a special kitchen tool to do this you can use your (well cleaned) hammer or the end of a can. Whatever you've got will work.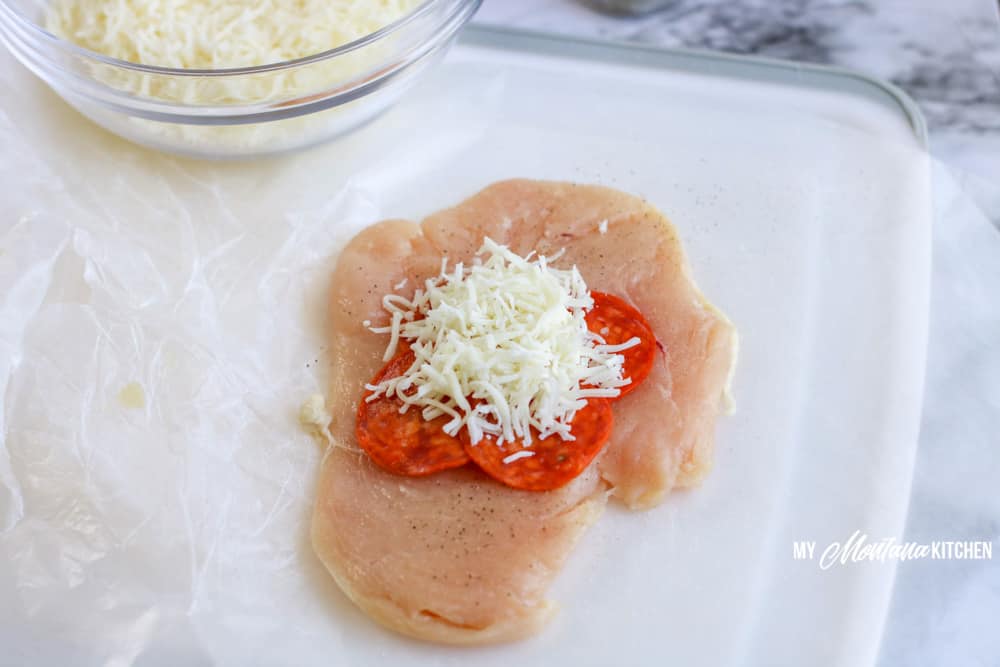 Then you add your filling. See? No advanced chef training needed.
Making Chicken Pizza Rolls
To make this particular stuffed chicken recipe is very easy once you've prepared your chicken breasts.

Simply sprinkle your chicken with salt and pepper and then add some pepperoni slices on top. Next, sprinkle some mozzarella cheese on top.

Now it's time to make your chicken rolls! Just roll your chicken similar to how you'd prep a burrito, tucking in the edges.

Once they are nicely rolled, place them in your prepared casserole dish. When all your stuffed chicken breasts are in the baking pan, cover them with low carb pizza sauce and top with more shredded mozzarella and pepperoni.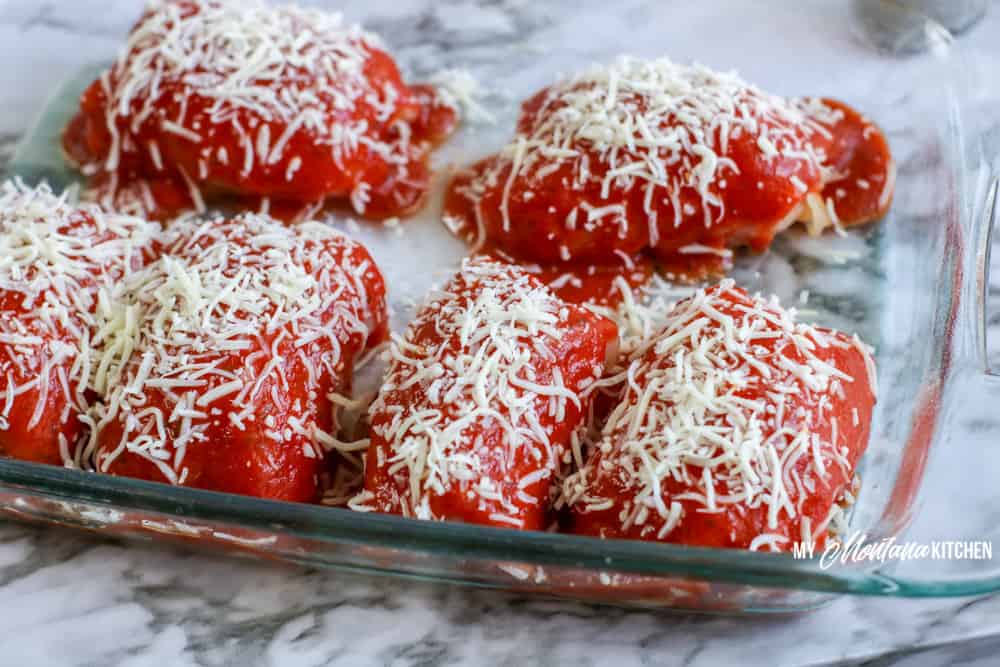 You can dice the pepperoni or place it on top in slices. You can use mini pepperonis to make it prettier.

You'll bake the dish for 30-40 minutes, depending on how thick your chicken is. Just use a meat thermometer to make sure it reaches an internal temperature of 165. The cheese will be melted and gooey, the pepperoni cooked and spicy, and the chicken incredibly tender.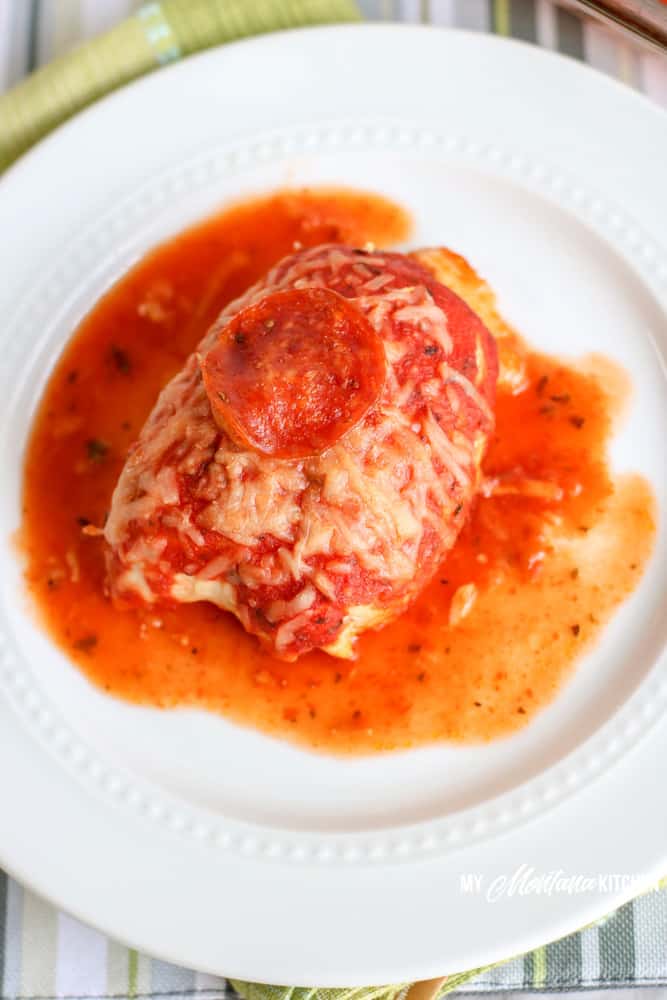 Can You Make This Ahead Of Time?
Yes! In fact, these pizza stuffed chicken rolls make a great freezer dinner to keep handy for busy nights.
To do this, you would make your chicken rolls with pepperoni and mozzarella in them and then flash freeze them.

Flash freezing is when you put them on a cookie sheet in the freezer and let them freeze individually so they don't all stick together, frozen, in one giant lump. Once they are totally frozen through, you can put them all in the same foil pan or freezer bag.

If you put them in a casserole pan, you can then add the pizza sauce, mozzarella, and additional pepperoni so it's totally ready to bake from frozen.

If you prefer to store them in a freezer bag to conserve space, you can still put them frozen into your casserole pan and add the pizza sauce, cheese, and pepperoni before baking.

Easy peasy, right?

Personally, I'd go ahead and prep a double batch when you make them; eat half tonight and put half in the freezer for an amazingly easy, delicious dinner one busy weeknight in the future (or for when you want to "wow" surprise company!).

If you just want to make them up a few days early, you can simply keep them in your fridge. Be sure to keep them well sealed and completely chilled.

Never keep raw chicken in a plastic container; either glass or metal is fine. Obviously you can cover with plastic wrap; just remove it before baking.
Personalizing Your Pizza Rolls
Just like pizza, these stuffed chicken pizza rolls can be customized! Really the possibilities are endless, which makes this a really fun dinner possibility.

Like Mexican pizza? Stuff yours with diced avocado, black olives, and onions.

Want Margherita pizza? Stuff it with fresh basil and tomato slices.

How about mushrooms, garlic, and ricotta? Or spinach and parmesan? If you'd put it on pizza, it will taste delicious in this pizza chicken recipe.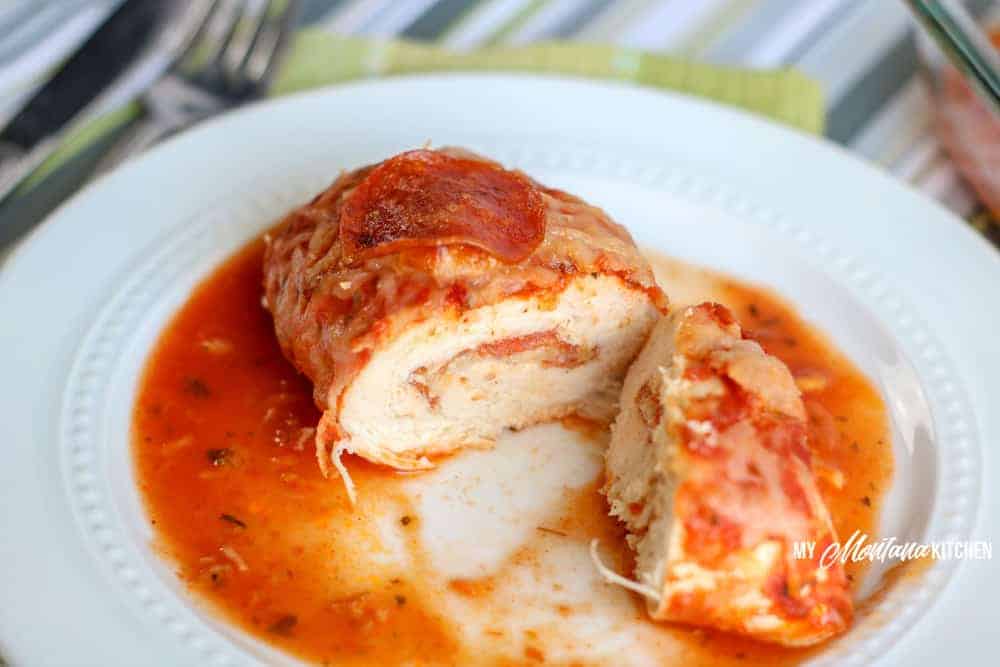 How To Serve Low Carb Pizza Stuffed Chicken Breasts
Are you hungry yet? This meal is super yummy and your family is going to ravish you with praise when they eat it!

Want to make it even more special? Serve this keto stuffed chicken up with low carb garlic bread and an Italian tossed salad for a Mediterranean inspired feast. To add a little flair, top your chicken rolls with some fresh basil leaves. Delicious enough for kids and elegant enough for company!

Low carb tiramisu and a collagen coffee would make the perfect finale to this amazing feast.

If you like this pizza casserole, you might enjoy the other pizza recipes here at My Montana Kitchen. Also, be sure to check out the Low Carb Pizza Cookbook and the Low Carb Dinners E-book` .

We enjoy casseroles and pizza in our home all the time and these stuffed chicken pizza rolls are like combining those two fabulous meals into one!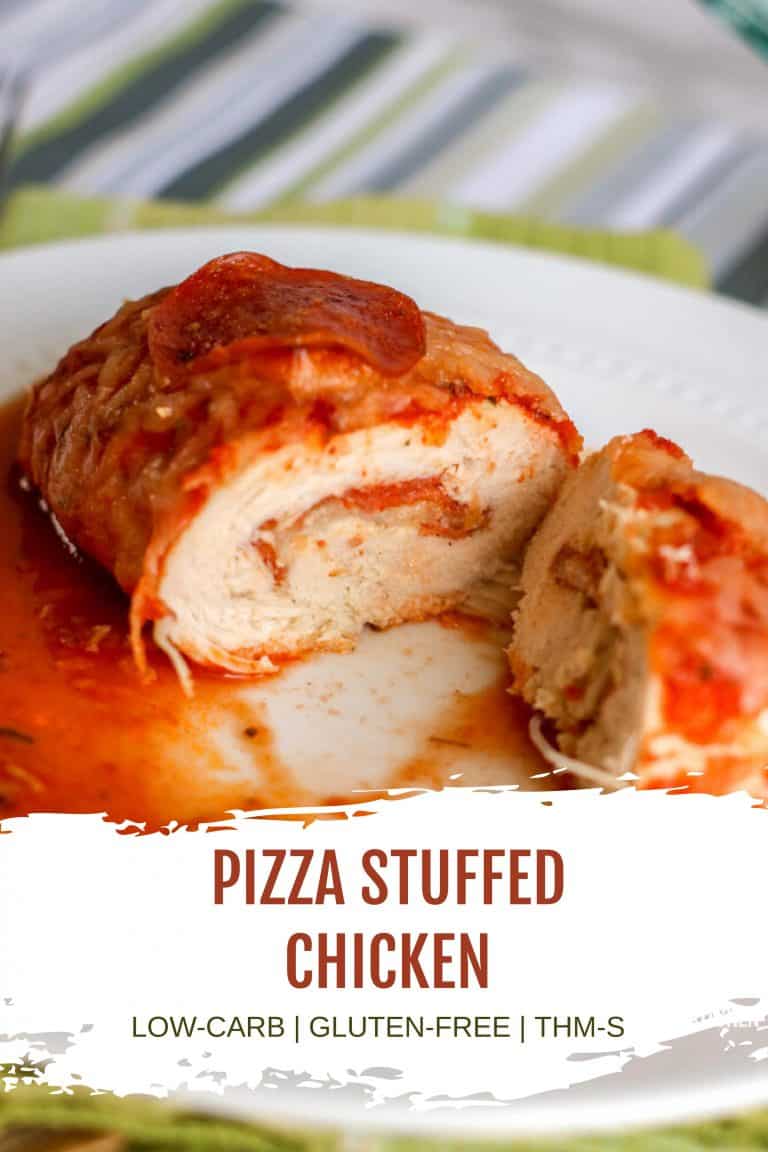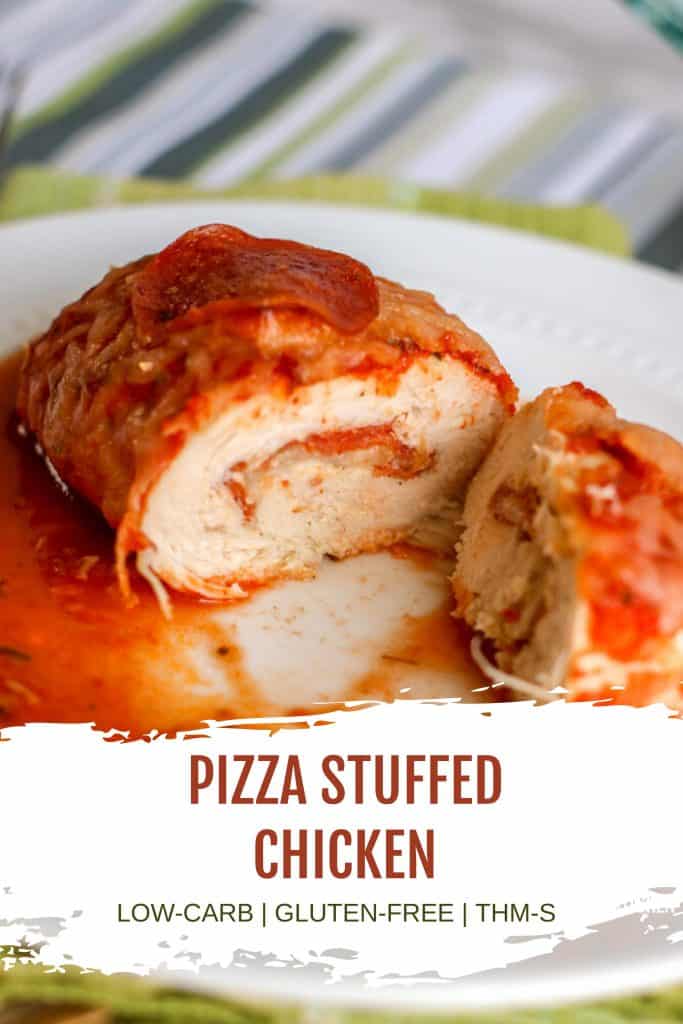 Yield: 6
Pizza Stuffed Chicken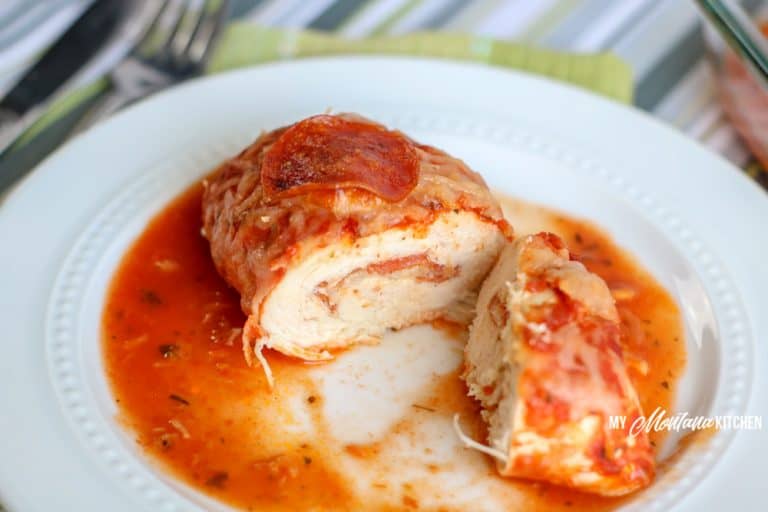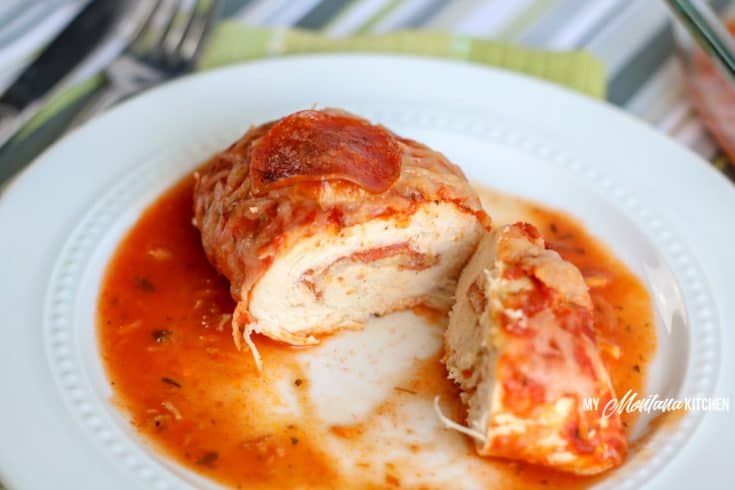 Pizza stuffed chicken isn't just a great dinner for Trim Healthy Mamas or keto ladies; this cheesy chicken pizza bake is going to be popular with men and kids, too.

Ingredients
3 Large Boneless, Skinless Chicken Breasts (roughly 3 lbs. total)
30 Pepperoni Slices
1 Cup Shredded Mozzarella Cheese
Salt and pepper, to taste
Instructions
Preheat oven to 375 degrees.
Spray a 9x13 inch baking dish with coconut oil cooking spray.
Slice chicken in half through the thickness of the breast horizontally and pound it to ½ inch thickness. (Avoid mess by placing chicken between sheets of plastic wrap or waxed paper when pounding.)
Sprinkle chicken with salt and pepper.
Add four slices of pepperoni and about 1 tablespoon shredded mozzarella to the middle of each flattened chicken breast piece.
Roll chicken, tucking the edges, and place in prepared baking dish.
Pour pizza sauce over each chicken breast. Top with remaining mozzarella and pepperoni slices.
Bake for 30 to 40 minutes (depending on the thickness of the chicken breast) or until a meat thermometer reads 165 degrees.
Nutrition Information
Yield
6
Serving Size
⅙ of recipe
Amount Per Serving
Calories

307
Total Fat

10g
Trans Fat

0g
Carbohydrates

4g
Fiber

0g
Protein

56g
Nutritional information may vary depending on which products/brands are used.