We may earn money from the products/companies mentioned in this post. As an Amazon Associate I earn from qualifying purchases.
A delicious pumpkin spice latte filled to the brim with health-promoting benefits! A good dose of MCT oil and coconut oil, plus all the flavors of fall! This recipe is low carb, sugar free, dairy free, and a Trim Healthy Mama S Fuel.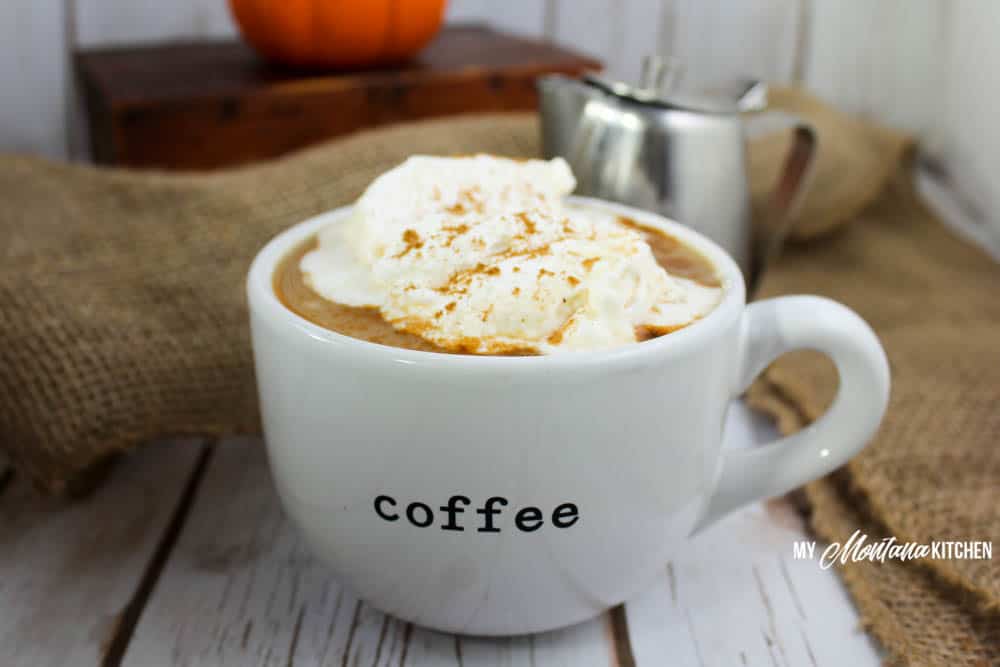 This is a sponsored post written by me on behalf of Omega Power Creamer. All opinions are my own. This post contains affiliate links, which provide me with a small compensation when you purchase your products through my links. Thank you for your support!
I am so excited to give this recipe to you! It is the middle of September, and Pumpkin Spice is everywhere! Now, is it just me, or does the pumpkin craze begin a little earlier every year? That is ok with me, though, because I love pumpkin!
A traditional Pumpkin Spice Latte from a coffee shop is filled to the brim with sugar and other harmful ingredients. But my Pumpkin Spice Latte will HELP your health, not harm it. And it is still full of all the pumpkin flavor you have come to love in a traditional latte.
This latte is very simple to make. Check out my video below to see just how easy it is!
The star of this recipe is Omega Power Creamer. This company takes all the guesswork out of your morning butter coffee! You can check out their website here. Their delicious creamer consists of four ingredients: Grassfed Organic Ghee, Organic Fair-Trade Virgin Coconut Oil, MCT Oil derived from Coconuts, and Sunflower Lecithin. All of those ingredients are nutrient powerhouses!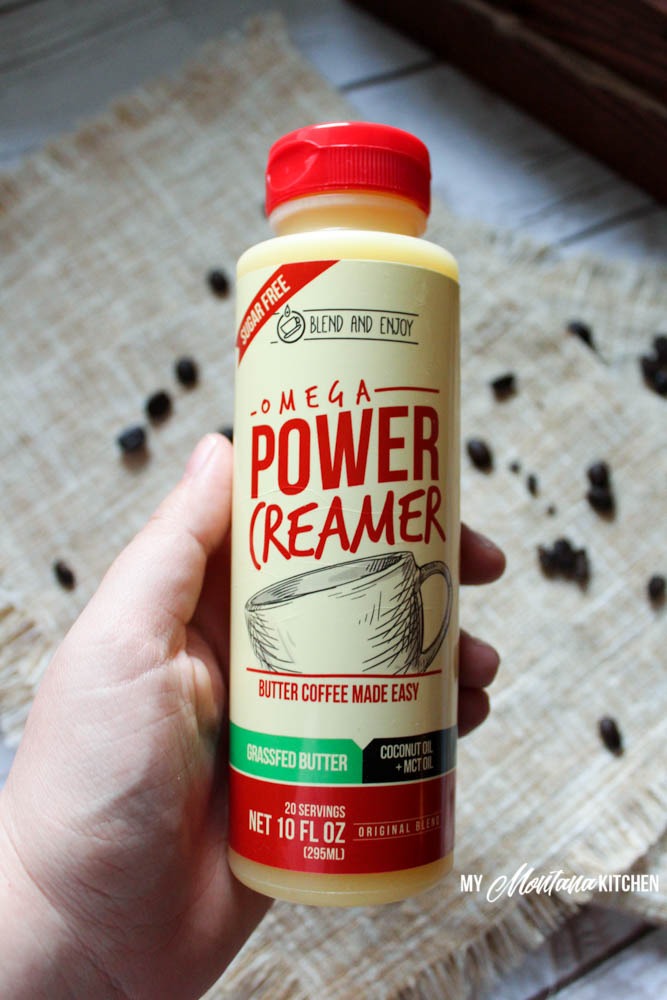 In addition, Omega Power Creamer is also sugar free and completely dairy free and casein free!
You can see all their products here. (When placing an order through their website, be sure to use coupon code MONTANA15 for 15% off your purchase!)
I am so excited because they just released two new flavors! Cacao and Vanilla flavors are now available. I cannot wait to try those. The Vanilla flavor would work excellent in this recipe!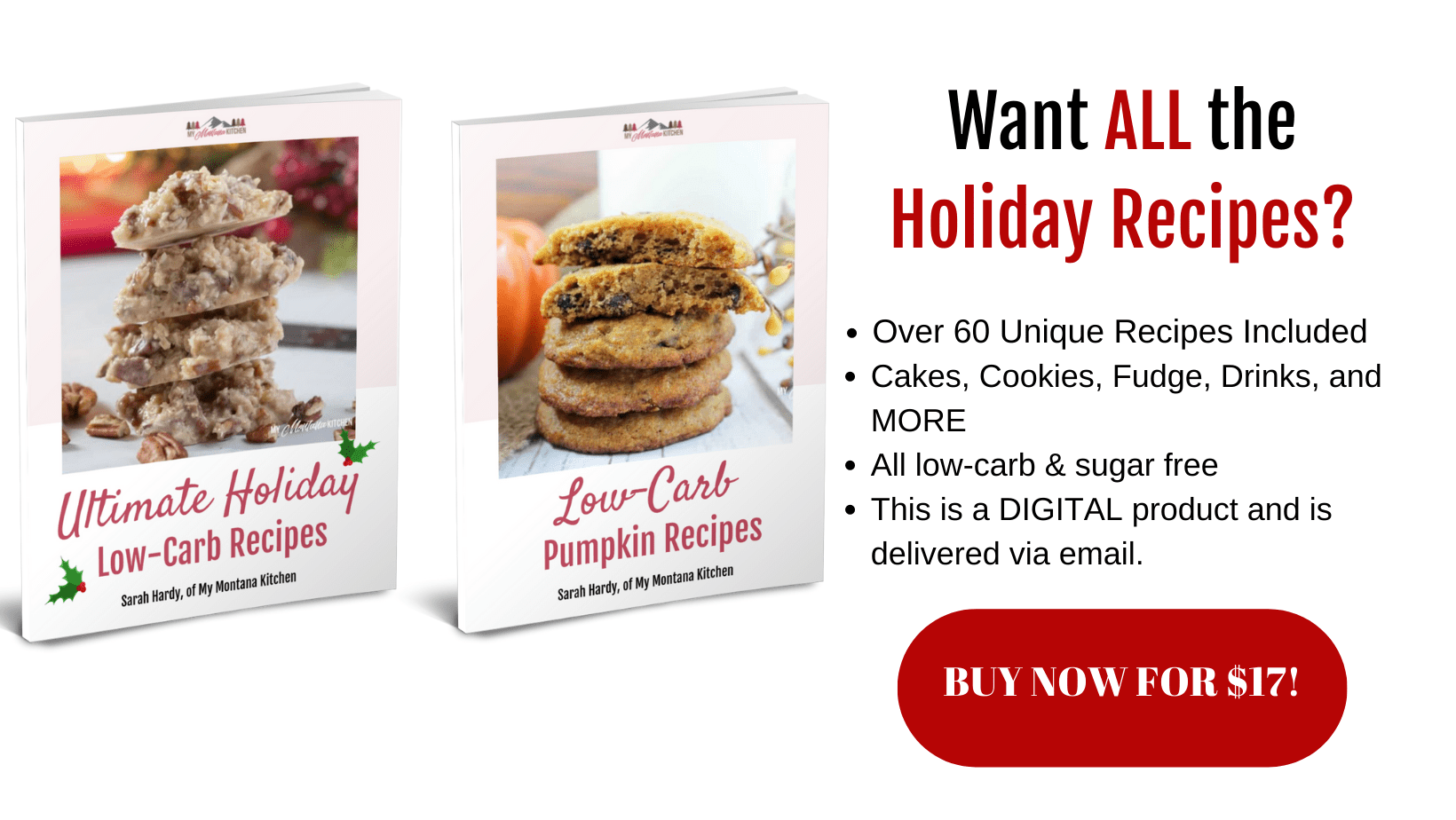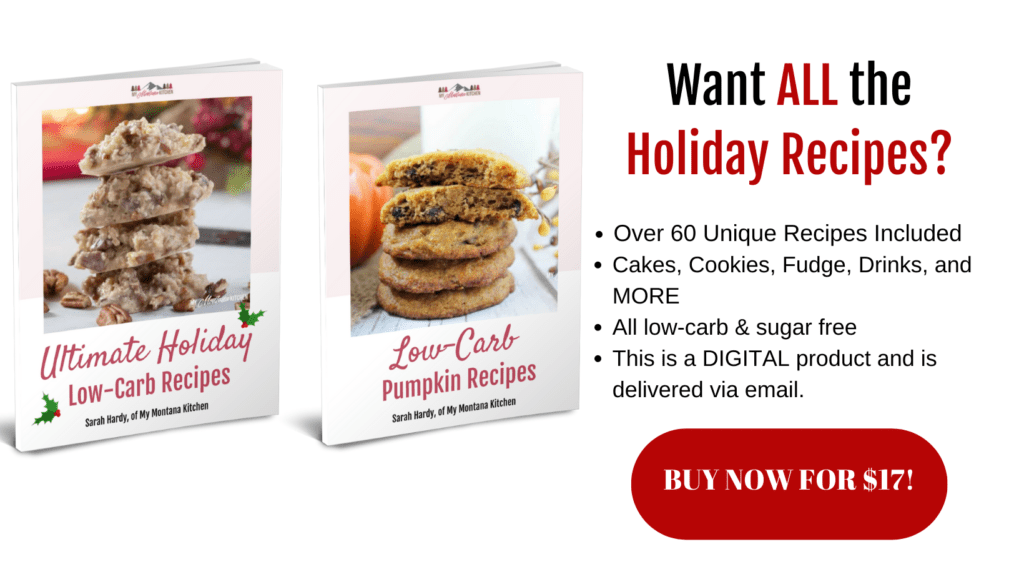 These creamers are also shelf-stable. This means you can transport them with you anywhere you go! All you need is a Handheld Milk Frother
to blend your coffee, and you are ready to travel!
So, what do you need for this recipe?
1 Cup Unsweetened Coconut Milk (Canned or Carton)
2 Teaspoons Low Carb Sweetener (I used Pyure)
1 Teaspoon Vanilla Extract
2 Tablespoons Canned or Fresh Pumpkin Puree
½ Teaspoon Pumpkin Pie Spice
1 Cup Hot Brewed Coffee
1 Tablespoon Omega PowerCreamer
Be sure to sign up with your email address so you can receive all my new recipes delivered right to your inbox! (Look for the sign-up box at the top of this post.) Also, be sure to follow me on Facebook, Pinterest, Instagram, and Twitter!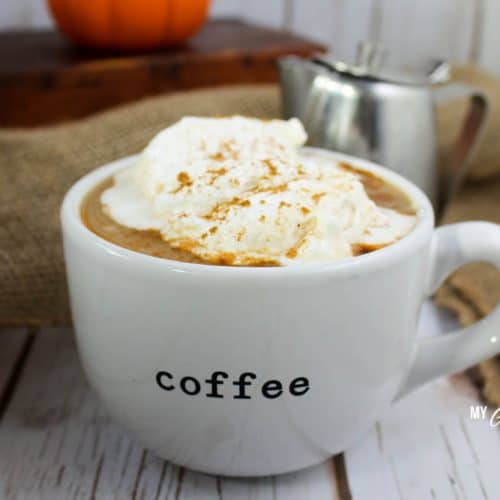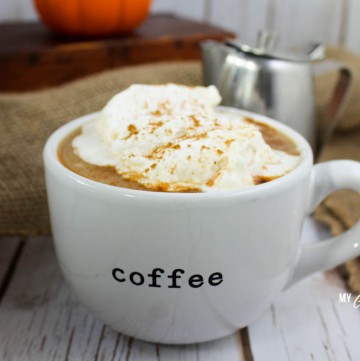 Instructions
In a medium saucepan, heat coconut milk over medium heat.

Add sweetener, vanilla, pumpkin and pumpkin pie spice, Mix well.

When mixture is heated through, add hot brewed coffee.

Add Power Creamer and mix well, until creamer is well blended. (I use a handheld frother.)

Top with fresh whipped cream, if desired.
Notes
Nutritional facts are based on the latte alone - with no added whipped cream.
This latte is dairy free as long as you do not add the optional whipped cream.
Nutrition Facts
Amount Per Serving
Calories 176
% Daily Value
Vitamin C undefined%
Calcium 46%
Iron undefined%