A creamy iced coffee full of health-boosting benefits, and 20 grams of protein!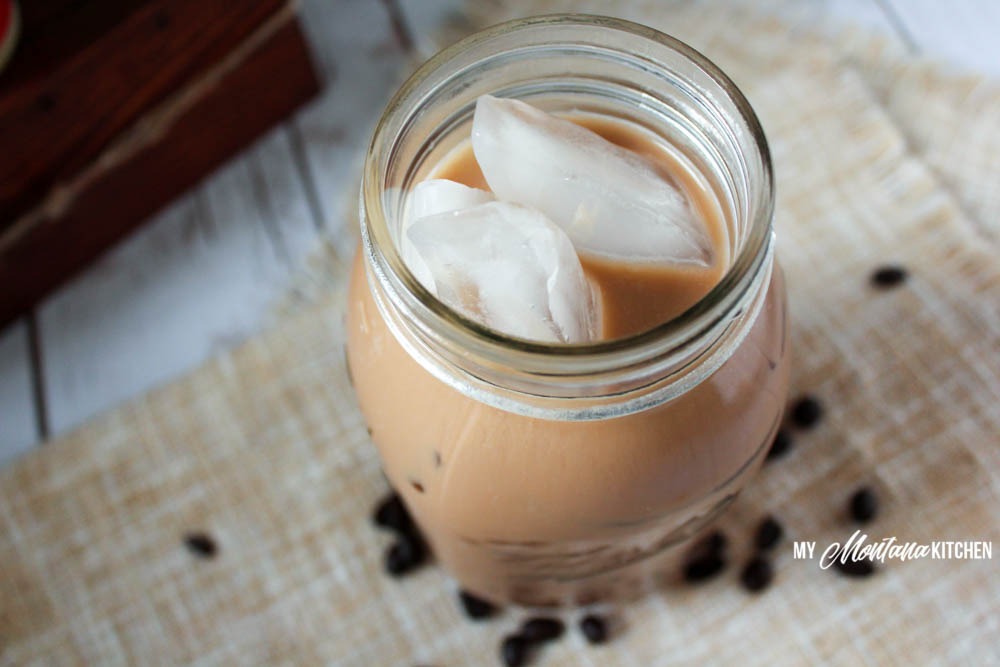 (This post contains affiliate links, which provide me with a small compensation when you purchase your products through my links. Thank you for your support!)
I am beyond excited to share this recipe with you! Warm weather has (finally) arrived in Montana. And warm weather means it is time for iced coffee! Now, I am a die-hard coffee drinker. I drink hot coffee year round – even if it is 95 degrees outside. I love coffee!
But although I love hot coffee, I also enjoy iced coffee. That is one of my favorite "treats" to get when I am in town. An iced coffee from Starbucks is one of the cheapest things on their menu. I just ask them to add heavy cream, and omit the sweetener. A completely on-plan refreshing drink!
Iced coffee is great – but what makes this particular recipe even greater is the fact that it has 20 grams of protein! Yes, you read that correctly – 20 grams! Not only is it full of protein, but it also has grass-fed organic ghee, virgin organic coconut oil, MCT oil, and sunflower lecithin. All of these are great, health-boosting ingredients. Lets look at some of the benefits . . . . .
Grass-fed Ghee (Clarified Butter)
Ghee is suitable for individuals with casein and lactose sensitivities.
Ghee is rich in fat soluble vitamins A, D and E.
Ghee made from grass-fed cows contains CLA (Conjugated Linoleic Acid, which studies say may help to reduce tumors, lower cholesterol and high blood pressure, reduce inflammation, and actually lower body fat).
Ghee builds strong bones with vitamin K2.
Ghee supports weight loss, like coconut Oil.
Ghee reduces inflammation.
Ghee improves digestion.
For more information on grass-fed ghee and its benefits, check out my source article here.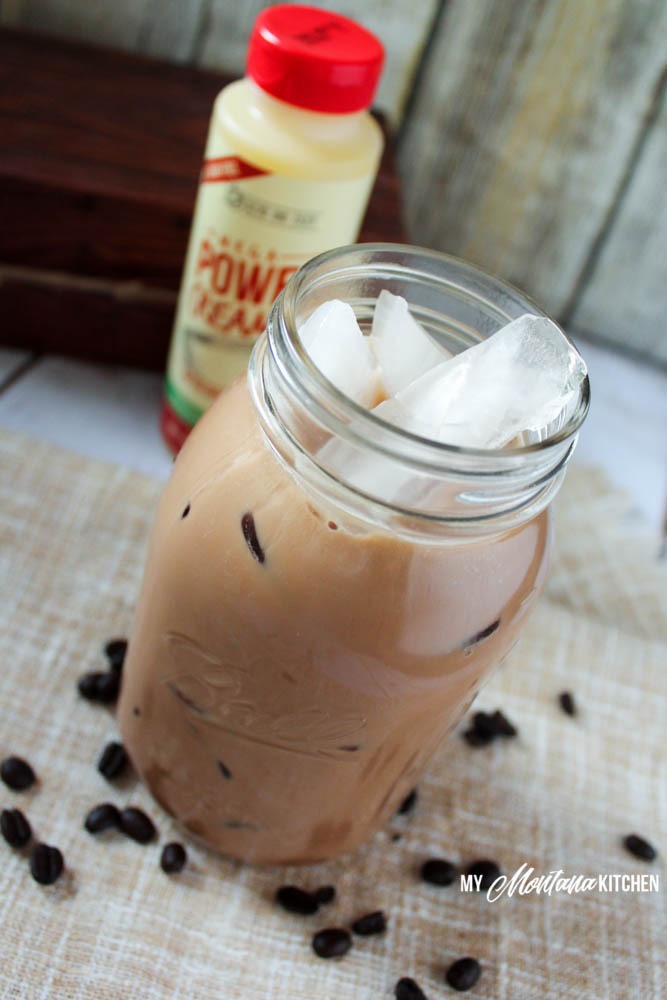 Organic Virgin Coconut Oil
Coconut oil supports your immune system.
Coconut oil promotes heart health.
Coconut oil gives you instant energy.
Coconut oil increases cell regeneration.
Coconut oil improves insulin secretion.
Coconut oil protects your body from disease.
For more information on organic virgin coconut oil and its benefits, check out my source article here.
MCT Oil
MCT oil can help with weight loss or maintenance.
MCT oil helps protect heart health.
MCT oil helps improve energy levels and your mood.
MCT oil helps improve digestion and nutrient absorption.
MCT oil has antibacterial, antiviral and antifungal properties.
For more information on MCT oil and its benefits, check out my source article here.
Sunflower Lecithin
Sunflower lecithin leads to a healthier brain.
Sunflower lecithin can help lower cholesterol.
Sunflower lecithin can help repair your liver.
Sunflower lecithin is estrogen free.
Sunflower lecithin may help lower blood pressure.
For more information on Sunflower Lecithin and its benefits, check out my source article here.
Wow! That is quite a list of healthy benefits! All of those can be found in the amazing product I used for this Iced Coffee – Omega Power Creamer. Omega Power Creamer is completely sugar free, and only uses the best ingredients – organic grass-fed ghee, organic virgin coconut oil, MCT oil, and sunflower lecithin. (All of these products are low carb, keto, and Trim Healthy Mama friendly!) So here you have it, ladies and gentlemen, a completely on-plan coffee creamer!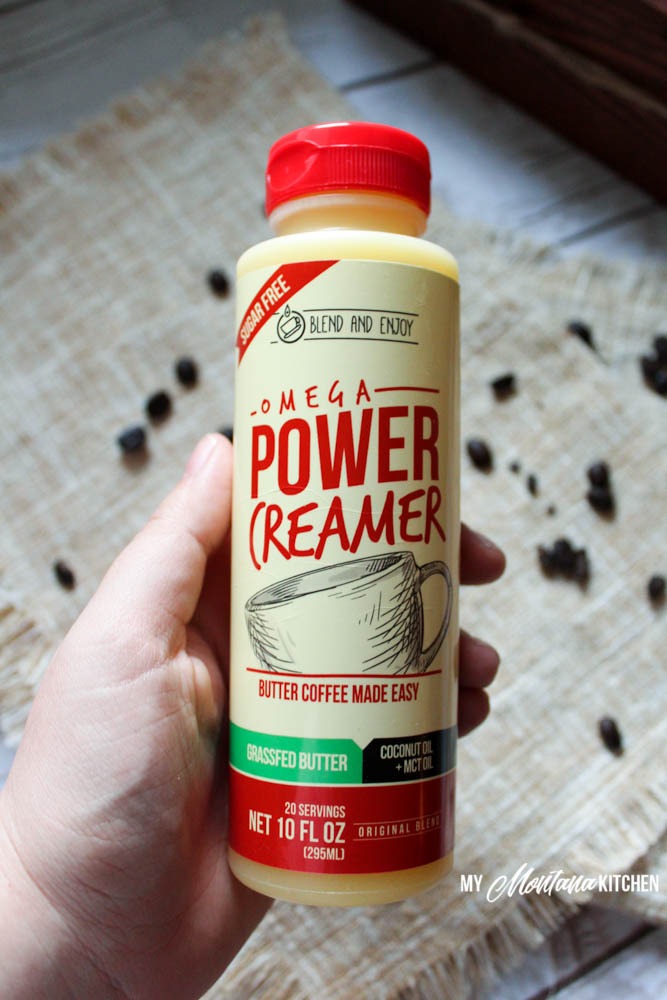 Omega Power Creamer is shelf-stable, meaning it does not have to be refrigerated. That means you can take it with you when you travel! It comes in an easy to carry bottle, and it is so convenient!
If iced coffee is not your thing, you can make an easy latte with the Omega Power Creamer. Simply blend 6 ounces of hot coffee with 1 Tablespoon of Omega Power Creamer. Blend it in a blender (or use a milk frother) and enjoy your delicious latte!
I love this product, and I am so thankful Omega Power Creamer was gracious enough to send me a bottle of their product to review! Please check out their website and their Instagram! If you are interested in trying this amazing product, use the coupon code MONTANA15 to receive a 15% discount on your order!
So, now we get to the recipe! What exactly do you need for this Bulletproof Protein Iced Coffee?
2 1/2 Cups Brewed Coffee (Cooled)
1 Scoop Chocolate Pristine Whey Protein Powder (or your favorite protein powder)
1 Tablespoon Omega PowerCreamer
Blend all these ingredients in a blender (or use an Electric Milk Frother
). Pour over ice and enjoy!
Be sure to sign up with your email address so you can receive all my new recipes delivered right to your inbox! (Look for the sign-up box at the very top of this page.) Also, be sure to follow me on Facebook, Pinterest, Instagram, and Twitter!

This recipe is the property of My Montana Kitchen