We may earn money from the products/companies mentioned in this post. As an Amazon Associate I earn from qualifying purchases.
We've seen the rise of apple cider vinegar drinks in the past several years, and for good reason: drinking ACV can be a great way to trim down your waistline and feel healthier.
And if you're following the Trim Healthy Mama style of eating, you know all about Apple Cider Vinegar drinks - we call them Good Girl Moonshine!
Tropical Punch Good Girl Moonshine
There are lots of flavored ACV drinks out there, but this Tropical Punch Good Girl Moonshine takes it up a notch with its fruity sweetness!
And bonus - you can't even taste the vinegar! (I promise!)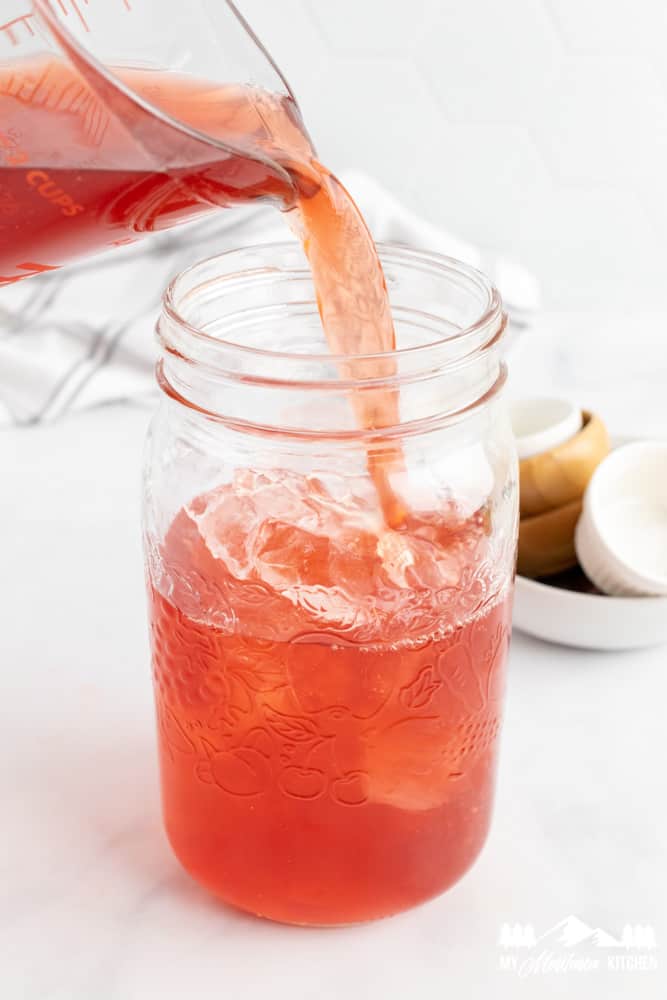 This is the recipe I used years ago when I first started drinking GGMS (Good Girl Moonshine) - back when I couldn't stand the taste of vinegar!
This GGMS recipe is my absolute favorite!
What does GGMS stand for?
If you've seen the abbreviation GGMS, you may wonder what in the world it means!
I'm here to tell you it stands for Good Girl Moonshine! GGMS - makes sense now, huh?
Still don't know what Good Girl Moonshine is? Just keep reading!
What is Trim Healthy Mama Good Girl Moonshine?
I'm sure you've heard of Apple Cider Vinegar.
It has a bad reputation for being an old folk remedy, but recently it's been getting more and more press for its health benefits.
In the first Trim Healthy Mama cookbook, there was a recipe for a drink with pure apple cider vinegar (with "the mother") - the cloudy stuff that sinks to the bottom of your bottle when you leave it out.  
It also used ginger powder and was sweetened with stevia.
It's super healthy, but the first time I tried it I just couldn't drink it!
So, I found a recipe that used extracts to add flavor, and it actually tasted good!
That was so many years ago, that I cannot find the original recipe, but I wanted to share it with you because it is so good!
I've also started using fresh ginger juice in place of the powder, and it makes SUCH a difference!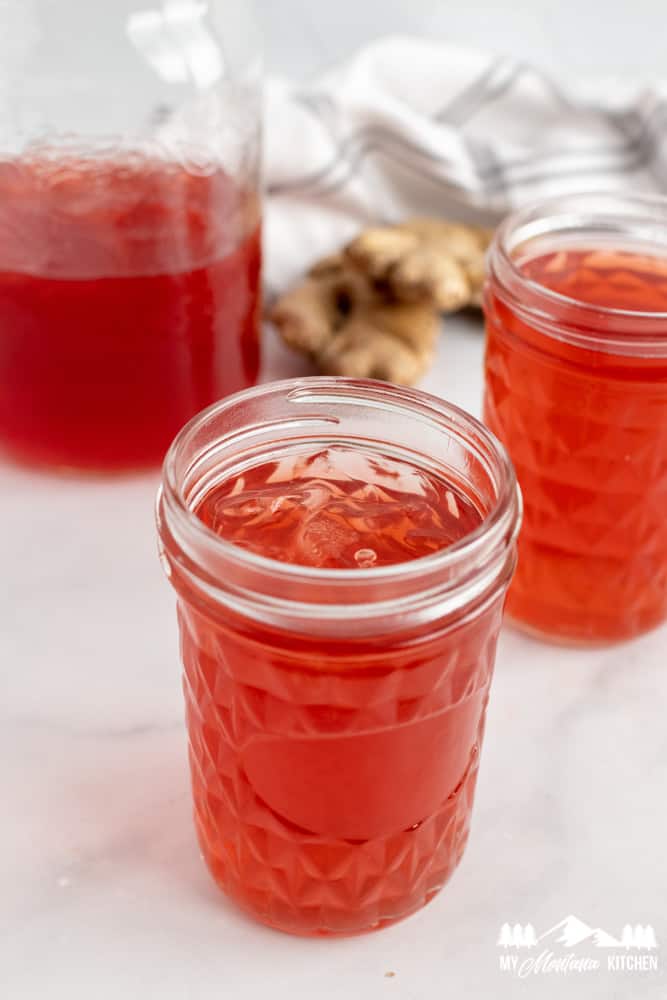 Tips for Liking Trim Healthy Mama Good Girl Moonshine
Start with only 1 Tablespoon of apple cider vinegar
Use herbal tea as a base, instead of water
Add your favorite extracts to add flavor
Sweeten with your favorite sweetener
Watch how to make Tropical Punch Apple Cider Vinger Drink
What Are The Benefits Of Apple Cider Vinegar?
Many benefits have been purported for the consumption of apple cider vinegar.
These benefits range from curing hiccups to high cholesterol. However, the majority of these claims lack experimental data and their supporting evidence is anecdotal at best.
Despite its unsubstantiated health claims, there are several reasons why consumption of apple cider vinegar may be beneficial:
1) increased satiety
2) weight loss
3) increased insulin sensitivity
4) increased energy expenditure
5) decreased blood pressure.
Raw Apple Cider Vinegar is also a great source of potassium and antioxidants. It's even been shown to provide some protection against kidney stones!
ACV may also help lower your blood sugar levels by stimulating insulin production as well as promoting satiety. In fact, one study found people who drink apple cider vinegar with their breakfast consume 200-275 fewer calories for the day.
As if those benefits aren't impressive enough on their own, there are even more potential ACV benefits being studied right now.
One of the most interesting ones is ACV's ability to reduce the risk of cancer - particularly breast cancer! This comes from ACV's high concentration of acetic acid and polyphenols.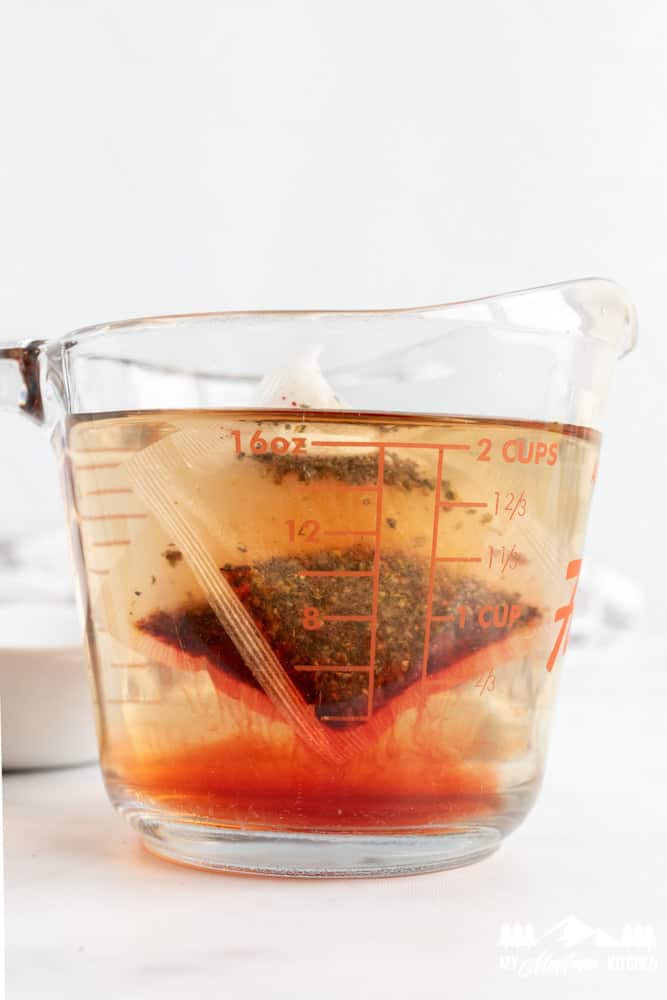 Why Drink Apple Cider Vinegar?
So, if there are so many benefits to apple cider vinegar, why aren't more people drinking it on a regular basis?
Well, for starters, they don't know how to drink it!
Most people either dilute ACV with water or mix it with juice.
Tropical Punch Good Girl Moonshine is the perfect solution!
Not only does this tropical-style drink taste great, but you actually get all of the amazing health benefits that come along with consuming apple cider vinegar!
Here's what we used:
- apple cider vinegar (I recommend Bragg's raw organic apple cider vinegar)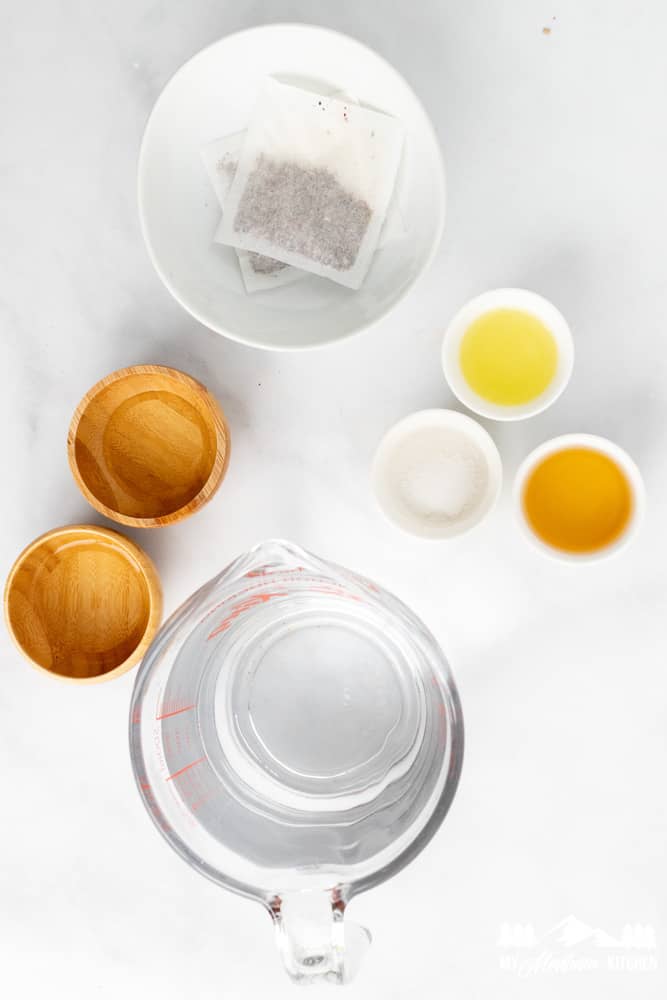 Can you drink apple cider vinegar every day?
Yes, you can! As long as you are drinking it in its raw form (unfiltered), there is no real limit to the amount of apple cider vinegar you can drink.
Is Good Girl Moonshine a Trim Healthy Mama Sipper?
Good Girl Moonshine is a Trim Healthy Mama Sipper because it contains no "fuel."
If you are following the Trim Healthy Mama style of eating, you should be drinking apple cider vinegar with "the mother."
What is "the mother" in ACV?
The mother is just a euphemism for the apple pulp that sinks to the bottom of your jar of unfiltered, unpasteurized apple cider vinegar. There are many nutritional benefits in "the mother."
Is it safe to drink "the mother" in ACV?
"The mother," or the cloudy stringy stuff that settles to the bottom of raw, organic apple cider vinegar, is actually full of beneficial nutrients and enzymes. Enjoy your ACV with "the mother" in it!
However, some people choose to filter out the "mother" when consuming apple cider vinegar for their health benefits.
Because there are no concrete answers on whether filtering is necessary or how it may impact the nutrient content of the product, we recommend consuming apple cider vinegar with "the mother." It just tastes better that way!
However, if you do decide to filter out the "mother," a coffee filter works best. Also, note that commercially available filtered varieties have been heated and have lost many of their health benefits.
For Good Girl Moonshine, you definitely want the ACV with "the mother!"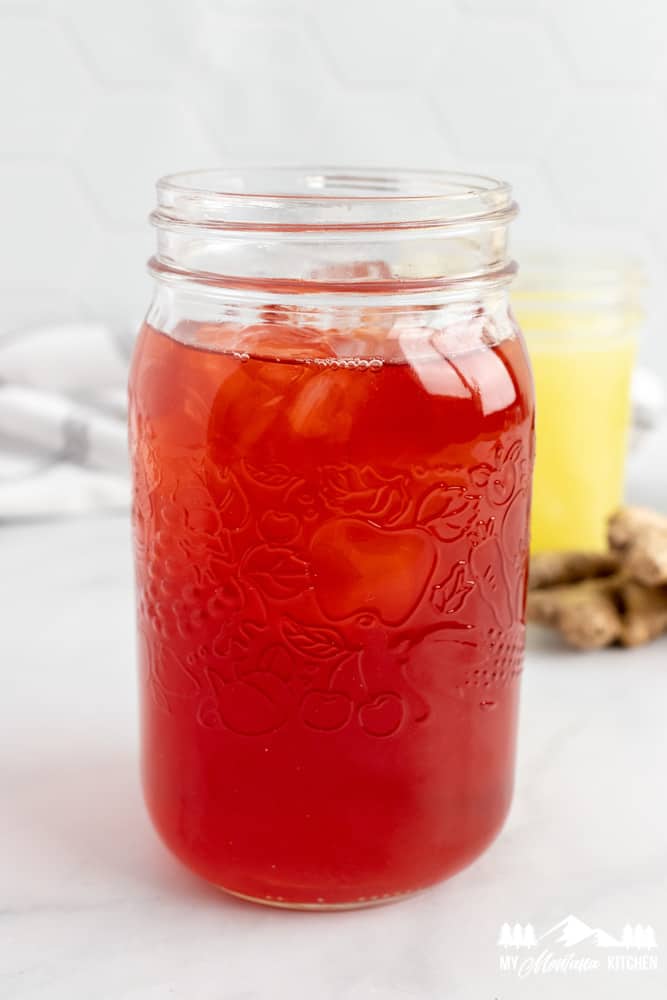 What is special about unfiltered apple cider vinegar?
Here are some of the benefits of Unfiltered apple cider vinegar:
- it has "the mother", which is full of enzymes, proteins, pectin, and good bacteria. The mother also contains healthy trace minerals that your body needs.
- it's raw, meaning all the natural enzymes are intact - just like when you buy fresh fruits or vegetables at the farmers market.
- it has probiotics, which means that not only will it help with gut health, but it also helps balance yeast in your system. This is important so you don't have an imbalance between good and bad bacteria in your digestive tract.
Can I add sparkling water to my Good Girl Moonshine?
Yes! Of course, the apple cider vinegar is naturally fizzy and sparkling in this drink.
But sometimes I still like to add sparkling water to make it extra special!
When should I enjoy Good Girl Moonshine?
We love sipping on this drink all day long. Just add ice and enjoy! (Even my teenagers enjoy it!)
You can also drink it warm when the weather is cooler. I even have a recipe for Hot Detox Tea!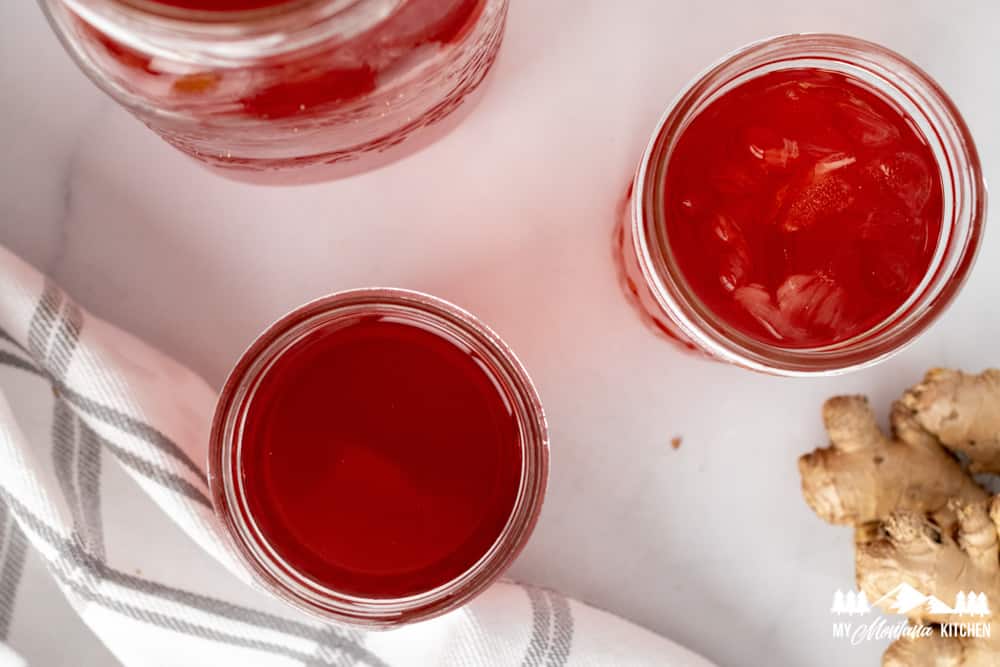 Will Good Girl Moonshine help me lose weight?
Apple cider vinegar has many health benefits aside from being a weight loss aid.
There aren't any concrete studies that prove apple cider vinegar helps people lose weight more effectively than other diets, however, there have been suggestions that the acetic acid found in apple cider vinegar might inhibit fat storage and stimulate fat metabolism.
Apple cider vinegar also works as an appetite suppressant, which can aid in weight loss.
It also helps regulate blood sugar levels and control cravings. (As always, consult your doctor or a medical professional before beginning any new diet or exercise routine.)
Can I still drink it if I'm not trying to lose weight?
Of course, you can! Enjoy this delicious drink any time of day.
What else is in Good Girl Moonshine besides ACV?
Good Girl Moonshine contains ginger juice, which is high in antioxidants and has many health benefits, including anti-inflammatory properties. Ginger can also help soothe an upset stomach.
I make my own ginger juice - and it is HEAPS better than using ground ginger powder!
The drink is sweetened with the natural herb stevia instead of sugar - another ingredient that adds zero calories to this healthy concoction!  
I often like to add extracts to my GGMS to add more flavor!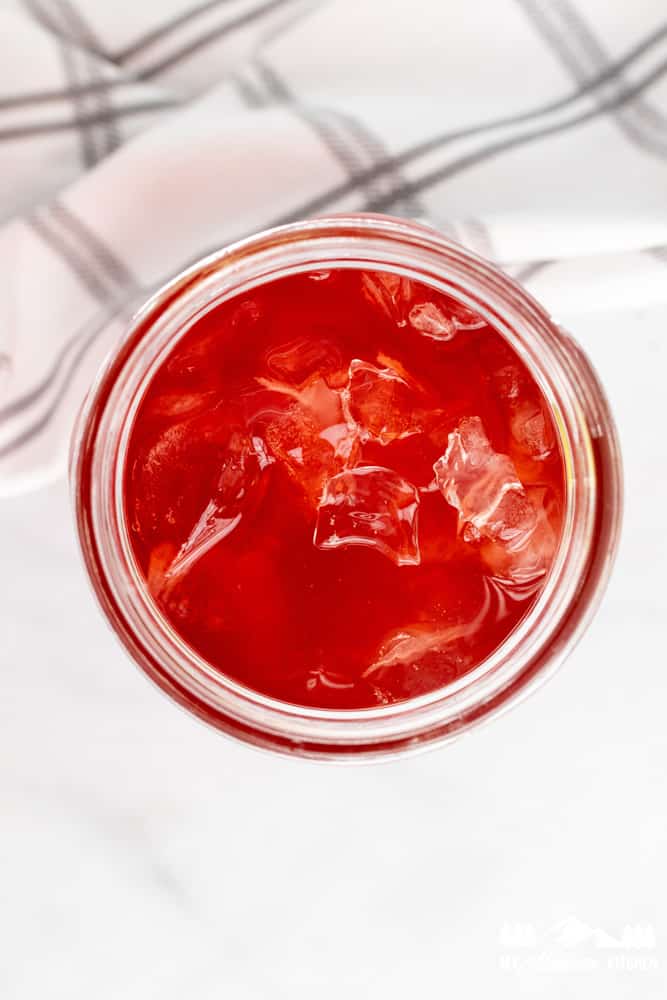 When Good Girl Moonshine is considered a Trim Healthy Mama Sipper, can you drink as much as you want?
Absolutely! There are many recipes for Trim Healthy Mama "Sippers" that can be found in the Trim Healthy Mama book as well as on the internet.
Some people like to make a big batch once a week by putting it in a pitcher and serving throughout the week.
I also like to prep them in individual mason jars and store them in the refrigerator. Then when I'm ready to drink them, I just add ice and a little water!
What are some additional Apple Cider Vinegar Drink recipes?
Wondering how the Trim Healthy Mama Plan Works? Check out my post here, What is Trim Healthy Mama?
You'll learn all the Trim Healthy Mama basics and even get some free recipe downloads so you can start THM at one of your very next meals!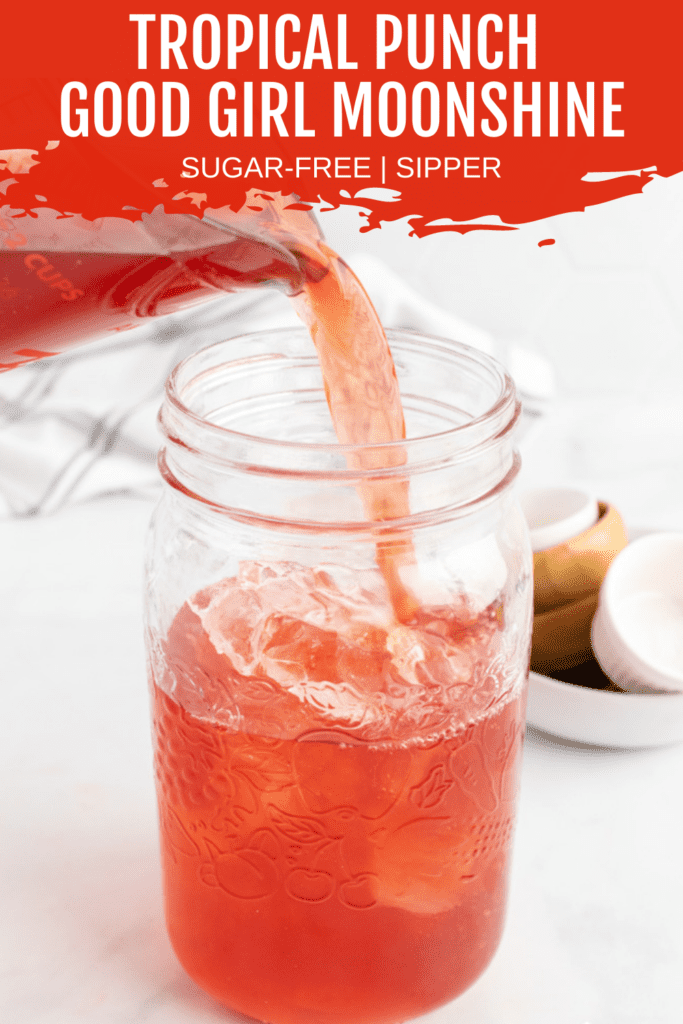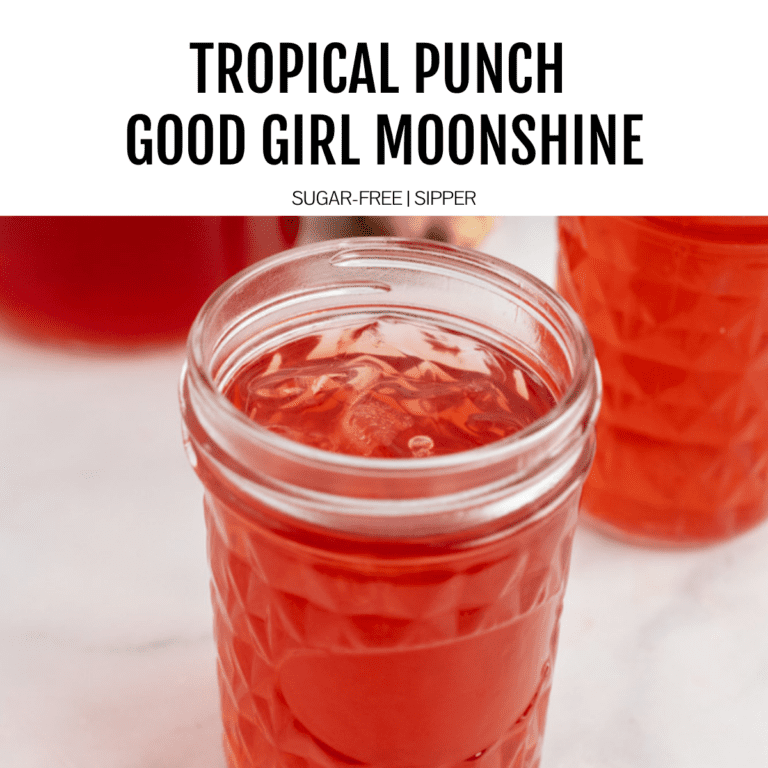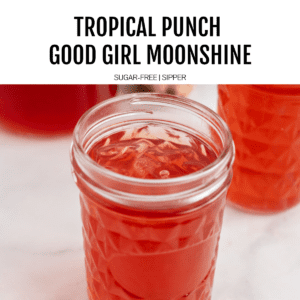 Tropical Punch Good Girl Moonshine
This good girl moonshine is a fruity apple cider vinegar drink that not only tastes great, but is also good for you! With its tangy tropical punch flavor, this beverage is perfect for quenching your thirst on a hot day.
Print
Pin
Rate
Instructions
Brew the 2 herbal tea bags with 2 cups of hot water.

Allow to steep for at least 10 minutes.

Add stevia, extracts, vinegar and ginger juice, and stir well until stevia is dissolved.

Pour into a quart mason jar filled with ice and add water to reach the top.
Video
Notes
A "doonk" is 1/32 of a teaspoon.
Nutrition