We may earn money from the products/companies mentioned in this post. As an Amazon Associate I earn from qualifying purchases.
Air fryer pita chips are a delicious recipe that is crunchy and perfect for snacking. Air-fried pita chips take just 3 ingredients to make.
If you are a fan of pita chips, you have to try this air fryer pita chips recipe to make your own pita chips at home.
Within no time you have chips for dipping in hummus, eating on the side of egg roll in a bowl, or your favourite dip.
For Trim Healthy Mamas, you can use the Joseph's Pitas to make Trim Healthy Mama friendly chips!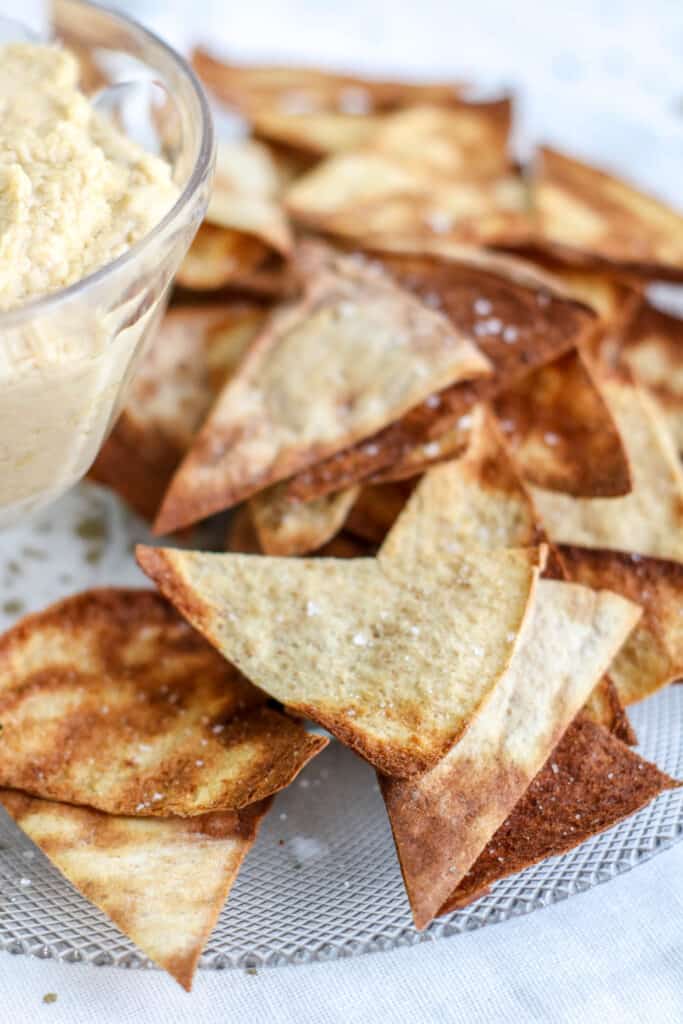 Air Fryer Pita Chips
Making homemade pita chips healthy is a great way to control the ingredients you are eating.
Whether you have an air fry oven or air fryer basket, this recipe works in even a smaller air fryer.
The perfect snack cuisine you have to try.
This is a wonderful way to use up pita pockets on hand before they go bad.
Serving Suggestions
Pair with your favorite dip as an appetizer
Wonderful with hummus for a healthy snack
Use as chips for making nachos
Crumble and top Egg Roll in a Bowl for a crunch
Add different spices to chips for snacking. Bagel seasoning is so good on these chips. But you can use other dried herbs and spices.
Directions
The first step is to turn on the air fryer.
Next, slice your pitas into pita triangles. If you have pita pockets, open the pocket up and then slice so the chips are a single layer.
Spritz the pitas with oil and then sprinkle with salt. Sea salt is delicious with the pitas.
Next, you will cook as directed, and then flip half way through cooking.
Once the pitas turn golden brown remove and allow to cool just a minute or two and serve. The air-fried pita chips are best eaten fresh out of the air fryer.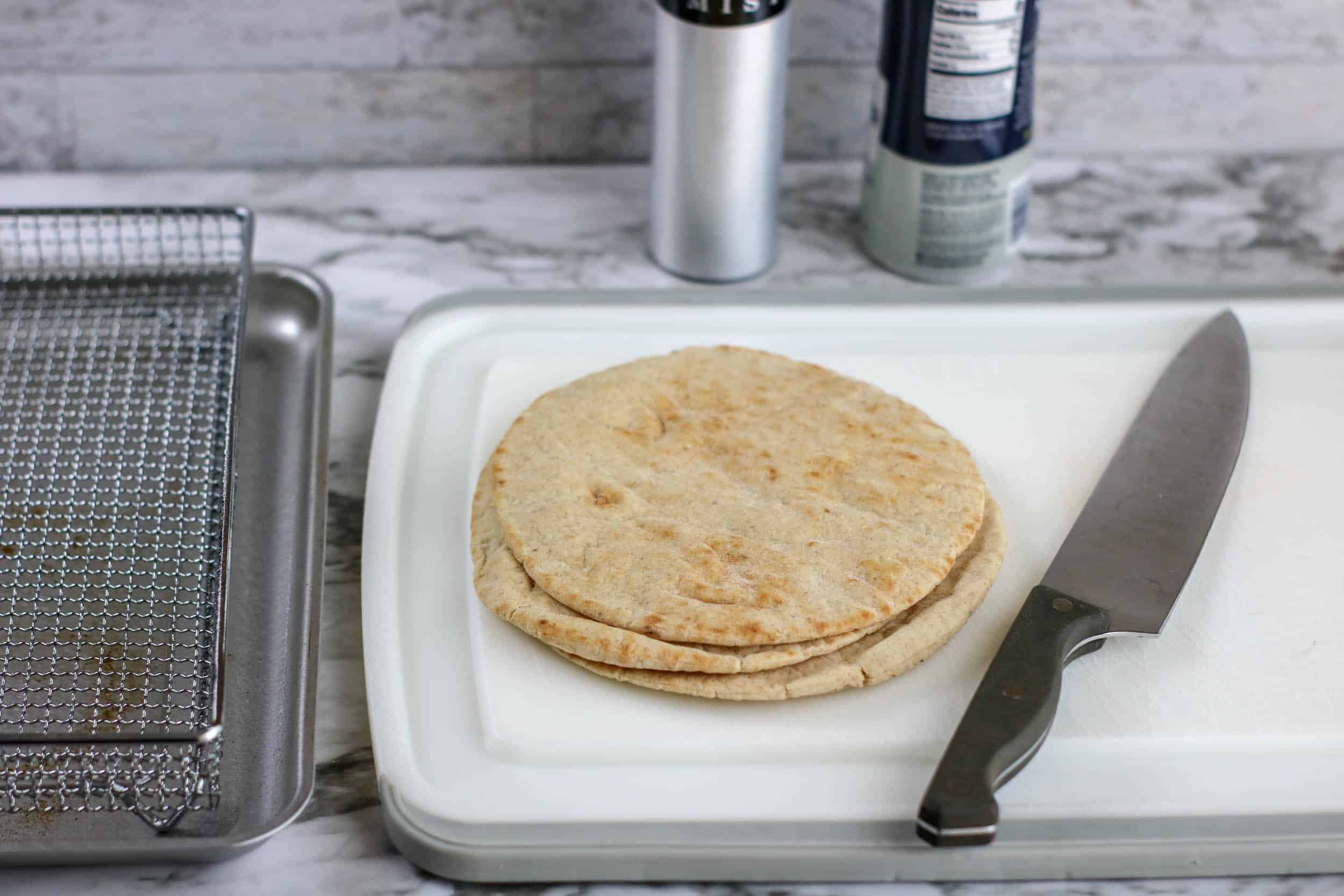 Helpful Tips For Success
When making these homemade pita chips here are a few tips to help set you up for success.
Do a single layer of pita chips in the air fryer. Otherwise the chips will not cook evenly, and you might find some spots are not as crunchy.
The olive oil is needed to help the salt to stick to the chips. Now you can use garlic powder, onion powder, everything but bagel seasoning, pepper, etc.
Allowing the chips to cook long enough ensures the chips are crispy. If you have larger chips you might need to extend the cooking time by a minute or two.
Toss half way through cooking to ensure both sides of the pita get evenly cooked and crispy.
Common Questions
What temperature should you air fry pita chips in the air fryer?
This recipe calls for 350 degrees, and I found it was the right temperature. It allows the pitas to crisp up nicely and offers a nice golden brown color without overcooking.
Can I skip adding the cooking oil to the pita chip recipe?
You can make these chips without oil, but you can't season the chips. The oil is going to allow your favorite spices to stick to the pita. Otherwise, the seasonings just fall off.
A little bit of oil (extra virgin olive oil, avocado oil, or your oil of choice) also helps to make crispy pita chips!
How do I store homemade pita chips?
I recommend storing these chips in an airtight container or a Ziplock bag with the zipper shut. They will last 3-4 days in the pantry this way.
If they soften a bit in the bag, you can always pop them back in the air fryer for a few moments to crisp them back up.
You can also freeze pita chips! Just place them in a freezer bag with the air pressed out. They will last 2-3 months in the freezer. When you are ready to eat them, let them thaw on the counter for an hour and then crisp them back up in the air fryer.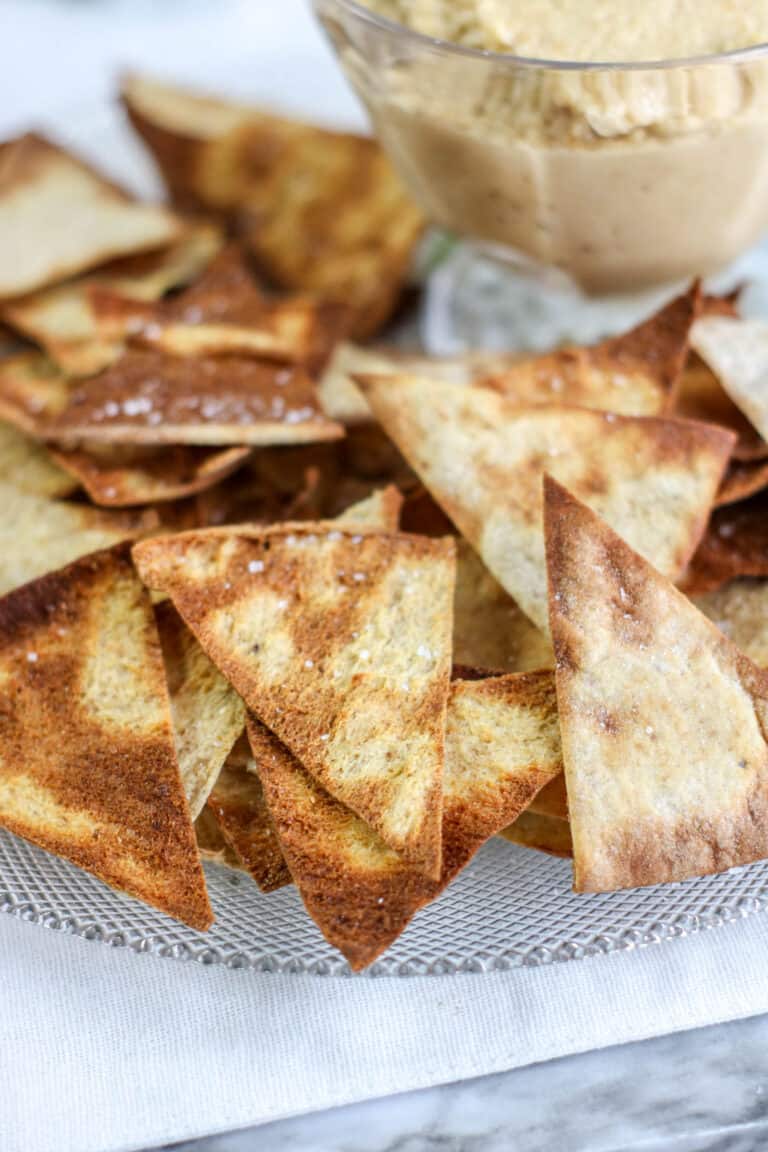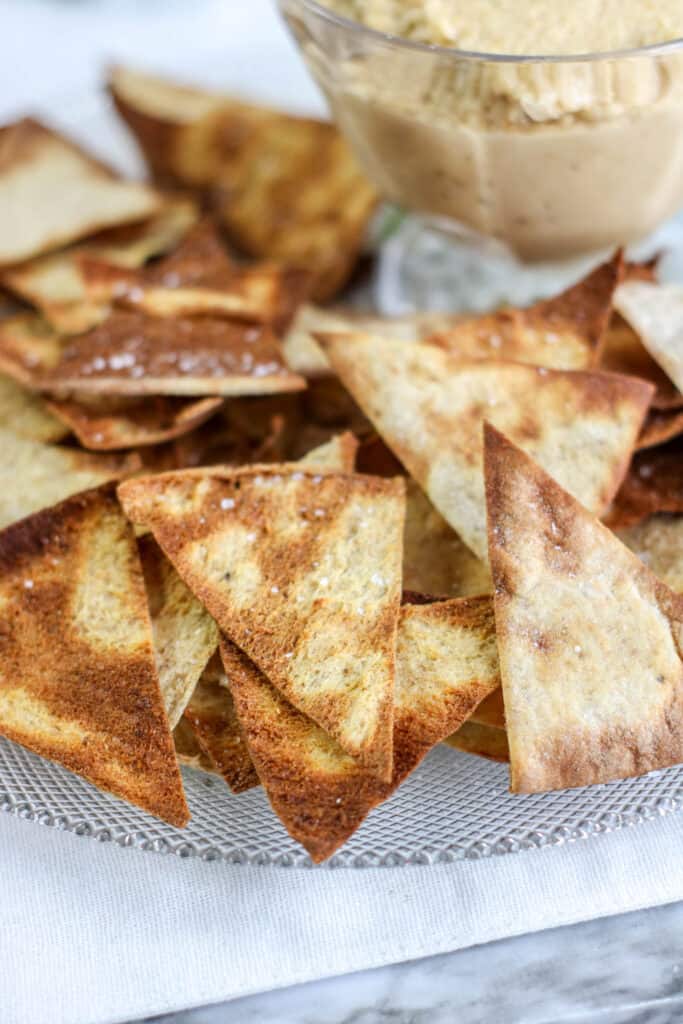 What other seasonings can I add to my pita chips?
There are so many flavor possibilities when you make these chips at home. Here are some of our favorite seasonings:
Onion powder
Garlic powder
Oregano
Ranch seasoning
Italian seasoning
Do I need to preheat my air fryer?
No, I never preheat my air fryer. I usually just place the food in the basket, then turn the air fryer on to the preferred temperature. But you should refer to your air fryer's user manual for the best results.
What kind of pitas can I use for this recipe?
You can use any type of pita bread for this recipe.
However, if you want these pita chips to be Trim Healthy Mama friendly, you need to use the St. Joseph's pitas.
If using Joseph's pitas, these homemade pita chips will be a THM-FP!
Do I need to cut the pitas into chips before air frying?
Yes, you will need to cut the pitas into chips or wedges before air frying. If you don't, you will just end up with a big, crispy pita bread, which is still tasty, but not what we are going for with this recipe.
Other Air Fryer Recipes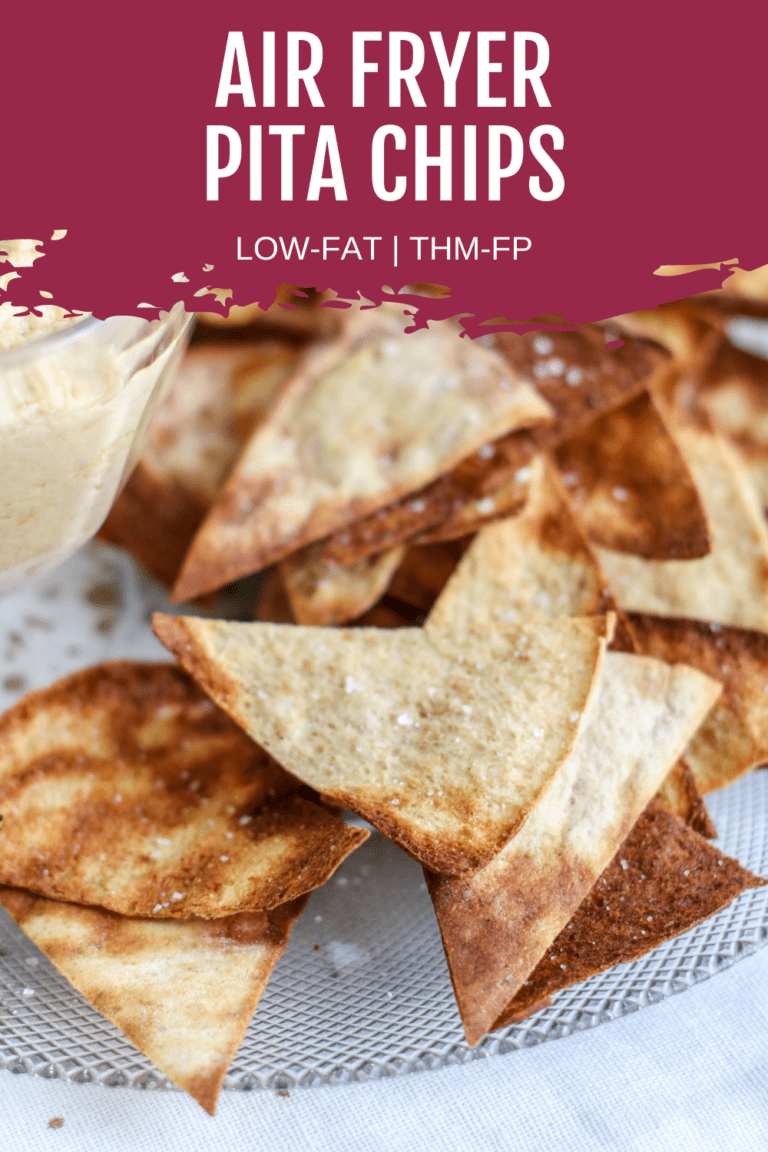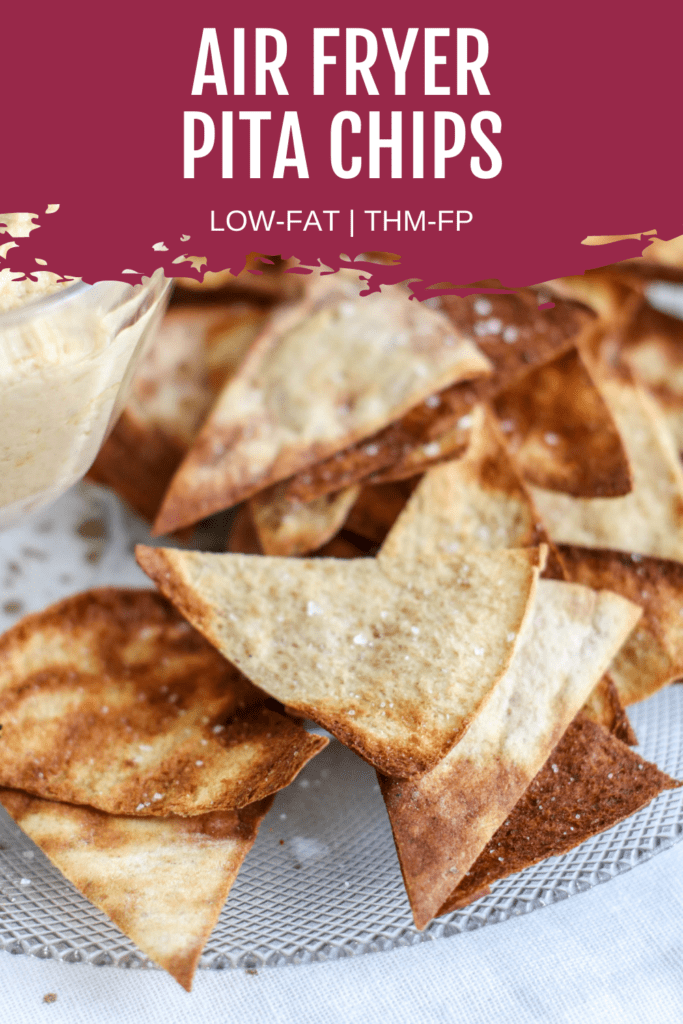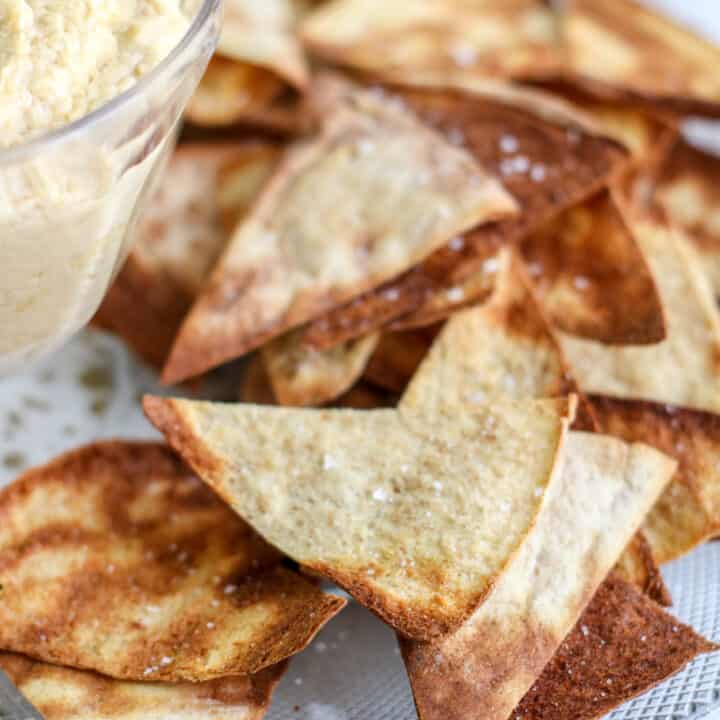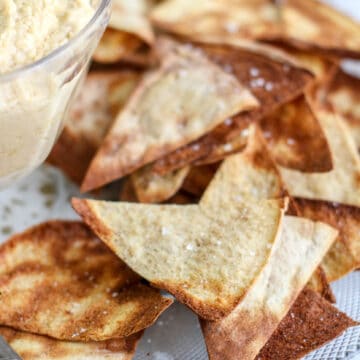 Air Fryer Pita Chips
With just three ingredients, these chips are perfect for snacking on or dipping in your favourite dip.
Print
Pin
Rate
Ingredients
Olive Oil Cooking Spray

(or olive oil in a spritzer can)
Instructions
Turn on air fryer to 350 degrees.

Cut each round pita into triangles. If pita bread had a pocket, open the pita triangle and cut in half. Place a single layer of pita triangles in the air fryer basket. Spray with cooking spray and sprinkle with salt.

Cook for approximately 4 minutes. Flip and continue cooking for 3 to 4 minutes. Be mindful that each air fryer is different. Watch the first batch carefully and adjust cooking times if needed.

Continue cooking in batches until all pita chips are done.
Nutrition
Serving:
1
Pita
|
Calories:
60
kcal
|
Carbohydrates:
9
g
|
Protein:
6
g
|
Fat:
1.5
g
|
Fiber:
2
g