We may earn money from the products/companies mentioned in this post. As an Amazon Associate I earn from qualifying purchases.
If you're in charge of dinner tonight, air fryer chicken legs are a quick and easy solution.
This method for cooking air fryer chicken drumsticks ensures your family will be asking for this easy dinner often!
All you need to do is add some oil and seasoning before air frying the chicken drumsticks in the air fryer so they taste great when served!
You'll have crispy chicken legs with crispy skin in just a few minutes!
Who doesn't love chicken legs? They're really tasty, plus you'll be happy knowing that if your oven isn't working (or if it's the summer and you want to keep things as cool as possible) - you can still make some delicious, crispy chicken.
Plus, air fryer drumsticks are very economical!
Chicken drumsticks are one of the cheapest meats available, but your whole family will enjoy this easy dinner recipe!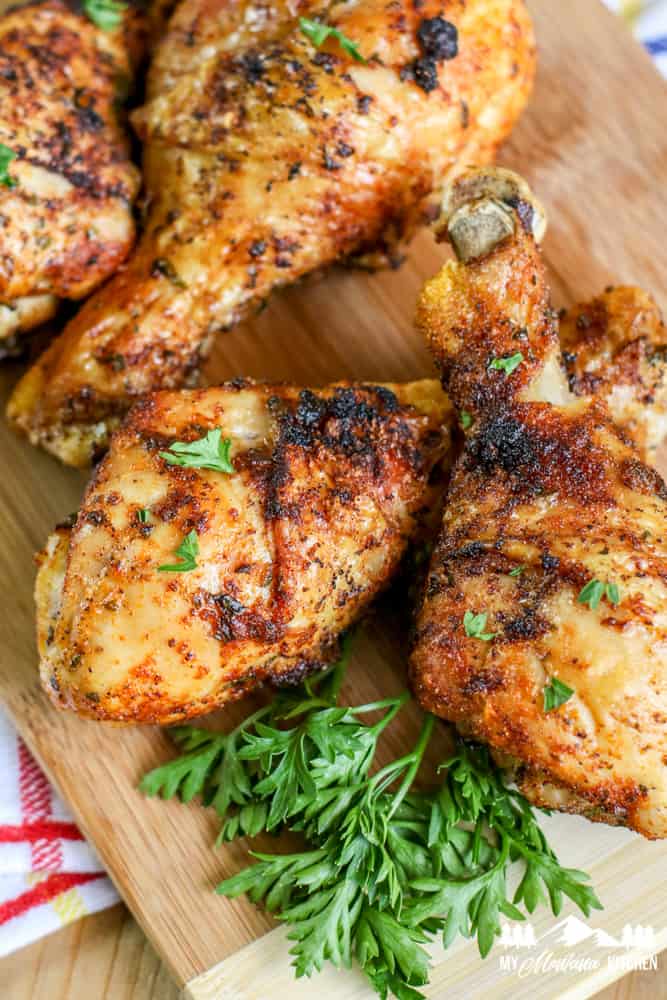 Air Fryer Chicken Legs
What I really like about this recipe is how easy it is. Cooking drumsticks in the air fryer is truly simple!
You only have to follow a few steps:
In a small bowl, combine the spices together
Coat the chicken legs all over with olive oil
Sprinkle the seasoning blend all over the chicken legs
Place drumsticks in a single layer in the air fryer basket for the specified amount of time!
Serve immediately with your favorite side dish!
(Wedge Salad or Loaded Cauliflower Casserole would be great options!)
It's really that simple!
Just a few steps and you've got yourself a tasty meal that's ready to go whenever you are.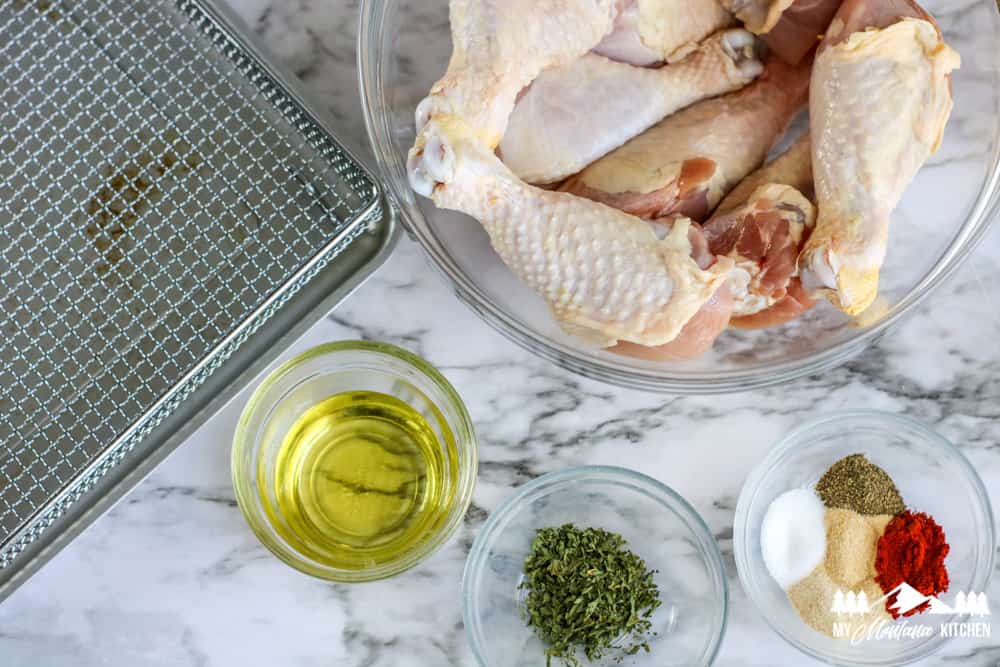 How long do you cook chicken legs in an air fryer?
On average, it takes anywhere from 12-20 minutes to cook a full batch of thawed chicken drumsticks in an air fryer.
This is if they are thawed. If the chicken legs are frozen, you'll need to add additional time.
What temperature to cook chicken legs in an air fryer?
There are some models that allow you to choose from several different temperatures and each one has its own advantages and disadvantages.
If you want crispy chicken skin throughout and a deep-fried-like taste, feel free to crank up the heat all the way up to 400 degrees Fahrenheit.
(If I'm honest, I always turn my air fryer up to 400 - no matter what I'm cooking!)
One thing we haven't mentioned yet: there are pre-set buttons that will cook dishes like fries or meat faster.
Just make sure not to trust them blindly and check if the food comes out well enough - times and temperatures may actually vary from different brands and devices.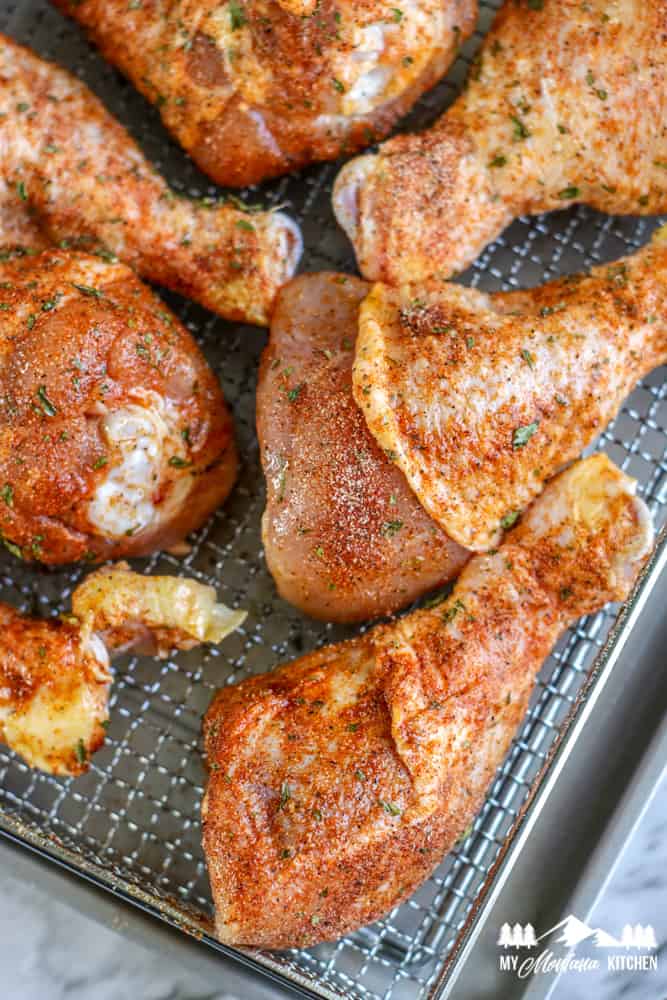 How to know when chicken legs are cooked through
Chicken legs can be a little tricky.
If you cook them too long, they will be too dry.
They should have some slight pink, but not red.
And you want to make sure the internal temperature is correct.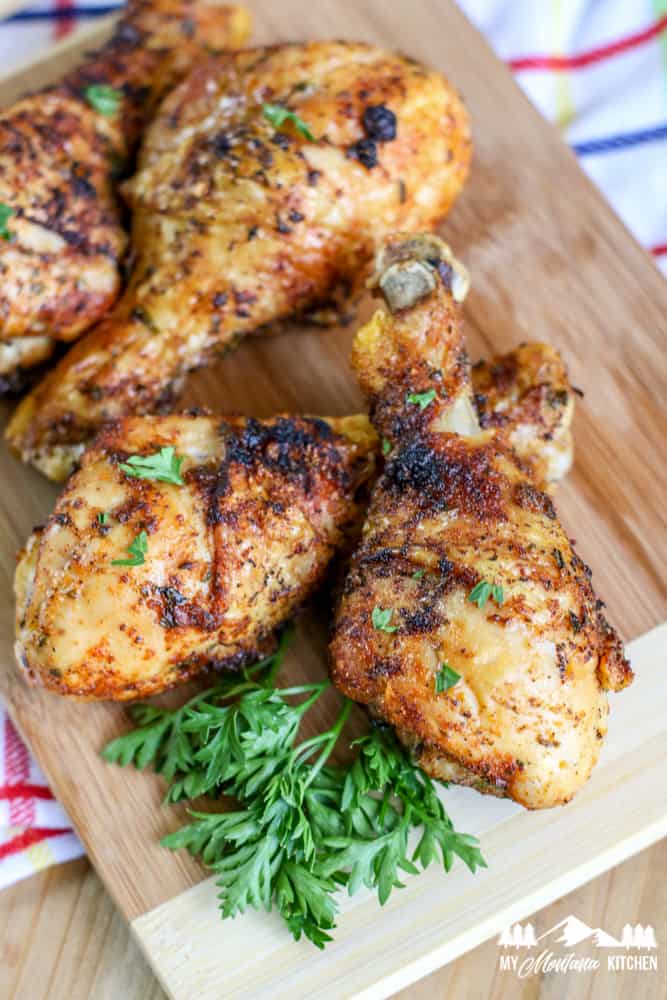 What internal temperature are chicken legs when thoroughly cooked?
One thing we know for sure - when chicken legs are thoroughly cooked, they reach an internal temperature of 165 degrees Fahrenheit.
You can use a meat thermometer to easily tell when the chicken has reached this internal temperature.
Flavor options for air fryer chicken drumsticks
This particular recipe uses parsley, garlic powder, paprika, salt, and pepper to season.
You can also use other spices, just make sure they have no sugar added.
Onion powder, cayenne pepper, or chili powder would also be a great addition.
And smoked paprika is always a great idea, too! It just adds that little bump of extra smoky flavor!
Really, you can use any spice mixture you like.
You can also use basil or thyme instead of parsley if you like the taste better.
If you like sweet and savory foods, you could sprinkle a little sugar-free brown sugar over the chicken legs before air frying!
Italian seasoning would also be great for these juicy chicken drumsticks!
After the chicken cooks, you could even baste your favorite bbq sauce over the crispy skin!
Do I need to thaw frozen drumsticks before air frying?
No need to thaw them out before air frying if you don't have the time. (See the full recipe card below for instructions on how to cook frozen chicken legs in the air fryer!)
Is there a maximum amount of drumsticks that the air fryer can handle at one time?
There is no specific maximum amount or weight for air frying, but some air fryers may only be able to accommodate a certain amount of chicken legs.
So it definitely will depend on the make and model of your air fryer.
My air fryer will hold about 6-8 chicken legs.
You do want to make sure that the chicken drumsticks are laid out in a single layer in your air fryer.
So no, you cannot stack chicken drumsticks in an air fryer.
How long does it take for air-fried chicken legs to cook?
If you are using frozen chicken legs, it may take 25 - 30 minutes at 400 degrees Fahrenheit in order for them to fully cook through.
When cooking with fresh or defrosted poultry, it will take 12-20 minutes at 400 degrees Fahrenheit.
If the meat feels soft and squishy when you press your finger into the thick part of the meat, this means they are not cooked through even though they may look like they are done.
To be certain they are safely cooked, use a meat thermometer and make sure the internal temperature is 165.
Can air-fried chicken legs be frozen?
Yes, air-fried chicken legs can be made in advance and frozen for later use.
Place the completely cooled chicken legs in an airtight container and place them in your freezer until ready to use.
When you are ready to eat, follow the specific instructions listed in your air fryer's user manual for reheating food.
If you do not have an air fryer user manual available, reheat them by air frying at 400 degrees Fahrenheit for about 10 minutes or until heated through completely.
Buying an air fryer is one of the best purchases ever! My air fryer is a Gourmia brand, and I got it from Costco several years ago.
They still regularly carry it - and it is often on sale for $39.99.
I use my air fryer nearly every single day!
More Delicious Chicken Recipes:
Keto Chinese Chicken & Broccoli
More Air Fryer Recipes:
Air Fryer Chicken Chimichangas (Low-Carb)
Air Fryer Pork Chops with Parmesan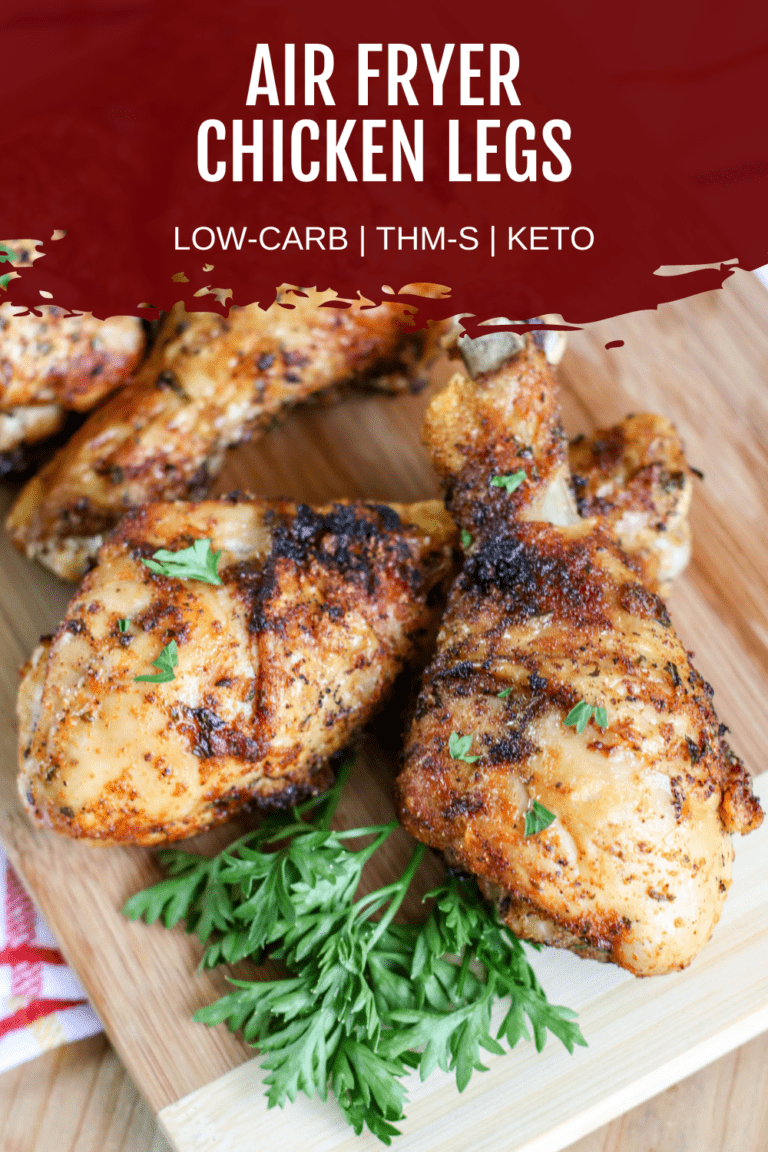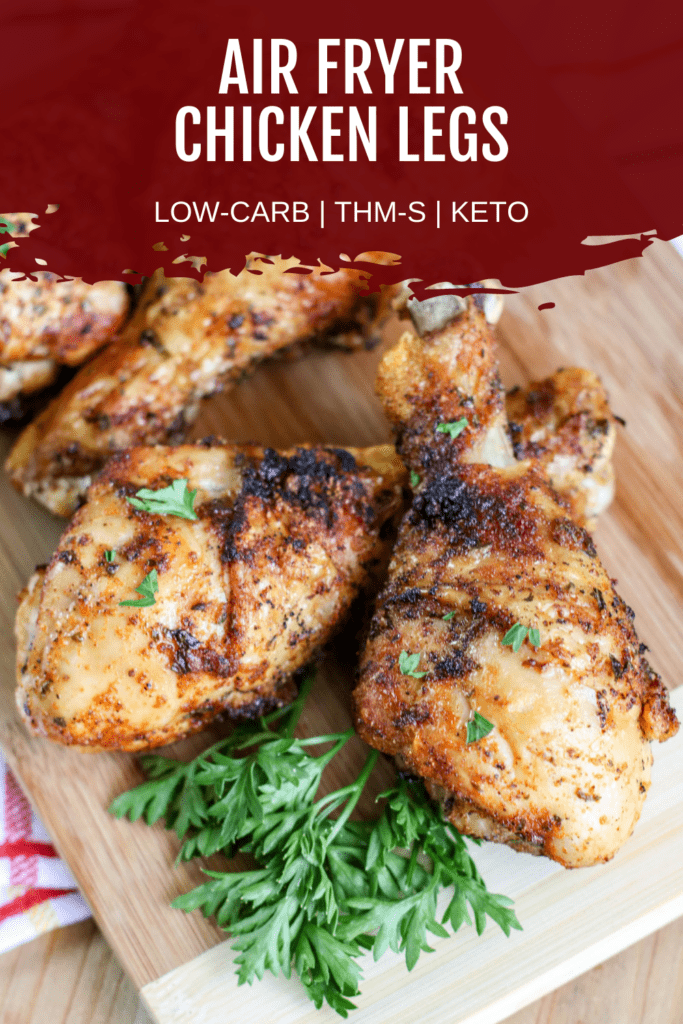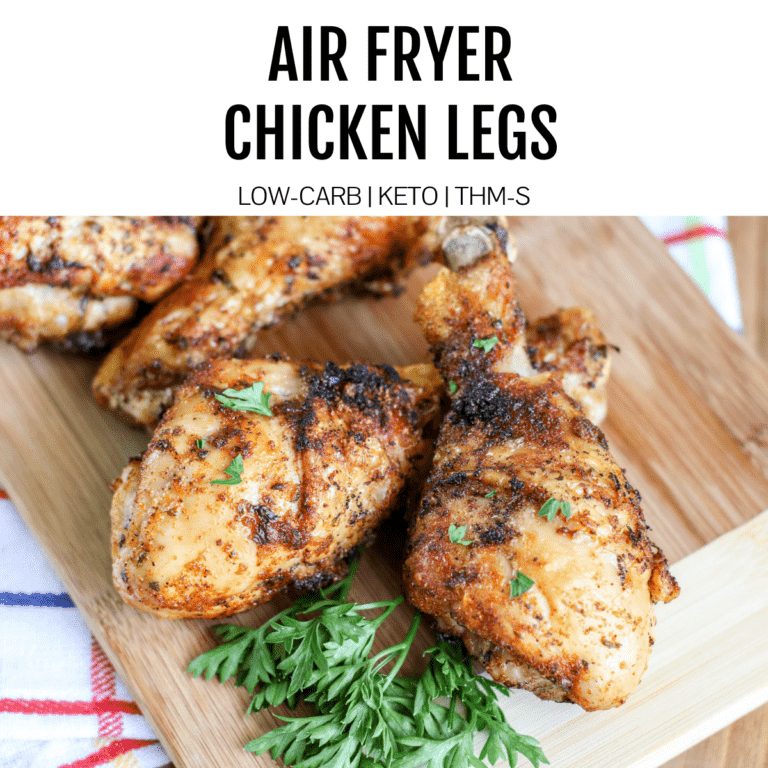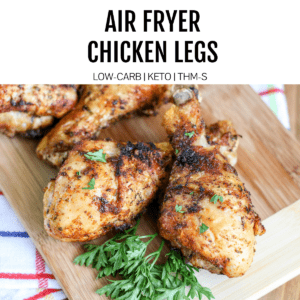 Instructions
Preheat air fryer to 400 degrees.

In a small bowl, combine all dry seasonings.

Coat chicken legs in olive oil. Sprinkle dry seasoning blend over chicken to cover all sides.

Place chicken in the air fryer basket and cook at 400 degrees for 10 minutes. Turn chicken legs and continue to cook for an additional 2 to 10 minutes, depending on the thickness of the chicken legs and wattage of the air fryer.

To ensure doneness, check chicken legs for an internal temperature of 165 degrees.
Notes
To cook from frozen:
To cook the drumsticks from frozen, you will need to increase the time to 12-15 minutes on each side. (Flip the drumsticks over after 15minutes and then cook for an additional 15 minutes)
As always, be sure to check the internal temperature with a meat thermometer to ensure the meat has been cooked thoroughly. The internal temperature should be 165 degrees Fahrenheit.
Nutrition
Serving:
1
Drumstick
|
Calories:
220
kcal
|
Protein:
22
g
|
Fat:
15
g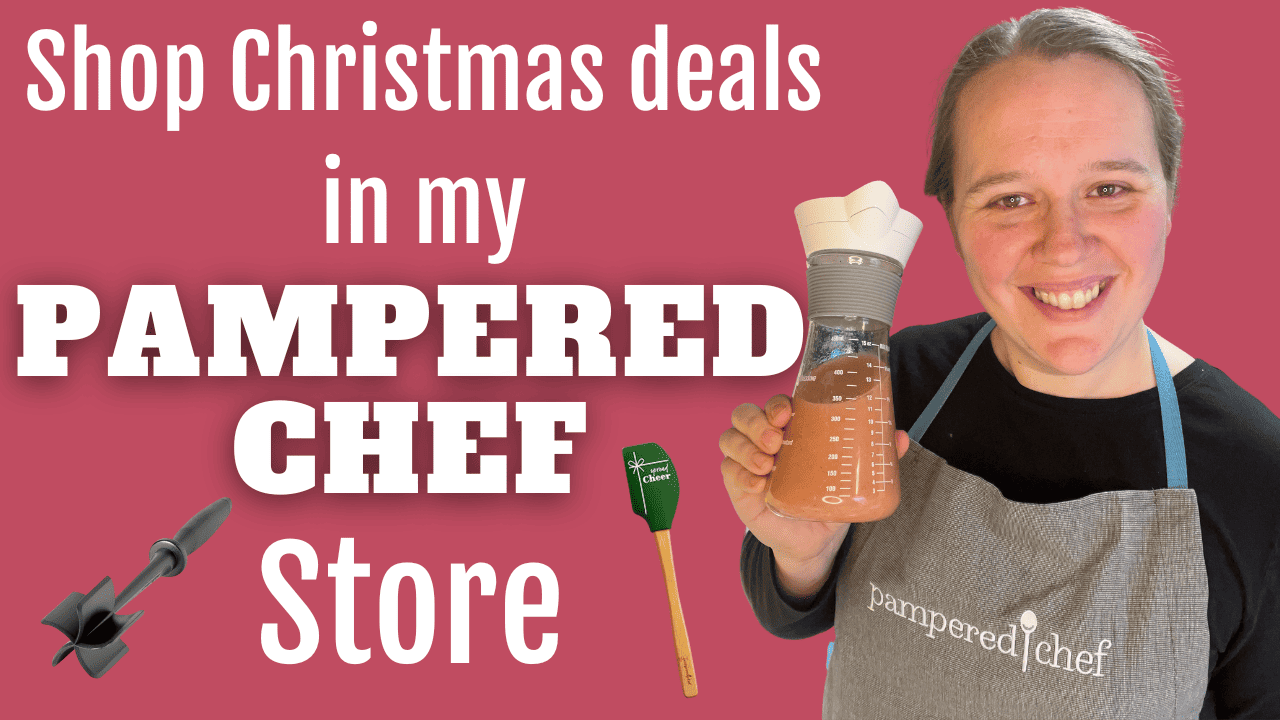 Reader Interactions