We may earn money from the products/companies mentioned in this post. As an Amazon Associate I earn from qualifying purchases.
Buffalo Chicken Casserole
Rich, cheesy, and bursting with flavor, this Buffalo Chicken Casserole is sure to be a weeknight favorite for your family. If you love hot wings, you will love this casserole!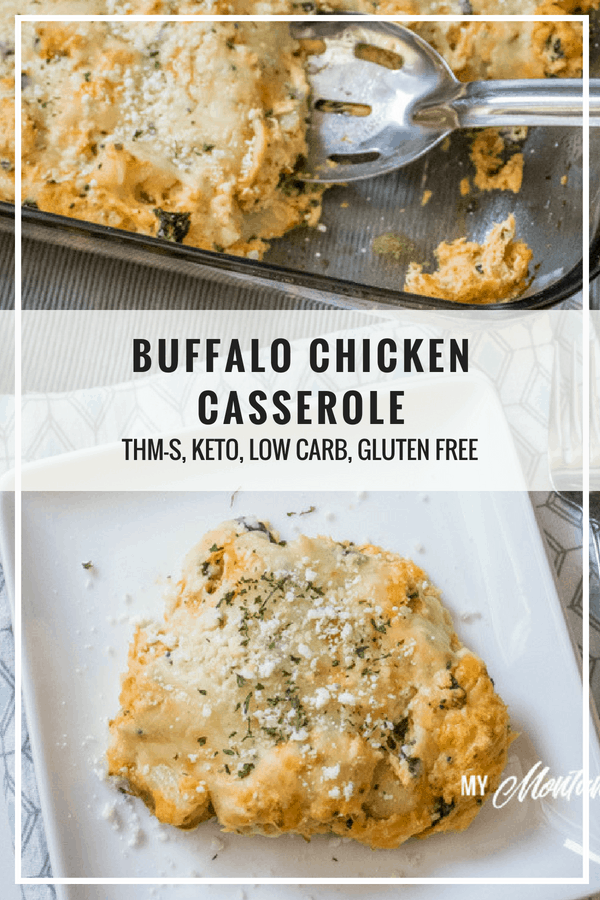 (We are a participant in the Amazon Services LLC Associates Program, an affiliate advertising program designed to provide a means for us to earn fees by linking to Amazon.com and affiliated sites. I am also an affiliate with Trim Healthy Mama. There are affiliate links used in this post.)
This recipe is low carb, gluten free, keto-friendly, and a Trim Healthy Mama S Fuel.
When my husband and I first got married (12 years ago), we pastored a small church just outside of Jamestown, New York.
For a girl who grew up in East Tennessee, it was a bit different to live in New York. Interestingly enough, when we would tell someone we lived in New York, they immediately assumed that we lived in New York City.
"Oh, I could never live there!" "So, how do you like it?" "How do you handle the traffic?" Were just a few of the questions we would receive.
Of course, where we lived in Western NY was a LONG way from New York City. We lived just on the outskirts of a small town, and very near the country.
It was a beautiful place to begin our life together and to begin our family. We have so many wonderful memories of our time there.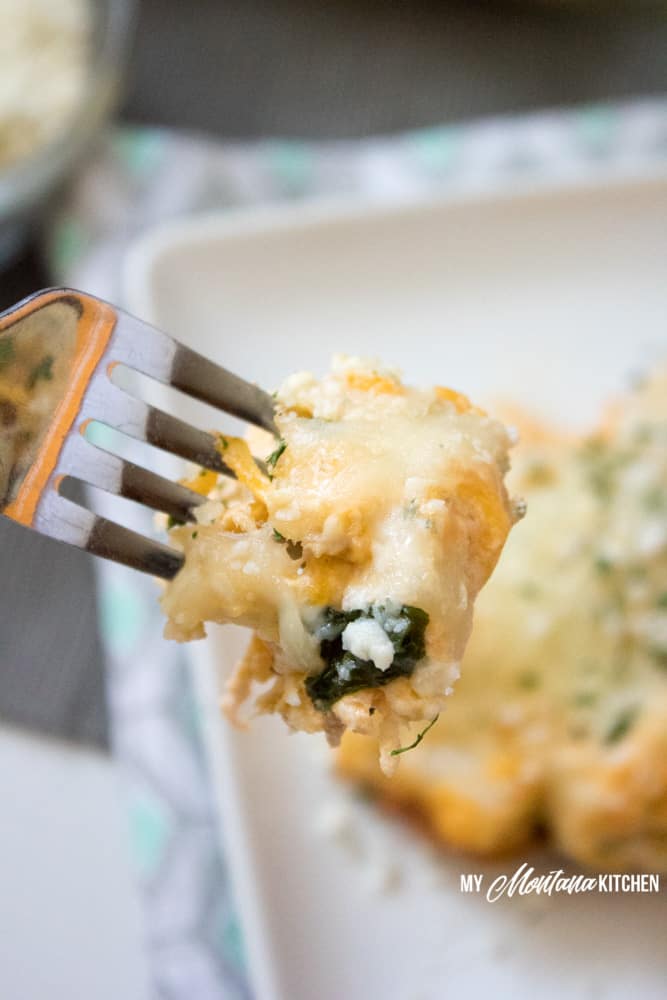 How I learned to love Buffalo Wings
We lived just a couple hours south of Buffalo, NY where the "Buffalo Wing" craze first began. And would you believe that in all of my 21 years, I had never eaten a Buffalo wing?
We also pastored a second church, on the Seneca reservation, not far from where we lived. The good people there introduced me to hot wings.
It didn't take very long until I learned to love them!
We had a favorite pizza/wing restaurant just down the street from where we lived, and my Husband and I loved to order in wings on wing night!
Making Buffalo Wings at home
But ordering wings can get expensive - especially when you love them as much as we do!
Fortunately for us, my sister-in-law taught us how to easily make our own wings at home, which I now do on a regular basis! You can see my Easy Low Carb Hot Wings recipe here, which is still one of my husband's favorite meals.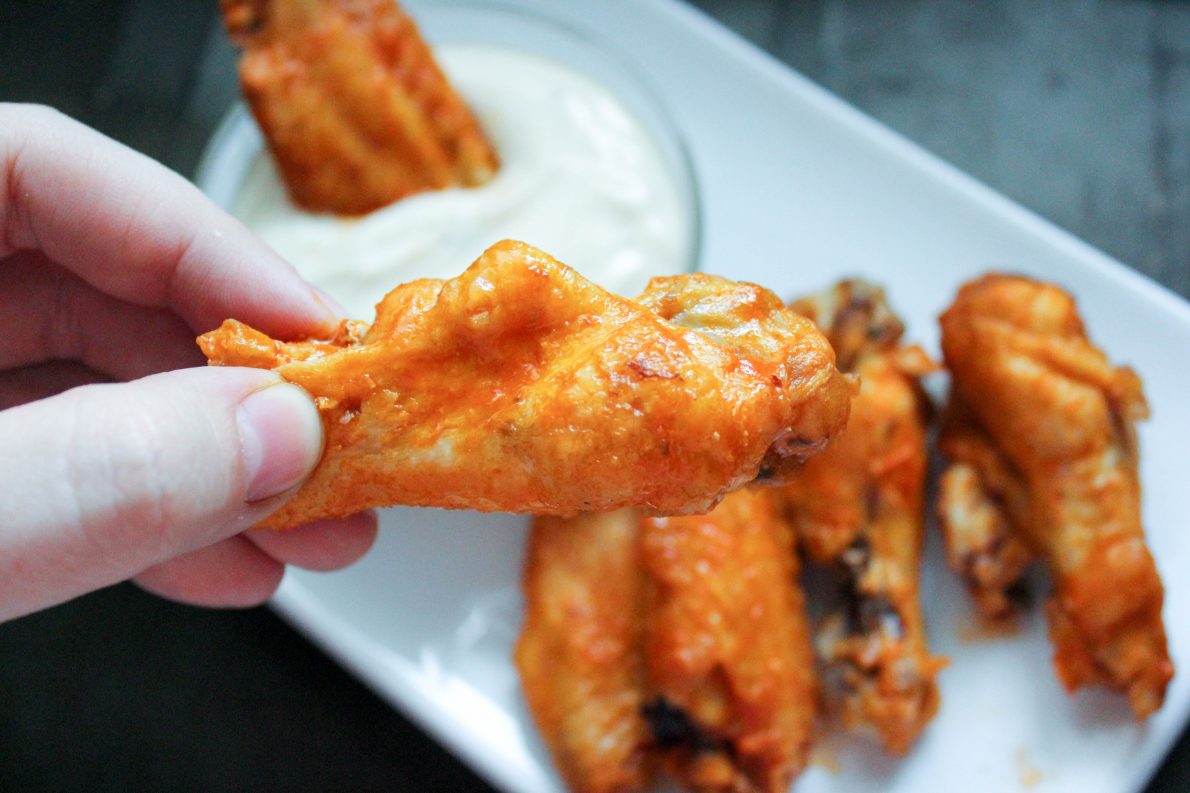 Not only did I learn to love wings, but I also learned that I love "Buffalo" flavored anything! I have created several recipes starring hot sauce, because our family loves it so much.
Low Carb Buffalo Chicken Pizza
Buffalo Bacon Jalapeño Poppers
This Buffalo Chicken Casserole is the latest in my Easy Chicken Casserole series. You can see the other Chicken Casseroles below.
Cheesy Chicken & Broccoli Casserole
Why I love Casseroles
I love casseroles because they are (in general) so easy to make! Most of them are easy to make in one bowl, then just spread it in your baking dish and bake!
I have only recently got on the "cauliflower train." But let me tell you, it is such an easy way to bulk up recipes and to add a bit of extra nutrition.
I like to use the riced cauliflower especially, but in this recipe I chose to use the frozen cauliflower florets.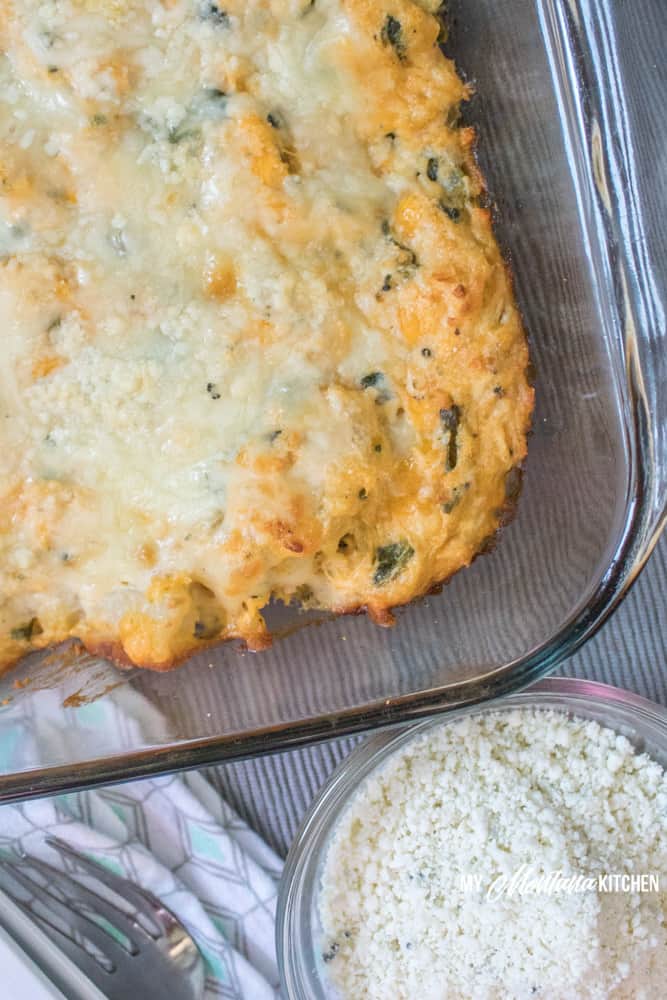 If you do not like the bigger pieces of cauliflower, (and want it to be less noticeable) feel free to use a package of frozen riced cauliflower in place of the florets.
At the last minute I decided to throw in some frozen spinach - mostly for color. You cannot taste it at all, but it breaks up the plain color of the casserole and adds vitamins as well!
I used Franks Red Hot sauce for my casserole, but feel free to use your favorite variety. (The heat level may vary depending on which hot sauce you use.)
I did not think that this casserole was very spicy, but it has a nice flavor. (Not so hot that your children would not like it.)
This Buffalo Chicken dish serves up 6 large servings. I like to serve it with a side salad and perhaps some Oven Roasted Broccoli or Marinated Cucumbers.
If you already have your chicken pre-cooked, this dish only takes a few minutes to put together.
You can chop salad ingredients while it is in the oven, and you have a healthy, filling meal on the table for your family (fast)!
Blue Cheese or Ranch for Hot Wings?
This is a much discussed subject as well. Do you like to dip your wings in Blue Cheese or Ranch dressing?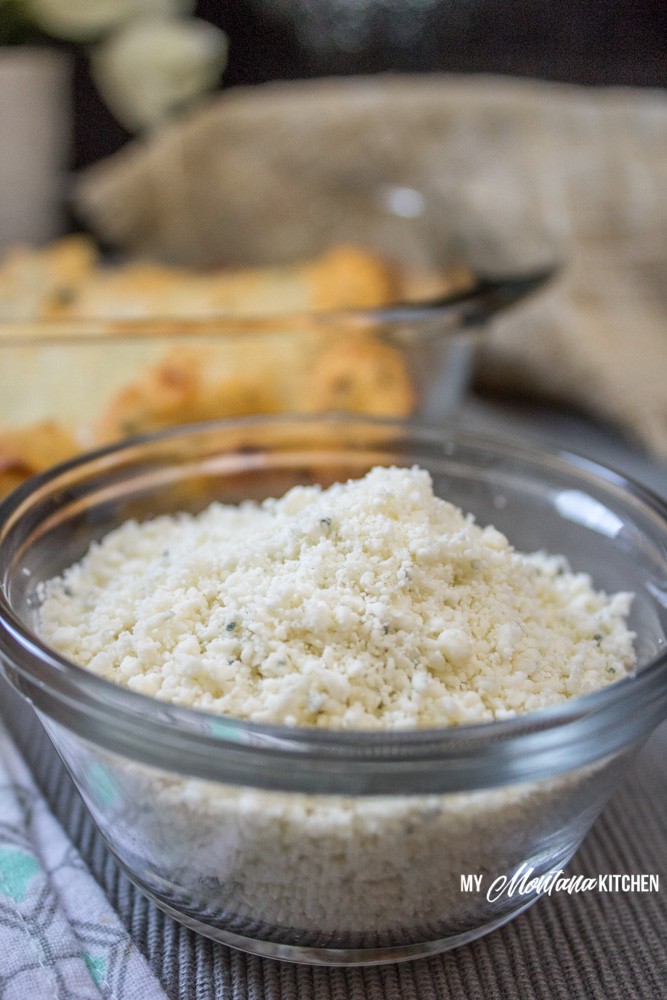 In our home everyone except me likes Ranch dressing. (And I love Ranch dressing as well - check out my Favorite Homemade Ranch dressing here!)
But every once in a while, I still enjoy the tangy flavor that comes from Blue Cheese.
For this recipe, I chose to sprinkle crumbled Blue Cheese on top of the casserole before baking, but if Blue Cheese is not your thing, feel free to omit it (or replace it with cheddar cheese, Parmesan, or any other cheese).
So, what do you need for this Buffalo Chicken Casserole?
Rich, cheesy, and bursting with spicy Buffalo flavor, this Buffalo Chicken Casserole is sure to be a weeknight favorite for your family.
For the Casserole:
3 Cups Cooked Chicken, Diced or Shredded
½ Cup Mayonnaise
1 8 Ounce Package Cream Cheese, Softened
½ Cup + 1 Tablespoon Hot Sauce
1 12 Ounce Bag Frozen Cauliflower Florets
1 Cup Loose Frozen Spinach
1 Cup Shredded Cheddar Cheese
½ Teaspoon Salt
½ Teaspoon Italian Seasoning
1 ½ Teaspoons Garlic Powder
1 Teaspoon Onion Powder
For the Topping:
½ Cup Shredded Mozzarella Cheese
¼ Cup Crumbled Blue Cheese
Be sure to sign up with your email address so you can receive all my new recipes delivered right to your inbox! (Look for the sign-up box at the top of this post.)
Also, be sure to follow me on Facebook, Pinterest, Instagram, and Twitter!
If you make a recipe and love it, please leave a comment on my Facebook Page or tag me on Instagram (my_montana_kitchen_thm)!
Buffalo Chicken Casserole
Rich, cheesy, and bursting with spicy Buffalo flavor, this Buffalo Chicken Casserole is sure to be a weeknight favorite for your family.
Print
Rate
Ingredients
For the Topping:
½

Cup

Shredded Mozzarella Cheese

¼

Cup

Crumbled Blue Cheese
Instructions
Preheat oven to 350.

In a large mixing bowl, mix together all the ingredients for the casserole.

Spread into a 9x13 baking dish.

Top with Shredded Mozzarella Cheese and Crumbled Blue Cheese.

Bake for 35-40 minutes, or until casserole is bubbly and cauliflower is cooked through - see note below. (I like to broil mine for the last several minutes.)
Notes
If you use the frozen cauliflower florets, you will need to bake it for at least 40 minutes - perhaps a touch longer. If using the cauliflower rice, you shouldn't need to bake it quite as long.
I buy Great Value Frozen Spinach, and it comes loosely in a bag. I find this is easier to use for casseroles because you can grab a handful and throw it in. 
If you buy your frozen spinach in the small blocks, you will probably want to thaw it and squeeze the excess moisture out before using it.
Nutrition
Serving:
1
Serving (1/6 of recipe)
|
Calories:
613
kcal
|
Carbohydrates:
8
g
|
Protein:
33
g
|
Fat:
47
g
|
Fiber:
1
g