We may earn money from the products/companies mentioned in this post. As an Amazon Associate I earn from qualifying purchases.
A cool and refreshing Low Carb Cheesecake Berry Salad that is perfect for summer! The creamy flavor of cheesecake mixed with the sweetness of fresh berries! A few minutes of prep is all this berry cheesecake salad requires.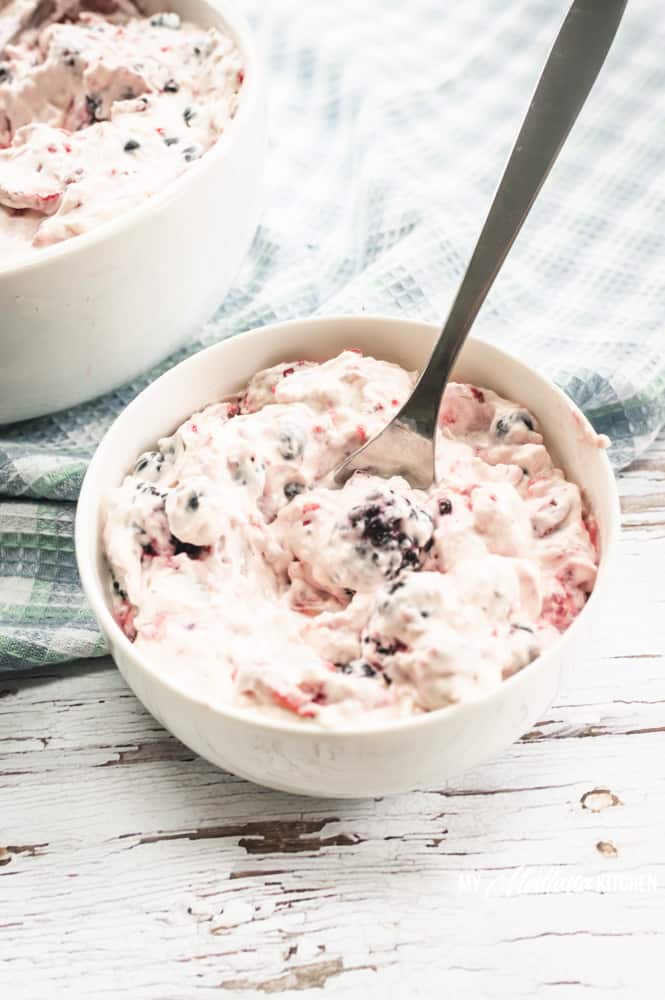 Low Carb Cheesecake Berry Salad
This recipe is the result of a direct request from one of my readers. (Thanks, Dianne!) The original recipe can be found here.
The original recipe uses prepared Cool Whip and sugar, both of which are not Trim Healthy Mama Friendly.
With a few simple changes, this recipe is completely on-plan as an "S" Fuel, and it easily fits guidelines for both low carb and keto, too!
Probably one of the things I love most about this Cheesecake Berry Salad is that it is so easy to make!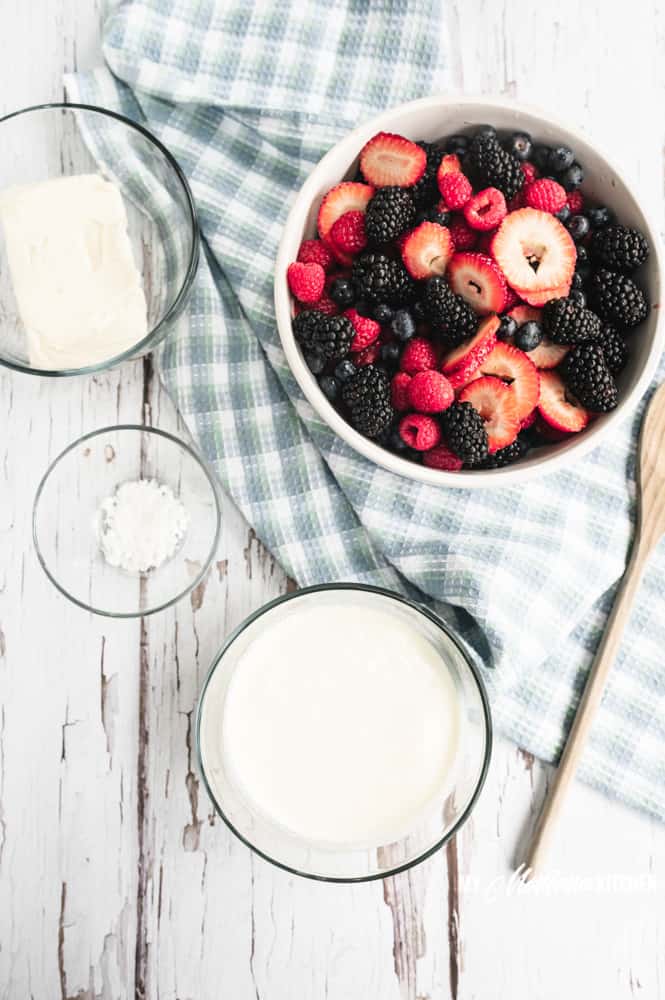 Very Berry Cheesecake Salad
Wash and dry your berries, slice the strawberries, beat the cream cheese and cream, fold it all together, and you're done!
It does not take long to put it together, and everyone loves it. I have a lot of readers tell me they have taken it to picnics or potlucks and it all gets eaten!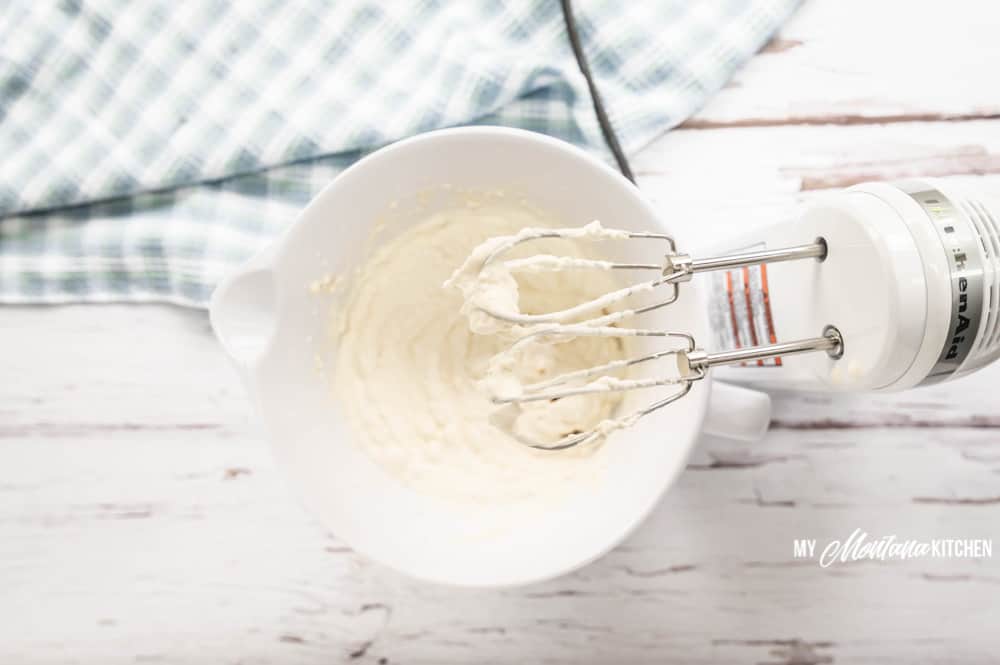 Check out these other desserts to try
Summer Berry Cheesecake Salad
No-one even knows that they are eating something sugar-free and low carb!
That is one of my tactics for going to parties, picnics, or potlucks . . .
If everyone is to bring a dish to share, I like to take something that I can eat, so I know I will at least have one option. (And many times there are a lot of options!)
Then, if anyone compliments the dish, you can tell them that is sugar-free (or low carb, or whatever).
Or you can keep it a secret! (Guess I've done that, too!)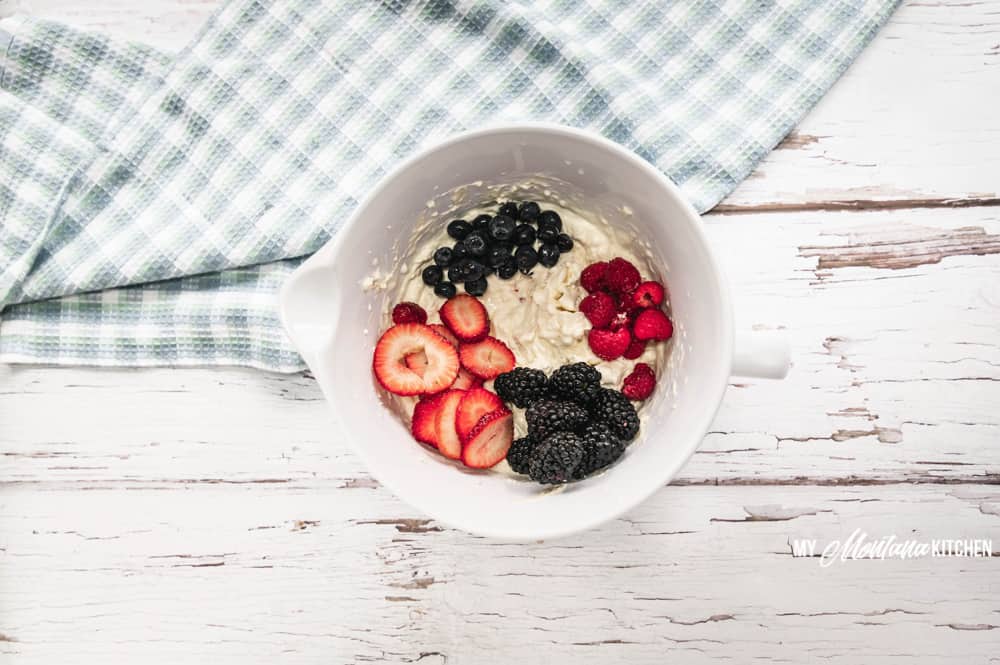 Swap Out Fruit In The Cheesecake Salad
Feel free to switch up the amounts of berries to your liking. (However, do be careful with the blueberries, as they are a bit higher in carbs.)
Adapt to what fruits are on sale or even consider adding in a few other fruits you and your family enjoy.
This berry salad is very easy for your taste buds.
Can You Use Frozen Berries In Replace of Fresh In Berry Cheesecake Salad
A lot of readers have asked if they can use frozen berries in place of the fresh in my berry cheesecake salad.
The short answer is yes, but it may make your salad a bit watery as they defrost, and it will most likely turn your salad purple! (But it should still taste great!)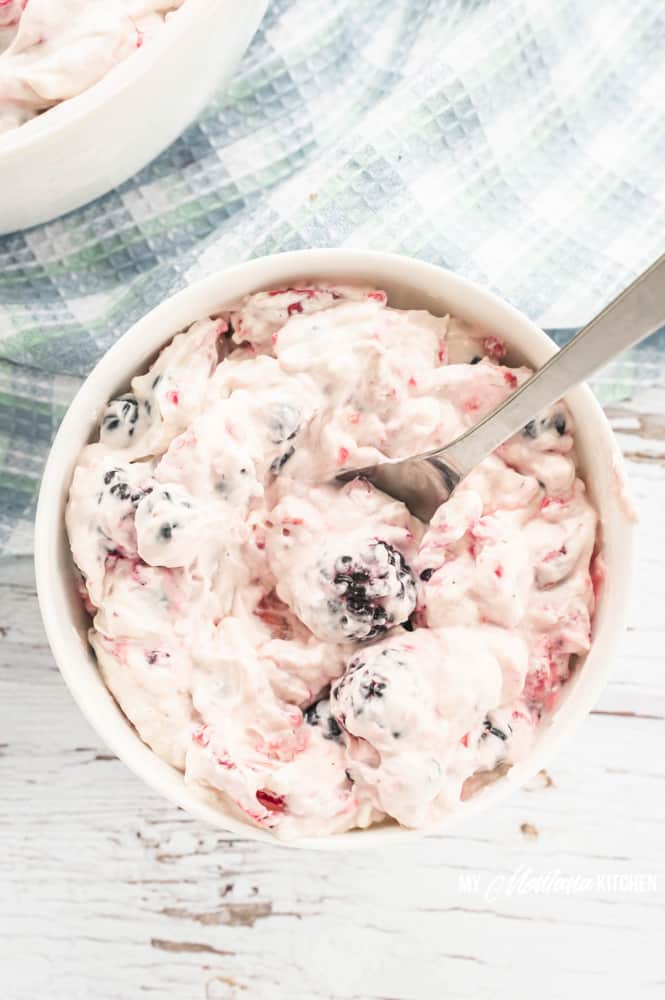 How Many Cups Of Berries Do You Need for Cheesecake Salad
For this salad, I used 6 cups of berries. The main amount was strawberries, and then I added in some blackberries, blueberries, and raspberries.
What Is The Base of The Low Carb Berry Cheesecake Salad
Because I was going for gluten-free, sugar-free, and low carb, I opted for cream cheese, and heavy whipping cream and Stevia Extract. I skipped the whipped cream you buy in the stores.
Using softened cream cheese will give you a smooth and creamy texture when whipped up with the whipping cream. It will turn fluffy and be the perfect base.
Then you gently fold in your fruit.
Best Way to Store Cheesecake Berry Salad
I use an airtight container to store my salad. Just keep it in the fridge until you are ready to serve your guests. It will last up to 4 days in the refrigerator.
With each day it will begin to break down a bit more, so I recommend eating this berry salad within the first few days.
Red White Blue Cheesecake Salad
This is a beautiful dessert to make for your summer cookouts, 4th of July events and even Memorial Day. I love the red, white, and blue theme this berry salad offers.
What is Pure Stevia Extract
I reach for pure stevia extract because it is not an artificial sweetener, and it doesn't take much to make the dish sweet. This extract is made using the herb stevia.
It offers a sweet flavor that makes it perfect for adding into recipes like this to help sweeten it up slightly. It does count as sugar-free and is a low carb option.
Using the pure stevia extract will help to bring out the sweetness in the berries and give you that perfect compliment to make this cheesecake salad sweet!
As you can see this recipe is so simple to make. Very berry cheesecake salad is going to dress up your dessert table and be a treat for young and old.
I will be making this recipe a ton this spring and summer. Nothing is better than fresh fruit in a creamy cheesecake salad!
Have you made my berry cheesecake salad yet?
Things I use to make this berry salad:
THM Pure Stevia Extract - this is truly the best stevia on the market. No bitterness, and it lasts a long time!
Hand Mixer - nothing particularly special here, but I have one similar to this one!
Large Mixing Bowl - using a large bowl makes it much easier to mix your salad!
Refrigerator Containers - I have a set similar to these and I use them every single day!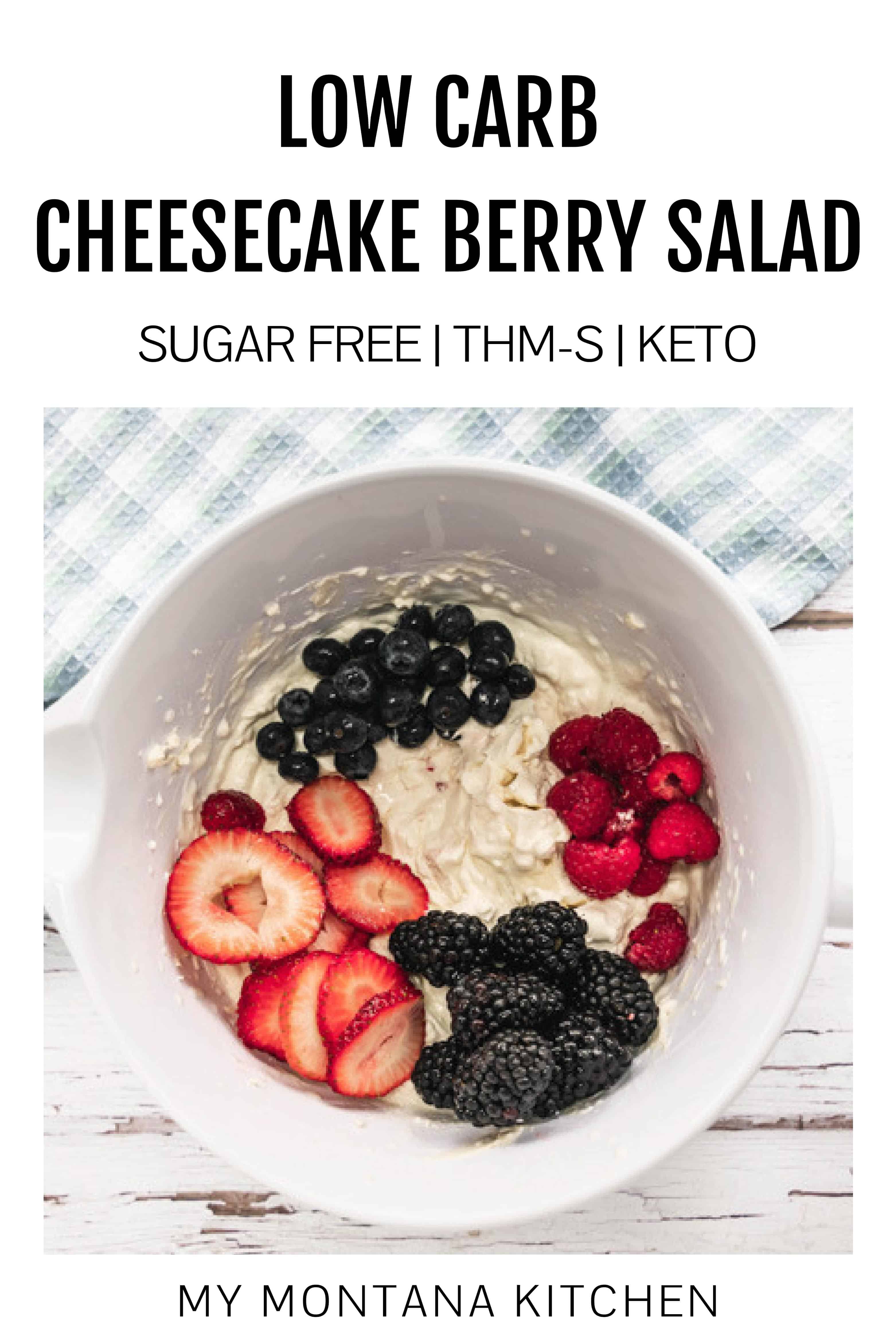 Cheesecake Berry Salad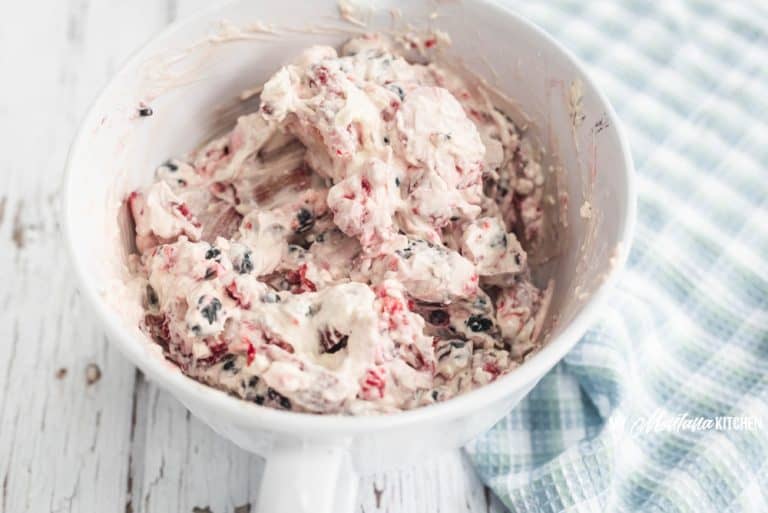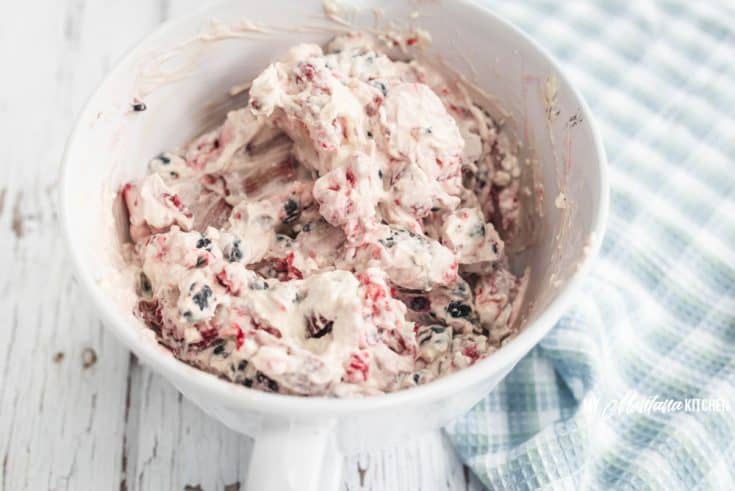 You're going to love the taste and flavor of this Cheesecake Berry Salad.
Ingredients
3.5 Cups fresh strawberries, sliced
1.5 Cups fresh blackberries
½ Cup fresh blueberries
½ Cup fresh raspberries
1 ¼ cups heavy whipping cream
1 (8 oz.) package of creamed cheese, softened
Instructions
In a large bowl, cream the softened cream cheese with the stevia.
Add heavy whipping cream and whip for 1-2 minutes, or until mixture is fluffy.
Fold in berries.
For best results, refrigerate for 2 hours before serving.

Recommended Products
As an Amazon Associate and member of other affiliate programs, I earn from qualifying purchases.