We may earn money from the products/companies mentioned in this post. As an Amazon Associate I earn from qualifying purchases.
This rich low carb peanut butter fudge is easy, tastes delicious, and no-one will no it is sugar free (and only 2 ingredients)!
With only two ingredients and 2 net carbs per serving, this peanut butter fudge recipe will have you out of the kitchen and spending time with your family in no time!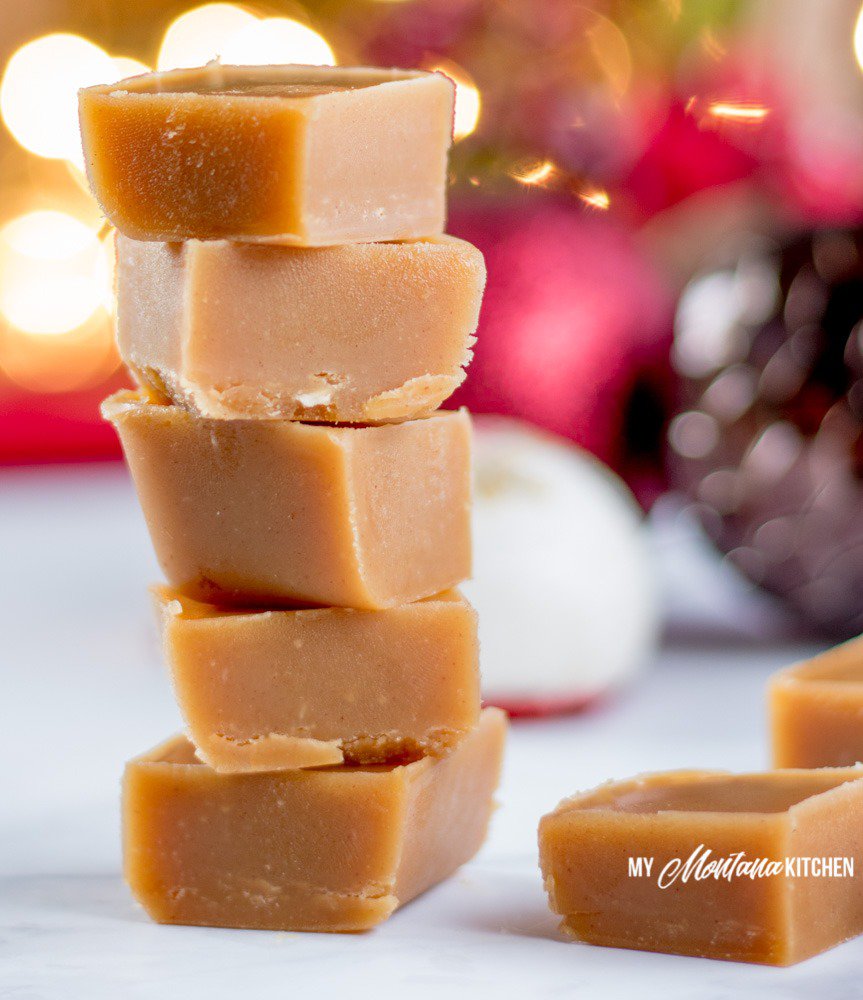 Fudge has always been a special tradition in my home, but this fudge is low carb, sugar free, and can be enjoyed as a Trim Healthy Mama S Fuel!
Growing up, our neighbor would bring us beautiful little Christmas tins filled with two different kinds of fudge - chocolate and peanut butter.
Back then, I would have been hard pressed to say which flavor was my favorite, but now I would definitely say peanut butter!
My 2 Ingredient Chocolate Fudge has been such a popular post, that I knew you guys needed to have a peanut butter option as well!

How to Make Low Carb Peanut Butter Fudge
All you need some of my Low Carb Sweetened Condensed Milk and natural peanut butter. Really! How much easier can it get?
(Please note that the 3 Ingredient Sweetened Condensed milk is sugar free and low carb.)
But I have a confession to make. This recipe is 2 ingredient ONLY if you already have the condensed milk already made.
But really, you should always have a jar of that in your fridge! That sweetened condensed milk recipe has been life changing for me! (Well, . . . that may be a bit of a stretch, but it is REALLY good!)
If you make the Low Carb Sweetened Condensed Milk ahead of time and store it in the refrigerator, it will harden and become firm.
To make the peanut butter fudge, simply remove the condensed milk from the refrigerator and nuke it in the microwave for about 10 seconds, then give it a good stir.
Then place the desired amount of condensed milk into a bowl, add the natural peanut butter and mix well.
Then pour the fudge mixture into the desired container, and place in the freezer to firm.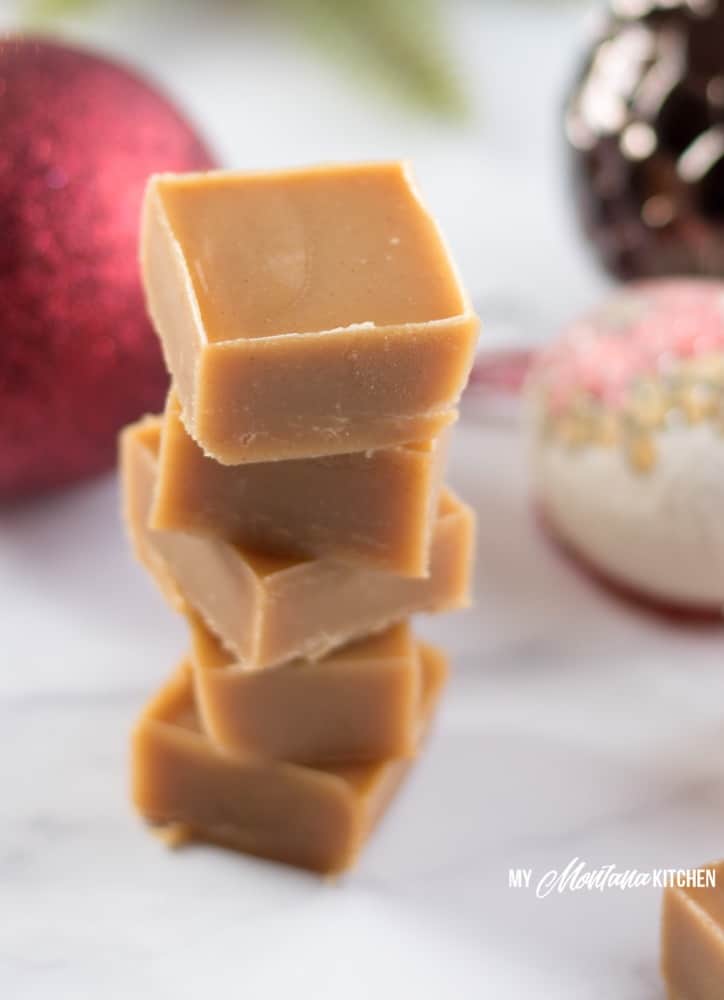 How to Store Low Carb Peanut Butter Fudge
This fudge is a little more of a soft set than the chocolate variety, but I think it is much more creamy.
I put the fudge in the freezer (or on my front porch - we can do that in Montana) to harden initially, but I usually store it in the refrigerator.
You do not want to leave it out at room temperature, because it will completely soften and become gooey.
Substitutions in Keto Peanut Butter Fudge
If peanut allergies are a concern, I believe you could use almond butter or Sunbutter to replace the peanut butter (using equal amounts).
You could also make this peanut butter fudge dairy free by using my Dairy Free Sweetened Condensed Milk in place of the regular sweetened condensed milk recipe.
I use the Adams brand of natural peanut butter (the no-stir variety). You can see which kind I use by clicking here.
I would never be ashamed to take this keto peanut butter fudge to a party or give it away as a gift!
I won't even tell you how many pieces I ate while I was photographing this post!
I even had a piece or two as a dessert to my breakfast this morning! (Is that what you call balance??)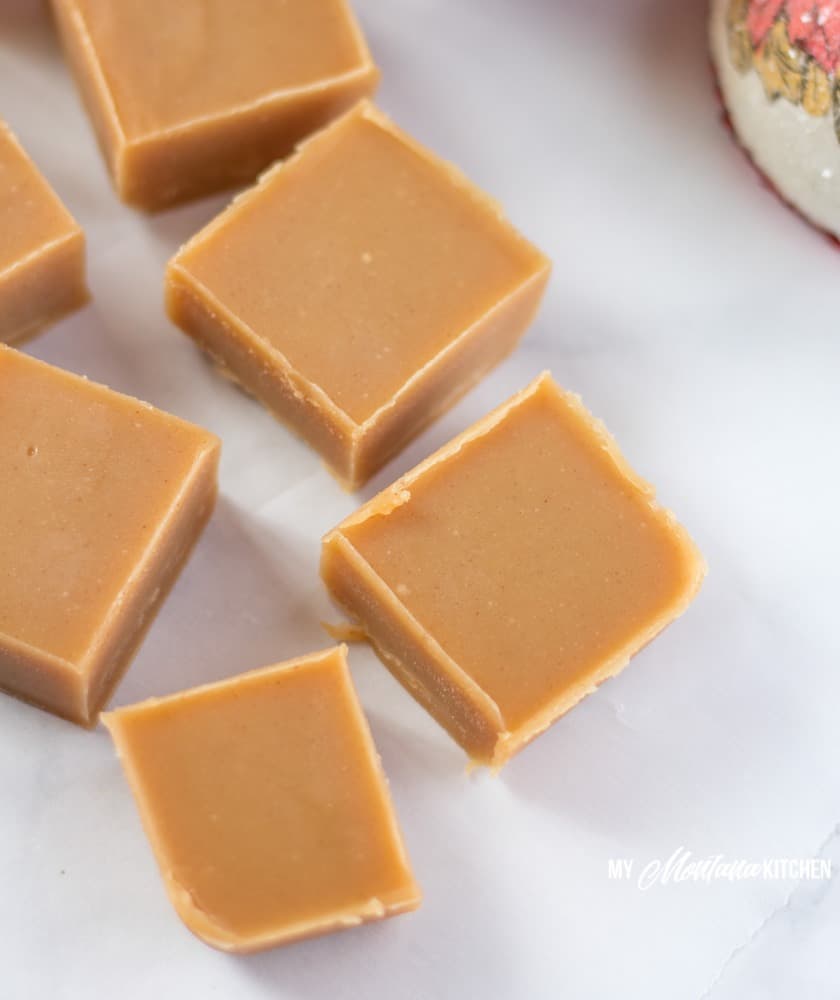 More Low Carb Fudge Recipes
The good news is that you don't have to limit yourself to Peanut Butter Fudge. There are many more fudge recipes here on the blog, so be sure to check them out (all of them are low carb and sugar free)!
Only 2 Ingredients, and you have rich, velvety, chocolate fudge - but without any guilt!
Creamy chocolate fudge topped with a creamy peanut butter layer - it's the best of both!
Creamy chocolate fudge with a dreamy layer of coconut. This fudge is reminiscent of what used to be one of my favorite candy bars – the Mounds bar.
These dreamy DIY protein bars taste like creamy coconut fudge!
Chocolate Peanut Butter Collagen Fudge
Chocolate, Peanut Butter and an amazing superfood - collagen. All combined together to make a delicious and healthy fudge recipe!
The flavors of a favorite no-bake cookie, but with all the added benefits of collagen and coconut oil!
All of the recipes above are no-bake, which means you can save your oven for cookies (like these Soft Gingersnap Cookies).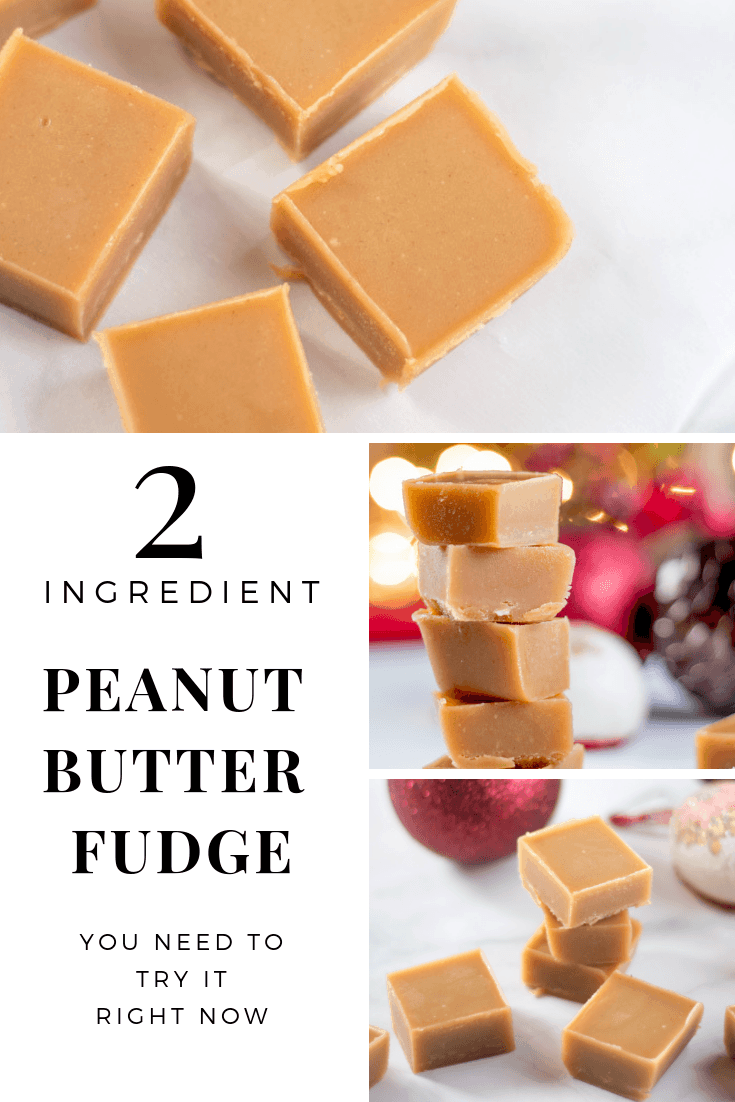 Low Carb Peanut Butter Fudge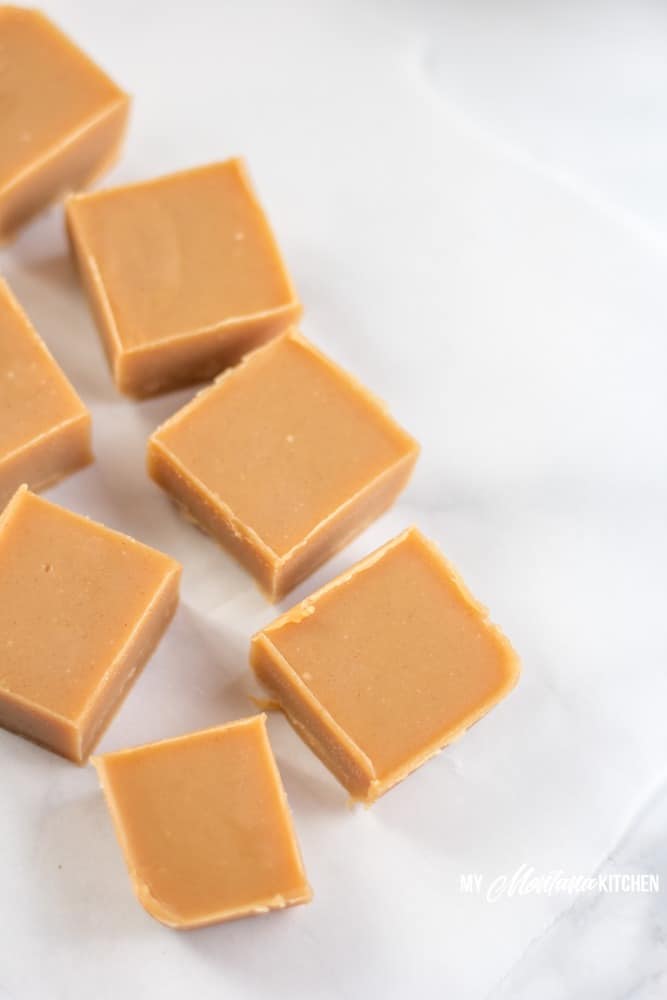 You only need 2 simple ingredients to make this low carb peanut butter fudge!
Ingredients
3/4 Cup Natural No Sugar Added Peanut Butter
Instructions
Combine warm sweetened condensed milk with peanut butter and stir until all is combined.

Pour into a Silicone Pan or an 8x8 glass pan lined with parchment paper. I used this Silicone Mini Loaf Pan and filled two of the cavities.

Refrigerate or freeze until firm.

Cut into pieces (yields 25-36 pieces, depending on how you cut them) then store leftovers in the refrigerator.