We may earn money from the products/companies mentioned in this post. As an Amazon Associate I earn from qualifying purchases.
If you love panna cotta, you're going to also love this healthier chocolate panna cotta recipe. It's one of those decadent recipes that are perfect for the keto diet, low-carb diet, and the Trim Healthy Mama style of eating! (This Chocolate Panna Cotta is a THM:S fuel.)
Not only is it low carb, but it tastes just like the traditional Italian dessert so you don't feel like you're missing out on anything, just because it's a keto recipe!
It truly is a dessert cuisine that anyone on a low-carb diet (or anyone watching their sugar intake) needs to add to their dessert rotation.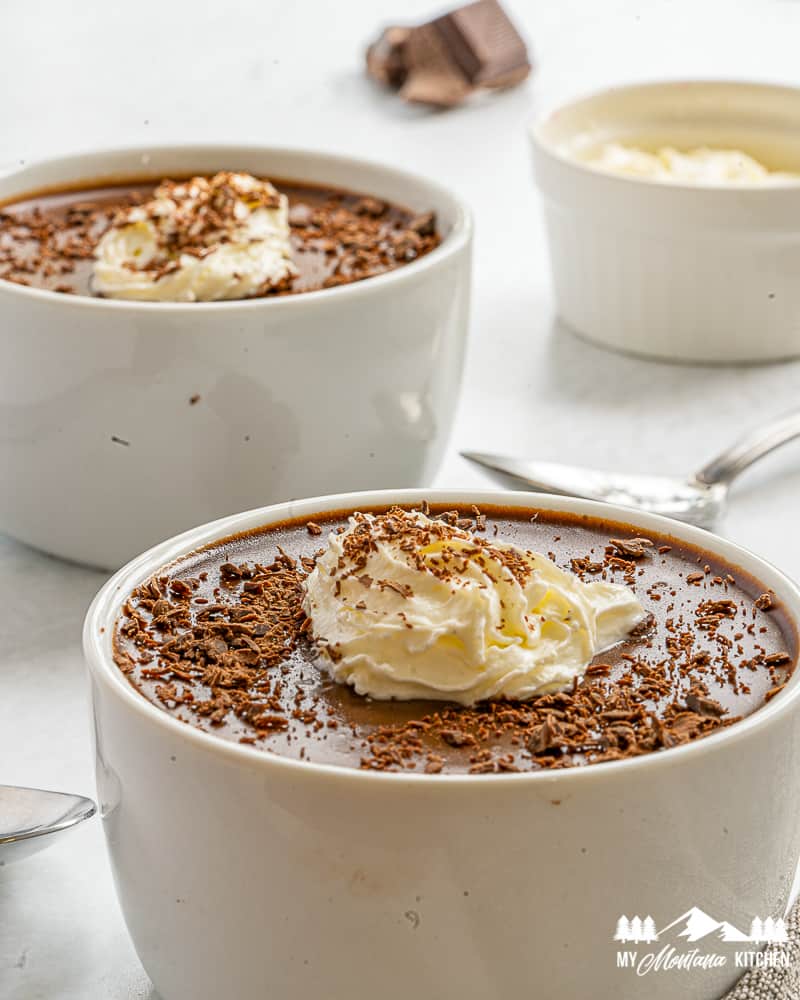 The fact that it's sugar-free makes this panna cotta one of the best options to have on your dessert plate!
This just proves that living a keto lifestyle can be a dessert dream come true!
Making This Chocolate panna cotta recipe
Did I mention that this sugar-free panna cotta takes just 5-10 minutes of hands-on time? That just might be one of my favorite reasons to make this keto panna cotta recipe!
Top with a few fresh berries and stevia-sweetened whipped cream, or just eat it with a drizzle of sugar-free chocolate and you can't go wrong.
What is the difference between panna cotta and mousse?
Panna cotta and mousse are very similar in terms of the ingredients that are used, but in the same sense, each recipe is unique and different.
I personally think that the texture of the two is the biggest difference as panna cotta is more of a thick pudding or custard texture while mousse is very light almost like whipped cream or even frosting.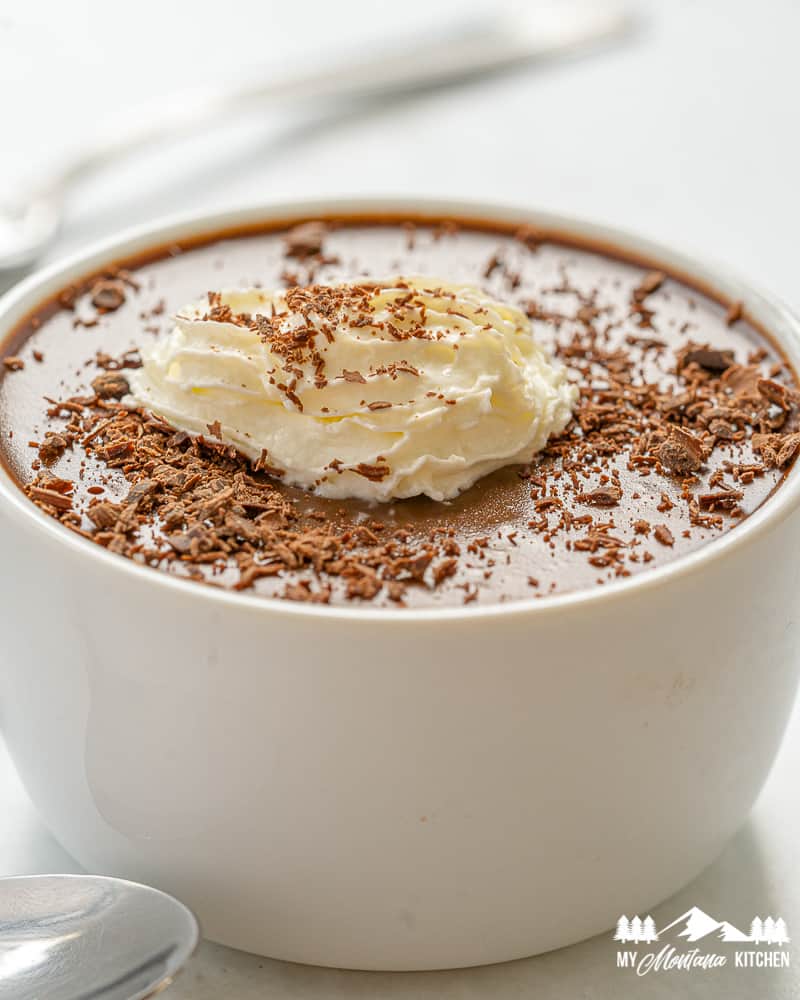 How To Make Chocolate Panna Cotta
Making this panna cotta recipe is really so simple.
Once you gather up the heavy cream, cacao powder, gelatin mixture, and monk fruit sweetener, you're well on your way to having all the needed ingredients to make these panna cottas.
First of all, bloom the gelatin (see below).
In a saucepan, combine the rest of the ingredients. Stir until all of the components are thoroughly combined. Any clumps should be whisked away.
Add the hydrated gelatin powder to the saucepan. Stir regularly until boiling, then stir continuously for 1 more minute and remove from the stove.
Let the mixture cool for 30 minutes before pouring it into ramekins or the molds.
You'll want to include the 3 hours that the panna cotta mixture needs to chill in the fridge in your prep time as well!
How to bloom gelatin
The first thing you're going to want to do is bloom your gelatin.
This is a process of sprinkling the gelatin powder over cool water and allowing it to soften for about 5 minutes.
Blooming gelatin prevents the granules from clumping together so that they can evenly disperse when heated.
If you have never bloomed gelatin before, it's really quite simple. Just make sure not to add too much or too little water!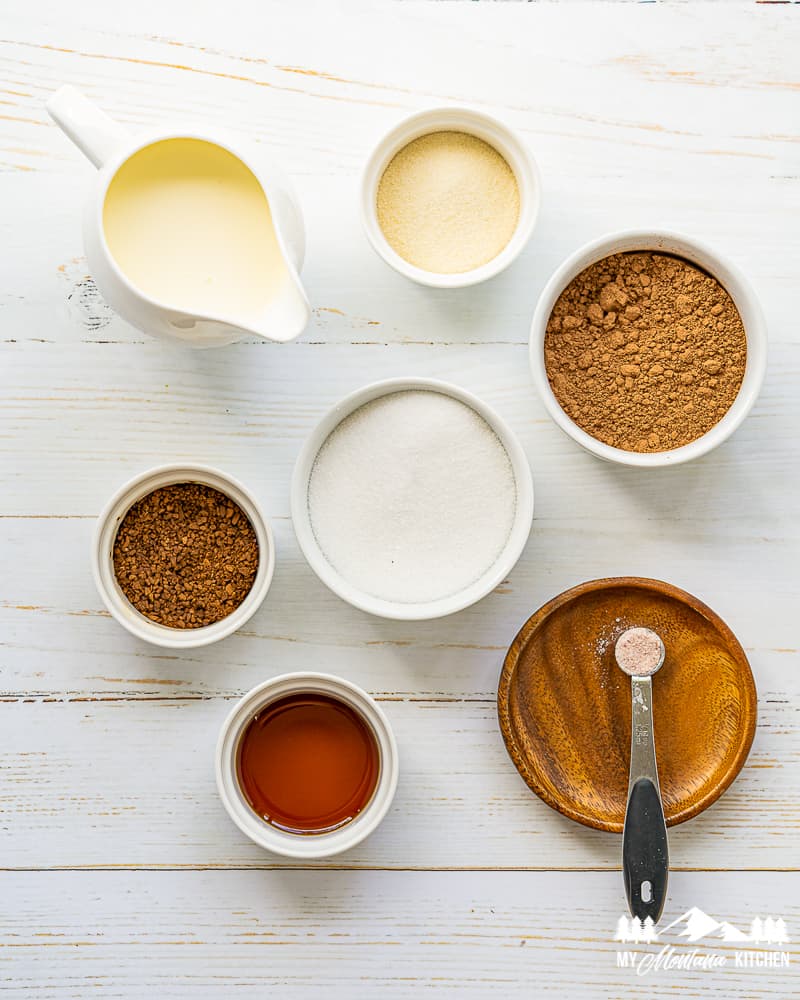 Do I need a special mold for panna cotta?
Panna cotta is typically served in little cups or ramekins.
For this keto panna cotta recipe, you can use silicone molds that are easily found here on Amazon or you can just pour the panna cotta mixture into little glasses or ramekins and they'll work just as well.
I think that the silicone molds make for a really pretty presentation, but it's not necessary to use them - as you can see in the photos, it looks quite nice in a ramekin or small bowl, too.
What does panna cotta taste like?
Panna cotta is an Italian custard dessert that translates to "cooked cream."
This keto version is no different and has all the flavors of a traditional panna cotta, just without all the sugar!
The gelatin mixture gives this recipe a slightly firm texture, but it's still creamy and smooth.
This low-carb keto panna cotta uses a little bit of instant coffee to deepen the chocolate flavor.
It is rich and velvety and so delicious!
What are some other flavors of sugar-free panna cotta?
You can really change up the flavor when you make this panna cotta recipe. Even using canned coconut milk instead of heavy cream can be a huge taste difference!
Try these flavor variations:
Lemon panna cotta: Swap out the vanilla extract for some lemon juice and lemon zest and omit the cacao powder and instant coffee.
Raspberry panna cotta: Omit the cacao powder and instant coffee and stir some sugar-free raspberry jam into the mixture before chilling.
You can easily make this gluten-free Italian dessert with any keto sweetener that you'd like.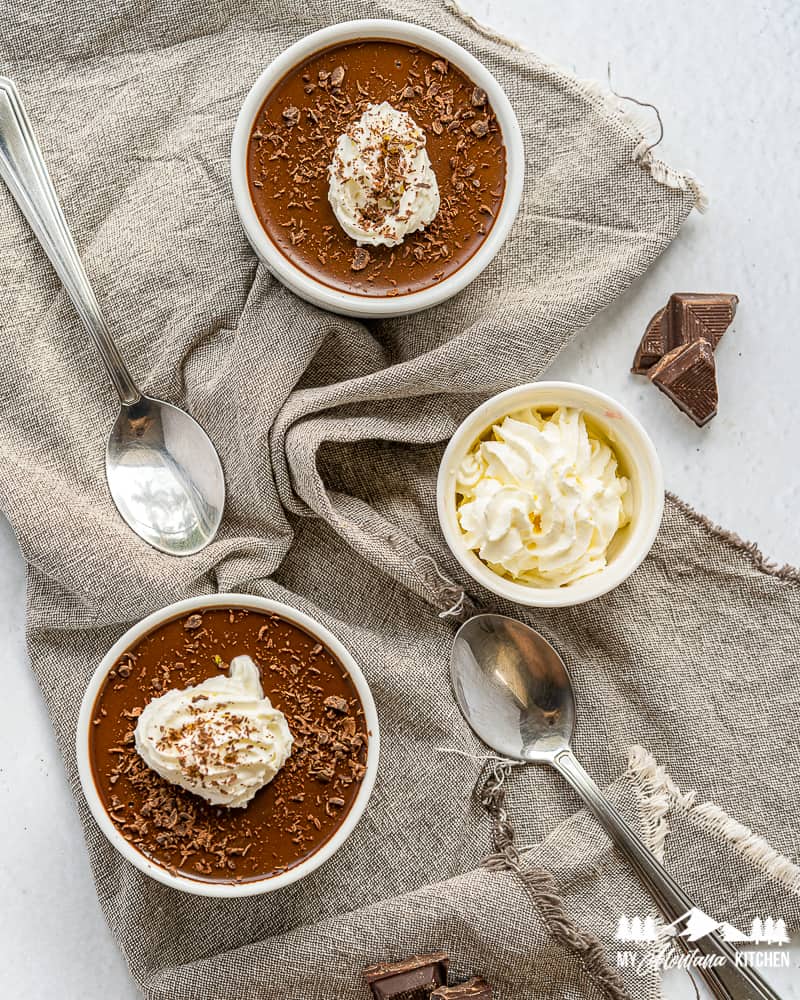 How do you store panna cotta?
Due to the ingredients in this panna cotta keto dessert, you need to make sure that you store the leftovers in the fridge in an airtight container.
As long as it's stored properly, it should stay good for up to one week.
When you're ready to eat it again, just remove the dessert from the fridge and enjoy!
I don't recommend freezing as I think it changes the texture too much.
The best part about this keto-friendly chocolate panna cotta recipe is that it makes more than enough to enjoy over and over again!
Treat yourself to a few bites of this keto panna cotta and you'll never feel like you're depriving yourself of anything while you're eating healthy!
More Delicious Keto & Low Carb Desserts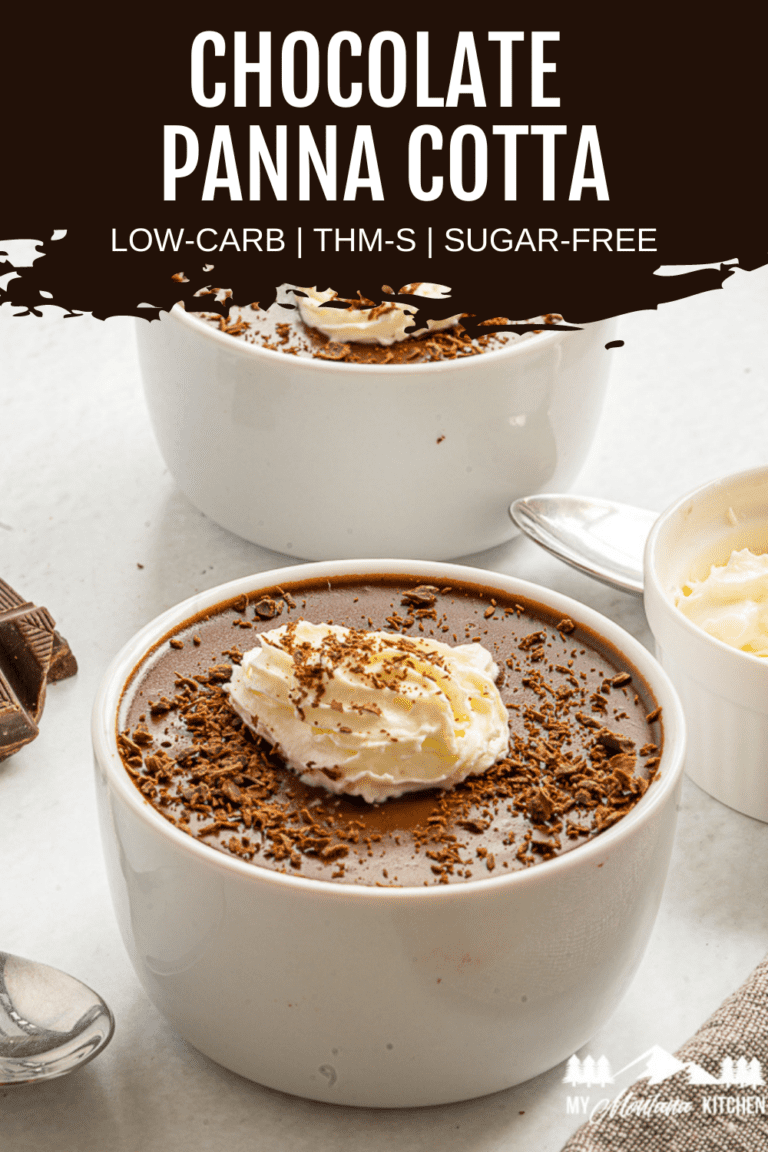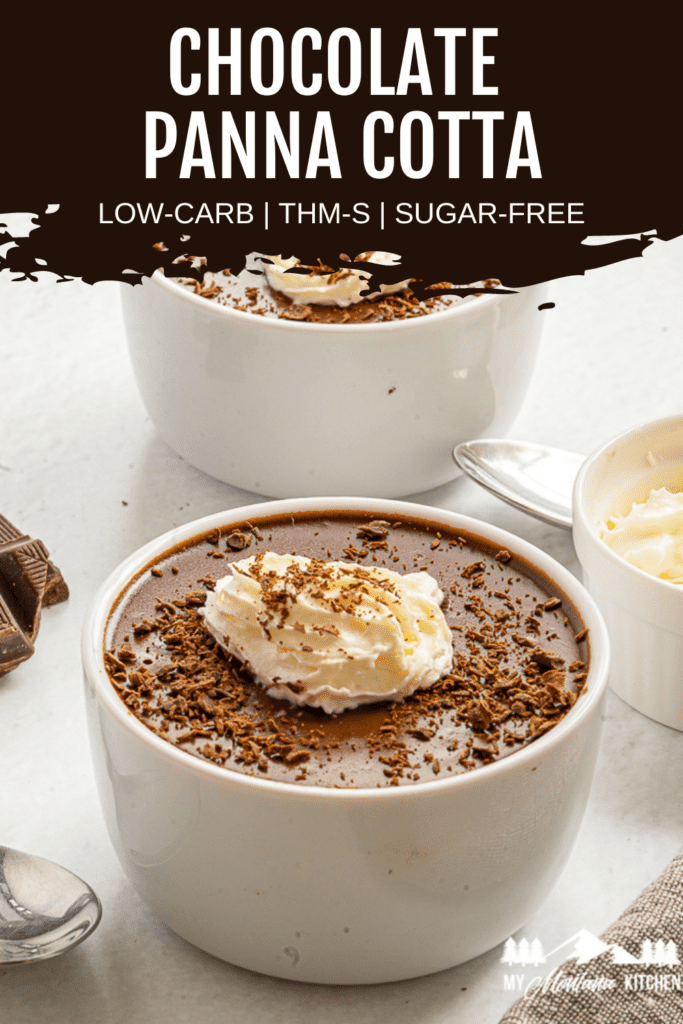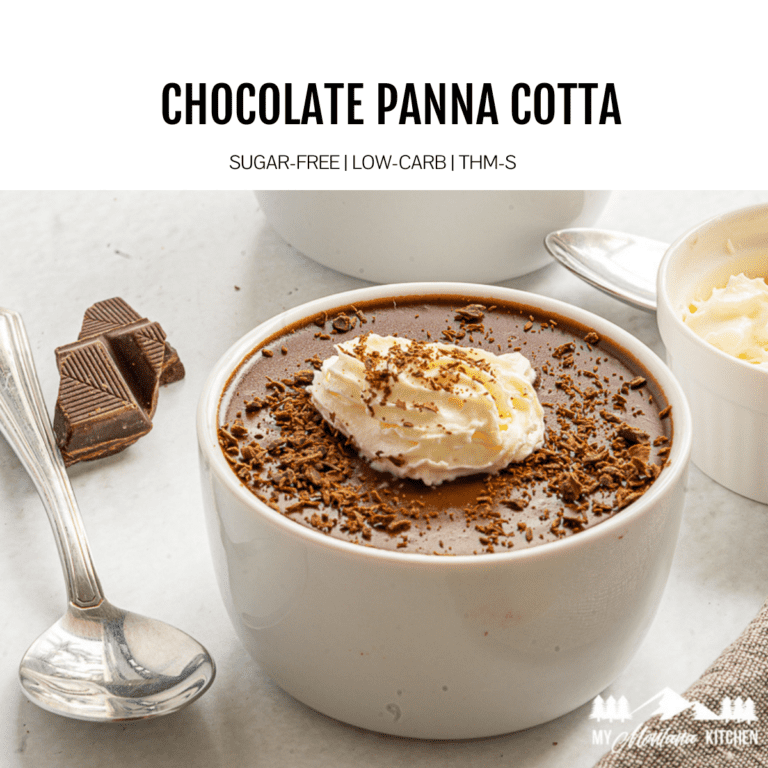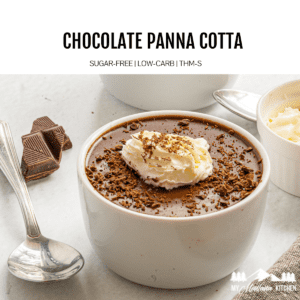 Chocolate Panna Cotta
Rich, creamy and velvety in texture, this sugar-free chocolate panna cotta is a keto dessert you'll want to enjoy again and again. It's the perfect sweet treat for those on a ketogenic diet!
Print
Pin
Rate
Servings:
6
ramekins or 6 molds
Instructions
Mix gelatin powder with the ¼ cup water and let it sit for 10 minutes.

Place the rest of the ingredients in a saucepan and stir to combine. Whisk any clumps that might appear.

Place the saucepan on the stove over medium heat and add the hydrated gelatin powder. Stir regularly until boiling, then stir continuously for 1 more minute and remove from the stove.

Let it cool for 30 minutes before pouring it into the ramekins or molds.

Refrigerate for 3+ hours before serving.

Top with shredded chocolate, whipped cream or your favorite berries.
Notes
If using ramekins, place them in a saucepan or skillet with warm water for a couple of minutes (2-3) for easier demolding.
Another good practice is to spray some coconut oil inside the ramekins before filling them with the Panna Cotta.
If using silicone molds, the demolding is super easy, you just need to gently press the bottom of each mold and the Panna Cotta will come out completely.
Nutrition
Serving:
1
Ramekin
|
Calories:
419
kcal
|
Carbohydrates:
3
g
|
Protein:
3
g
|
Fat:
41
g
|
Fiber:
3
g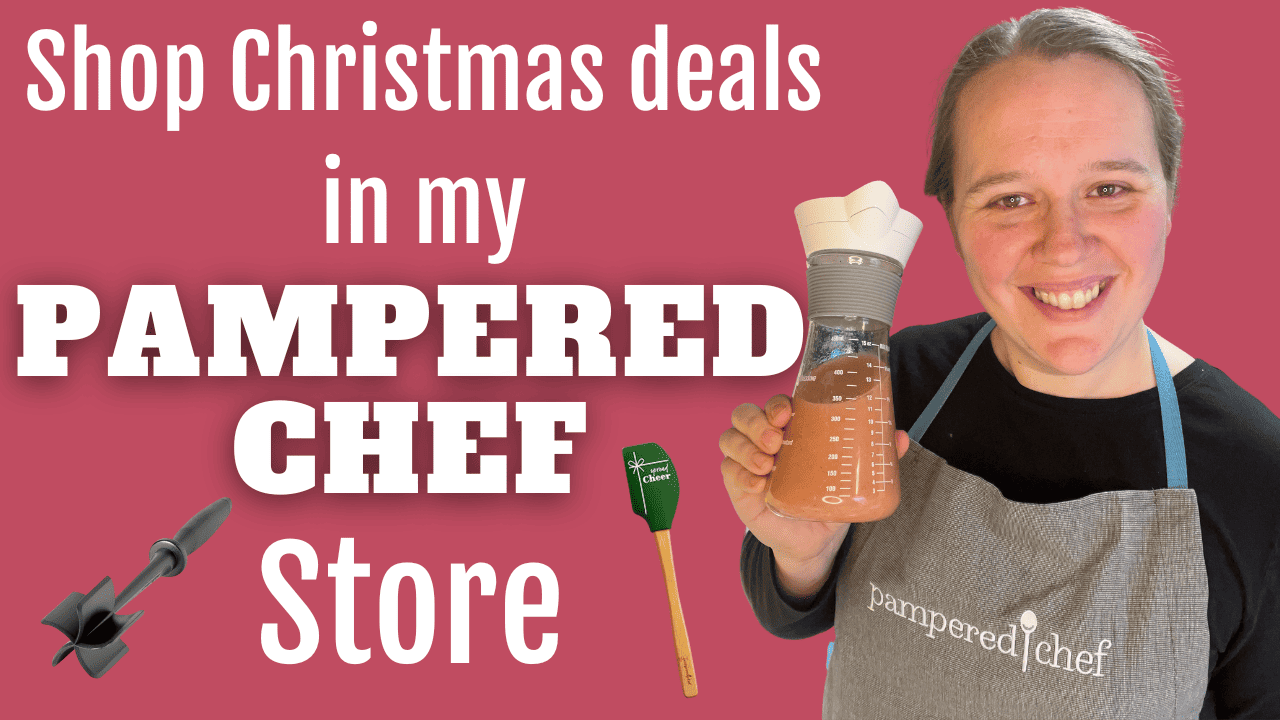 Reader Interactions