We may earn money from the products/companies mentioned in this post. As an Amazon Associate I earn from qualifying purchases.
Low carb pecan pie bars are a gooey, sweet, and crunchy dessert that are calling your name. A low carb pecan dessert you will want to make time and time again.
These keto pecan pie bars use an almond flour crust so you cut out a lot of the empty carbs. Then use a monk fruit sweetener for the pecan filling.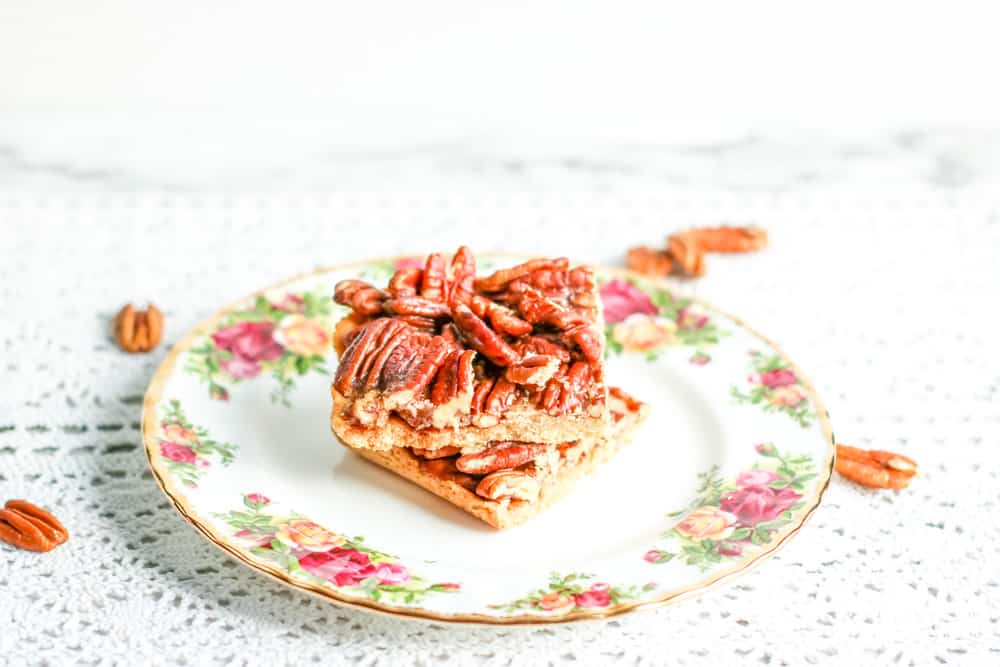 Low Carb Pecan Pie Bars
If you love pecan pie you have to try this bar recipe. Sliceable little slabs of pecan pie in a bar form!
You can make these low carb dessert bars for any occasion or save this recipe back for your holiday baking.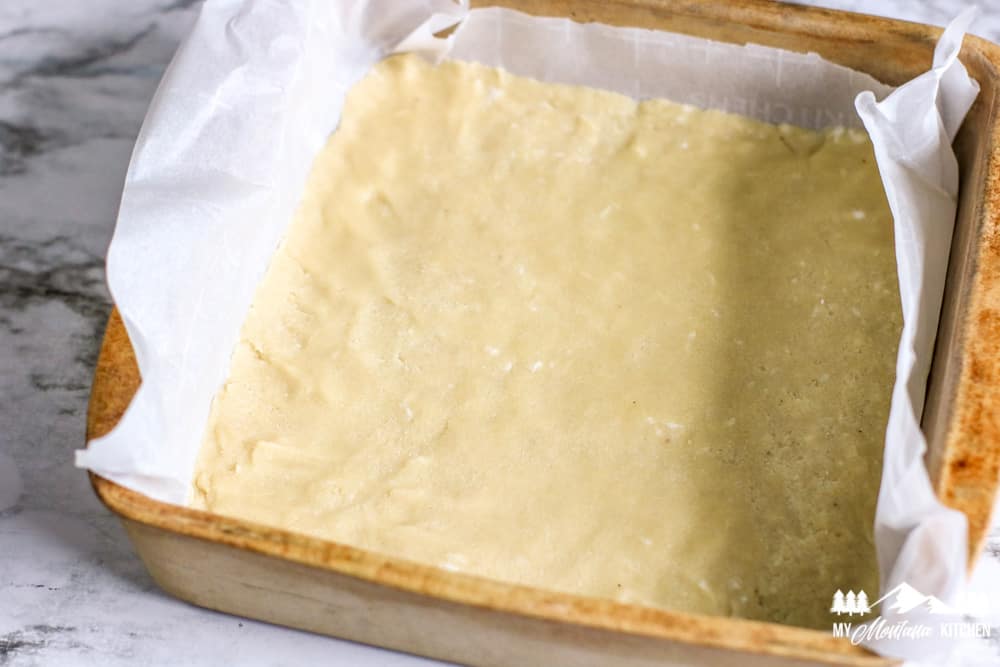 What Is The Best Flour To Use For Crust
Almond flour works great for this recipe. I found out of all the flours this offered the best texture and flavor for the bars.
It baked up nicely, and when you use a super fine flour you won't have that gritty texture.
Now if you can't find superfine almond flour at your store, you can make your own.
Take your almond flour and pulse it in your food processor. This is the best way to get a finer flour without having to buy it for this keto pecan pie bar recipe.

Sugar Free Pecan Pie Bars
And since you replaced your sugar with a sugar alternative sweetener, you have a sugar free dessert!
I get asked often if you can swap out sweeteners for a recipe. What I will say is you can try to swap but I can't promise it will work.
Every sweetener has a different way it blends in with recipes, so swap dry sweeteners for dry, liquid for liquid and see how it goes.
Just measure properly!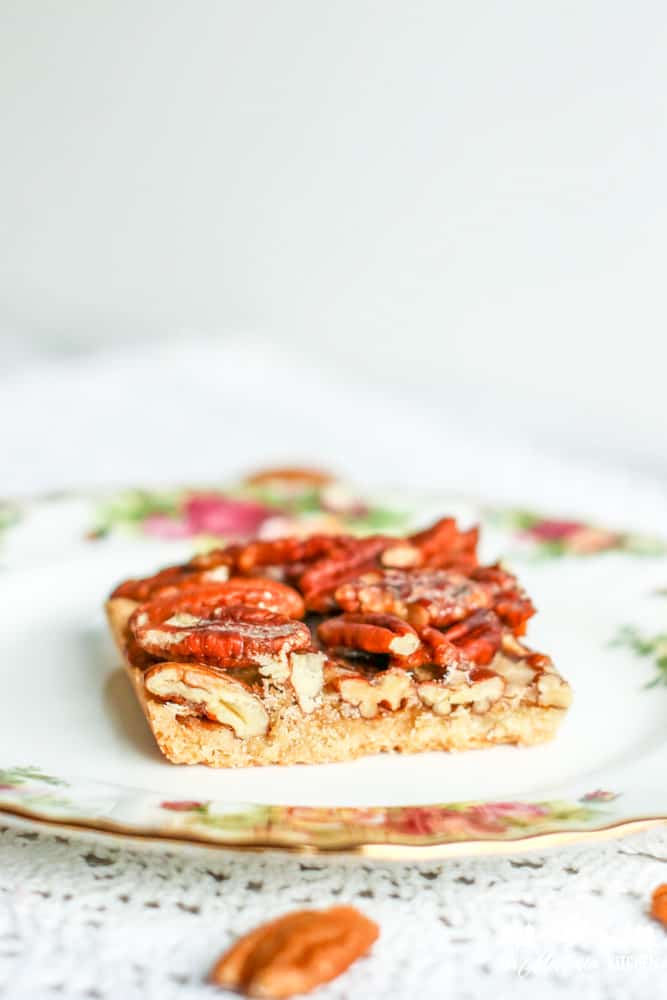 How to Make Low Carb Pecan Pie Bars
With all pecan pie bars, you are going to preheat the oven and work on the crust. This makes a tasty almond flour crust that is simple to prepare.
Place in your parchment-lined pan and bake according to the recipe card below. Once you are done, place on a cooling rack to allow the crust to cool down.
Now you need to begin working on the pecan filling, it will be a gooey and sticky batter that you pour on top of crust and then toss back in the oven.
Once your bars are fully done make sure you allow them time to cool.
How Many Pecan Bars Does This Recipe Make
Depending on how you cut these bars you will get 9-12 bars out of this recipe!
It all depends on how you choose to cut your bars.
Can I Double Recipe
If you want to make a larger batch of these pecan bars, go ahead.
You can use two 9x9 pans or reach for a 9x13 size.
This is a fantastic way to make a big batch dessert to slice and serve up your family. Great for when you need a dessert that can stretch and serve a big crowd.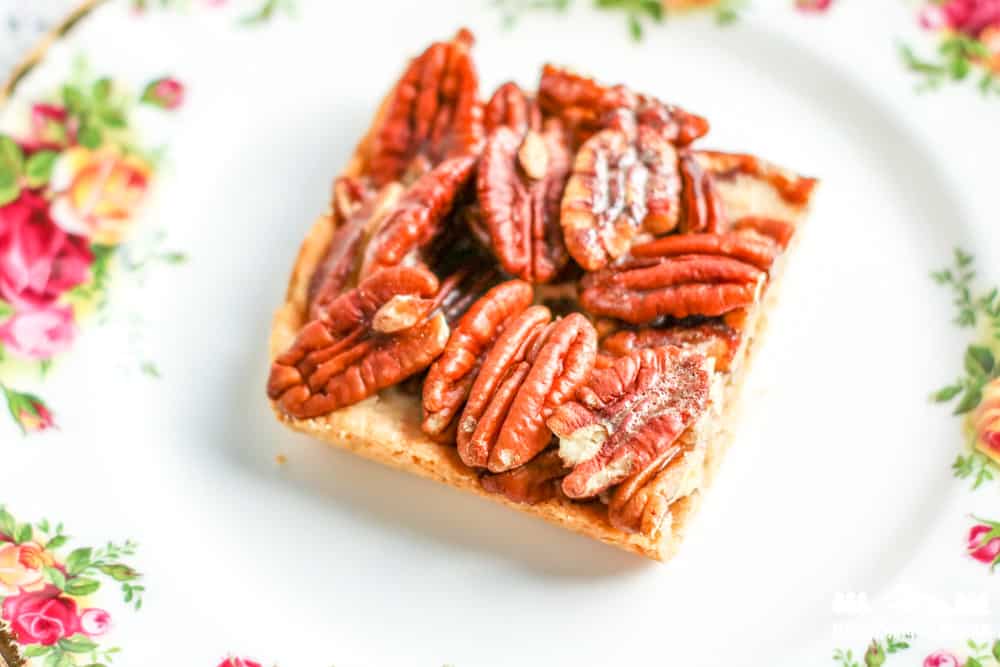 Variations to Pecan Bar Recipe
You have many ways you can make and serve up these pecan bars. They are great all on their own, but there is no wrong way to serve them up.
Craving more desserts
Can You Freeze Pecan Pie Bars
Yes you can freeze these bars. Simply cook as directed and allow it to fully cool. Then transfer bars into an airtight container and store up to three months in the freezer.
Then place the bars in the fridge overnight to thaw or heat up slowly in the microwave for a quick reheat.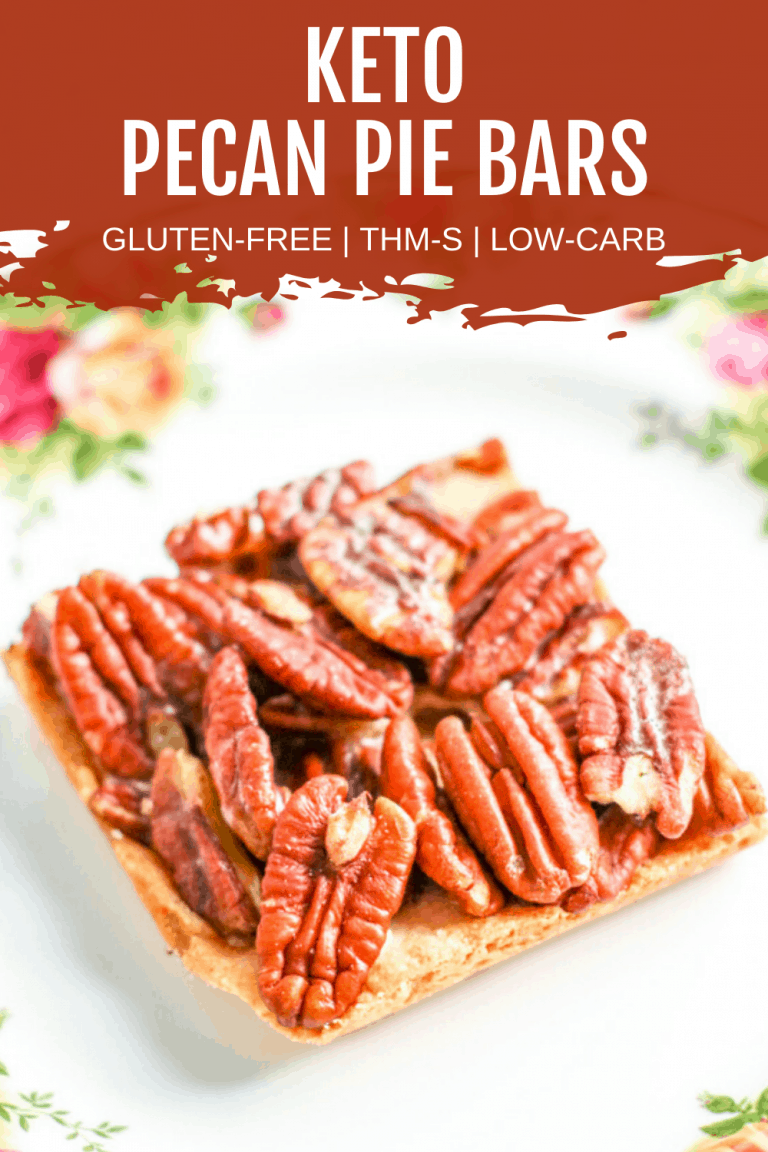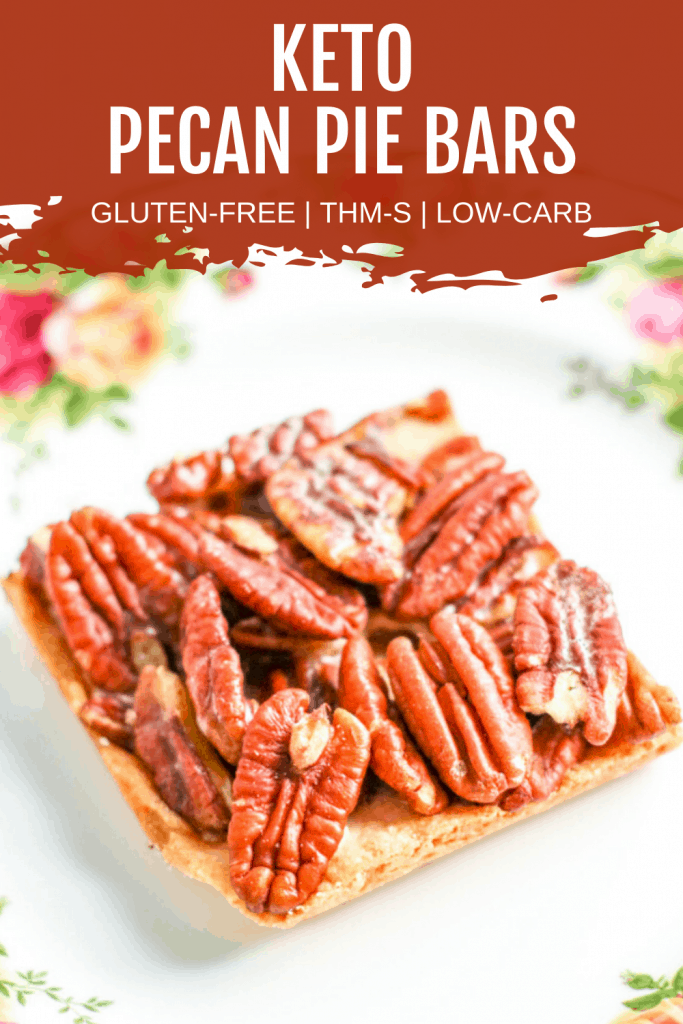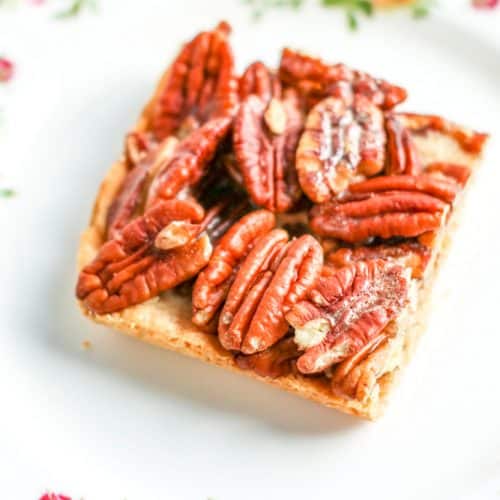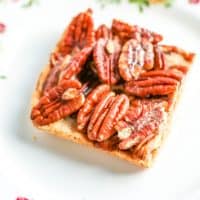 Instructions
Preheat the oven to 325 degrees. Line a 9X9 baking dish with parchment paper and spritz with non-stick cooking spray.

In a food processor, pulse the ingredients for the crust. Transfer to a baking dish and press into an even layer.

Bake for 12 to 15 minutes. Remove from the oven and allow to cool.

Meanwhile, melt butter with the granulated monkfruit in a medium-sized saucepan over medium heat. Bring to a boil and allow to brown without stirring until it reaches a deep caramel color, about 5 to 7 minutes.

Remove from heat and stir in the vanilla and brown sugar substitute.

Add pecans to the crust in an even layer. Pour syrup over the pecans.

Bake for 17 to 20 minutes or until the syrup bubbles.

Cool completely on a wire rack before slicing and serving.
Notes
You can use alternate sweeteners in this recipe - simply use whichever sweeteners you have on hand. (Keeping in mind that you may need to adjust accordingly.)
Nutrition
Serving:
1
Bar
|
Calories:
330
kcal
|
Carbohydrates:
5
g
|
Protein:
4
g
|
Fat:
34
g
|
Fiber:
4
g