We may earn money from the products/companies mentioned in this post. As an Amazon Associate I earn from qualifying purchases.
5 ingredients are all you need to make a homemade keto bagel.
A low carb bagel that is also gluten-free and so simple to make. (And a THM-S-friendly recipe!)
This is a versatile bagel recipe that you might have all the ingredients in your pantry already.
Top your bagels with whatever you want. Top your bagels with some butter or opt for some cream cheese for added sweetness.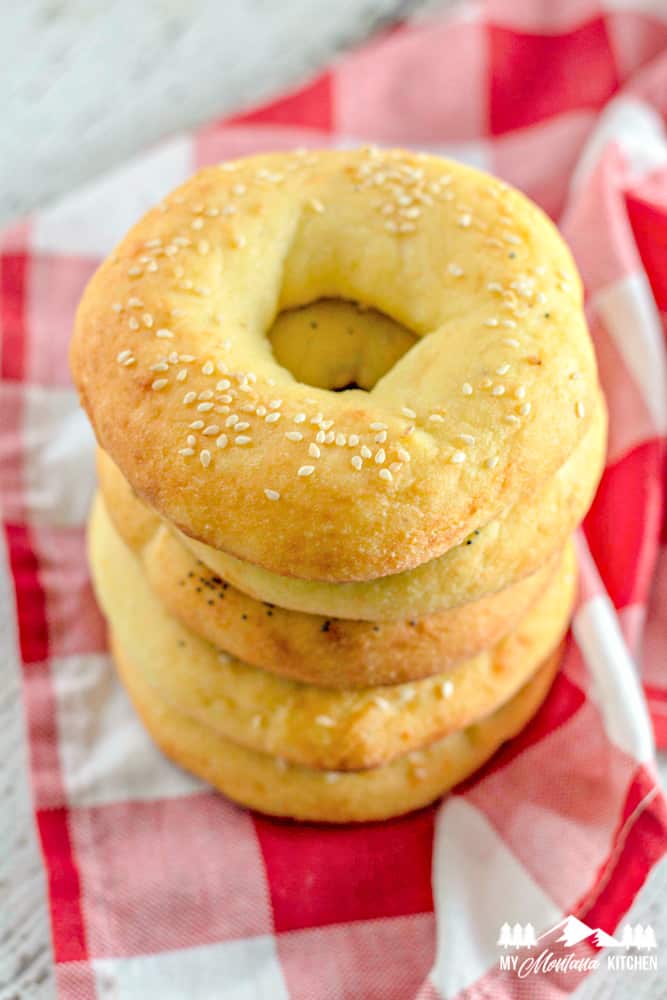 Keto Bagels
Bread is one of the most missed items when you follow a low-carb plan. Those carb-loving bread lovers miss having that tender and fluffy bread. While these are not exactly like traditional bread, these bagels do help curb the cravings.
If you're a Trim Healthy Mama, we DO have some lovely bread options (to be eaten in an E setting). My favorite is this bread machine bread from Joyful Jane! (Please note this recipe is a THM-E fuel and NOT keto or low-carb.)
Topping Ideas For Bagels
Ingredients Needed
Almond Flour – You need to use an ultra fine almond flour. This is key to get a bagel style dough. Otherwise, the texture will not turn out.
Cream Cheese and Mozzarella Cheese – You will use cream cheese and mozzarella. You will melt the two kinds of cheese together in a bowl until it is nice and creamy.
Just remember when you work with this dough, it will be a lot sticker in texture.
Baking Powder and Eggs – The last ingredients are baking powder and eggs. Make sure when you mix the eggs in that you mix well or it can scramble and cook the eggs, which you want to avoid.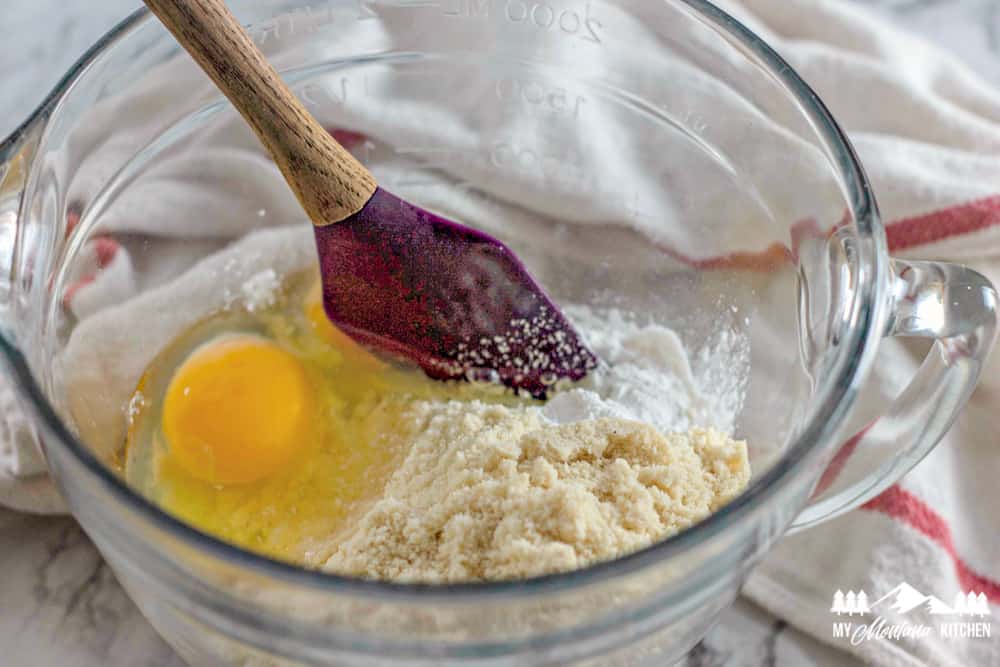 How to Work With Fathead Dough Easier
If you are finding that you can not work with the dough without it sticking to your hands, follow this trick. Simply get your hands clean with soap and water.
After hands are dry then use an oil to get your hands to help work the dough without leaving it sticking to you.
In traditional dough, you would use more flour, but you don't want to dry out the dough so using oil is the best option for this gluten-free bagel dough.
Storing Bagels
Your low carb keto bagels need to be refrigerated once they have cooled down from being cooked.
Just place them in an airtight container or sealable bag. Then when you want to eat a bagel, toast in your toaster.
Or you can warm your bagel up in the microwave for that fresh out of the oven flavor.
If you want to freeze some of your bagels to have on hand for later go right ahead.
If you are stacking bagels make sure to use wax paper in between layers to prevent the bagels from sticking together.
Then remove however many bagels you want, reheat, and enjoy.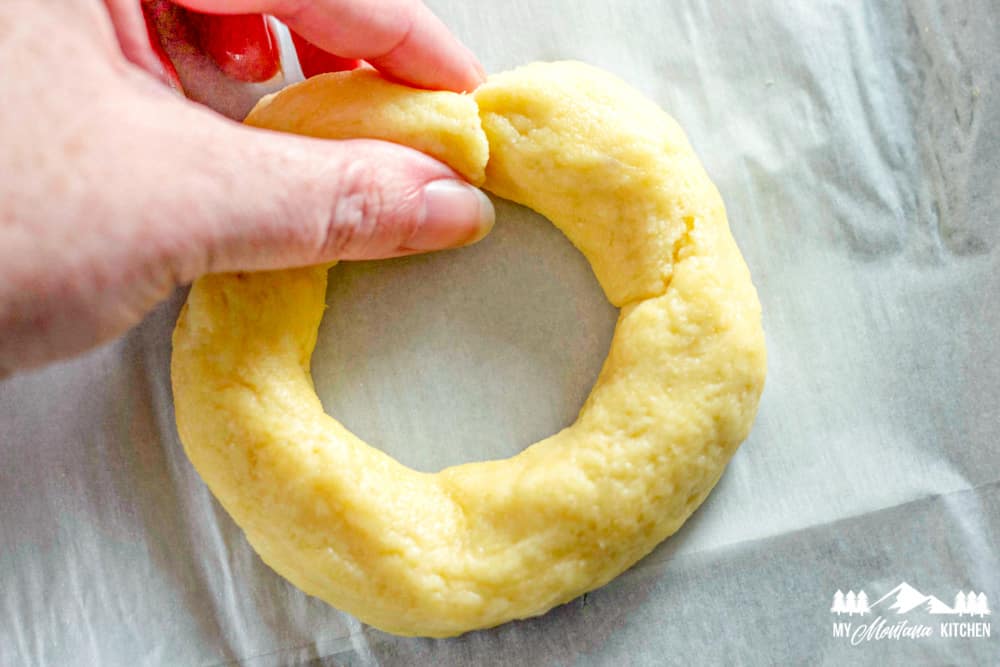 What Does The Baking Powder Do In The Cheese Flour Dough
Baking powder will help to give your fathead bagel dough a lighter texture. Without it you will find it becomes a lot denser in texture.
Make sure that your baking powder is still active and hasn't expired.
To know if your baking powder is still active bring a 1/4 cup water to a boil on the stove. Add in 1/2 teaspoon of baking powder.
If the baking powder is still active it will begin to create a lot of bubbles in the water. If the baking powder is expired it will not bubble at all.
It is very important to randomly check your powder as it will really affect the foods you cook.
Sometimes it may expire before you can use a whole tin of baking powder.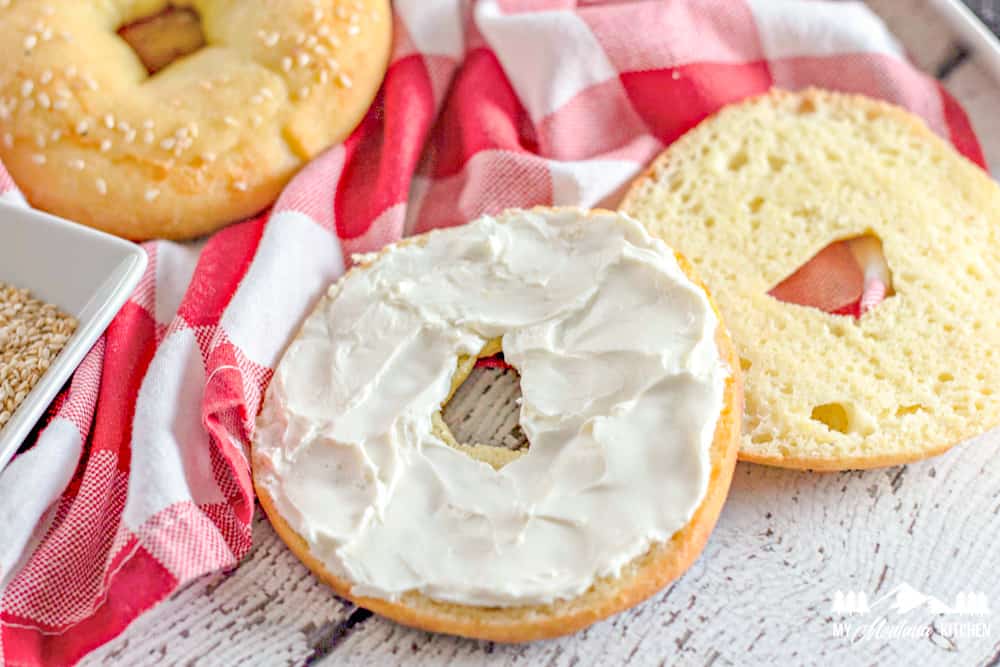 How To Brown Up Bagels
If you are making your bagels and find they lack the golden color from a traditional bagel you can use this trick.
Whip up an egg wash that you beat gently and lightly brush your bagels with it.
Then top with whatever toppings you want and then bake as directed.
The egg wash will help to bring you that golden color without over baking your bagels to get them to offer a golden color.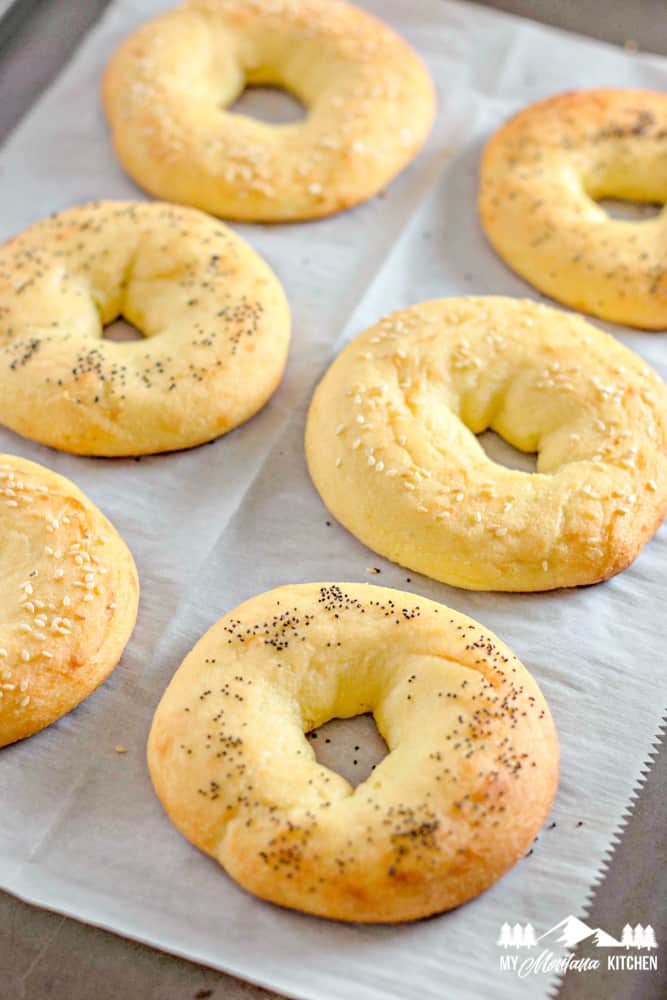 Interested in More Keto Recipes
If you are looking for new recipes to try out, I have a few more to check out before you go! These are some of my favorites.
Let me know how you like these bagels and what seasoning or spice blend you top your bagels with!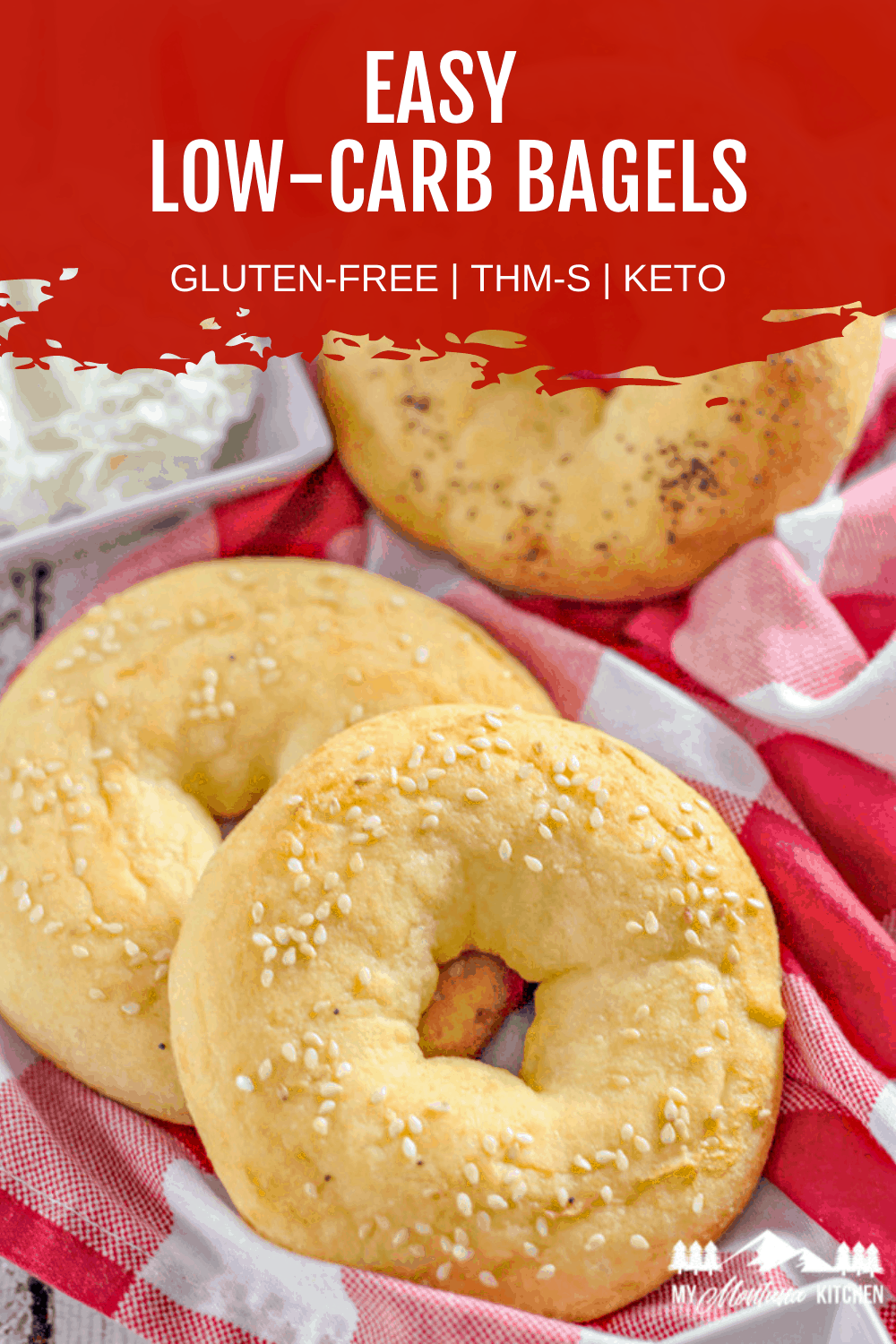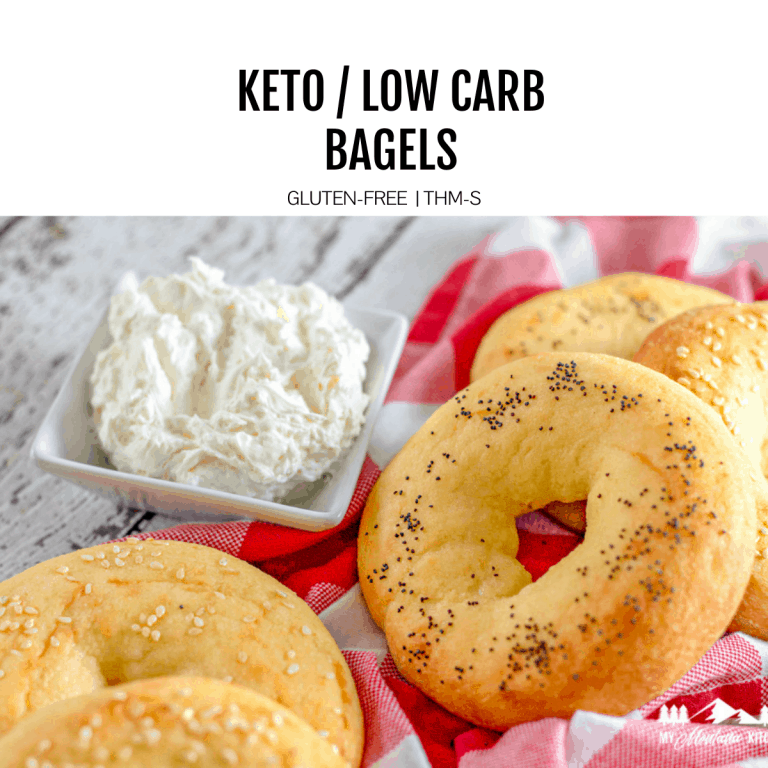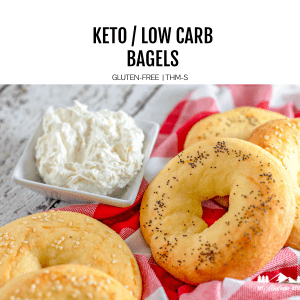 Keto Bagels
5 ingredients are all you need to make a homemade keto bagel. Top your bagels with whatever you want. A low carb bagel that is also gluten free and so simple to make.
Print
Pin
Rate
Ingredients
2 1/2

cups

Shredded Mozzarella Cheese

3

ounces

Cream Cheese

1 1/2

cups

Super Fine Almond Flour

2

teaspoons

Baking Powder

2

Eggs

Optional Toppings – Sesame Seeds

Poppy Seeds, or "everything" Bagel Topping
Instructions
Preheat oven to 400F degrees.

Pour the shredded mozzarella cheese and the cream cheese into a medium microwave safe bowl. Microwave on high for 30 seconds; stir well. Continue to microwave on high in 30 second increments, stirring well between each 30 second increment, until the cheeses are completely melted. Stir until smooth.

Whisk together the almond flour and baking powder. Add the almond flour mixture and eggs to the melted cheese and stir well. Be sure to stir quickly to incorporate the ingredients into the cheese mixture before the eggs scramble in the warm dough.

Wash then oil your hands with cooking oil. Mix the dough by hand until it is completely smooth and all ingredients are incorporated very well. The dough will be quite sticky.

Line a large cookie sheet with parchment paper or a silicon baking mat.

Cut the dough into 6 equal portions. With oiled hands to prevent the dough from sticking, roll each portion of dough out into a log, approximately 10 inches long. Form the log into a bagel and place it on the lined cookie sheet. Repeat with the rest of the dough to form a total of 6 bagels.

Sprinkle your topping of choice over the bagels. Wipe any excess bagel topping off of the cookie sheet to prevent burning.

Bake the bagels at 400F for 12-14 minutes, until golden brown.

Slice and serve hot with cream cheese. Store bagels in an airtight container in the refrigerator for up to 4 days; toast to reheat before serving. Makes 6 servings.
Notes
I suggest these bagels either be eaten fresh and hot from the oven or toasted.
(And of course with cream cheese!)
They are also awesome for a BLT or turkey sandwich.
Nutrition
Serving:
1
Bagel
|
Calories:
357
kcal
|
Carbohydrates:
9
g
|
Protein:
21
g
|
Fat:
28
g
|
Fiber:
3
g