We may earn money from the products/companies mentioned in this post. As an Amazon Associate I earn from qualifying purchases.
Shrimp tacos. It's one of those dishes that makes you feel like you're sitting on a beach, soaking up the rays and watching the world move past.
I've got a much easier (and cheaper) way for you to enjoy these low-carb beauties. Keto Shrimp Taco Lettuce Wraps to the rescue!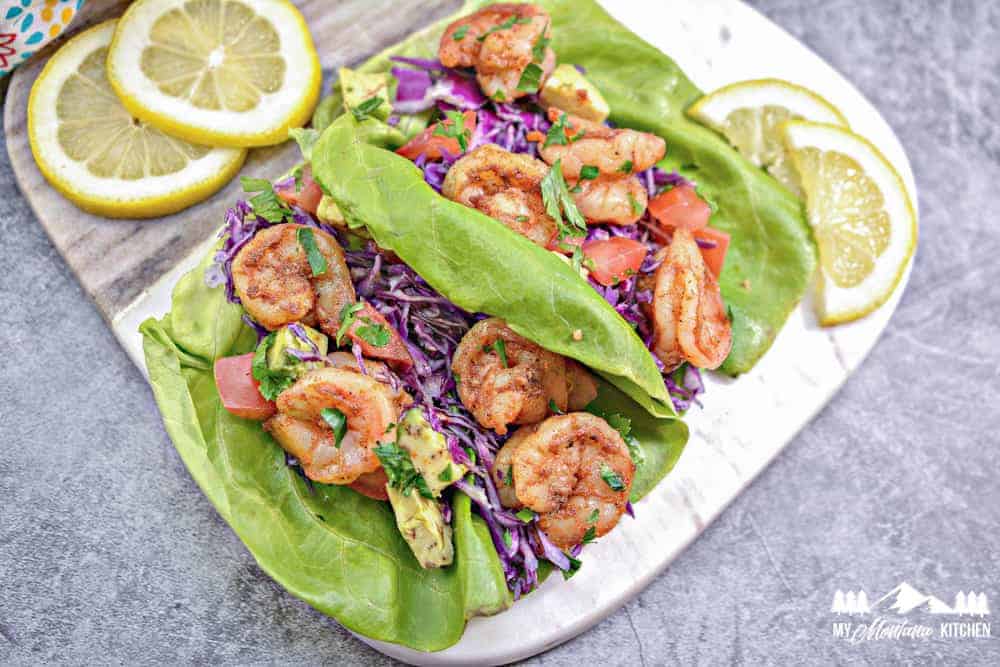 Oh yes, these delicious tacos are Keto, low-carb, and completely THM-friendly. They're also really easy to make!
With the amazing flavors in this recipe, you won't miss the carbs at all. Between the vibrant herbs and fresh veggies, these easy shrimp tacos will be a regular in your meal rotation.
The low-carb secret to this recipe is simple: lettuce! By wrapping the shrimp tacos in Bibb or butter lettuce leaves, you have a simple but scrumptious taco that even non low-carb eaters will love.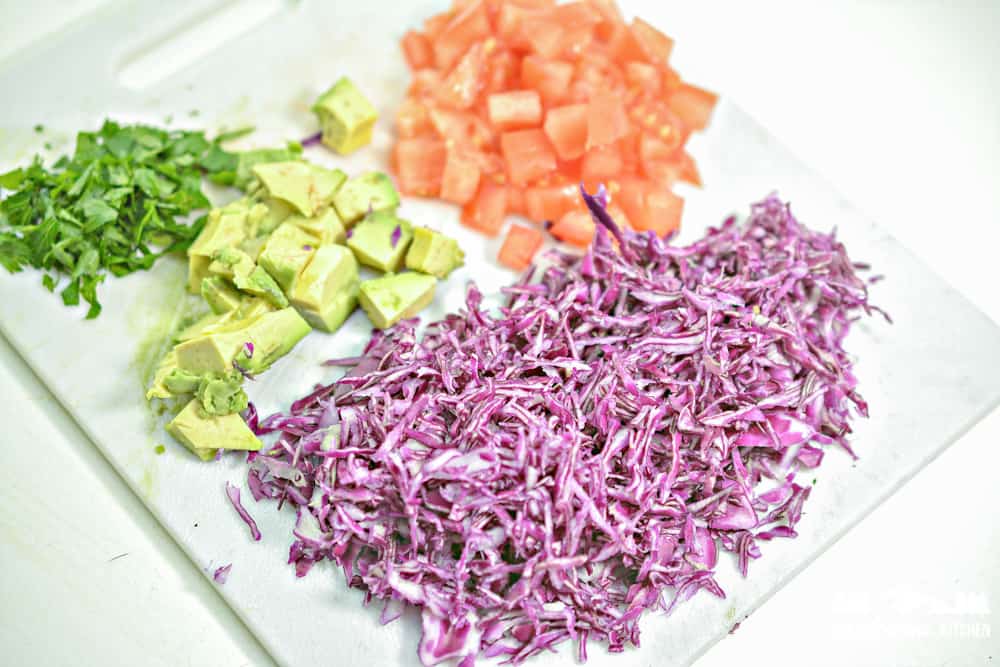 Are There Carbs in Lettuce?
One cup of lettuce contains 1 net carb, making it the perfect addition to this recipe.
Many types of lettuce are also a great source of vitamins A, C, and K, making them good way to keep your immune system strong.
In addition, some types of lettuce are an excellent source of folate, which has been shown to increase heart health.
Not bad for a yummy taco wrap!
When you combine healthy lettuce with shrimp, you have a nutritional powerhouse.
Shrimp is low in calories and contains no carbs, but contains iron, selenium, and iodine.
Don't forget that shrimp is high in Omega-3 and Omega-6 fatty acids. These all come together to make it a fantastic way to keep your heart and brain healthy.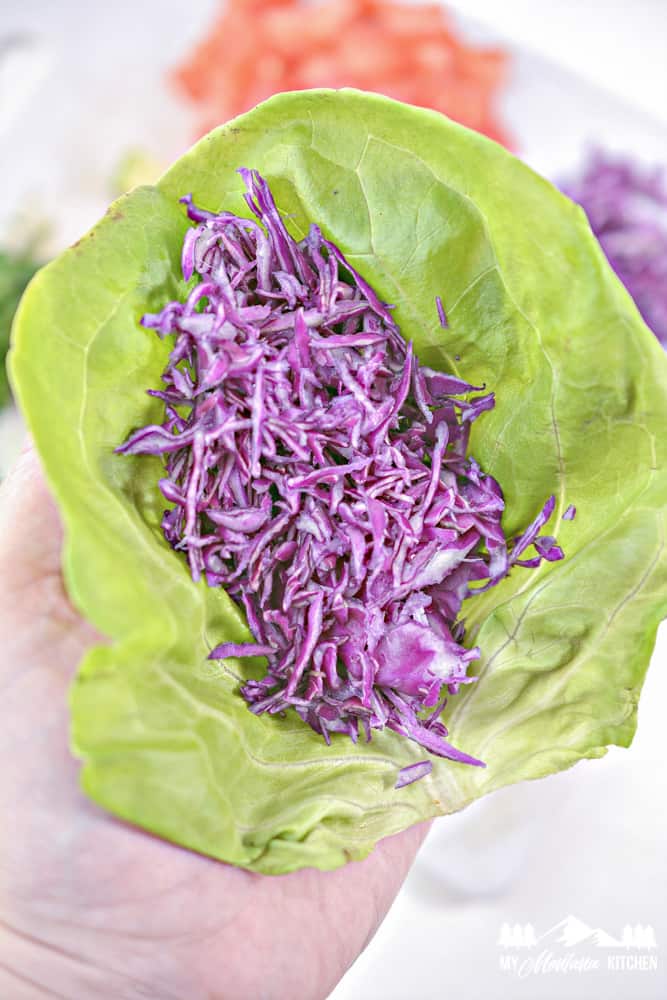 How Many Calories Are in Lettuce?
Another reason I love this recipe…lettuce has a lot of nutritional value, but it's very low in calories!
A cup of lettuce only has 5 calories, so you can enjoy these shrimp wraps to your heart's delight.
So how do you make these gorgeous tacos?
First, wash and dry your shrimp. You'll want to purchase shrimp that are already peeled and deveined; you can do these steps yourself, but they're pretty time-consuming.
Then, dice up the veggies so you're ready to load up your tacos when the shrimp is ready. It cooks quickly, so prepping the veggies beforehand will help a lot.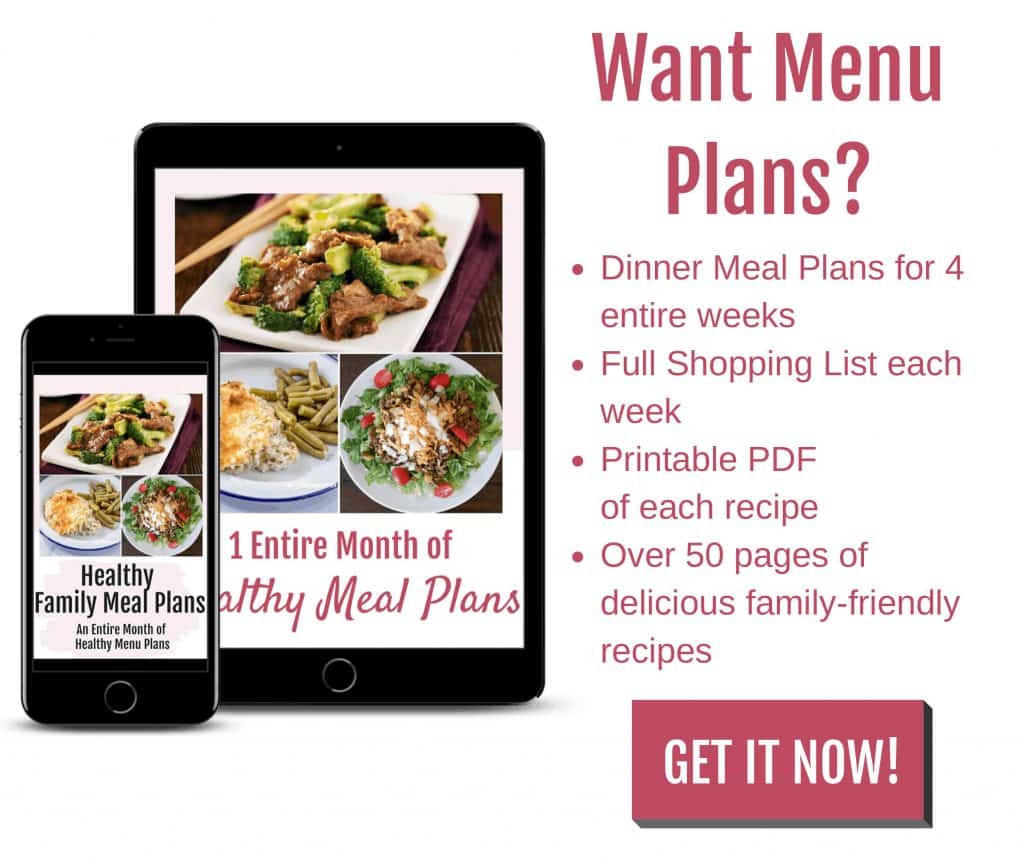 Combine the shrimp with the herbs and spices, making sure the shrimp is coated.
Heat up the oil in a large skillet and quickly cook the shrimp until it turns opaque, about 5 to 8 minutes. (Don't overcook the shrimp – it will become rubbery!)
While you're cooking the shrimp, be sure not to "crowd" the pan. In other words, if you need to cook it in two or three batches, do so.
Trust me, this makes a huge difference! Allowing enough room in the pan for the shrimp to cook quickly will give you a delicious result.
Trying to cook it all in one batch will result in boiled shrimp – not the best texture for tacos.
Once the shrimp is done, take it out of the pan and let it cool for a minute or two. This will ensure that the heat from the shrimp doesn't wilt the lettuce.
Lay two or three leaves of Bibb or butter lettuce on your plate (either works wonderfully) and add the shrimp, purple cabbage, chopped tomato and avocado, and a few shrimp to each leaf. Top it off with a bit of fresh parsley or cilantro and you're good to go!
What Do I Serve with Keto Shrimp Taco Lettuce Wraps?
Due to the amazing flavors in these tacos, they call for some pretty simple sides.
If you would like to keep everything low-carb, you can whip up some Cheesy Cauliflower Rice or Cilantro-Lime Cauliflower Rice. Either would make a fantastic accompaniment to the shrimp taco wraps – and both are really easy to make.
If you'd rather go with a salad, my Cucumber-Tomato Salad is a great choice! The fresh, chunky veggies and the creamy sauce will go well with the tacos.
If you are a Trim Healthy Mama, you can omit the avocado and these Shrimp Taco Lettuce Wraps would be very close to a Fuel Pull!
If you wanted to make your meal an E fuel, serve with one of the low fat/healthy carb options below!
If you're up for some carbs (since the tacos have almost none), my Instant Pot Brown Rice would pair incredibly well with this dish. You can even add a bit of cilantro and lime to liven things up a bit!
And last but not least, don't forget the Black Bean and Corn Salsa! This one has a few extra carbs, but oh my…it goes so well with the shrimp taco wraps. Yum!
Whichever you choose, I hope you love this recipe as much as we do!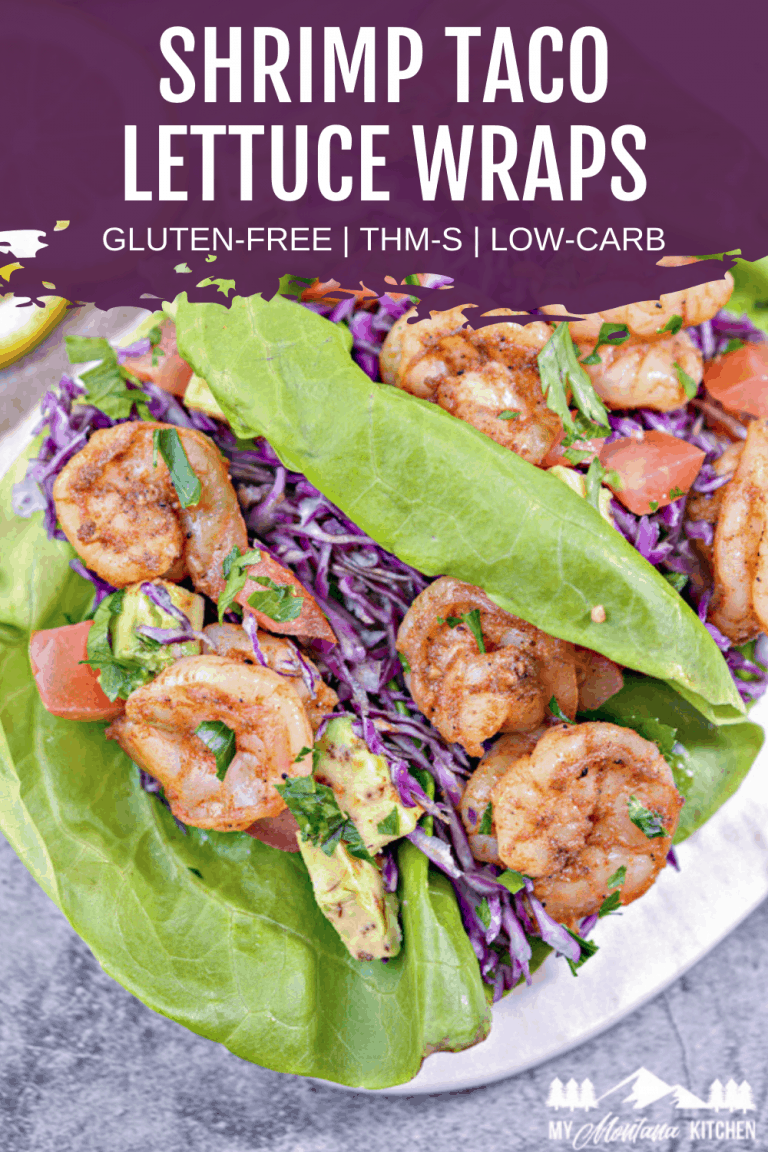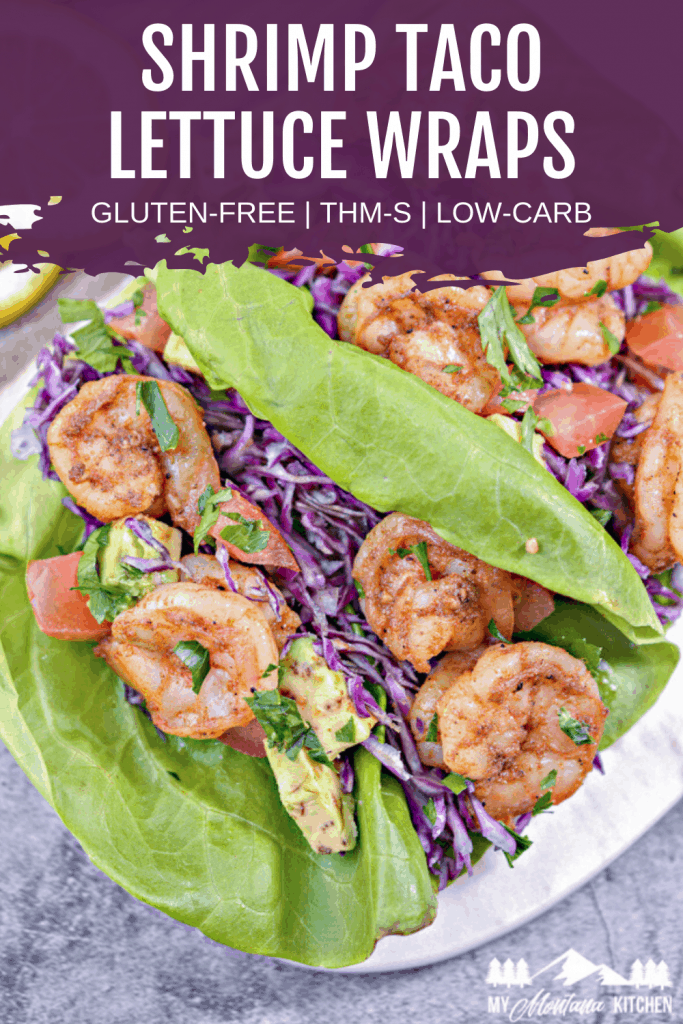 Yield: 6 Servings
Keto Shrimp Taco Lettuce Wraps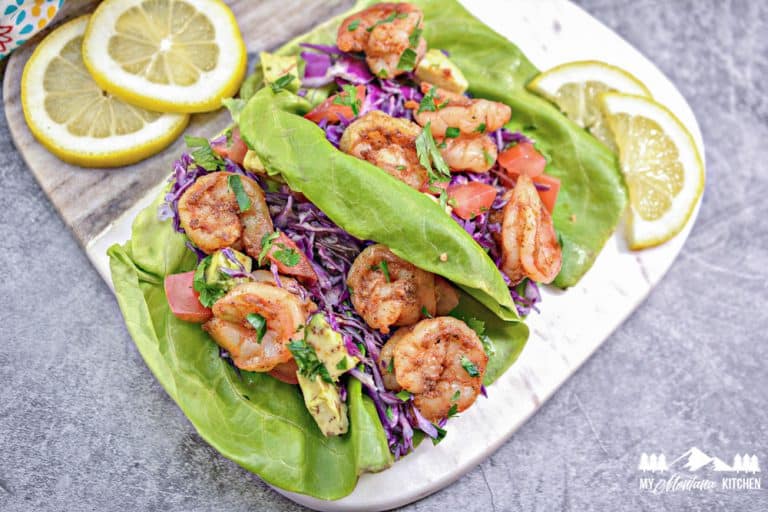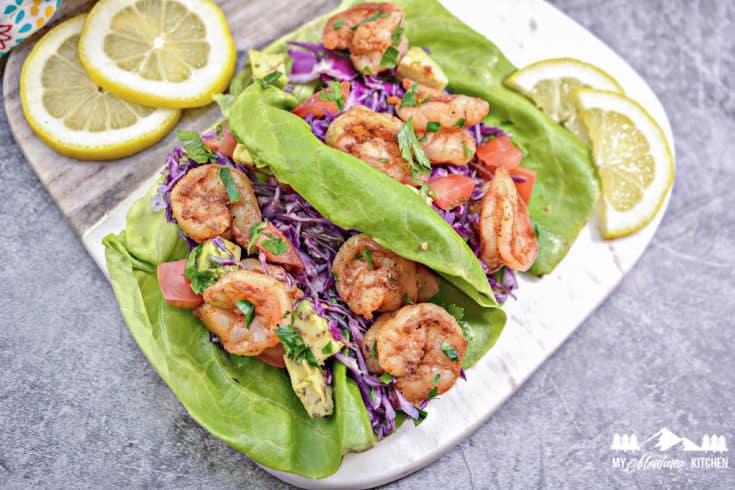 Crispy lettuce, stuffed with savory shrimp and delicious veggies, how can you go wrong? Check it out these Keto Shrimp Taco Lettuce Wraps today!
Ingredients
2 lbs. Peeled and Deveined Shrimp
2 Tablespoon Olive Oil
1 Teaspoon Chili Powder
1 Teaspoon Paprika
2 Teaspoon Cumin
2 Teaspoon Minced Garlic
Salt and Pepper to taste
8 tablespoon Shredded Purple Cabbage
½ Avocado, chopped
4 Tablespoon Chopped Tomatoes
3 Tablespoon Freshly Chopped Parsley
15-18 Bibb or Butter Lettuce Leaves
1 Lemon (optional)
Instructions
Clean and dry your shrimp.
Dice the tomatoes and avocado, chop the parsley and shred the purple cabbage.
In a mixing bowl, combine the shrimp, chili powder, paprika, cumin, minced garlic as well as salt and pepper to taste.
Heat 2 tablespoon of olive oil in a large skillet over medium-high heat. Cook the shrimp for 5-8 minutes until cooked through. You may need to cook the shrimp in two or more batches depending on the size of your skillet.
Let the shrimp cool for a few minutes before creating your lettuce wraps. This will keep the lettuce wraps from immediately wilting
To make one serving, place two or three lettuce leaves on a counter or plate. Split 2 tablespoon of purple cabbage, 10 shrimp, ⅙ of the chopped avocado and ½ tablespoon of chopped tomatoes between the lettuce leaves. Top with some freshly chopped parsley, and a squeeze of lemon if you like.
Repeat step 6 to create all 6 servings of shrimp tacos.
Nutrition Information
Yield
6
Serving Size
2-3 Lettuce Wraps
Amount Per Serving
Calories

232
Total Fat

8g
Carbohydrates

6g
Net Carbohydrates

4g
Fiber

2g
Protein

33g