We may earn money from the products/companies mentioned in this post. As an Amazon Associate I earn from qualifying purchases.
Cream Cheese Chaffles are a crave that people can't get enough of. If you are one that is loving all things chaffles, you have to try this sweet cream cheese chaffles recipe.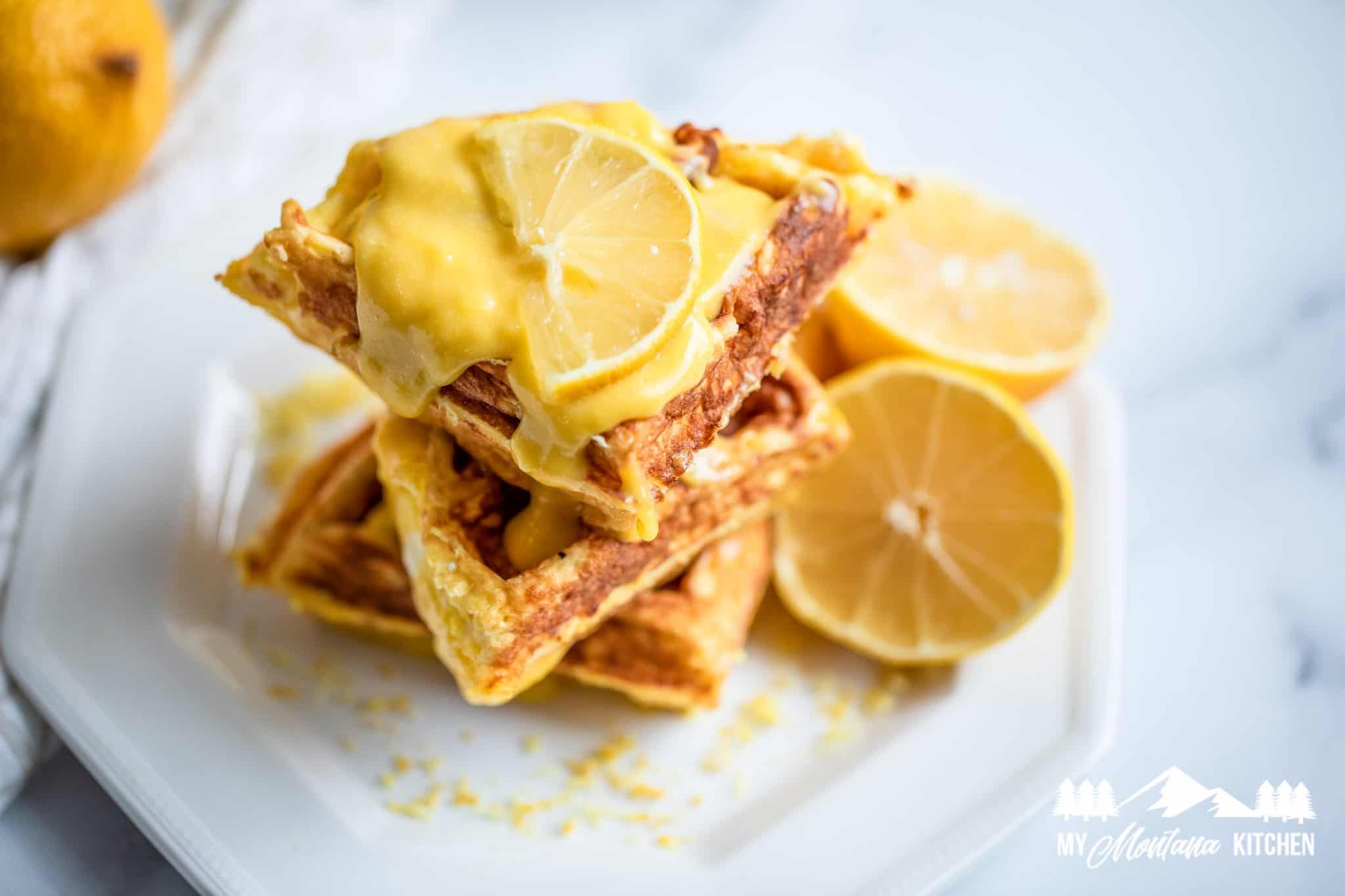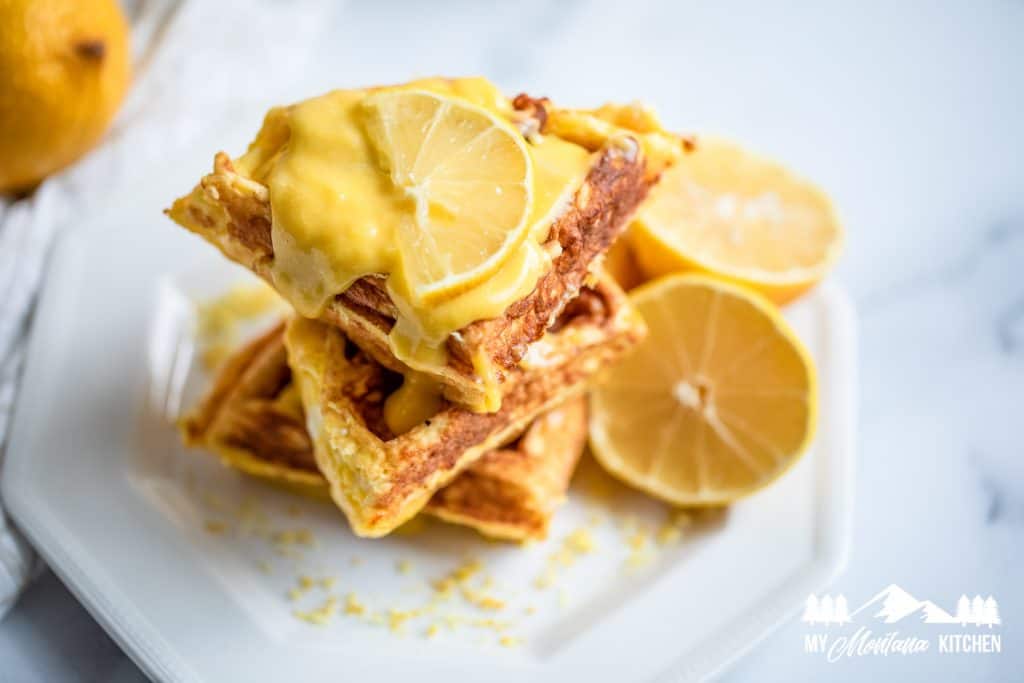 Cream Cheese Chaffles
I share all my tips and tricks on how to get the perfect cream cheese chaffle every single time. I also take you through great topping ideas to add a new level of flavor to your easy chaffles recipe.
What Are Chaffles
A chaffle is what many know as the must have keto waffle recipe. You have cheese as a main ingredient that gets cooked in a waffle iron or Dash mini waffle maker.
Hence the name, chaffle as it combines the two names. You will find savory chaffle recipes along with sweet ones like this recipe here. Either way, you can enjoy the easy and tasty homemade chaffle with cream cheese as the base.
What Are Chaffles Made Of
For this particular recipe, I use a handful of ingredients. Eggs, cream cheese, monk fruit sweetener, vanilla, mozzarella cheese, coconut flour, baking powder, and salt.
You will find this recipe gives you the perfect texture. You get a sweet recipe that has a nice soft and chewy texture.
Do Chaffles Have To Be Refrigerated
Yes, because of the ingredients used you will need to refrigerate any leftovers you may have. I love to eat these fresh, but I will save some back if they don't all get eaten right away.
You can store in the fridge in an airtight container for up to two days. Make sure you allow your keto chaffles to cool down before storing or the condensation will build and soften them up quite a bit.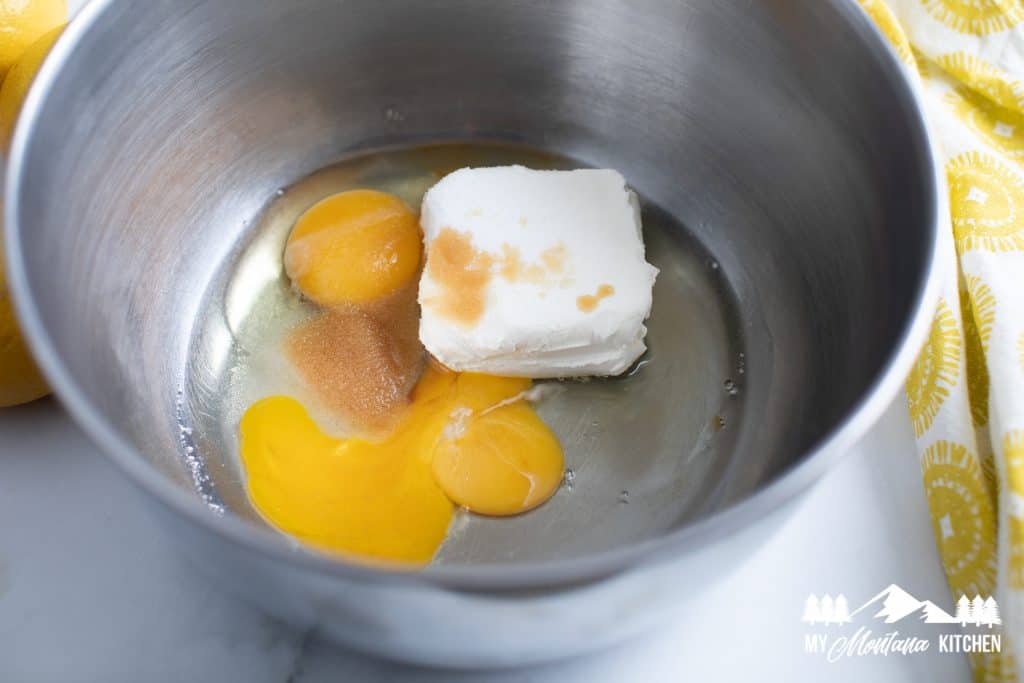 How Long Does It Take To Cook Cream Cheese Chaffles
This will all depend on which waffle iron you are using. A good rule of thumb is 3-5 minutes though. You will want to cook until you see all the steam stop rising up from the waffle iron.
When you go to remove your low carb chaffle it will be easy to lift off the iron, and it will stay together. If it still looks soft or mushy in spots you need to cook it longer.
How To Make The Perfect Chaffle
Hot Iron | Make sure your waffle iron gets nice and hot. You don't want to pour the batter into a cold iron.
Softened Cream Cheese | Make sure your cream cheese is softened so it will mix up the way you need it to. If you don't take the time to soften it will not work.
Fine Shredded Cheese | You don't have to use finely shredded cheese but I find it does offer the best texture. Now, if you have thicker cheese it will work just know the texture will vary.
These are just a few tips for working with cream cheese chaffles. Feel free to do what you like the best, or try some of my tips and see how you like them.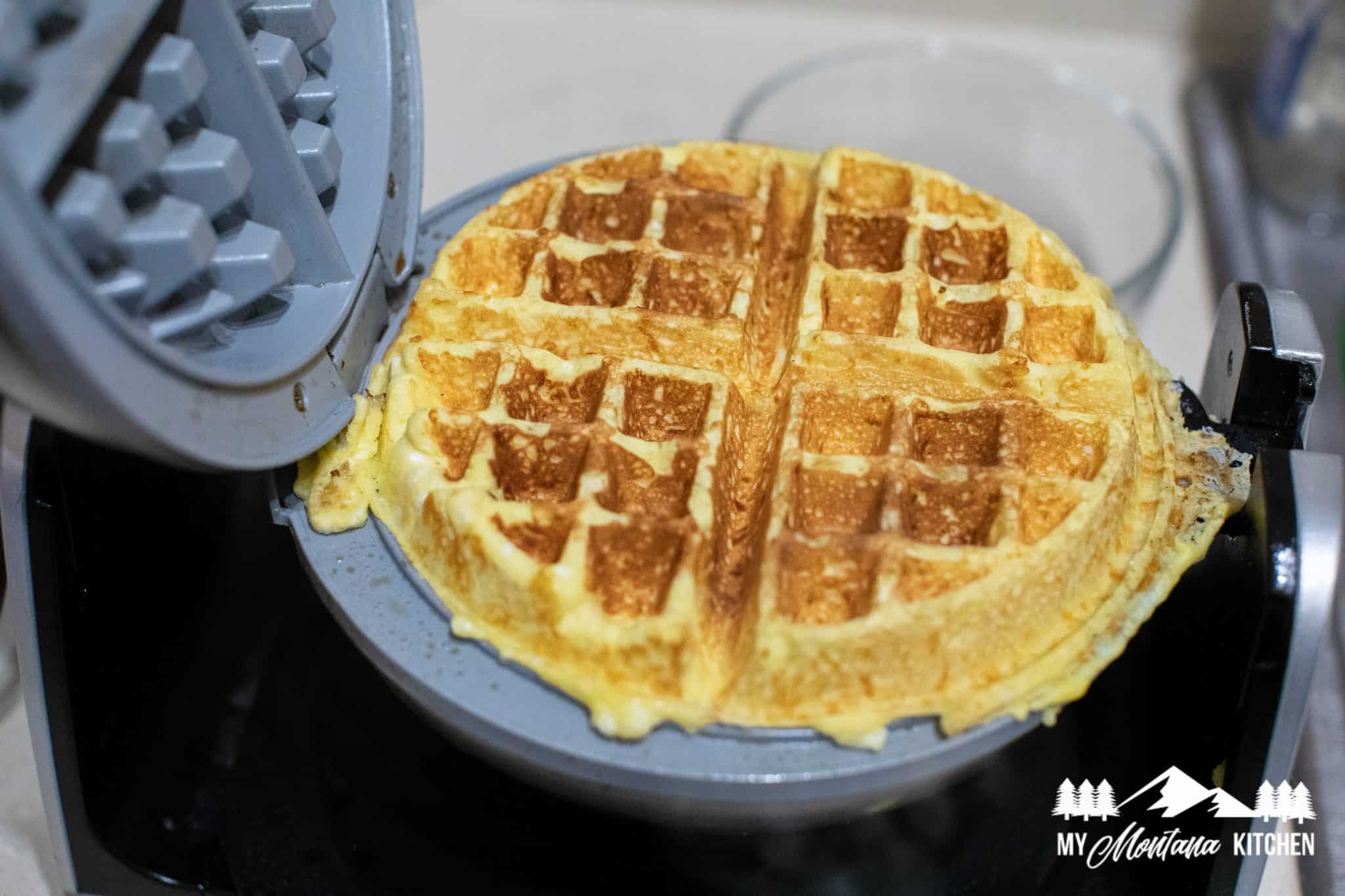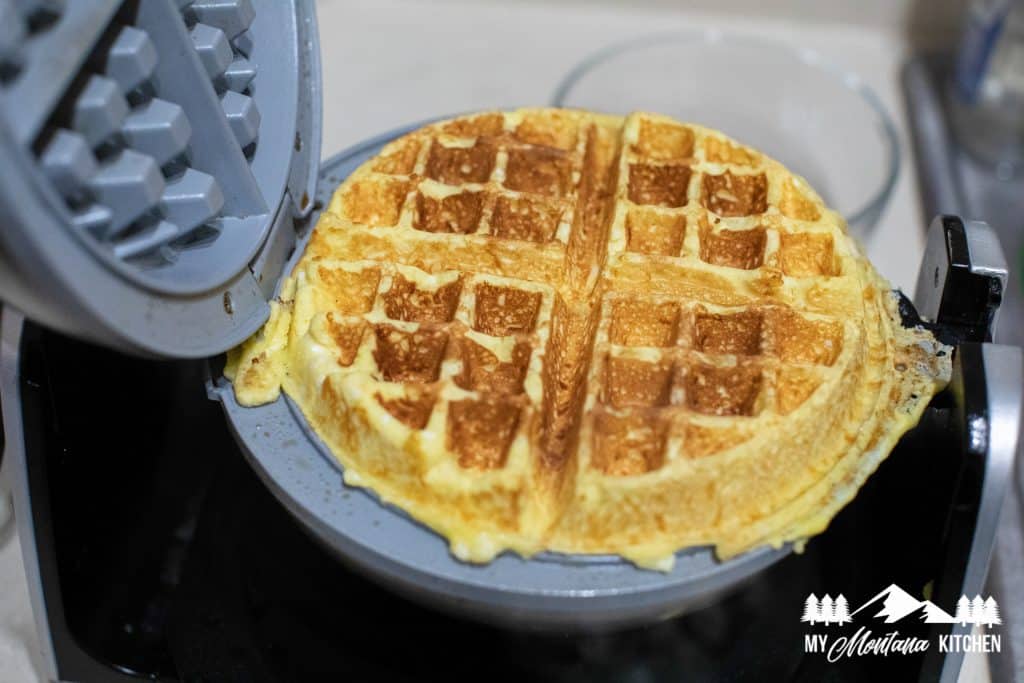 Looking for More Easy Low Carb Recipes To Make
Cinnamon Roll Pancakes | Love cinnamon rolls, then dive right into these cinnamon roll pancakes. The ultimate breakfast that will leave you feeling satisfied.
23 Low Carb Soup Recipes | Here is another great list of tons of soups to consider making. Great for lunches, dinners or meal prepping.
Low Carb Peanut Butter Cookies | Peanut butter is a weakness, and these cookies are insanely good. They freeze well so you can have a homemade cookie whenever you get a craving.
How To Make Your Chaffle Taste Less Eggy
The best way to get around the overly eggy taste is to allow your chaffle to fully cool once it has cooked. I know that you would think serving it warm is best, but you will find the best flavor is when it is completely cooled down.
Then add on your favorite toppings. Lemon curd, sugar free jam, dusting of powdered sweetener, or any other favorites you may have. You can even make homemade whipped cream and add a dollop, it will taste fantastic.
If you are on the hunt for a sweet chaffle recipe, this one is a must make. You will love the sweet flavors and the unlimited toppings you can pile on.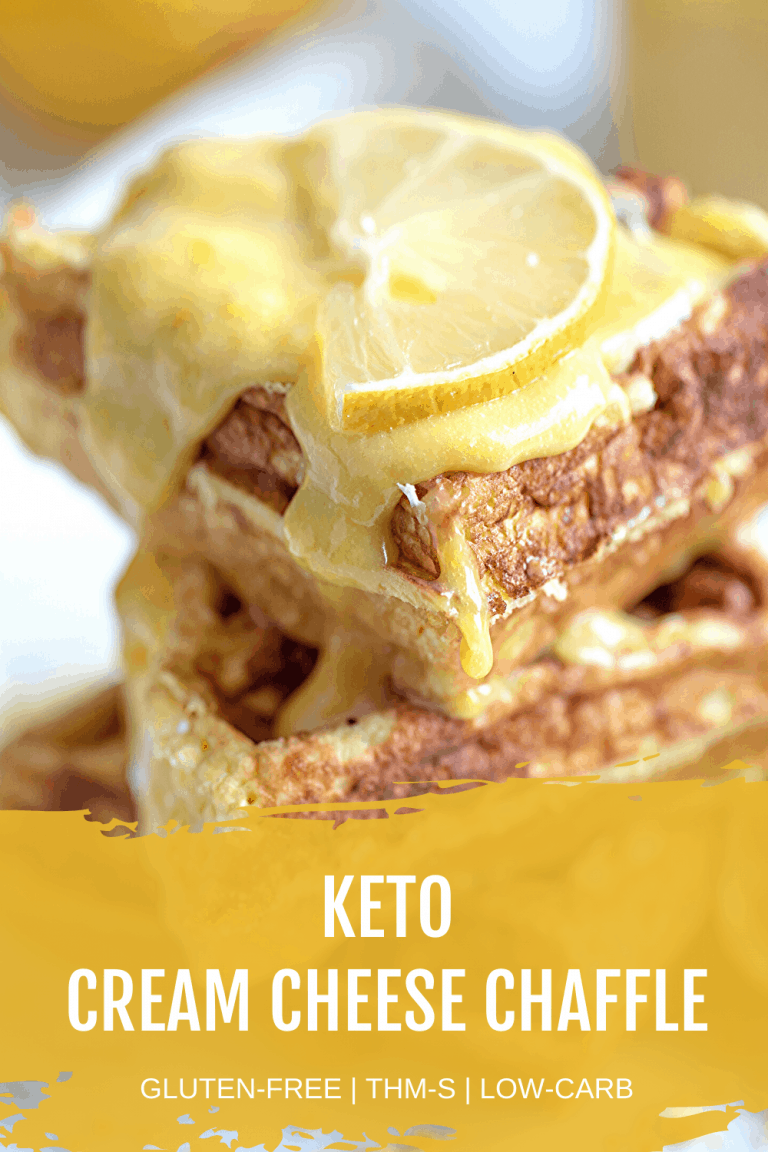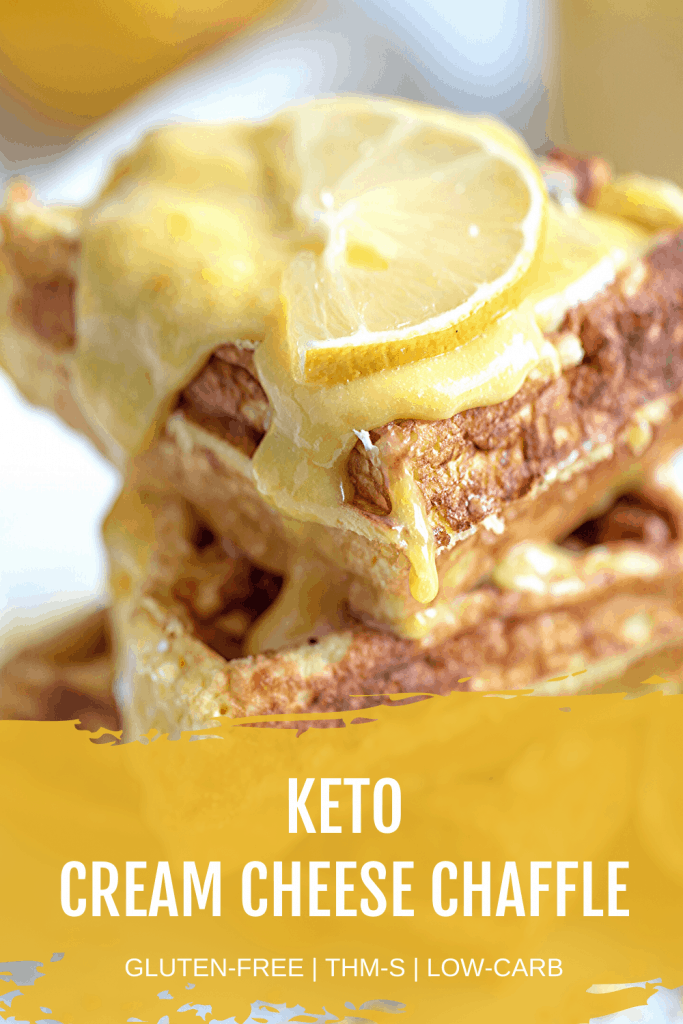 Low Carb Cream Cheese Chaffles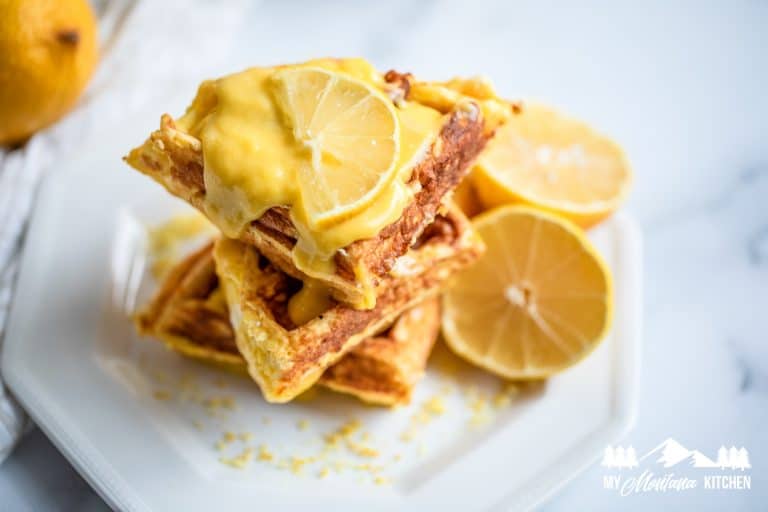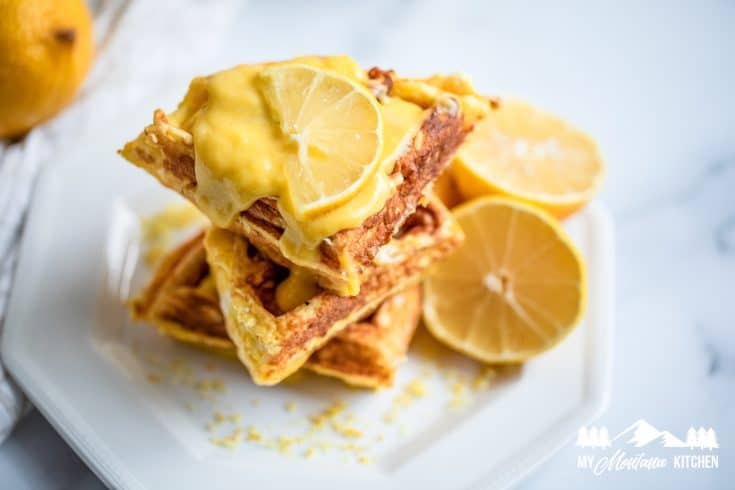 Instructions
Preheat waffle maker to medium/high heat and spray generously with low carb non-stick spray.

In a large mixing bowl, add eggs, cream cheese, sweetener, and vanilla and beat with a hand mixer or whisk until frothy.

Add in mozzarella and beat until well combined.

In a separate bowl, add flour and baking powder and whisk until mixed.

Add dry ingredients to egg mixture and mix until just combined.

Pour batter into preheated waffle maker and cook until brown on the outside – about 4 minutes.

Remove chaffle from waffle maker, top with lemon curd, and serve.

Optional – sprinkle lemon zest on top prior to serving.
Notes
This recipe makes 4 mini chaffles, or one regular size "waffle."
The nutritional information is calculated for the mini chaffles.
For an extra special treat, serve with Sugar Free Lemon Curd as shown in the photos above.
Nutrition Information
Yield
4
Serving Size
1 Mini Chaffle
Amount Per Serving
Calories

238
Total Fat

19g
Saturated Fat

10g
Cholesterol

179mg
Sodium

718mg
Carbohydrates

6g
Fiber

2g
Protein

12g