We may earn money from the products/companies mentioned in this post. As an Amazon Associate I earn from qualifying purchases.
This low carb philly cheesesteak casserole is a simple twist on a classic American favorite. Not only is it delicious, but easy ground beef casseroles like this cheesesteak dish also make for great dinners because they are easy, quick, and popular with the whole family.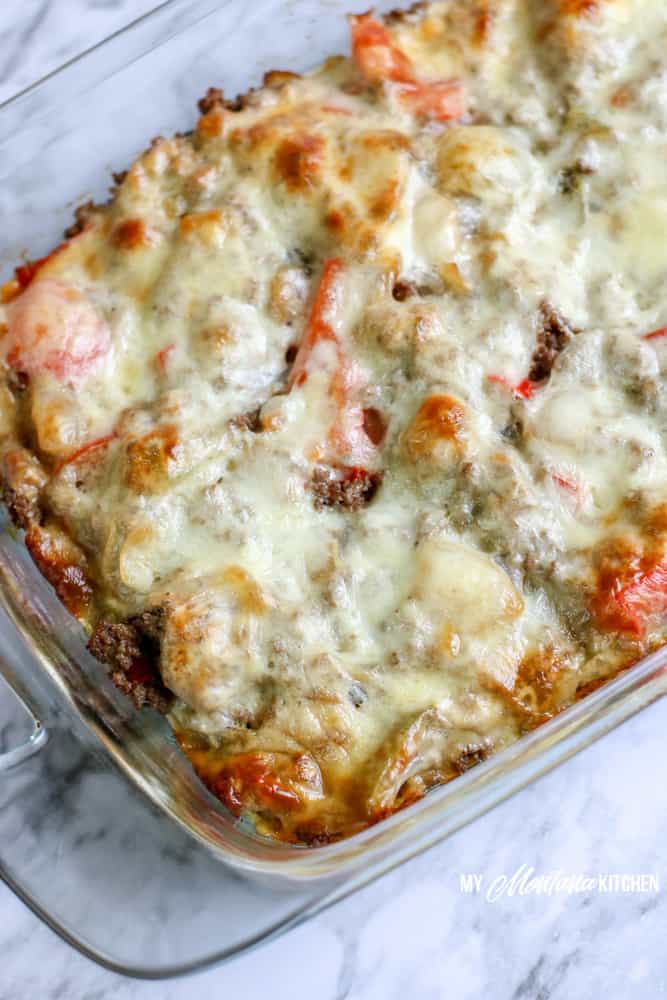 Have you ever had a traditional Philly cheesesteak? Thinly shaved beef, savory peppers and onions, melty cheese all served up on carb laden roll. Delicious? Absolutely! Healthy? Well…

And also hard to make at home. Getting that steak shaved just so is nigh unto impossible.

Enter: philly cheesesteak casserole. Not only is this super simple (and pretty frugal!) to make, but it tastes amazing and it's low carb, too!
Ingredients In Low Carb Cheesesteak Casserole
So what do you need to make this simple and delicious keto casserole?

Ground chuck (ground beef)
Olive oil, optional
Bell peppers (usually green)
Onion
Mushrooms (optional)
Cream cheese
Garlic powder
Provolone cheese (or white American if you can't get provolone)
Salt and pepper, to taste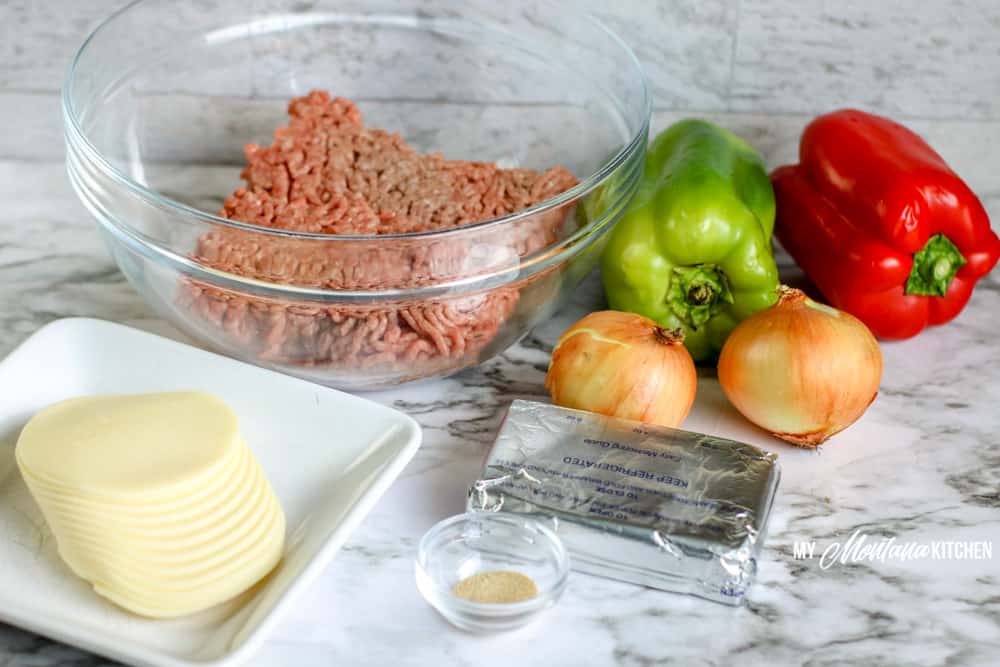 As you can see, you'll be swapping out thinly shaved steak for ground chuck. This makes it easier and cheaper to make, plus it still tastes amazing.
Are Bell Peppers & Onions Low Carb?
Some people worry about the carbs in peppers and onions. While it's true that they can't be indulged in limitlessly on a low carb, particularly keto, diet, they are healthy and do have their place (source). And they are fine for Trim Healthy Mamas in this recipe!

In fact, this recipe is a great example of ways to have peppers and onions in a low carb meal.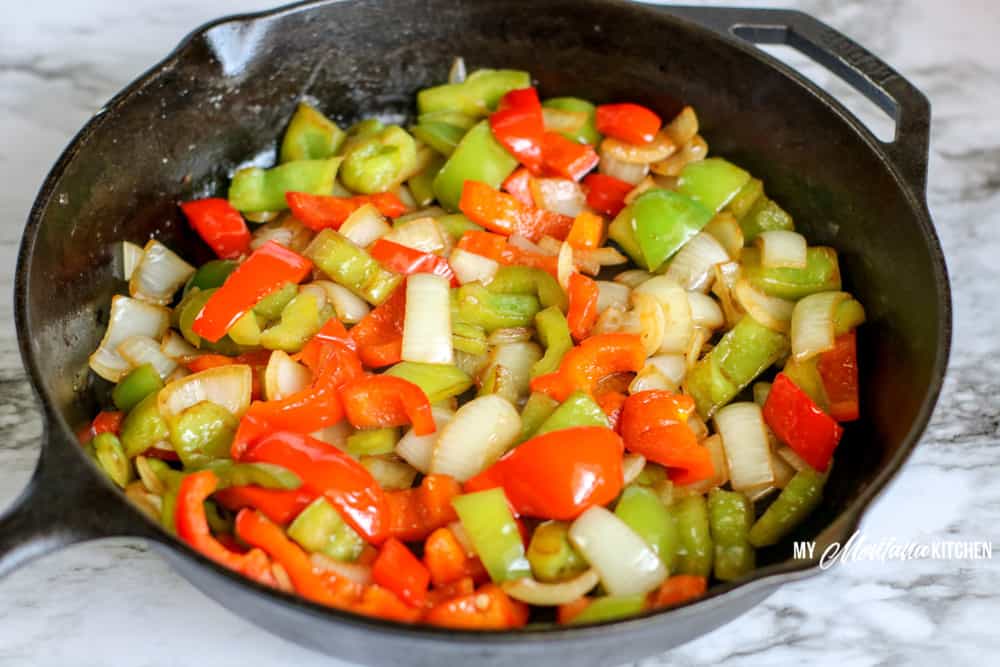 Green bell peppers are traditionally used, but you can also use a mix of red and green if you prefer.

You'll use yellow or white onions here; yellow will be sweeter and caramelize better while white will have more of a bite even after cooking.

You could use a couple of cloves of freshly minced garlic added to the onions and peppers at the end instead of garlic powder if you like a stronger flavor, but the powder here keeps it a subtle flavor that enhances instead of overpowers.

And don't leave out the salt and pepper - they are part of a truly great Philly cheesesteak sandwich and the flavors will work beautifully!

If you like added heat, add some crushed red peppers just before serving. Or if you like even more heat, add them to the mix before baking as the extended heat will release more of the spice.
How To Make A Low Carb Philly Cheesesteak Casserole
Go ahead and preheat your oven; this won't take long!

Prep your favorite 9x13 casserole dish with non stick cooking spray.

In your skillet, brown your beef and chop it into crumbles. Once it's cooked all the way, drain the fat from the skillet (or leave it in if you prefer the added flavor and texture!).

Using the same skillet, it's time to cook the veggies. If you drain the fat, you'll need to add a touch of oil before adding them to soften and saute them.

Once your veggies are nice and soft, add in the beef, softened cream cheese, and spices. Combine them well by stirring over low heat.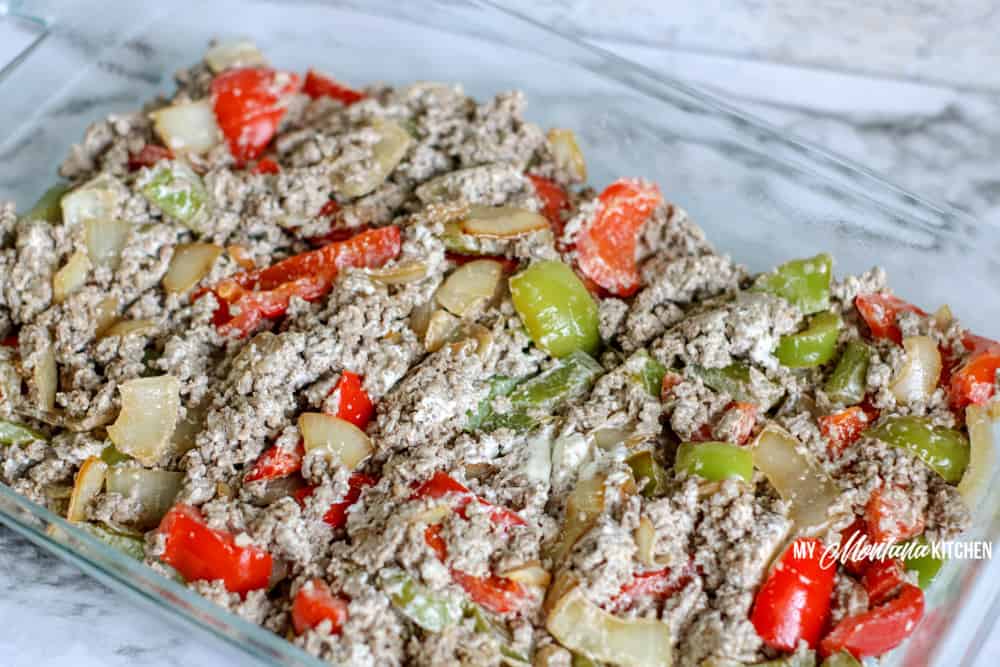 Once it's all mixed together, move your philly steak mix to the casserole dish and top it all with the provolone cheese.

Bake your casserole until your cheese is bubbling.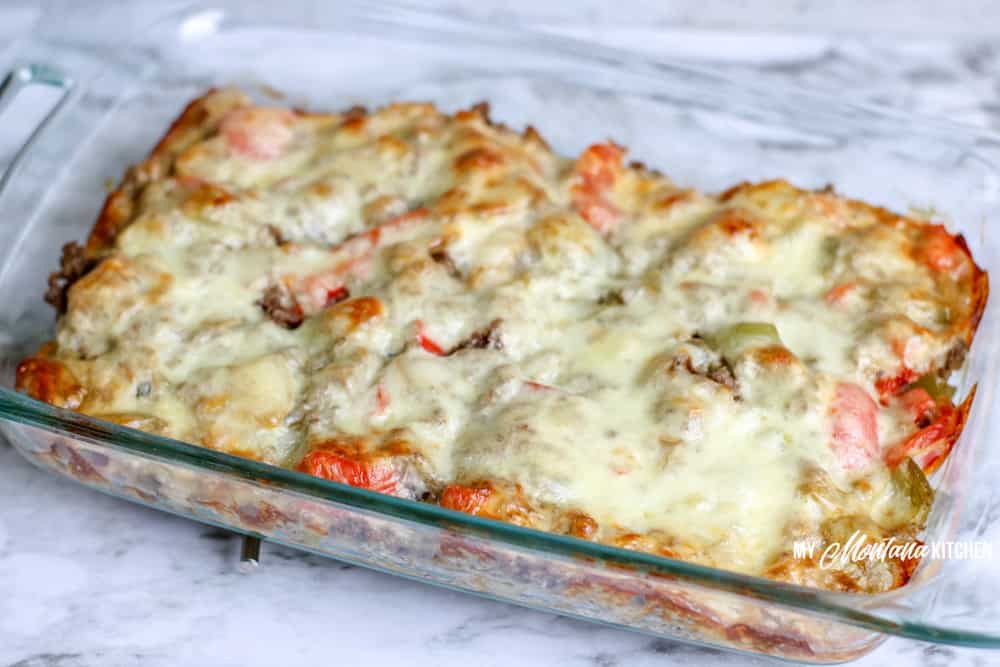 Serving Your Low Carb Cheesy Beef Casserole
There are so many ways to enjoy your Philly cheesesteak casserole.

You can serve it on a plate with a side salad if you'd like a super simple, healthy keto dinner.

Or, for a more traditional flavor, serve on some low carb quick bread as a sandwich or in a low carb tortilla wrap, burrito style.

Want to make it a gooey, greasy, delicious treat without the guilt? Pair it with some low carb chili cheese fries! It doesn't get much yummier than that. Mmmm.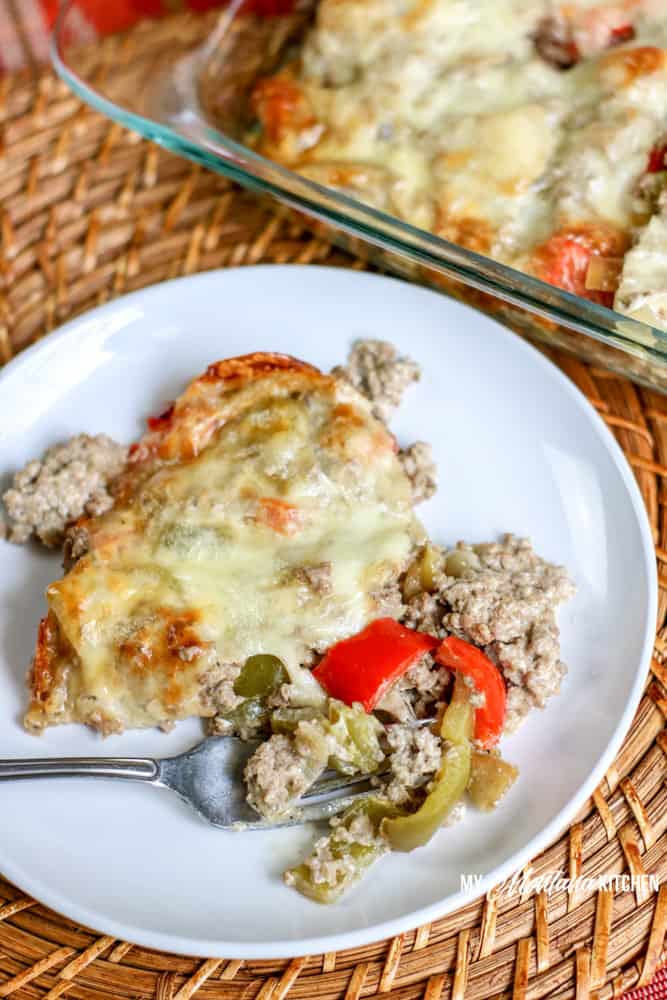 Prepping & Reheating Your Cheesesteak Casserole
One of the great things about ground beef casseroles is how easy they make dinner time. Yes, you can make this for tonight's dinner, but it could also be a meal prepped solution for a busy night.

If you've got this on your meal plan and know the week is a busy one, you can brown the ground beef ahead of time and have the veggies prepped already. It's an easy step to take on the weekends to get ready for a full week.

In fact, one simple way to meal prep for dinners is to brown 5-10 pounds of ground beef all at once, prep your veggies, and then just portion out for the week.

Then you could use it for cheeseburger pizza, easy cheesy keto cabbage casserole, or even low carb instant pot chili. Life (or at least dinner!) is so much easier when you've got things ready to grab and cook with.

Another way to make this philly cheesesteak casserole an easy dinner is to freezer prep it. You can put it all together and freeze it, then just pull it out and bake it before serving if you want to make it ahead of time.
If you love casseroles, you'll also want to try this Low Carb Chicken Fajita Casserole!

If you have leftovers, they'll keep in the fridge for up to a week. Just sprinkle a little water in the dish and cover loosely before microwaving to help the cheese get melty instead of drying out.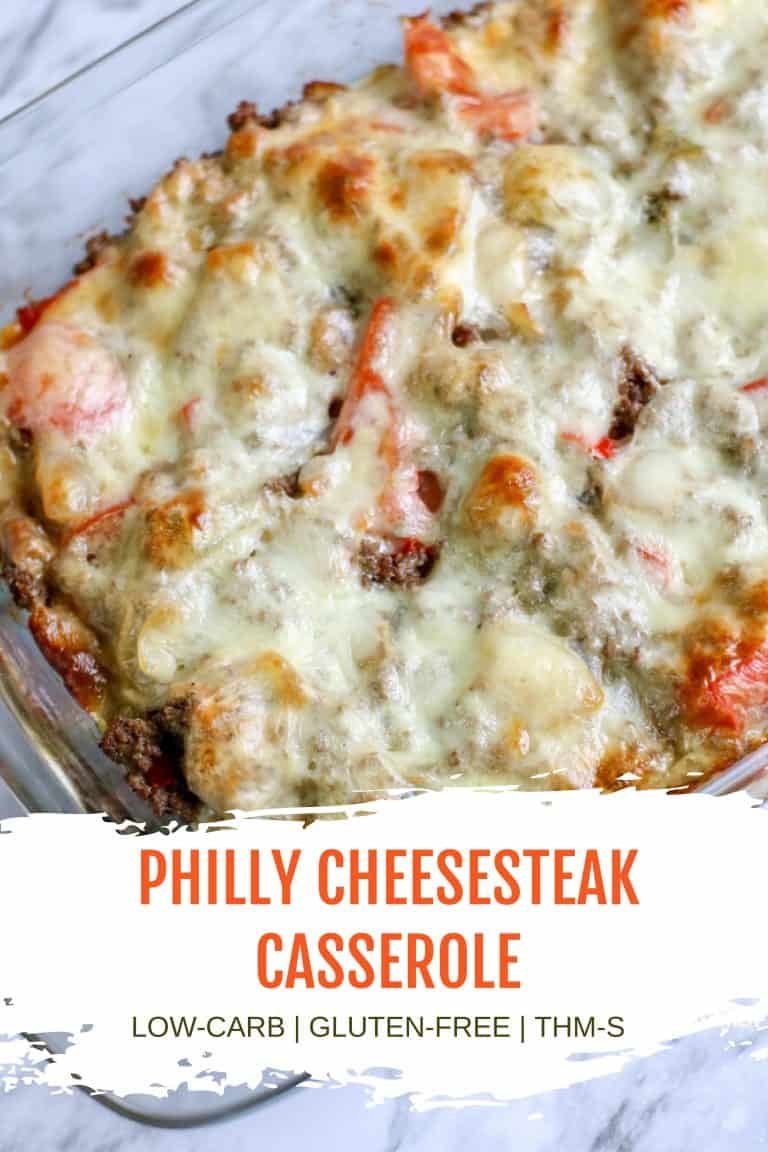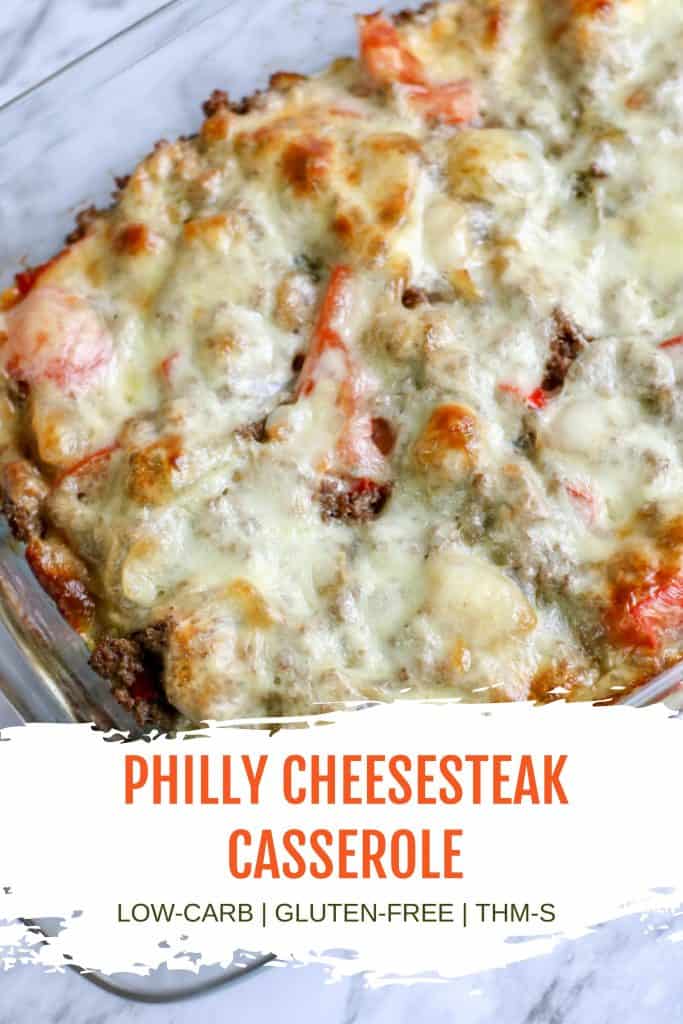 Yield: 12
Low Carb Philly Cheesesteak Casserole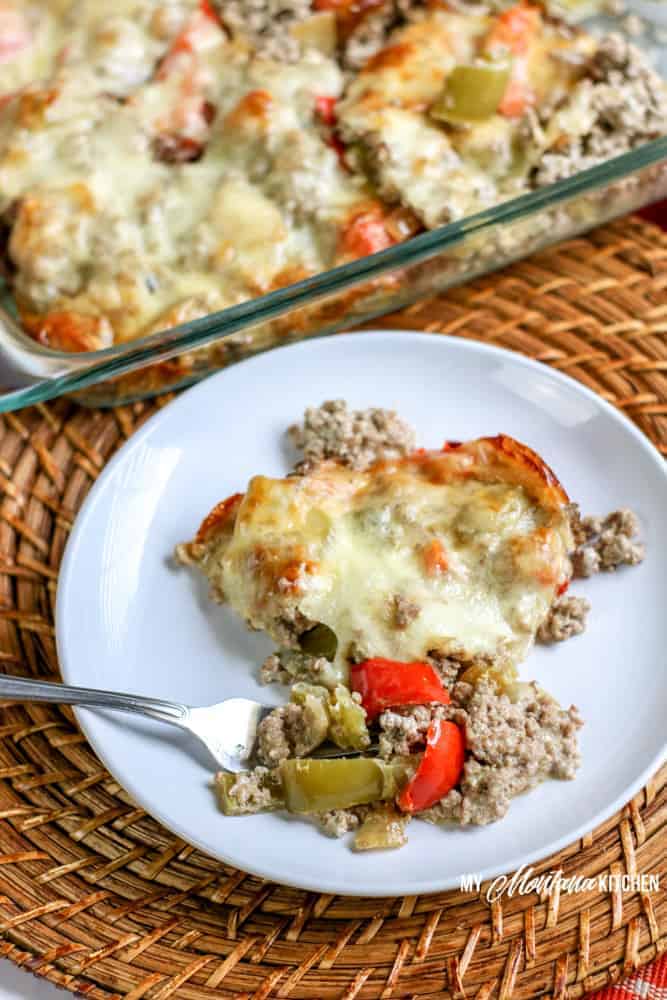 This low carb philly cheesesteak casserole is a simple twist on a classic American favorite. Not only is it delicious, but easy ground beef casseroles like this cheesesteak dish also make for great dinners because they are easy, quick, and popular with the whole family.
Ingredients
2 Pounds Ground Chuck (Beef), browned and drained
2 Bell Peppers, seeded and sliced
1 Large or 2 Small Onions, sliced
1 (8 ounce) Package Cream Cheese, softened
Salt and Pepper, to taste
12 Slices Provolone Cheese
Instructions
Preheat oven to 350 degrees.
Prepare a 9x13 casserole dish with coconut oil spray.
In a large skillet, brown ground beef over medium-high heat and chop into crumbles.
Drain ground beef to remove grease.
If grease is removed from skillet, add coconut oil and swirl to coat the pan.
Add onions and peppers to skillet, cooking over medium-high heat and stirring occasionally until softened. Remove from heat.
To the skillet, add cooked ground beef, cream cheese, garlic powder, salt and pepper. Stir to combine. Transfer to casserole dish.
Top casserole with slices of provolone cheese.
Bake for 25 to 30 minutes or until cheese is melty and bubbling.
Recommended Products
As an Amazon Associate and member of other affiliate programs, I earn from qualifying purchases.
Nutrition Information
Yield
12
Serving Size
1/12 Casserole
Amount Per Serving
Calories

333
Total Fat

23g
Saturated Fat

11g
Trans Fat

1g
Unsaturated Fat

9g
Cholesterol

89mg
Sodium

347mg
Carbohydrates

3g
Fiber

0g
Sugar

1g
Protein

28g
Nutritional information may vary depending on which ingredients are used and differences in brands.