We may earn money from the products/companies mentioned in this post. As an Amazon Associate I earn from qualifying purchases.
Low carb keto casseroles are an easy way to make a healthy dinner the entire family will enjoy. This easy, cheesy keto cabbage casserole combines cheddar cheese, bacon, ground beef, and savory spices for a delicious one dish dinner. It's a keto casserole that uses cabbage as the foundation and is filled with satisfying goodness everyone at the table will devour.
Easy keto casseroles are perfect for the busy mom who wants to eat well and yet not have to cook separate meals for herself and her kids.
It's easy to assemble, cooks up quickly, and doesn't use any special ingredients. This simple cheesy keto cabbage casserole is bound to become one of your new favorite low carb hamburger recipes. Plus, it also works as a Trim Healthy Mama S Fuel!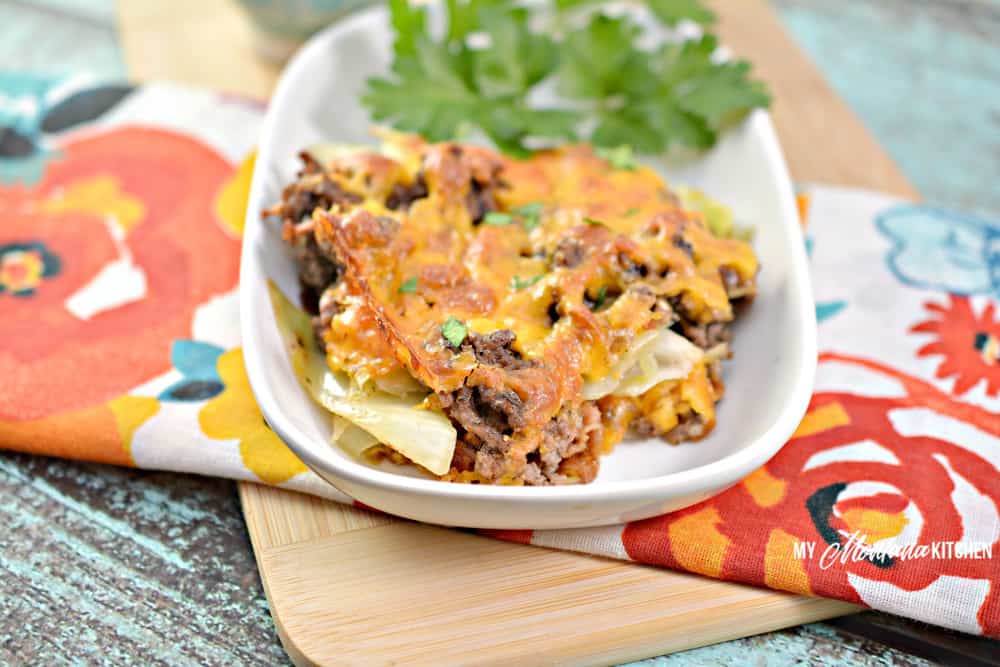 Is Cabbage Good On A Keto Diet?
While everyone knows that vegetables are healthy, the vegetables available to you on a keto diet are limited. For that reason, you might be wondering about cabbage when eating a ketogenic diet.
The short answer is yes! Feel free to use cabbage and enjoy it liberally in your meal plans.
"You can safely eat all varieties of cabbage in your keto diet without worrying about your ketone levels. Better yet, cabbage can provide many nutrients you may be missing on a low carb or keto diet." (Source)
This versatile veggie can be enjoyed in low carb cole slaw, roasted as a cabbage steak, or used as part of a meal like in this super delicious cabbage casserole recipe because there are minimal carbs in cabbage.
And if you are a Trim Healthy Mama, cabbage is a wonderful non-starchy vegetable - and you can enjoy it liberally!
Health Benefits Of Cabbage
Cabbage is also an incredibly nutrient dense food to include in your diet regularly.
Very high in Vitamin C
Very high in Vitamin K
Rich in Folates
May help reduce inflammation (source)
Rich in soluble fiber and prebiotics
It's yummy
Okay, okay, that last one isn't a health benefit...but it sure does make it easier to eat healthy meals!
Making Stuffed Cabbage Casserole
This is not what you're thinking. It's not the traditional Eastern European meal of steamed cabbage filled with ground beef, tomato soup, and rice. Uh-uh.
This easy cheesy cabbage casserole is loaded with bacon and ground beef and melty cheddar. Mmmm. It's almost like a bacon cheeseburger casserole or low carb bacon cheeseburger pizza, just with cabbage as the foundation.
This recipe has 4 key ingredients: bacon, cabbage, ground beef, and cheddar cheese.
1. Bacon
Bacon makes everything taste better. Really and truly. In fact, I have dozens of bacon recipes for you to enjoy right here at My Montana Kitchen and an entire Pinterest board dedicated to them.
The very first step in making this delicious and easy casserole is to fry your bacon in a skillet until it's nice and crispy. Remove it and most of the grease from the skillet, leaving behind just a tad.
Crumble your bacon up and add the crumbles along with some butter back to your skillet.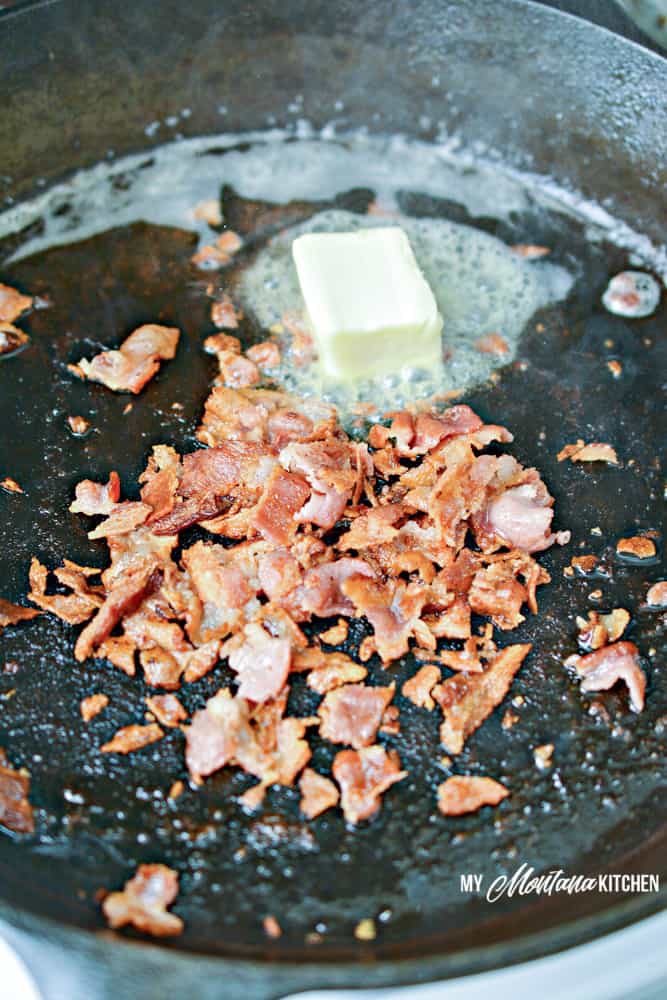 2. Cabbage
Now the fun starts. Add your shredded cabbage to the skillet and cook it in that buttery, bacon-y goodness. It's going to be so good.
Once it's coated in the bacon crumbles and grease, remove the cabbage strips to your greased casserole pan.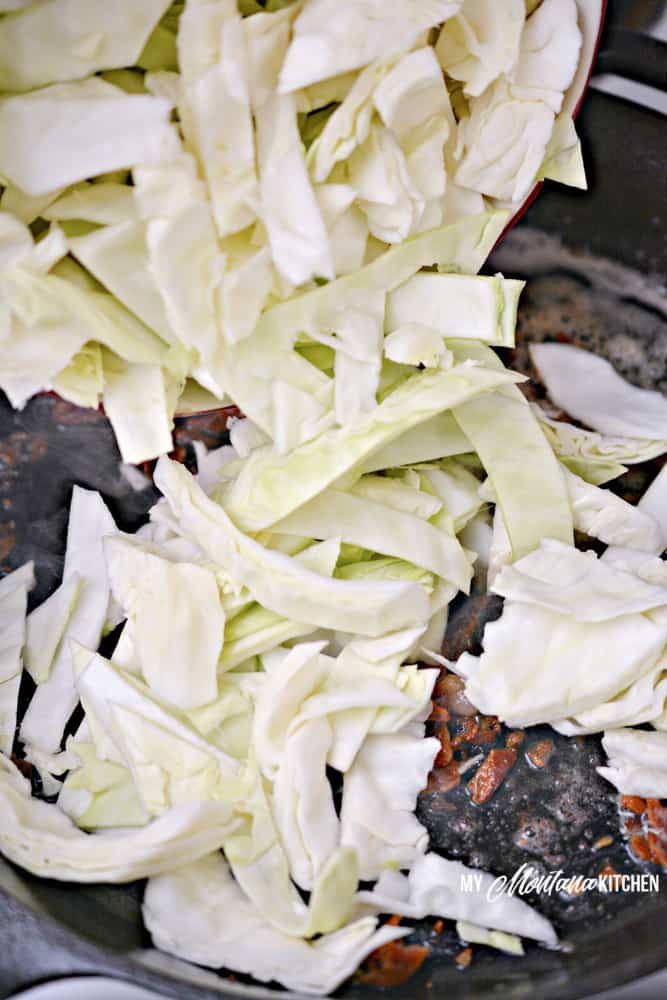 3. Beef
Still using that same skillet, add the ground beef and cook it through. Once you've got it cooked well and crumbly, add your spices.
Go ahead and layer it on top of your amazing bacon-y cabbage strips in the pan. Are you getting excited to try this cheesy keto casserole yet? I know I am!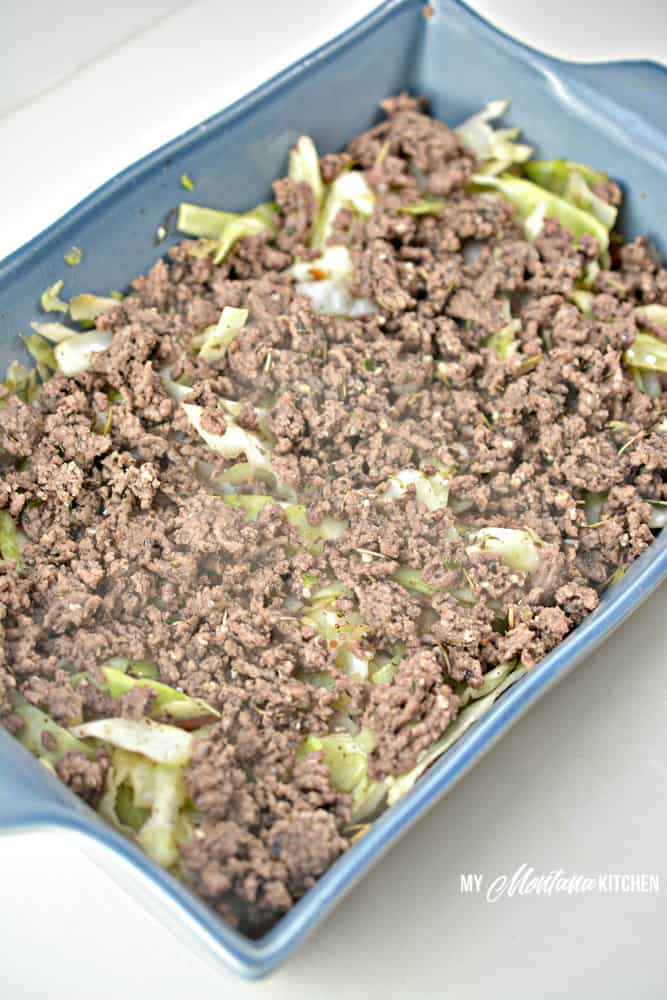 4. Cheese
As with most truly tempting low carb casseroles, you're going to sprinkle a lot of cheddar cheese on top! This really wraps it up and makes your cabbage casserole recipe even more satisfying.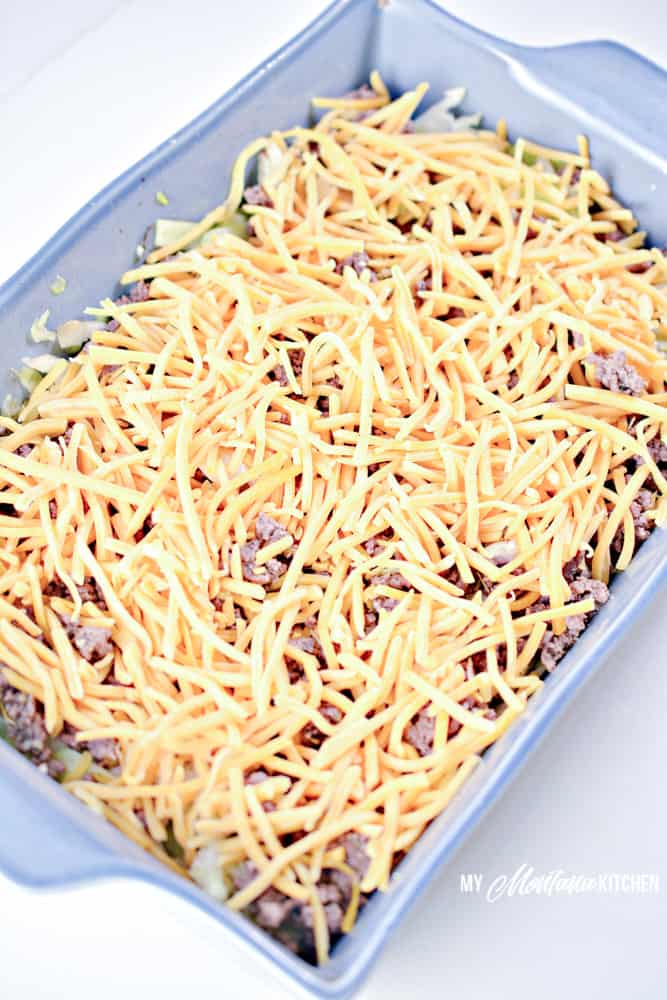 Easy Cheesy Keto Cabbage Casserole
All that's left to do is bake your casserole.
The ground beef is cooked through, your cabbage has been sautéed with your crispy bacon, so all that's left is for the cheese to melt. In about 15 minutes, when the cheese is bubbly and gooey and absolutely perfect, it will be time to pull your casserole out of the oven to serve.
Sprinkle with fresh chopped parsley and some scallions if you enjoy them, and dig in!
(You'll also want to try this Low Carb Cheeseburger Casserole - it is delicious!)
Saving Time
If you need to save some time, you can use real bacon bits already bought from the store. You'll be missing out on the bacon grease flavoring the cabbage (unless you have some of that set aside in the fridge, you good southern cook, you), but it will still work okay.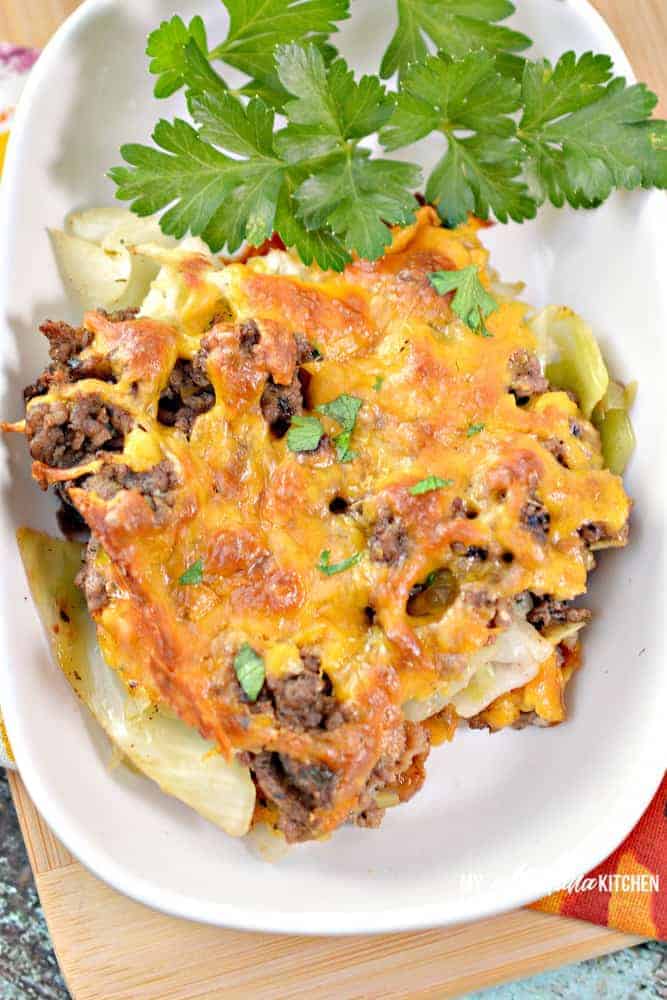 More Low Carb Cabbage Recipes
Cabbage is a very budget friendly vegetable and that makes it a great meal addition. If you enjoyed this low carb cabbage keto casserole, check out these other cabbage recipes to enjoy:
And if you're looking for something a little different, give my Keto Chinese Chicken & Broccoli recipe a try!
How to make this cheesy Keto casserole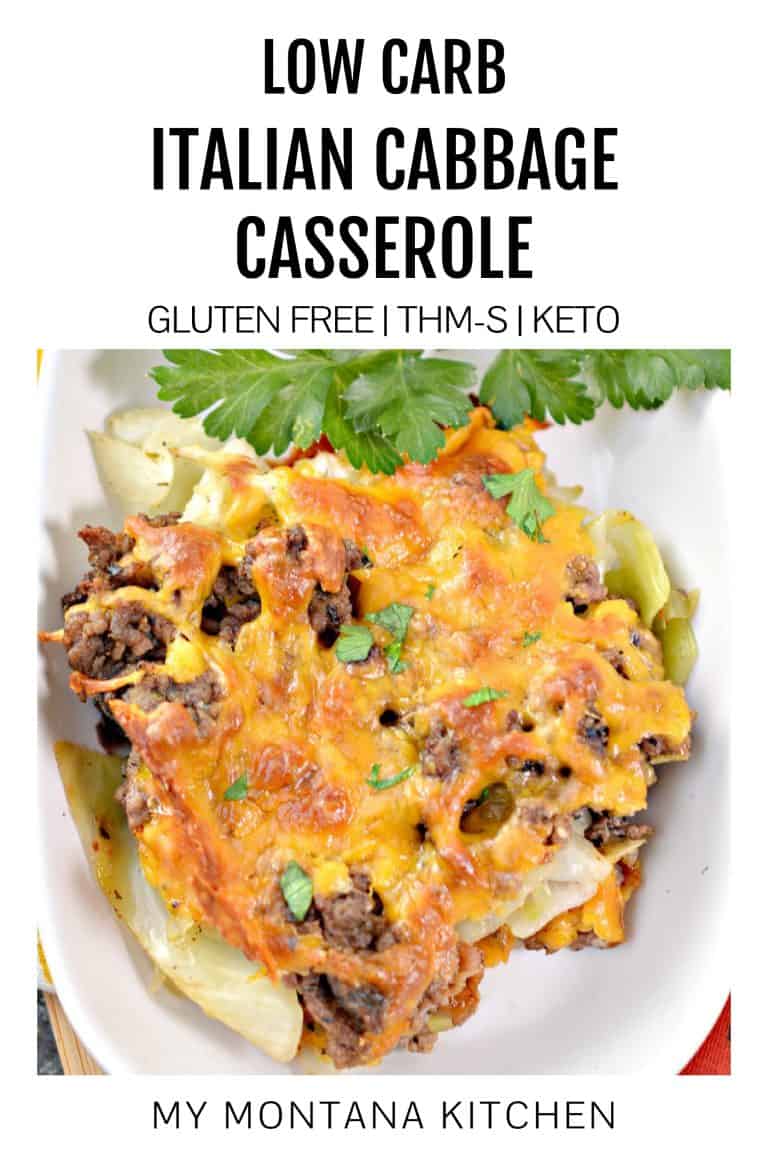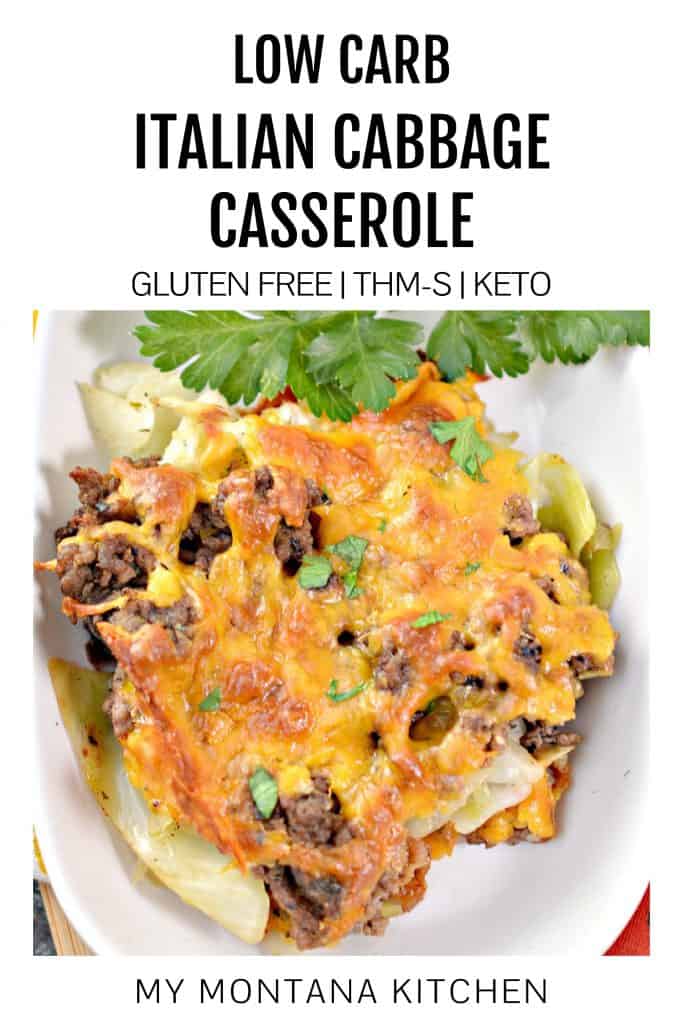 Yield: 6 Servings
Easy Cheesy Keto Cabbage Casserole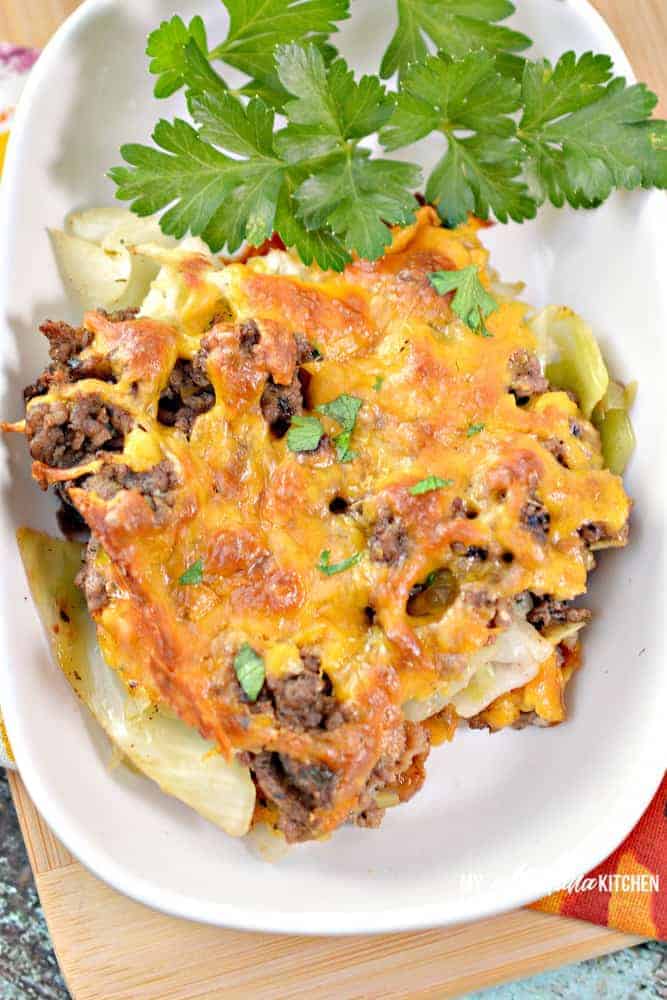 This easy, cheesy keto cabbage casserole combines cheddar cheese, bacon, ground beef, and savory spices for a delicious one dish dinner.
Ingredients
1 ½ Pounds Ground Beef
½ Medium Cabbage, Shredded
2 Tbsp Butter, Unsalted
5 Strips of Bacon
2 Cups Shredded Cheddar Cheese
Salt and pepper to taste
Freshly Chopped Parsley, Optional
Instructions
Preheat the oven to 425 degrees.

Cook the bacon until crispy in a skillet over medium-high heat. Remove the bacon from the skillet, crumble it, and reserve 1 tbsp of the bacon grease in the skillet.

Add 2 tbsp of butter to the bacon grease in the skillet, and add the crumbled bacon back in.

Place the shredded cabbage in the skillet, and stir to coat it in the butter and bacon grease.

Pour the cabbage mixture into the bottom of a greased casserole dish.

In the same skillet, add the ground beef, and cook until completely browned over medium-high heat.

Mix in the oregano, thyme, rosemary and basil, as well as salt and pepper to taste.

Layer the cooked beef over the top of the cabbage in the casserole dish.

Top the mixture with 2 cups of shredded cheddar cheese.

Bake the casserole for 15-20 minutes until the cheese is browned and bubbly on top.

Sprinkle with freshly chopped parsley and serve.
Recommended Products
As an Amazon Associate and member of other affiliate programs, I earn from qualifying purchases.
Nutrition Information
Yield
6
Serving Size
1/6 of Recipe
Amount Per Serving
Calories

306
Total Fat

21g
Carbohydrates

7g
Fiber

3g
Protein

22g