We may earn money from the products/companies mentioned in this post. As an Amazon Associate I earn from qualifying purchases.
This protein chocolate chip cookie dough dip made with cream cheese is sugar free, gluten free, and flavored with chocolate chips! By my standards, this makes it the perfect dessert to satisfy cravings!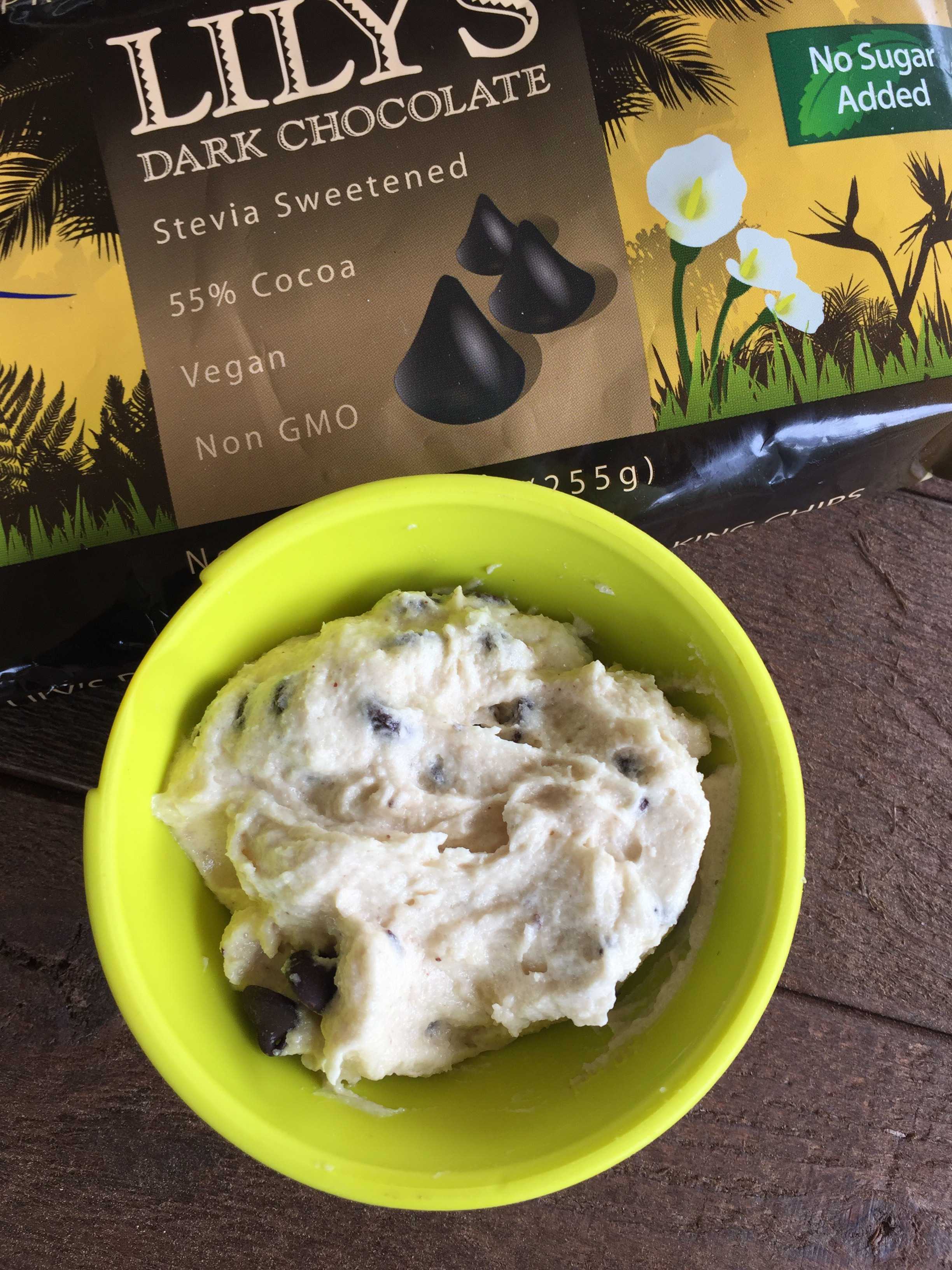 Everyone loves cookie dough and I am no exception! I've also created a Peanut Butter Chocolate Chip Cookie Dough recipe and that was by far the most popular recipe I've published. Because of that, I've been working on a plain chocolate chip cookie dough recipe as well.
Some might say I've been working just a bit too hard since I told my husband the other night that I was actually tired of eating cookie dough! (Gasp! Can it be?!)
(Before we go any further, I just want to let you know we are a participant in the Amazon Services LLC Associates Program, an affiliate advertising program designed to provide a means for us to earn fees by linking to Amazon.com and affiliated sites. I am also an affiliate with Trim Healthy Mama. There are affiliate links used in this post.)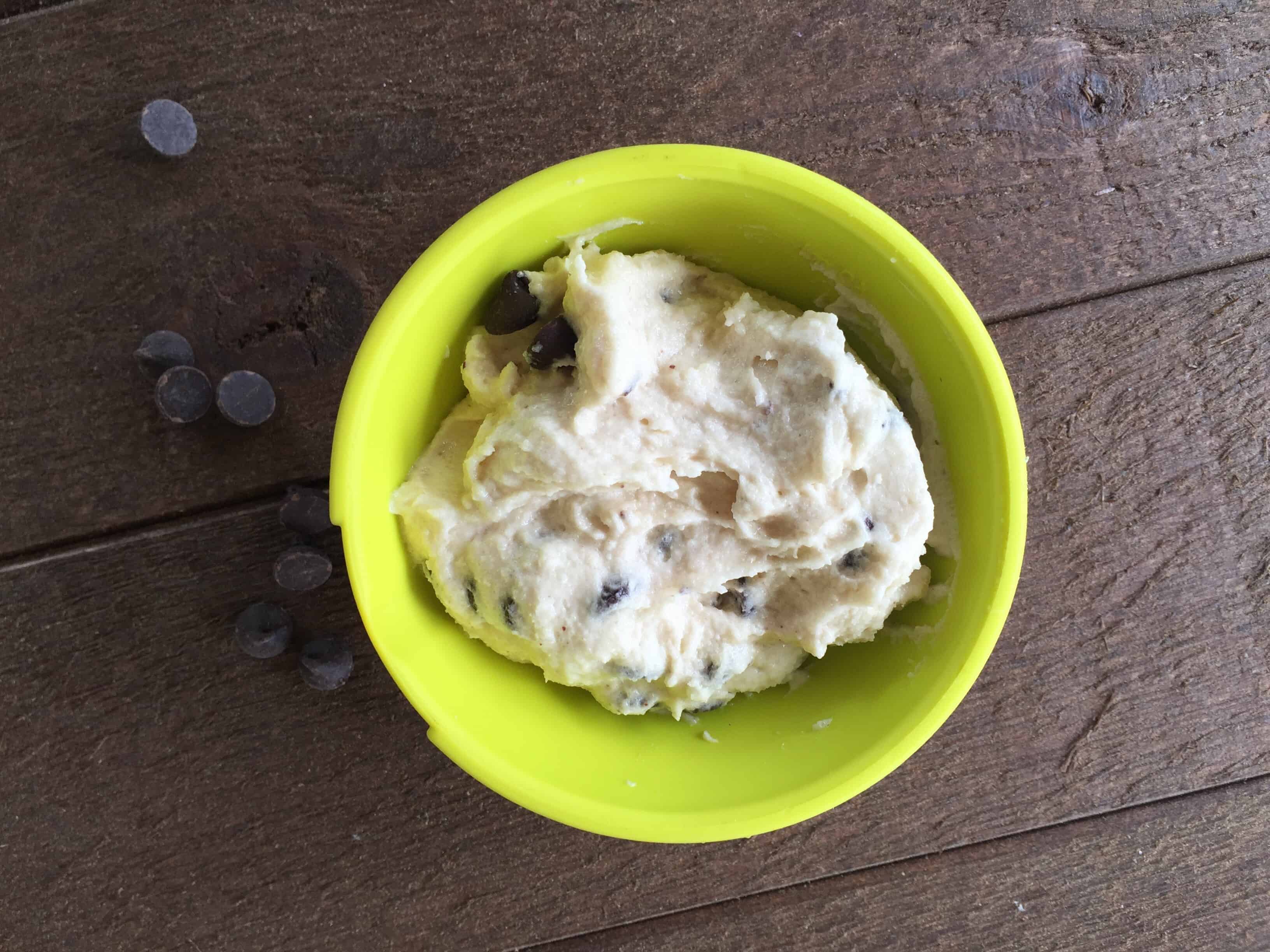 After trial and error, I settled upon this combination because I loved the taste and the texture. If you notice, I call this "Cookie Dough Dip," - this is because the cream cheese gives it more of a dip texture than a cookie dough texture. Please don't make this recipe expecting it to have a cookie dough mouth feel - you will be disappointed. But it has a great flavor and its own lovely texture!
The most important thing is it tastes good! It takes less than five minutes to whip up, and I like to eat it with a spoon right out of the mixing bowl!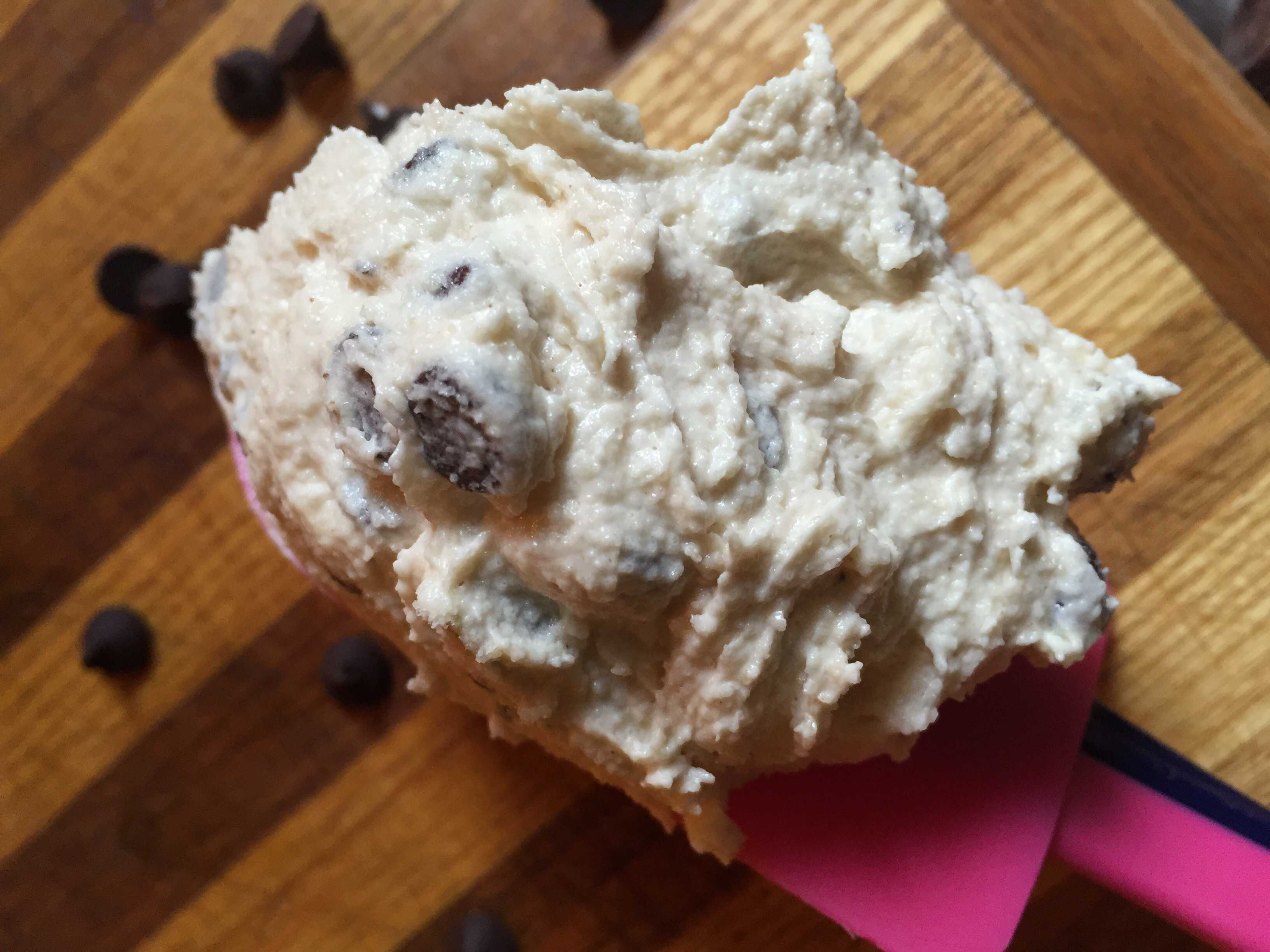 What is collagen?
This chocolate chip cookie dough dip includes the use of collagen. I am always looking for more ways to use collagen and added 1 tablespoon in this recipe to bump up the recipe.
If you're not familiar with collagen, collagen is protein found naturally in abundance within our bodies. It helps with muscles, bones, skin, blood vessels, digestive system and tendons. As we get older or stress levels are high, the production starts to slow down. Hence why we may want to supplement with outside sources.
If you want to learn more about the benefits of collagen, please check out this article. The article is a scientific reading, but it showcases the amazing benefits of this superstar supplement!
Of course, you can choose not to use the collagen within this cookie dough dip recipe. You can add an extra tablespoon of almond flour instead.
How to make cookie dough dip
This chocolate chip cookie dough dip is made with cream cheese, making it so creamy and delicious! As noted earlier, it also includes collagen for a protein boost, but you can leave that out and add some extra almond flour, if you'd prefer. It's sweetened with just a dash of vanilla and of course chocolate chips! (You can't forget those, after all!)
How to make this chocolate cookie dough dip recipe
In order to make this chocolate chip cookie dough dip recipe, you'll want to start off by creaming the butter, cream cheese, and gentle sweet together. Make sure to soften your butter and cream cheese to room temperature - it's very important for this recipe.
I'm not sure if you've ever tried to cream cold cream cheese and butter before.... but trust me when I say it's a pain! You'll want to take them out about an hour prior to making this recipe to ensure you can cream your butter and cream cheese without any lumps.
If you don't have gentle sweet or can't find any, you can also use my low carb powdered sugar in equal amounts.
Once those are creamed together, you'll add in the collagen, almond flour, and vanilla and mix well.
Lastly, add in the chocolate chips. You might even want to add some extra for good measure 😉
How long does cookie dough dip last?
If you're anything like me, you'll eat this up too quick to even worry about how long it would last. But in any case, it's still good to know. This chocolate chip cookie dough recipe does contain cream cheese so I would suggest eating it within a week.
Again, I'm sure you'll eat it up much faster than that! It likely won't make it an entire day, much less a week, ha!
What to eat with cookie dough dip
Cookie dough dip is excellent with all kinds of things including your favorite fruit or crackers! This chocolate chip cookie dough dip in particular would be excellent with strawberries (I'm envisioning cookie dough dip stuffed strawberries - hello!), or you could try these grain free vanilla wafers. My favorite way is just eating it straight with a spoon!
Can you freeze cookie dough dip?
It can be incredibly tempting to try and freeze cookie dough dip in large batches, but it would not be something I suggest. Dairy is incredibly difficult to freeze and then thaw out. Your best bet is to make small batches at a time. It's a very easy cookie dough recipe, so you shouldn't have too much trouble!
More cookie dough recipes
If you're a big cookie dough fan like I am, I have more cookie dough recipes on my blog for you to check out. You'll love my Peanut Butter Chocolate Chip Cookie Dough that I mentioned earlier. It's perfect for peanut butter fanatics!
For those that love truffles, make sure you try these Chocolate Chip Cookie Dough Truffles - they are soooooo good!!
And if you like dough bites alongside peanut butter, you're sure to love these Edible Peanut Butter Cookie Dough Bites!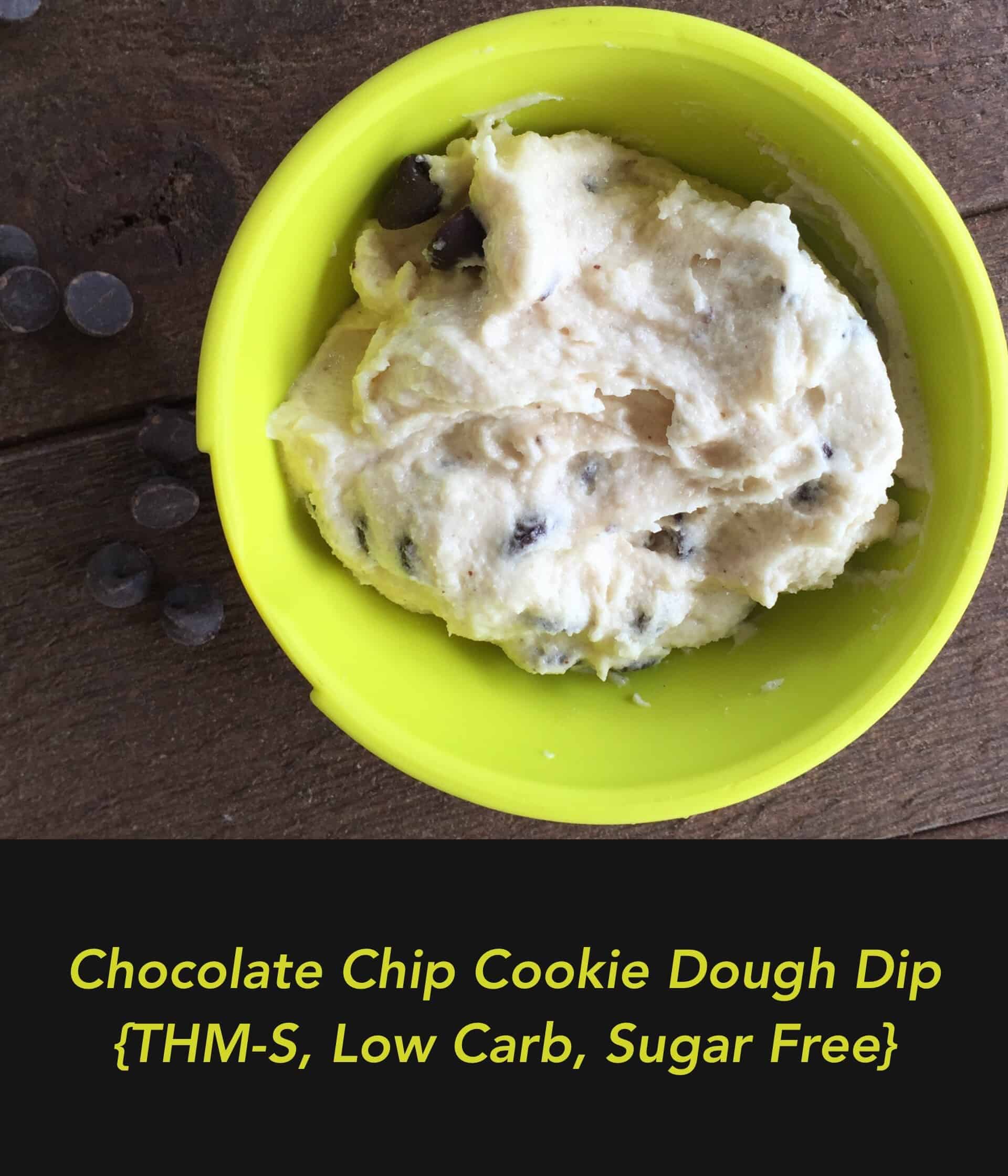 Yield: 1 Serving
Protein Chocolate Chip Cookie Dough Dip
This chocolate chip cookie dough dip is a great way to get some added protein into your diet. It's delicious and perfect way to satisfy your cravings without the sugar!
Ingredients
1 Tablespoon Softened Butter
1 Tablespoon Softened Cream Cheese
Dash of vanilla
1 Tablespoon Lilly's Chocolate Chips
Instructions
Using a mixer, beat the softened butter, softened cream cheese and gentle Sweet until well combined.
Add Collagen, almond flour and vanilla and mix well.
Stir in chocolate chips
Notes
If you do not have Gentle Sweet, you can use my Low Carb Powdered Sugar.

Nutrition Information
Amount Per Serving
Calories

266
Total Fat

23g
Carbohydrates

4g
Fiber

2g
Protein

9g