We may earn money from the products/companies mentioned in this post. As an Amazon Associate I earn from qualifying purchases.
This easy and healthy Baked Pumpkin Oatmeal recipe features a delicious apple streusel topping. THM friendly, this gluten free baked oatmeal can also be made into muffins!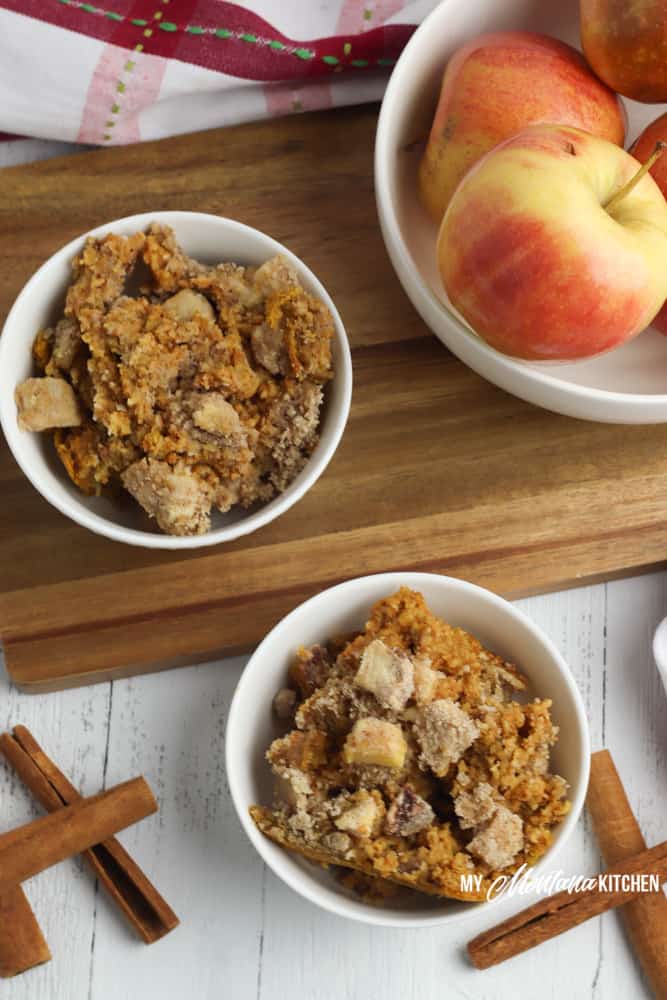 The fall season is filled with so many delicious flavors. But two of my favorite fall flavors are definitely pumpkin and apple. I could eat those two ingredients for every meal! If you're the same way, I have you covered on breakfast this weekend! This delicious pumpkin and apple baked oatmeal is packed with fall flavor.
What is Baked Oatmeal?
Baked oatmeal is a unique spin on the classic breakfast food – oatmeal. The taste is similar to traditional oatmeal, but the texture is more like a dense cake.
It's a delicious way to feel like you're indulging in a sweet treat while still starting your day with something healthy!
This delicious baked oatmeal is packed with protein and fiber, making it a great choice for breakfast or a yummy afternoon snack.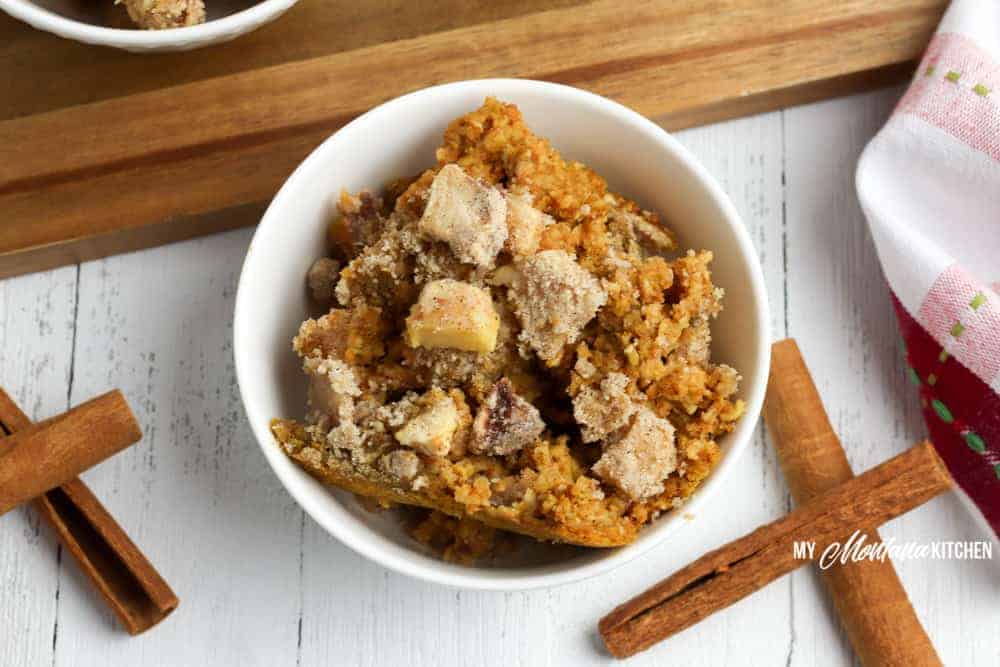 How to Make Baked Oatmeal
While traditional oatmeal is typically boiled, this version of the classic breakfast cereal is baked in the oven instead. But to make baked oatmeal, you'll need a few more ingredients than just oatmeal and milk or water.
To get the correct cake-like texture you'll need several eggs and/or an egg substitute in your baked oatmeal. And do you know what makes a great egg substitute? Pumpkin!
That's why this delicious fall treat is packed with pumpkin puree.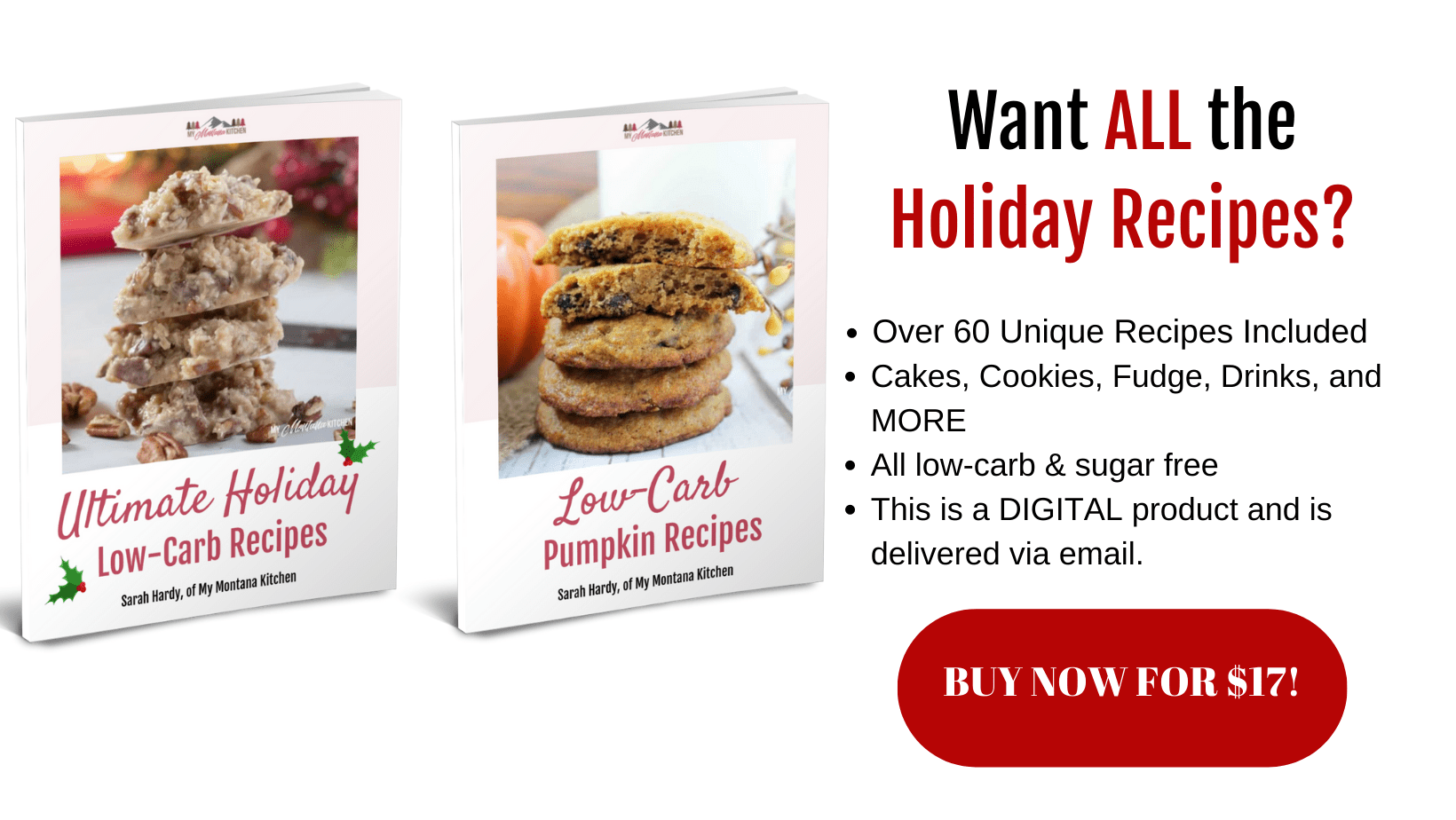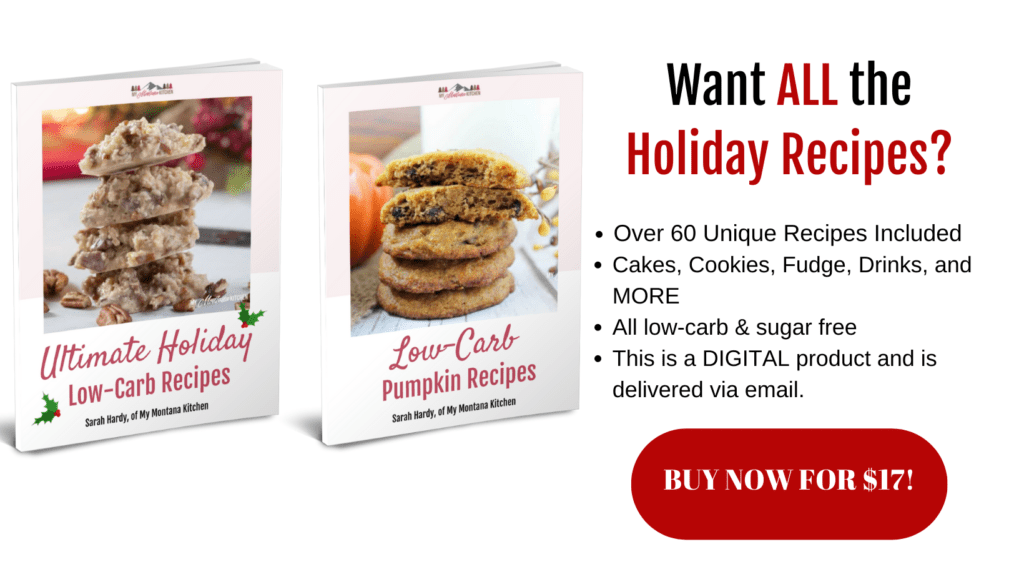 In addition to pumpkin, you'll also need a couple more ingredients to turn your quick oats into baked oatmeal. On top of the traditional seasonings you pair with pumpkin, like cinnamon and pumpkin pie spice, this baked oatmeal recipe also needs some low carb brown sugar, baking powder and almond milk.
Start by mixing together your pumpkin puree, low carb brown sugar, eggs, pumpkin pie spice, cinnamon, vanilla extract, and salt. Whisk those ingredients together until they're smooth and well combined. Then, slowly add the milk and whisk carefully to avoid making a mess!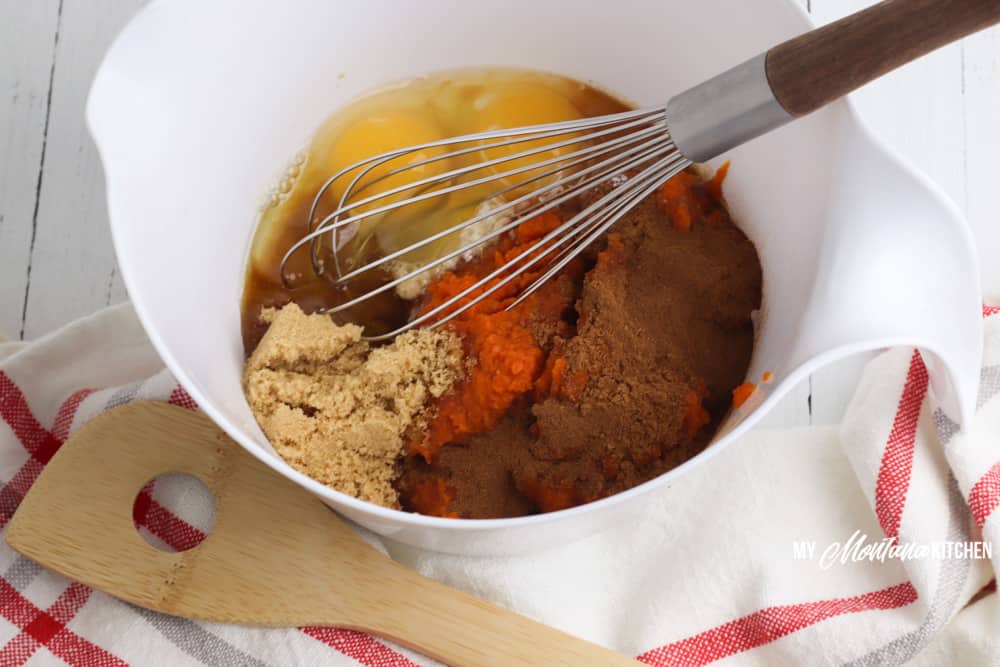 Add the oats to the mixture and stir to combine all the ingredients. Quick cooking oats work best for this recipe because they're partially ground, making them great for that delicious cake-like texture we're looking for. Using quick-cook oats also helps cut down the bake time, ensuring your baked oatmeal stays nice and moist while its cooking.
If you are a Trim Healthy Mama, you may already know that old fashioned oats are gentler on your blood sugar, since they are less processed. I still chose to use the quick oats in this recipe for the texture. Quick oats are still on plan, but make sure you pair this baked oatmeal with a lean protein - egg whites, low fat cottage cheese, or greek yogurt.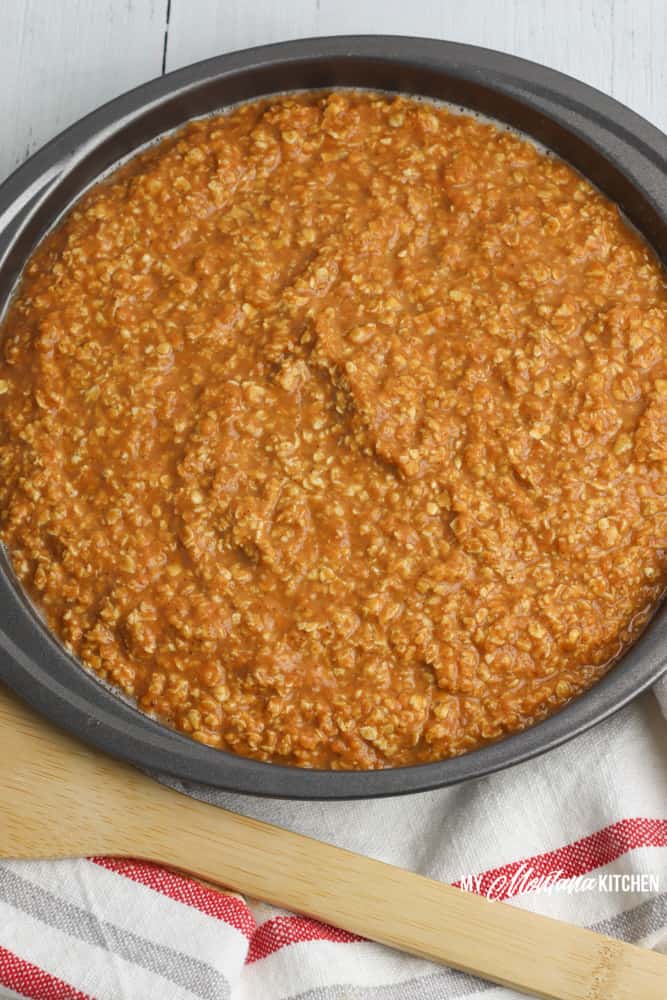 Can I Replace Quick Oats with Old Fashioned Oats?
You can certainly use old fashioned rolled oats in this recipe in place of the quick oats, but the texture may not be quite the same. But the taste should still be delicious!
After you have mixed the oats with the wet ingredients, set the bowl aside for a few minutes. In addition to giving your oats some time to soak up the moisture in the milk, eggs, and pumpkin, it will also give you time to put together the apple streusel topping.
How to Make an Apple Streusel Topping
In addition to the pumpkin inside this baked oatmeal, this delicious breakfast dish also comes with another yummy fall flavor – apples (you may want to try these Apple Pie Pancakes, too)!
But not just plain apples! We're going to turn plain apples into a cinnamon "sugar" streusel topping for your baked oatmeal.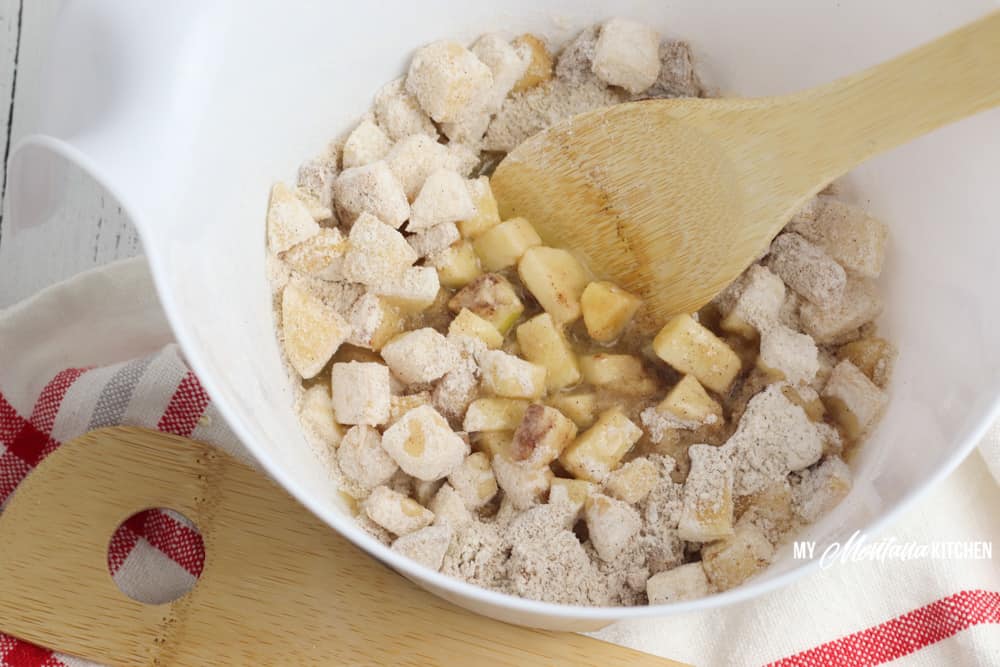 To make the streusel topping, start by peeling and chopping your apples into small pieces. To make my pumpkin apple baked oatmeal, I used gala apples because I love the sweetness they add to the dish. If you prefer a tart apple, granny Smith would be perfect for this breakfast recipe!
After chopping the apples, combine them with some baking blend, salt, cinnamon, and low carb brown sugar. Stir to coat all the apples, then pour the melted butter over the top of the apples and stir to combine.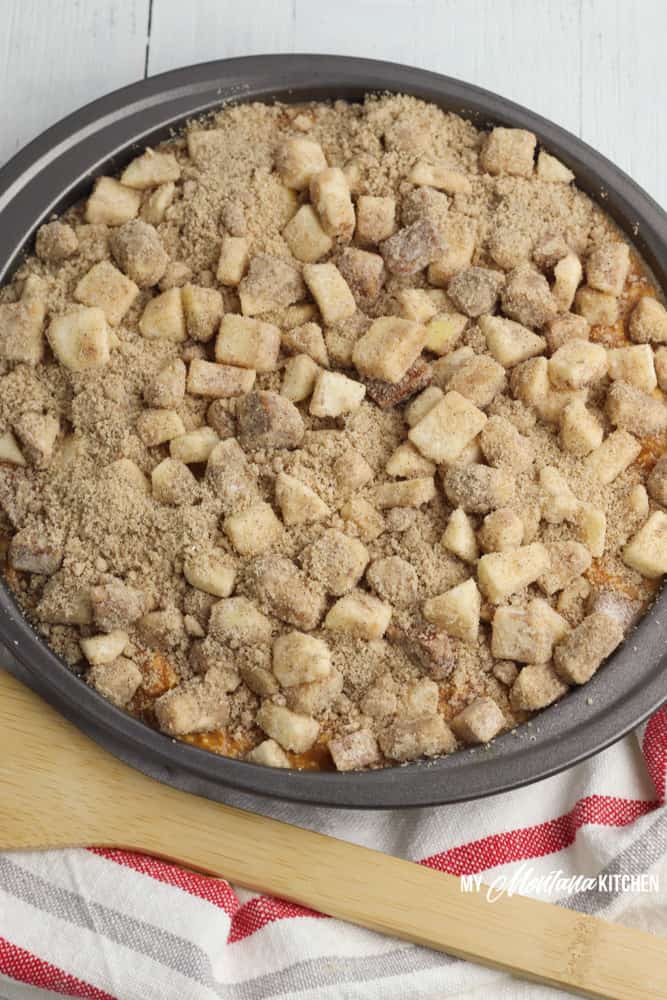 Then, pour your batter into your greased pan and top the batter with the apple mixture. Bake for 45 minutes, or until a toothpick inserted into the cake comes out clean. Allow the baked oatmeal to rest for five minutes before serving.
If you have any leftovers after breakfast is through, you can store them covered in the fridge.
Those leftovers can be reheated in the microwave for 30 seconds or eaten cold – they taste delicious either way!
More Oatmeal recipes you may enjoy:
Variations on Pumpkin Apple Baked Oatmeal
While I think this recipe is perfect as-is, there are some changes you can make to suit your needs and tastes.
Whether you're not a fan of some of the flavors in this recipe or have dietary needs that don't work with this particular version, it's simple to make changes and substitutions to this baked oatmeal recipe. Here are a few variations you can make to this recipe to make it your own:
Take out the pumpkin. Not a fan of pumpkin? Swap the pumpkin for applesauce and turn this into an apple baked oatmeal. Just use the same amount of unsweetened applesauce as pumpkin.
Make it gluten free. You can easily make this baked oatmeal gluten free! Just be sure to use gluten free quick cook oats.
Skip the streusel. If you would rather not take the time to make the streusel topping, you can skip it. But if you still want to have the apple flavor in the recipe, just stir the chopped apples into the batter instead of putting them on top.
Make Muffins. You can also portion out the oatmeal and streusel toppings between greased muffin liners, and bake them as oatmeal muffins! Baking times will vary, so be sure to keep a close eye on them - I would start with 18-20 minutes, and adjust from there.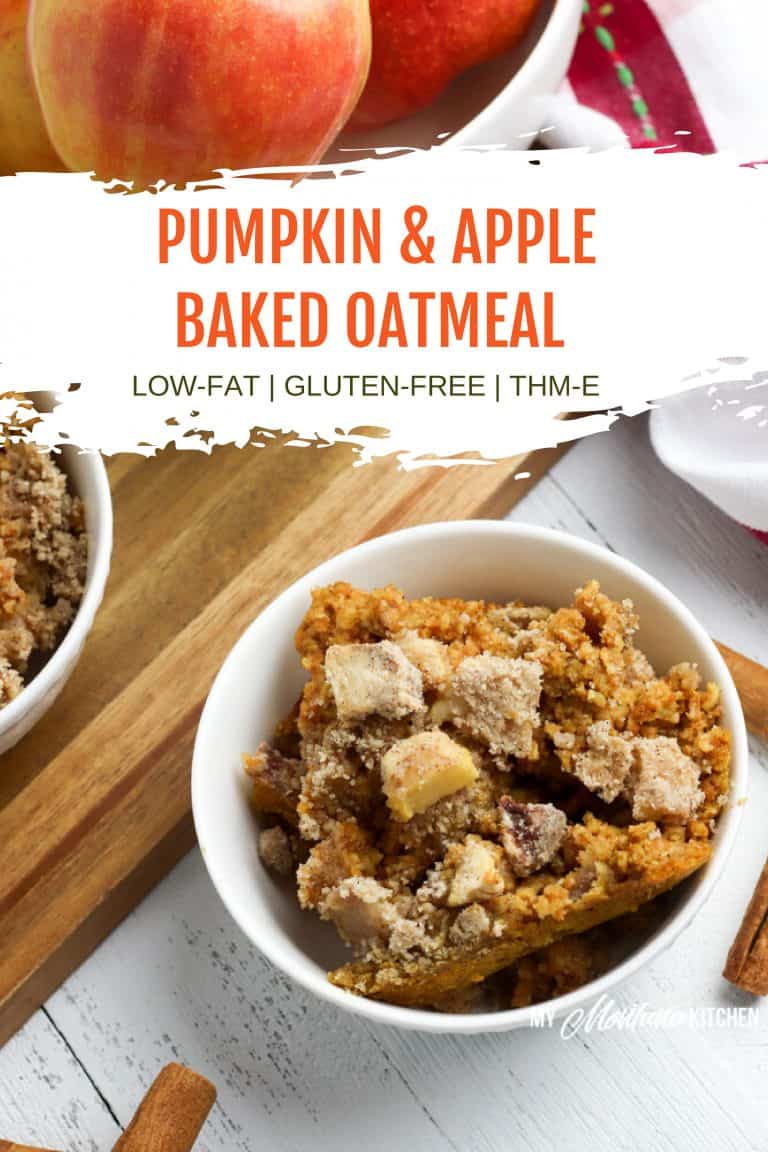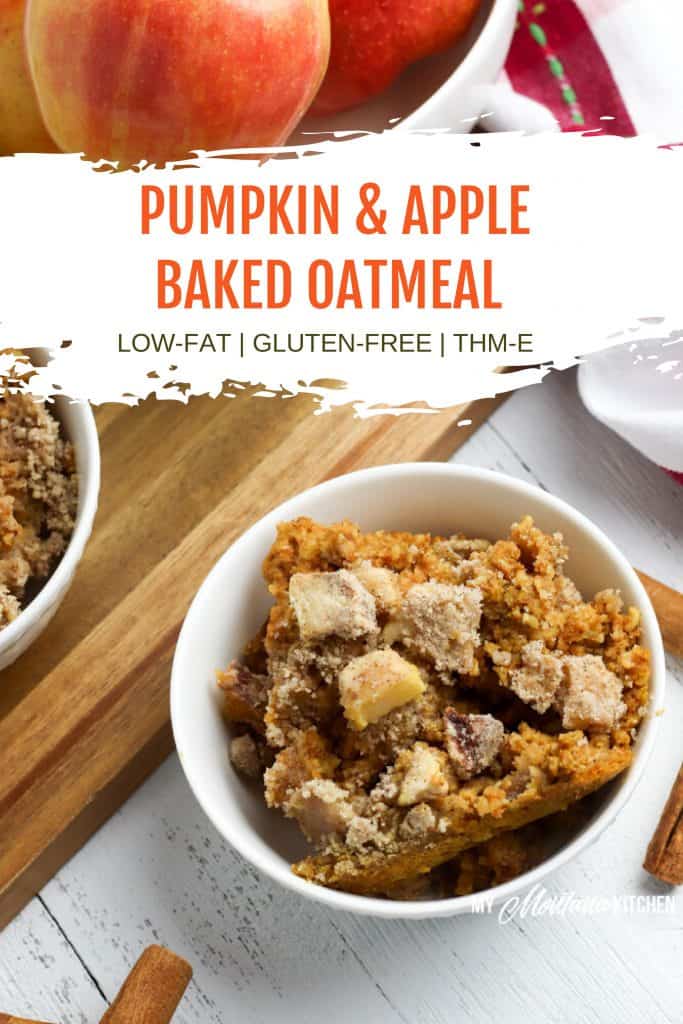 Yield: 8
Pumpkin & Apple Baked Oatmeal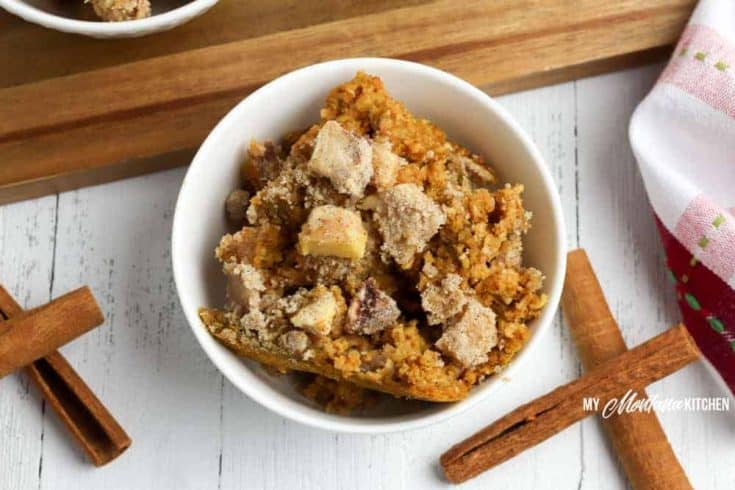 This easy baked pumpkin oatmeal with an apple streusel topping will be sure to be a family favorite for years to come!
Ingredients
2 Large Eggs
½ Teaspoon Salt
1 ½ Cup Unsweetened Almond Milk
2 ½ Cups Quick Cooking or Old Fashioned Oats
Ingredients for the Apple Streusel Topping:
2 Medium Apples, peeled and diced
¼ Teaspoon Salt
1 Tablespoon Butter, melted
Instructions
Preheat oven to 350 degrees and prepare a 9-inch round baking dish by spraying with coconut oil cooking spray.
In a large bowl, combine the pumpkin puree, low carb brown sugar, eggs, pumpkin pie spice, baking powder, cinnamon, vanilla extract and salt. Whisk to mix.
Add the almond milk and whisk until combined.
Stir in the oats and set bowl aside.
To make the streusel topping, combine apples, baking blend, low carb brown sugar, salt, and cinnamon in a medium mixing bowl. Stir to mix. Pour the melted butter into the bowl and stir to combine.
Pour the oat mixture into the prepared baking dish and spread it evenly.
Top the oatmeal mixture with the streusel mixture.
Bake uncovered for 45 minutes. Allow to rest for 5 minutes before serving.
Notes
When divided into 8 servings, this recipe has 6 total grams of fat per serving, so the two eggs and butter are barely outside the Trim Healthy Mama E guidelines of 5 grams of fat per serving. HOWEVER, the fat count includes the naturally occurring fat in the oatmeal and unsweetened almond milk, which we normally would not count, so this recipe should still be fine as a THM-E fuel.
If you wish to lower the fat count further, you could use ⅓ cup egg whites to replace the two whole eggs.
The homemade "frugal" flour blend (equal parts of almond flour, coconut flour, and flax meal) will not work in this recipe, as it would push you into XO territory with the fat count. However, crossovers are still completely on plan, so enjoy if you wish!
I believe you could replace the ¾ Baking Blend with ⅓ cup of oat flour to keep yourself safely in "E" mode, however I have not personally tried this.
Recommended Products
As an Amazon Associate and member of other affiliate programs, I earn from qualifying purchases.
Nutrition Information
Yield
8
Serving Size
⅛ of recipe
Amount Per Serving
Calories

122
Total Fat

6g
Carbohydrates

38g
Net Carbohydrates

18g
Fiber

8g
Sugar Alcohols

12g
Protein

7g
Nutritional amounts may vary depending on products/brands used.